Apple Kuchen Bars With A Spiced Salted Pecan Caramel
Nothing makes me smile wider than the scent of apple pie baking – apple pie spice is key in making the best apple pie but it's use goes beyond apple pie itself – these bars are simple to whip up and the apple pie spice blend is perfect in the bars and also in the fabulous spiced pecan caramel sauce that is drizzled on these bars before serving. Simple, quick and delicious to make and a taste of fall in each bite.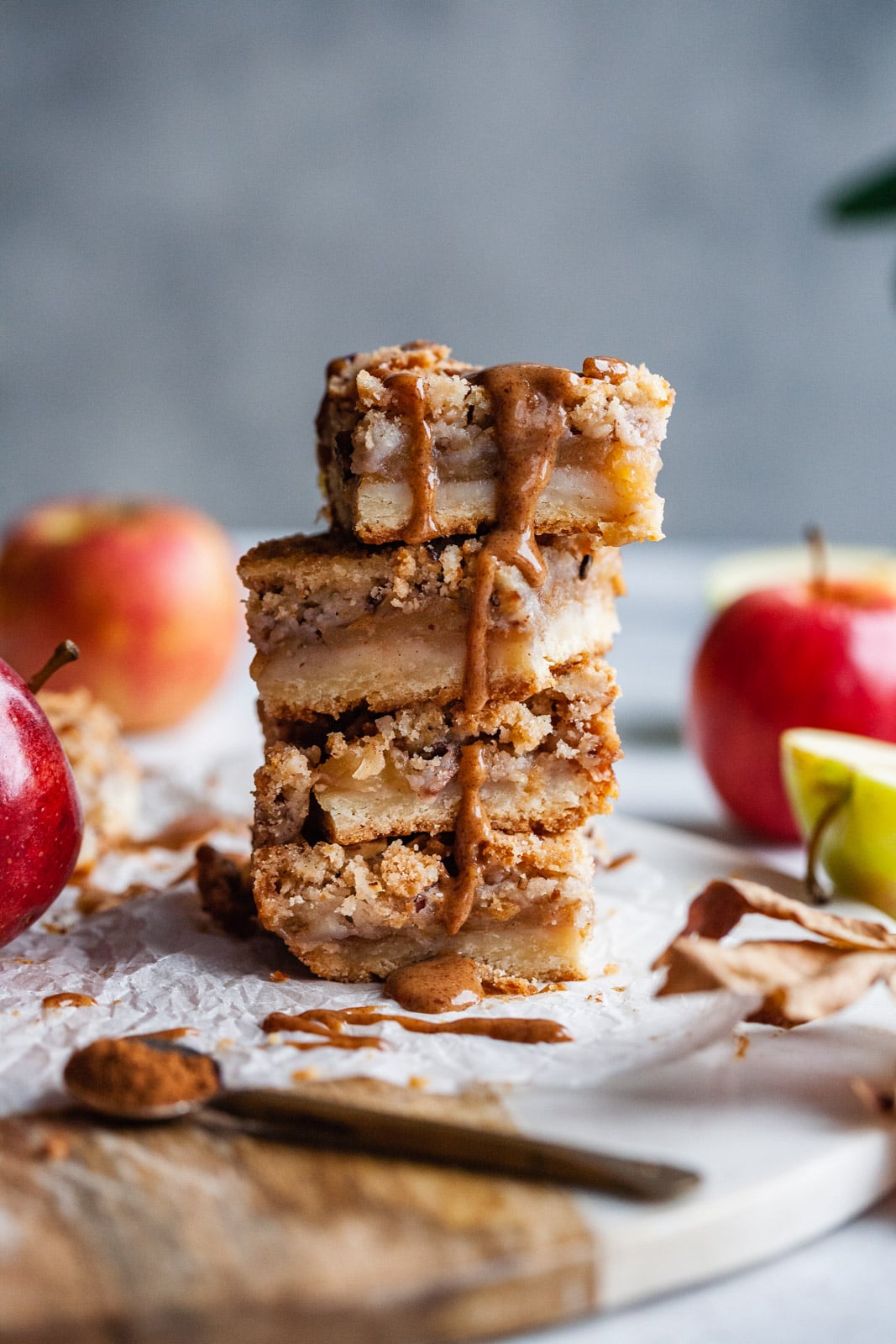 What is apple kuchen? Kuchen is German for cake – and there are many different apple kuchen/cake recipes out there. These Apple Kuchen Bars have all of the same wonderful flavors of the traditional cake recipes plus a good old apple pie, but with the texture of a cookie bar. They are always a crowd pleaser and they can also feed a crowd too so perfect for taking to a gathering or making for a large dinner party. They are made in slab form and can be cut into small or larger pieces. They are always a hit wherever I take them. I usually keep half and share the rest with friends.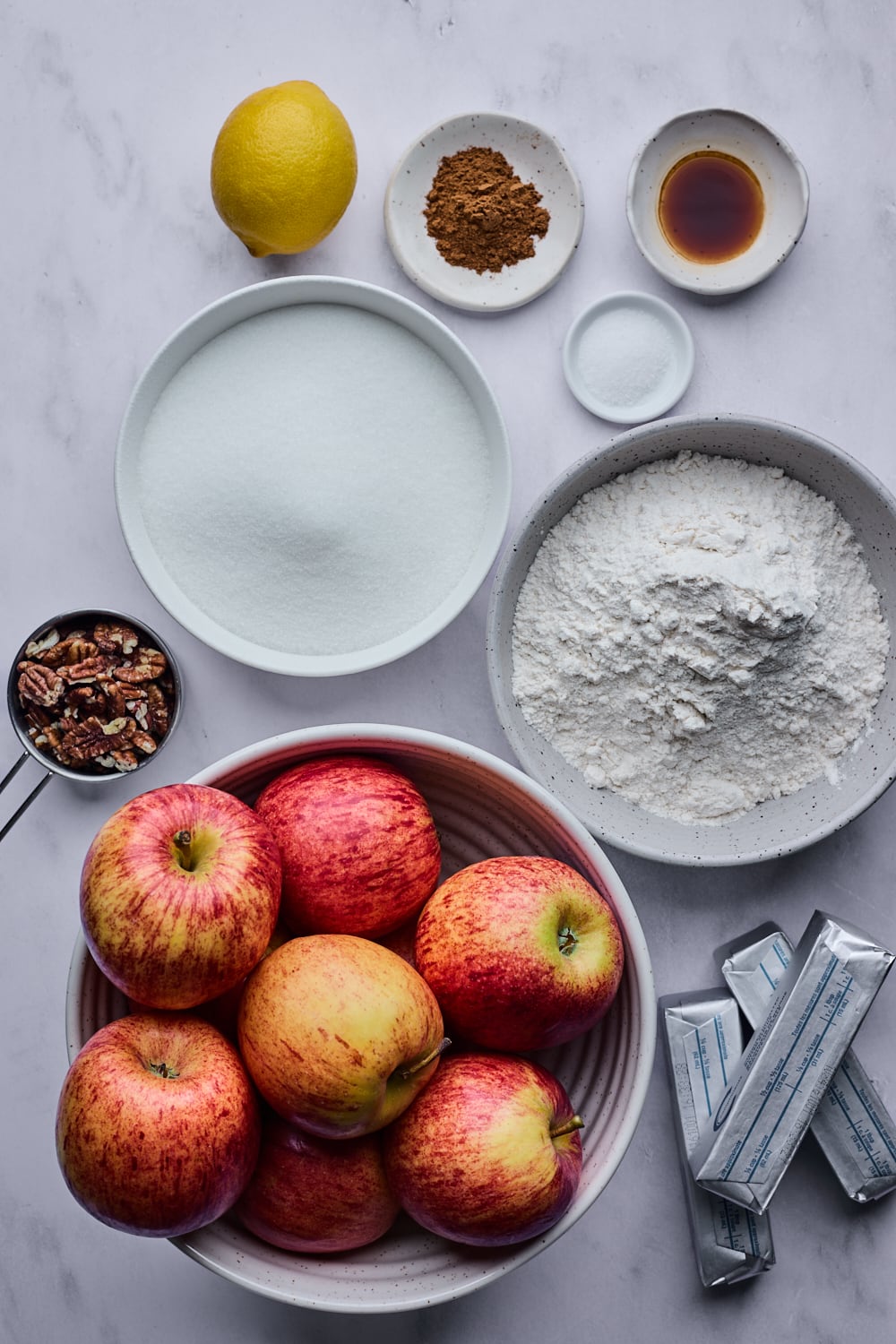 The bars are made with three delicious and simple layers. The bottom layer is very much a shortbread crust. That means buttery, flaky and fabulous. The crust pre bakes alone for the first 20 minutes of baking to allow the crust to set and provide a good base for the the next layer. The next layer or middle layer is thinly sliced apples simply tossed with some sugar, apple pie spice and vanilla. That's all the apples need. They caramelize beautifully baked between the two buttery layers and soften up and are a delight to bite through.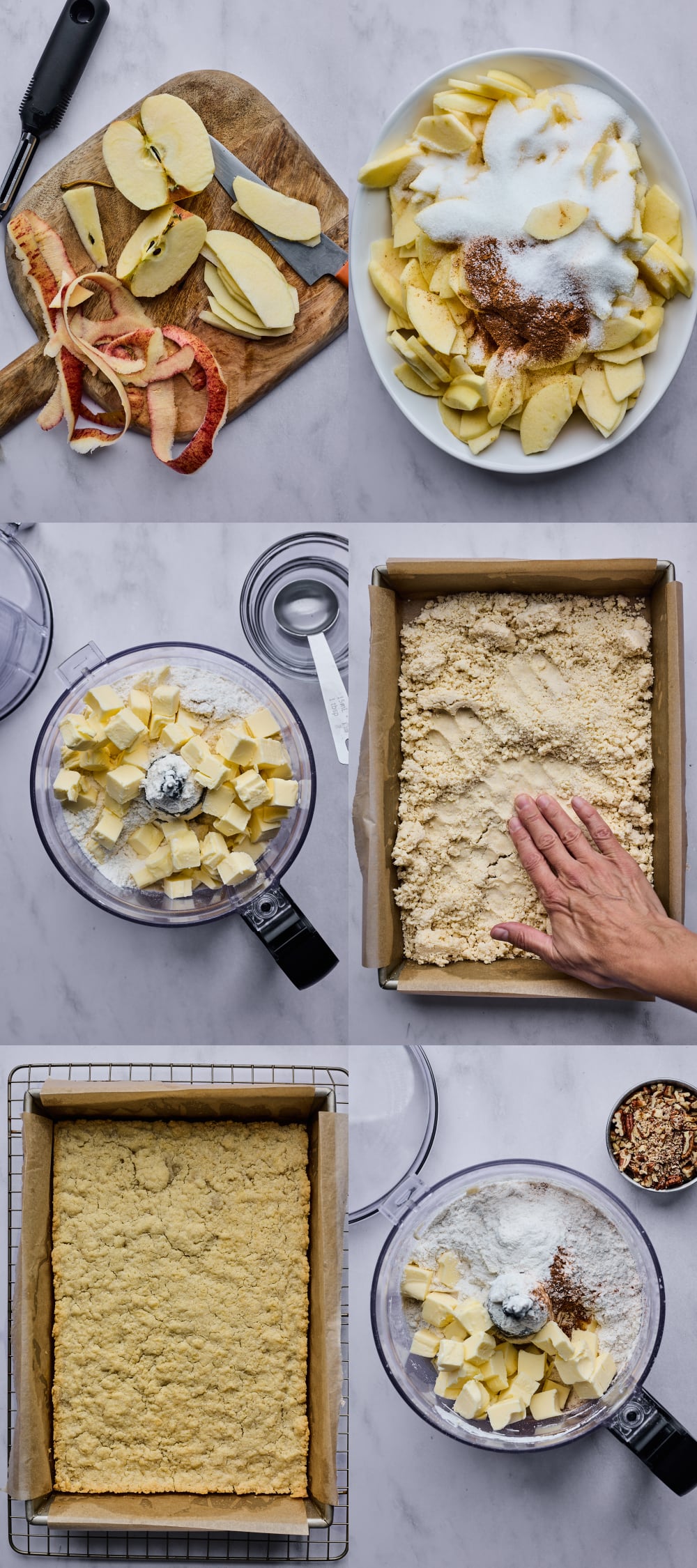 The top later is almost like a shortbread crumble. It's not hard and crispy but soft and fluffy with some crispy peaks and crunchy bits of toasted pecan. All the layers and different textures come together to make these irresistible bars.
Want to make them even more irresistible? Drizzle some of the spiced salted pecan caramel over them for an extra layer of apple pie spice. Yes I could have my homemade caramel sauce, which is delicious with these bars, but I saw a recipe for this vegan caramel sauce that I thought would be perfect with these bars. No these bars are not vegan (I'm sure they could be using vegan butter) and I wasn't looking for a vegan glaze or sauce for them. I just stumbled upon this one and needed to try it, and now you NEED to try it too. It's creamy and smooth and the flavours are perfect with the apple Kuchen Bars.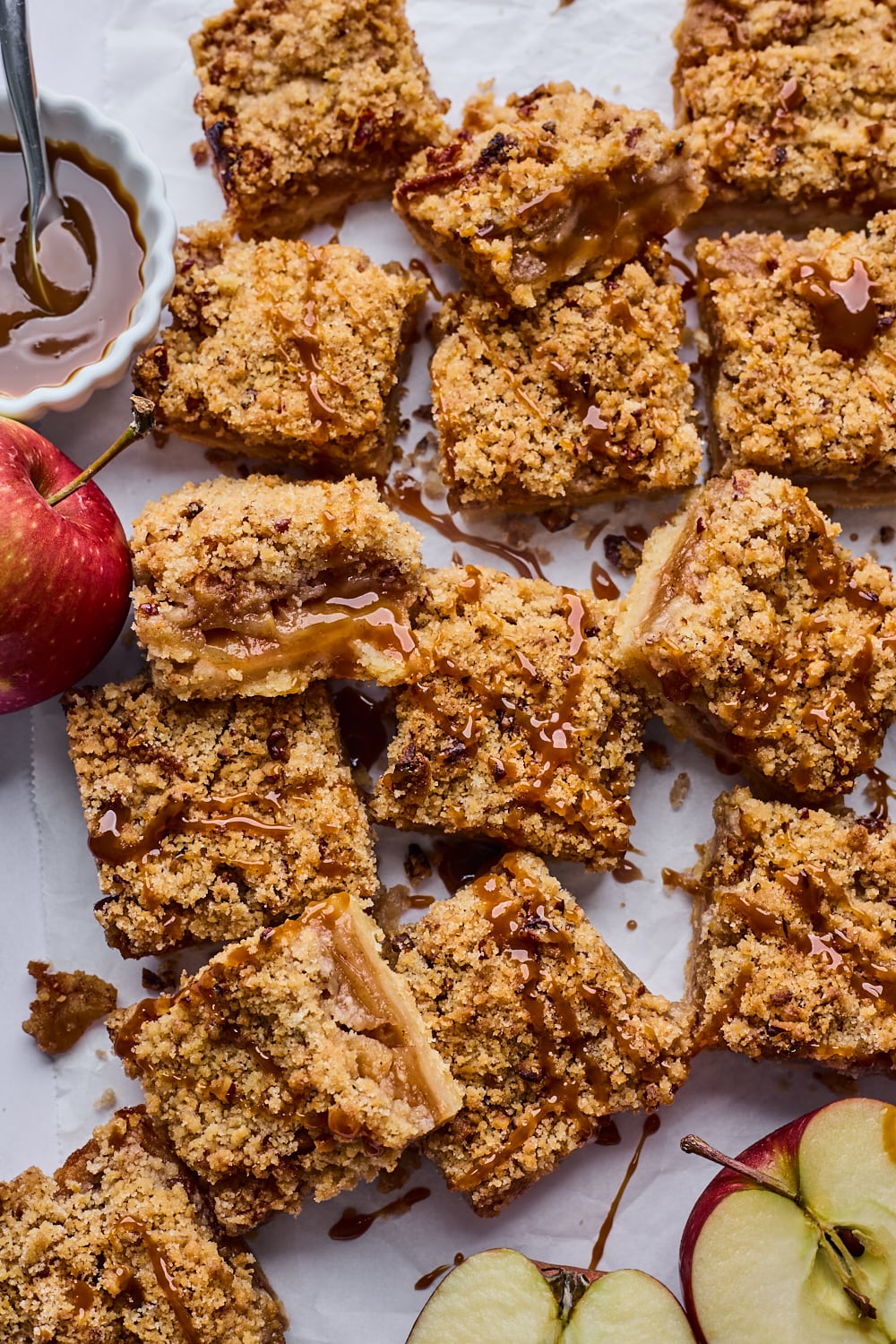 From the top drizzle to the bottom these apple bars are full of the Fall season's most wonderful flavours. I used Club House Apple Pie Spice and it's a warm spice blend of cinnamon, nutmeg and allspice is perfect for all your fall baking. These warm spices will infuse fall flavours to dishes and your home all year round. This fragrant apple pie spice blend can be used in more than just apple pie as I have shown you through this recipe but can be enjoyed in so many more dishes and drinks. For more wonderful ideas on how to use these spice blends and fill your kitchen and home with the aromas of fall do check out HelloFlavour.ca.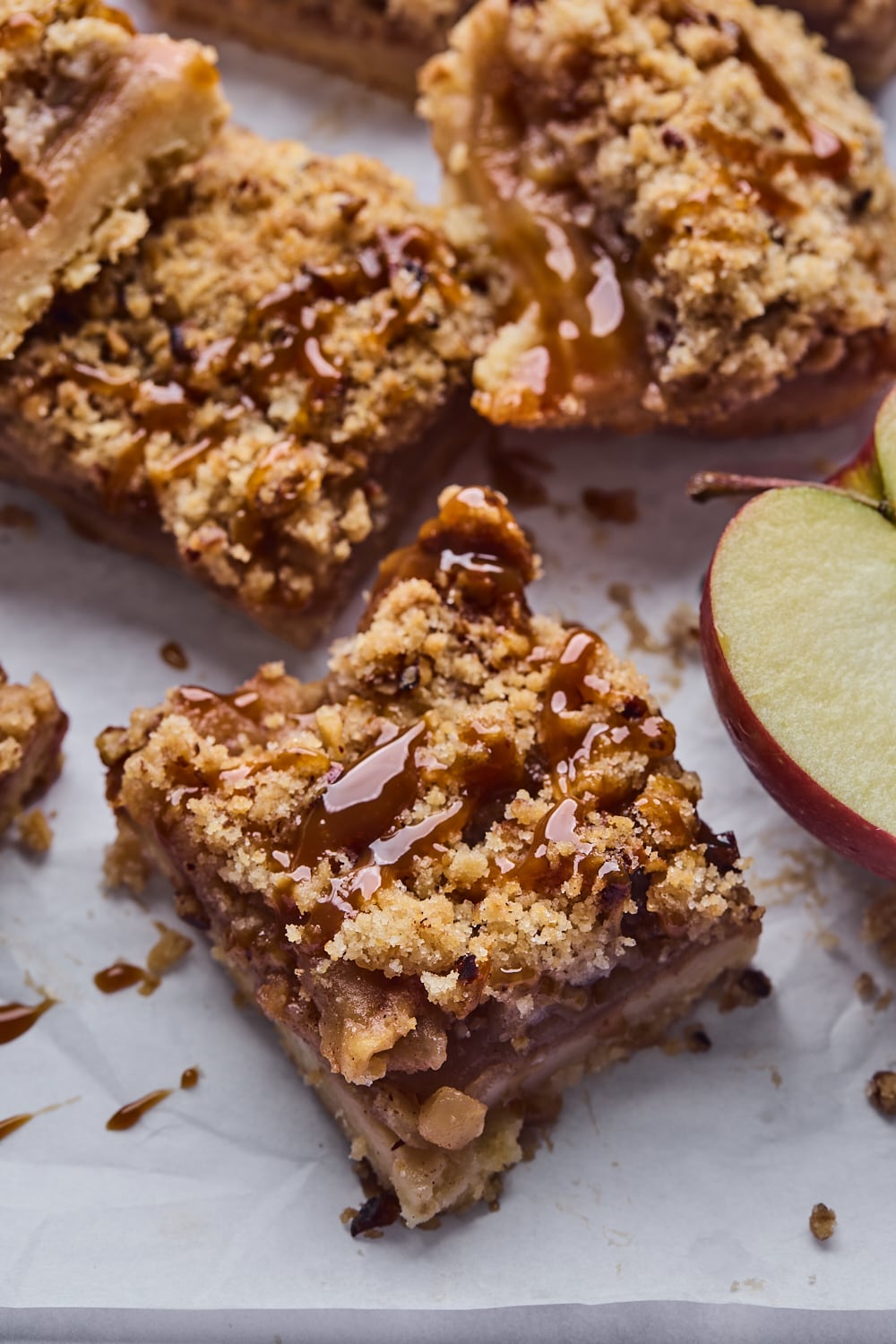 I'm about to refill my cup of coffee and enjoy a small slice of these apple Kuchen Bars before the chaos of a working Sunday begins. Have a great day!
This is a sponsored post for Club House.  All thoughts and views are my own.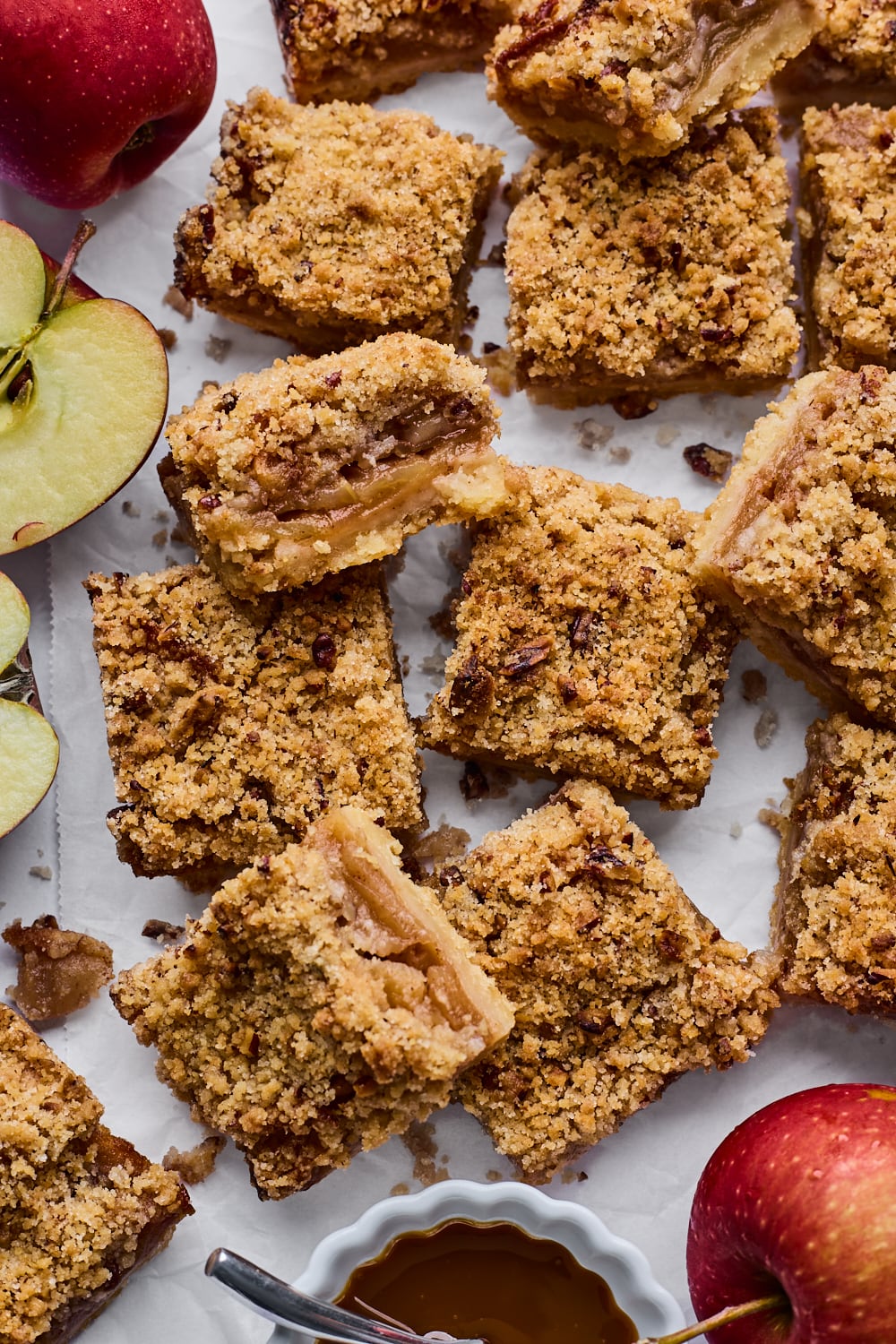 Recipe
Servings:
18 bars (depnding on how you cut them)
Prep Time: 20-30 mins
Cook Time: 1 hr 20 mins to 1 hr 35 mins
Ingredients
3 cups all-purpose flour, divided

¼ tsp salt

1-½ cups cold butter, divided and sliced into cubes (approx. 3 sticks)

4 to 5 tbsp ice water

8 cups thinly sliced peeled tart apples (about 8-10 medium and I used gala)

2 cups sugar, divided

2 tsps apple pie spice (I used Club House Apple Pie Spice)

½ tsp of vanilla extract

juice of one lemon (optional)

½ cup of pecans
Spiced Salted Pecan Caramel
⅓ cup pecan butter * (store bought or homemade - alternatively use almond butter)

3 tbsp maple syrup

½ tsp vanilla extract

A pinch of sea salt

½ tsp of apple spice blend (I used Club House Apple Pie Spice)
Directions
Preheat oven to 350°F.
Place 2 cups of the flour and salt in a food processor; pulse until blended. (If you don't have a food processor feel free to whisk them together in a bowl)
Add 1 cup butter (2 sticks) and pulse until butter is the size of peas. While pulsing, add just enough ice water to form moist crumbs and a dough starts to form. (If not using food processor make the shortbread crust with a pastry cutter or two knives instead. Cut the butter into the mixture until it starts to clump and then slowly drizzle in water until a dough starts to form)
Press mixture onto the bottom of a greased 13x9-inch. baking pan and bake for 20-25 minutes or until edges are lightly browned.
Cool on a wire rack.
While the crust is cooling prepare the apples. In a large bowl, combine apples, 1 cup sugar, vanilla, lemon juice if using and apple pie spice blend and toss to coat. Spoon over crust with a slotted spoon leaving behind most of the juices.
Place remaining flour, butter and sugar in food processor; pulse until coarse crumbs form and add the pecans and pulse just until combined. (If not using processor cut butter in as above and then chop your pecans and toss them with the crumble)
Sprinkle over apples. Bake 60-70 minutes or until golden brown, apples are tender and bubbling. Cool completely on a wire rack.
While the bars are baking, prepare the caramel. Place the pecan butter, maple syrup, vanilla, apple pie spice and sea salt into a small bowl and whisk. Add one or two tablespoons of warm water as needed to thin out, until you get a caramel-like texture
Slice into squares and serve with a generous drizzle of the pecan caramel or serve with ice cream.
Recipe Notes
To make your own pecan butter, toast pecans in the oven until golden brown. Let cool and blend in a food processor for a couple minutes, until it forms a creamy butter.
Adapted from Taste of Home and The Green Life