Roasted Butternut Squash Kale And Farro Salad With A Za'atar Dressing
You may have never guessed this about me because I'm a lover of veggies and all things green but I hate making salad. I love eating it, and I do make salad all the time, but making it and prepping a salad is up there with cleaning chicken for me in the duties that I hate doing. It's meticulous work, lots of chopping and I really can't explain it but it's not my favourite. I'm sure you may feel the same about them sometimes. Isn't it the greatest feeling when someone makes you a salad. I guess it's a great feeling when any food gets made for you but for me salad is at the top of that list. I do still have to make them because they are my favourite thing to eat, but just thought I would share. I'm sure some can relate.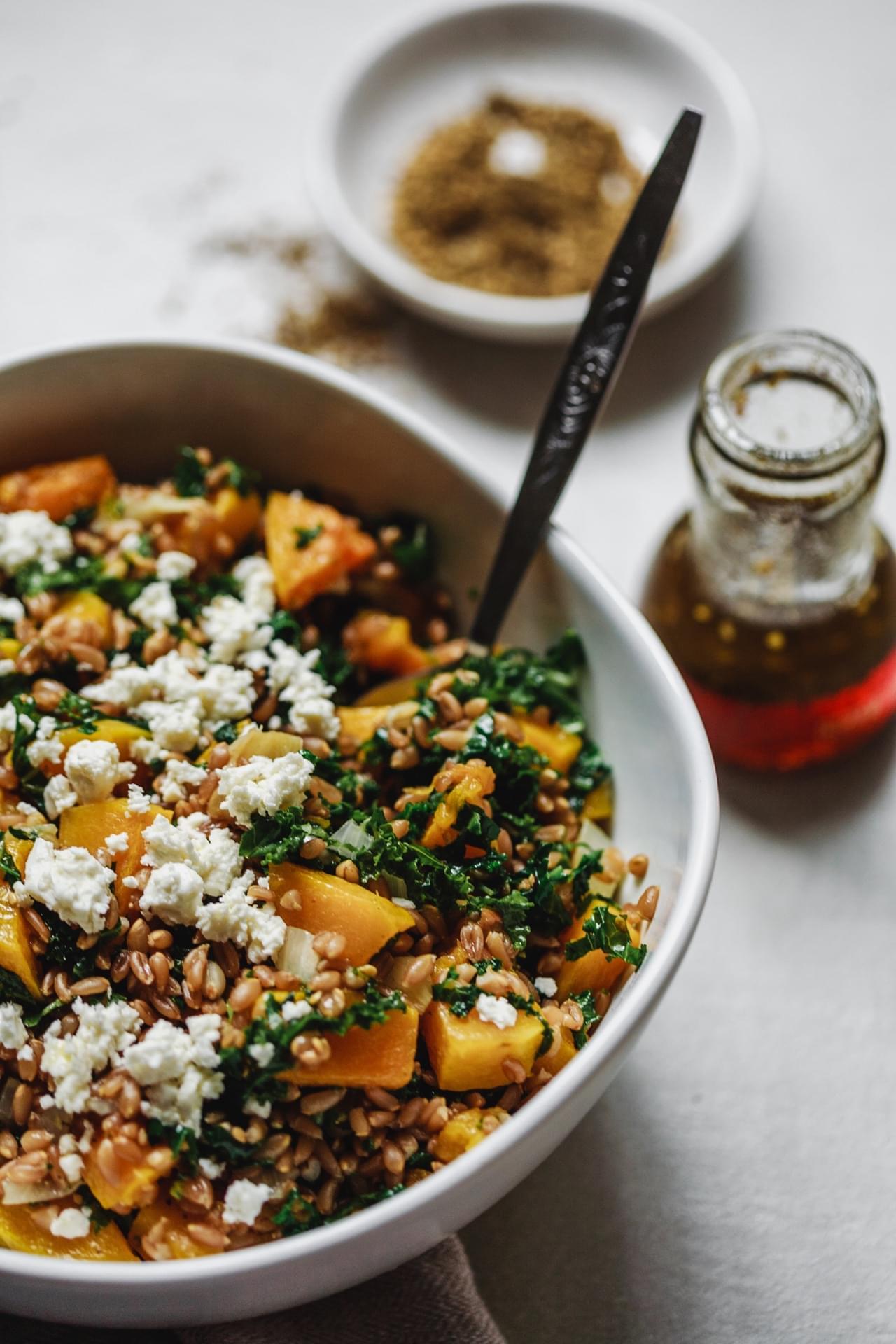 Anyways, I can't say I have a favourite salad because there are so many textures and flavours of salads out there that I love. I love a simple Marosalata (simple green style chopped lettuce and herb salad) to a fully loaded with fruits and nuts and seed and of course I could never pass up a yummy herby bean salad either. This salad is in the category of a loaded salad. Lots of beautiful layers of flavours and textures.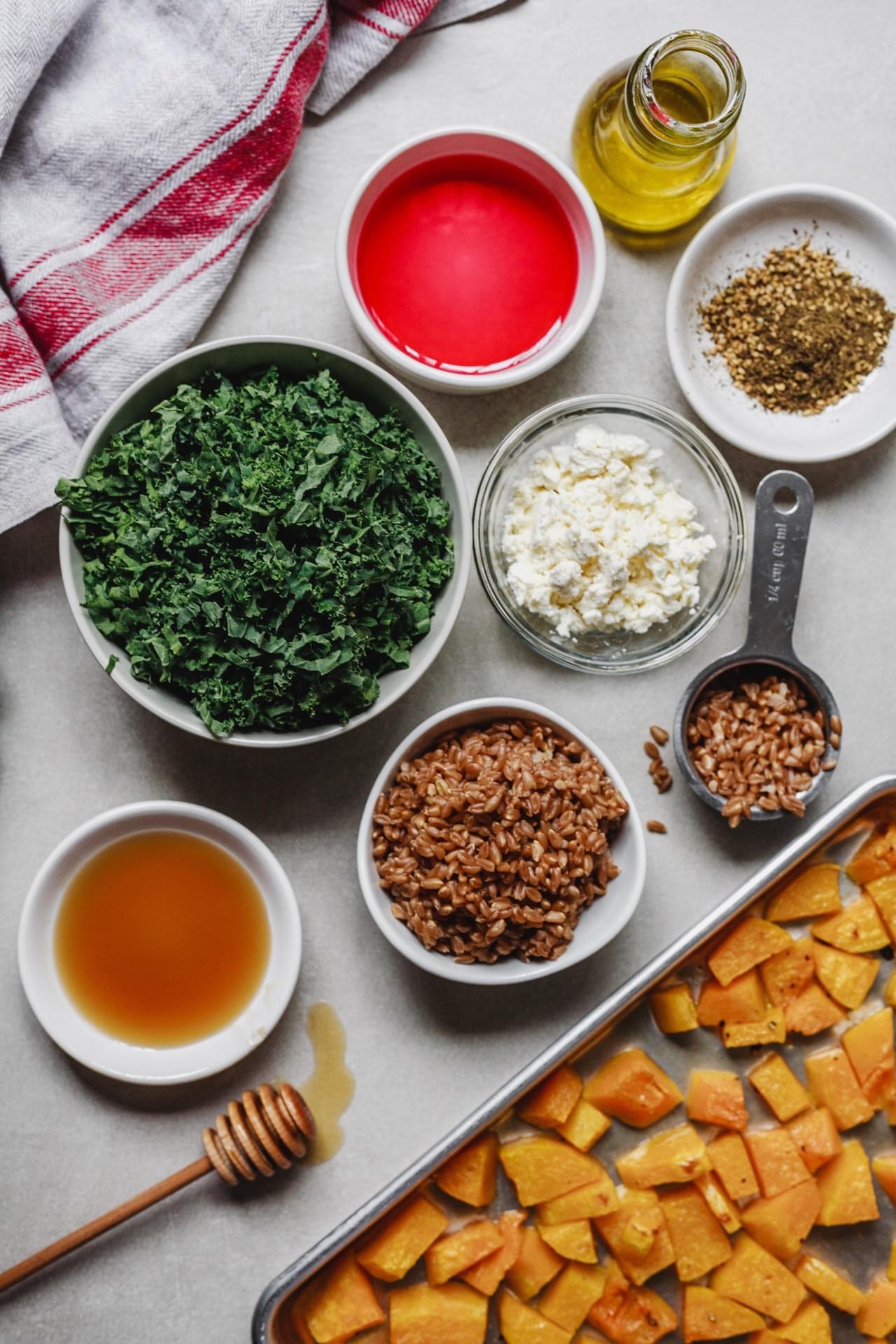 A friend of mine use to make a very similar salad and I saw two people I follow on Instagram make it as well and I just had to have it. My friend Irene from the Spicy Olive and Liren from the Kitchen Confidante. Both beautiful salads and I used some of Liren's techniques and especially loved the roasted garlic in her recipe.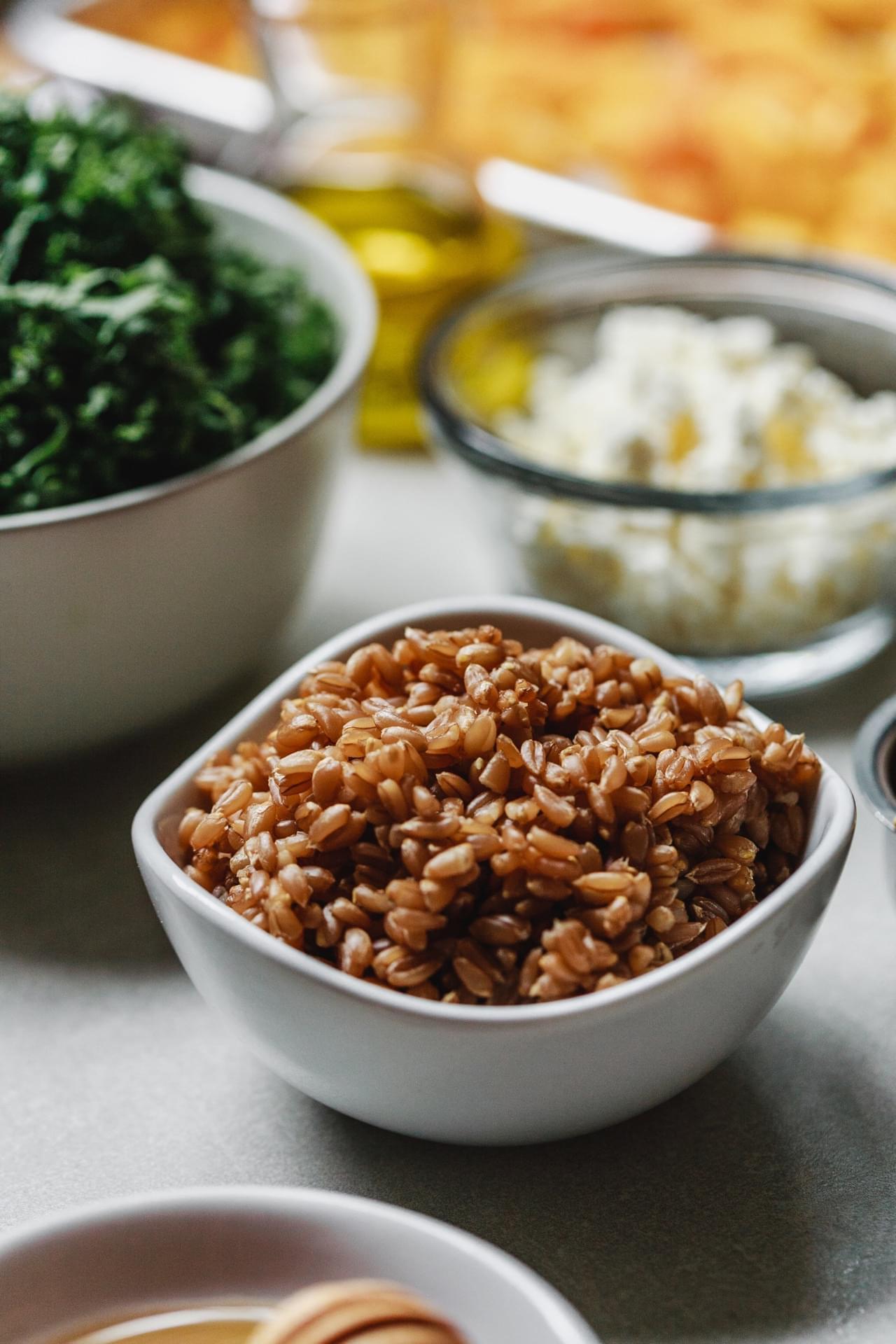 I love the slight chewy texture and nutty flavour of the farro and the roasted squash has a mild sweetness that is always intensified when roasted. The roasted garlic just amps up the flavour not only in the salad but the dressing as well. I love kale and it was perfect in the salad. It holds up against the dressing really well. You could use spinach as a substitute but it will definitely wilt and may get a little mushy but it still would be a good alternative green in the salad if you were looking for one. Just serve and eat it quickly. Hee hee! Or you could just not dress it. Keep the dressing on the side and you can add it per serving. If you don't like farro or don't have any you could also use brown rice as an alternative.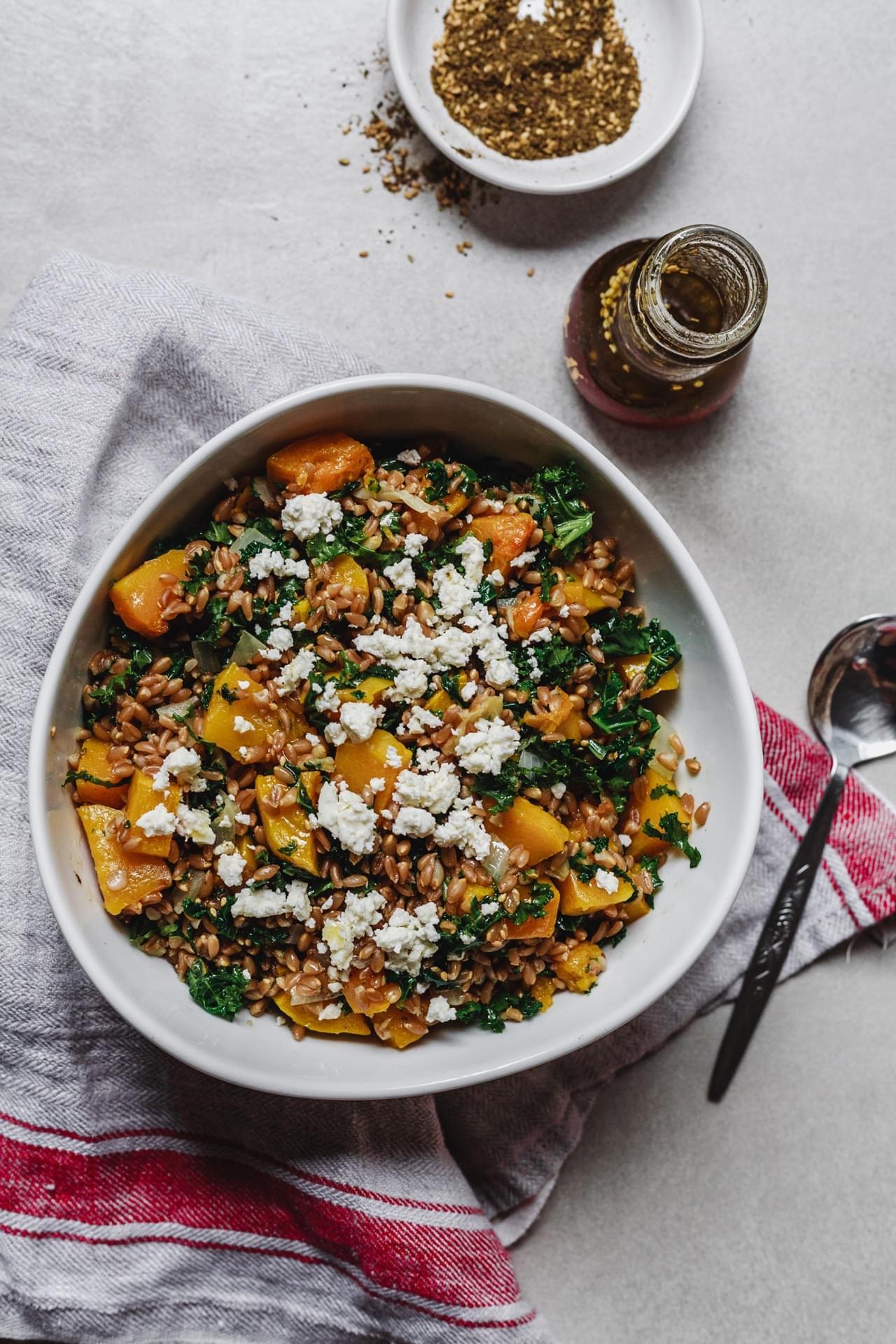 I love using za'atar spice blend in my dressing. It's aromatic and a little tangy too from the sumac in it. I love herby additions to my salads and dressings. I am Greek after all and we love our oregano heavy salads! Thyme is not a stretch and that is actually what za'atar means in Arabic and is comprised of. A mix of thyme, sesame seeds and sumac. Adding the feta was a total no brainer too for the same reason stated above – feta and salads just work. Rephrase that – feta + everything = just work (Greek math).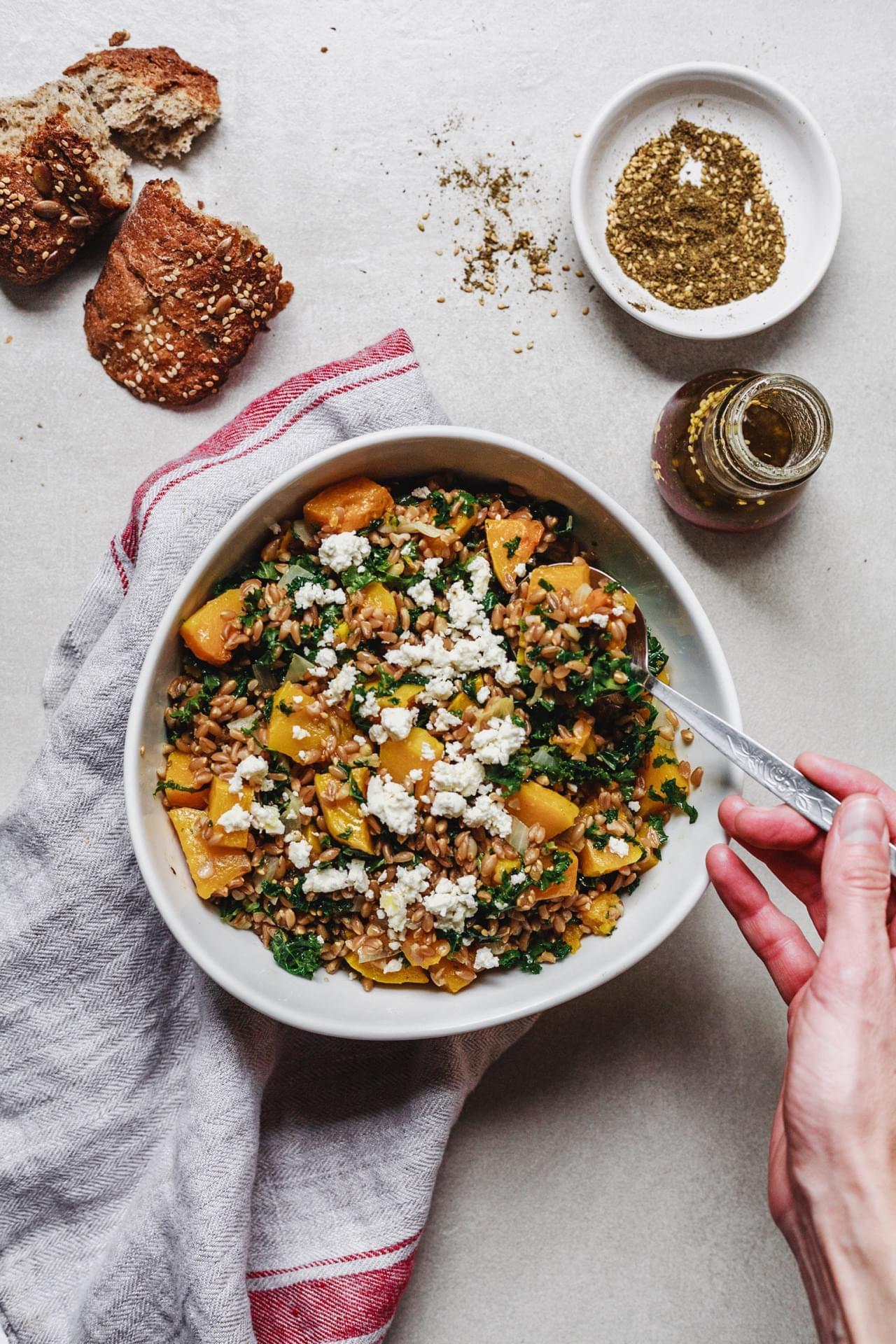 Basically this salad is pretty awesome and you need it in your life is what I'm trying to say. A few things that you could add to give it more texture would be dried cranberries, toasted nuts or seeds and possibly some chopped fresh herbs. I think all those things would be great add-ins and can be added according to how loaded you want your salad. You most definitely should give this a try. It's filling and fabulous and you will love it! Enjoy!!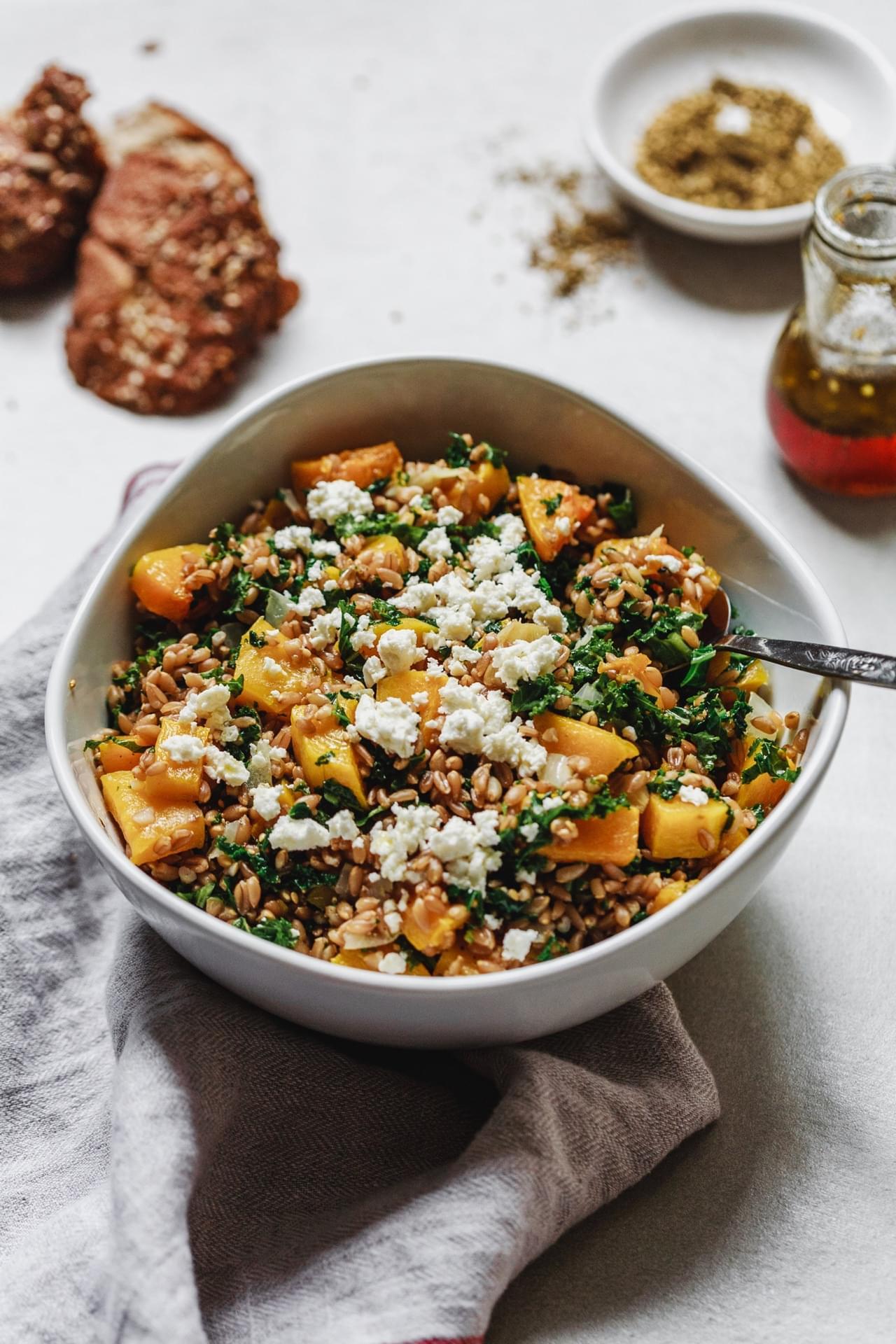 Ingredients
For the Salad
1 small to medium butternut squash peeled, seeds removed and chopped into cubes
4 cloves of garlic peeled and left whole
4 tbsp of olive oil divided
2 cups Farro
4-5 cups of water
1 tbsp of butter
1 small onion finely diced
3 cups kale washed stems removed and sliced very fine or shredded
¼ cup of feta cheese crumbled
Salt and pepper to taste

For the Dressing
¼ cup olive oil
¼ cup red wine vinegar (alternatively can use balsamic for more sweetness)
1 tbsp honey or maple syrup
2 of the roasted garlic cloves mashed
1 tbsp za'atar spice blend
Salt and pepper to taste

Directions
Preheat oven to 400°F

Toss the squash and garlic in a large baking sheet with 2 tbsp of olive oil and sprinkle with salt and pepper to taste.

Roast for approx 20 minutes or until tender and starting to get golden on the edges, tossing once half way through. Remove when done and set aside.

In the meantime bring a pot of 4-5 cups of salted water to boil, add the Farro then bring it to a low simmer, cover and let simmer for approx 30 minutes or until Farro is cooked and has bloomed, checking and stirring occasionally. Once done remove from heat, drain off excess water if needed and set aside.

Remove 2 of the roasted garlic and mash it up in a small bowl with a fork then add and whisk together all the dressing ingredients except the olive oil. Drizzle in the olive oil while whisking and season with salt and pepper to taste and set aside

Mash up the other two cloves of garlic and add to a medium skillet set on medium heat with the remaining olive oil and butter and then toss in the chopped onion and sauté until the onion is soft and translucent. Toss in the kale and sauté for a few minutes until slightly wilted and bright green. Remove from heat and set aside.

In a large bowl toss together the Farro, kale mixture and squash and drizzle in half the dressing adjusting seasoning as needed. Sprinkle feta over salad and serve warm or cold with reserved dressing and enjoy!

Adapted from the lovely Liren of the Kitchen Confidante