Creamy Tuscan Tortellini
This Creamy Tuscan Tortellini Pasta is super easy to make and loaded with flavor. Plus, it's all cooked in one pot, making clean up a breeze. Great under 30-minute dinner, perfect for busy weeknights with minimal work and simple ingredients. This easy Tuscan tortellini skillet meal is just that coming in at 20 minutes. It's also a recipe that is versatile - you can change or add vegetables and meat according to what you have on hand. You guys love my Creamy Tuscan Tortellini Soup so much that I thought I would make another creamy variation of it.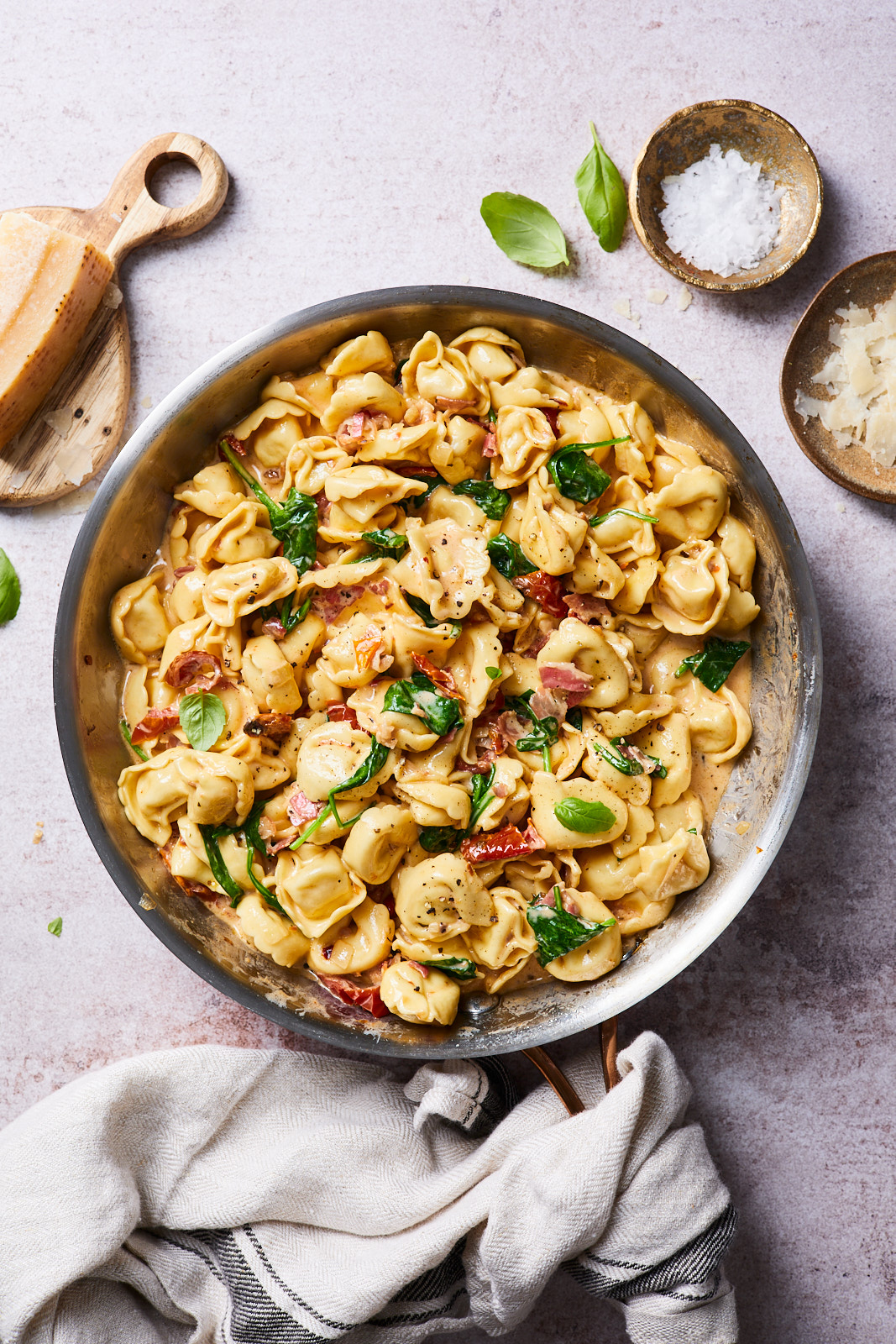 What is in Creamy Tuscan tortellini?
(Scroll to the bottom for the detailed printable recipe) Here's a summary of what you'll need:
Tortellini - this only works as a one pot meal using fresh tortellini. If you use dried or frozen I recommend partially cooking them in boiling water separately according to their package instructions then draining and adding them to the pan as directed in recipe below. I always use cheese filled   but you can use whatever ones you like
Pancetta or Bacon – I love to add this to the dish - it adds so much flavour to it but if you want to keep this dish completely meatless that is fine and just as delicious- just omit the pancetta and add 1 more tablespoon of olive oil or butter to pan to cook the shallots and garlic with. If you would like to add an alternative protein roasted chicken that you made at home or store-bought rotisserie chicken would work, crumbled italian sausage can be cooked as you would the pancetta at the start of the dish or even sliced chicken breast or thighs - these will need a little extra time to cook.
Spinach – I love to stir in some baby spinach to boost the colours and nutrition in this dish but feel free to get creative and add extra veggies or replace spinach for them, like sliced cremini mushrooms, zucchini, asparagus, diced eggplant, frozen peas…
Sun-dried tomatoes- I always recommend oil packed ones because they are so much more flavorful - more details about this in my recipe notes below- but if you want to substitute these with sliced roasted red peppers you can
Heavy Cream - this is essential. I wouldn't recommend milk. Half and half will work but the best is heavy cream as anything else can and will separate or curdle. This won't affect the flavour of the dish but it will not be as creamy. Be very careful if you use any thing but the heavy cream, to not let the dish boil at any point this will initiate the separation in the sauce
Seasoning – salt, pepper, cracked red pepper flakes, italian seasoning fresh chopped parsley or basil. The Parmesan cheese is optional.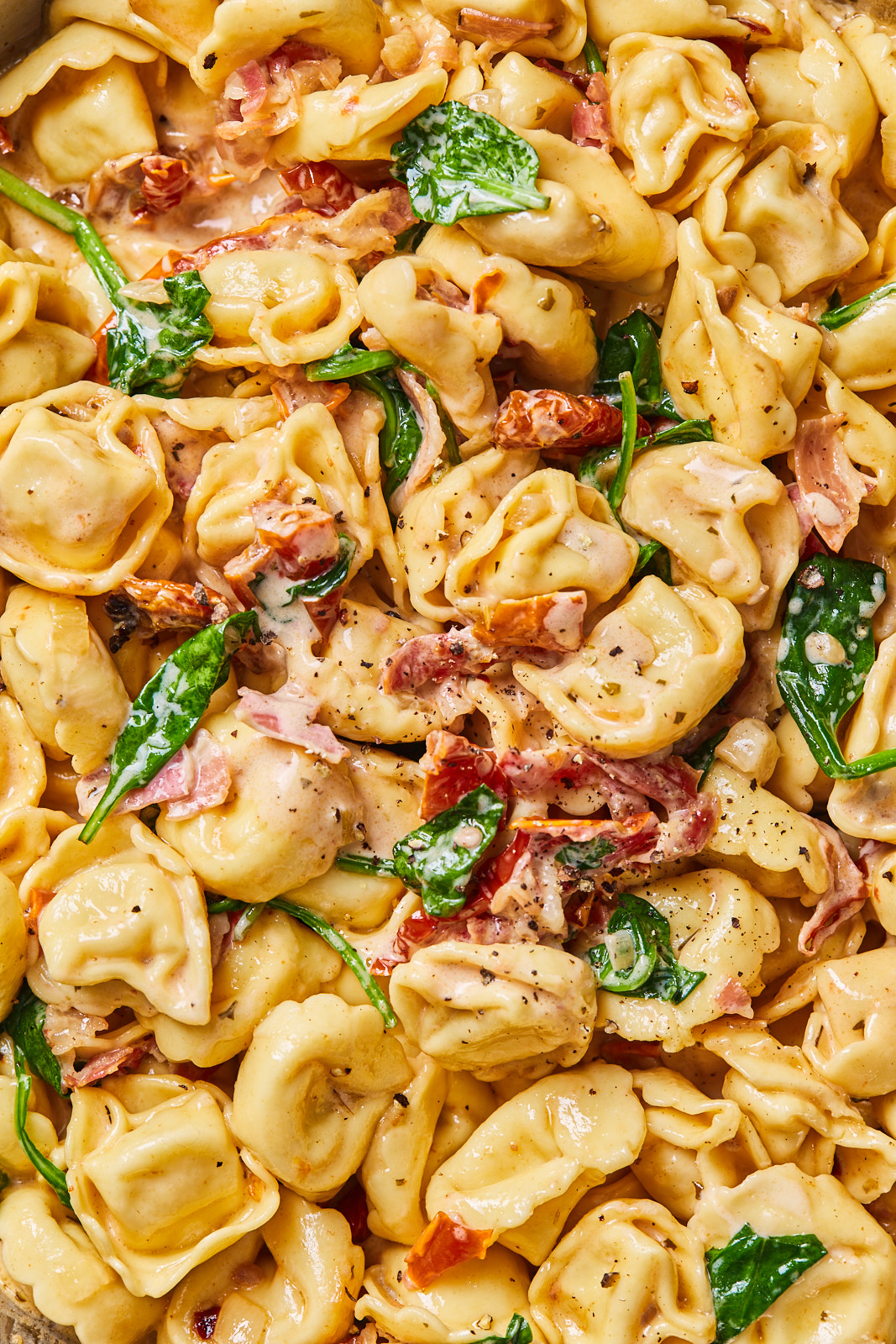 How to Make Creamy Tuscan Tortellini
Gather up your ingredients, sauté a few of them, and cook the tortellini in the same pot with everything else. This dish comes together so quickly! 
Sauté the pancetta or bacon if using until it's crop and has rendered then add the shallots, garlic and spices and sauté until shallots are softened.
Add in the broth and sun dried tomatoes, bring to a low simmer than add the cream and tortellini - stir cover and cook for 5 min stirring occasionally.
Stir in the spinach and the Parmesan cheese if using and cook about 1-2 minutes until spinach is wilted
Serve immediately and enjoy!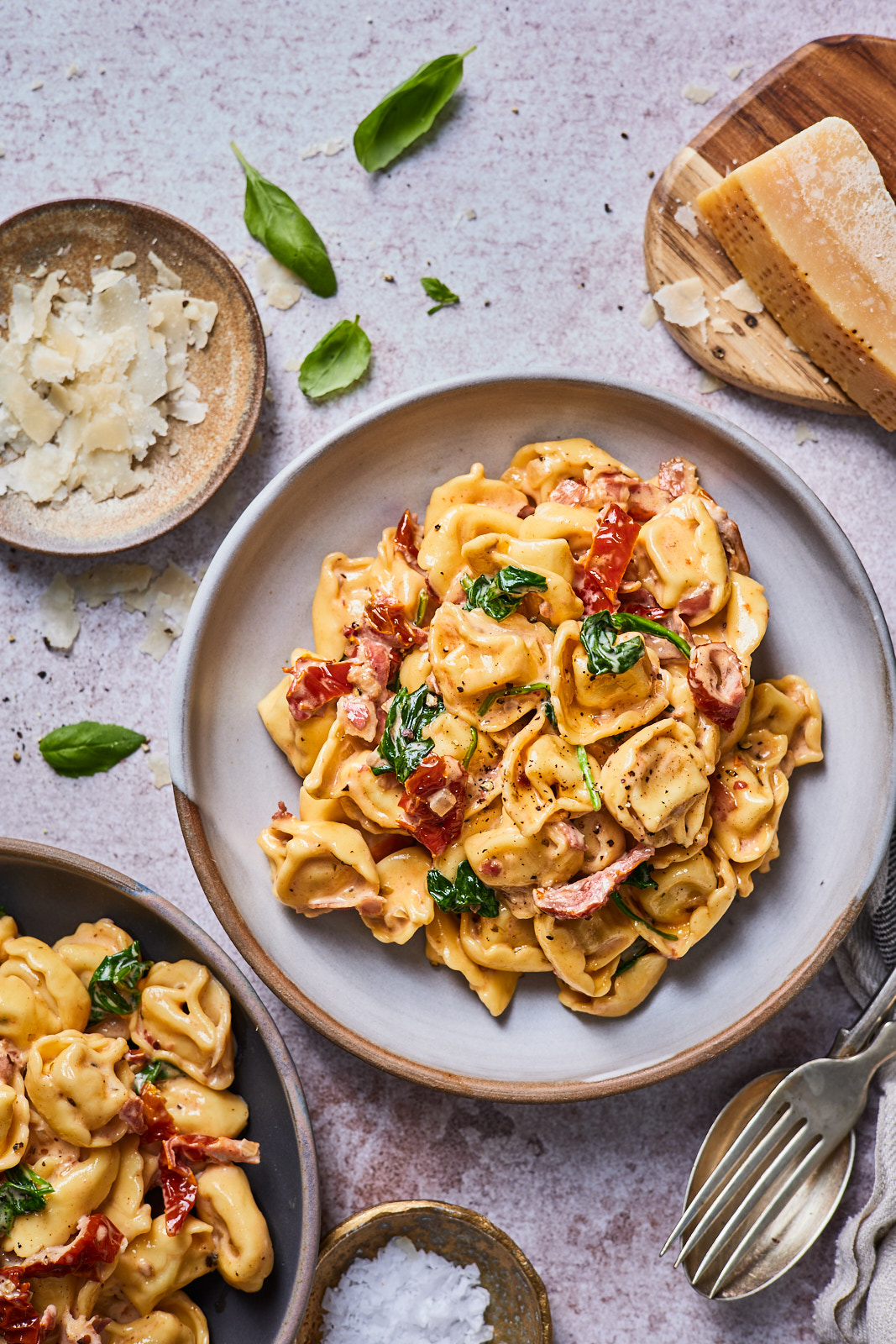 I love one pan meals especially when they involve tortellini. Here are a few more I think you will love:
Recipe
Prep Time: 10 mins
Cook Time: 15-20 mins
Ingredients
1 tablespoon olive oil or butter

3 ounces pancetta sliced (or bacon)

1 shallot peeled and sliced

3 cloves of garlic minced

¼ teaspoon chili flakes

½-1 teaspoon Italian seasoning

Salt and pepper to taste

½ cup broth/stock (chicken or vegetable) plus more if needed

½ cup sundried tomatoes coarsely chopped*

1 cup heavy cream

1 lb fresh cheese filled tortellini

1 cup baby spinach (packed tightly)

¼ cup grated Parmesan cheese (optional)

Chopped basil or parsley for serving

Grated Parmesan for serving
Directions
Heat oil or butter in large skillet or shallow pan over medium heat. Add the pancetta and cook until fat has rendered and pancetta is crispy.
Add the shallot, garlic, and spices to pan and cook until onion is softened and translucent, approx 2-3 min
Stir in the broth to deglaze pan scraping the bottom of it to release all the brown bits. Then stir in the sun-dried tomatoes. Bring to a low simmer but do not boil.
Stir in the cream, followed by the tortellini. Reduce heat to medium-low, cover and cook for approx 5 minutes, stirring occasionally to make sure nothing sticks to the bottom of pan. Check tortellini for doneness and if they are not quite tender yet, return the lid to pan and cook another minute.
Remove the lid, reduce heat further to low, and stir in spinach and Parmesan cheese if using.  Cook stirring very gently until spinach is wilted, approx 1-2 min. Check for seasoning and then serve immediately with extra Parmesan and chopped fresh herbs.
Cool leftovers completely, then transfer to an airtight container and store in the refrigerator. It is best eaten up within 2 days. Re heat with extra broth or cream if needed - creamy pasta dishes like this never have the same consistency after they have been initially cooked.
Recipe Notes
For the sundried tomatoes you can use dried or oil packed. If you are using them from a jar in oil - drain off excess oil before adding to pan. I actually prefer using the oil packed  because they add even more flavour to the overall dish.
I don't recommend using milk for this dish, it's much more likely to curdle or separate. (It's happened to me and it doesn't change the taste - still delicious but it's not as creamy) Heavy cream is best, half and half will work too, just be sure to not let the sauce come to a boil if you use half and half.
Can you freeze leftovers? I'm not a huge fan of freezing this dish, since the cream sauce tends to separate once thawed and changes the consistency of the dish when reheated so I wouldn't recommend it.