German Chocolate Pecan Pie
A sweet mashup of two very delicious desserts together in pie form. German chocolate cake is such a classic. Many times the frosting or filling on it and in it is usually made of pecans and coconut. I thought it would be genius to make a pecan pie with those same flavours - the addition of chocolate and coconut. Well I did some searching and I was definitely not the genius that came up with this mashup. This is a recipe from Southern Living and is just absolutely delicious. I used a few substitutions that I added to this recipe according to what I had in the pantry and fridge and it's just a wild and decadent dessert that none of us could get enough of.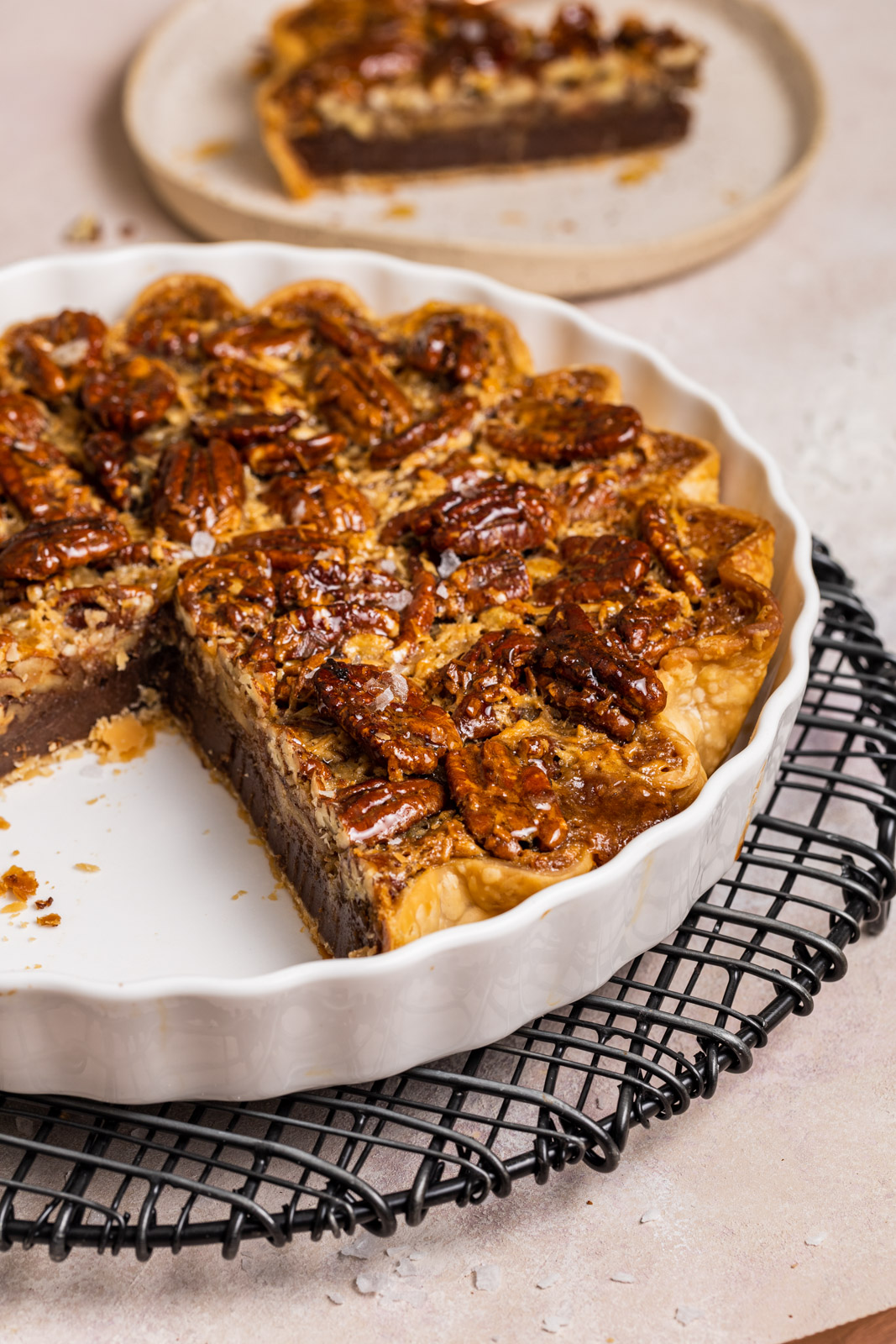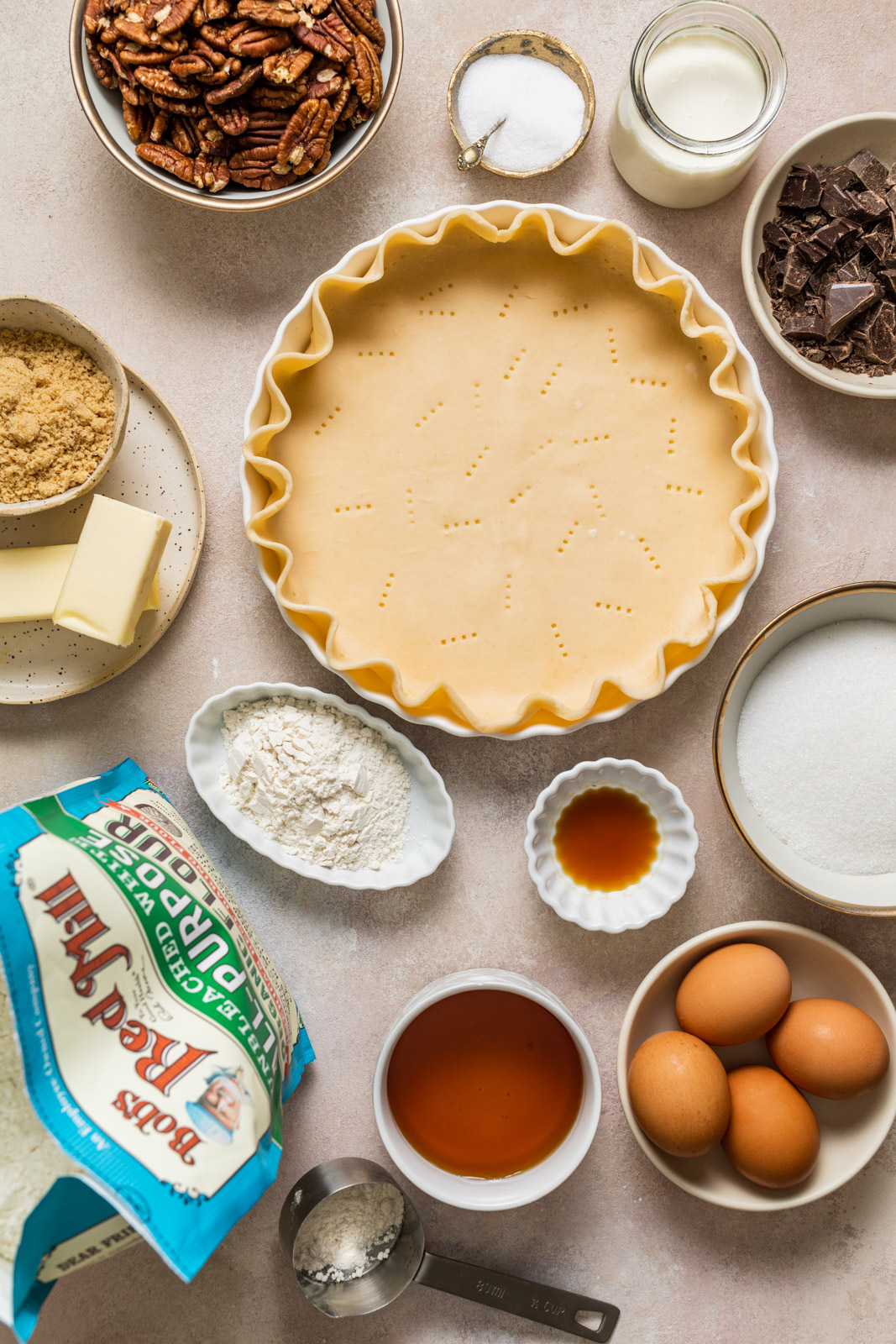 It's three layers of delciousness. The first layer is comprised by the most flaky of crusts. A basic pie crust that always works so well. It's a mix of butter and shortening which makes for that flaky crust. I use what I always have stocked in my pantry to make the crust and in this case to also make the chocolate filling - that is Bob's Red Mill Unbleached White Organic all-purpose flour. Its a premium baking flour milled from certified organic, hard red wheat. You can use this high quality wheat flour product for all of your baked goods, in yeast breads, quick breads, biscuits, muffins, cookies and cakes and most definitely this pie. It's unbleached and unenriched, with no potassium bromate added. Bob's Red Mill offers whole grain foods in the country. All of its products are certified Kosher and made with ingredients grown from non-GMO seeds.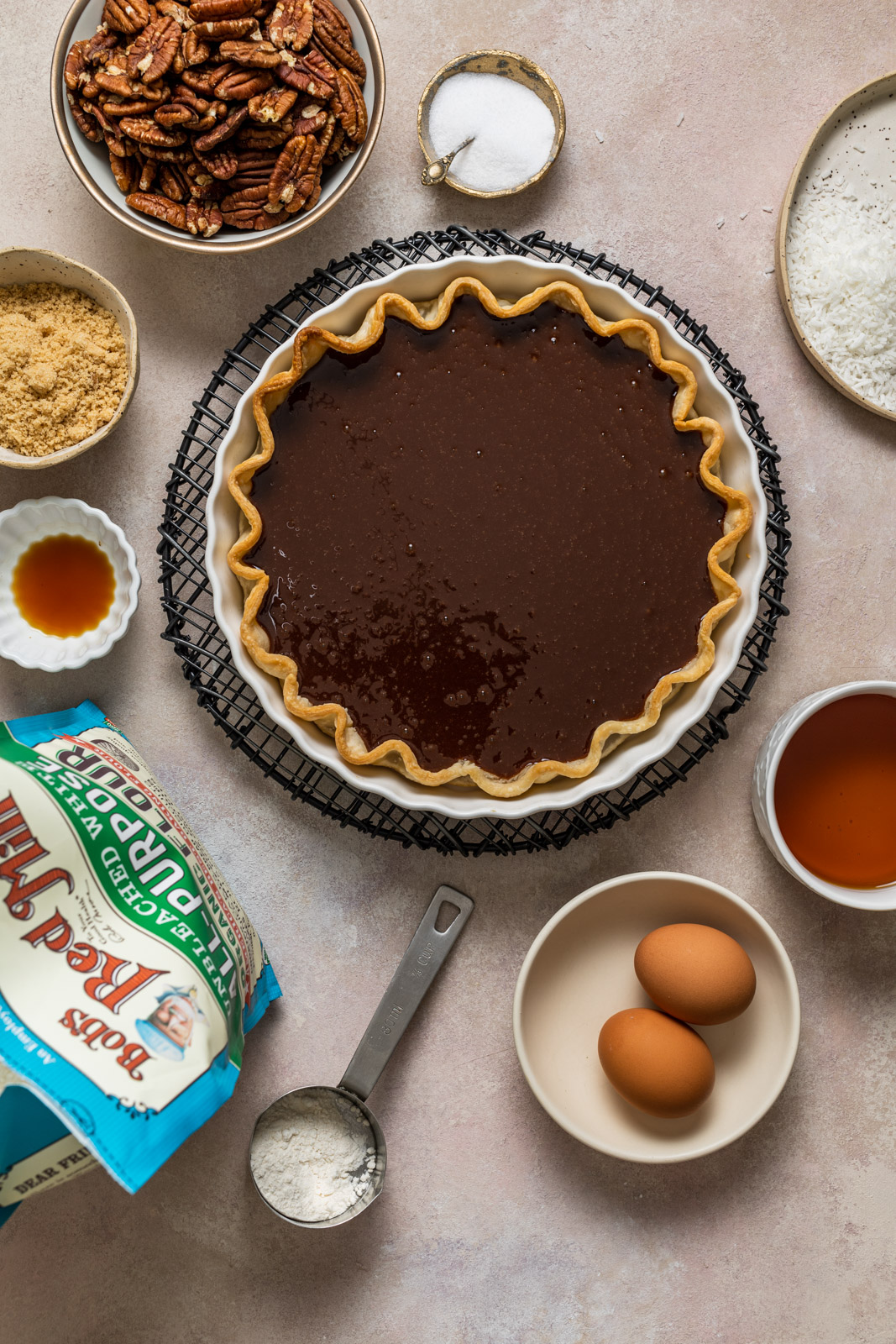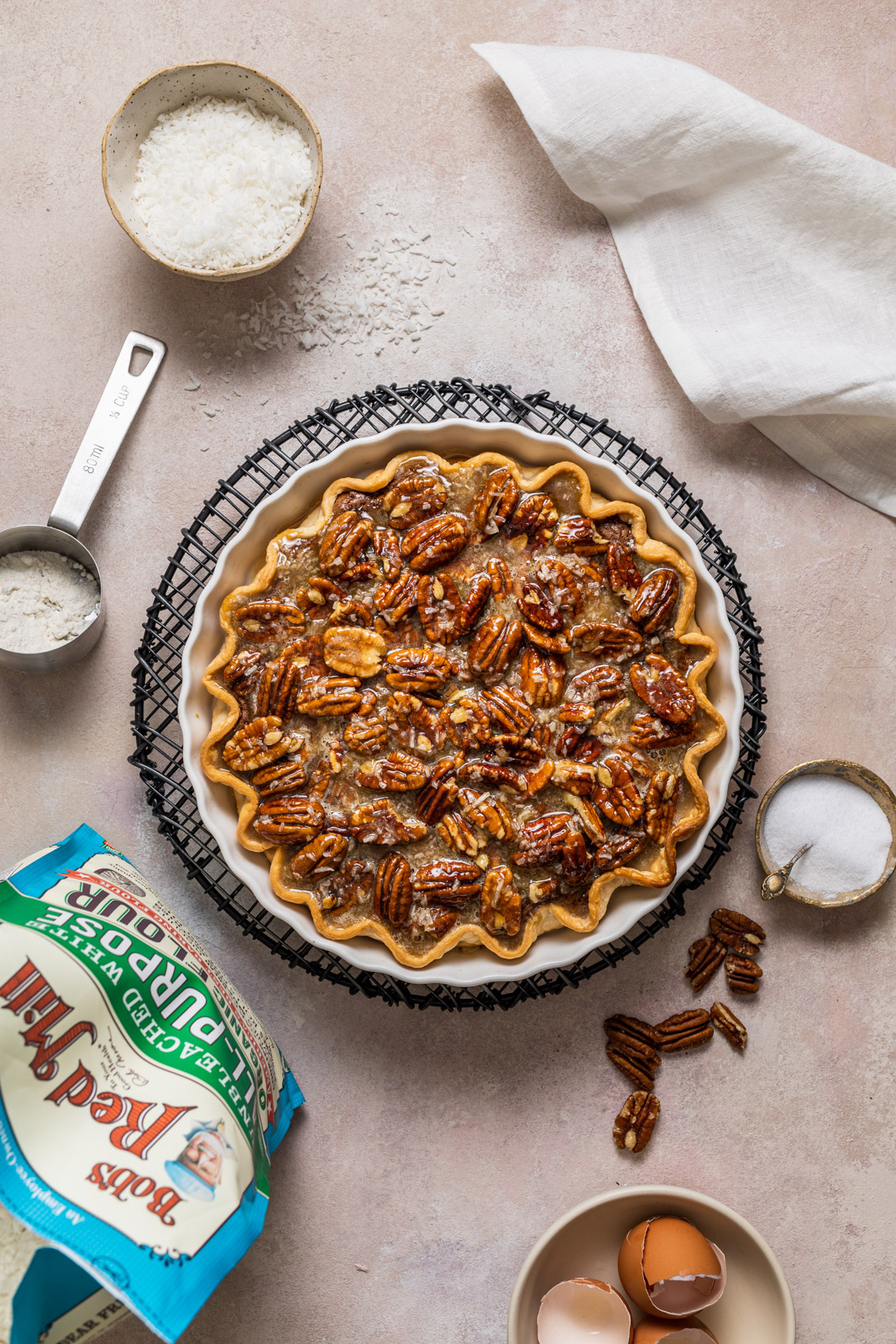 The next layer is that chocolate custard layer which Im pretty sure can make a delicious pie on it's own - kind of like my chess pie. It's just a decadent layer that is irresistible and made even better by being topped with that third equally decadent syrupy layer. The second custard layer is the classic pecan pie filling with the addition of the coconut. The coconut adds just a bit of extra texture and hint of coconuty flavour to it.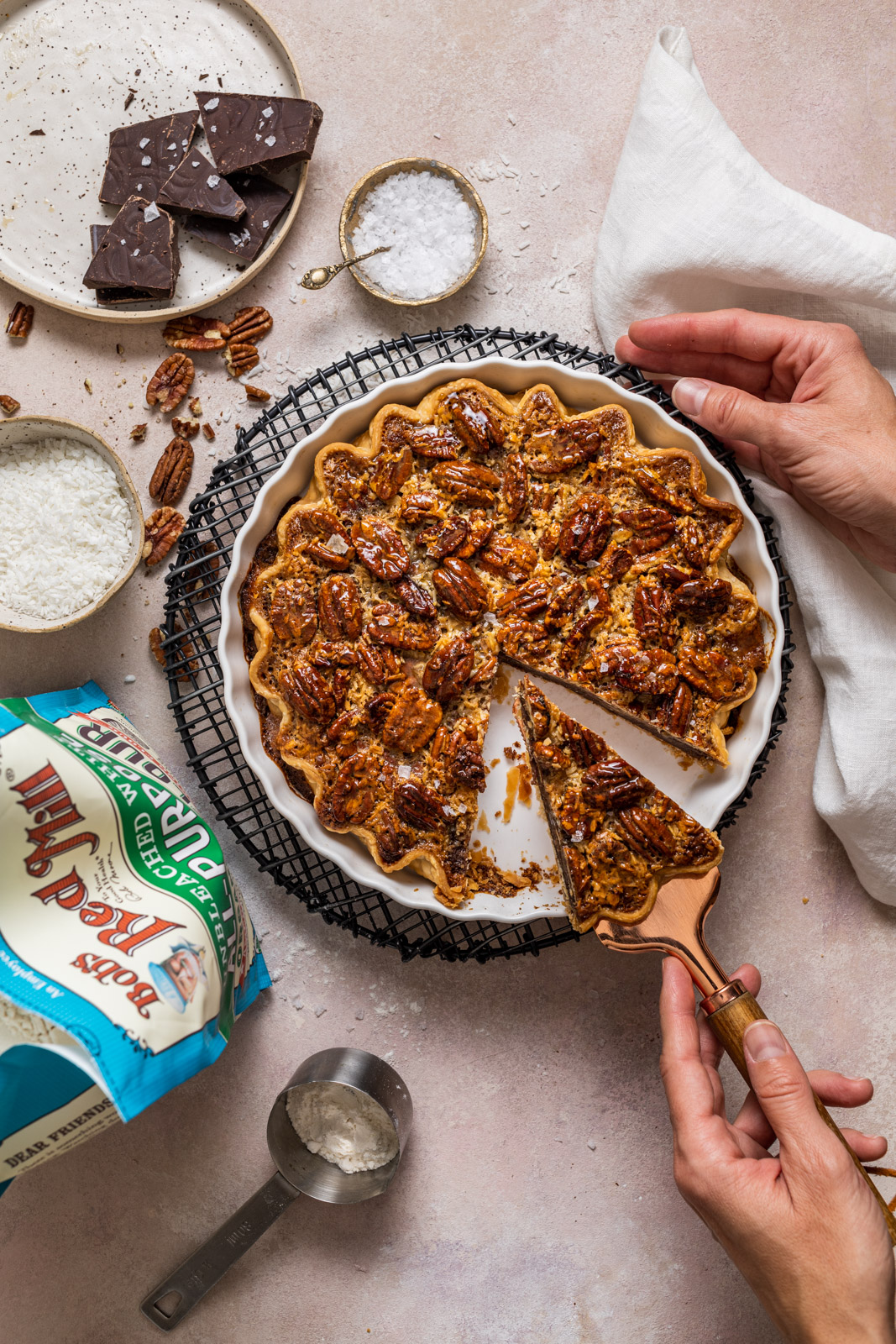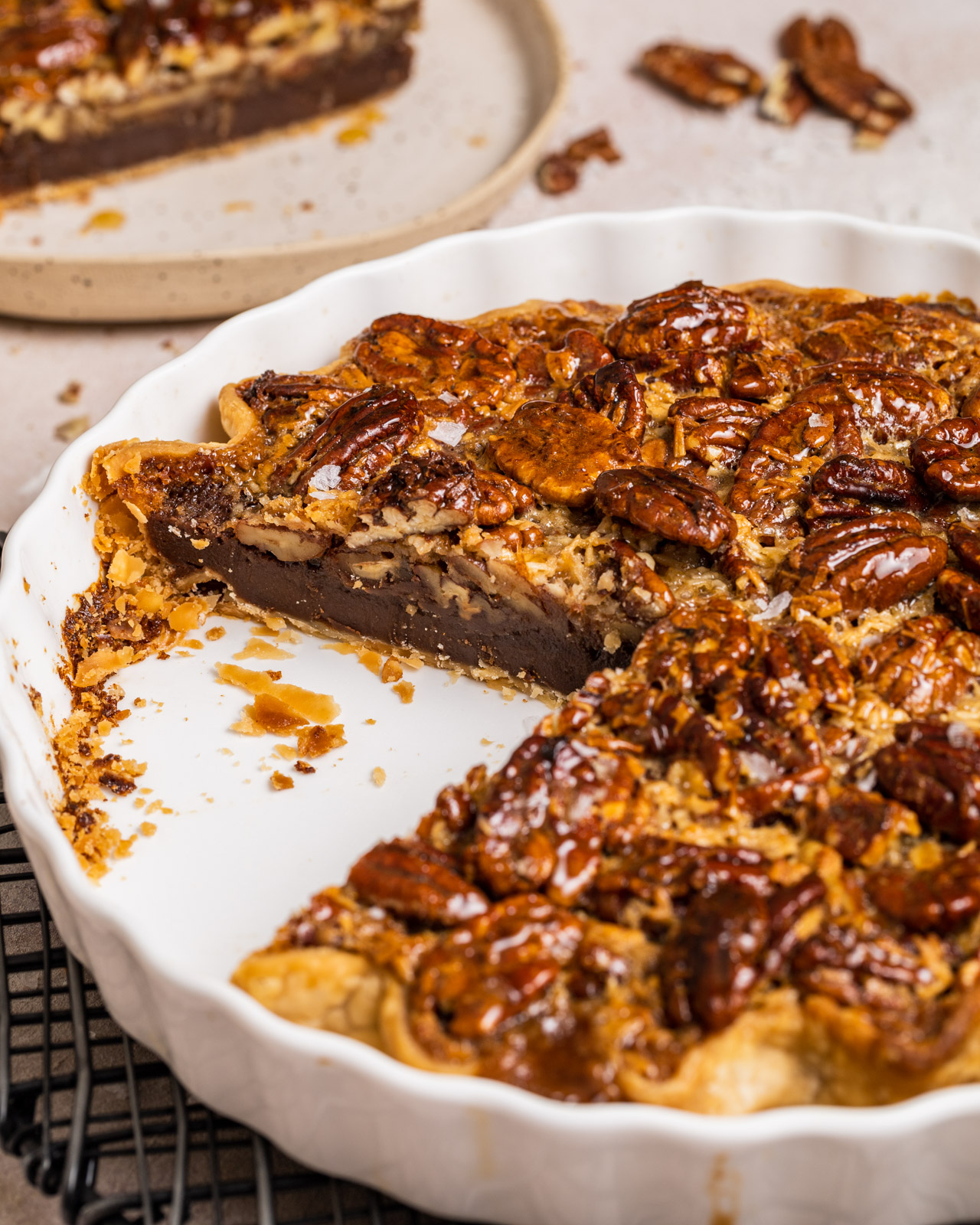 I thought this would be right up my hubby's alley as he loves desserts and sweet ones at that. This is definitely a sweet one and a rich one which I couldn't resist let alone Johann. You can serve it with some ice cream or even some whip cream but I think it's perfect on its own. I sprinkled it with a bit of sea salt and served it just as is and it was perfect. I know this is one pie I will be making over and over because it combines two of my favs chocolate and pecan pie! I have partnered up with Bob's Red Mill to bring you this fabulous recipe, but all opinions are my own. Thank you for supporting Olive & Mango.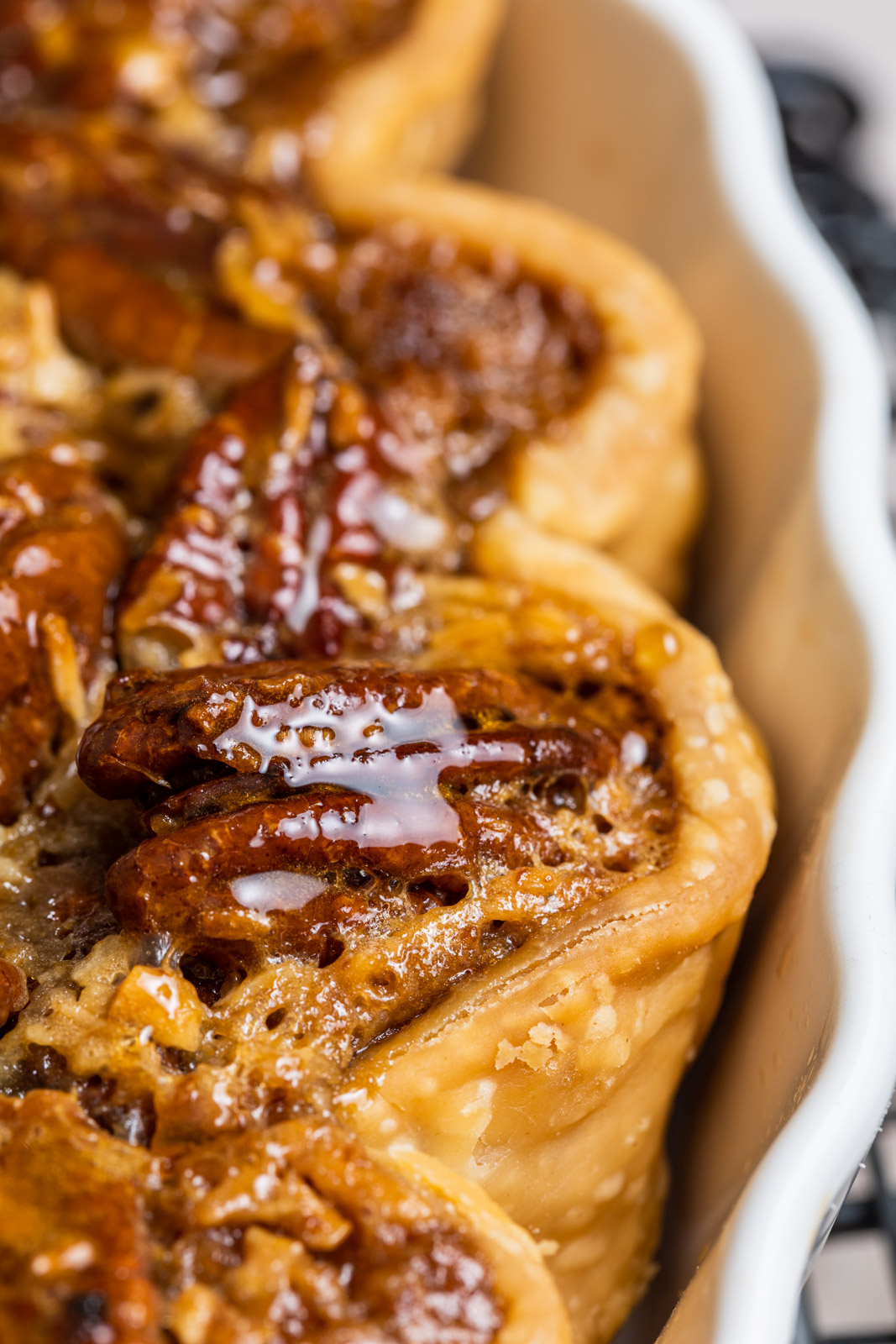 Recipe
Ingredients
For the crust
½ tablespoon granulated sugar

½ teaspoon salt

¼ cup cold butter, cubed

¼ cup cold shortening, cubed

4 to 5 tablespoons ice cold water
For the chocolate filling
1 (4-oz.) Semi sweet chocolate baking bar, coarsely chopped

½ cup butter

¾ cup granulated sugar

⅛ teaspoon salt

2 large eggs, at room temperature

1 (5-oz.) can evaporated milk (heavy cream as an alternative)

1 teaspoon vanilla extract
For the coconut-pecan filling
½ cup packed light brown sugar

½ cup dark corn syrup

¼ cup butter, melted

2 large eggs

1 teaspoon vanilla extract

2 cups pecan halves and pieces, lightly toasted

⅔ cup sweetened flaked coconut
Directions
Make the Crust: Whisk together 1½ cups flour, ½ tablespoon granulated sugar, and ½ teaspoon salt in a large bowl or in a food processor. Using a pastry blender, cut butter and shortening cubes into flour mixture until mixture resembles small peas. (Pulse a couple times after adding them to a food processor if using).Using a fork, gradually stir in 4 tablespoons ice water, stirring until dry ingredients are moistened and dough begins to form a ball and pulls away from sides of bowl, adding up to 1 more tablespoon of water, if necessary. (Drizzle in water to food processor and pulse a couple of times until dough comes together - do not over process) Turn dough out onto a work surface; shape and flatten into a disk. Wrap in plastic wrap, and chill for 1 to 24 hours.

Unwrap chilled dough disk, and place on a lightly floured surface. Let dough stand at room temperature for a couple of minutes until slightly softened. Sprinkle dough with flour, and roll into a 13-inch circle. Fit dough into a 9-inch glass pie plate. Trim dough, leaving ½-inch overhang; fold edges under, and crimp. Prick bottom and sides with a fork and freeze 20 minutes. While the pie is in the freezer preheat the oven to 425°F. Line piecrust with parchment paper, and fill with pie weights or dried beans. Bake in preheated oven for 14 minutes. Remove weights and parchment paper, and bake for another 5 minutes. Transfer to a cooling rack and cool completely, about 30 minutes. Reduce oven temperature to 350°F.

Make the chocolate Filling: Melt the chocolate and ½ cup butter in a microwave or in a small saucepan until melted and smooth. Remove from heat and whisk in ¾ cup granulated sugar, 3 tablespoons flour, and ⅛ teaspoon salt. Add 2 eggs, 1 at a time, whisking just until blended after each addition. Whisk in evaporated milk and 1 teaspoon vanilla until blended. Pour chocolate filling into prepared piecrust. Shield edges with aluminum foil to prevent excessive browning if needed and place on a rimmed baking sheet. Bake at 350°F for 30 minutes.

Make the coconut-Pecan Filling: Whisk together brown sugar, corn syrup, ¼ cup melted butter, 2 eggs, and 1 teaspoon vanilla until blended. Stir in pecans and coconut. Beginning at the outer edges of the partially baked chocolate filling, carefully spoon coconut-pecan filling over chocolate filling, and immediately return pie to oven. Bake until crust is golden and center is set, 35 to 40 minutes, shielding edges with aluminum foil to prevent excessive browning, if necessary. Cool pie completely on a wire rack, about 3 hours. Slice and serve with ice cream or white cream or just as it is.
Adapted from Southern Living