Greek Stuffed Peppers (Yemista)
Stuffed bell peppers are a favourite in our family. It's a fabulous dish common in many cultures and cuisines. Bell peppers make the best vessel to fill with any variety of fillings, including meat, vegetables, cheese, rice, and sauce. Greeks and in fact most if not all Mediterranean and Middle Eastern countries do roasted vegetables deliciously stuffed peppers included. Veggies roasted to perfection bringing out their intense and sweet flavours and then drizzled with olive oil. Doesn't get better.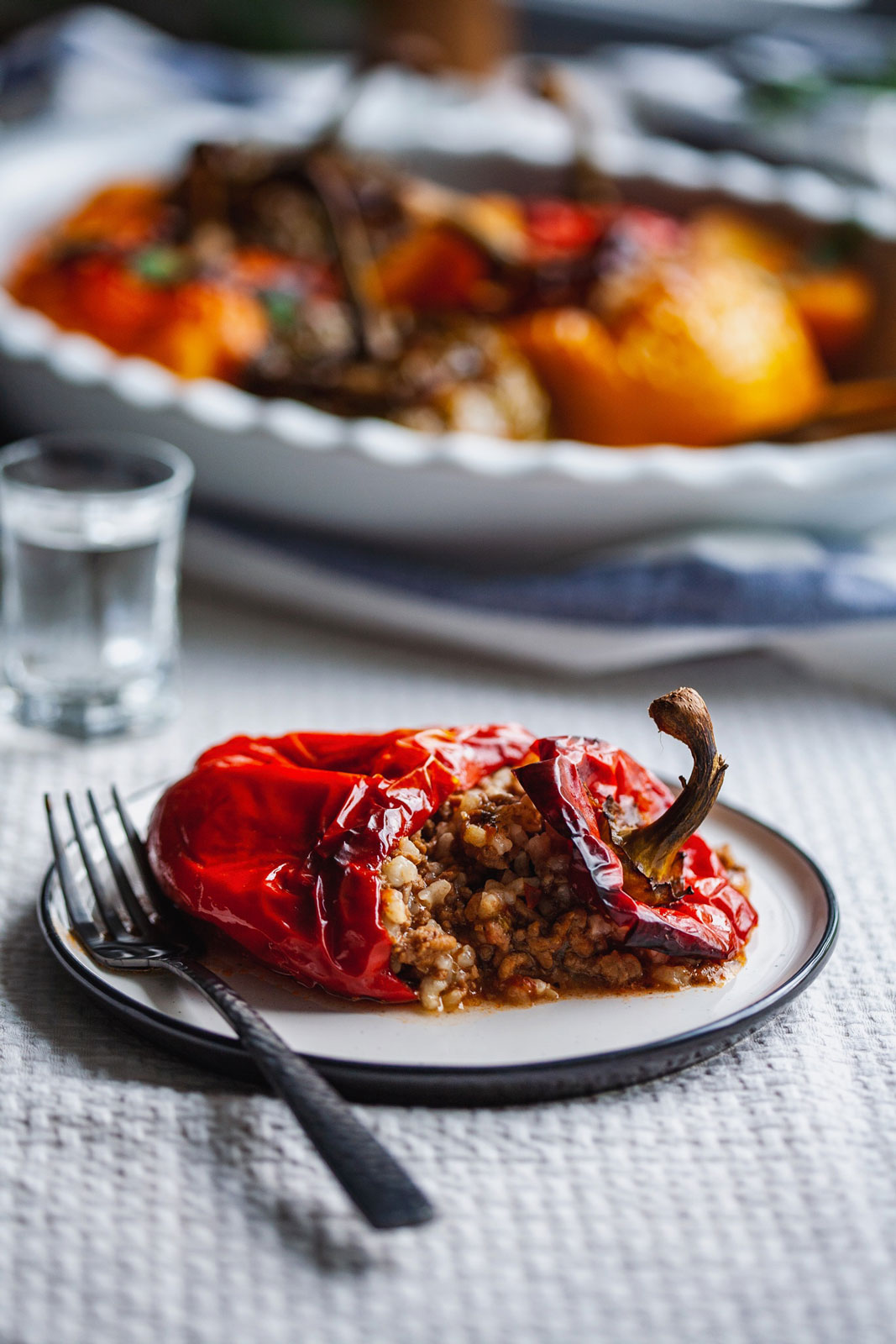 Naturally a favourite classic I grew up on and still enjoy is Greek-style roasted red peppers and I'm pretty partial to my moms stuffed peppers. When I was younger with a very innocent palate I use to peel away the pepper and dig into the filling - it was all about the filling - which I would crumble feta over and then just devour!!!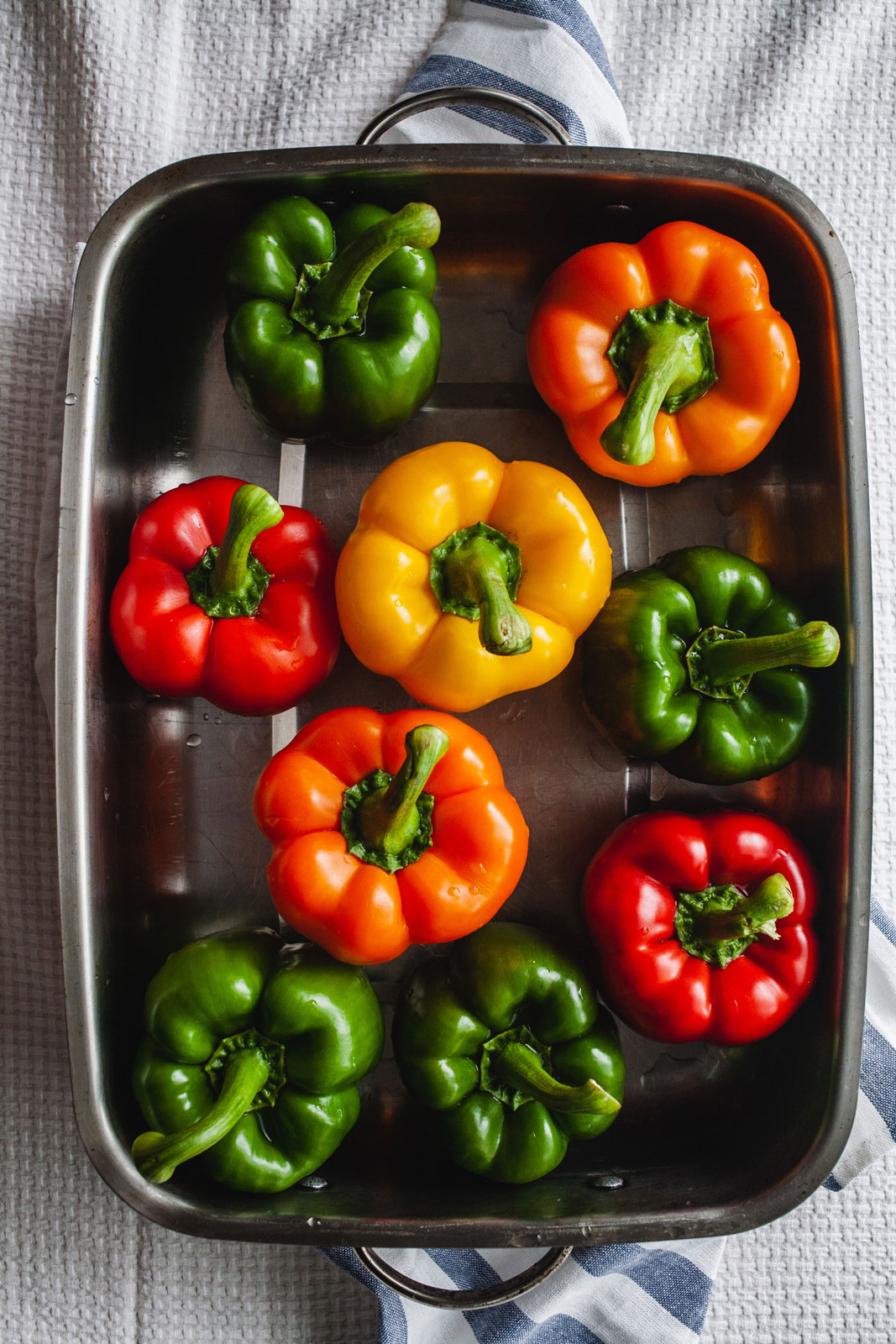 Naturally my appreciation for veggies changed and now I enjoy the whole pepper. I usually use a variety of colours when I'm making my stuffed peppers. I love the colour they add to the dish and they all have different levels of sweetness. Use a variety or use your favourite ones - either way is fine.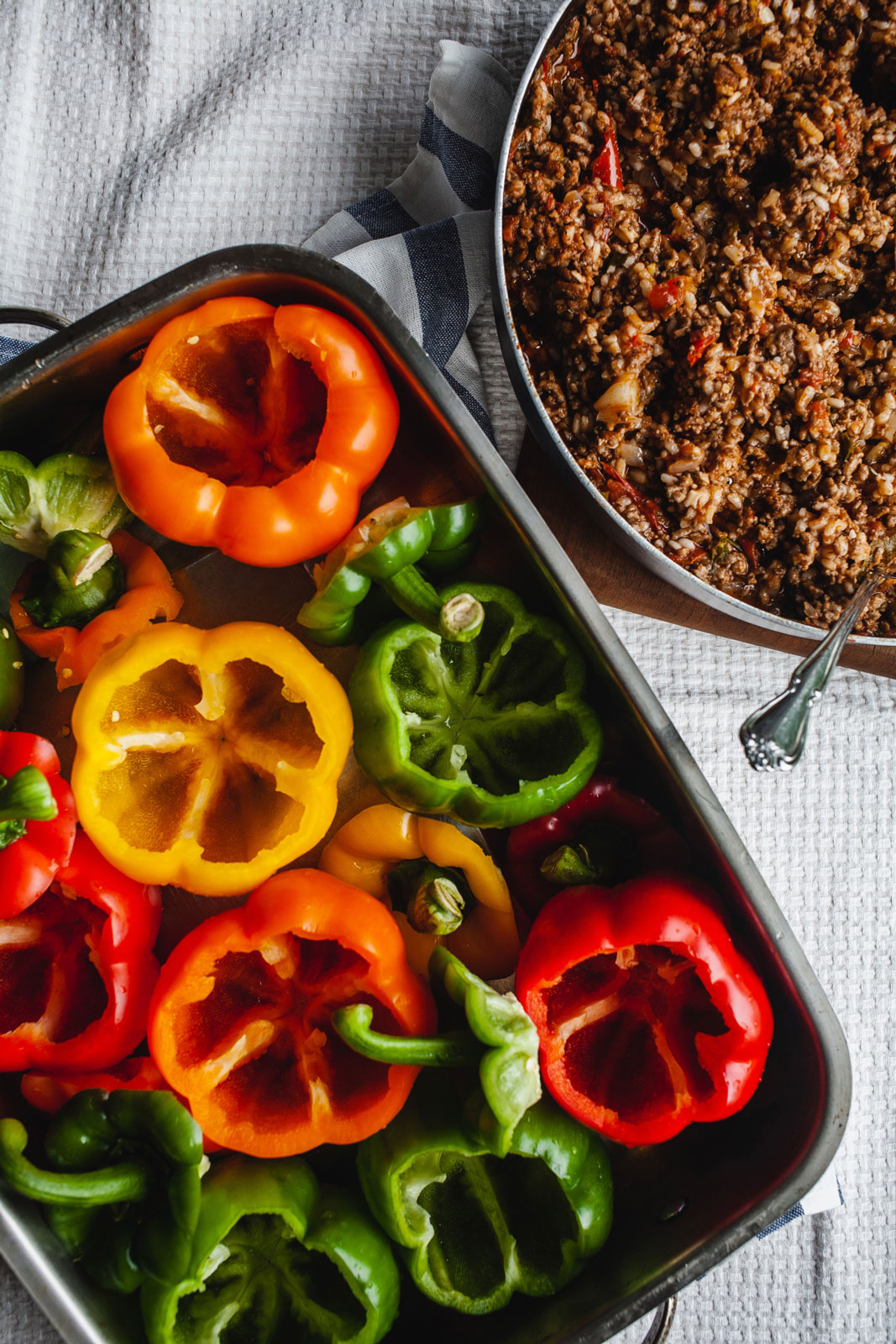 Now in Greek cuisine we literally can stuff anything. The most common veggies we stuff are peppers and tomatoes. But we also stuff zucchini, zucchini flowers, quince, eggplant etc… The name for these stuffed beauties in Greek is (γεμιστά) gemista or yemista basically meaning things that are filled. Appropriately named.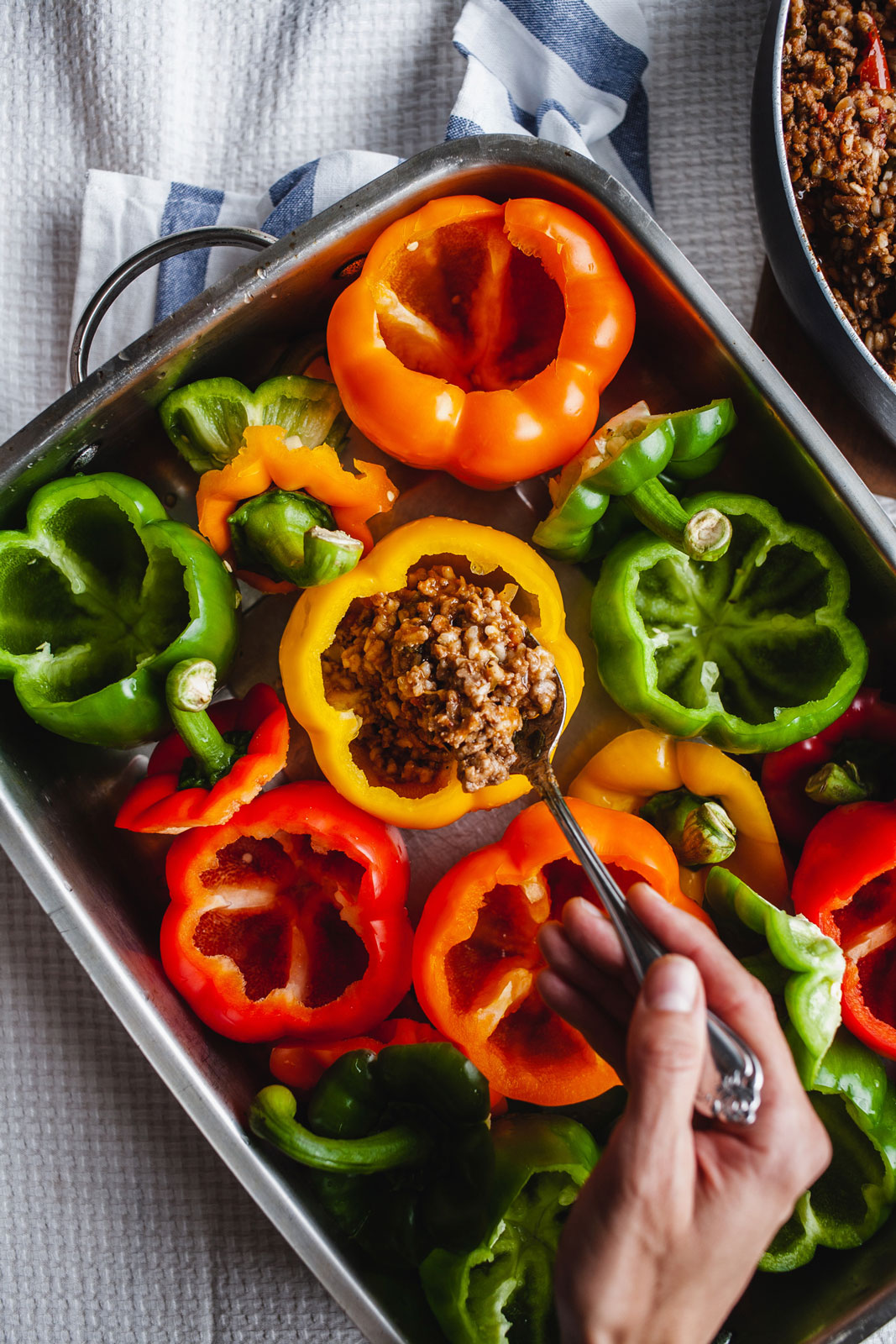 Good yemista for me are perfectly roasted and browned tomatoes or peppers. I'm not overly thrilled with crunchy stuffed peppers unless you're intentionally serving them raw and with a dip. They need to be perfectly soft and almost falling apart and with a slight char on them. So that being said, if you don't have the time to cook them until they are perfectly soft, then I would recommend blanching the peppers in boiling water for a few minutes beforehand to help kick start the cooking process. You can also pre roast your peppers for 10-15 minutes before stuffing to help them roast faster. I don't usually do either though. I just bake them until they are done. It takes a bit longer but I usually plan for that and make sure to give them enough time to fully bake properly.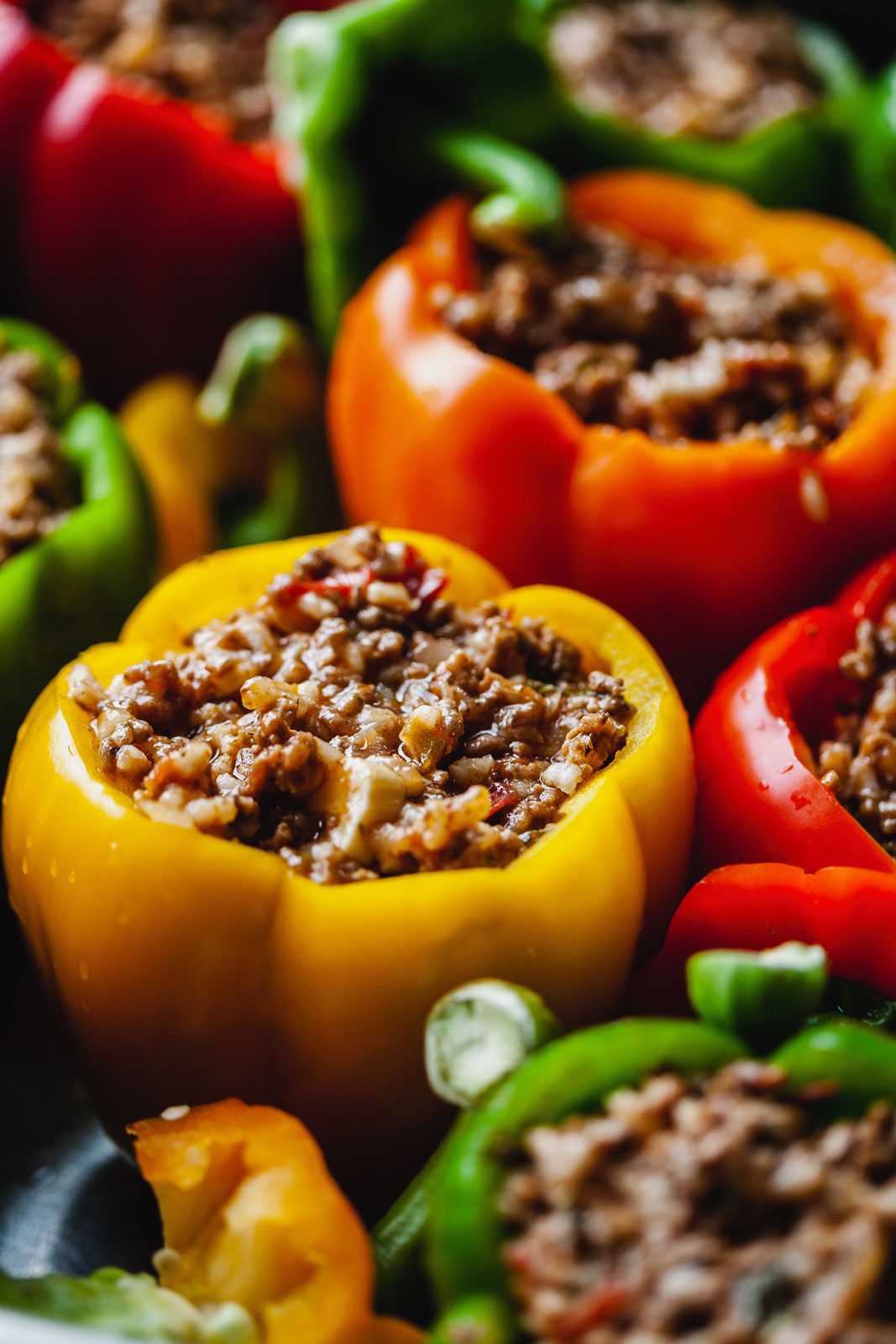 I love the variety you can get out of the stuffing too. You can make the filling so that it's suitable for all food preferences and diets. They are always gluten free because they are stuffed with your choice of rice or grain.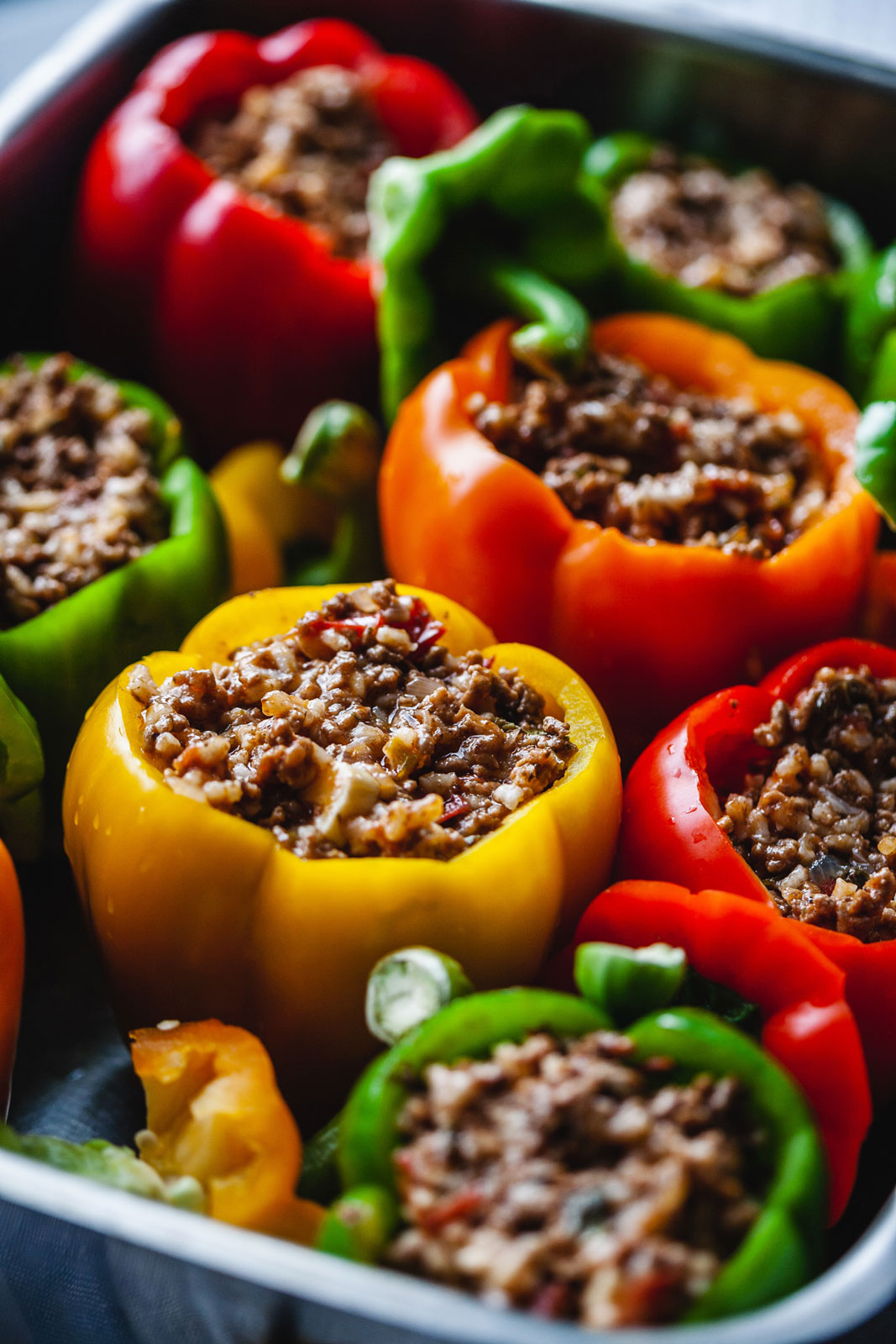 I tend to use minced beef but you can replace the meat with any meat. Minced chicken, turkey and lamb are some other options although with the turkey and chicken you may have to season a little more aggressively, because I find they are a little less flavourful than beef or lamb.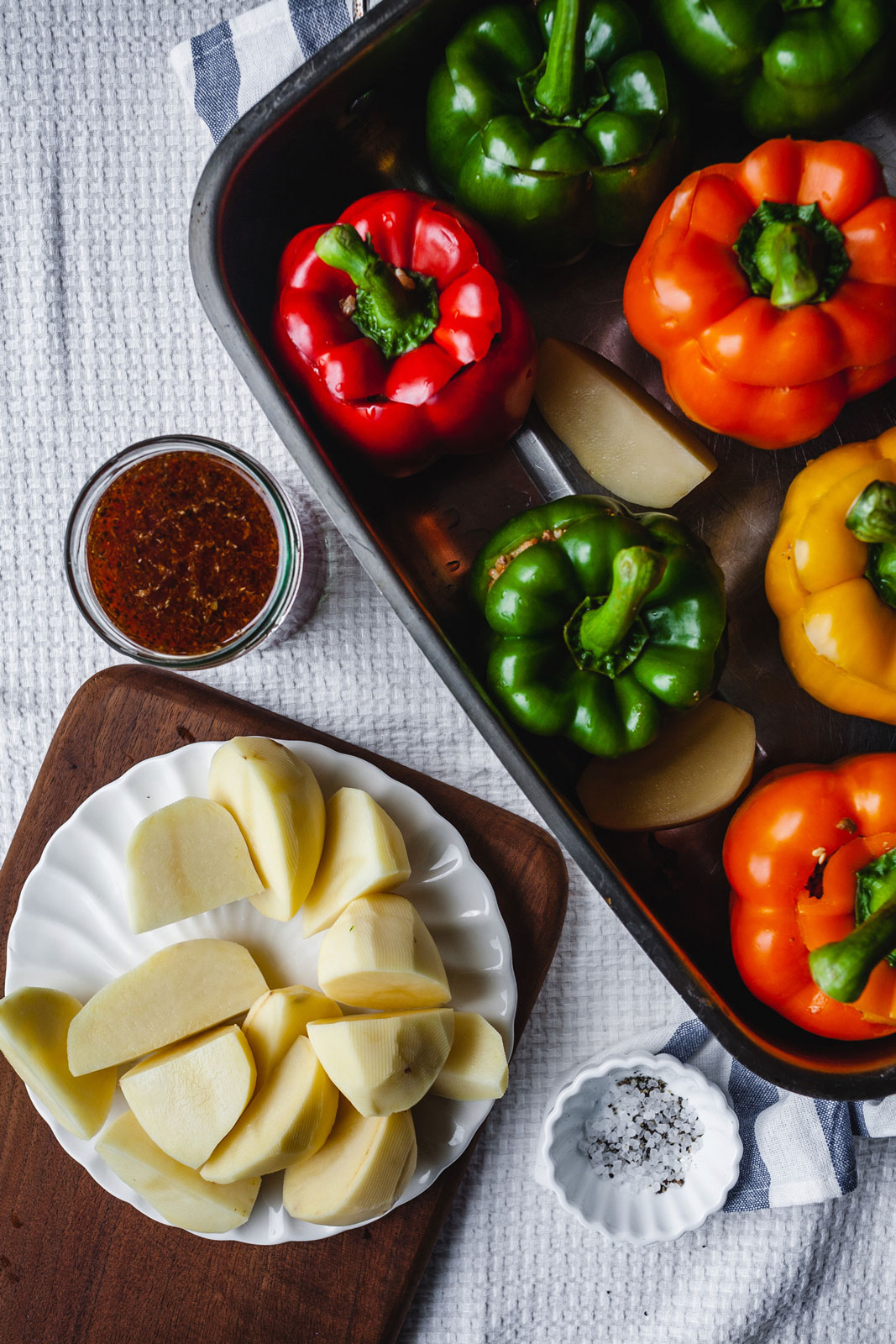 I usually use arborio rice but really any rice or grain can be used. I have even made them with quinoa just to switch things up and get a little more protein in. When I use quinoa I usually used precooked. That's isolated to the quinoa otherwise with any other kind of rice I usually wash it and add it to the sauce as its simmering and it gets ½ or ¾ way cooked and then cooks down the rest of the way in the oven in the peppers for simplicity.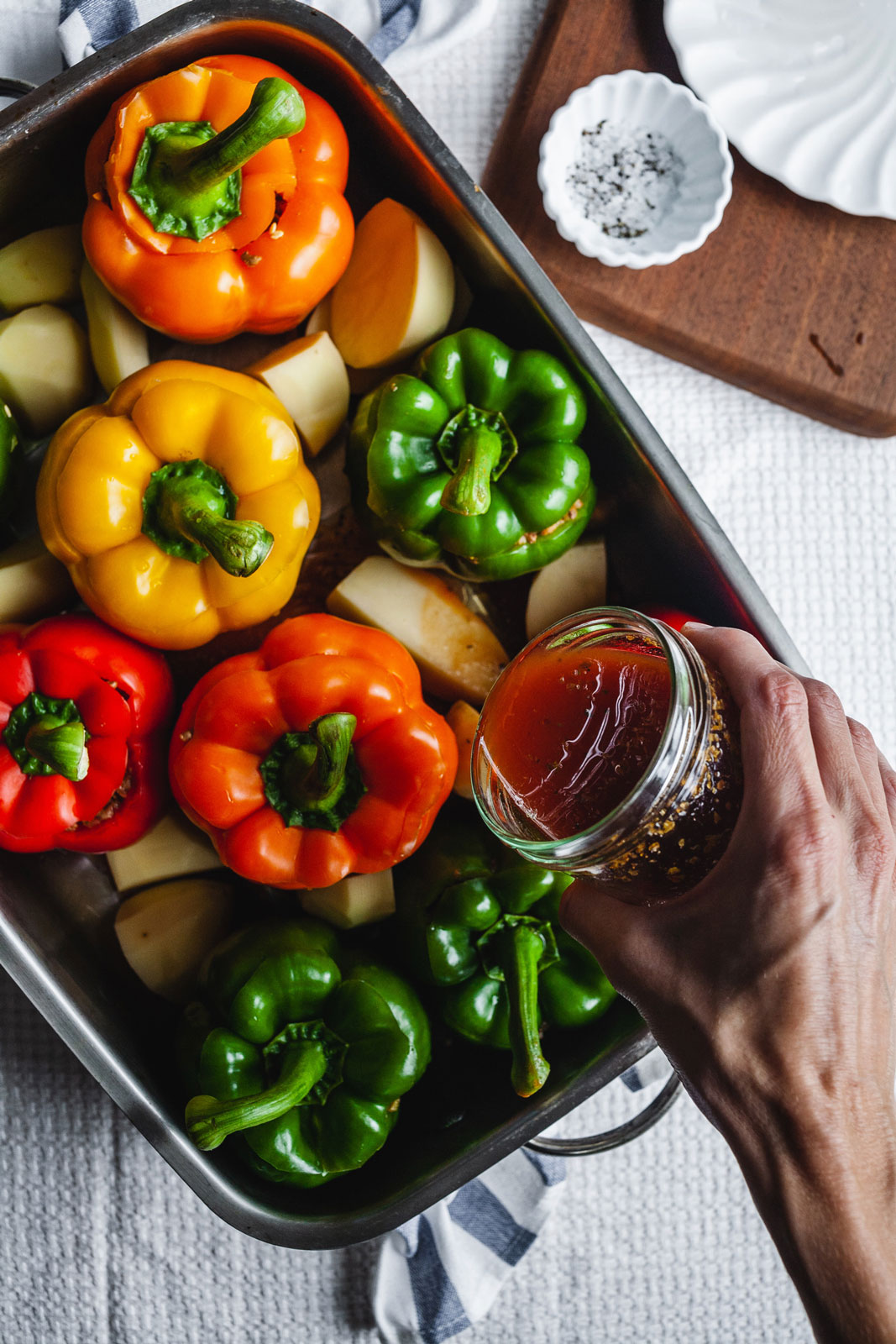 The variety is endless for vegan and vegetarian options, but I really like using green peas in the filling. I make the sauce like I would make Lathera. Which is basically stewing the peas in a lot of olive oil, chopped tomato and the same herbs along with the grain of choice. That would literally be combining two of my favourite recipes, Lathera and stuffed peppers! A great vegan option.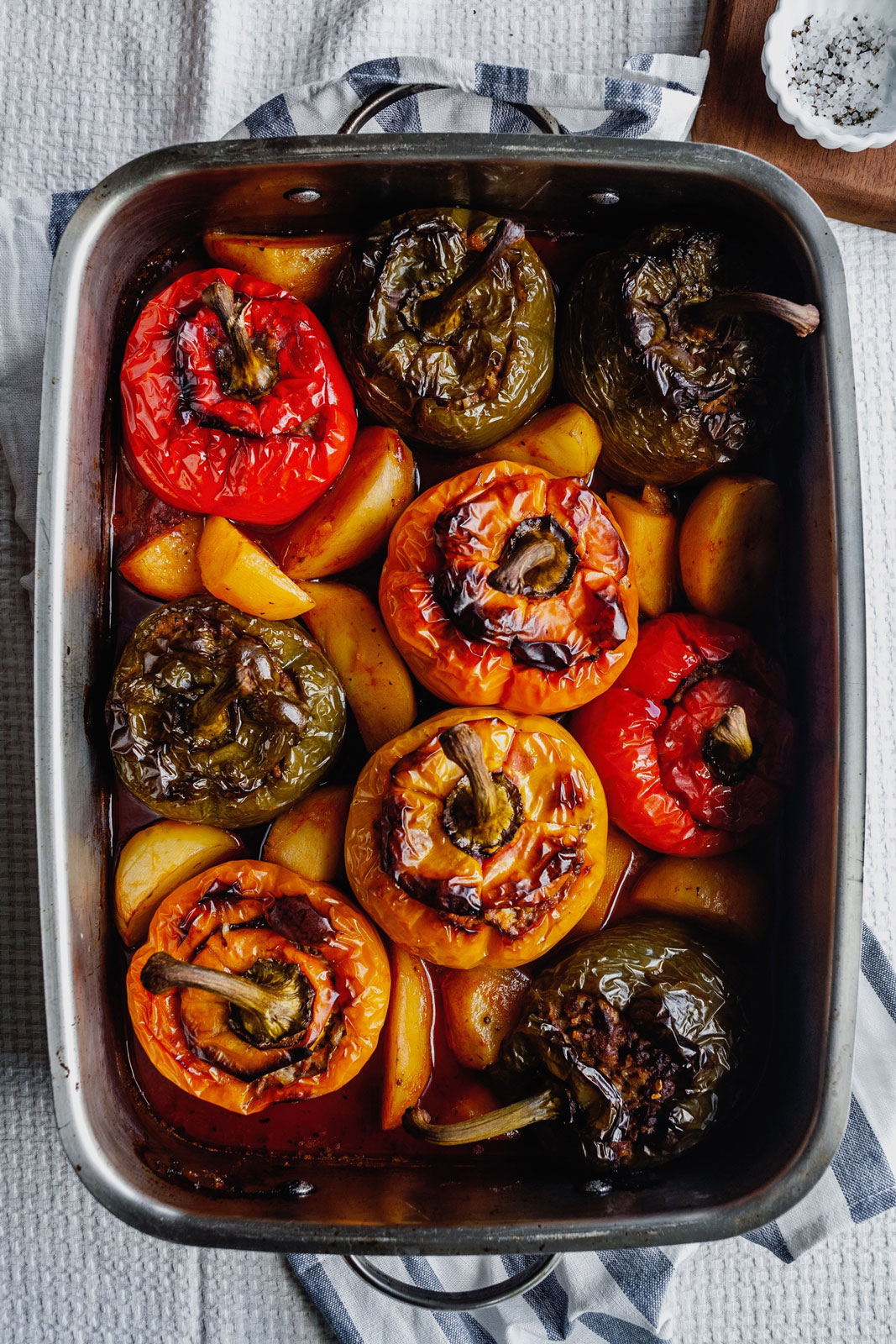 Many recipes add feta or other hard Greek cheeses or even Parmesan cheese to the filling but that is optional. Feel free to leave it out if you are keeping the peppers dairy free or vegan.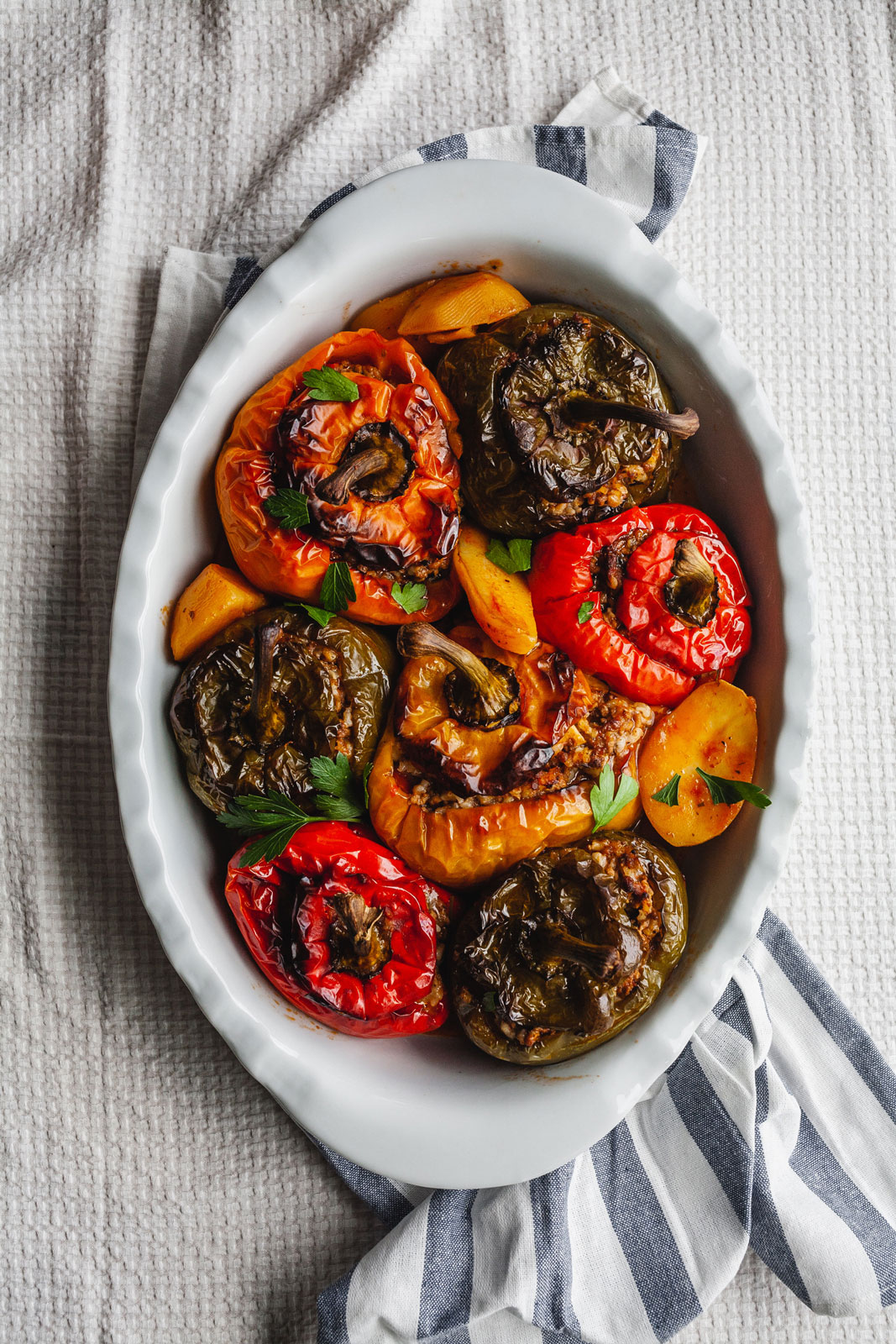 As for the herbs in this recipe I stick to the trifecta of dill, mint and parsley and I also add some dried oregano as well. This recipe is very versatile. Use whatever herbs you prefer and have on hand. If you prefer basil and parsley for a pesto-ish flavoured stuffing, that is great. Or maybe you want to "Trinify" it and season your meat with chives, chadon beni (cilantro), celery, pimento peppers and parsley. It's totally up to you so feel free to alter the recipe to your taste. But the recipe below is a more traditional Greek style stuffed peppers.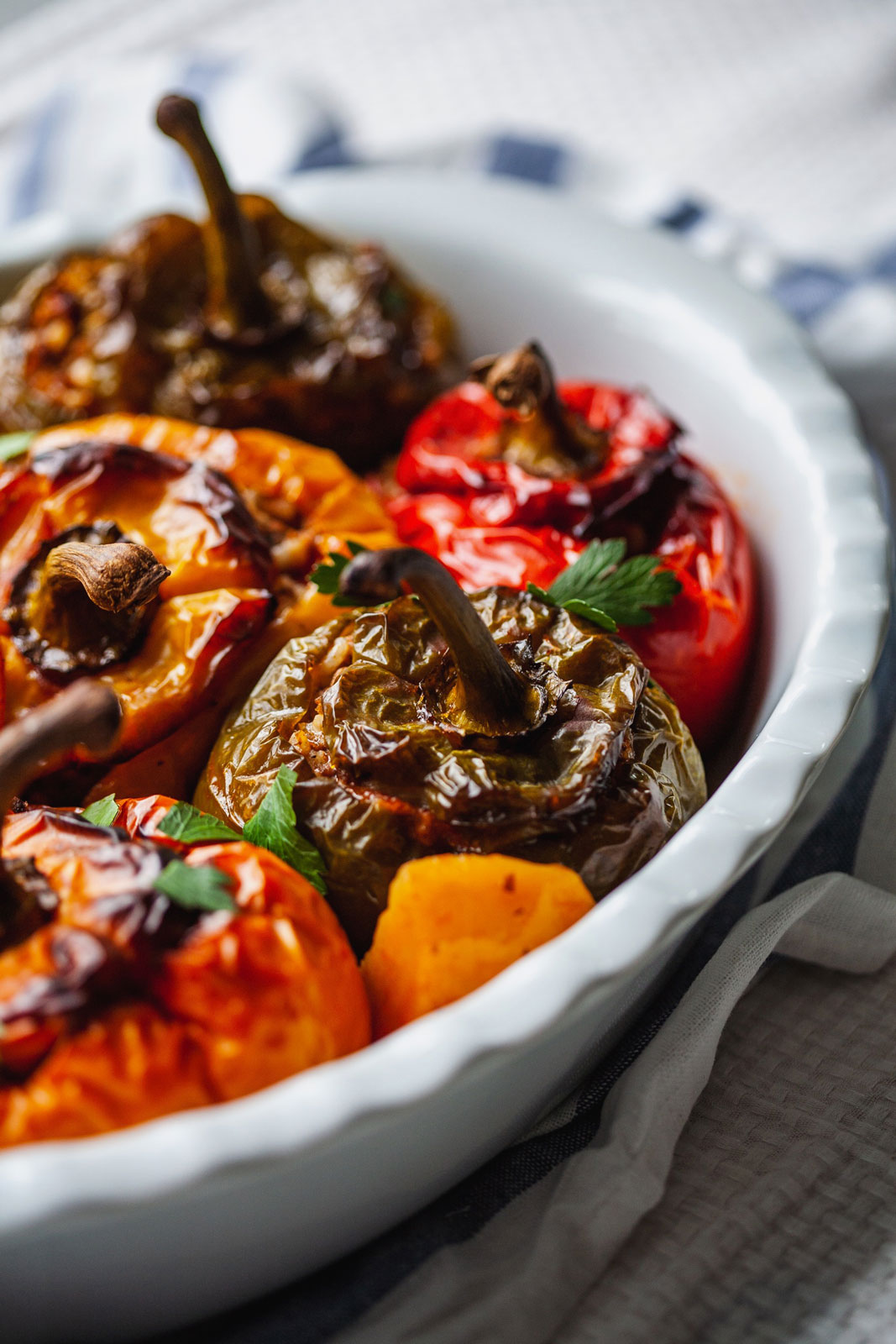 I love to serve these up with a beautiful horiatiki salad, or a maroulosalata and some hearty crusty bread to sop up the salad juices and the sauce from the cooked down stuffed peppers. Hope you enjoy this as much as me and please tell me what you thought of them!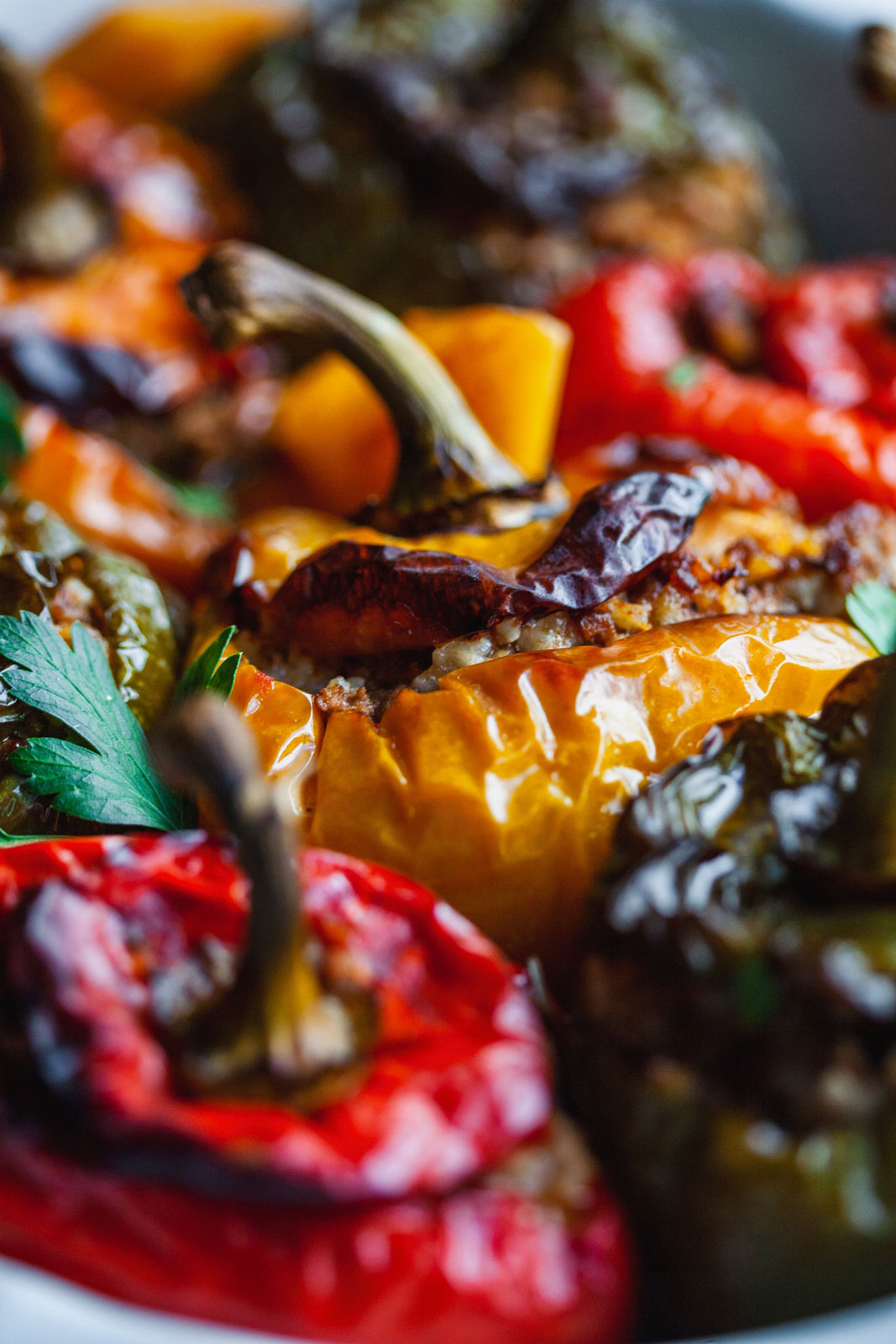 Recipe
Ingredients
8 medium size sweet bell peppers washed and tops cut off ready to stuff (seeds removed,caps saved)

2 tbsp of olive oil plus ¼ cup more for over the peppers when they are stuffed and ready to go into the oven

1 large onion peeled and chopped

1 carrot peeled and finely chopped

2 celery stalks finely chopped

4 cloves of garlic peeled and minced

1 tsp oregano

Small Bunch of parsley chopped

A few springs of Mint chopped

Small bunch dill chopped

Salt and Pepper to taste

1 lb of ground beef/turkey or your choice of met

1 heaping tablespoon of tomato paste

¼ cup of red wine (optional)

1 cup aborio rice or grain of choice

28 oz can of crushed or diced tomatoes

½ to 1 cup water or broth plus an extra ½ cup for the sauce on the bottom of the pan

¼-½ cup of grated Kefalotiri cheese or Parmesan cheese (optional)

1 cup of tomato passata/or choice of tomato sauce

4 potatoes peeled and chopped into large chunks (optional)
Directions
Heat 2 tbsp of olive oil in a medium sized sauce pan and sauté onion and all vegetables for 5-7 min until they start to soften.
Add your garlic and herbs and season generously with salt and pepper
Add your meat and brown it, or if you prefer brown your meat first in a separate pan and then add it (I add it to the vegetables and brown it with them because I find it gets more flavour that way but either way is fine) and season with salt and pepper to taste
Add the tomato paste and cook for a minute then add the wine if using and continue to sauté and stir until it has reduced
Add diced/crushed tomatoes, rice and broth/water to the pan (add more if sauce gets too thick as needed) stir well, check and season with salt and pepper to taste and let simmer on medium low for 5-10 min until it's a little thicker and the rice is almost cooked through. Stir in the cheese if using and then remove from heat and set aside.
Meanwhile clean and cut the tops off the peppers and remove seeds and ribs
Preheat the oven to 350°F
Prepare your pan or casserole dish. Pour the passata and water/broth onto the bottom of pan and then place the peppers into pan cut side up so that they are ready to stuff
Stuff all the peppers. Feel free to overstuff them because even if they are overfilled it will just add to the sauce at the bottom of pan (if you have extra stuffing it makes a great lunch bowl so don't stress if you have any left over)
Put the tops on the peppers and toss in the chopped potatoes around the peppers if using
Drizzle with remaining ¼ cup of olive oil over the peppers and season with salt and pepper.
Cover with lid or foil tightly and roast for 30-45 minutes depending on size of peppers.* Then increase temperature to 375°F, remove foil and continue cooking for another 20-30 minutes until edges are slightly charred, and peppers are softened and withered and you can cut through them easily with a knife.
Remove from oven, let cool for a few min and serve with some of the sauce at the bottom of the pan along with potatoes and serve with olives and feta on the side.
Cooking tips
The size and thickness of the peppers will determine how much time is needed for them to cook through fully. So the cooking time can vary accordingly.
If you would like to roast your peppers (unstuffed) before filling to reduce overall baking time you can do that just place them on a baking sheet after you have sliced the tops off and removed the seeds and roast for 10-15 minutes at 350°F while you make the sauce. Or another option is to blanch them in boiling water for a few minutes to cook/soften them slightly before filling. Either way works just make sure to allow them to cool slightly before filling so it's easier to handle them
Feel free to use whatever veggies you have in the filling. You can also do just veggies as lots of herbs and rice instead of ground meat.
When it comes to the sauce at the bottom of the pan - you can use any tomato sauce you have on hand. Tomato passata is something I usually have on hand but feel free to spice it up a bit by adding spices to it or chopped garlic and more seasoning. If you don't like the addition of the sauce do replace it with water or broth alone. The liquid from the sauce or water/broth helps the peppers to cook or steam so make sure to include one or the other.
When it come to the cheese feel free to add more or omit according to taste. I have made it adding feta and even mozzarella before and leaving the pepper caps off. The caps keep the rice from drying out too much so if you decide to cook them with them off keep that in mind.