Greek Style Loaded Hummus
This Loaded Greek Hummus is loaded with veggies and even hearty enough to be a quick and easy dinner or main dish. Creamy smooth hummus loaded with a Greek-style horiatiki Summer salad with tomatoes, red onions, feta, cucumbers and olives. It's a really nice and tasty recipe and I really appreciate how easy and quick it comes together. This loaded hummus recipe is perfect for entertaining! Serve it with an assortment of dippers like sweet peppers, pita chips or veggies for a delicious snack dip!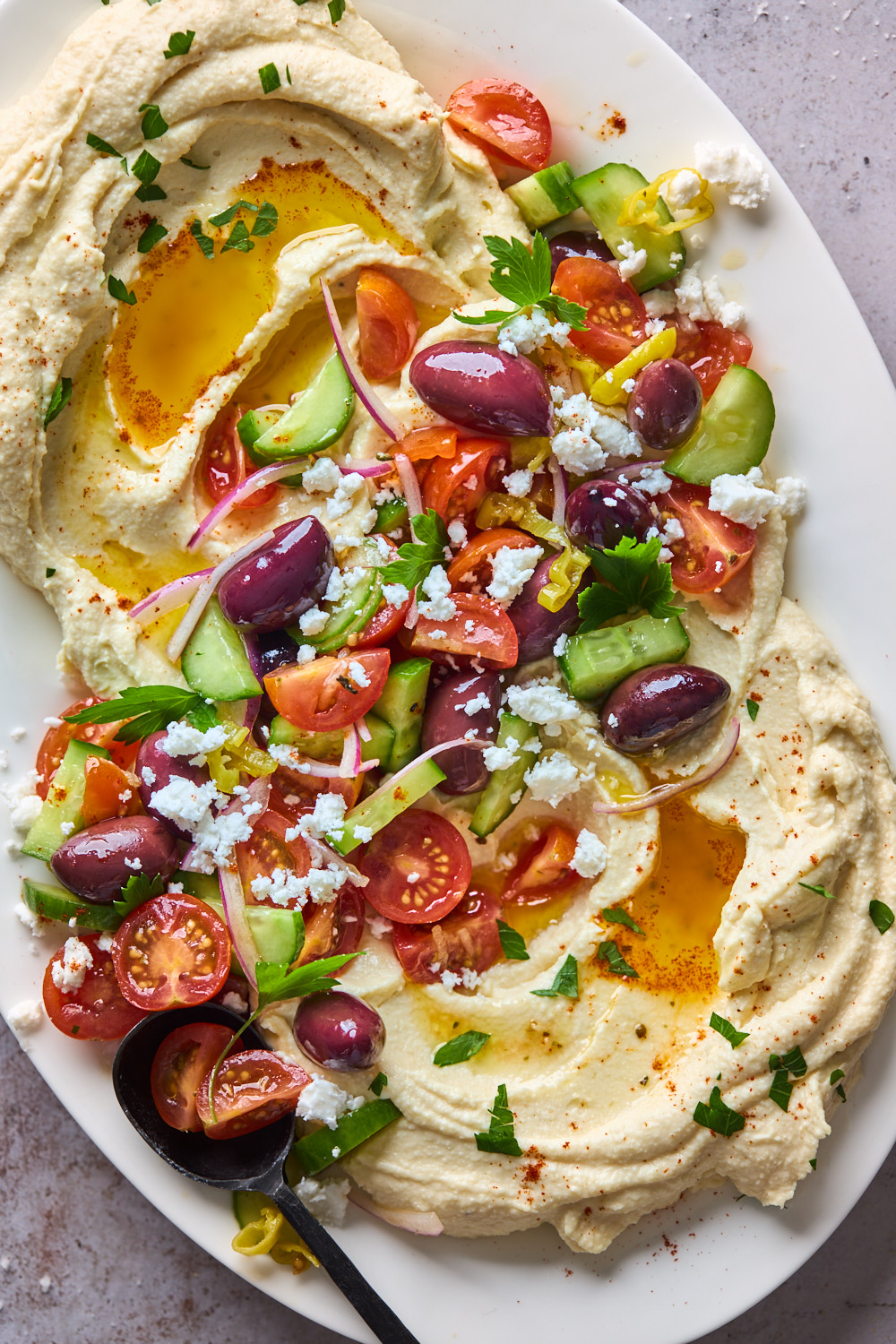 There's nothing like creamy delicious hummus when it comes to snacking. I always have a tub of it in the fridge whether store bought or homemade to dip into, spread on or load up with all the tasty ingredients. Homemade hummus is always great to use when you have the time but this recipe is just as delicious with store bought. Loaded hummus is not a new concept. Throughout the Middle East, there are hummusiots/hummsias, or places that serve hummus warm and freshly made,loaded with all the things. Things like falafel, ground or shredded meat, sautéed mushrooms, roasted beets or other root veggies, hard-boiled eggs, chopped tomato-onion-cucumber salads like this one, pickles, green olives and the list goes on. This is definitely my kind of eating - and perfect for the summer. No cook meals or appetizers are my favorite for the summer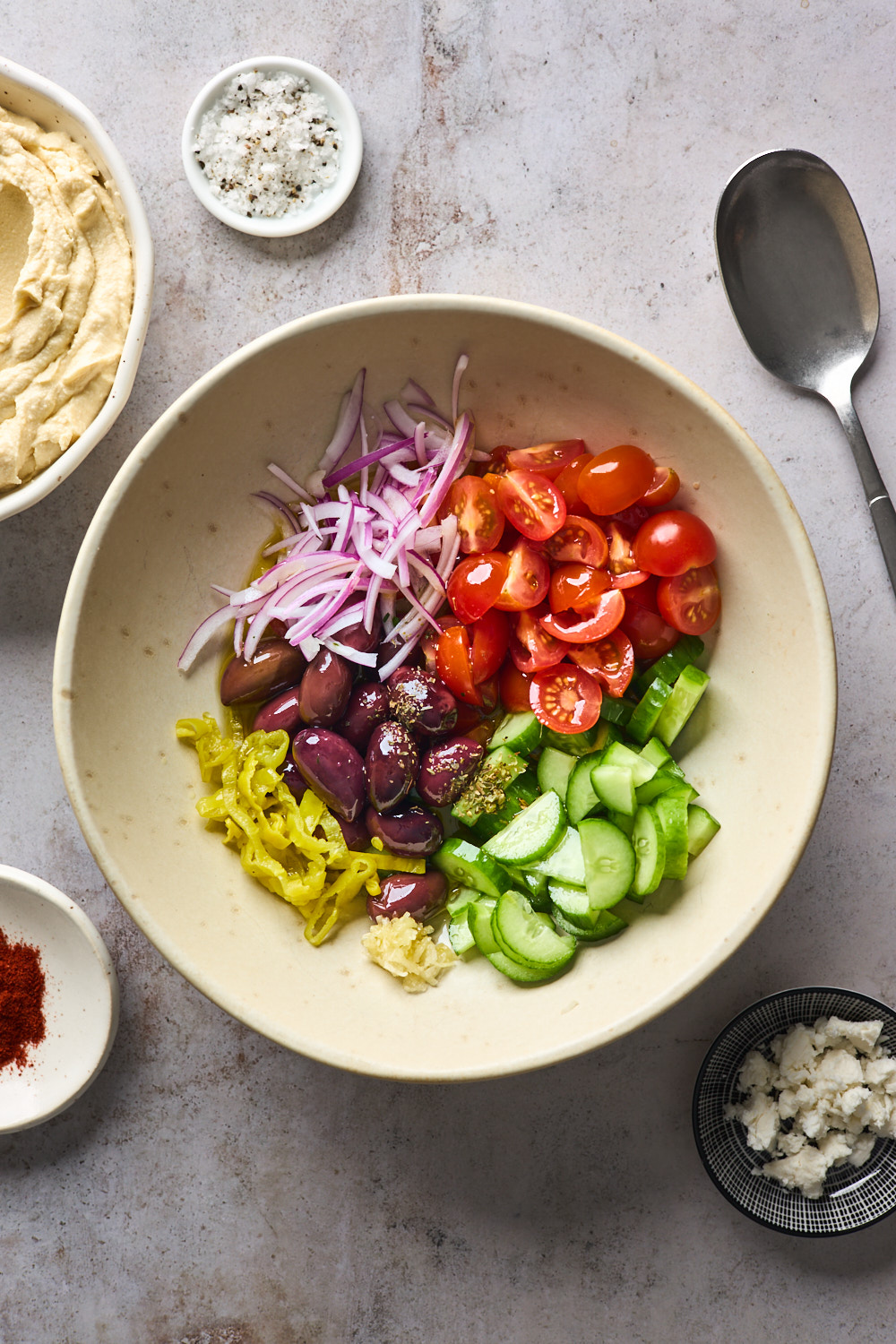 Loaded Hummus Dip Recipe Ingredients
Hummus – I used store-bought hummus approx two cups which ended up being 2 large containers.I tend to go for a plain one since we are loading it up with extras.  And you could also make it homemade! My homemade recipe is delicious
Veggies – I used all fresh here (with the exception of the pickled pepperoncini peppers -you can use bell pepper instead if you prefer) cherry tomatoes, and cucumbers are classic staples in a Greek salad as are onions and olives too.
Feta Cheese – crumbed feta cheese pairs so well with the fresh veggies - use whatever brand you like. For a vegan version just leave it out or use a plant based feta.
Olive Oil – I toss the veggies in it but feel free to drizzle a little extra over the dip before serving. I never complain if there are some extra olive oil pools.
Pita – You can use pita chips or slice up some pita bread. Either is fantastic. Make your own pita chips - recipe below in recipe notes.
Fresh herbs - I love to toss fresh herbs with my veggies. A blend of a few or just some parsley would be great.
Spices – I like to use some oregano in my veggies and I always like to sprinkle some dried spice over my hummus like paprika, cumin or sumac.
Optional add ins or substitutes: Capers, Radishes, Pickles, Chopped chives,Lemon juice,Red wine vinegar, toasted chickpeas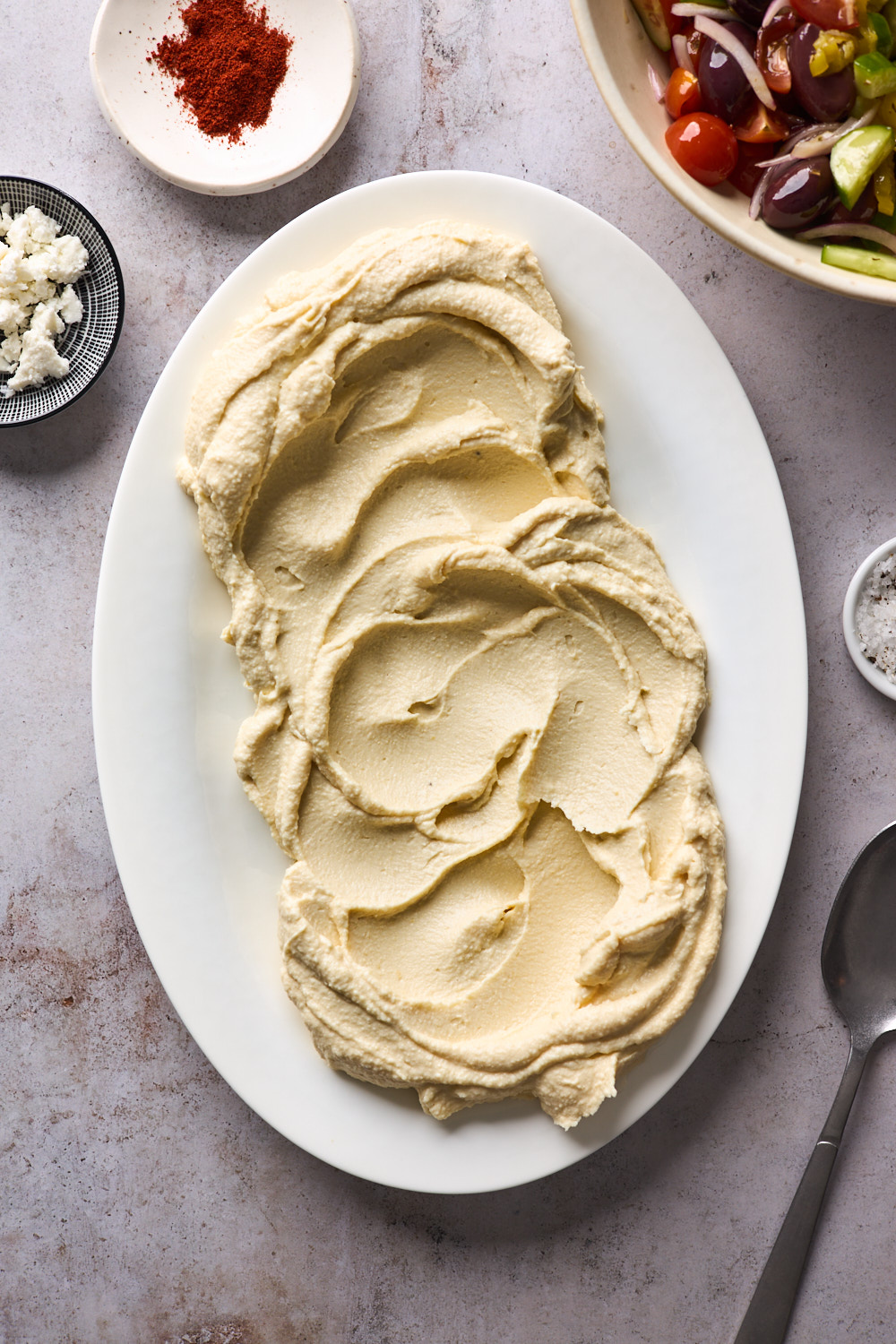 Assembling the Loaded Hummus Dip
Start with a nice big platter or even a board so that you cans place the hummus on. If you have a large enough one you can arrange the chips or pita slices on it too. A large shallow bowl works as well.
Toss the veggies or 'salad' with the olive oil garlic, oregano and herbs
Spread out hummus into an even'ish layer - I like to create a few swoops into it for some olive oil pools
Spoon over the veggies and juices
Sprinkle with extra fresh herbs, crumbled feta, toasted pine nuts if using and a dusting of paprika or sumac.
Serve with pita chips and lemon wedges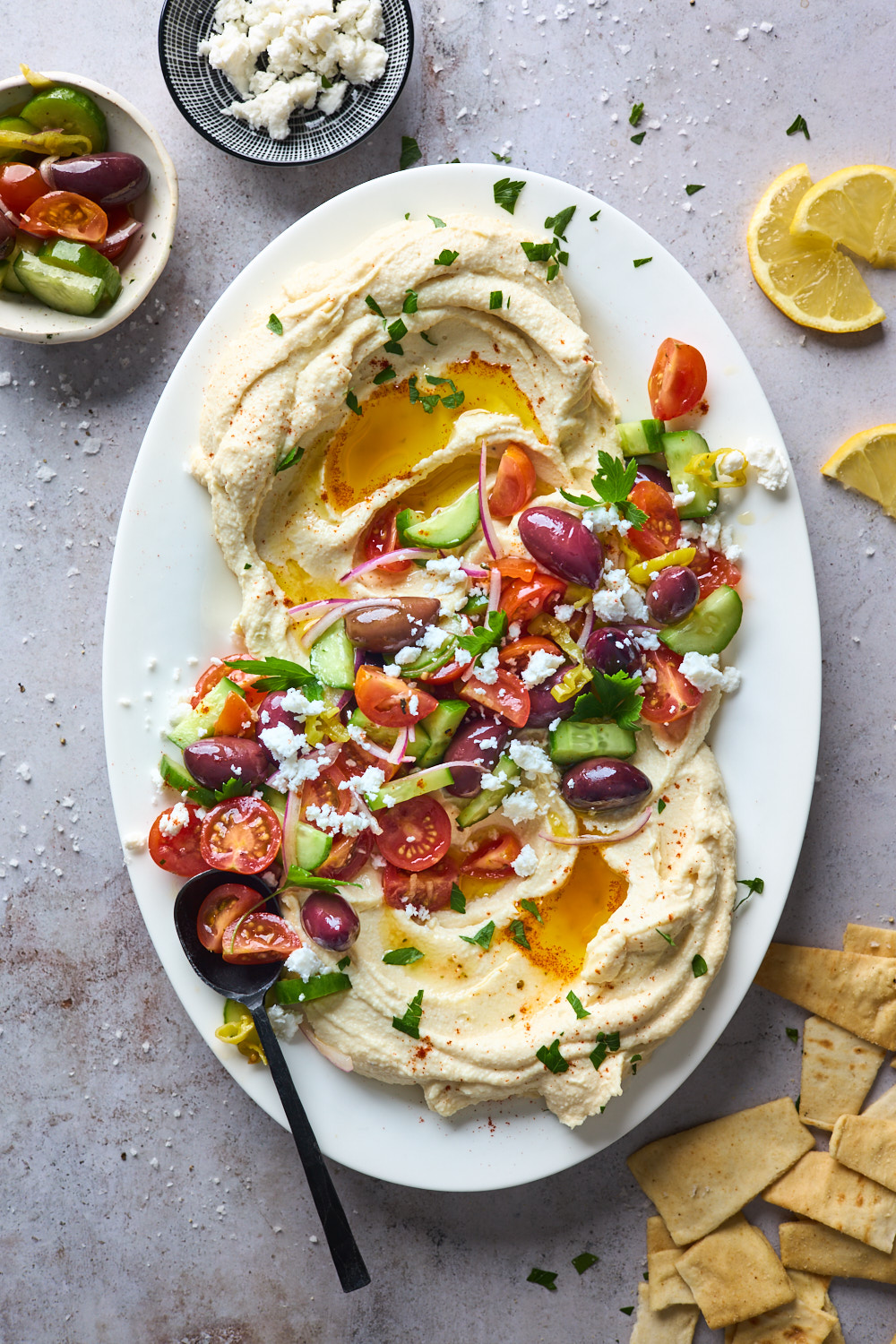 Here are some more delicious dips I think you will love:
Recipe
Prep Time: 10 mins
Ingredients
2 cups hummus store bought or homemade (my homemade recipe is so creamy and delicious)

¼ cup kalamata olives, pitted and chopped optional

1½ cups cherry tomatoes sliced in half or quartered if large

½ cup sliced cucumbers (approx 4 mini ones)

1 small red onion or shallot peeled and thinly sliced (approx ¼ cup)

2-3 pepperonicini peppers thinly sliced

1 Clove of Garlic peeled and minced

½ Teaspoon oregano

Salt and pepper to taste

¼ cup Olive oil

1 to 2 tablespoons finely chopped herbs or a mix of parsley, mint, and chives, plus more for garnish

Sumac or Paprika for sprinkling

Toasted Pine nuts for serving (optional)

Lemon slices/wedges for serving
Directions
Toss the veggies, olives, onion and garlic with the oregano and olive oil. Season well with salt and pepper. Toss in the fresh herbs.
Spread the hummus onto a serving platter and top with the veggie mixture and garnish with extra herbs, sprinkle with pine nuts if using and sumac or paprika.
Recipe Notes
Homemade hummus always takes this recipe to the next level if you have the time to throw it together. But if not, don't worry. Store-bought hummus is a great quick alternative, I usually go for a plain one  that doesn't have any extra flavors in (like garlic, etc) since we'll be adding our own toppings.
To make your own pita chips: Slice full pieces of pita bread into triangles (you can get 6-8 wedges per full pita) and drizzle with olive oil and a pinch of greek or Italian seasoning. Then, bake at 350 degrees for 8 minutes or until golden brown. When you remove the pita from the oven, sprinkle with chopped parsley, and let cool.