Moroccan Spiced Lentil Soup
Updated Nov 2nd 2020
Not another lentil soup you may say (eyes rolling). But this is no ordinary lentil soup. The warm spices in it give it so much flavour and all the veggies make it hearty, filling and give it lots of colour and texture. No doubt you already realise I have a love for lentils and all grains and legumes in general. It's always great when you can switch things up with them by just just using different spices and veggies.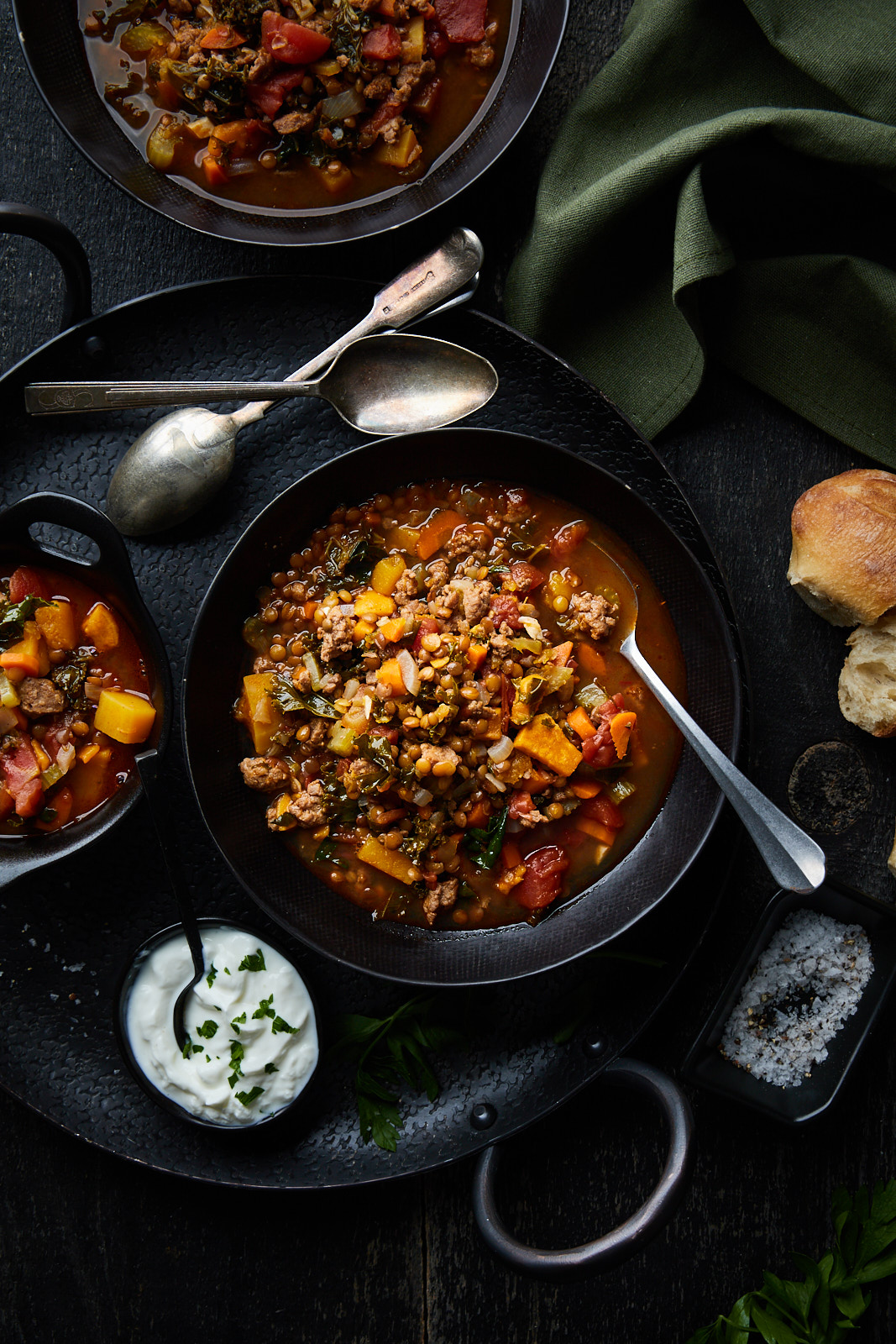 I wanted to make a hearty fall lentil soup and was inspired by a Rachael Ray recipe for lentil soup with sausages and kale. I decided to go with some very delicious Moroccan spices to enhance the flavour of the lentils. Moroccan flavours can vary and some Moroccan seasonings can combine up to 27 spices. I kept things simple for this soup and used a combination of some very common Moroccan spices, ones you can easily find in you pantry: cinnamon, cumin and paprika.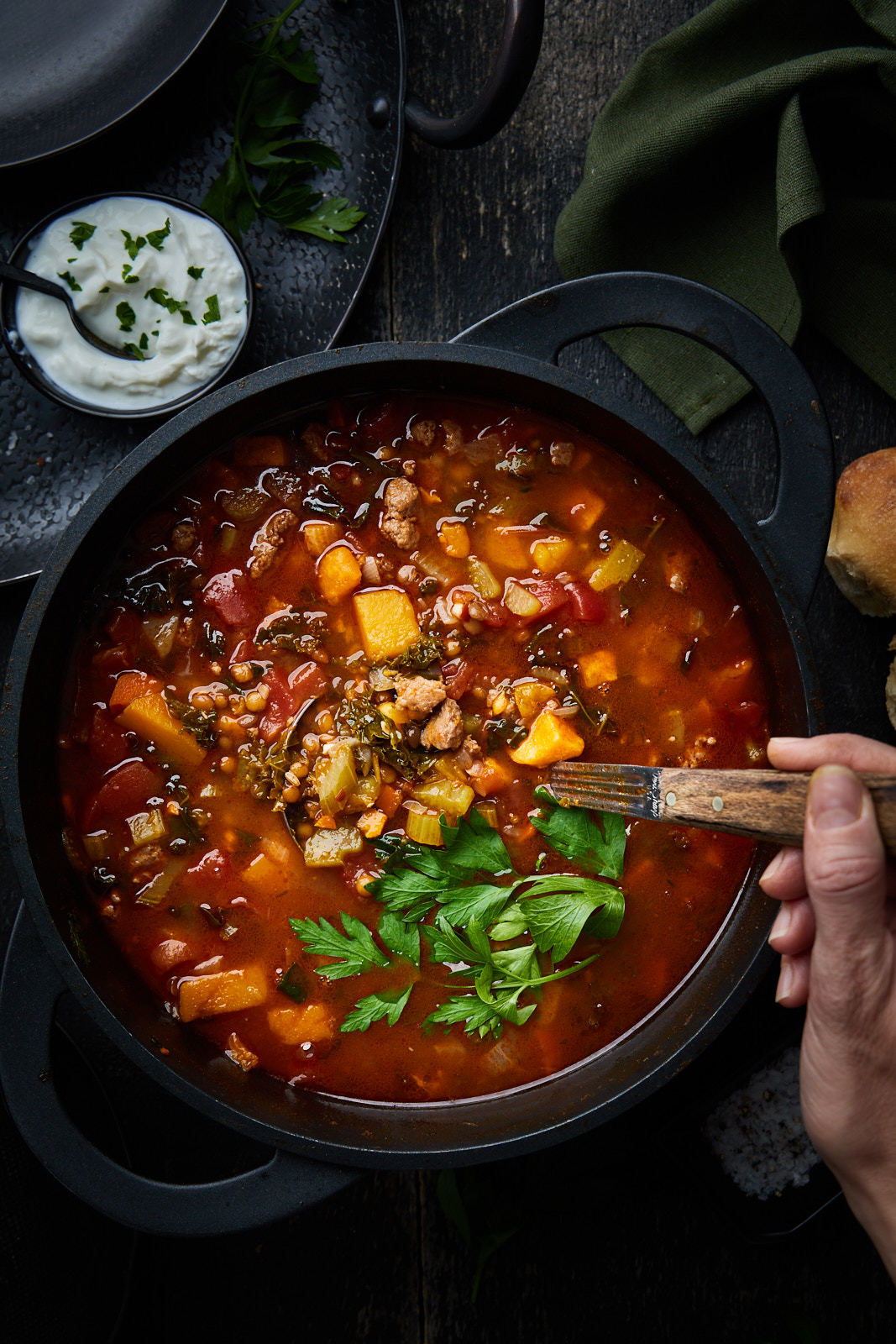 I wanted to add some of my favorite fall veggie into this soup so I went with sweet potatoes instead of yellow potatoes as the original recipe called for and I also wanted to add some squash or pumpkin in there too for extra sweetness and extra texture. I always love how butternut squash and pumpkin melt away into a soup and often thicken the texture a bit. I chose to use butternut squash but feel free to use pumpkin instead.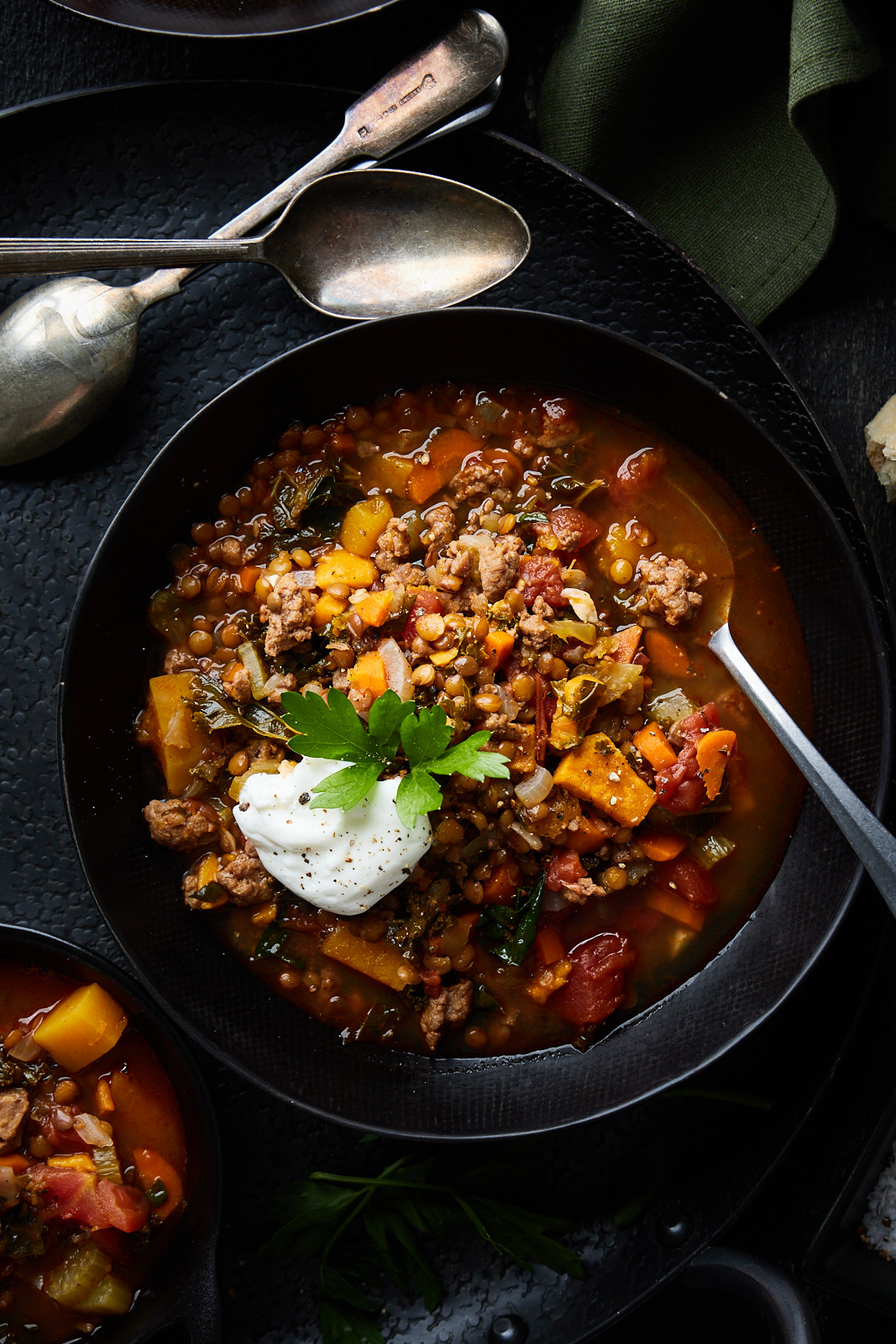 It's a hearty soup, one that both me and my husband love. It's full of veggies and greens thanks to the kale which I love, it's filling as most lentil dishes are and full of so much protein and all of the good stuff. It's so flavourful and warming from the aromatic spices in it. If you love the flavours those spices bring, you will most definitely love this soup.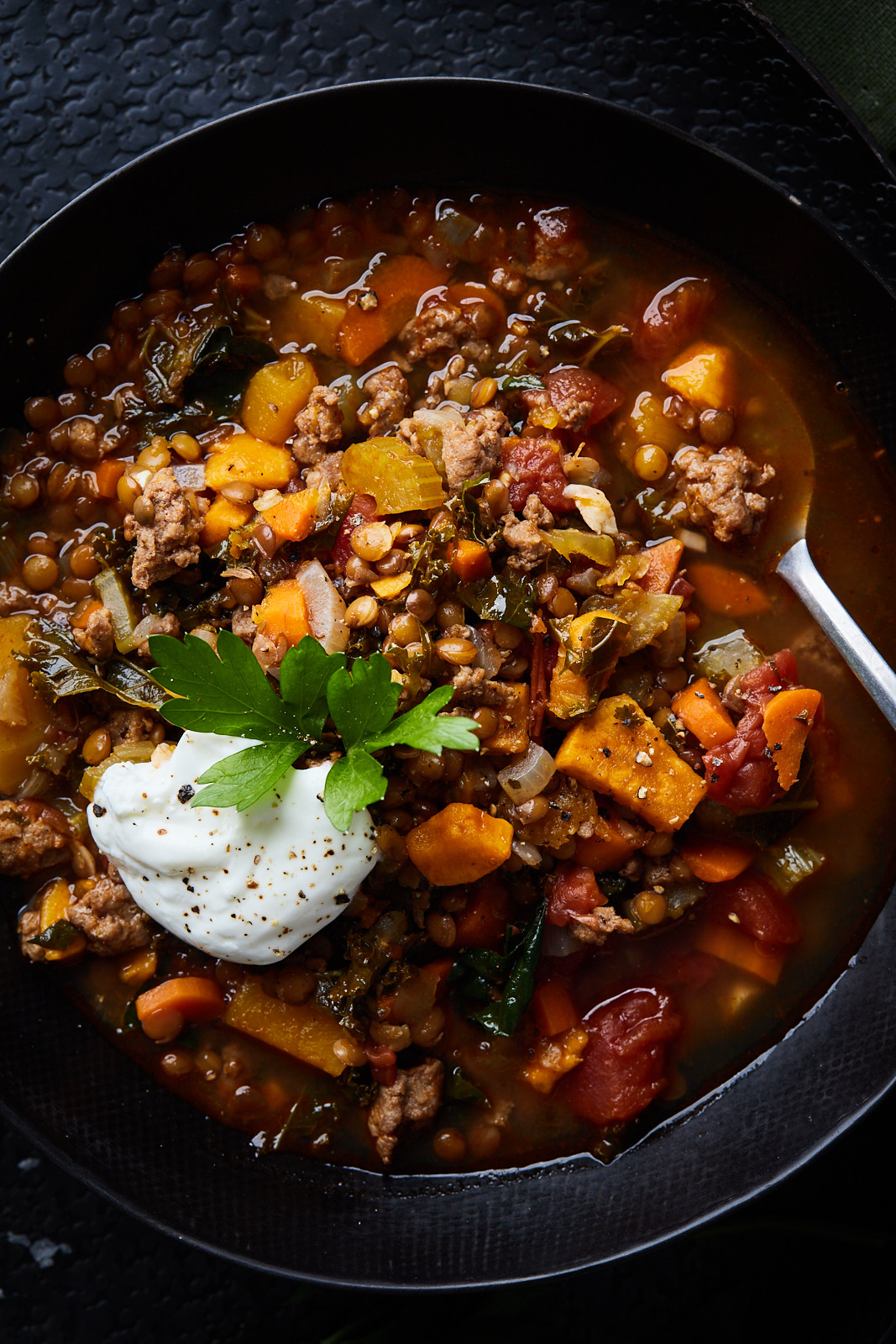 Feel free to use any sausage you like in it. I tend to use a spicy one but that is just my taste. If you want to keep this vegetarian you can leave the sausage out or use a plant based sausage instead. I hope you enjoy this hearty and delicious Moroccan spiced lentil soup.
Recipe
Prep Time: 15 mins
Cook Time: 45-55 mins
Ingredients
2 tbsp of olive oil

1 lb of sausages casings removed sweet or spicy

3 cloves of garlic peeled and minced

1 large carrot peeled and chopped

2 stalks of celery chopped

1 onion peeled and chopped

1 sweet potatoes peeled and chopped into cubes (approx 1 cup)

½ of a small butternut squash peeled, seeds removed and chopped into cubes (approx 1½ cups)

1 tsp ground cumin

1 tsp smoked paprika

1 tsp cinnamon

½ tsp red pepper flakes

1 can of diced tomatoes (28 oz)

1¼ cups of rinsed and picked over brown lentils

6 cups of stock (chicken or vegetable) or water

1½ cups of chopped kale or Swiss chard

yoghurt, lemon wedges and chopped parsley or cilantro to top your lentils with
Directions
In a soup pot or heavy bottom Dutch oven on medium heat, add the olive oil and sausage sautéing it until brown and breaking it into pieces
Once browned add in all the veggies including the onions and sauté for a few minutes until the onions are soft and translucent. Then add the garlic and all the spices and sauté and stir for a minute until very fragrant. Then add the canned tomatoes and continue to stir for a minute or two until all the flavours are combined scraping the bottom of the pot.
Pour in the lentils and broth and stir well and season with salt and pepper. Bring pot to a boil and then lower heat to a simmer, cover pot with lid half way and let simmer for 30-35 minutes or until lentils are tender yet in tact.
Toss in the chopped kale and stir well and let simmer for another few minutes until kale has softened
Serve with crusty bread, a dollop of yoghurt, a squeeze of lemon juice and with some chopped parsley or cilantro
Recipe Notes
If you want a soup with a creamier texture all you have to do is blend some of it. I usually do this before I add in the kale. I remove 1 cup of the soup (I usually pick out as much meat from the cup as possible) blend in a blender carefully using a towel over the lid so you don't get burned and then pour it back into the soup and add your kale