Sheet Pan Nachos Supreme
Loaded and delicious sheetpan nachos that do not disappoint. Seasoned ground beef (or any ground meat or meat alternative), nacho cheese sauce (I used my homemade sauce, sour cream, chopped tomatoes and green onions make a fabulous flavor combination.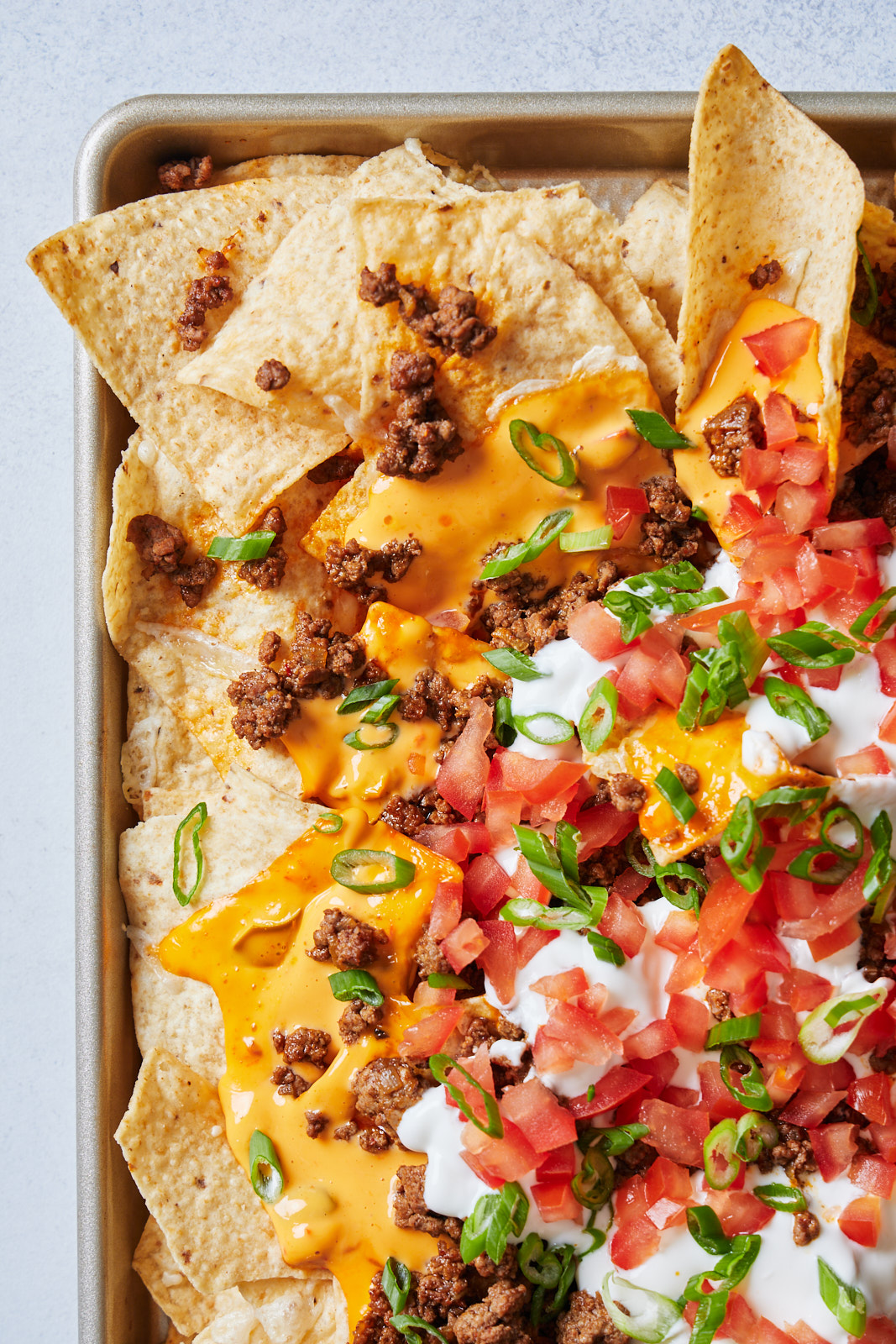 These are also pretty easy to put together and they literally get licked up fast so be sure to make more than one tray! You won't regret it! Another good thing about this is you can load these nachos with anything else you want. Customise them by adding refried beans, corn, red onion, do them meatless, different cheeses, literally anything you like. The classic Taco Bell combo is the recipe below but I always love serving it with all the extras including sliced jalapeños, sliced avocados and ofcourse some hot sauce. When it comes to the recipe below feel free to adjust the amounts when it comes to the toppings. If you are a cheese lover you may want to add more cheese or cheese sauce. We love ours with sauce on them but with extra sauce on the side. So you see the recipe below is definitely a guide - you might like them a lot meatier that we do so feel free to add more meat, same goes for the extra veggies.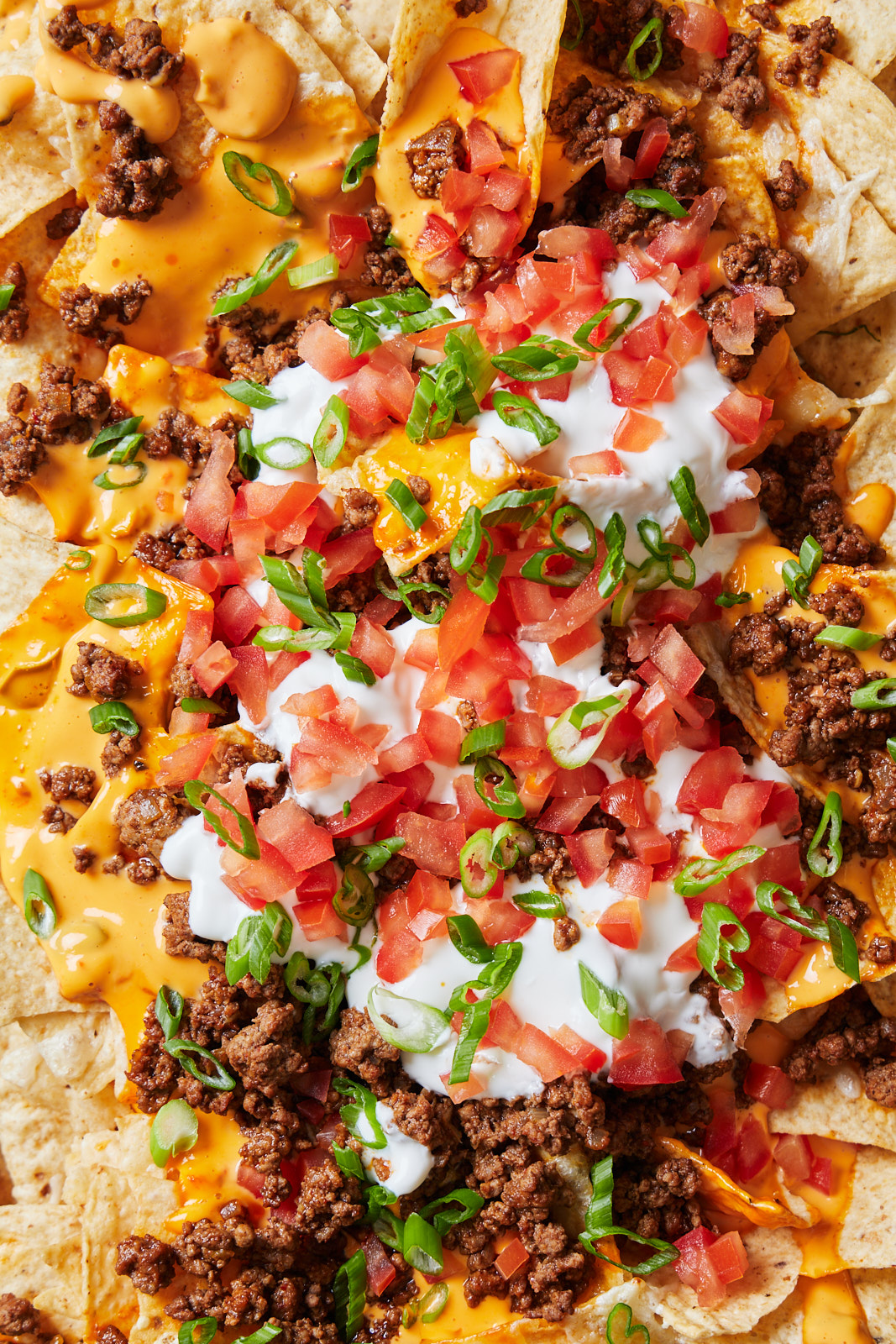 How to make the best sheet pan nachos?
Use sturdy restaurant style and very crispy chips that can hold up all the toppings you are loading them with. Making a homemade cheese sauce is always the better option if you have the time. It's pretty quick and easy to whip up and worth the effort. I usually bake my nachos and cheese separately then load with the toppings for this particular one. If you are loading the cheese up over all the rest of the ingredients (for example if you are doing a bean and meat one) then load them up add the cheese and then bake. I don't usually broil as I don't want the nachos to burn and baking them alone works perfectly to get your cheese all melty. Serve immediately out of the oven and make sure to serve with all the delcious and fresh fixings I mentioned earlier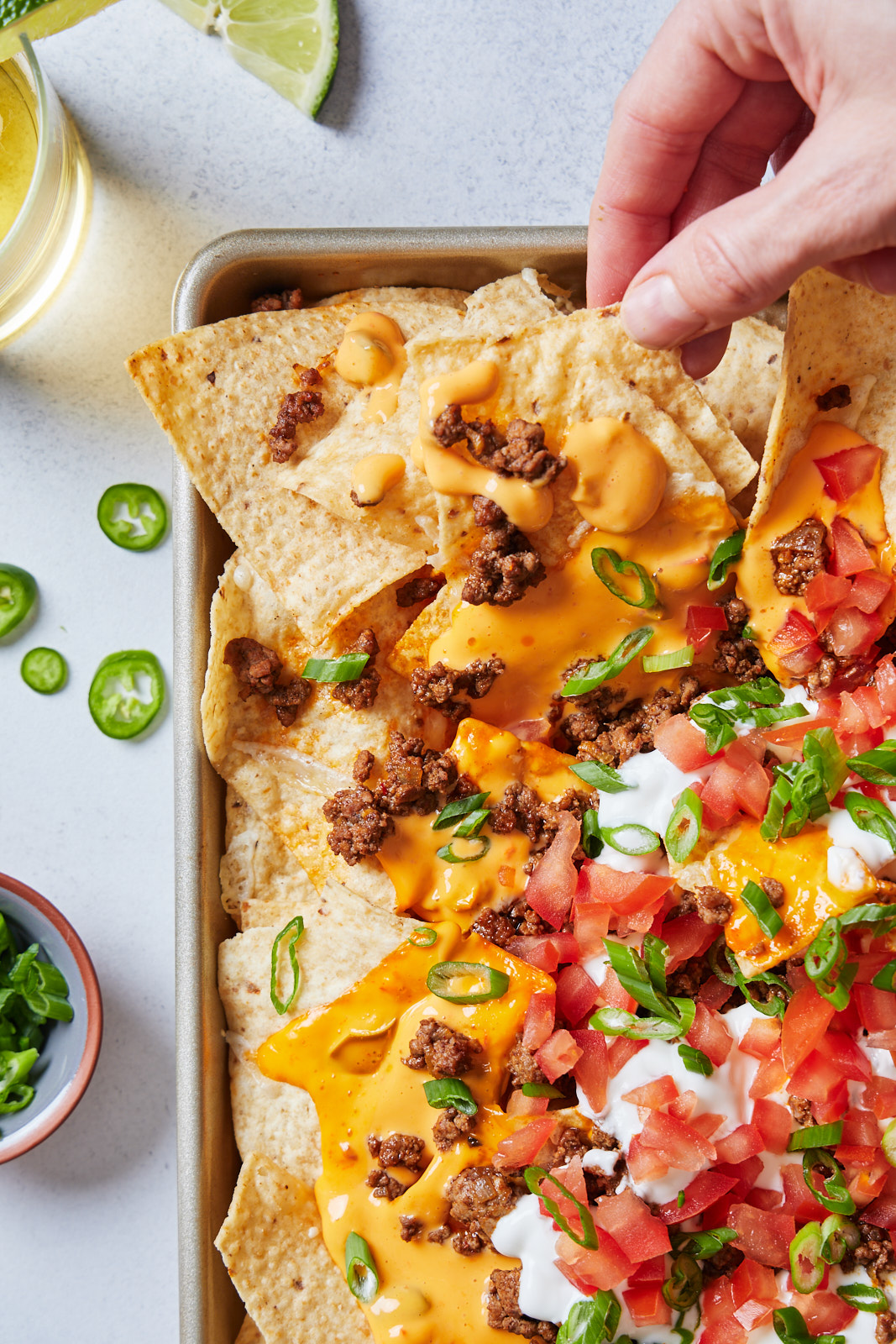 These are totally delicious and simple, quick, they serve a crowd and are the perfect thing to snack on during game night, movie night, and even make a great appetizer.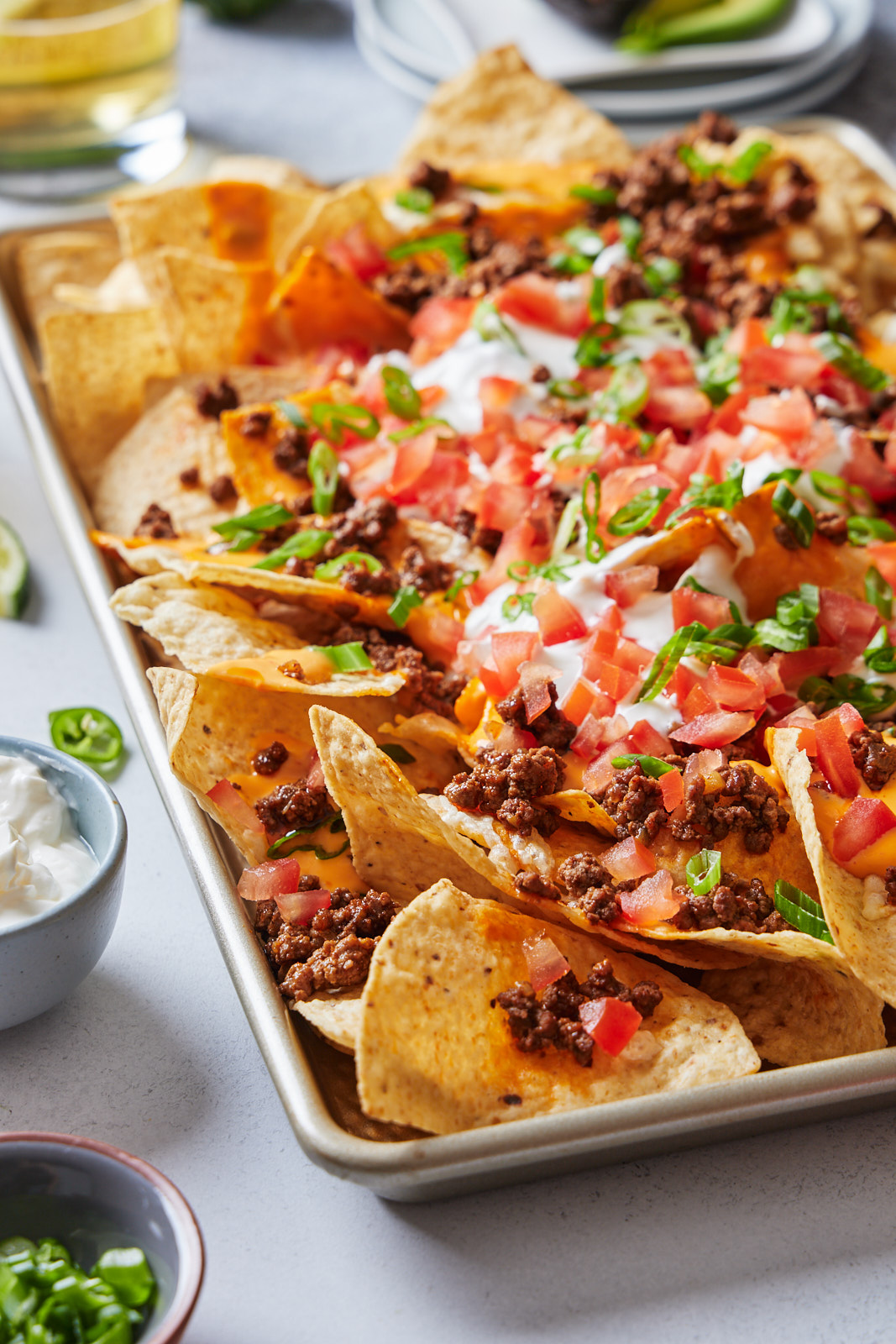 Recipe
Ingredients
275 gram bag of tortilla chips of your choice (I used white corn tortilla chips)

½ cup of Monterey Jack cheese

1 lb. of ground beef or meat/tofu of your choice

2 tbsp of olive oil

1 shallot or small onion peeled and chopped

2 cloves garlic minced

1 (.1oz/28g) package of taco seasoning store bought or homemade (recipe below)

¼ cup of water

1½ cups of nacho cheese sauce (homemade or storebought)

2 tomatoes seeds removed and chopped

1 small bunch of scallions/chives chopped

¾ cup of sour cream
Extra toppings
Refried beans
Chopped jalapeños
Sliced avocados
Hot sauce
Salsa
Directions
Preheat oven to 400°F
Heat oil in a skillet to medium heat and add the onion and garlic and sauté a couple of minutes until onion is softened then add meat and brown until cooked through. Drain off the fat if needed and then add the taco seasoning plus water. Let simmer until sauce has thickened- 2-4 minutes and remove from heat but keep warm.
In the meantime line a baking sheet with parchment and spread tortilla chips on sheet-pan in one even layer
Layer with the shredded cheese and nacho cheese sauce and bake for 5-8 minutes until cheese is melted and hot
Remove from the oven and top with warm ground meat, and and then with the sour cream, tomatoes and green onions and serve immediately.
Homemade taco seasoning
One serving
Ingredients
2 tsp chili powder
1 tsp cumin
½ tsp paprika
½ tsp crushed red pepper flakes
½ tsp salt or more if it's not salty enough
¼ tsp garlic powder
¼ tsp onion powder
¼ tsp ground oregano
¼ tsp black pepper
Directions
Whisk all the ingredients in a small bowl. Then taste and adjust the salt or spices as desired. Store in an airtight container until ready to use.