Apple Cranberry Crisp
This deliciously easy crisp is a nice treat to serve and it feels like a warm after-dinner hug. It's my favourite go-to crisp when I have loads of cranberries in the house. This recipe comes from the beautiful book Peak Season by Deidre Buryk. The book celebrates Ontario's seasonal bounty all year round. It is filled with 101 recipes guided by the 12 months of the year. A good crisp recipe can be made any time of year-which fruits can be chosen depending on what is in peak season. In November, cranberries and apples are what I have loads of so this is the recipe I chose to share from Deirdre's book. "One of Ontario's native fruits, the scarlet-red cran-berry, has a tartness particularly well suited to sweet desserts such as this. When paired with apples, the two soften and bubble together into a cocoon of brown sugar and oats, along with a decadent local nut, the pecan", she describes the crisp. It has loads of flavor and this crisp is great served warm right out of the baking dish or skillet and let everyone dig right into it or serves themselves from it and its always best served with a little ice cream alongside.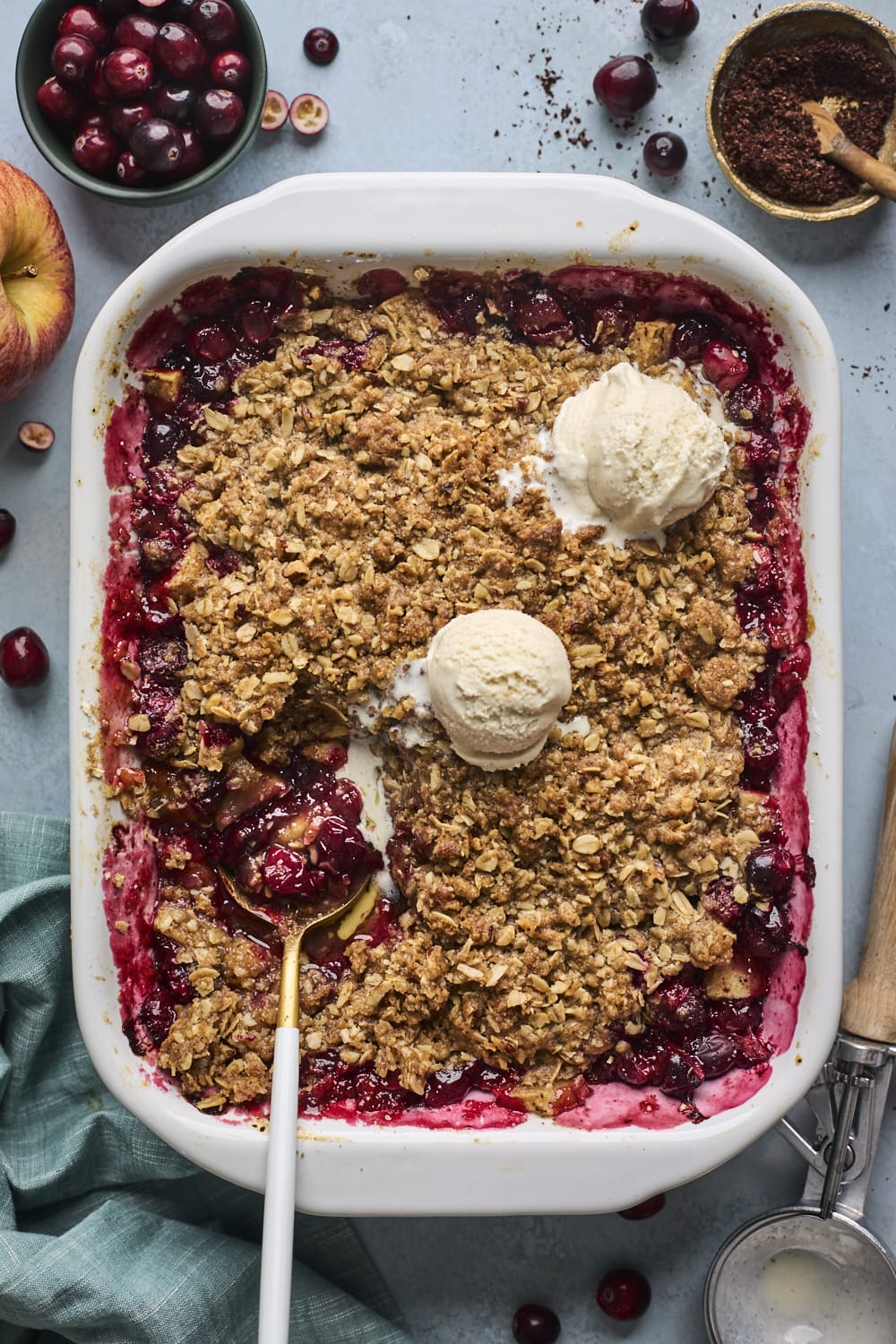 About The Book Peak Season
This book speaks to my heart and know it will speak to yours too especially if you are from Ontario as it follows the seasons of our beautiful province. There is really nothing like eating local and supporting local and local really means seasonal eating which is really how we are meant to eat. The book is beautiful and showcases our local produce in a well organized way which inspires you to cook seasonally and deliciously. I love the first part of the book after the intro Deirdre shows us a list of produce for each season and month or months attached to each season. Then she gets into the recipes for each season. I thought it was appropriate that she starts with Spring - fresh start and new beginnings is what spring is all about especially in Ontario. I love the way the book is organized, written and photographed - its beautiful. The opening forward puts it nicely: "Dee teases out the beauty of the bounty that the soil of Ontario blesses us with. And she concocts recipes that are as unpretentious and accessible as they are delicious." Make sure and grab a copy of Peak Season for more fabulous seasonal recipes and for more about Deirdre and her long history with supporting local and recipe development. In the meantime here is a sampling of it with this delicious crisp which also happens to be gluten free and vegan adaptable.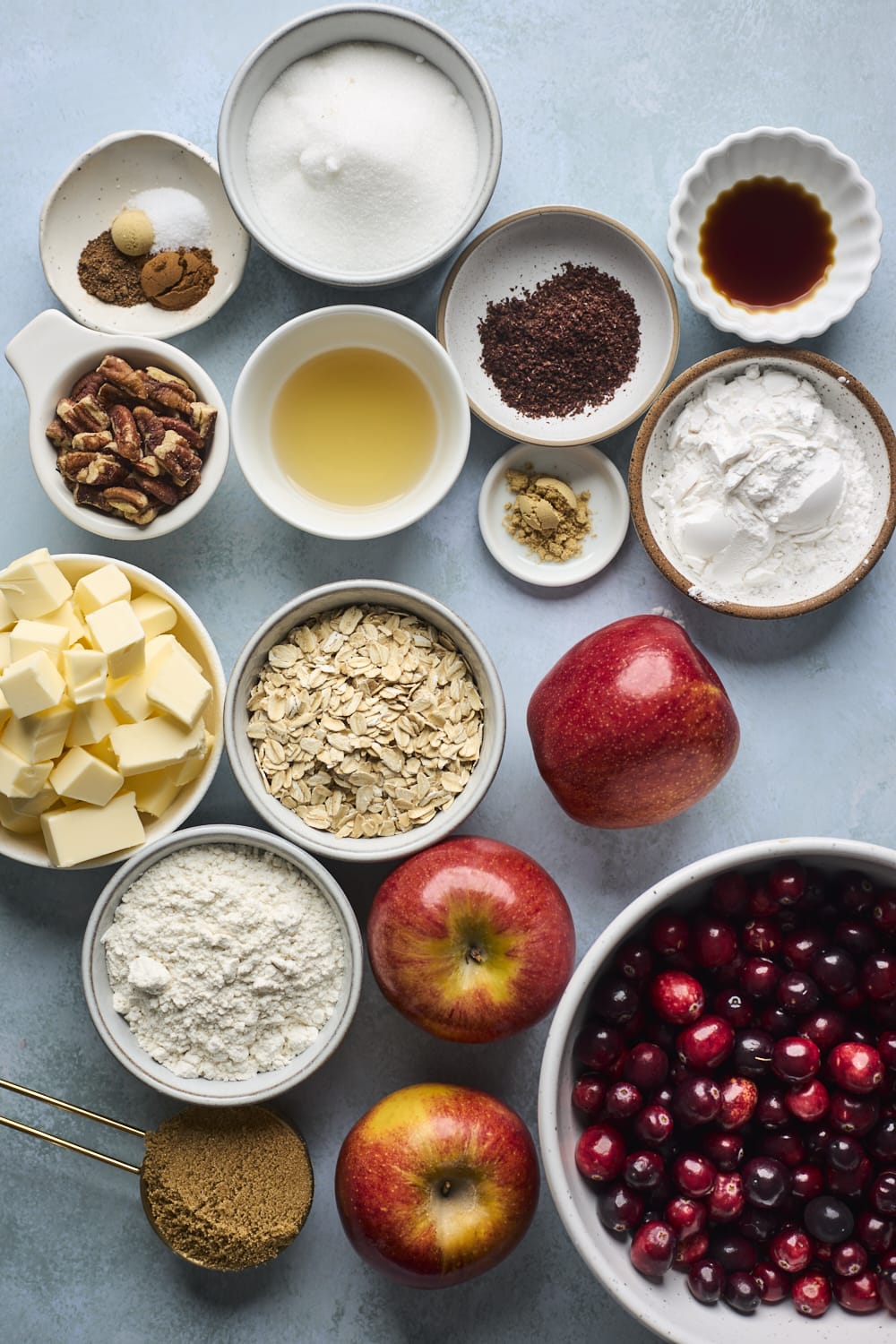 What You'll Need to Make This Cranberry Apple Crisp
Apples - Use you favourite variety of eating apples or a variety of cooking apples. Granny Smith apples will work best, Cortlands or HoneyCrisp will also work along with Gala variety. You can also do a variety
Cranberries - I use fresh cranberries, you can use frozen if you prefer to.
Flour - Plain or all-purpose flour, you can use gluten free all purpose 1-1 flour for a gluten free version
Oats - I use old fashion rolled oats for this recipe, you can also use regular oats, and ensure they are gluten free if you are making this gluten free
Butter - I always use unsalted butter is best for this crumble. For a vegan or dairy-free version feel free to use a vegan butter or even coconut oil
Sugar - you will need light brown sugar for the topping and granulated sugar for the filling. Feel free to use either for the filling or the topping and you can even swap it for Demerara sugar or coconut sugar. Feel free to add some maple syrup for added maple flavour or you can even replace some of the sugar in the filling with maple syrup as a sweetener.
Spice - I love a little spice in my crumbles and crisp so I add a combination of cinnamon, nutmeg and ginger you could add nutmeg or allspice if you would like to change it up a bit too or even some cardamom. The filling in this recipe also includes sumac which is fabulous but if you don't have any that is fine - its not really something that can be replaced with a different spice but it has some nice tang (and very high in vitamin c) so lemon zest and lemon juice will do the trick
Vanilla Extract - for extra flavour in the filling - optional
Potato Starch or Corn Starch - the fruit always gets pretty juicy and wet when it cooks so the corn starch or potato starch helps thicken those juices
Apple Cider Vinegar - this helps balance the sweetness and also helps keep the apples from browning - you can easily substitute this for freshly squeezed lemon juice
Extra Add ins - feel free to add nuts or seeds like pecans, almonds, hazelnuts, or pumpkin seeds to add some extra crunch to your crumble topping. I added ¼ cup of chopped pecans in this one but that is optional.
Variations - Blueberries, blackberries and even raspberries or even cherries will work instead of the cranberries in this recipe.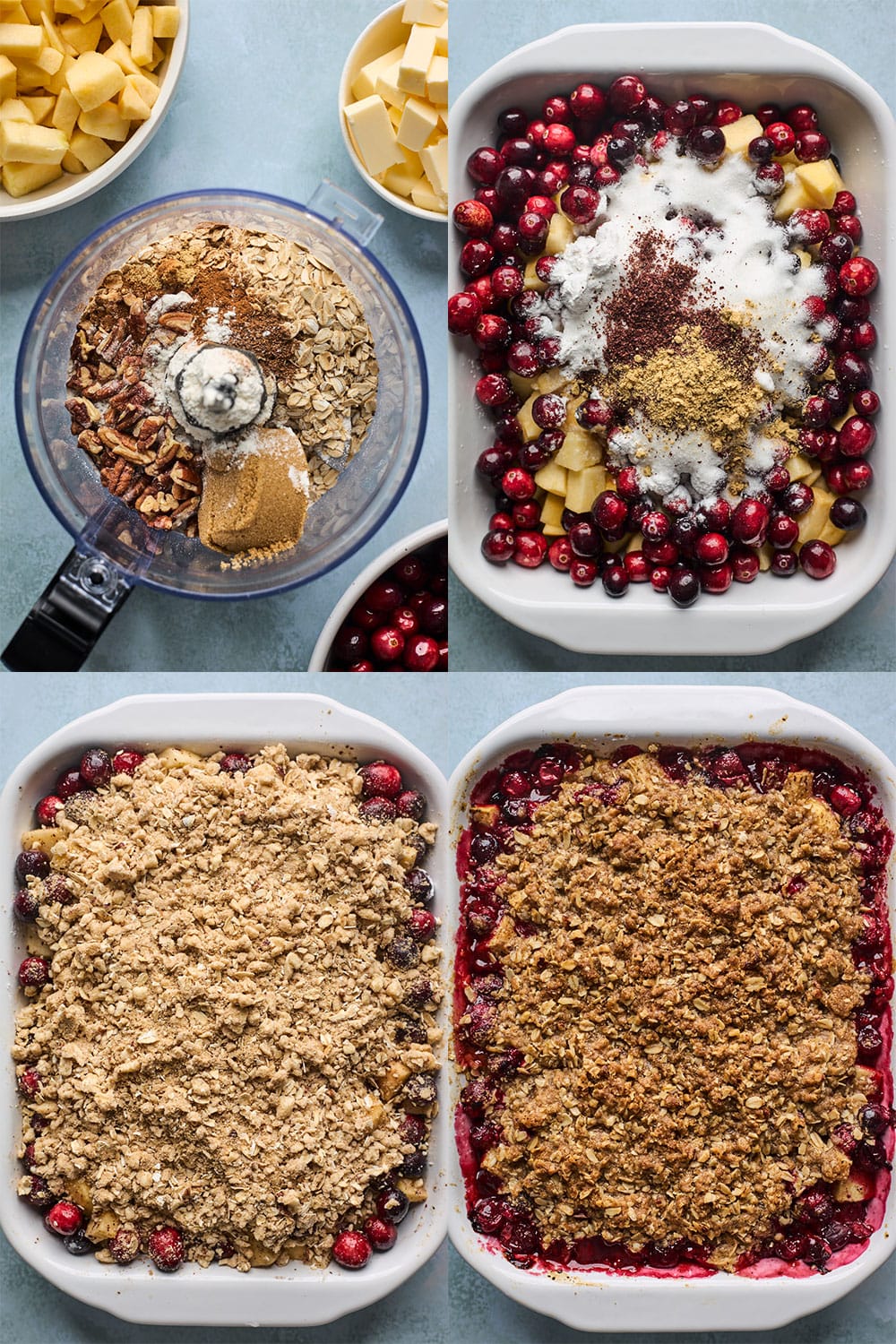 How to Make Cranberry Apple Crumble
Prepare the fruit - peel and core the apples then slice or chop them - make sure to slice or cut into roughly the same size and thickness
Add apples and cranberries to a large bowl and toss gently with the sugar, cornstarch, vanilla, sumac, apple cider vinegar or lemon juice until well combined.
Prepare the crumble/crisp topping - In a food processor, combine the flour, oats, sugar, pecans, cinnamon and spices, and salt and pulse twice to mix. Add the butter and pulse a few more times, until the mixture forms small crumbles mix well until combined - use a fork or spoon to ensure to stir well
Spread the topping evenly over the filling then bake in the oven the filling is bubbling and the topping is golden brown.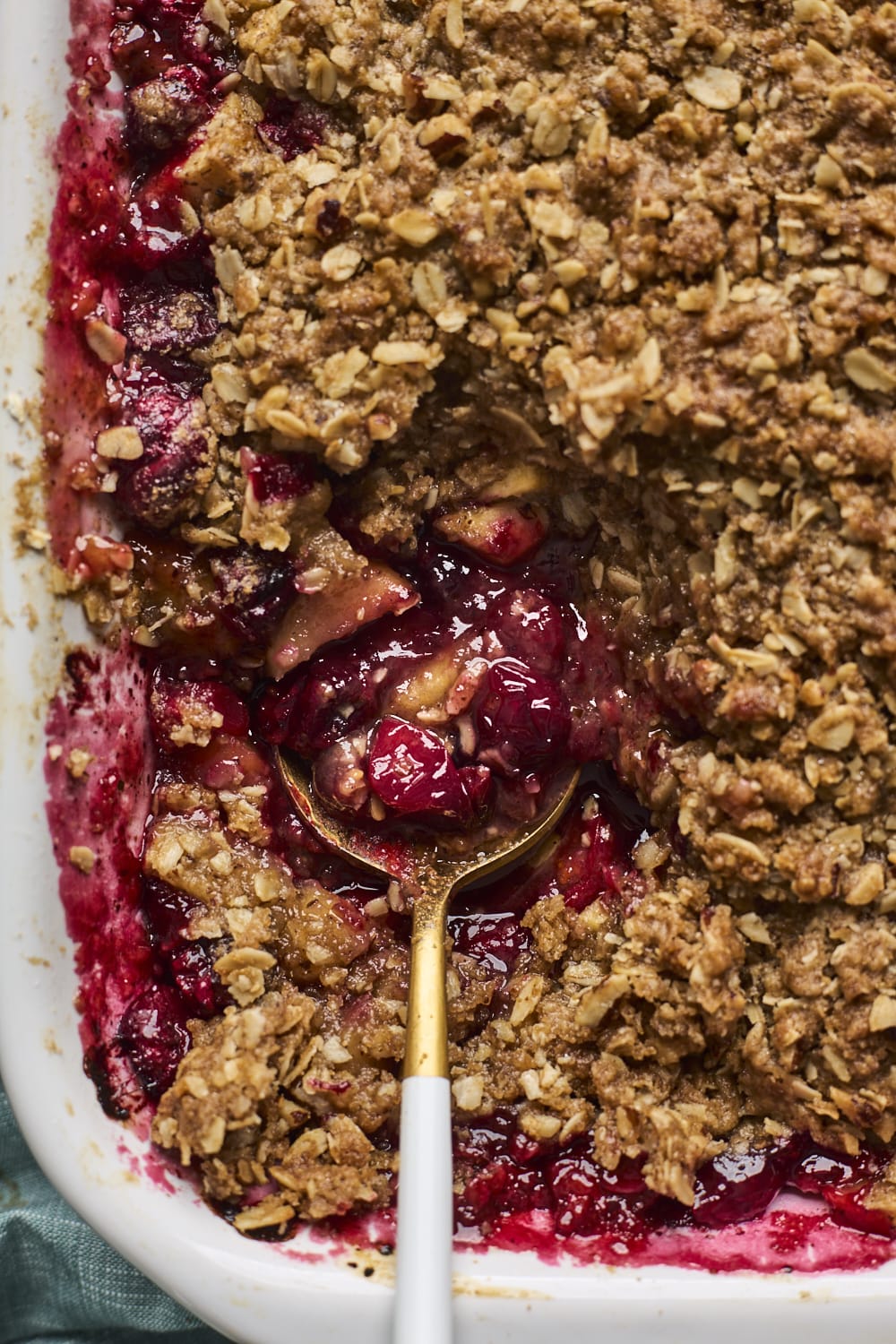 Tips For Making The Best Apple Cranberry Crisp/Crumble Recipe Every time
Don't overwork the streusel topping - the rougher and lumpier it is the better, there really is nothing better than a bite full of buttery crispy crumble/crisp.
Grease the dish beforehand - this will stop the crumble sticking to the edges.
Always preheat your oven - ensure it comes to temperatures that baking time is roughly the same as stated in the recipe directions
When choosing a dish for your crumble don't go too deep - a large shallow baking dish works best for crumbles and allows the fruit to cook evenly and more quickly. The deeper the dish the larger the stack of fruit and the longer it will take for the fruit to cook.
Always slice or chop the apples in uniform size - so they bake up or cook up evenly
Cool the crumble - Let the crumble cool for at least 15 minutes before serving. If transporting to a picnic or party, let the crumble cool completely to give the fruit filling time to set.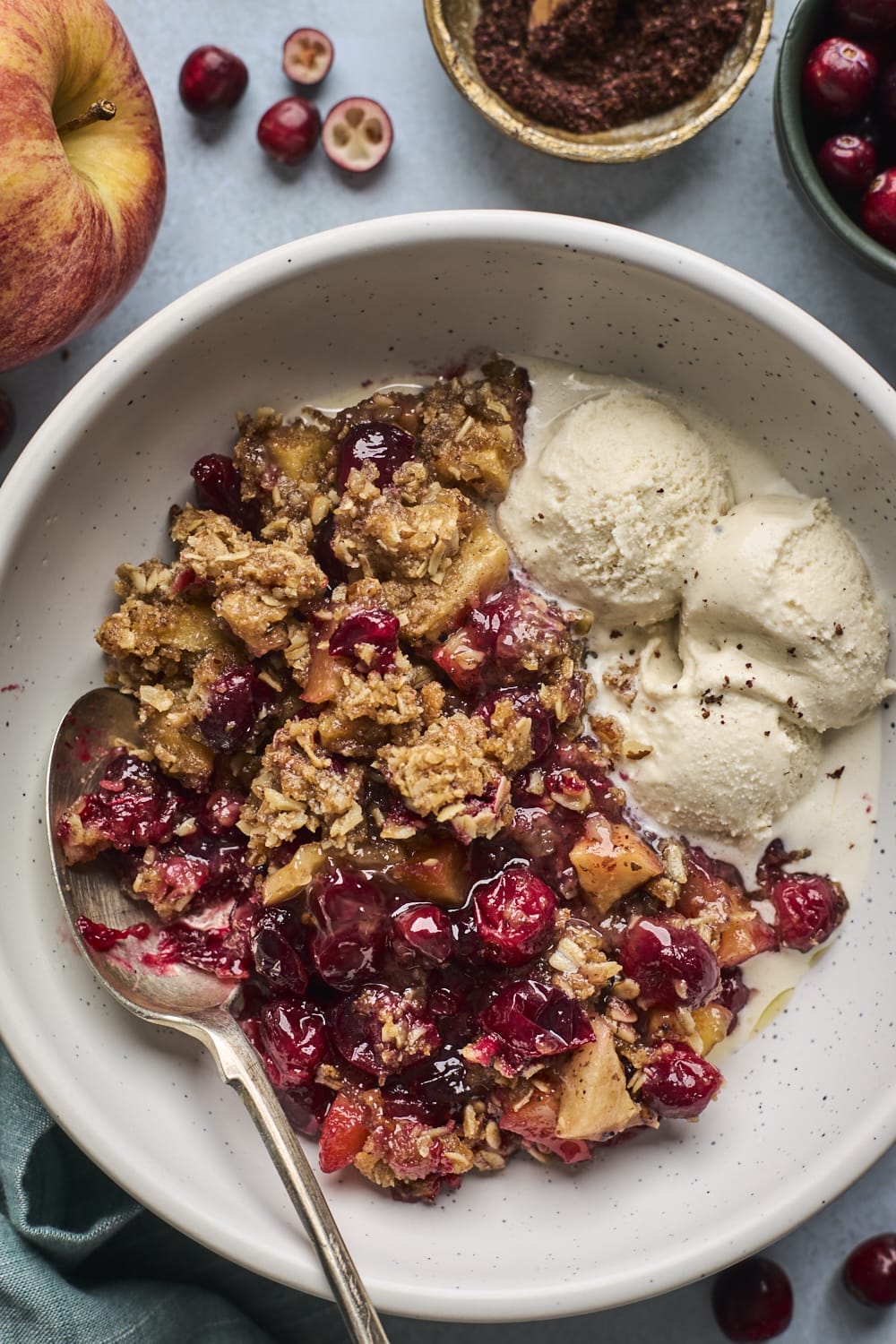 Can you make this ahead of time?
You absolutely can! The best part about a crisps or crumbles is that you can assemble them ahead of time and just pop them in your fridge. Then when you sit down to dinner, pop it in the oven and bake.
Make Ahead, Storage & Freezing
Make Ahead: The entire crumble can be made ahead and frozen after its cooled and wrapped with plastic wrap and foil. Or it can refrigerated for at least 3-5 days. To get a head start on making this a day or more before you plan to serve it, you can make the crumble topping and store it in the fridge in an airtight container up to 2-3 days ahead of time. Because you are cooking the apples it it's fine to prep the filling a day in advance and keep it in a sealed container bag in the fridge.
Storage: The crumble can technically keep at room temperature for 1-2 days but I prefer to store leftovers in the fridge well wrapped and it will keep longer in fridge - up to 5-7 days. It can be eaten cold or reheat in the microwave or better yet in the oven for a few minutes at 325°F
Freezing: The crumble can be frozen once cooked and cooled and then reheated in the oven from frozen. The whole cooked and cooled crumble can be frozen and last for 3-4 months in the freezer if stored correctly. It should be wrapped tight with a layer of plastic wrap and aluminum foil. Thaw it in the refrigerator overnight. Once thawed, you can bake/reheat the apple crumble as directed recipe
More Cranberry Recipes You Will Love:
If you Love Crisps & Crumbles you Will Love These:
Recipe
Prep Time: 15 mins
Cook Time: 45-50 mins
Ingredients
Crisp/Crumble Topping
¾ cup (95 grams) all-purpose flour (or gluten-free flour blend)

⅔ cup (65 grams) rolled oats

⅓ cup (70 grams) brown sugar

¼ cup (32 grams) crushed pecans

½ teaspoon ground Cinnamon

¼ teaspoon ground Nutmeg

¼ teaspoon ground Ginger

¼ teaspoon kosher salt

¾ cup (180 grams) cold unsalted butter, cut into cubes
Apple Cranberry Filling
1 pound (450 grams) apples (about 3 to 4), peeled, cored, and diced to the size of a cranberry

3 cups (300 grams) fresh cranberries

⅖ cup (130 grams) granulated sugar

1 teaspoon pure vanilla extract

½ teaspoon ground ginger

2 teaspoons ground sumac or lemon zest

1 tablespoon apple cider vinegar or lemon juice

4 teaspoons potato starch (or corn starch or arrowroot starch)

Vanilla ice cream, for serving (optional)
Directions
Preheat the oven to 375°F (190°C).
In a food processor, combine the flour, oats, sugar, pecans, cinnamon, and salt and pulse twice to mix. Add the butter and pulse a few more times, until the mixture forms small crumbles. Set aside. (Alternatively, if you are not feeling up to pulling out the food processor, place the flour, oats, sugar, pecans, cinnamon, and salt in a large bowl and use a large spoon or your hands to mix until well incorporated. Ad the butter and continue to mix with your hands until you have formed a crumbly dough.)
In a large mixing bowl, toss the apples and cranberries with the sugar, sumac, apple cider vinegar, and potato starch.
Pour the apple and cranberry mixture into a 9 x 13-inch (23 x 33 cm) baking dish
Sprinkle the crisp topping over the fruit.
Bake the crisp until the fruit is bubbling and the topping is golden 45 to 50 minutes.
Serve warm with a dollop or scoop of vanilla ice cream, if desired.
This recipe is from Peak Season by Deidre Buryk and the book was sent to me from Appetite by Random House to review and to share recipe with their permission. The recipe is from page 200 Fall/November section of the book.