Apple and Blackberry Crumble
Prepare to fall in love or at least help transition into fall with a super tasty apple and blackberry crumble. A cozy, apple pie-like filling with pops of tart juicy blackberries topped with buttery tender crumble topping. There is nothing more incredible than a bowl of this easy apple and blackberry dessert topped with a scoop of ice cream. Its not overly sweet and so perfectly fragrant and spiced - you will even love it for breakfast with greek yoghurt.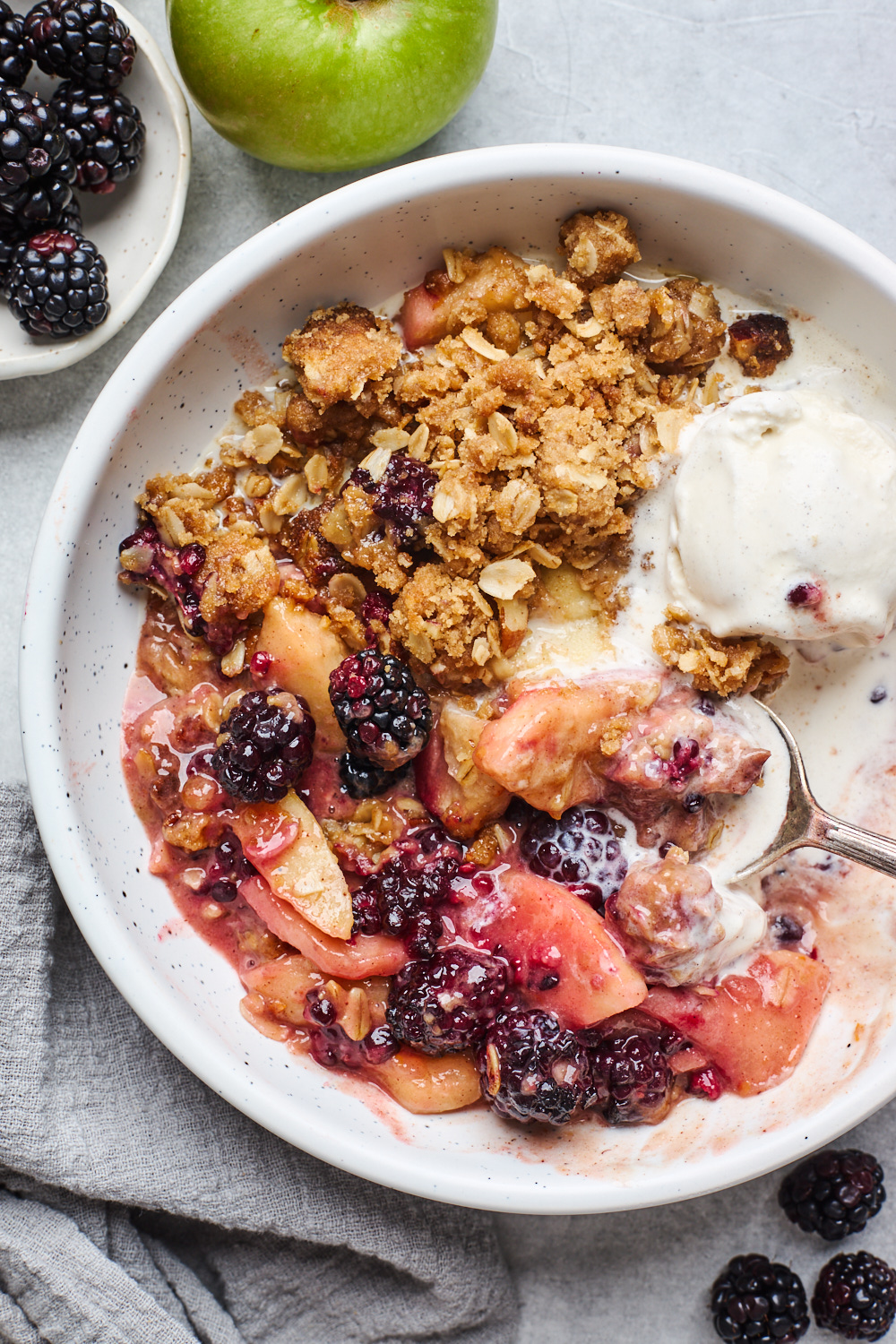 What You'll Need to Make This Apple Blackberry Crumble
Apples - Use you favourite variety of eating apples or a variety of cooking apples. Granny Smith apples will work best, Cortlands or HoneyCrisp will also work along with Gala variety. You can also do a variety
Blackberries - I use fresh blackberries, you can use frozen if you can't find any fresh blackberries.
Flour - Plain or all-purpose flour, you can use whole-wheat flour if you want or even gluten free all purpose 1-1 flour for a gluten free version
Baking Powder - adding baking powder to the flour mixture makes the crumble topping more tender. It is optional but recommended.
Oats - I use old fashion oats for this recipe, you can also use regular oats.
Butter - I always use unsalted butter is best for this crumble. For a vegan or dairy free version feel free to use a vegan butter or even coconut oil
Sugar - you will need light brown sugar for the topping and granulated sugar for the filling. Feel free to use either for the filling or the topping and you can even swap it for Demerara sugar or coconut sugar. Feel free to add some maple syrup for added maple flavour or you can even replace some of the sugar in the filling with maple syrup as a sweetener.
Spice - I love a little spice in my crumbles so I add a combination of cinnamon, nutmeg and ginger you could add nutmeg or allspice if you would like to change it up a bit too or even some cardamom.
Vanilla Extract - for extra flavour in the filling - optional
Extra Add ins - feel free to add nuts or seeds like pecans, almonds, hazelnuts, or pumpkin seeds to add some extra crunch to your crumble topping. I added ¼ cup of chopped pecans in this one but that is optional.
Variations - Blueberries and even raspberries or even cherries will work instead of the blackberries in this recipe.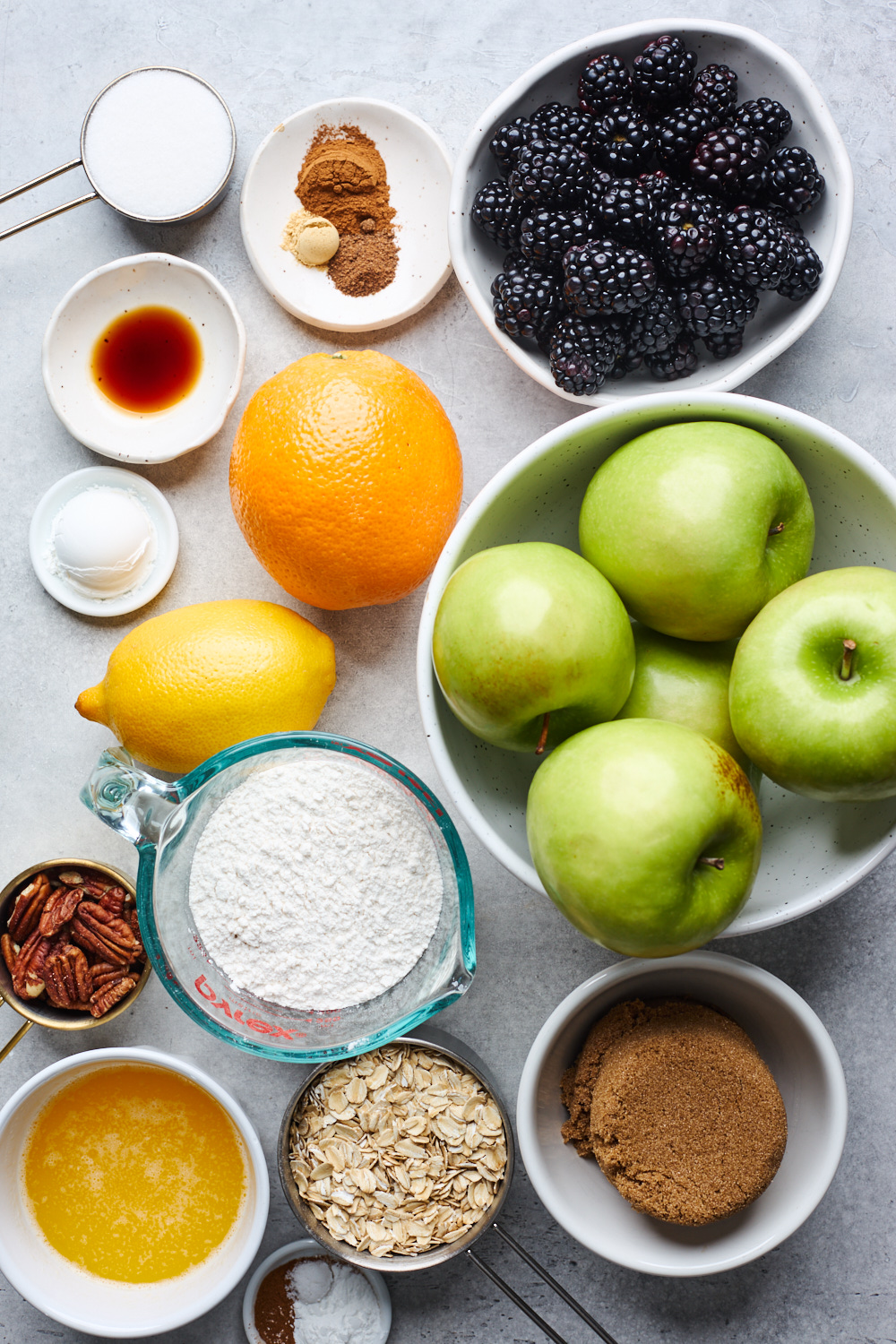 How to Make Apple and Blackberry Crumble
Prepare the fruit - peel and core the apples then slice or chop them
Add apples to a large bowl and toss gently with the sugar, cornstarch, vanilla, spices, orange juice and zest until well combined. Toss in the blackberries.
Add the flour, cinnamon, pecans, baking powder, brown sugar, oats to a medium bowl and stir well. Add the butter, and use a fork to mix it into the dry ingredients until you have a rough breadcrumb consistency.
Spread the topping evenly over the filling then bake in the oven the filling is bubbling and the topping is golden brown.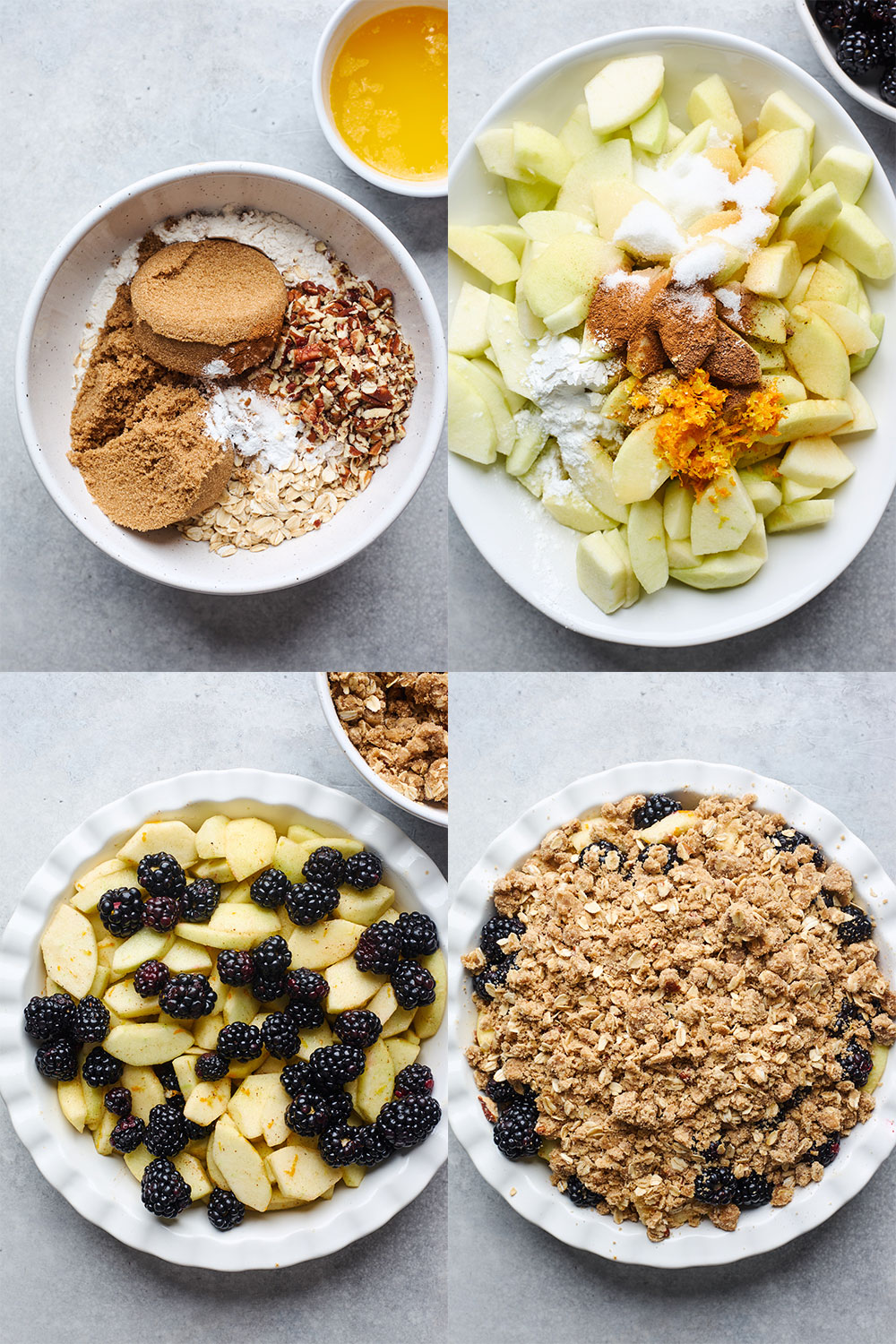 Crumble vs Crisp - What's the Difference?
Crumbles and crisps are more fruit-forward than pies and tarts. I usually add a minimal amount of sugar or spices to really let the fruit shine and that it does in this apple blackberry crumble/crisp. Both crisp and crumble toppings are made with flour, butter and sugar. It's the crisp that takes it a step further by adding rolled oats which gives the finished product a more breakfast-like flavor. I always speak of them interchangeably so this technically is a crisp but I call it a crumble only because I still think it has a crumbly sort of sandy topping.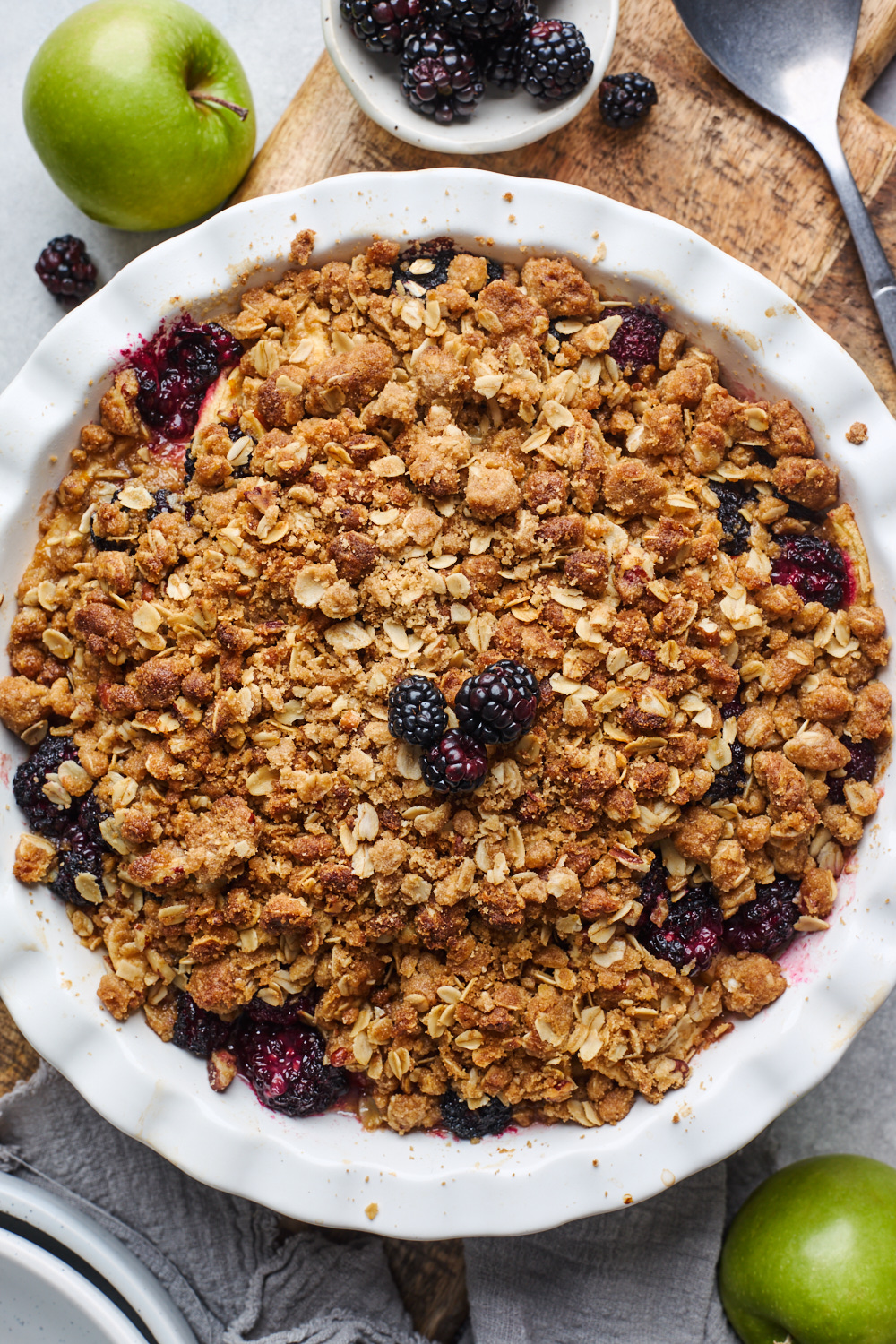 Tips For Making The Best Apple And Blackberry Crumble Recipe Everytime
Don't overwork the topping - the rougher and lumpier it is the better, there really is nothing better than a bite full of buttery crispy crumble.
Grease the dish beforehand - this will stop the crumble sticking to the edges.
Always preheat your oven
When choosing a dish for your crumble don't go too deep - a large shallow baking dish works best for crumbles and allows the fruit to cook evenly and more quickly. The deeper the dish the larger the stack of fruit and the longer it will take for the fruit to cook.
Always slice or chop the apples in uniform size - so they bake up or cook up evenly
Cool the crumble - Let the crumble cool for at least 15 minutes before serving. If transporting to a picnic or party, let the crumble cool completely to give the fruit filling time to set.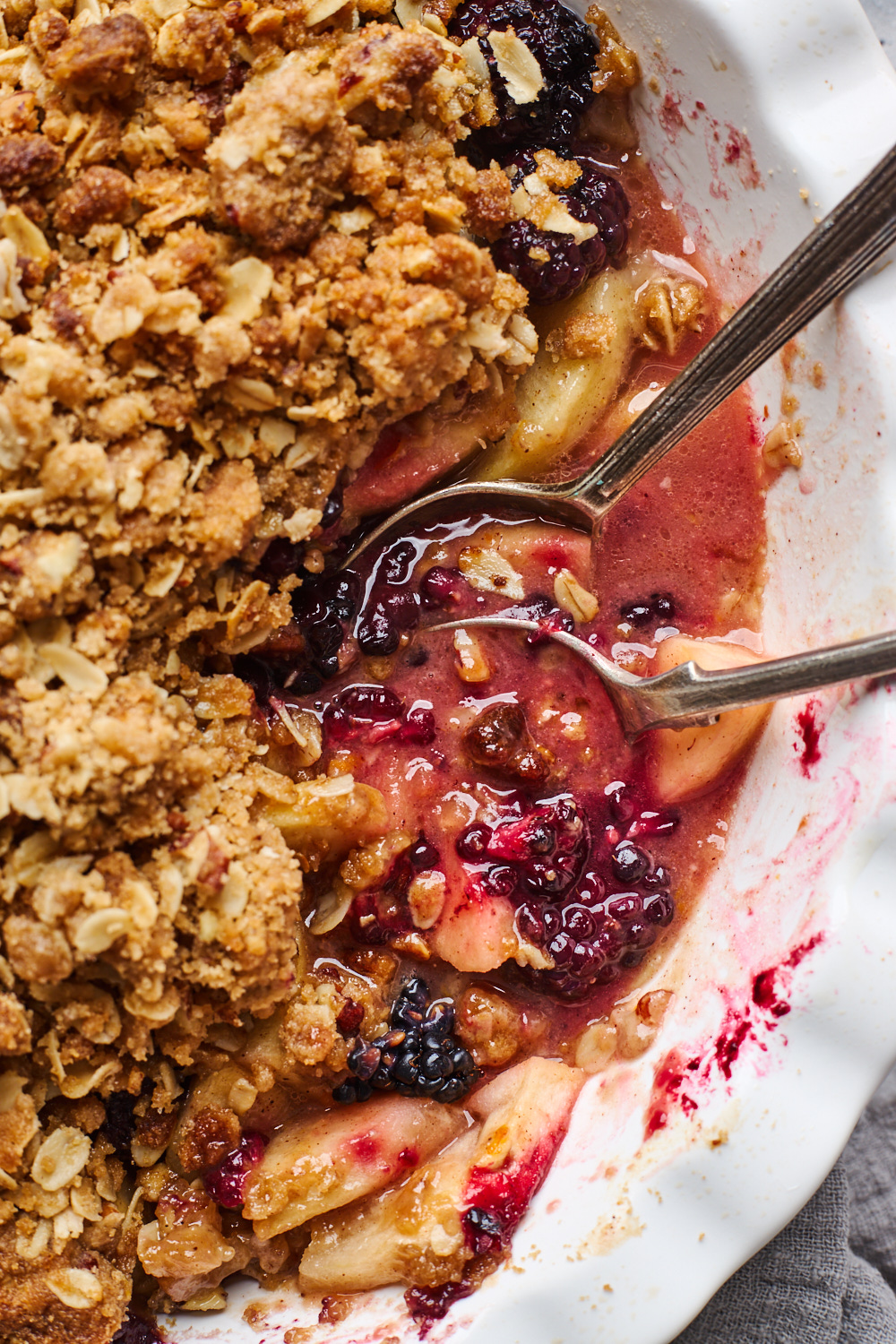 Can you make this ahead of time?
You absolutely can! The best part about a crisps or crumbles is that you can assemble them ahead of time and just pop them in your fridge. Then when you sit down to dinner, pop it in the oven and bake.
Make Ahead, Storage & Freezing
Make Ahead: The entire crumble can be made ahead and frozen after its cooled and wrapped with plastic wrap and foil. Or it can refrigerated for at least 3-5 days. To get a head start on making this a day or more before you plan to serve it, you can make the crumble topping and store it in the fridge in an airtight container up to 2-3 days ahead of time. Because you are cooking the apples it it's fine to prep the filling a day or two in advance and keep it in a sealed container in the fridge.
Storage: The crumble can technically keep at room temperature for 1-2 days but I prefer to stored it in the fridge well wrapped and it will keep longer in fridge - up to 5-7 days. It can be eaten cold or reheat in the microwave or better yet in the oven for a few minutes at 325°F
Freezing: The crumble can be frozen once cooked and cooled and then reheated in the oven from frozen. The whole cooked crumble can be frozen and last for 3-4 months in the freezer if stored correctly. Thaw it in the refrigerator overnight. Once thawed, you can bake/reheat the apple crumble as directed recipe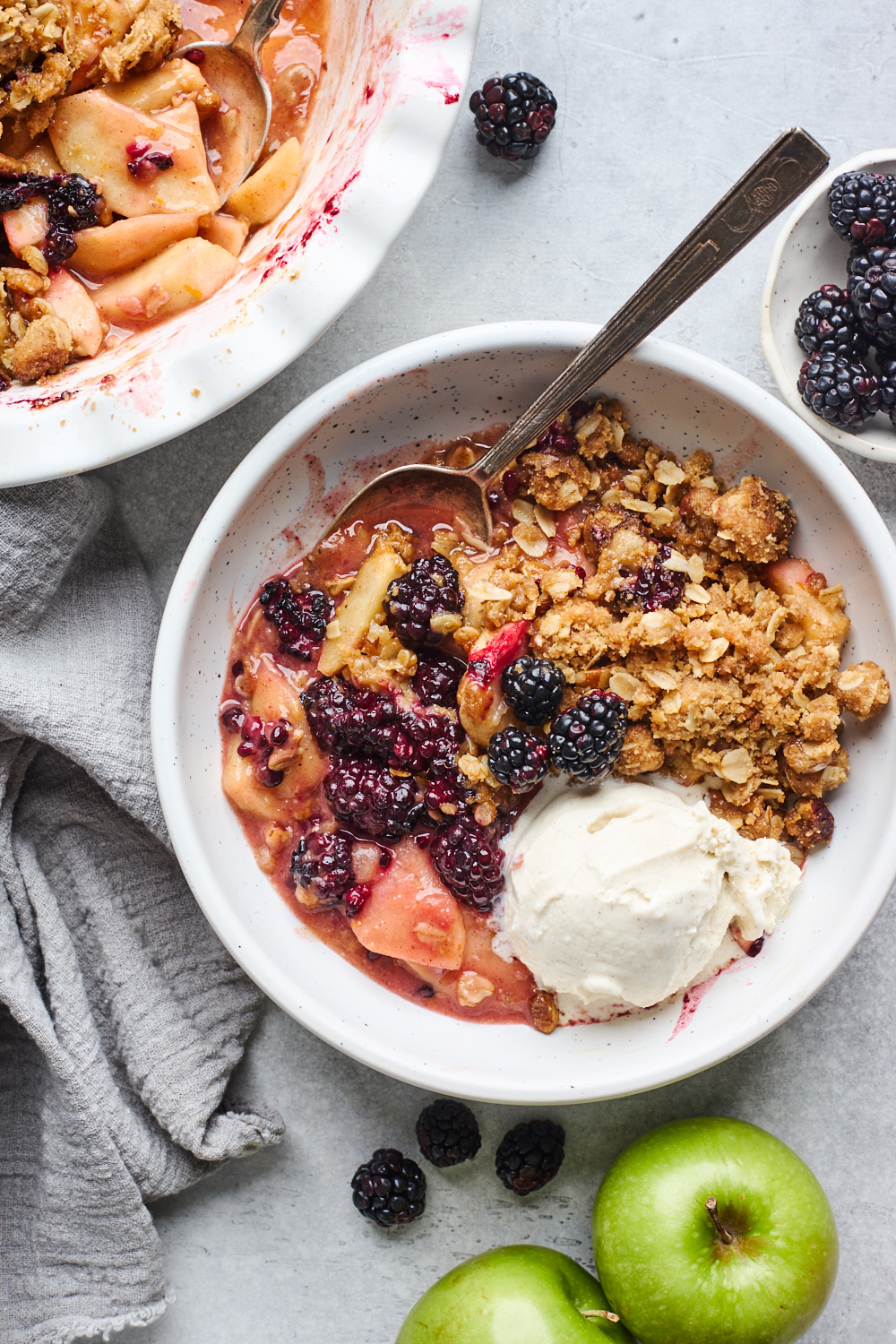 More Blackberry and Apple Desserts you will love:
Recipe
Yields: 9x9 baking dish
Prep Time: 20 mins
Cook Time: 40-60 mins
Ingredients
For the fruit layer
2 lbs apples (approx 4-6 large apples) peeled, cored and sliced.

¼ cup orange juice or lemon juice (I like to do a combination of both)

Zest of 1 orange or lemon (I like to do a combination of both)

1 tablespoon cornstarch

¼ cup granulated sugar

1 teaspoon cinnamon

¼ teaspoon nutmeg

¼ teaspoon ginger

½ teaspoon vanilla extract (optional)

2 cups blackberries, washed and dried (frozen work well, use directly)
For the Crumble Topping
1 cup rolled oats

1 cup All purpose flour

1 cup light brown sugar (loosely packed)

¼ cup chopped pecans

½ teaspoon baking powder

1 teaspoon ground cinnamon

½ cup unsalted butter, melted

Pinch of salt
Directions
Preheat Oven and Prepare Pan:
Preheat the oven in 350ºF
Butter a 9x9 inch (23x23 cm) glass or ceramic baking dish or 6 individual ramekins or 11x7-inch baking dish with butter; set aside.
For the fruit layer:
Peel and core the apples. Cut them into thin to medium wedges or dice in even pieces.
Toss and combine the apple pieces with the orange juice, zest, sugar, cornstarch, spices, blackberries and vanilla in a large mixing bowl.
Transfer to the prepared baking dish.
(Alternatively, cook the above mixture in a medium saucepan over low/medium heat until apples start to soften and release some of their juice, about 5 minutes. Don't let them soften too much. This will cut down baking time by a few minutes and result is softer apples in your crumble - optional)
For the crumble topping:
Place crumble ingredients in a medium bowl. Mix with a fork until clumps form, like wet sand. Spread over the apples, crumbling with your fingers to get that crumbly topping.
Refrigerate the topping until you're ready to use it. It can be made a day ahead.
Assemble Crumble:
Put the apple mixture in the baking dish and top or gently toss with the blackberries.
Sprinkle the crumble mixture over the fruit.
Bake for 40-50 minutes or until golden brown and juices are bubbling. Lightly tent with foil if the topping starts to brown too quickly.
Let cool a few minutes before serving with whipped cream, greek yoghurt or vanilla ice cream or enjoy it plain, at room temperature.