Baklava Sticky Buns
These sticky buns are the perfect breakfast or brunch recipe and can even be made ahead! This from-scratch, step-by-step recipe features brown sugar, pistachios, walnuts, honey, lemon juice, and other pantry ingredients you likely already have in your home. They are irresistible. And, once you have one, you must have another. They're sticky, sweet, nutty, buttery and the most perfect hybrid between cinnamon rolls and traditional baklava. And what makes them taste even better, is they're a hundred times easier to whip up than regular baklava. Traditional baklava, is typically made of phyllo dough, finely crushed pistachios, butter, and a simple syrup made of sugar, water, and lemon juice. These sticky buns incorporate all those delicious baklava flavours in soft sticky buttery bun form. Sticky buns meet baklava - a match made in sweet syrupy heaven! That doesn't even make sense but you get the idea!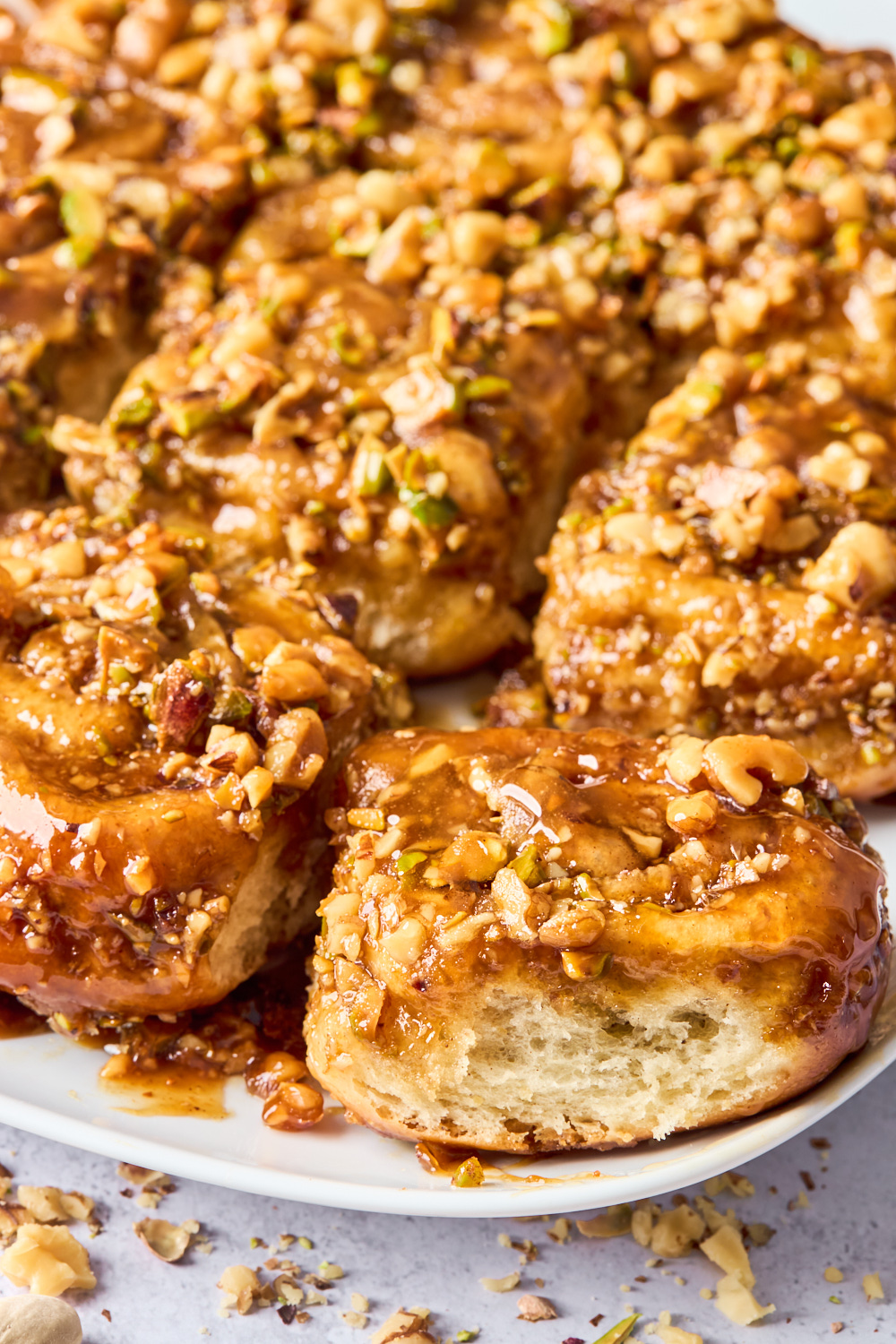 Why you will love these sticky buns
Rich and decadent
Nutty fragrant and sticky from that honey nut topping
Packed with warm spices and a hint of citrus, and nuts for the ultimate baklava flavoured sticky buns
Piled high with a sticky, brown sugared, caramel-y, buttery, honey walnut pistachio topping
A make-ahead or overnight breakfast recipe– perfect for entertaining
Simple to prepare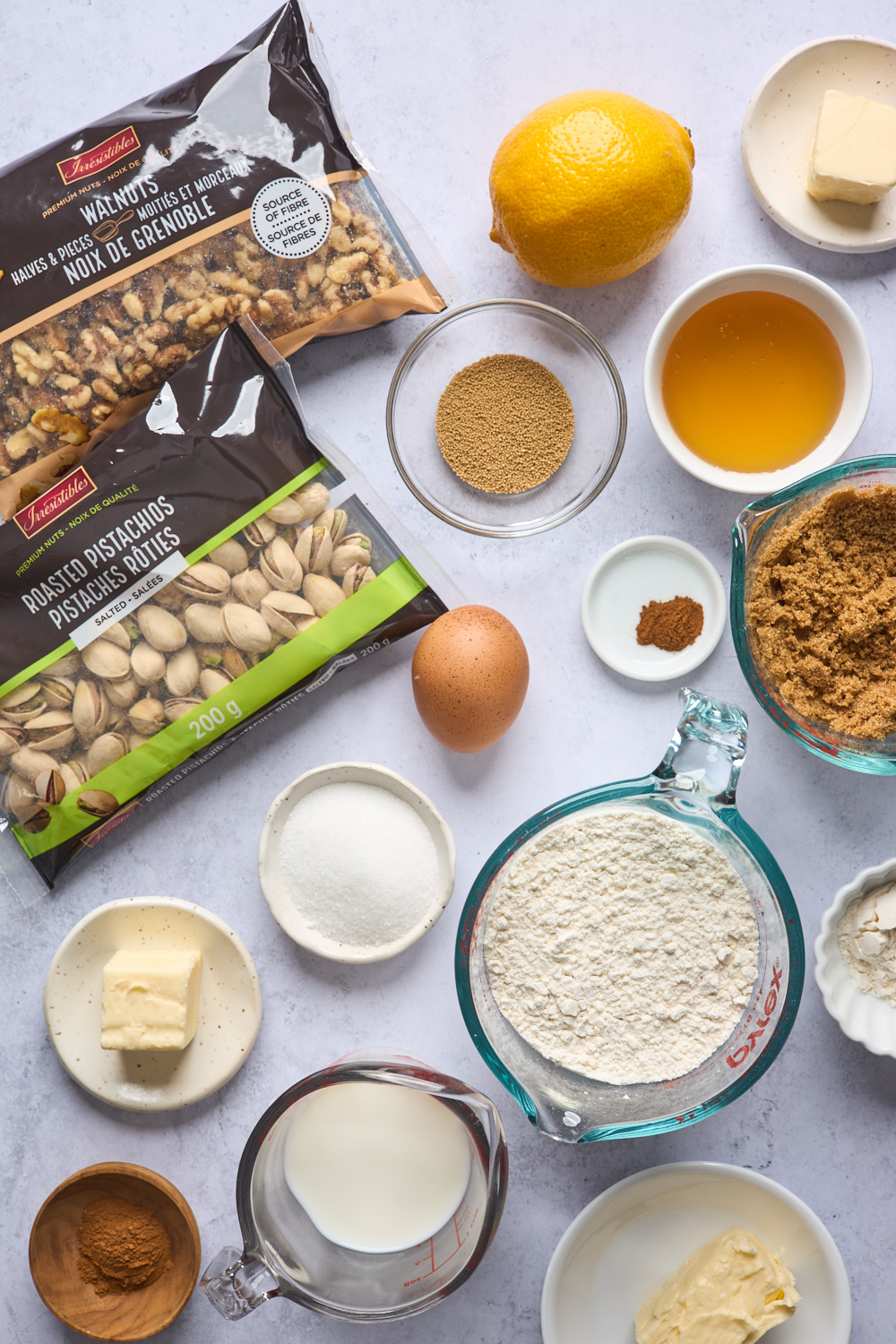 What are sticky buns?
Sticky buns are type of dessert or breakfast sweet roll that generally consist of rolled pieces of leavened dough. They are baked on top of a butter, sugar, and honey combination (with nuts) that turns into an absolute dream caramel situation in the oven. Once they are finished baking, they are flipped upside-down so that all of the caramel they had been sitting in while baking is now drenching the top of them.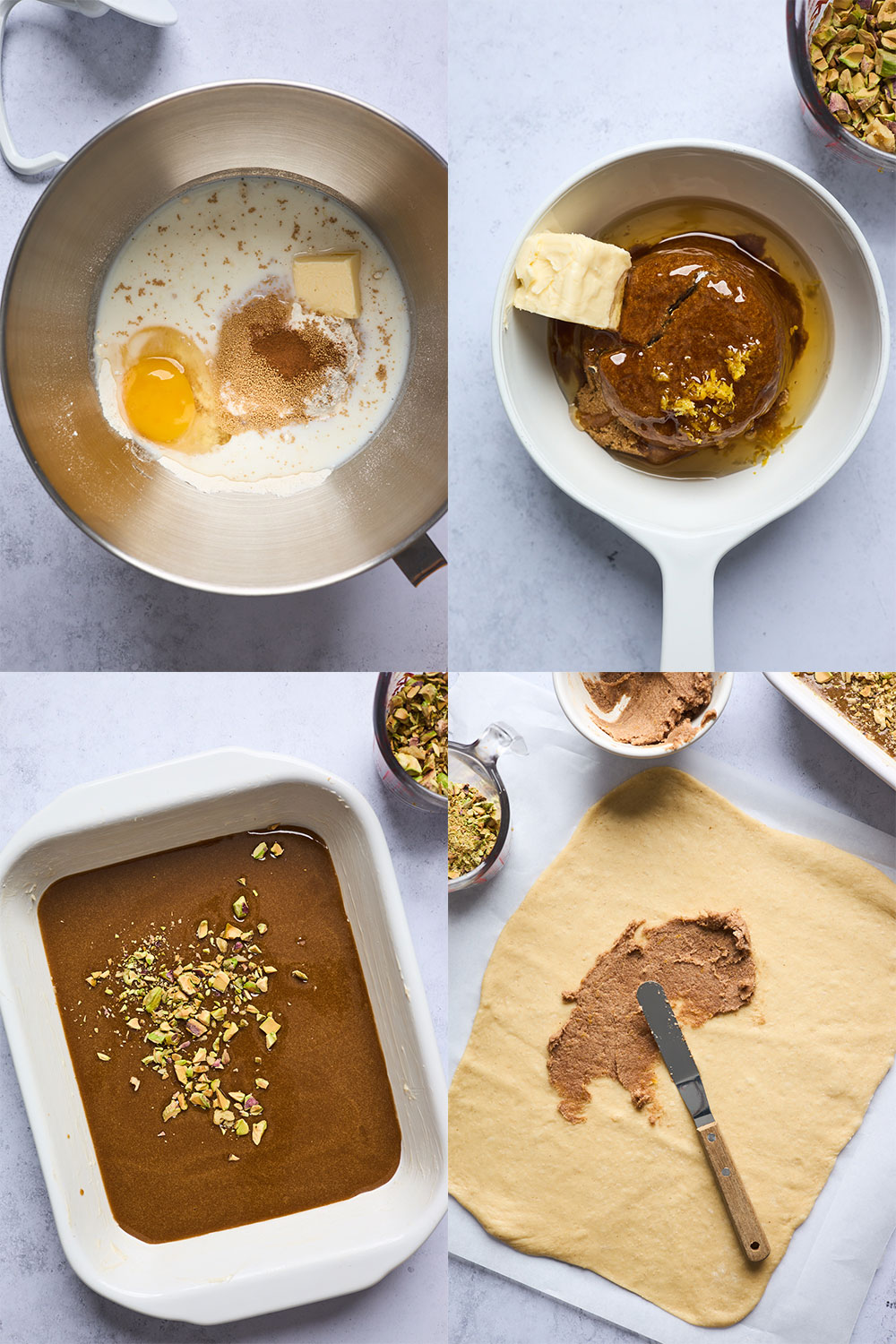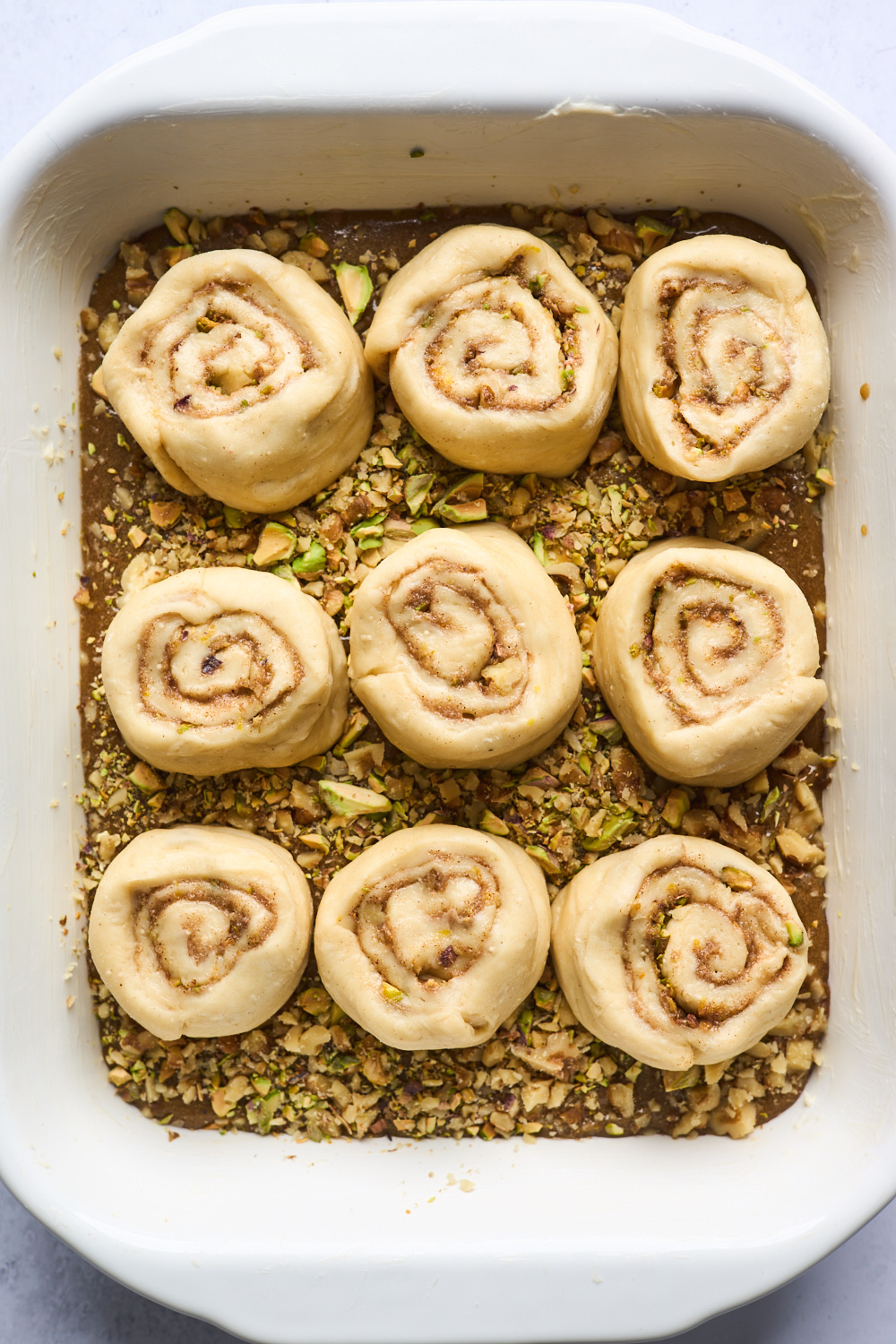 What's the Difference Between Sticky Buns and Cinnamon Rolls?
Cinnamon rolls and sticky buns are made using the same leavened sweet dough and the same cinnamon sugar filling. Cinnamon rolls are baked then drizzled with a white sugar glaze, sticky buns on the other hand are baked in a brown sugar and nut caramel sauce which creates their sticky goodness.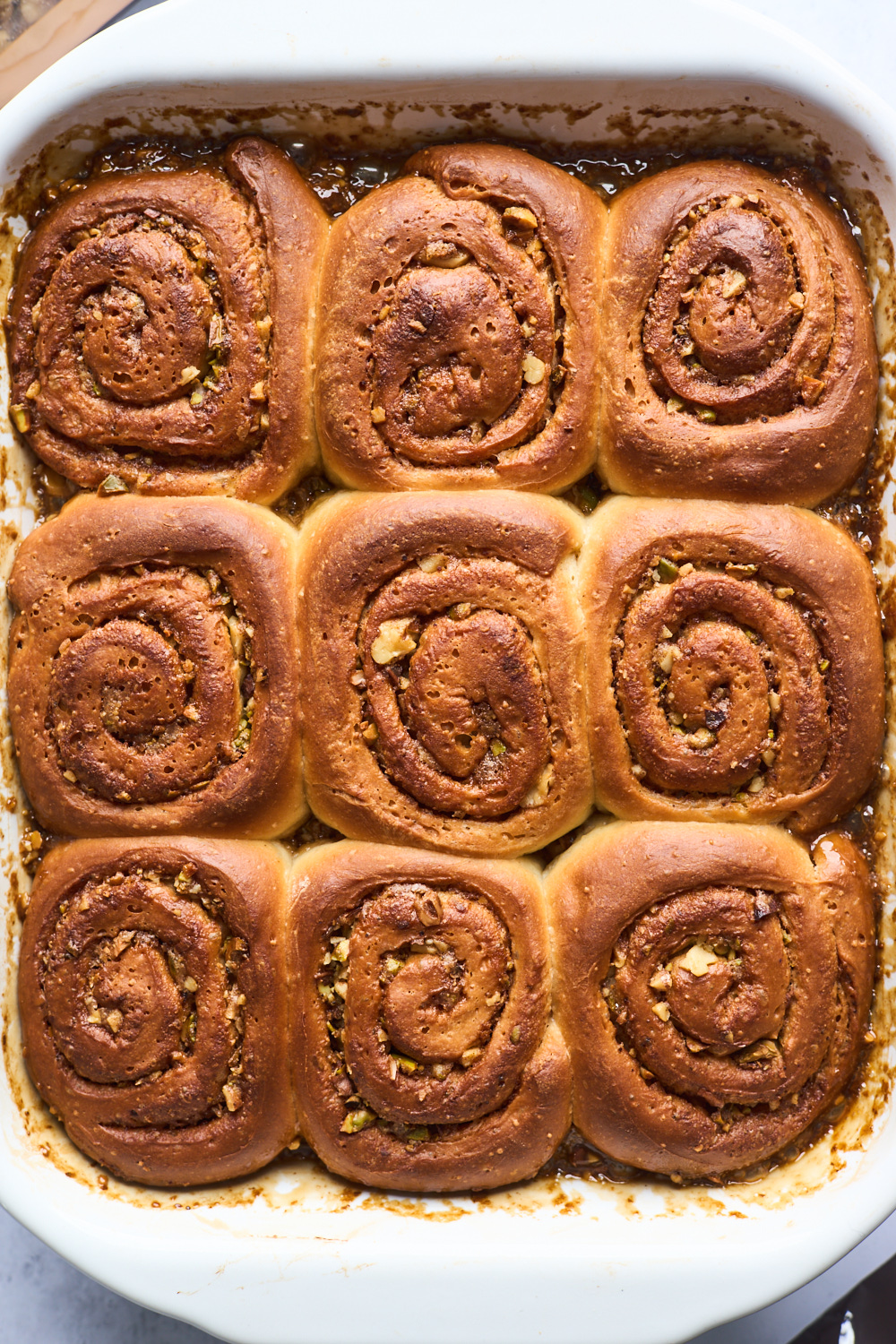 Ingredients for these baklava sticky buns: There are 3 parts to these tasty sticky buns:
The dough.
The filling.
The sticky topping.
Let's quickly walk through the ingredients list for each part. DOUGH
Active dry yeast – You can use instant yeast if that's what you have. If you use instant, you won't need to bloom it first, but it's a good idea to test if it's still alive. If your yeast doesn't foam up your yeast is dead and the buns won't turn out. If using instant no need to bloom or activate it.
Warm milk – make sure you use whole milk for a rich, soft, and fluffy dough it also adds extra flavor that you won't get with low-fat milk. It's super important to make sure your milk is lukewarm. The best temperature of the water should be anywhere from 95 degrees to 105 degrees for this. You don't really want anything warmer, as it will kill the yeast.
Butter – Unsalted as always. Unsalted butter gives us control on how much sodium is in our food. Make sure it's room temperature and softened.
Sugar - just a little granulated sugar for the dough
Cinnamon - to spice them up a a bit
Salt – We always need to add a bit of salt to our baked goods, to bring out all the flavors.
PECAN TOPPING
Butter – While I used unsalted, you can use salted butter in the topping. Doesn't need to be softened as it will be melted
Brown Sugar – This is what's going to create our caramel.
Honey – This is where the sticky part comes in. You can also use corn syrup or maple syrup instead if you prefer.
Walnuts and pistachios – Roughly chopped, you can also use pecans if you prefer.
Lemon juice and zest - for that signature citrus baklava flavour
FILLING:
Brown sugar – I prefer to use dark brown sugar.
Cinnamon and lemon zest – For that is spiced citrusy burst of flavour
Butter - unsalted again and softened
Walnuts and pistachios – Roughly chopped, you can also use pecans if you prefer. Because we want these as nutty as baklava is!
How to make these baklava sticky buns:
Make the sticky bun dough.
Let the dough rise (1st rise). Transfer the dough onto a floured surface, knead it, then place it in a lightly greased bowl. Let rise until doubled in size, about 46 min to 1 hour
Make the topping, then pour it into a greased baking pan.
Roll the dough into a rectangle, about 10×12inches. Make sure the dough is smooth and evenly thick.
Spread filling onto the dough.
Tightly roll dough & cut into rolls. This should form log. Cut into 9 even rolls. Arrange them in the baking pan on top of the topping. (They bake upside down!)
Let the rolls rise (2nd rise).
Bake. The rolls take about 25 -35 minutes to bake. Tip: halfway through the bake time, cover the rolls loosely with aluminum foil so the tops don't over-brown.
Flip rolls & serve. Let the rolls cool for 5 minutes. Using oven mitts, invert the pan onto a large serving platter. The warm topping will deliciously melt down the sides! Serve and enjoy!!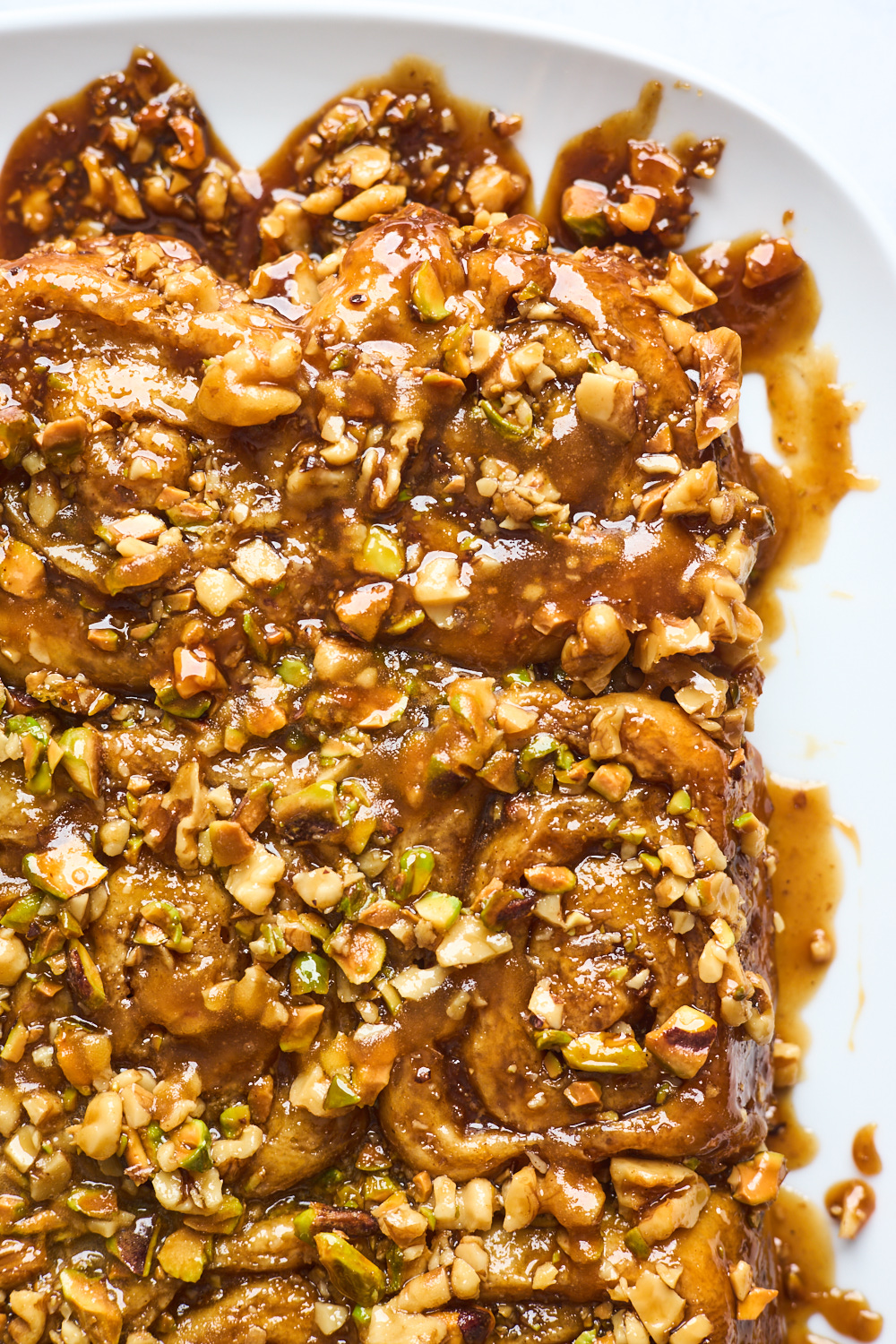 Make Ahead Overnight Instructions & Storage
These sticky buns can definitely be made ahead of time. Perfect for entertaining because they can be prepared the night before serving. To prepare the night before serving, simply place the shaped (unbaked) rolls on top of the sticky topping as instructed, cover the rolls tightly, then refrigerate for 8-12 hours. The next morning, remove the rolls from the refrigerator and allow them to rise on the counter for 1-2 hours before baking.
Baked sticky buns will keep well for up to 5 days in a sealed container or they can be frozen. Freeze in suitable containers or trays then thaw completely before serving or reheating.
Freezing Instructions: Baked rolls can be frozen up to 2-3 months. Thaw overnight in the refrigerator and warm up before enjoying.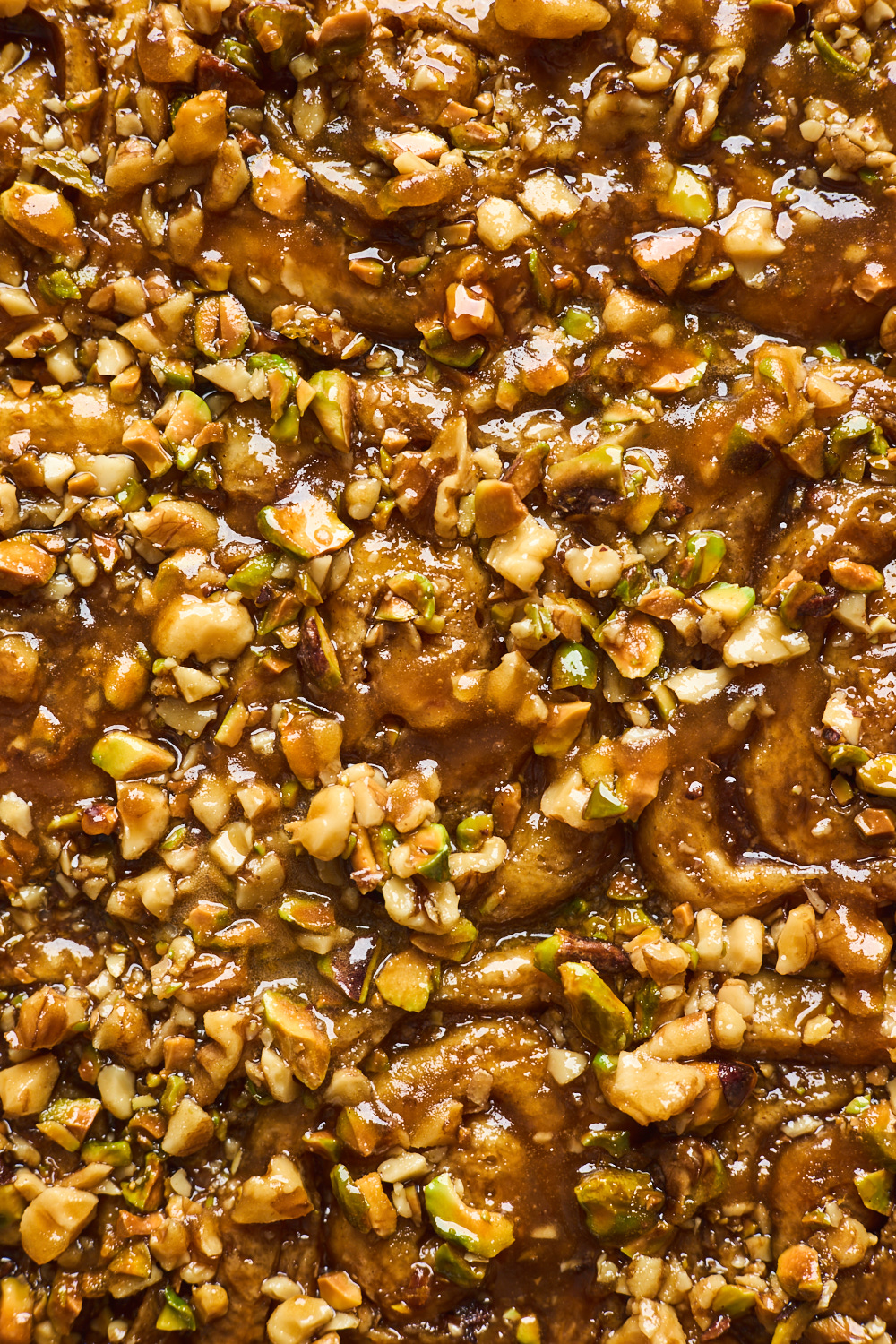 Tips for making delicious sticky buns:
Feel free to add some lemon zest to the dough as well as it adds a nice depth of flavor.
You can use either dark or light brown sugar for the filling and topping.
If you don't have walnuts or pistachios pecans will also work.
Use a very very sharp knife to slice these buns or floss to cut the dough into buns for clean edges.
Make sure to grease both the bowl the dough rises in and the baking dish the buns bake in really really well to stop them sticking.
Make the caramel sauce while the dough rises to save time. It can also be made in advance and placed in the fridge.
After baking for 15 minutes cover them with foil to stop the buns from browning too much.
Allow the buns to cool slightly before serving.
Try serving these with a dollop of whipped cream for an over the top indulgent treat.
These are perfect served for breakfast, as a snack, or dessert.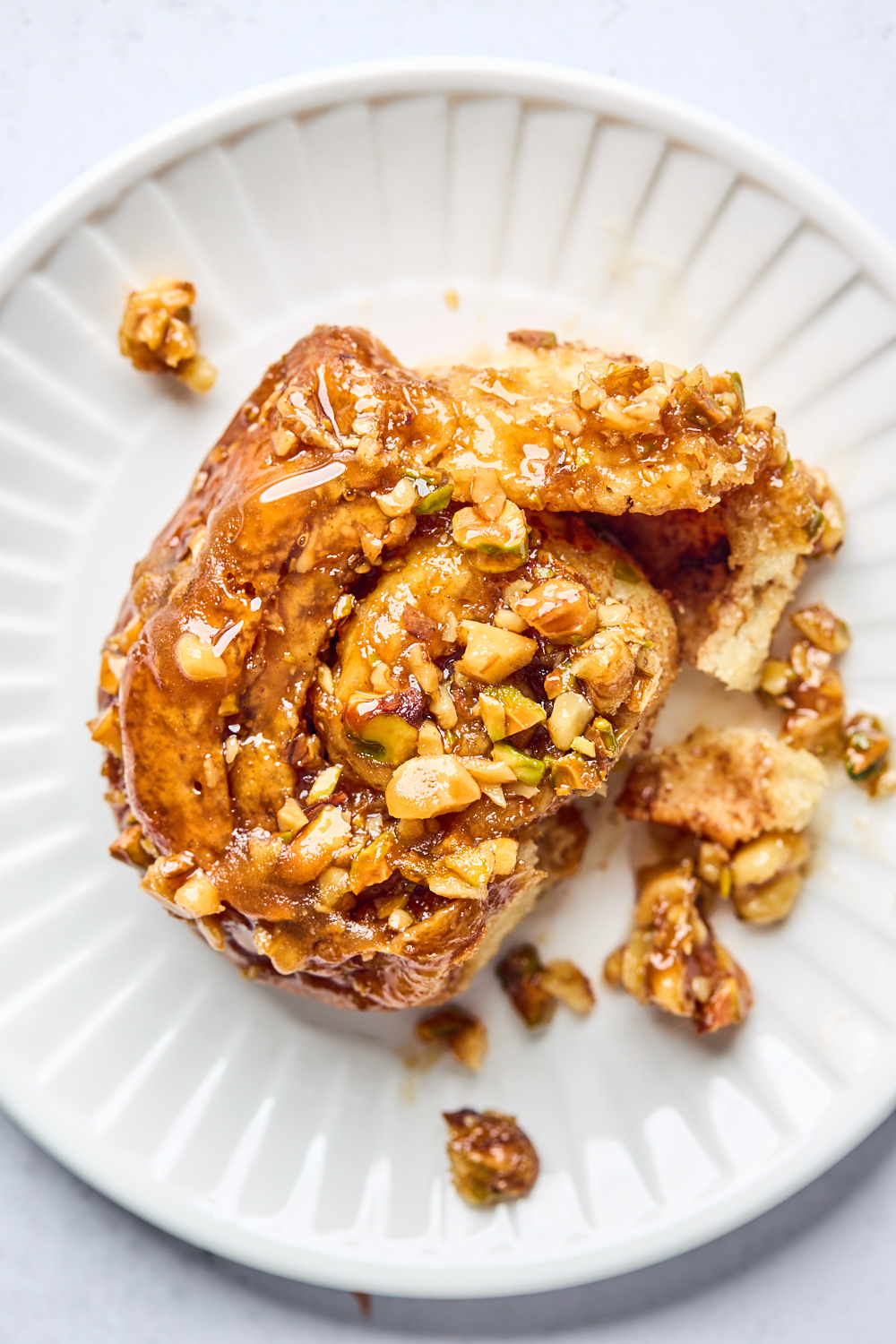 More sweet recipes you will love:
Recipe
Prep Time: 60 mins
Cook Time: 30 mins
Non-Active Time: 2 hours (for rising/proofing)
Total Time: 3 hours, 30 minutes
Ingredients
Dough
2 teaspoons active dry yeast or instant yeast

½ cup (113g) warm milk (slightly warmer than lukewarm)

2 tablespoons (28g) unsalted butter, softened

2 tablespoons (25g) granulated sugar

1 teaspoon (6g) salt

¼ teaspoon ground cinnamon (2 g)

1 large egg, room temperature

2 cups (240g) all purpose flour
Topping
1 cup (213g) light brown sugar, packed

3 tablespoons (64g) honey

2 tablespoons (28g) unsalted butter

¾ cup (85g) chopped Irresistibles walnuts and pistachios (an even mix of both)

1 teaspoon lemon juice

1 teaspoon lemon zest
Filling
4 tablespoons (57g) butter, softened

¼ cup (50g) granulated sugar

1 teaspoon ground cinnamon

1 tablespoon all purpose flour

½ cup (85g) chopped walnuts and pistachios

1 teaspoon lemon zest
Directions
For the dough: Place the softened butter in a large mixing bowl of standing mixer. Pour the warm milk over the butter, then add yeast, sugar, egg, salt, cinnamon and the flour. Mix until a soft dough forms using hook attachment, or wooden spoon.
Knead the dough for 6 to 8 minutes, adding up to 1-2 tablespoon extra flour as needed to form a dough that's soft but not too sticky. Cover the dough and let it rise in a warm spot for 45-60 minutes, or until doubled.
For the topping: In a small saucepan heat and stir the brown sugar, honey, lemon juice and zest, and butter until the sugar is dissolved
Spread on the bottom of a greased 9x9 or 10x8 pan. Sprinkle with the nuts; set aside.
For the filling: In a small bowl stir together the butter, sugar, cinnamon, lemon zest, and flour to make a spreadable paste.
To shape the buns: After the dough has risen, deflate it and roll into a 10" x 12" rectangle over a clean and lightly floured surface.
Spread the filling over the dough and sprinkle with the nuts. Starting with a long side, roll the dough into a log and pinch the edge of the lengthwise seam together. Cut into 9 equal slices.
Place the buns cut side down in the prepared pan. Flatten each bun with your fingers, until they're barely touching each other. Cover and let rise until doubled in size, approx 1 hour. Towards the end of the rising time, preheat the oven to 375°F.
Bake the buns for 30 to 35 minutes or until golden brown, tenting the top with foil for the last 15 minutes of baking if needed. Remove them from the oven and invert the pan immediately onto a large platter or sheet pan. Remove the pan, and scrape any topping left in the bottom onto the buns. Let cool for 10 minutes before eating.
Recipe Notes
Oven temperatures may vary. Cooking times may vary according to your oven. Monitor them closely after the 25 minute mark to avoid overcooking or burning.
Yeast: We tested and found it's not necessary to activate the yeast first in this recipe. If you have the active dry yeast and feel more comfortable doing so you can mix the yeast with the milk & sugar first, then add to the rest of the dough ingredients. If you have the instant yeast you can add it right to the dry ingredients with not proofing first. Either way will work just fine. Where Should Dough Rise?
You'll want to leave the dough covered and left to rise in a warm place free of drafts. The top of the stove is good, since the pilot light is just warm enough to keep the yeast happy. If it's wintertime or you want to speed up the process, you can leave your dough to rise in the oven. Preheat the oven to 150°F then turn it off. Then, put the dough inside with the oven door slightly cracked open. After about 30 minutes, close the oven door and let the dough rise for the remaining time.
Make ahead instructions: You can absolutely make these rolls a day in advance. Follow the recipe through the point of assembling the rolls in the pan, then cover them without letting them rise and put them in the refrigerator overnight. The next morning, take them out of the fridge and allow to rise on the counter for 1-2 hours before baking.
Freezing Instructions: Baked rolls can be frozen up to 2-3 months. Thaw overnight in the refrigerator and warm up before enjoying.
Kneading By Hand: If you do not own a mixer, you can do this in a large mixing bowl, mix the dough together with a large wooden spoon/rubber spatula. It will take a bit of arm muscle and some extra time. A hand mixer works, but the sticky dough repeatedly gets stuck in the beaters.