Asparagus Mimosa
This Asparagus mimosa salad recipe or Asparagus Salad with grated egg and capers is prepared with blanched, steamed or roasted asparagus and topped with chopped hard boiled eggs, fried crispy prosciutto and capers, and a light tangy dijon vinaigrette. It's asparagus season! Instead of making asparagus soup, we're making a light, cold asparagus salad today with the seasons favourite. Here is a beautiful and classic French dish served with a tangy dijon vinaigrette and grated hard boiled egg. It's the perfect vegetable dish to serve with Sunday brunch or a colorful springtime meal. Grated egg toast has become an online trend on Tik Tok and Instagram over the last year but grated egg has been around in this dish for a lot longer and adds a lovely colour and texture to this classic dish. You will love it!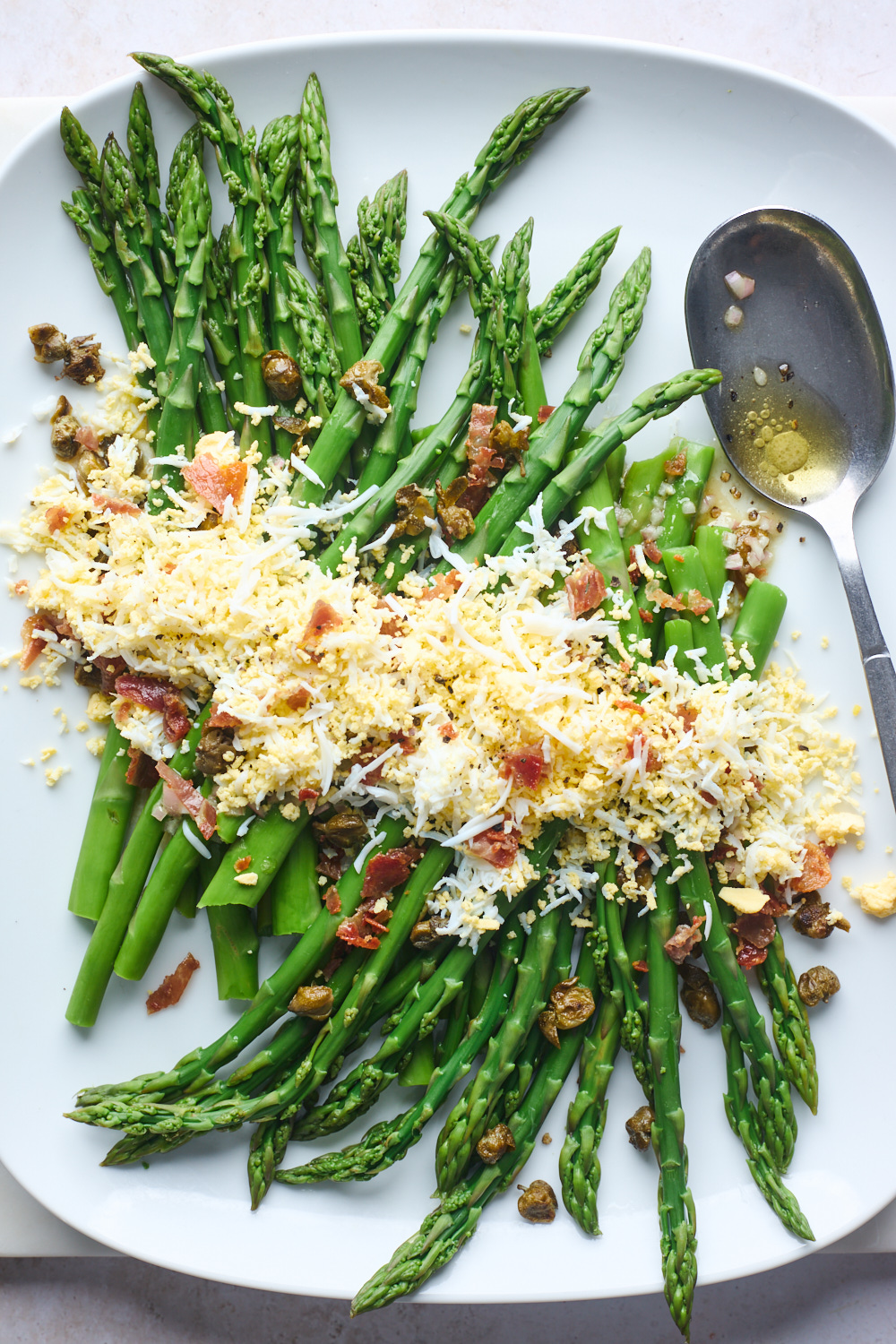 What is Asparagus Mimosa Salad?
Asparagus mimosa salad is a classic French dish or Asparagus Salad with grated hard boiled eggs. The grated egg served over asparagus is a light fluffy garnish and often referred to as "mimosa" because it resembles bright yellow mimosa flowers. It's just a coincidence that the similarly yellow hued mimosa brunch cocktail, made with champagne and orange juice, is named after the same flowers. Traditionally, the hard boiled eggs are pushed through a strainer or stainless steel sieve to produce a very fine garnish. The diced egg yolks melt into the dressing and add richness to this classic dish. I like to use a microplane grater or even a sharp knife to slice the egg and yolk - more details on the method below.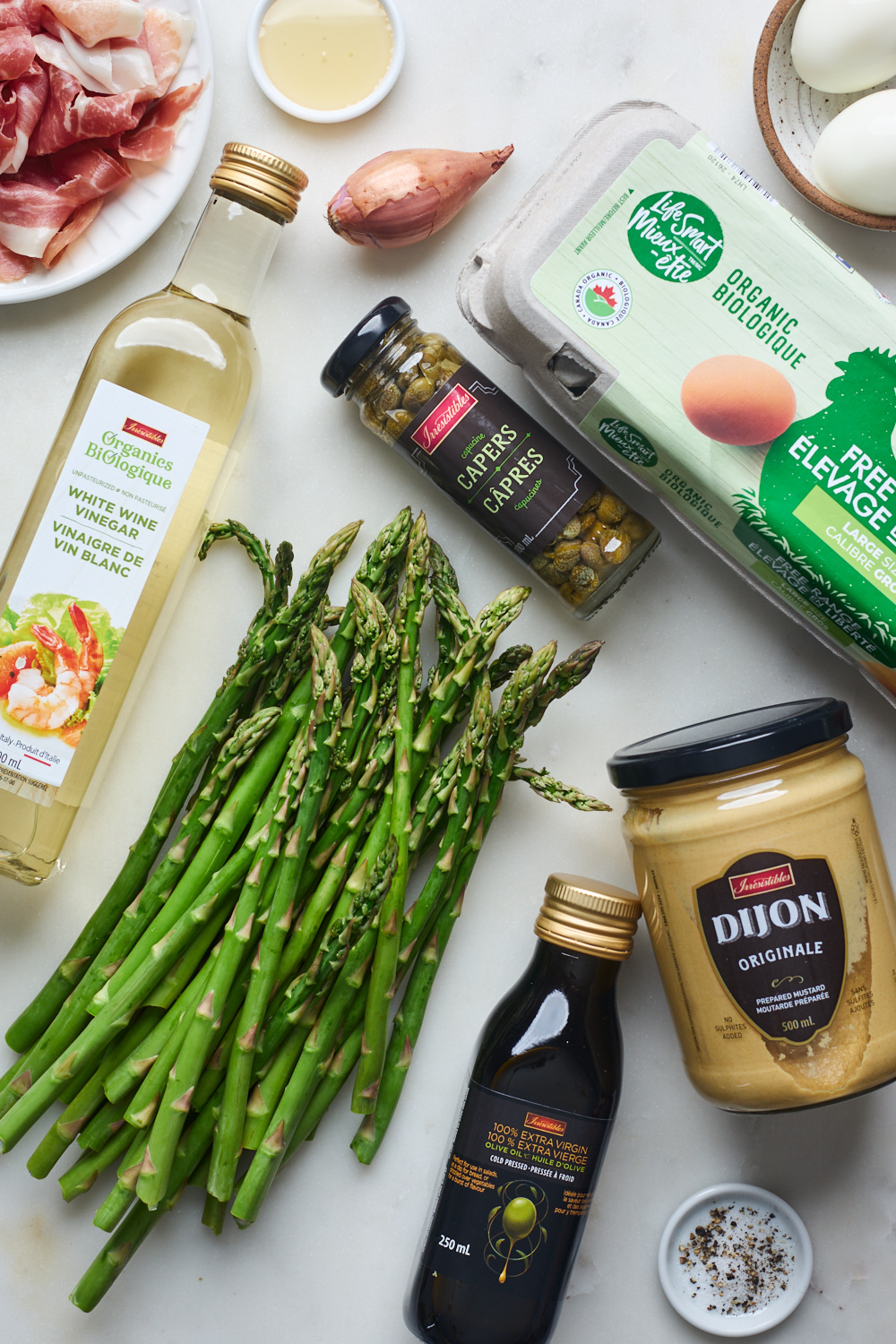 Asparagus Mimosa Ingredients
Asparagus Because this dish is all about the asparagus, you should pick the best ones you can find. Choose bright-green stalks with tight buds at the top with no mushy parts and check to make sure the trimmed ends aren't dried out or too woody. It doesn't really matter if you use thin or thick ones, just make sure they're all the same or similar in size so they cook at the same time and evenly.
How to store asparagus: If you don't cook the asparagus right away, trim the ends and store the stalks with the cut ends in a mason jar filled with water. Loosely cover the jar with a plastic bag or plastic wrap and keep it in the fridge for up to 1 week.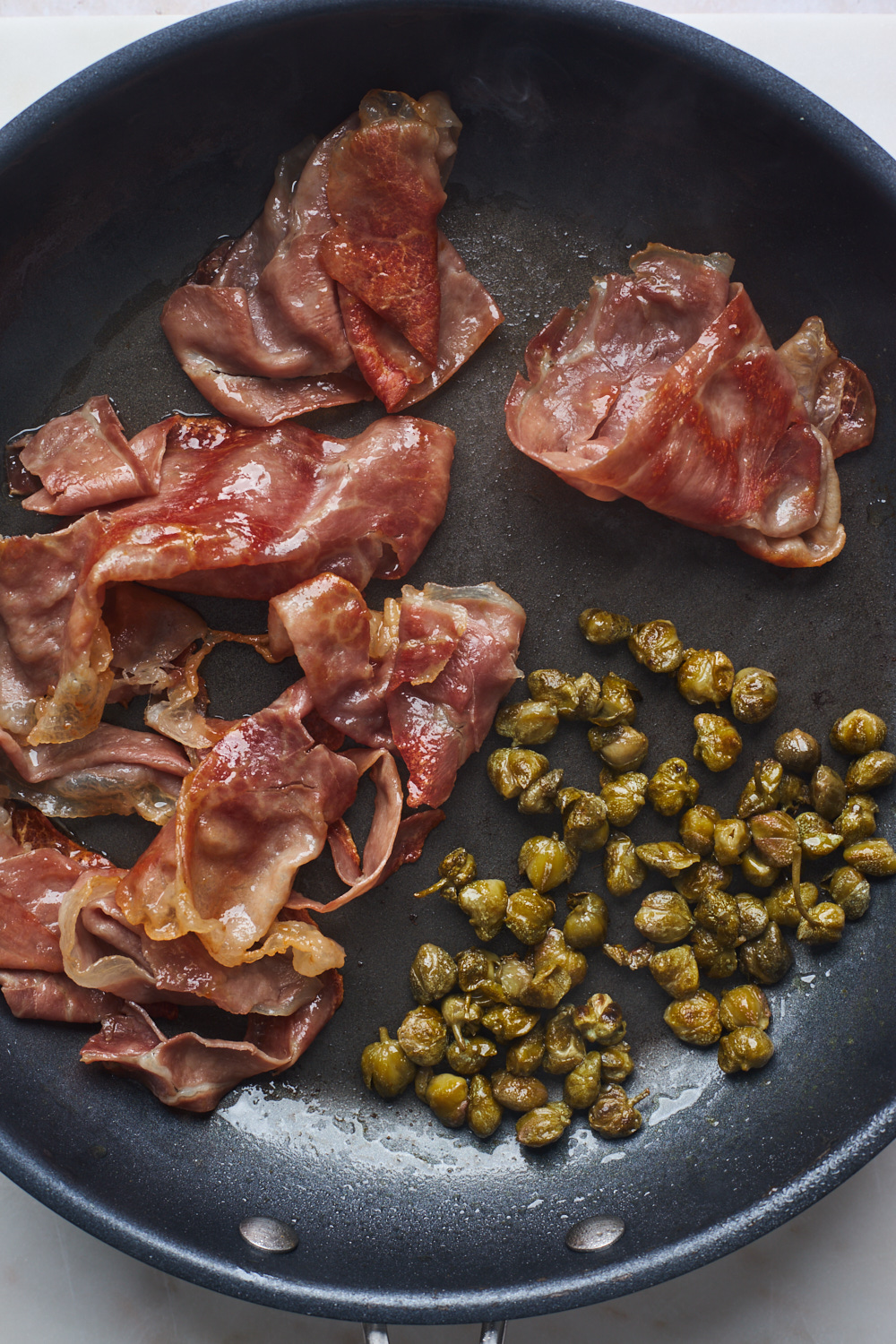 Tangy Vinaigrette The tangy vinaigrette is made with minced shallots, white wine vinegar, a delicious spicy Dijon mustard, olive oil, a touch of honey and salt and pepper. If you prefer to use lemon juice instead of vinegar feel free to switch it out or use a bit of both. Champagne vinegar can also be a good alternative or substitute or even white balsamic or sherry vinegar. You can grate in a small clove of garlic if you want a garlicky vinaigrette too.
Hard Cooked Eggs The "mimosa" part of the name comes from the fluffy hard boiled eggs that garnish the top of this classic dish. Although most classic recipes instruct you to prepare the eggs by pushing them through a fine mesh sieve, you can also pass them through the small holes of a box grater or use a microplane grater or just simply chop them up. Separate the yolks from the whites before chopping them up, so the two colors contrast and pop nicely. Make sure to check out Recipe Notes below for how to cook the eggs if you want to know the way I do mine.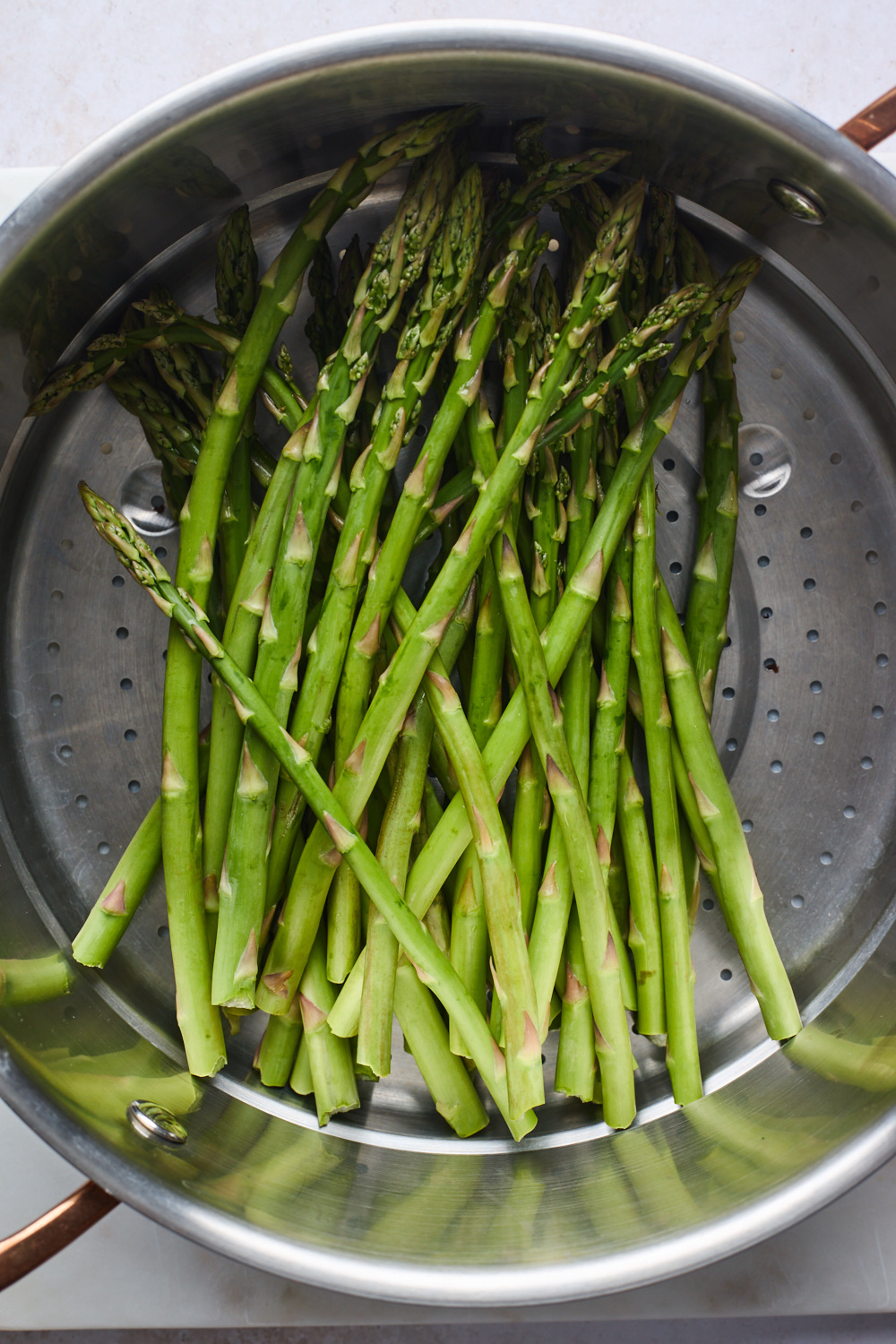 Alternate Ingredients & Topping Options Additions to this could include anchovy filets, sliced radishes, chopped nuts or chopped flat-leaf parsley or chopped chives. You can also double the dressing or vinaigrette ingredients and serve the asparagus and fixings over a bed of butter lettuce, endive or escarole or any of your favourite fresh greens.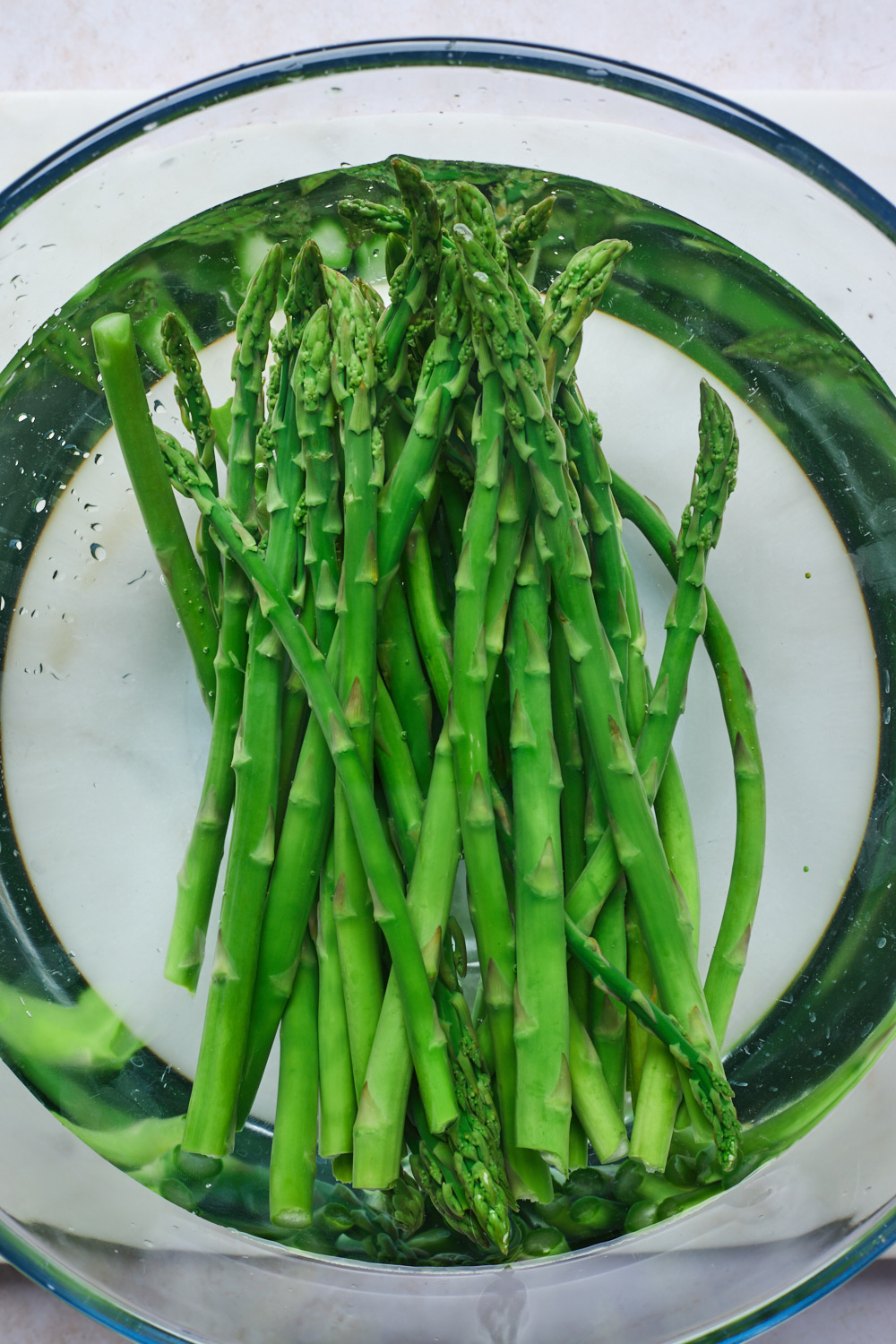 How to make asparagus mimosa
Blanch or Steam and shock the asparagus - Cook the asparagus in boiling, salted water or steam in a steaming basket and then immediately transfer the asparagus to a bowl filled with ice water to stop the cooking process. Cooking instructions in recipe notes below for roasting option
Finely dice the hard-boiled eggs - Keeping the yolks and whites separate, finely dice the egg whites and crumble the yolks using your hands. Or use a grater to do so. Set aside.
Prepare the crispy prosciutto and capers - Pan fry both in a little olive oil then transfer them to a paper towel lined plate to drain off excess oil. Crumble or chop prosciutto when it has cooled
Prepare the vinaigrette - Whisk together minced shallots, red wine vinegar, honey, Dijon and olive oil until emulsified and thoroughly combined.
Toss the asparagus - Gently toss the asparagus in half of vinaigrette to coat and season to taste with salt and pepper.
Assemble the salad - Arrange the asparagus on a serving platter and top with finely diced hard-cooked eggs. Garnish with crumbled prosciutto and crispy capers. Feel free to sprinkle over some chopped fresh herbs if you like too.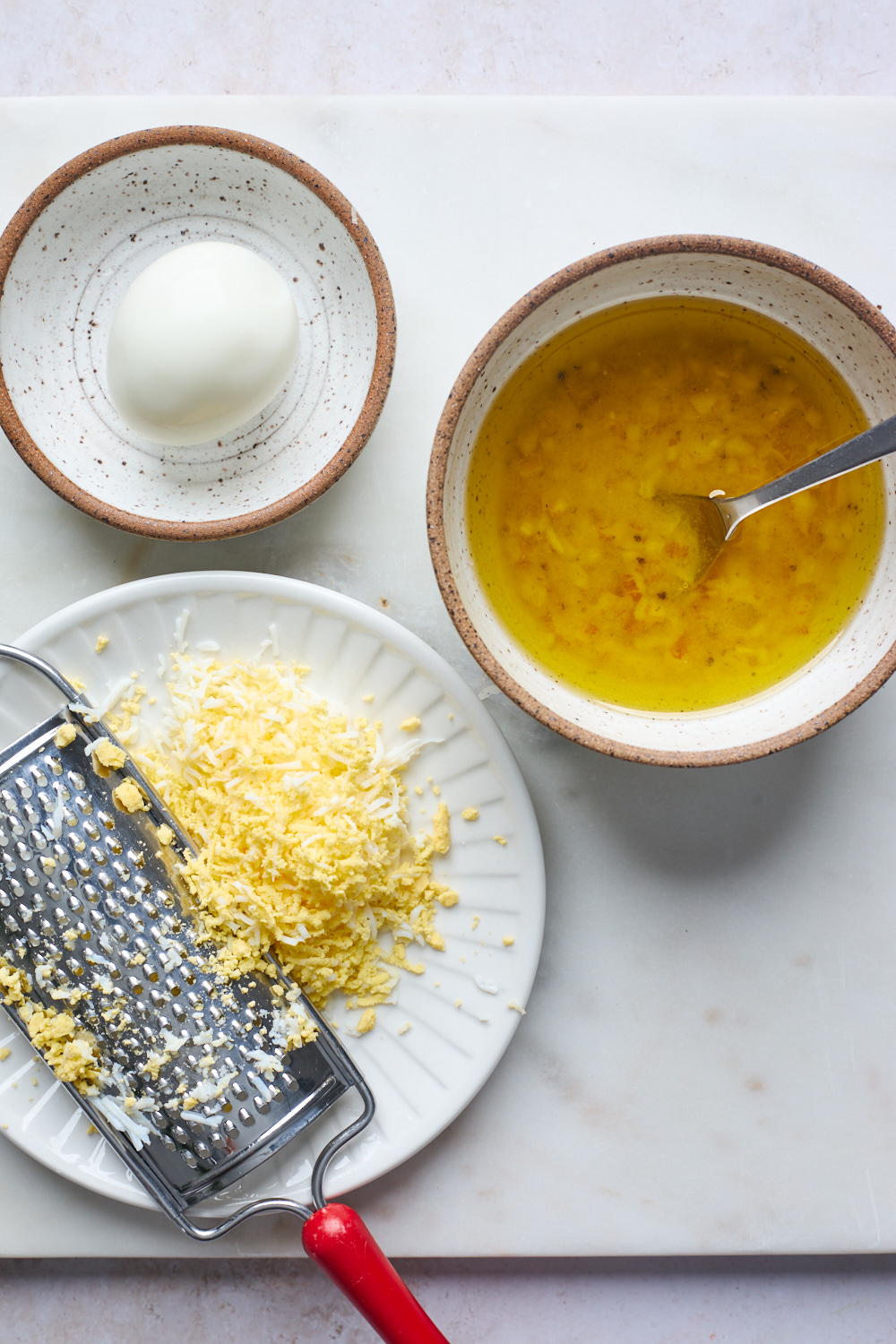 Tips and tricks for the best asparagus mimosa recipe
If you like a higher egg to asparagus ratio, use 3 hard-boiled eggs. If you want the asparagus to be the star of the show and the eggs simply as a garnish, stick to 1-2 hard-boiled eggs.
The traditional method for 'mimosa' calls for pushing the eggs through a fine mesh sieve. However, I have found that process a bit messy, and a bit time-consuming. I like to use my microplane grater or simply using a knife to finely chop the whites and your hands to crumble the yolks is also a quick and efficient way to 'grate' the eggs.
Do not overcook the asparagus and make sure you shock it in ice water AS SOON AS you take them out of the boiling water. Asparagus will turn brownish-green if they are cooked too long, so take care to cook only until they are crisp-tender and to stop the cooking process with an ice water bath.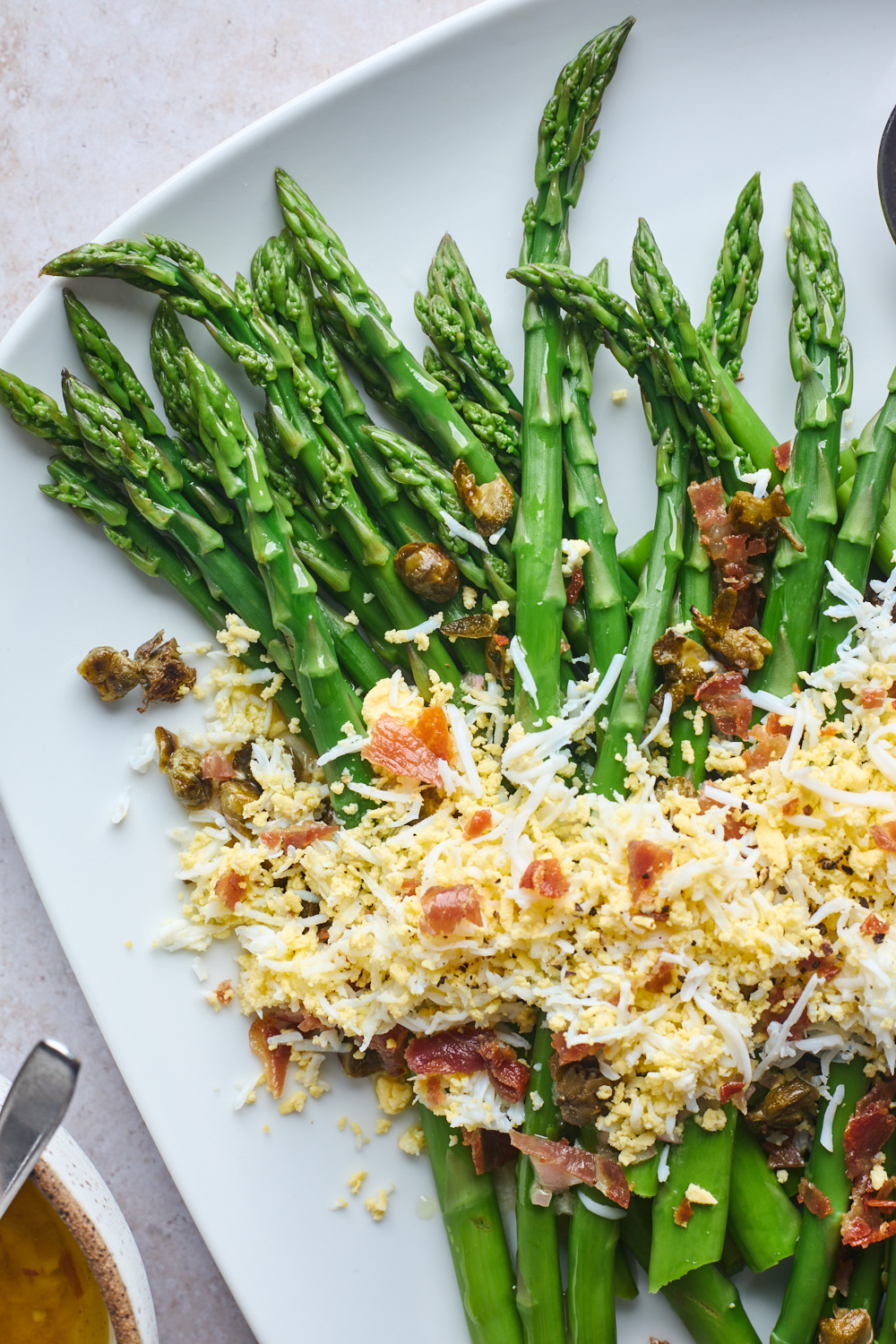 Make ahead instructions
The best thing about this dish is you can prep the components ahead of time and throw everything together right before serving! The cooked asparagus and hard cooked eggs can be stored in the fridge for up to 2 days. Make the vinaigrette the day you serve it, and don't pour the dressing on the asparagus more than a few hours ahead of time because the stalks will turn a greenish brown color.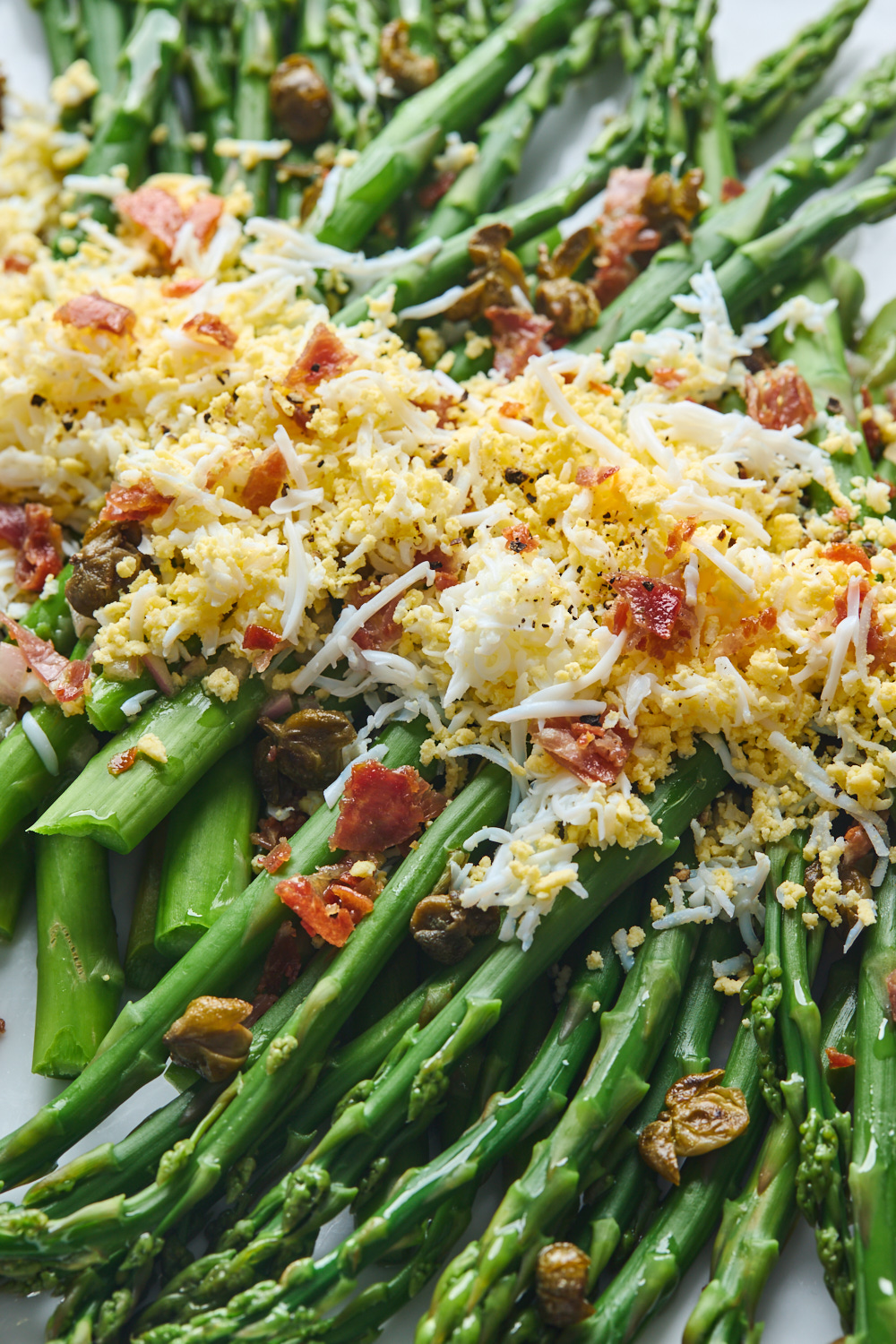 More asparagus recipes you will love:
Recipe
Prep Time: 5 mins
Cook Time: 10 mins
Ingredients
1 pound asparagus spears, trimmed
For the vinaigrette
⅓ cup olive oil

1 teaspoon Dijon mustard

1 tablespoon white wine vinegar (or freshly squeezed lemon juice)

½ teaspoon honey

1 small shallot peeled and minced

¼ teaspoon sea salt

Pinch of black pepper
For topping
1 teaspoon olive oil

6 slices prosciutto

2 tablespoons capers drained and patted dry

1-2 large hard-boiled eggs, peeled
Directions
Steam asparagus until just crisp tender 4-8 min depending on thickness. To chill, immediately plunge in an ice bath or bowl with ice cold water; pat dry with paper towels then place on a serving platter.
Place 1 teaspoon olive oil in a small frying pan over medium high heat. Cook prosciutto 1 minute each side, until crisp. Add capers, frying, 30 seconds or until turning golden brown and crispy. Remove from pan and place on a paper towel. Once cool chop or crumble the prosciutto
In a small bowl whisk together remaining ⅓ cup olive oil, mustard, vinegar, shallots, salt and pepper. Taste and adjust seasoning as desired.
Finely chop whites and yolks of egg separately (or grate egg on large holes of box grater or a microplane grater). Scatter or sprinkle over asparagus
Drizzle or spoon over vinaigrette over asparagus, then egg whites and yolks. Garnish with fried capers and fried prosciutto and serve.
Store leftovers in an airtight container in the refrigerator for up to 2 days
Recipe Notes
Alternate way to cook the asparagus
For boiling or blanching asparagus: Bring a pot of salted water to a boil over medium heat. Add the asparagus and cook 2-3 minutes until it turns bright green. Transfer the blanched asparagus to large bowl of ice water to stop the cooking. Drain immediately and dry off.
For roasting Asparagus: Preheat oven to 400°F. Place the asparagus on a large baking sheet, drizzle with a splash of olive oil, then toss until well coated. Spread the asparagus in a single layer and season with salt and pepper. Place the baking sheet in the oven and roast for 12 to 15 minutes or until tender, but still crisp. Don't overcook.
How do you boil eggs?
There are so many different ways people boil eggs or cook hard boiled eggs This is the easy way I like to boil my eggs. Place eggs into a medium saucepan or large pot and fill with cold water. Bring water to a boil and immediately remove from heat. Cover and let the eggs stand off the heat for 10-12 minutes for the perfect hard boiled eggs. Strain the hot water from pan and run cold water over them until the eggs are cool to the touch. Peel and enjoy. I find peeling them under running water makes it easier to peel them.