Balsamic Roasted Cherry and Goat Cheese Crostini
I love summer fruit so much especially end of summer stone fruit here in Ontario. It's best enjoyed fresh but it's just as tasty baked into pies or crisps and even roasted and put into salads, and on crusty bread and paired with cheese. Crostini with a mix of sweet and savoury flavours via fresh or roasted fruit and fruit jellies are my favorite kind of appetizer. They are simple to make and so easy to 'fancy' up by means of herb and cheese variation. Roasted fruit is a simple way to use up any fruit you've got hanging out on the counter - it's fast, easy and delicious.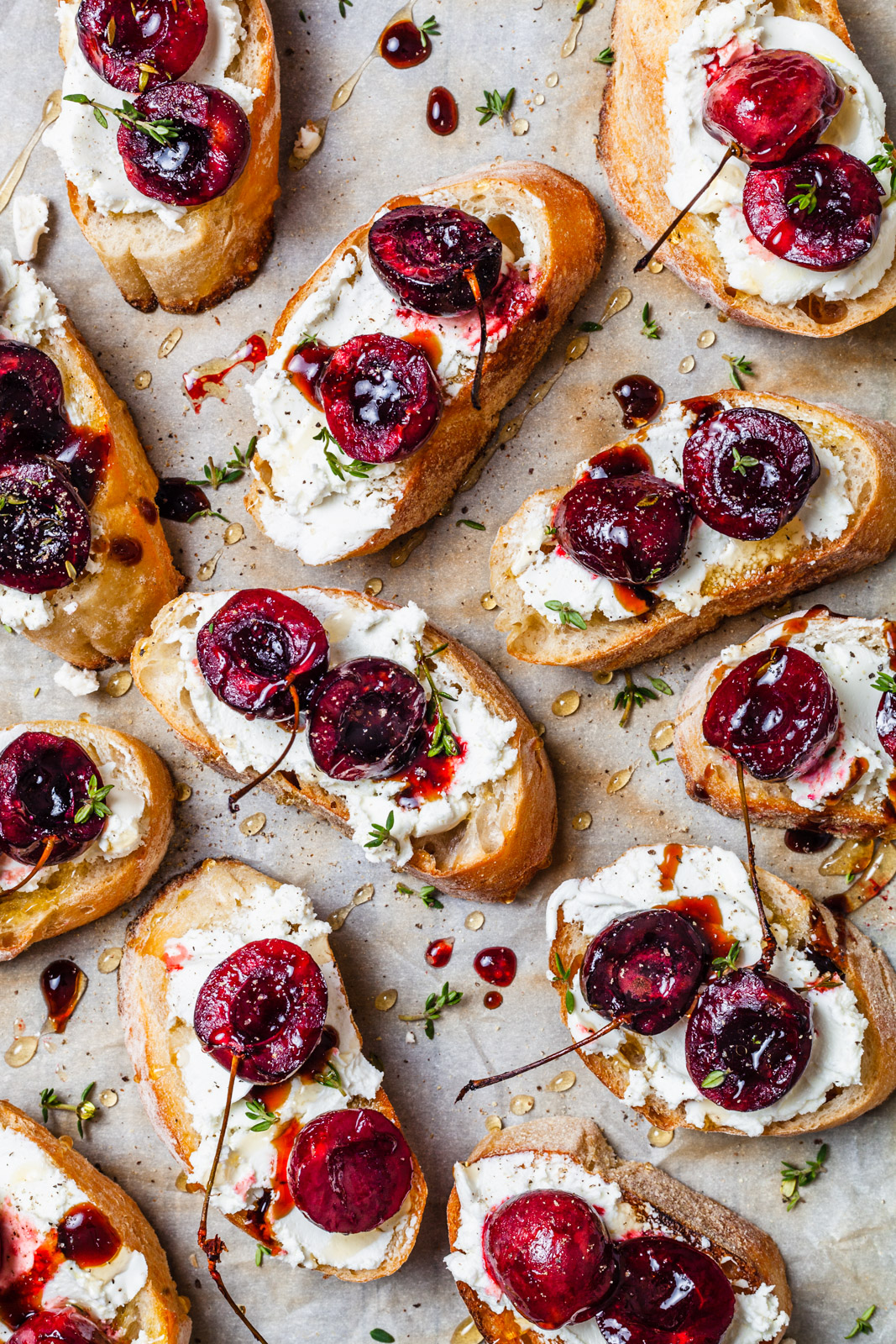 The latter is the way I decided to use some of the cherries I have bee enjoying and I believe this might be the last cherry recipe I will be making or sharing on the blog until the next season. Sad but true although I still have some more time left to continue to gorge on them fresh as the season isn't quite over here yet.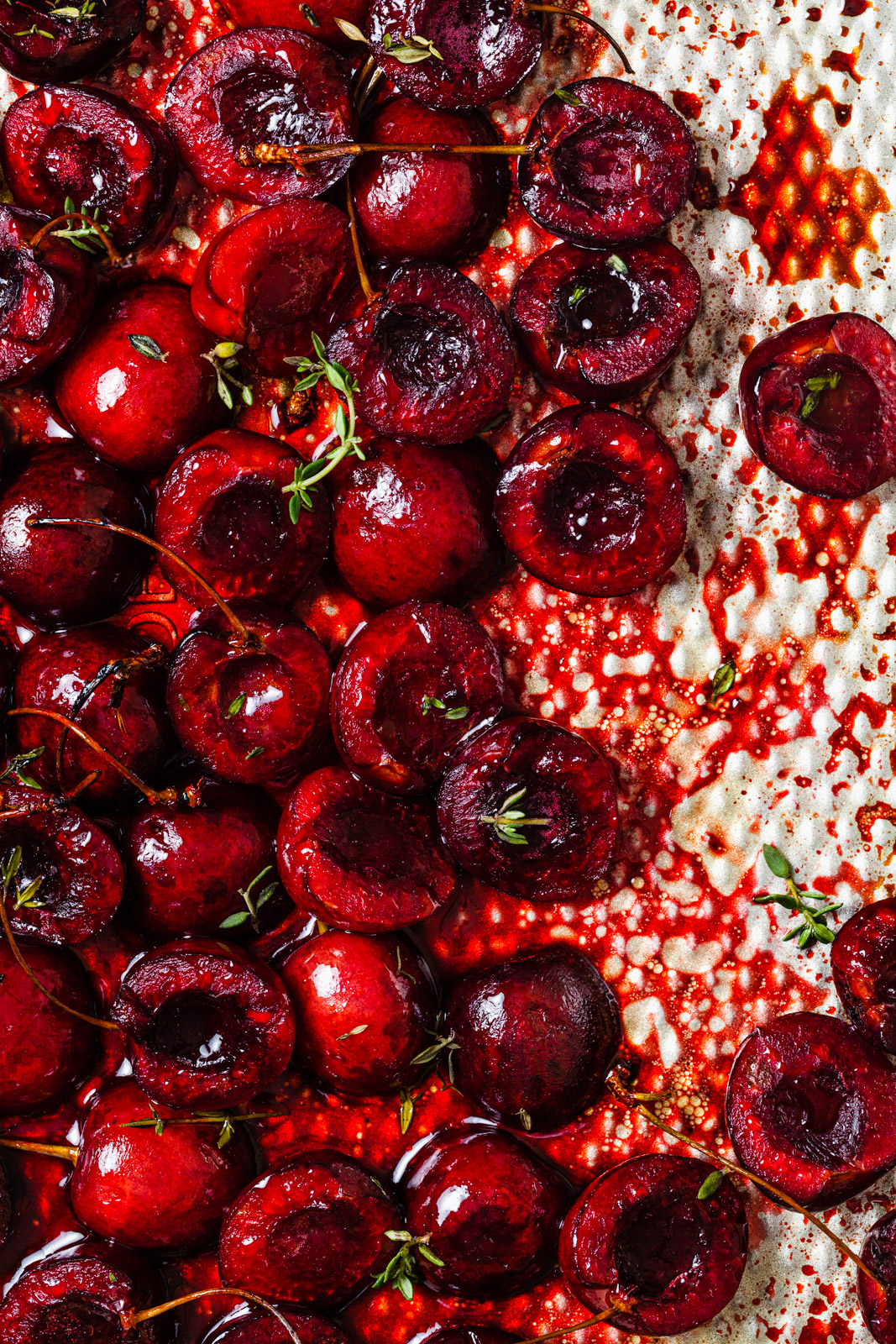 Roasting fruit with balsamic vinegar brings out the cherry's beautiful color and truly enhances their flavor. They are great served with a simple pound cake, over vanilla ice cream, yoghurt, added to salads or simply by themselves straight out the pan. They are also perfect on these goat cheese crostini, that make a great appetizer but can easily double as a light dinner with a side salad and a crisp glass of white or rosé. I'm planning on taking full advantage of all the local stone fruit and I hope you are too. Make sure to roast or grill some of it as it adds a different dimension of flavour to this glorious family of fruit!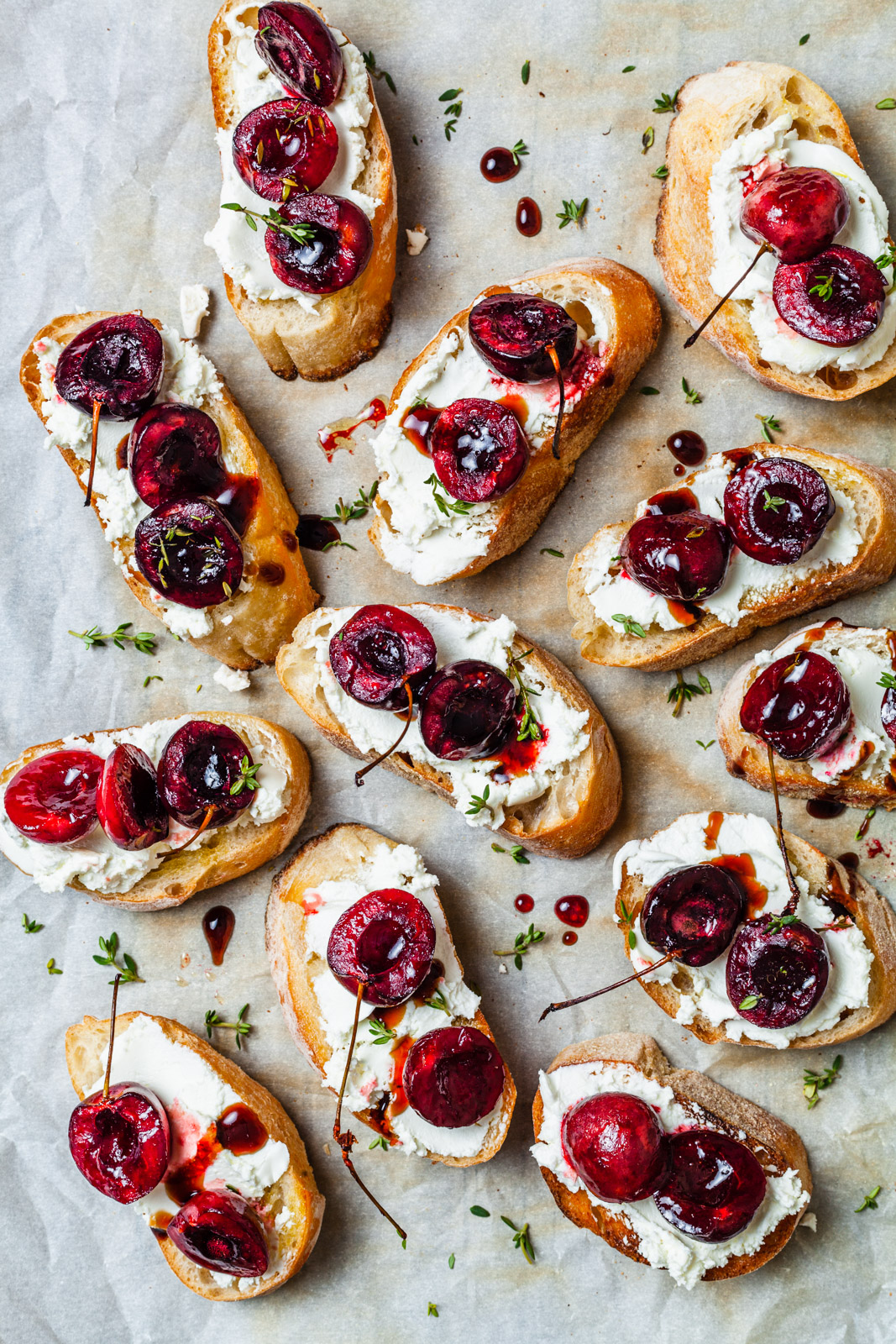 Balsamic Roasted Cherry and Goat Cheese Crostini Ingredients
Baguette: Anything that can be sliced and toasted works here as a base for the goat cheese and these tasty cherries
Olive oil: The olive oil is for roasting the cherries and for brushing the baguette slices with before roasting/toasting them
Goat cheese: Creamy room temperature goat cheese is spreadable and delicious and perfect with these crostini and roasted cherries - feel free to swap it out for Boursin, creamy Brie, cream cheese, ricotta, burrata, whipped feta or anything spreadable will work
Cherries: pitted and halved - fresh cherries are always the ideal for flavour and texture but you can definitely use frozen as well - simply thaw slice and pat fry and use as directed in recipe below
Thyme: Thyme is a wonderful flavour with the roasted cherries but rosemary would work beautifully as well and even oregano - feel free to use whatever herb you prefer
Liqueur: if you have a cherry based liqueur or brandy or even some Sherry it adds a nice flavour to the cherries and pan juices / it's optional and if you prefer to use something non alcohol you can substitute it for cherry juice
Balsamic Vinegar: I love the sweet acidic and savoury flavours of balsamic with the cherries but feel free to use white or red wine vinegar or even apple cider vinegar
Salt and pepper: Both to taste
For serving: honey, hot honey or balsamic glaze for drizzling onto your crostini after
Flavor Boosters: Other optional flavor boosters you could add to the roasted cherries - miso, a splash of soy sauce, garlic or chopped shallots can roast along with the cherries for extra flavor. Feel free to add some heat to the cherries by adding some chili flakes or red pepper flakes to them or some chili powder or cayenne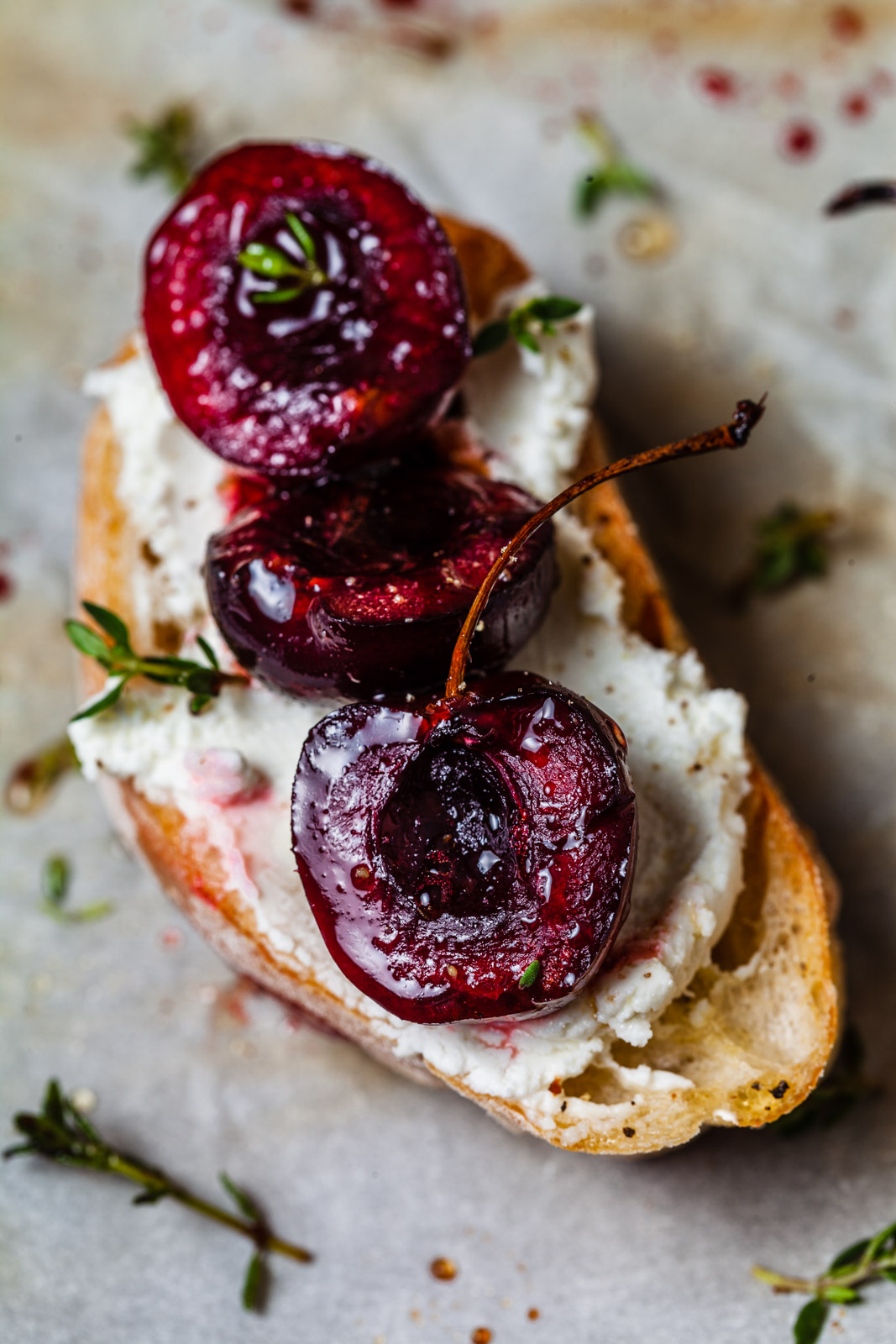 How to Make Balsamic Roasted Cherry and Goat Cheese Crostini
I call this a no recipe recipe because it's so easy to make and so versatile that you really don't need a recipe or specific measurements - a splash of this and a dash of that and or to taste but that is not how a blog works - so below are the exact ingredients in the recipe card but here is an overview of the simple steps to making these tasty bites:
Prep Cherries: Pit and slice cherries in half
Toss cherries with balsamic, liqueur, thyme, olive oil and season with salt and pepper
Brush baguette slices with olive oil and place on a large sheet pan and bake on lower rack
Place cherries and their marinating liquid in a separate sheet pan and (after 7 minutes of baguette baking) bake on upper rack with the baguette slices on the lower half for another 5-7 minutes or until they are tender and bubbling
Remove both from oven - when baguette is cool enough to handle but still warm spread generously with goat cheese, top with cherries and sprinkle with more fresh thyme and drizzle with honey or balsamic glaze and enjoy!
More Cherry Recipes You Will Love:
Recipe
Yields: 12 slices of baguette
Prep Time: 10-15 mins
Cook Time: 14-16 mins
Total Time: 40 minutes
Ingredients
12 slices baguette

4 tbsp olive oil divided

1 cup goat cheese (approx 1 tsp per slice of baguette)

2 cups cherries, pitted and halved

1 tbsp of fresh thyme plus more for garnish

2 tbsp cherry liqueur/brandy or juice (optional)

2 tbsp balsamic vinegar

Salt and pepper to taste

honey and balsamic glaze for serving
Directions
Preheat the oven to 400°F.
In a small bowl toss the cherries with 2 tbsp of olive oil, the cherry liqueur if using, balsamic vinegar, thyme and salt and pepper.
Place the slices of baguette on a sheet pan and brush with remaining 2 tbsp of olive oil and then toast the slices of baguette for 7 minutes on the lower rack.
While the bread is toasting, spread the cherries with all their juices in a separate baking sheet lined with parchment and roast together with the bread for 5-7 minutes on the high rack in the oven until tender and bubbling.
Remove both from oven when done. Spread approximately 1 Tsp of goat cheese onto each crostini.
Top with 2-3 cherry halves and a garnish with a sprig of thyme. Drizzle the crostini with honey and a bit of balsamic glaze. Top each toast with a pinch of salt and pepper and serve immediately.
Any extra cherries are delicious in a salad or over yoghurt or ice cream.
Adapted from Serious Eats