Philadelphia No Bake Cheesecake
This no- bake cheesecake is decadently smooth and creamy, with a classic graham cracker crust. It's rich and tangy like a traditional cheesecake, yet airy and almost mousse-like at the same time. The simple vanilla base makes it the ideal canvas for any flavor topping. It takes less than 30 minutes to prepare, and you'll have guaranteed success. Plus, there are so many simple ways to customize it for a real tasty dessert.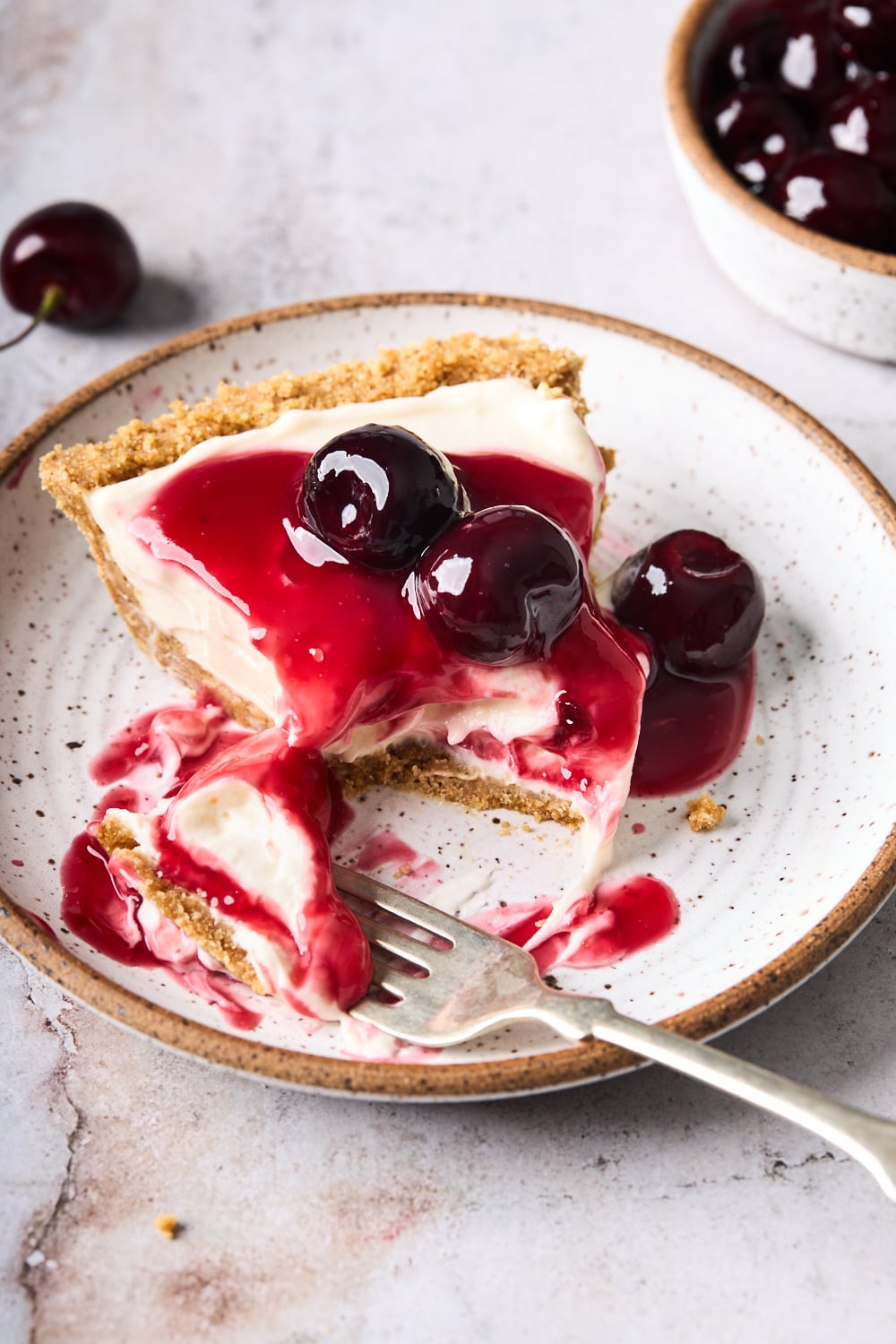 Growing up in a very traditional Greek home meant enjoying traditional Greek desserts - cheesecake not being one of them. My aunt - who was not Greek (married my dads bro)  - first introduced my mom to this no-bake cheesecake and to this day it's my dads favourite. I could spend hours making a traditional style one and he would much prefer this one. I don't blame him - this is a lighter tasting version that you won't be able to get enough of. A little disclaimer though: No-bake cheesecakes and traditional baked cheesecakes definitely taste different. I just wanted to let you know that they are not the same. But I love them both, and if I'm being honest I probably like the no bake a little better - it's easier to make, quite fool proof and no special tricks or tips needed. It all depends on if you like a rich denser cheesecake or a lighter airy one.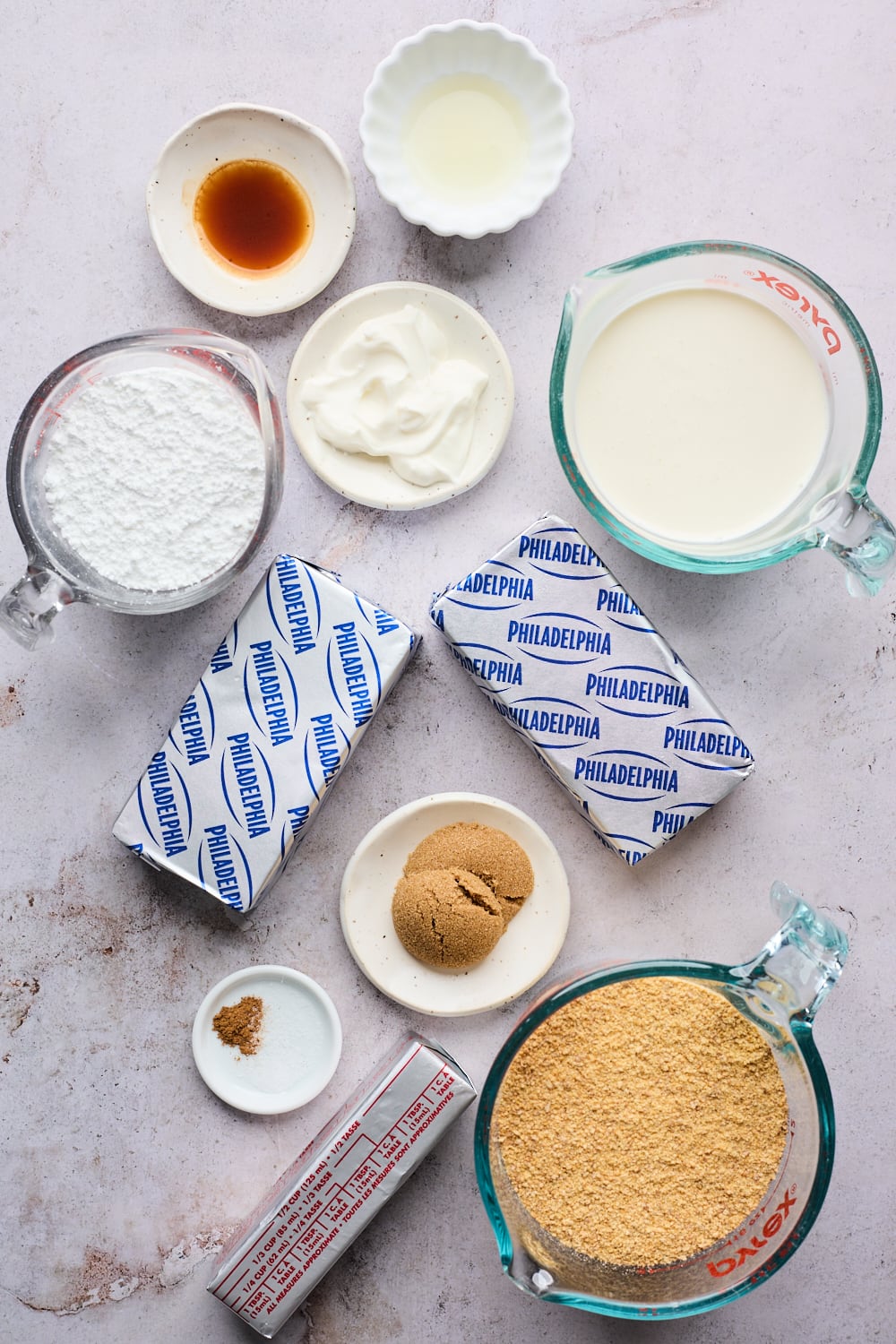 What is Philadelphia no bake cheesecake?
Philadelphia No-Bake Cheesecake is a pretty common take on the delicious dessert that requires zero baking. The name is a reference to the cheesecake version marketed by the Philadelphia cream cheese brand and nothing to do with the city. It is simply a cheesecake that requires NO baking. It has NO eggs and NO gelatin, yet it still has plenty of cream cheese to keep that tangy flavor. It's much lighter than a traditional cheesecake – more mousse-like in texture than cake-like. Cream cheese is blended into a sweet filling that simply needs to set in the fridge before being served. It is much lighter than a baked New York style cheesecake, but every bit as delicious.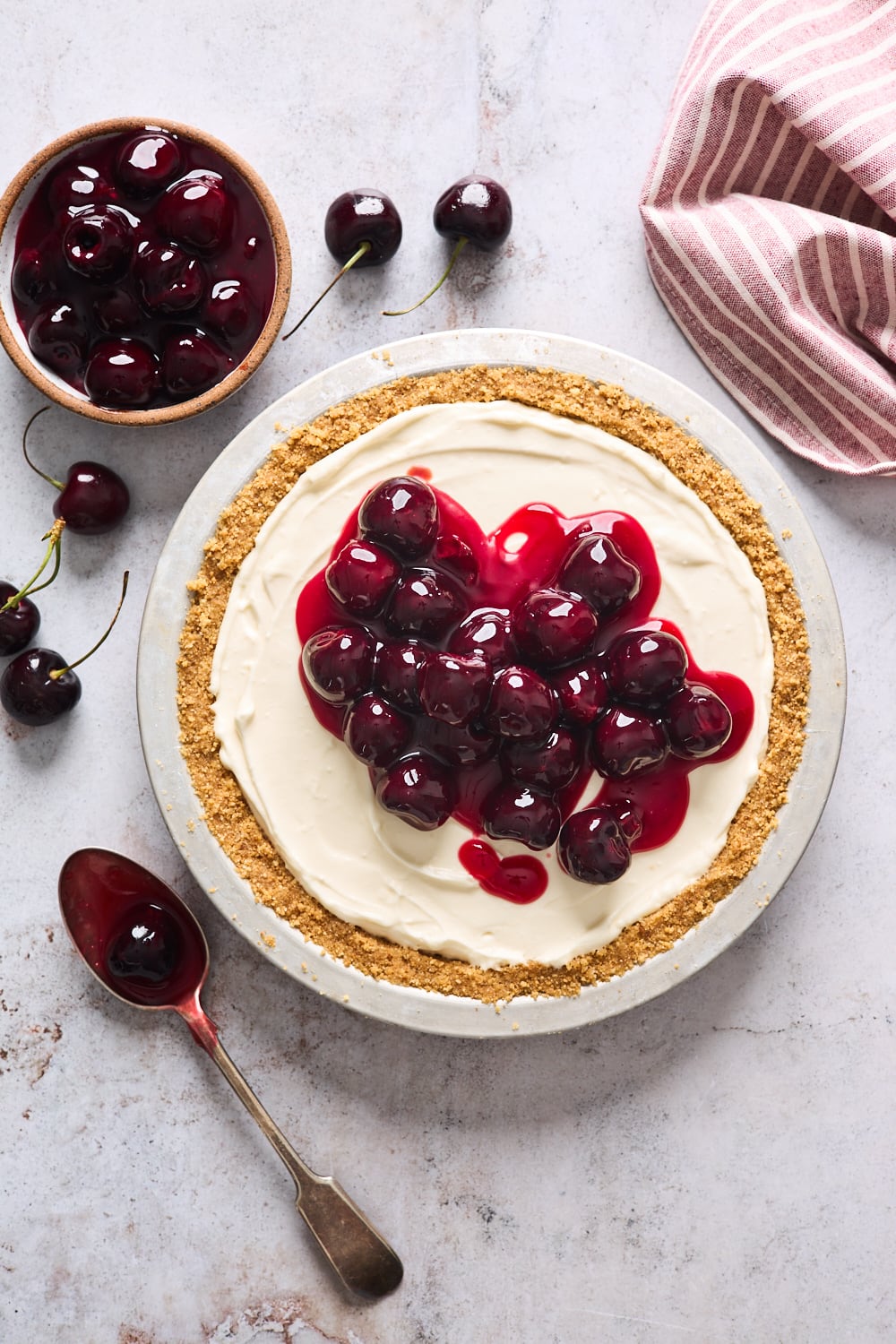 No Bake Cheesecake Ingredients:
Graham Crackers: A must for a classic cheesecake crust. Feel free to use whole  crackers and process them yourself or buy them in crumbs. You can substitute them out for the cookie crumb of your choice, like Oreo for a cookies-and-cream version.
Sugar: You can use either brown or granulated for the crust. It helps make the crust nice and sweet. For the filling I use powdered sugar as it blends well with the cream cheese.
Unsalted Butter: Melted butter helps bind graham cracker crumbs to form the crust.
Heavy Whipping Cream: It gives your cheesecake that thick but fluffy texture. It cannot be substituted with regular milk or a non dairy one. It can be substituted with condensed milk but if you do that make sure to omit the sugar
Cream Cheese: Classic Philadelphia cream cheese works best but any brand will work. I never use the low fat ones because I can tell the difference - don't tell me how but it just tastes different. It's IMPORTANT to leave it out a few hours before you start making the cheesecake to let it get to room temperature.
Sour Cream: Sour Cream is another ingredient that really helps give this cake the perfect texture that is creamy but not runny. It also adds a very nice and subtle tartness to the recipe.
Vanilla Extract: A splash gives this filling a wonderful flavour with that hint of vanilla. I usually use pure vanilla extract.
Optional Pie Filling for Topping: Pie filling is the perfect way to top this cheesecake. I used my homemade cherry pie filling which is so easy to make with fresh or frozen cherries and delicious, but blueberry, strawberry or peach pie filling or compote and also lemon are also great topping options.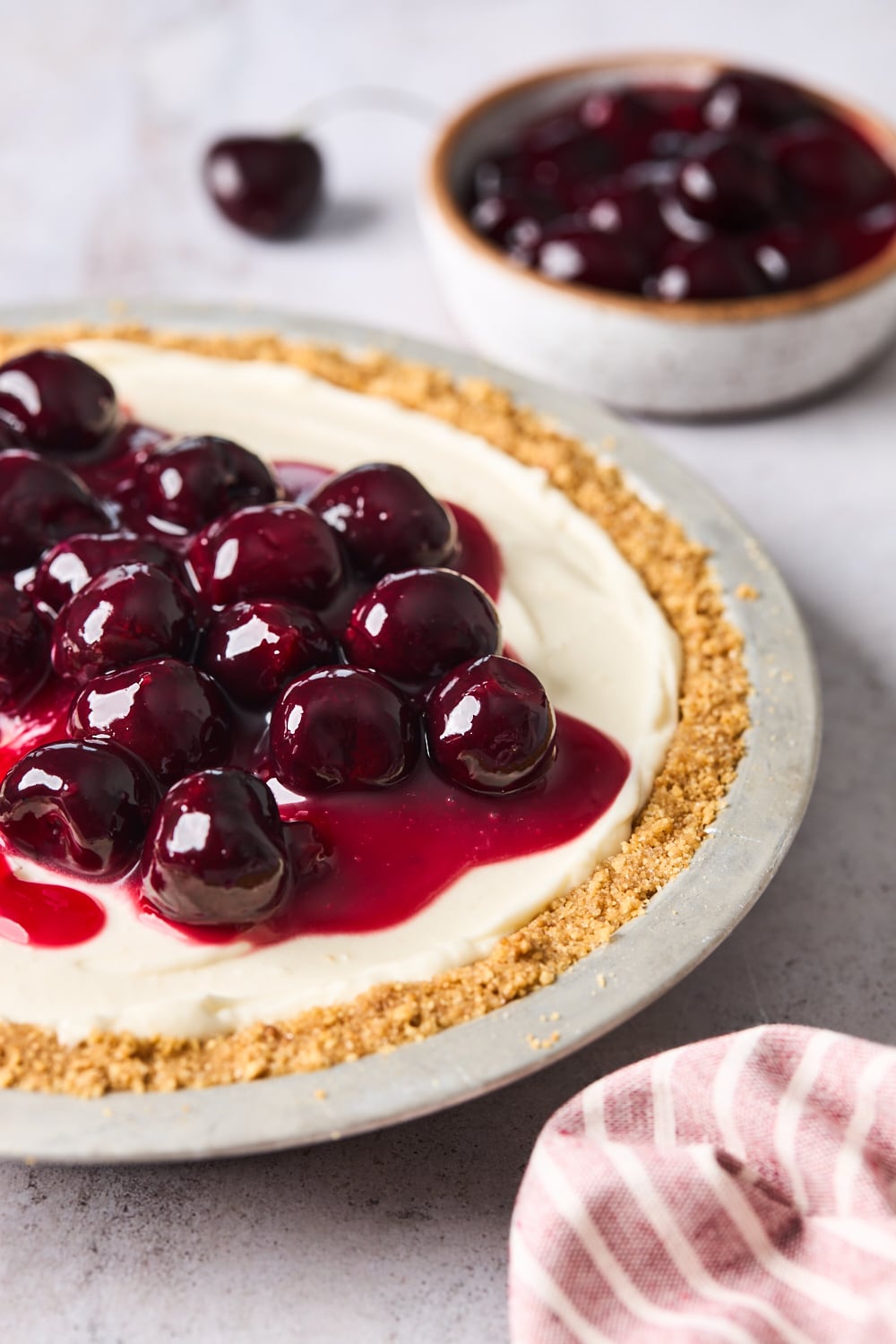 How do you make a no bake cheesecake?
MAKE THE CRUST: In a medium bowl (Or sometimes I will do this straight in the pie plate or spring form pan) combine the crumbs with the sugar, then stir in the melted butter. Press the crust mixture firmly into the bottom of a 9 inch greased pie plate or springform pan, using a flat measuring cup or bottom of a glass. This will make sure the crust holds together. Chill in the freezer while you make the filling
WHIP THE CREAM: Beat the cold heavy whipping with the vanilla until stiff peaks. This will ensure the right texture for the filling. You'll know the peaks are stiff when you pull the beater or beaters out of the whipped cream and the peak holds its shape with a slight curl at the tip. Don't go much past this or it will quickly become over-whipped and no longer as smooth.
BEAT THE CREAM CHEESE: In a separate bowl beat the softened room temperature cream cheese until smooth. Then beat in the sugar union incorporated, then the sour cream.
FOLD THE MIXTURES TOGETHER: Fold the whipped cream into the cream cheese with a spatula until just incorporated. DO NOT use your mixer for this or the cream will deflate.
SPREAD THE FILLING ON THE CRUST: Pour filing into crust and spread evenly. Cover and refrigerate for at least 4-6 hours or overnight. I usually do overnight - this allows the flavors and texture to develop nicely.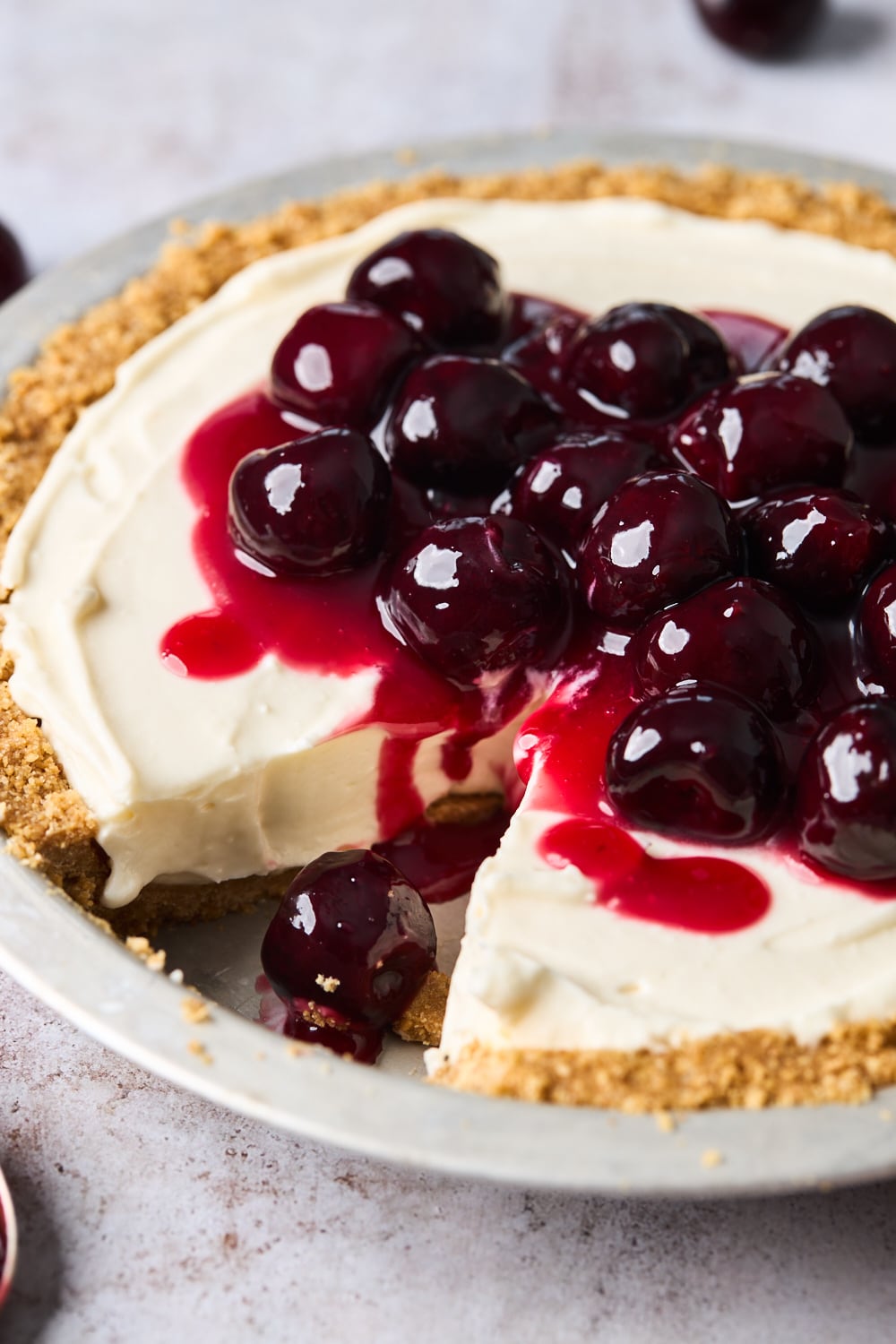 Tips & tricks for the best no bake cheesecake
Start with very soft cream cheese and cold whipping cream. Can't stress this enough. It must be soft for a smooth and silky filling.
The cream must be cold to help it whip quickly.
Make sure to grease your pie plate well or line it with parchment so that it's easier to remove after slicing. Using a springform make make slicing and removal easier.
Make sure to really press the crust down firmly with a glass or the bottom of a measuring cup.
Serve this cheesecake cold. Because it doesn't have gelatin, it will soften quite a bit the longer it sits outside the refrigerator. I don't recommend letting it sit out longer than 30min to 1 hour. I usually serve it them wrap it up again and put it right back in the fridge.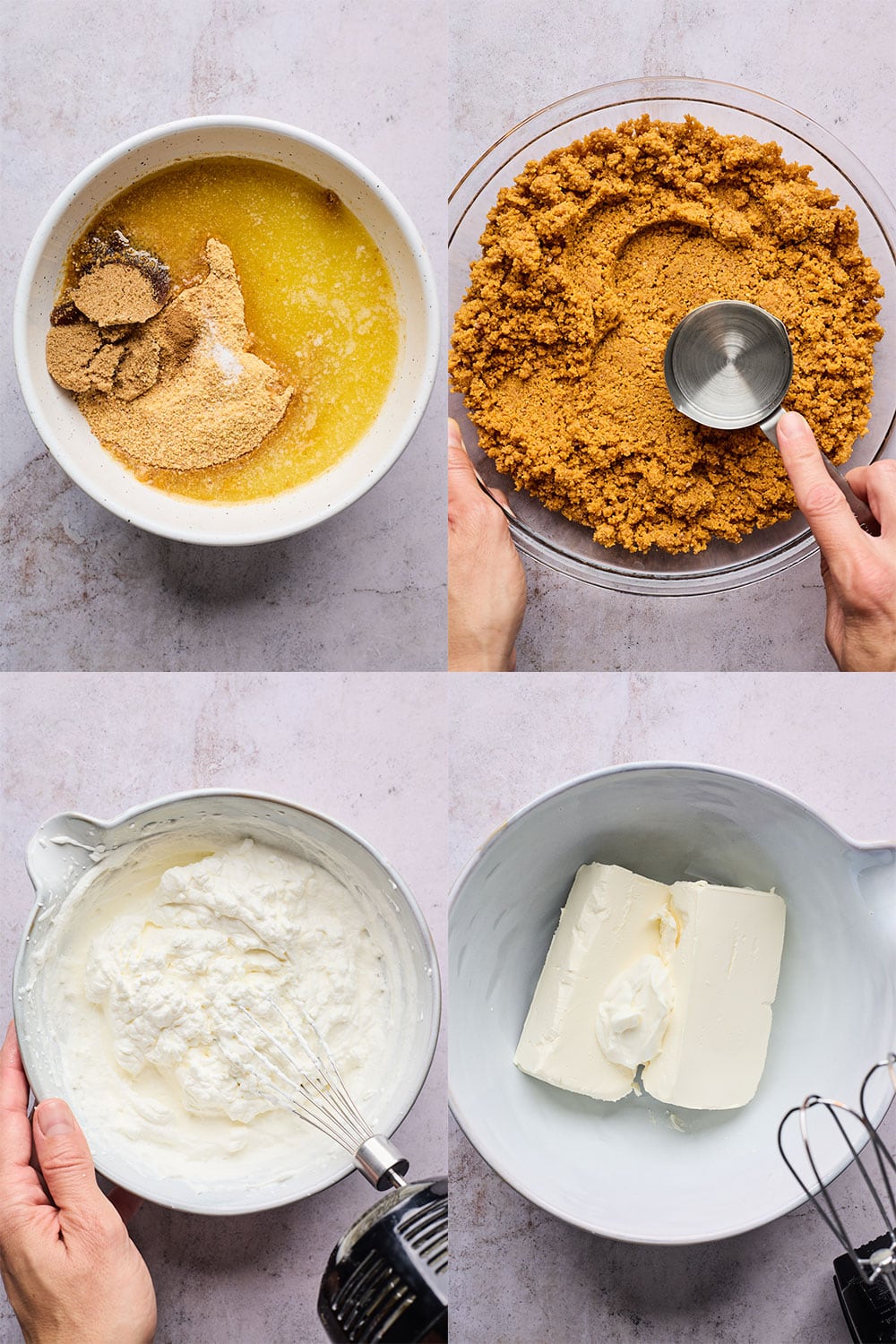 Some no bake cheesecake variations:
Philadelphia No-Bake Lemon Cheesecake: You can add a small amount of lemon or like juice and/or zest into your final filling mixture for a tasty citrus flavor! Top it off with lemon or lime curd for even more citrus  flavours.
Philadelphia No Bake Oreo Cheesecake: Use Oreo cookie crumbs instead of graham crackers to make the crust for a Cookies N' Cream No-Bake Cheesecake. Decorate cookies, or an extra sprinkling of crumbs.
Philly Style No-Bake Cheesecake with Condensed Milk: You can swap out the heavy cream for condensed milk for a real decant version of this cheesecake.  The thicker milk will give your cheesecake a really rich texture - just omit the powdered sugar so that it is not overly sweet.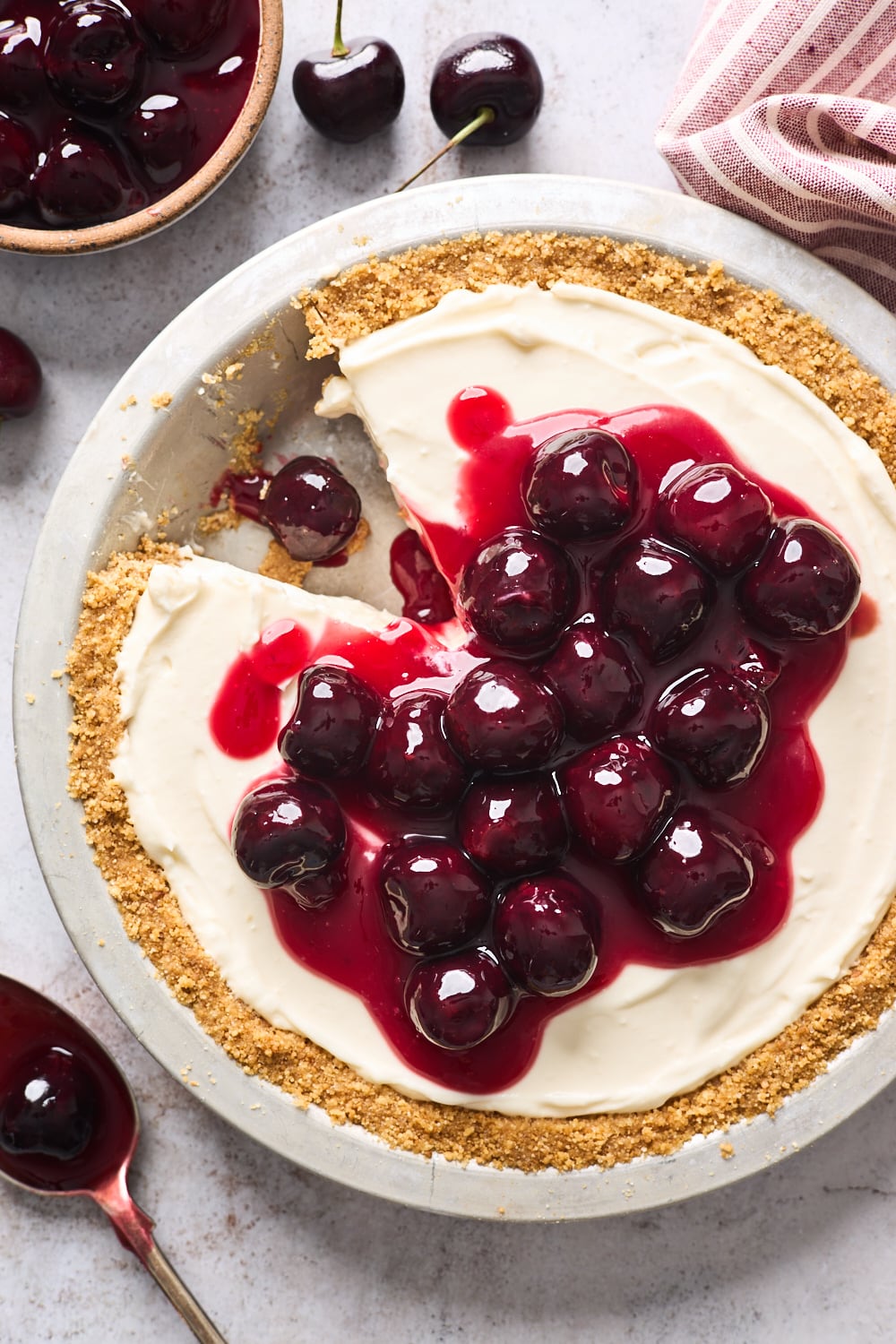 More cheesecake recipes you will love:
Recipe
Prep Time: 10 mins
Non Active Time: 6 hours - overnight for chilling
Ingredients
For the crust
9-inch graham cracker crust, (or oreo)

Or to make your own:

1¼ cup graham cracker crumbs

⅓ cup butter melted

¼ sugar granulated or brown
For the filling
1 250 gram/8.89 oz pk cream cheese, softened

1 cup powdered sugar

1 tsp vanilla

¼ cup sour cream

½ cup heavy whipping cream

20oz can cherry pie filling my homemade one, is fabulous (or blueberry, raspberry, peach or strawberry pie filling)
Directions
For the crust
Combine all the crust ingredients in a bowl and then empty out into 9 inch greased or lined pie plate or spring form pan.
Press it down and up the sides of the pie plate with your fingers. Refrigerate for 1 hour before filling or freeze for at least 20 min.
For the cheesecake filling
In the bowl of your stand mixer or in a large bowl beat the heavy whipping cream with the vanilla until stiff peaks form. Set aside.
In another large bowl beat the cream cheese until smooth. Mix in the powdered sugar until combined then mix in the sour cream until incorporated.
Spoon the whipped cream into the cream cheese and fold in gently just until combined.
Spoon into the prepared crust and spread into an even layer. Cover with plastic wrap and refrigerate for at least 6 hours but better if it's left overnight.
Recipe Notes
Can I make it ahead of time?
You absolutely should make this cake ahead of time. It will need a minimum of 6 hours to cool in the fridge, although overnight is even better. It can last in the fridge for up to 5 days.
Can I freeze no bake Philadelphia cheesecake?
Yes, it freezes very well once the cake has set. You can freeze it either in slices or as a whole, but double wrap in plastic wrap before covering with tinfoil. It is best to eat your cake within a month, though it should last up to two. To defrost it, just leave it overnight in the refrigerator.
If using a spring form pan: TO SERVE: Run a knife around the perimeter of the pan then unclasp and remove outer ring.
Why is my Philly style no bake cheesecake not firm?
It's possible your cheesecake just needs more time in the fridge. However, it is crucial that you mix your heavy cream to stiff peaks before mixing with the rest of the filling ingredients. Otherwise, your cheesecake can be too runny. And make sure to fold whip cream into cream cheese gently so you don't lose all the air incorporated into the whipped cream which will help it from deflating.