Beetroot Salad With Greek Yogurt (Patzarosalata)
Greek Beet salad otherwise known as pantzarosalata in Greek (Σαλάτα με παντζάρια). An amazing way to enjoy these vibrant beauties. Roasted until tender and then tossed in a delicious vinaigrette and served with greek yogurt and fresh chopped herbs. It's usually served room temperature or cold and makes the perfect side or mezze. This vibrant purple cold salad is easy to make and delicious and makes the perfect healthy nutrient rich side or vegetarian main dish. Although only a few ingredients, this salad has bold flavor with the earthiness of the beets marrying nicely with the sharpness of lemony garlic vinaigrette and creamy yoghurt.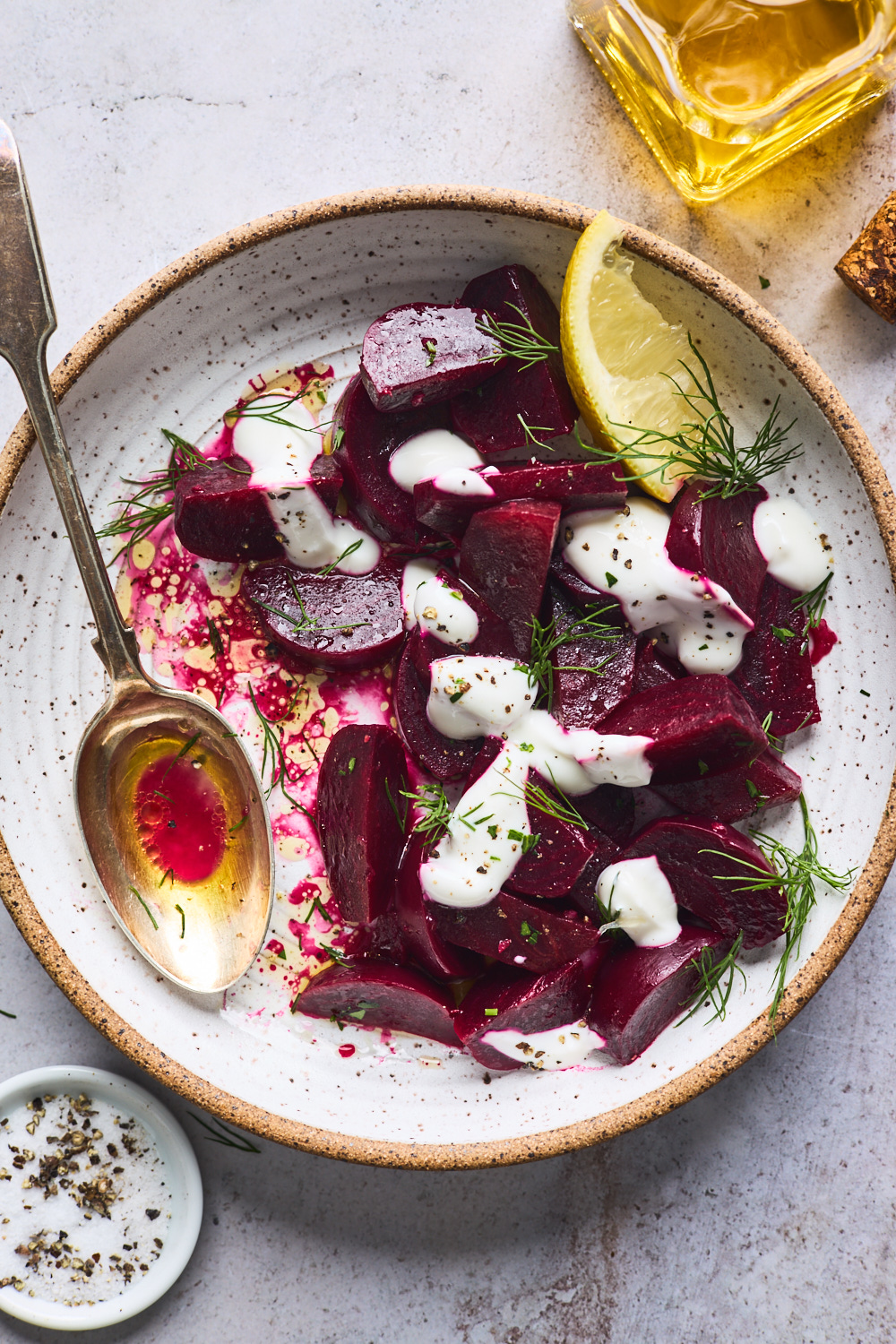 The combination of beets and garlic is a Greek favourite. Fresh, seasonal ingredients brought together in this classic. The beets can be either boiled or roasted. I'm a huge fan of roasting root veggies to get the most sweetness out of them but boiling them is also a great option. If you are boiling the beets ahead of time, leave them in their cooking water to cool and until ready to peel. The recipe calls for that tangy cool yoghurt to be dolloped over the beet salad. This is a great way to add some creaminess to it. You can either dollop it over or spread a layer of yoghurt onto a platter and top with the beets or you can stir the yoghurt right into the beet salad creating a mesmerizingly beautiful pink beet salad. Or if you prefer it had no yoghurt that is fine too - leave it out and enjoy the beets alone with the tasty vinaigrette.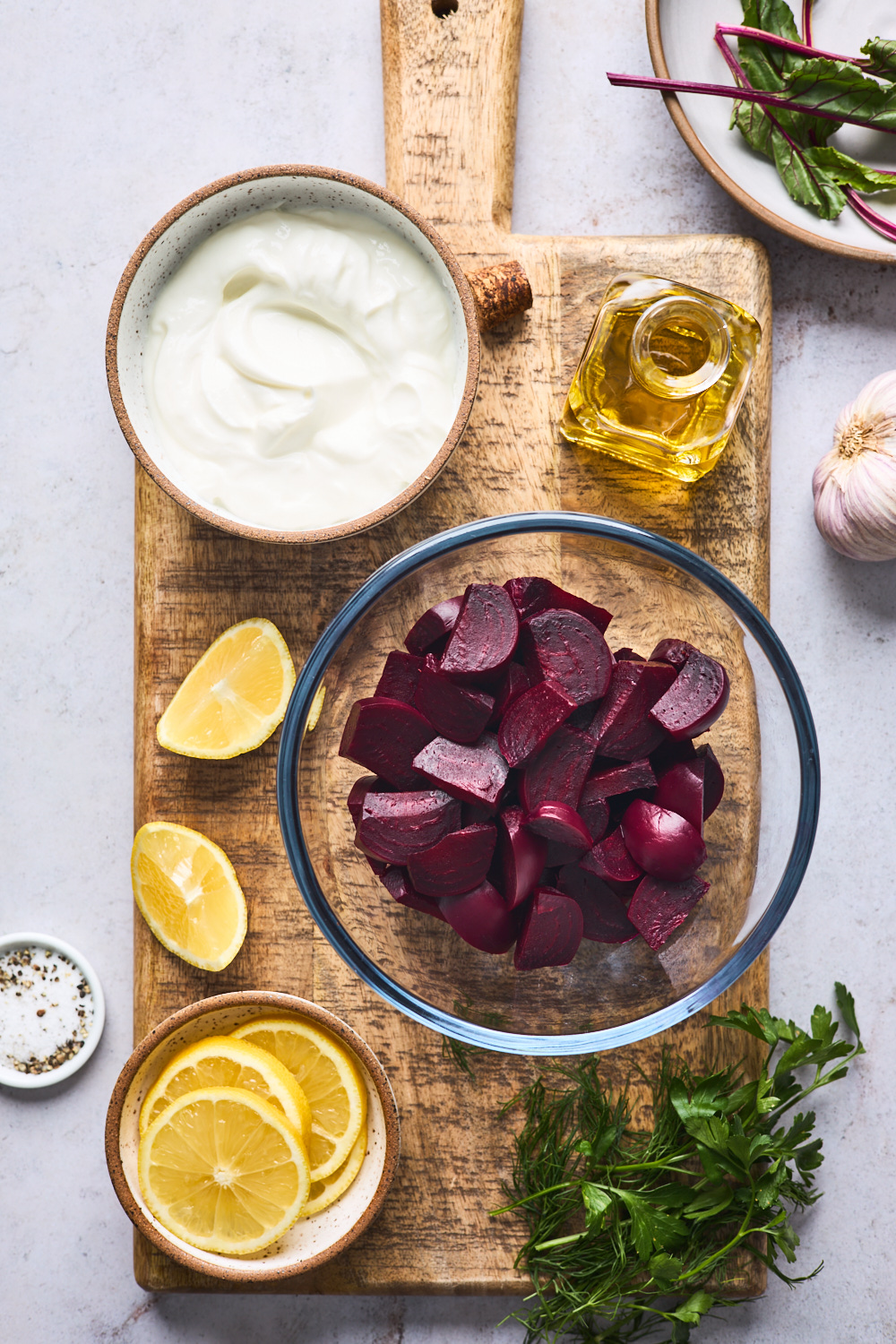 Ingredients in a Greek Beet Salad/Patzarosalata:
Beets - this recipe can be made with any kind of beets, yellow or red. You can use the fresh ones or even the precooked ones you can get at the grocery store too like Love Beets. I don't usually use canned beets but the recipe can definitely be made with canned as well.
Lemon juice - you can also use red wine vinegar, or even balsamic vinegar too
Greek yoghurt - you can use any plain yoghurt you like and for a vegan version you can use a good unsweetened plant based one
Fresh dill - I love the freshness of dill with the sweet beets but you can also use parsley or combination of both
Toasted walnuts - this is always nice for added texture and crunch but can be left out - feel free to use toasted pine nuts, pepitas or almonds instead if you would like.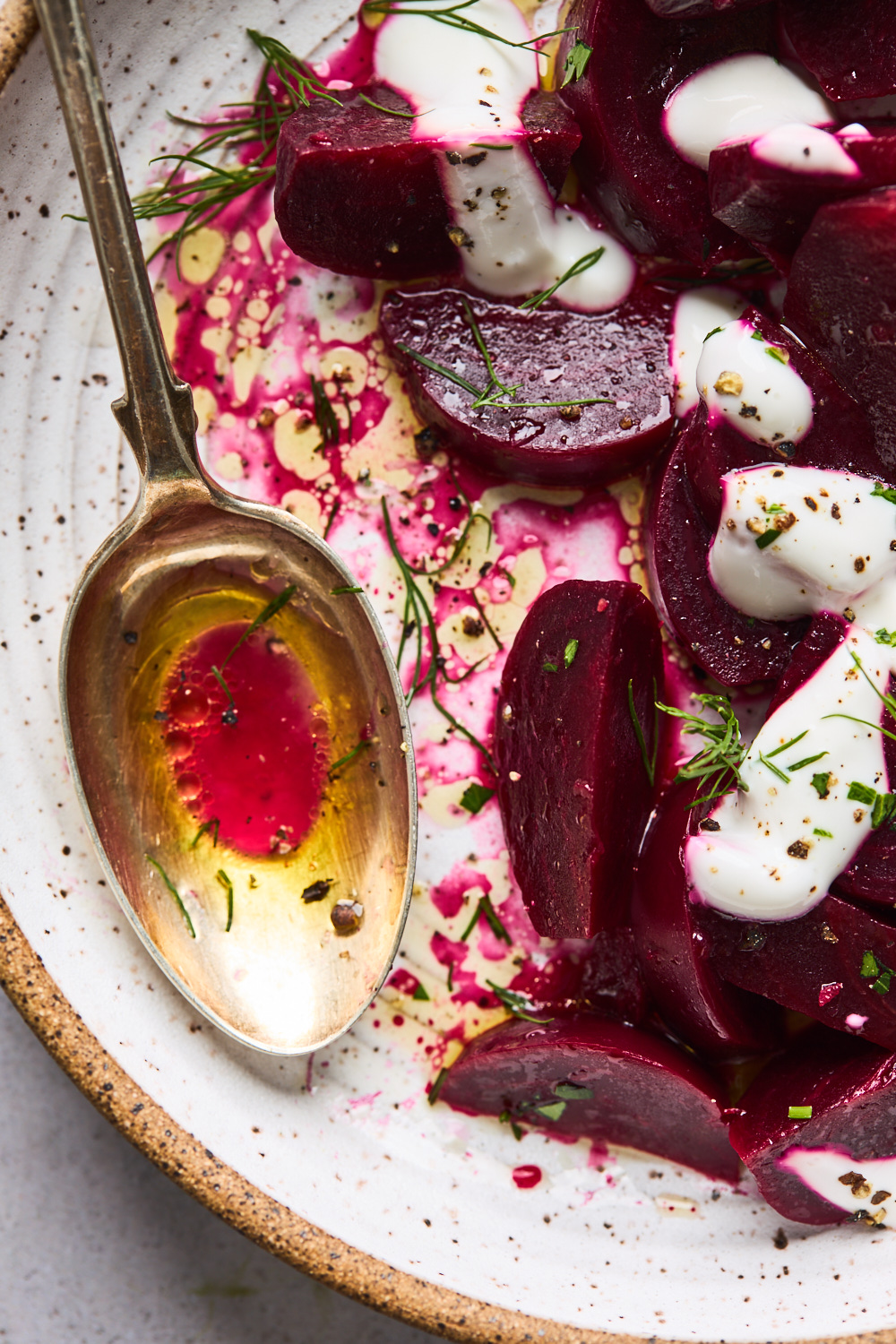 How to make Greek Beet Salad/Patzarosalata:
Boil or Roast the beets until tender. A knife should easily be able to slice through them.
Allow the beets to cool then peel and slice them whatever size or shape you like.
Toss beets in the vinaigrette made with the olive oil, lemon juice, garlic and salt and pepper.
Plate beets and then dollop with the Greek yoghurt, sprinkle with fresh herbs and toasted walnuts if using. An alternative way to serve it is by plating a layer of yogurt onto a platter first then spooning the beets and vinaigrette over top. OR you could toss the beets with the yoghurt creating the most amazing pink beet salad you have ever seen.
Recipe
Prep Time: 15 mins
Cook Time: 60 mins
Ingredients
6-8 small beets or 3-4 large (approx 1½ lbs)

2 cloves garlic peeled and minced or grated

3 tablespoons olive olive

2 tablespoons freshly squeezed lemon juice or red wine vinegar

Salt and pepper to taste

1 cup Greek yoghurt for serving

2-3 tbsp of fresh dill or parsley or combination of both

Toasted walnuts, chopped for serving (optional)
Directions
Preheat oven to 400°F If roasting beets.
Gently scrub the beets under running water with a soft brush to remove all particles of dirt. Trim ends if needed. Save beet greens. *
Wrap beets with foil and seal tightly (this helps them steam while they roast so they end up moist not dry) Place on a baking sheet and bake for approx 1 hour or until tender (You can also boil them in large pot of water until fork tender too)
Remove from the oven and let cool for 15 minutes. Peel them with your fingers (skin should slide off easily) or a peeler and slice into desired pieces. I like to do wedges.
In a big bowl, whisk together olive oil, lemon juice or vinegar and garlic. Season with salt and pepper. Add beets and gently toss.
Serve dolloped with Greek yoghurt and sprinkle with fresh herbs and walnuts if using. You can also stir the yoghurt in fully
Recipe Notes
Don't throw out those beet greens: In a large pot add water, and salt. Add the greens, bring water to a boil, and then reduce to a simmer. Cook them until tender. Keep them in the fridge in a food container for 3-4 days. Dress them with your fav vinaigrette and enjoy!
To Make-Ahead: You can roast or boil and peel your beets ahead of time - up to 3-5 days ahead of serving them as long as they are kept in an airtight container in the fridge.