Chocolate Guinness Cake With Irish Cream Frosting
This simple Chocolate and Guinness stout loaf cake is made in one pan and is deliciously moist, tender, rich and so very chocolatey. It's not overly sweet. After your first couple of bites, you'll notice that distinct subtle bitterness from the stout and the cocoa. The simple Irish cream cream cheese frosting blends perfectly with the slightly bitter crumb and will keep you going bake for more slices. There are many chocolate Guinness cake recipes out there this is a simple on that requires only pantry ingredients and made whisked in one pot or bowl before being transferred in to loaf pan to bake. A simple dessert that tastes wonderful and perfect to enjoy with your coffee or tea or your beer!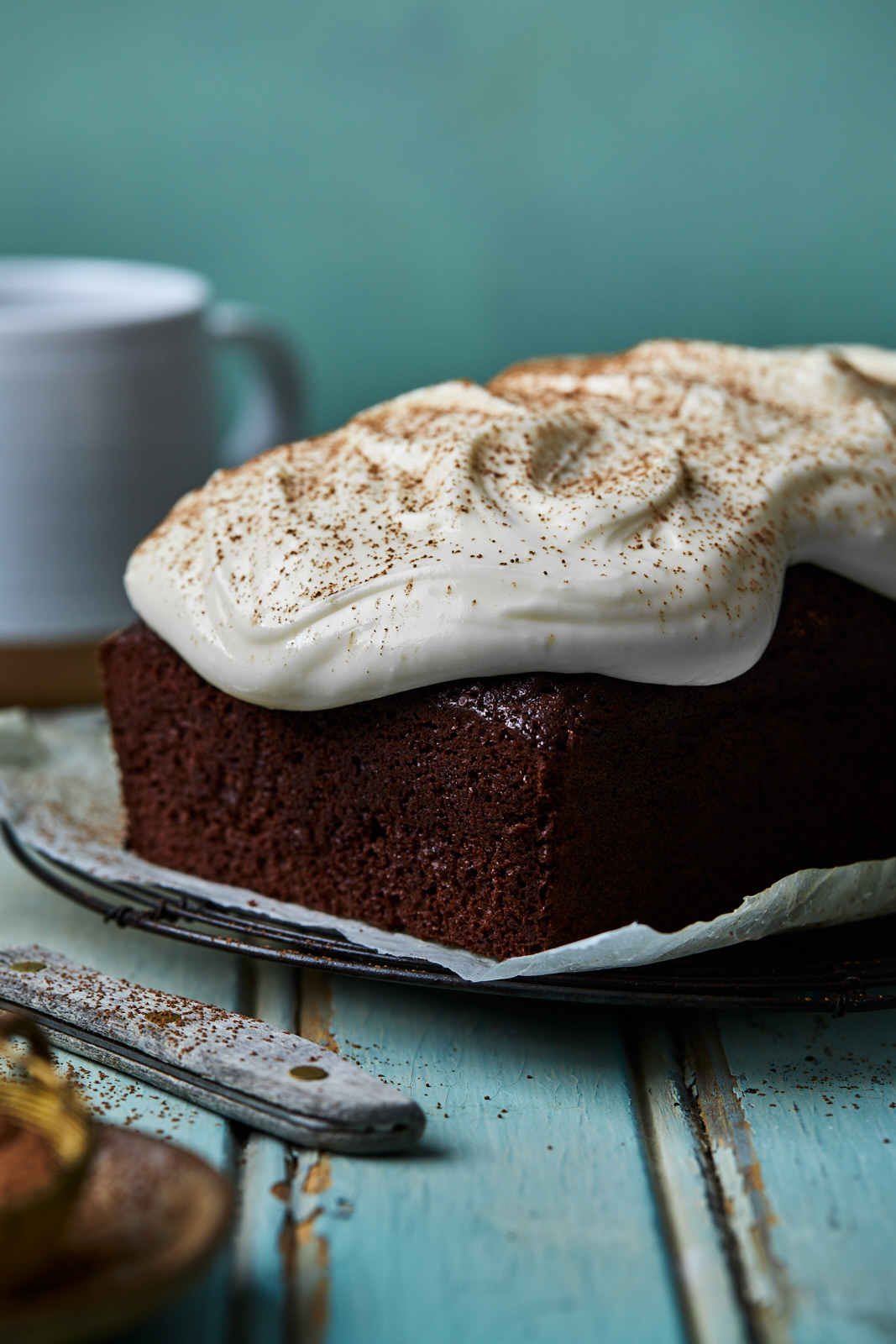 Why use Guinness in baking?
I love to cook with Guinness (ie. My Guinness pie) and also bake with it. The toasty chocolate and coffee undertones of stout (such as Guinness) make it an excellent choice for incorporating into chocolate flavoured baked goods. It's a total flavour booster in stews and in baking and especially with chocolate. We all know that coffee adds incredible flavours to chocolate baked goods. It deepens the cocoa flavours. Guinness does the same. An added bonus is that beer works as a gentle leavening agent. The carbonation in the beer helps cakes, quick breads, and muffins rise high.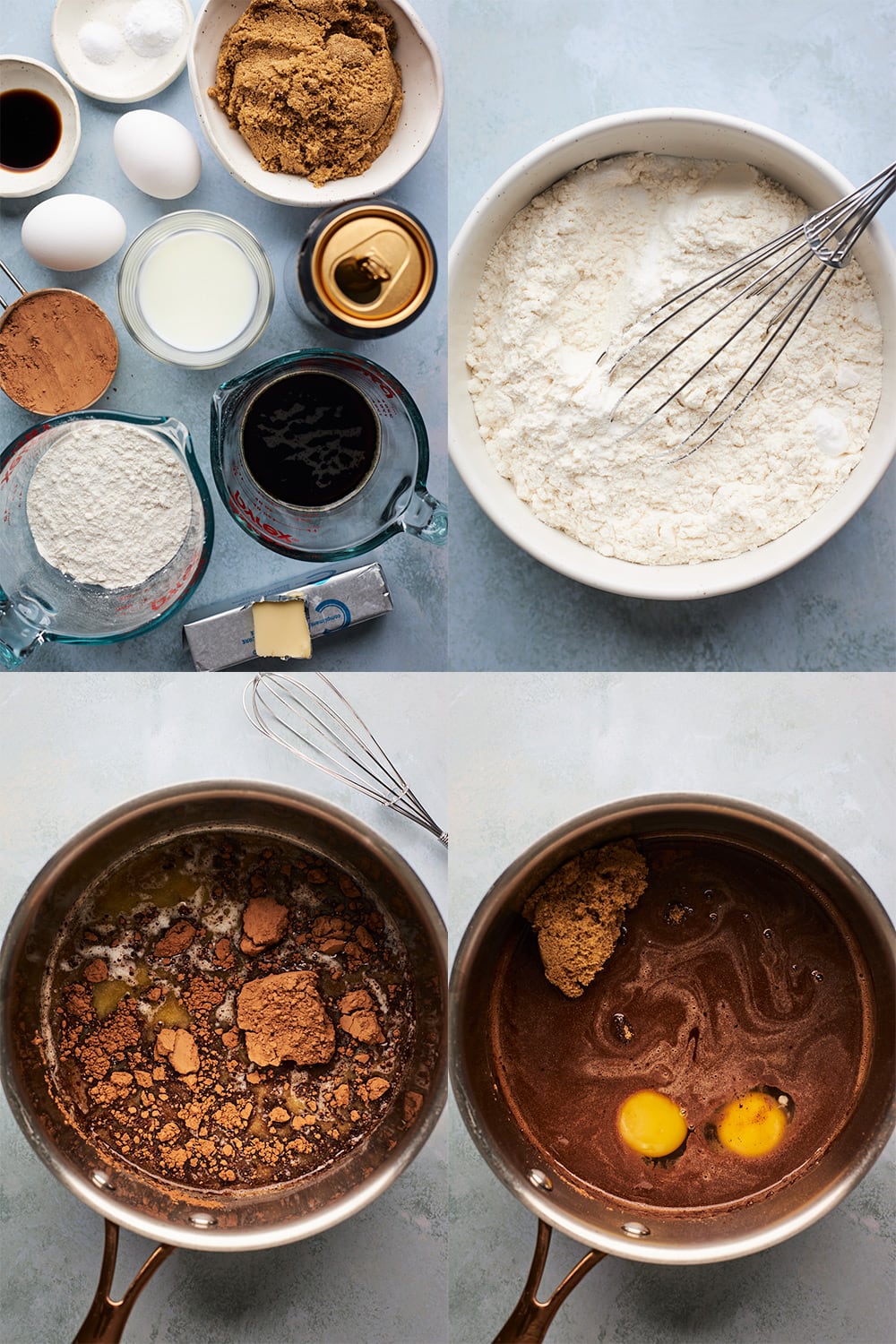 What ingredients go into making this Chocolate Guinness Cake?
This cake is made with basic pantry ingredients - it doesn't get easier that this. Here we go:
Butter - unsalted and no need to allow time for it to soften because it will be melted in this recipe (if you prefer to use vegetable oil feel free to substitute it 1:1)
Guinness beer (substitute with coke if needed-see recipe notes )
Unsweetened Cocoa Powder
Brown sugar
Whole Milk - stick to whole milk for best flavors and texture
Vanilla Extract - for extra flavour
Eggs - make sure they are room temperature
All purpose Flour (can use AP gluten free flour instead)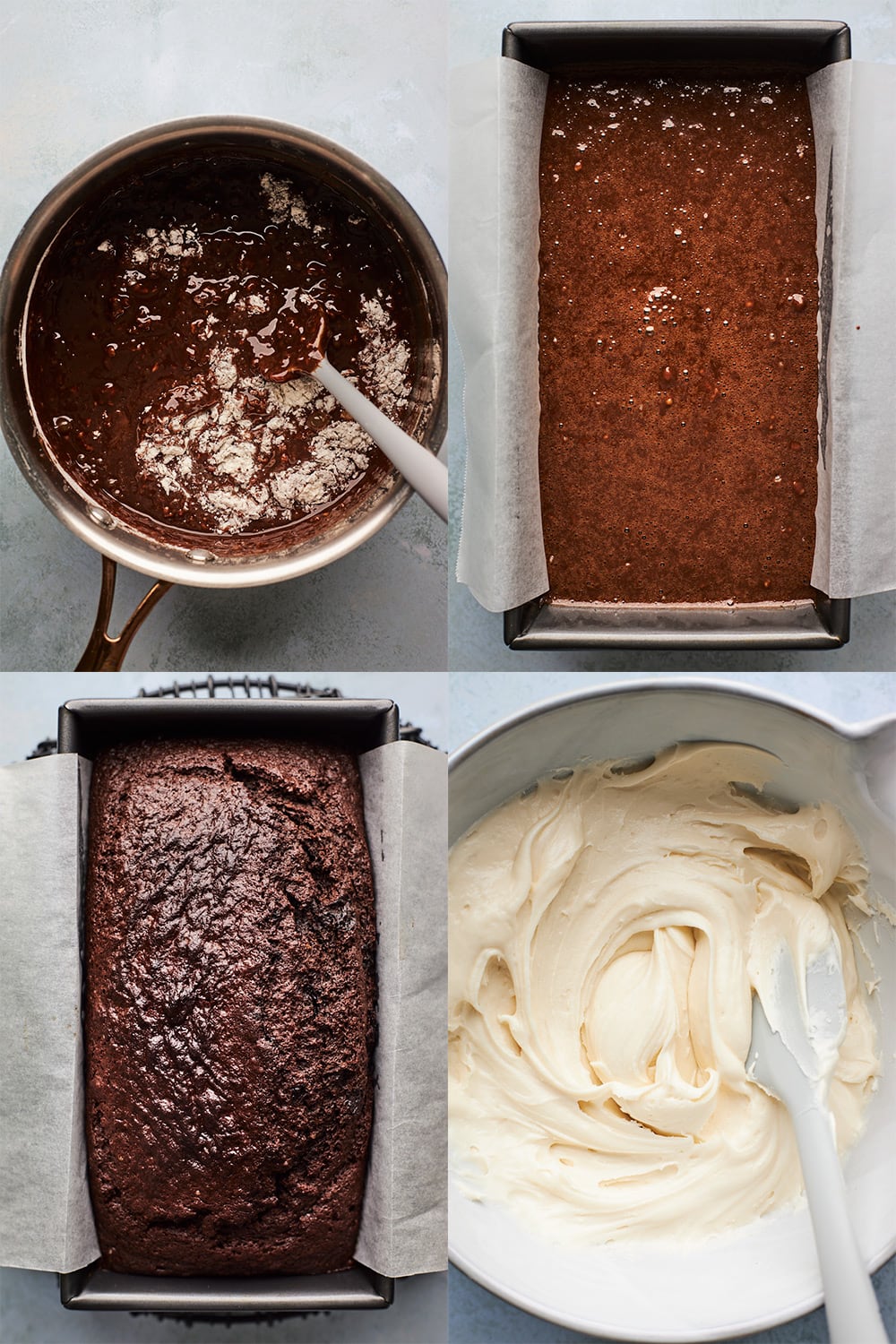 How to make Guinness Chocolate cake
It's such an easy process. You don't even need an electric mixer for the cake portion! This easy recipe is made in one pan - that is right one pan - similar to my Chocolate Hazelnut Espresso Brownies the batter for this cake starts off in a medium sauce pan. Here is the break down:
Melt butter in medium saucepan over medium heat
Remove from heat and whisk in the Guinness and the cocoa powder until smooth then whisk in the sugar, milk, eggs and vanilla
In the same pot whisk in the flour, baking soda and salt
Pour batter into prepared pan and bake until tester comes out clean
Allow to cool then make that delicious Baileys cream cheese frosting and slather it on top and enjoy.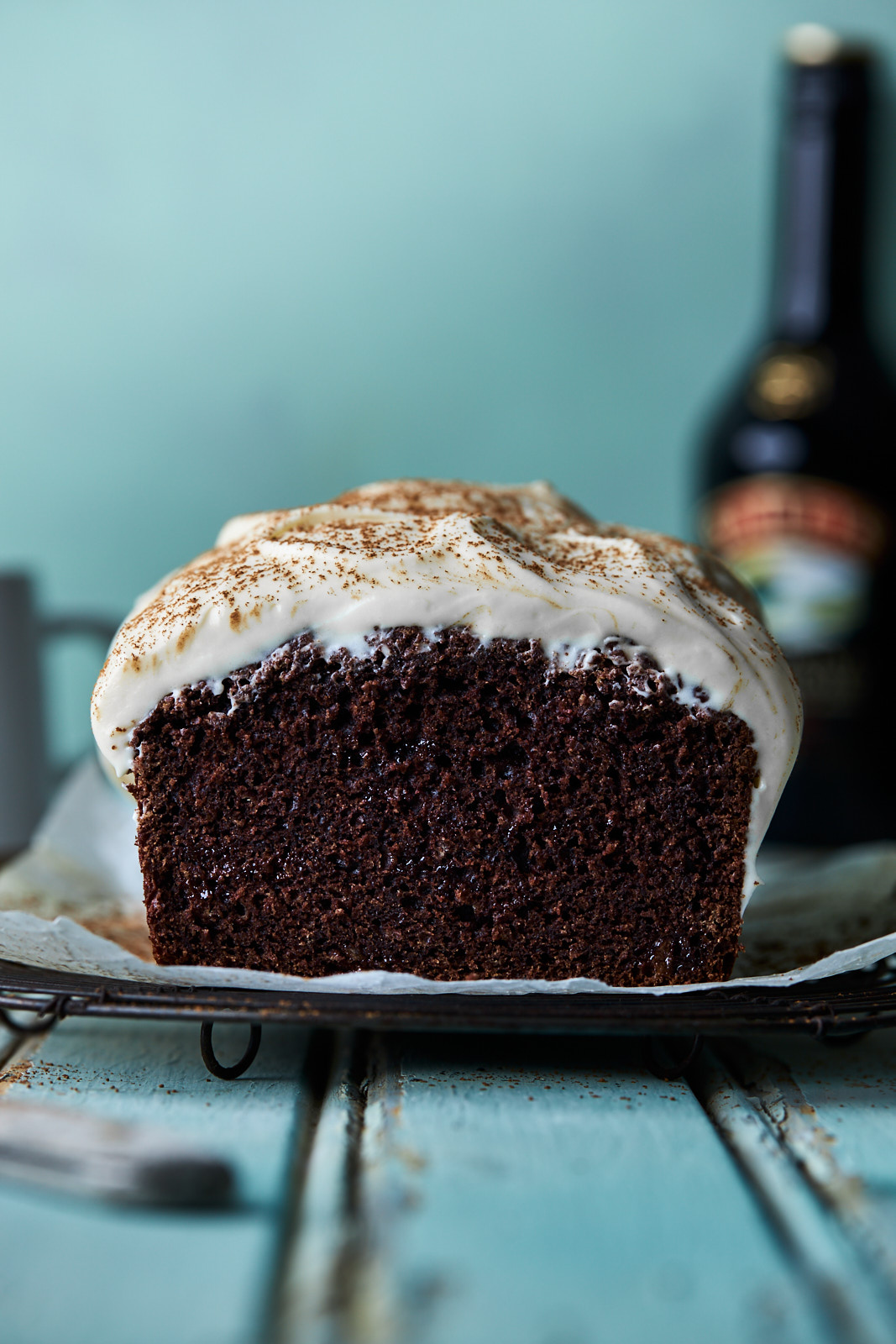 This is easy to make, fudgy, and a tender crumbed cocoa/ chocolate cake recipe with deep delicious robust rich chocolate flavor from the Guinness beer and cocoa. The rich, thick and creamy Irish cream frosting is the perfect accompaniment - enjoy responsibly meaning make sure and have more than one slice - and serve with a cold stout or warm one depending on how you like to drink yours.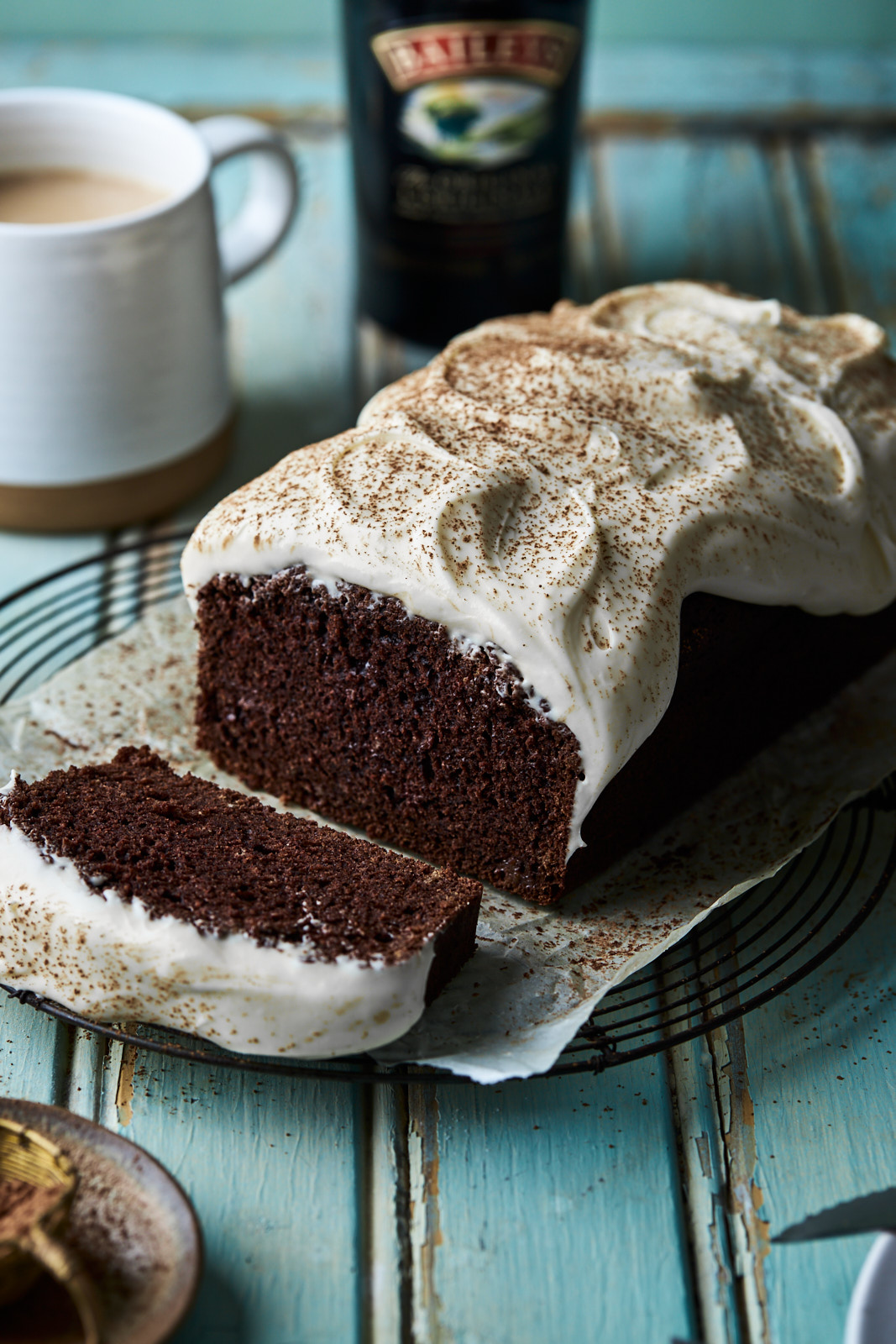 Storage & Freezing
STORAGE: Unfrosted cake can be stored at room temperature for up 3 days in a sealed container. Frosted cake should be stored in and airtight container in the fridge as it contains cream cheese in it - store in fridge for 3-5 days. Enjoy chilled or slice and allow it to come to room temperature before eating.
FREEZING: Cool cake completely and wrap well in plastic wrap and layer of foil before freezing. Cake can be frozen for up to 2 months unfrosted. Defrost cake in the fridge and frost cake after it has thawed completely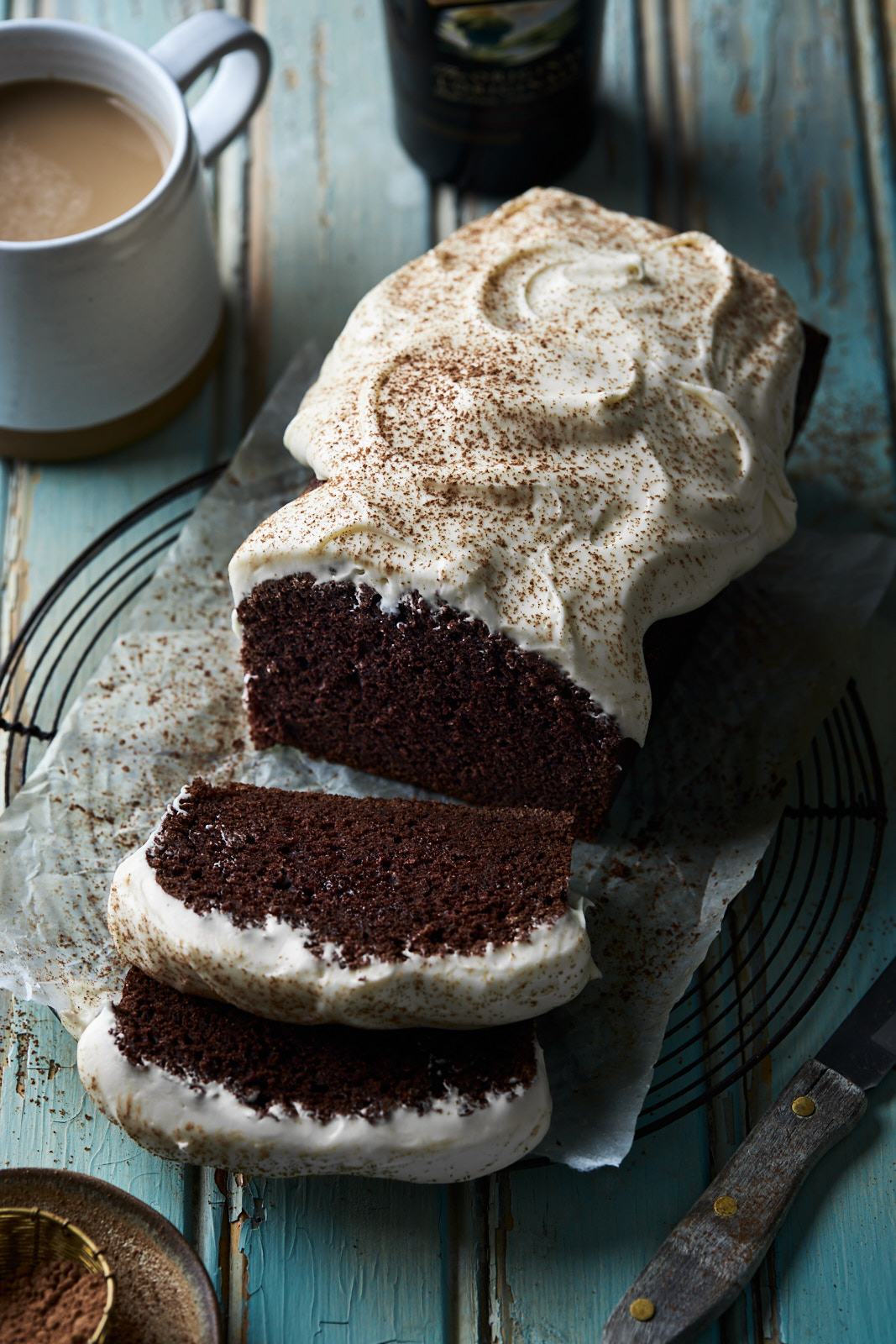 If you like this Guinness recipe you will love these:
Recipe
Servings:
1 loaf (9x5 pan)
Prep Time: 15 mins
Cook Time: 40-45 mins
Ingredients
1 cup + 4 tablespoons (175g) all purpose flour

¾ teaspoon baking soda

¼ teaspoon salt

1 stick + 1 tablespoon (125g) unsalted butter, plus extra for greasing

100 ml Guinness stout beer (approx ½ cup guinness), room temperature

½ cup (40g) unsweetened cocoa powder

1 cup (200g) brown sugar

100 ml whole milk (approx ½ cup)

1 teaspoon vanilla extract

2 large eggs, room temperature
For the Frosting
4-ounce brick (half a brick) cream cheese, room temperature and softened

¼ cup unsalted butter (half stick), room temperature

½ teaspoon vanilla

2 tablespoons Bailey's Irish cream

2½ cups icing sugar/powdered sugar

Cocoa powder for dusting, or shaved chocolate (optional)
Directions
Make cake: Preheat the oven to 350°F. Lightly grease loaf pan and line with a strip of parchment paper, so that the excess hangs over the sides of the tin (this makes for easy removal).
In a small bowl, whisk together the flour, baking soda and salt.
Place butter into a medium size sauce pan and place over a medium heat until melted. Remove from the heat, and whisk in the Guinness and cocoa powder until smooth. Then whisk in the sugar, milk, vanilla extract and eggs.
Add the flour mixture to the Guinness mixture (wet ingredients) and fold and stir just until smooth and combined - do not OVERMIX.
Pour the mixture into the prepared loaf tin and bake in the preheated oven for 40-45 minutes or until a skewer inserted into the middle of the cake comes out clean.
Allow the cake to cool in the pan for 10-15 minutes before carefully lifting out; cool on a wire rack.
Make frosting: In a large bowl beat the cream cheese and butter with a hand mixer or stand mixer until soft and light and fully combined. Add the vanilla and Irish cream and slowly add ½ cup of icing sugar at a time and blend in. Add a touch more powdered sugar if needed to reach desired consistency. Layer over cooled chocolate Guinness cake and dust with powdered sugar or chiclet shavings or if you are feeling extra some chocolate ganache.
Store leftovers refrigerated in a sealed container because of the cream cheese frosting
Recipe Notes
If you don't have or want to use Guinness for this cake you can substitute it with Coca-Cola.
If you don't have Irish cream or you'd prefer to keep this recipe free of any un-cooked alcohol, feel free to replace the Irish Cream with regular cream or leave out
How to ensure your cake is MOIST Be very careful not to accidentally over-measure the flour and cocoa powder in this recipe. This will lead to dense, dry, or tough cake. The best way to ensure this never happens is to measure your ingredients by weight using a scale. Make sure to not over bake as well. If you don't have a scale, then use the spoon and level method to measure your dry ingredients: start by fluffing the flour a little with a spoon to aerate the flour. Then you'll spoonthe flour into the measuring cup. You want to fill the measuring cup all the way to the top and let the flour flow over a little. Then, you'll use the back of a knife to level the top off. Adapted from Sainsburys Magazine