Classic Minestrone Soup
This classic minestrone soup is a hearty fill you up and feel good kind of soup. Perfect for the cooler temperatures but I love having it anytime. I'm a big soup fan and this is one of the classics that I love. Its the perfect one pot minestrone soup. Onions, carrots, and celery add depth of flavor to its herby tomato broth, and starchy beans and pasta make it nice and thick. Its loaded with all the veggies, and nourishing and delicious. I top it off with a drizzle of olive oil, fresh parsley and a sprinkle of freshly grated Parmesan cheese. It's super easy and flavorful, and all you need is some crusty bread to make it a full meal.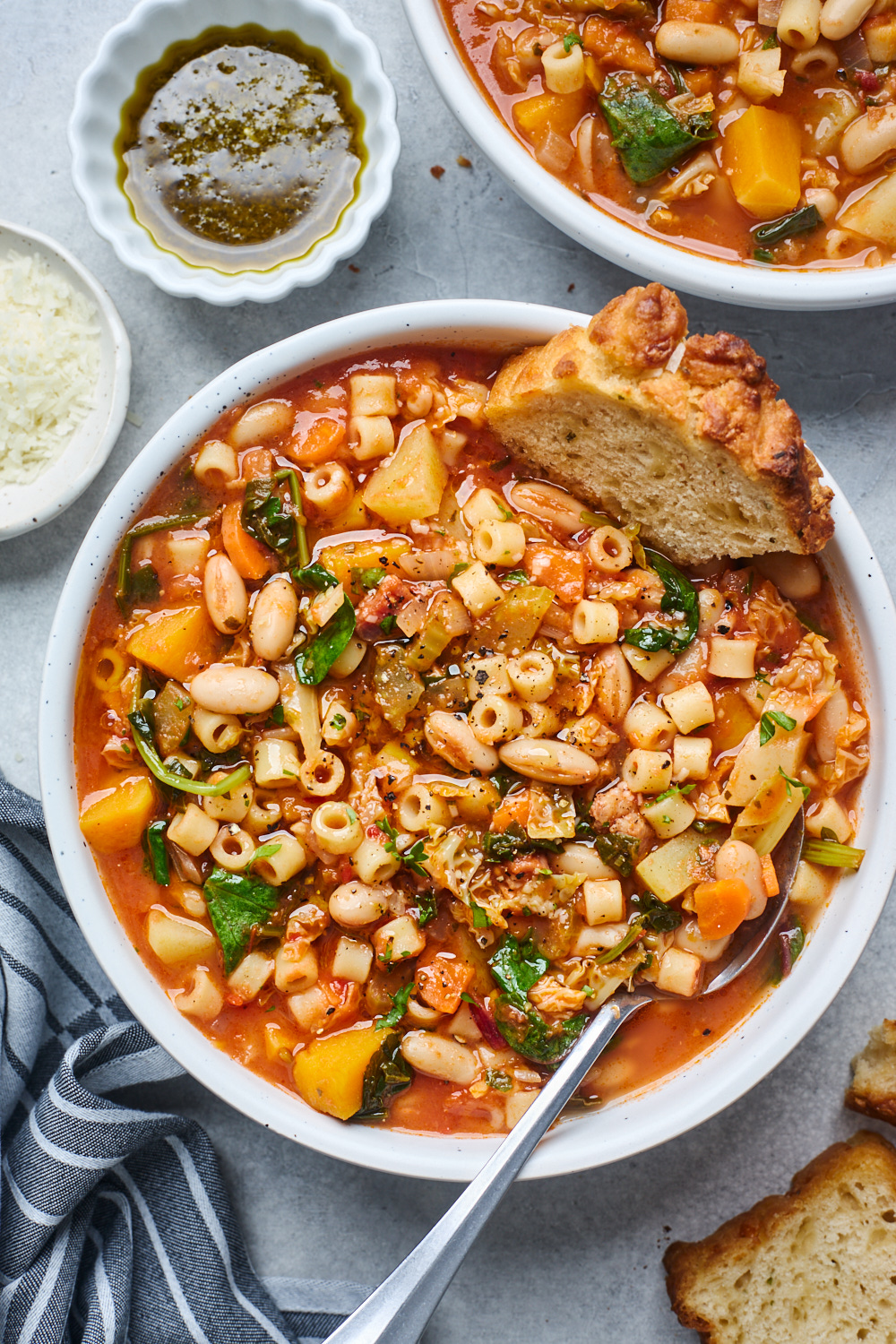 Minestrone always reminds me of a very good friend of mine. She made this for us on a very very cold wintery day for lunch and it was the most satisfying thing I had ever had. It's literally the best one pot dish. Just add bread, wine and good company and it's perfect! She is also the one who introduced me to putting in the rind of Parmesan cheese to anything tomato based including this soup to add more flavour and richness. She told me she freezes all her rinds and just adds them to things as she pleases like soups and stews. I have been doing the same since then. Does this soup taste wonderful without it? Yes but I like the flavour that the rind adds and that's why I add it in, so it's totally optional. It is said to add a Unami flavour to things.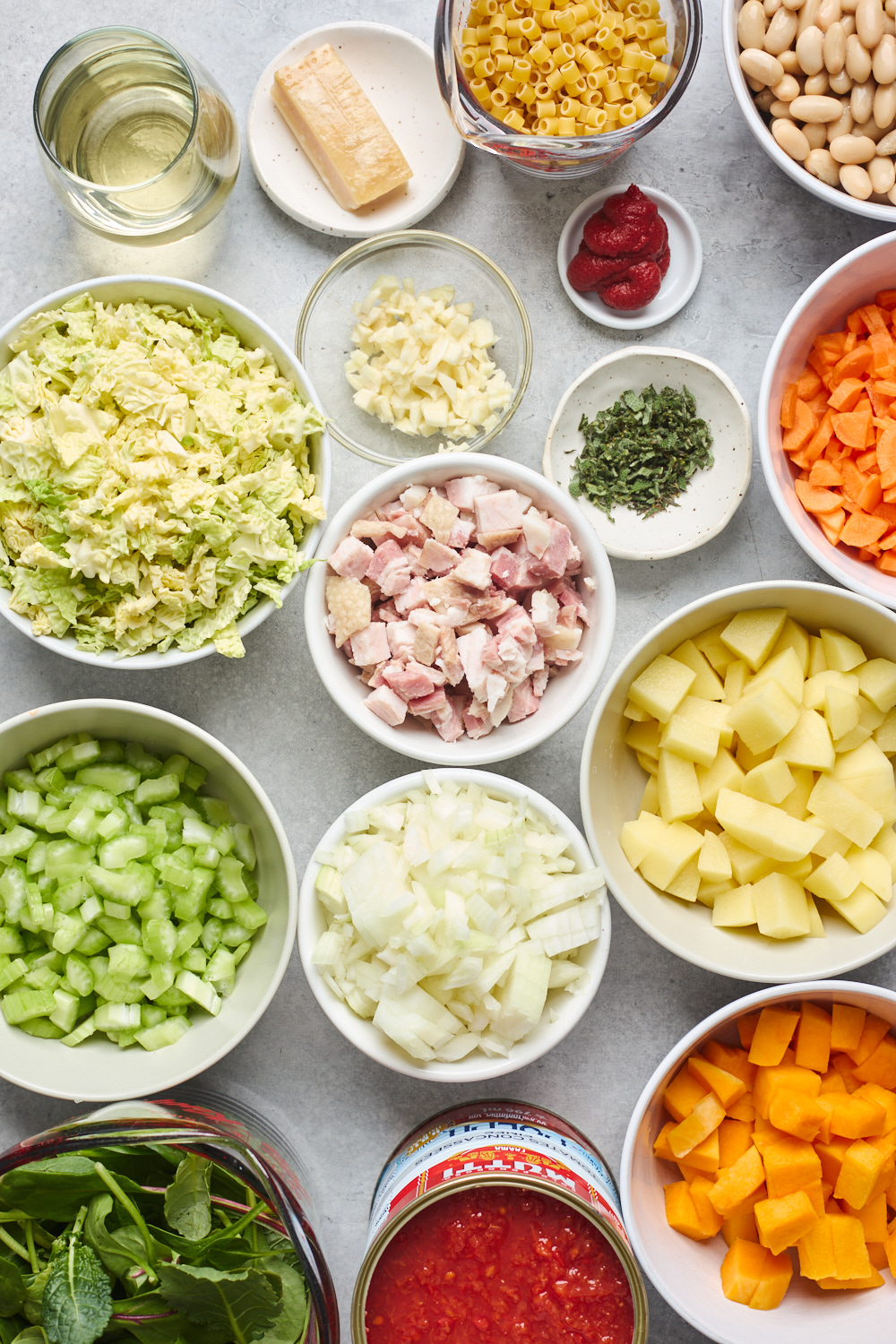 Her recipe comes from Ina Gartin - she just knows how to make the ultimate comfort food with simple ingredients. This recipe is adapted from her recipe. What is great about a good and solid minestrone soup recipe is the fact that its so versatile. That is what this recipe is - make sure to check out the ingredients list for all the substitutes. This is one of those perfect meal prep recipes to make on a Sunday night and enjoy all week! It's loaded with veggies and is super hearty. The best part is you can switch up the veggies based on what you've got on hand and use it to clean out the fridge. I could say this is a copy cat Olive Garden minestrone soup but I think its even better because homemade is always better.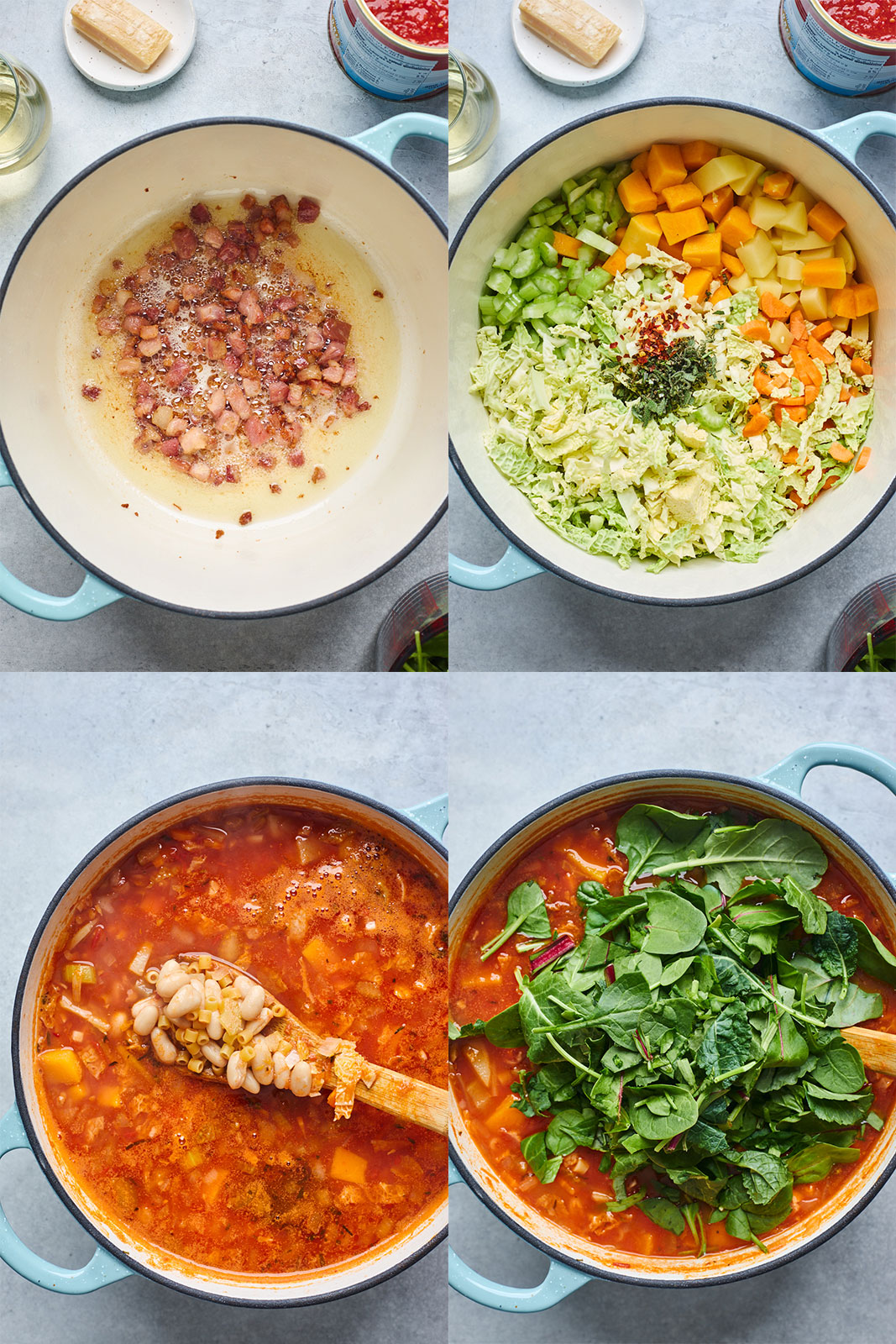 Minestrone Soup Recipe Ingredients
Here's what you'll need to make this minestrone soup recipe:
Pancetta - it adds so much flavour. You could use bacon in its place or even Italian sausage, or ground turkey. If you are keeping this a vegetarian minestrone soup or vegan just leave out.
Potatoes, and squash - I like to use a mix of Yukon gold potatoes and butternut squash but you can easily substitute with sweet potato, or pumpkin
Cabbage - I like to use Napa or savoy but any green cabbage would work. You can substitute it for fennel or other fresh veggies like green beans or zucchini or yellow squash
Onion, carrot, and celery – These vegetables create the aromatic base of the soup, known as a soffritto in Italian also known as mirepoix. They get sautéed in with the olive oil and the pancetta before adding the other ingredients. Feel free to add in a pinch of oregano too if you prefer.
Garlic – It adds additional depth of flavor to the soup.I always use fresh. Add as little or as much as you like.
Finley chopped tomatoes – For sweet, tangy flavor. I always have a can or two in my pantry. If you don't have the Finley dices roam ones feel free to use diced tomatoes or fire roasted ones too.
White beans – Navy beans, cannellini beans, and red kidney beans all work great! Canned is easiest but feel free to cook your own if you prefer.
Broth – chicken broth or vegetable broth works well. Use store-bought, or homemade
Bay leaves, rosemary, sage and thyme – this is my favourite blend and I use fresh herbs but you can easily use dried as well. You can also use a store-bought blend of Italian seasoning as well and use as little or as much as you prefer.
Small pasta – I like to use elbows, little shells, orecchiette, or ditalini. I like to cook it right in the soup so that it releases its starches into the broth, making it a one pot meal. I use gluten free. if you wanted to swap the pasta for a grain feel free to use farro, barley or even pearled couscous. You may have to precook the grains.
Fresh parsley – a sprinkling for garnish. Fresh basil would be great here too.
Red pepper flakes – Optional, for heat.
Parmesan cheese – This salty, umami garnish takes the soup over the top. I also like to add in a piece of parmesan rind to the soup as it simmers for extra flavour.
Greens - I love to use fresh spinach or kale. You can also add in frozen if that Is what you have.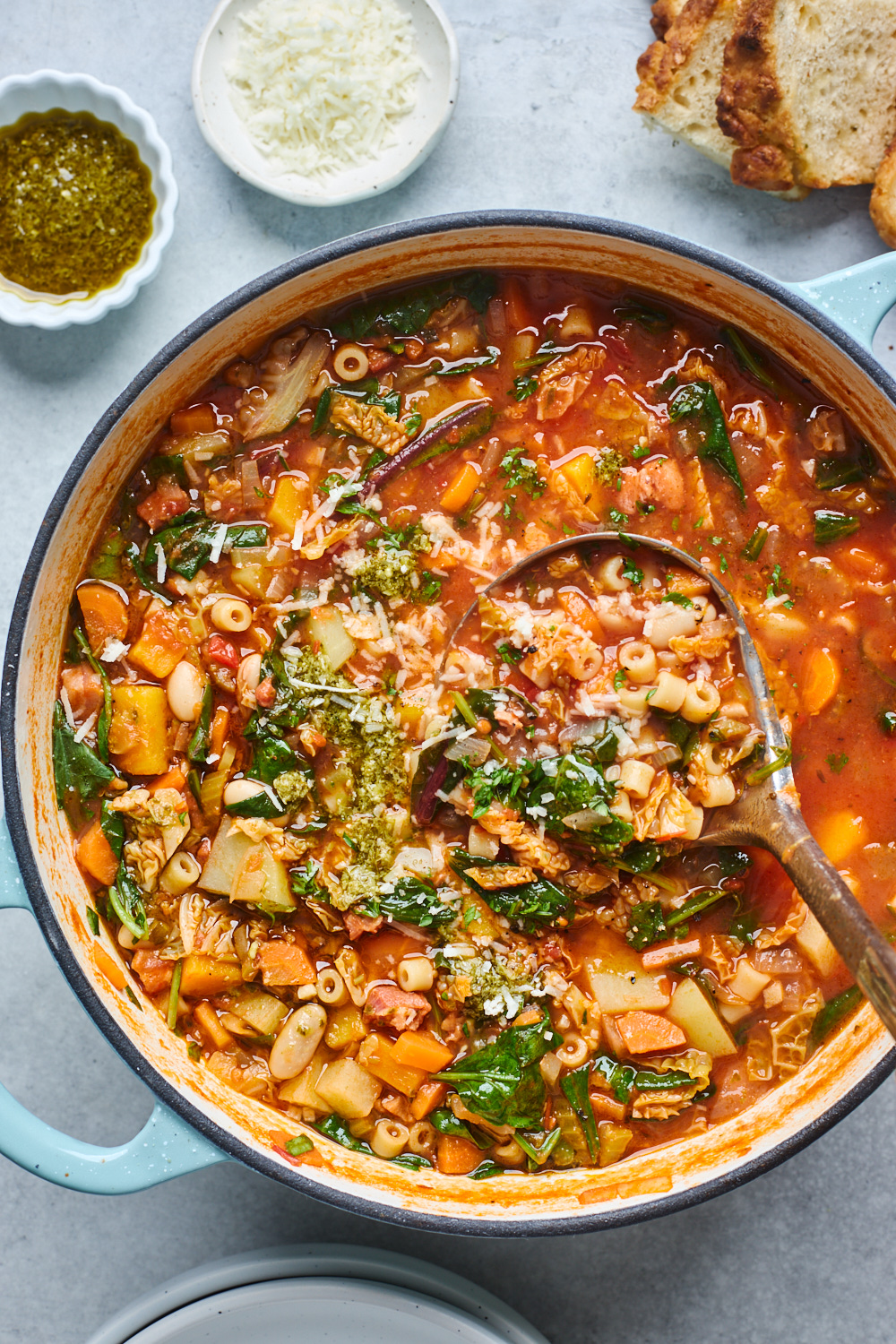 Tips, Make ahead, Storage & Freezing Instructions:
Don't simmer the soup for too long or it will overcook the pasta. When you are using a small cut of pasta like ditalini or small shells, they are going to cook super quick in the soup. It will only take a few minutes - 5 at the most - to get the pasta perfectly al dente. If you prefer to cook the pasta separately you definitely can just add it in before serving. That being said whether you add it before or after its cooked it will continue to swell or absorb liquid as it sits in the soup, so you will definitely need to add more broth when reheating.
Switch up the veggies based on your family's taste! Fresh or frozen works. Just keep the ratios the same and it will taste delicious!
Make Ahead: This soup is a delicious meal prep recipe idea because it just gets better with time so you can definitely make it ahead of time. If you know you'll be enjoying the soup at a later date, you can cook the pasta a minute or two less than al dente as the noodles will continue to soak up the liquid as it sits, or cook it separately and add it in when you serve it.
Storage: This minestrone soup will stay good in the fridge in an airtight container for up to 5 days.
Freezing: You can freeze this easy minestrone soup for up to 3 months in an airtight container. But - if you're planning to freeze this soup, I do not recommend adding the pasta. The frozen pasta doesn't hold up well when it's reheated in the soup. If you know you'll be freezing this soup, leave out the pasta when cooking it. Then when you reheat and serve the soup, add cooked pasta into each serving.
Reheating: If thawing from frozen, allow to thaw in the fridge overnight. Then reheat soup stove top. You will likely need to add a little extra broth or water when reheating.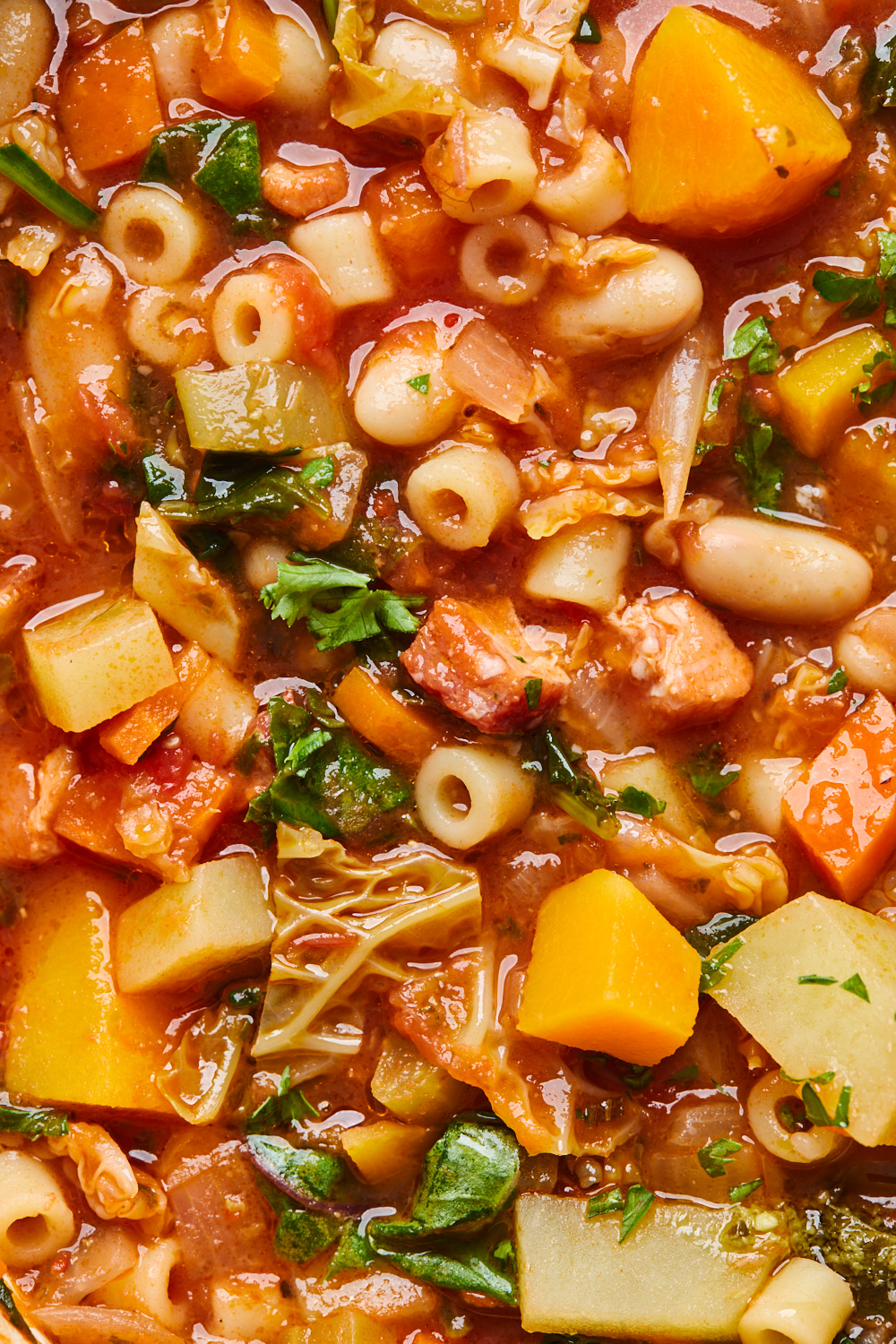 If you loved this veggie loaded soup, be sure to check out these ones:
Recipe
Prep Time: 15-20 mins
Cook Time: 40-50 mins
Ingredients
2 tablespoons olive oil

4-5 ounces pancetta, ½-inch-diced (150g)

1 yellow onion peeled and chopped

3 carrots peeled and diced

3 stalks celery diced

2½ cups butternut squash, peeled and cubed (approx ½ of a small butternut squash or pumpkin or sweet potato)

2 small Yukon gold potaoes peeled and cubed

½ small cabbage cored and sliced (savoy or Napa)

4 cloves garlic peeled and minced

2 teaspoons chopped fresh thyme leaves, sage and rosemary (or you could used dried Italian seasoning)

½ teaspoon chili flakes (optional)

1 tablespoon tomato paste

½ cup dry white wine to deglaze

24 ounces finely chopped tomatoes, canned or boxed

7 cups chicken stock plus more if needed

1 bay leaf

1 piece (2 inches) Parmesan rind (optional)

salt and freshly ground black pepper to taste

1 (15-ounce) can cannellini beans, drained and rinsed

1¼ cups dried small pasta, such as tubetti

8 to 10 ounces fresh baby spinach

2 tablespoons pesto, homemade or store-bought (optional)
For serving
Freshly grated Parmesan cheese, for serving
drizzle of olive oil
crusty bread or my favourite quick easy beer bread
fresh chopped parsley or basil
Directions
Heat olive oil in large dutch oven or soup pot over medium high heat. Add in the diced pancetta. Cook until crispy, approx 8-10 min.
Next add in all the carrots, celery, onion, garlic, squash, potatoes, cabbage, chili flakes and herbs. Stir and cook 8 to 10 minutes.
Stir in the tomato paste and cook 1 minute then deglaze the pan with the wine, simmer until its reduced, approx 1-2 min.
Add in broth, tomatoes, bay leaf, parmesan cheese rind if using, and salt and ground black pepper to taste. Bring to a boil, then lower the heat and simmer uncovered for 20 minutes, until the vegetables are tender.
Add the beans and pasta and continue to simmer a few more minutes until the pasta is al dente.
Stir through the spinach and then stir in the pesto if using. Serve hot drizzled with olive oil and sprinkle with fresh chopped herbs and freshly grated parmesan cheese.