Greekstyle Chickpea Stew with Dumplings (Revithosoupa)
Greekstyle Chickpea Stew with Dumplings, Revithosoupa (reh-vee-THO-sou-pah) is a traditional Greek vegan friendly soup that uses simple ingredients. It's a delicious unassuming soup made with chickpeas and veggies in a tasty broth. The chickpeas are tender and the broth is seasoned with rosemary, oregano and lemon zest. It's hearty enough as it is but I thought I would make it even more comforting by adding herbed dumplings to it. What this simple looking soup lacks in appearance it makes up for in flavour.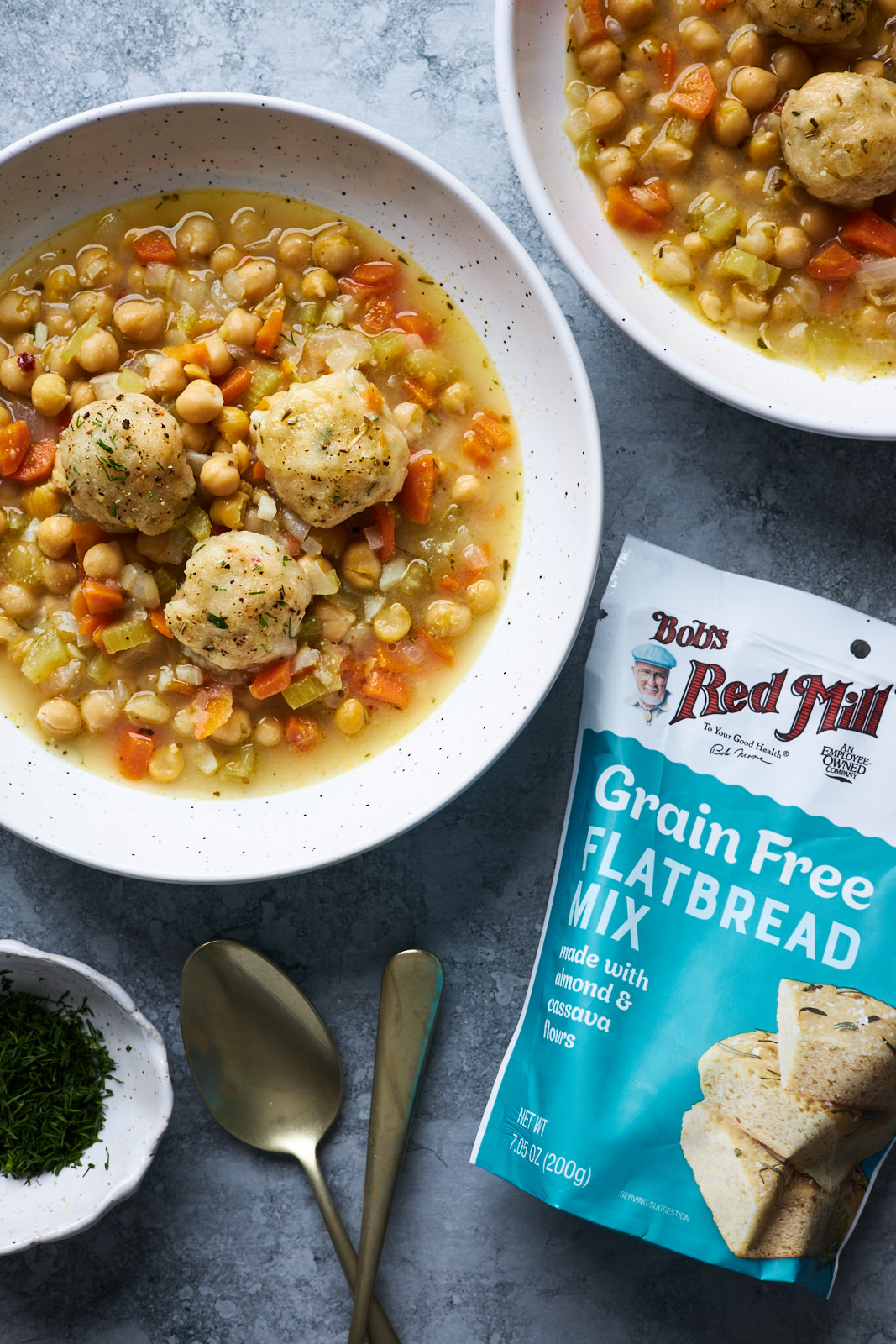 What is revithosoupa made with
Traditionally this Greek Chickpea Soup is made with dried chickpeas that are soaked overnight and then cooked until soft. This version is made with canned Chickpeas and takes no time to make. If you would like to use dried chick peas in this recipe - I have included the directions in the recipe notes below. The broth is simple - many recipes call for just water but I like to use a homemade or good quality store-bought broth or stock for added flavour. The soup usually includes some veggies in it - either carrots or celery or both. Carrots, celery and onion or shallots and garlic are pretty standard in most of the hearty soups I make so I included all of the above in my version of this soup. The seasonings vary from rosemary to cumin and bay leaf in this soup - I chose to use rosemary and oregano because I love those two especially in lemony dishes. I make my soup with lemon zest and serve it with lemon wedges on the side - the extra squeeze of lemon juice in it is just the thing to finish it off with along with a drizzle of olive oil before serving.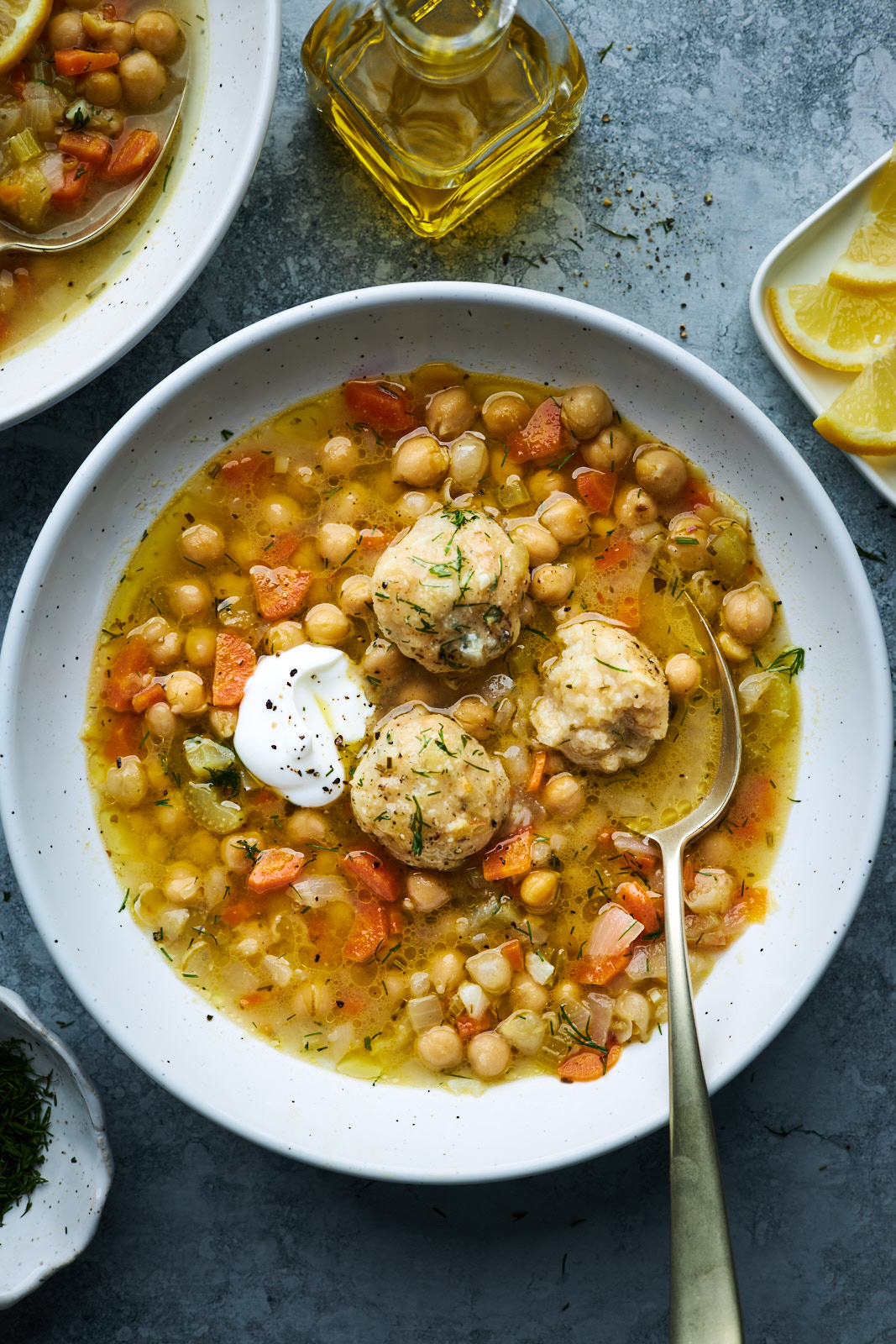 I added a very non traditional ingredient to mine for extra depth of flavour but it is an optional ingredient. I added miso paste to my soup. Miso is a fermented mixtures of salt, grains, and soybeans and was traditionally used as a way to preserve food during warmer months. I love to use it as a flavour booster. It's like adding anchovies to certain dishes to enhance flavours - you often don't even taste them you just know they add a complex and delicious flavour to just about everything. I love the flavour it adds to this soup and I definitely recommend using it if you have some on hand.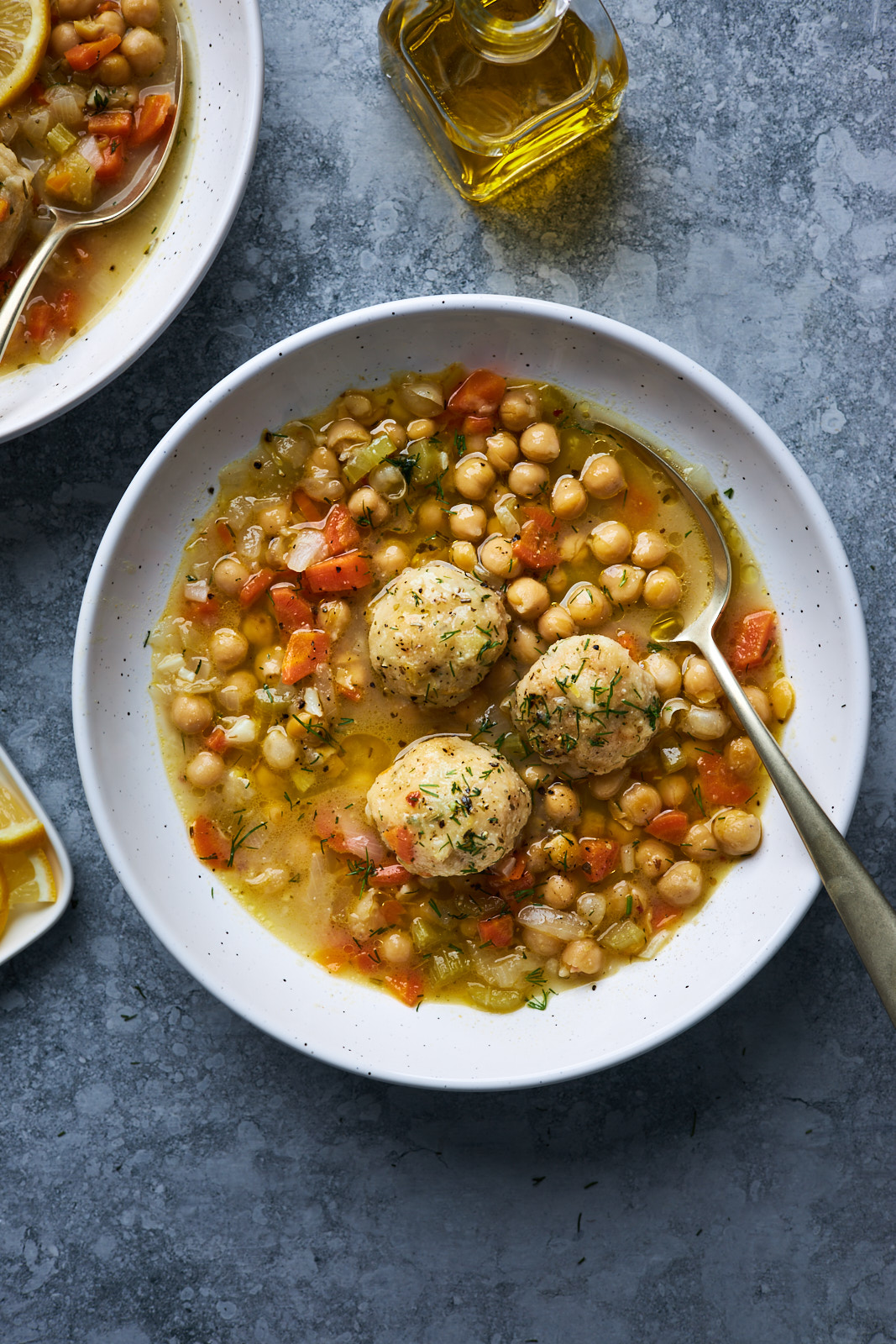 Another non traditional thing I added to this soup is dumplings. I didn't come up with this idea on my own - actually I was inspired by a recipe from Bonappetit. They have a great chick pea and dumpling recipe that I thought was genius. I got the idea to add the miso from that recipe too - and it elevated the flavours of my chickpea soup. The dumplings in their recipe are made with chickpea flour but I decided to use Bob's Red Mill Grain Free Flatbread Mix to make mine. Their flat bread mix isn't limited to just making flatbread - it's a great gluten free and grain free mix that can also be made into tortillas/wraps and even these fluffy dumplings. It's an easy mix to use In place of all purpose flour for making flatbread or these herby tasty dumplings. It has a subtle nuttiness and sweetness to it form the coconut, cassava and almond flour blend in it. Bob's Red Mill always has you covered with so many grain free options for baking and cooking for all your dietary needs.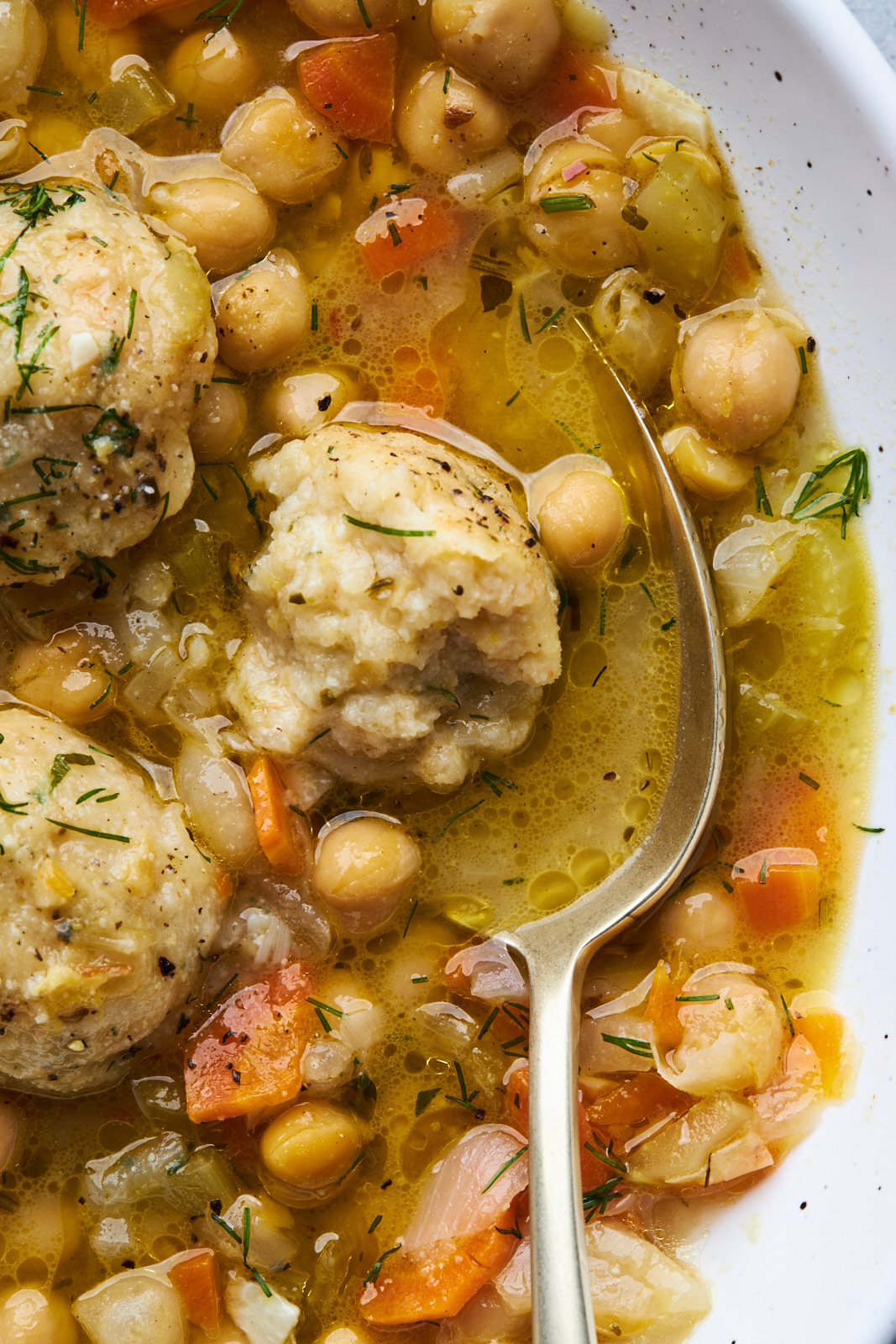 How to make Greek-style chickpea stew
Start by simply sautéing your mirepoix (onions, garlic,celery, and carrots). Then add your aromatics including the miso paste if using. Stir in the chickpeas, and the broth and  simmer until the veggies and Chickpeas are nice and tender. Adding the dumplings in this recipe is optional - but a tasty way to have it. If you decide to make them, while the soup is simmering combine all the dumpling ingredients together to form a dough - cut into 10 portions and add to simmering soup and let the magic happen- aka allow them to puff up and cook through for a few minutes. Once done ladle out into bowls - drizzle soup with olive oil sprinkle with some fresh chopped dill or parsley or both, serve with dollop of yoghurt for extra freshness and some creaminess and also extra lemon wedges. This fun version of Greek staple, although simple, is quite tasty, easy to make and satisfying. It's a feel good warm the belly kind of soup that I'm always craving and make on the regular. Hope you enjoy! If you like this chickpea dish you will love these:
I have partnered up with Bob's Red Mill to bring you this fabulous recipe, but all opinions are my own. Thank you for supporting Olive & Mango.
Recipe
Prep Time: 20 mins
Cook Time: 30 mins
Ingredients
For the soup
2 tablespoons olive oil

1 medium onion, peeled and finely chopped

1 carrot peeled and chopped

1 rib of celery chopped

2 cloves of garlic peeled and minced

½ teaspoon oregano

½ teaspoon rosemary

¼ teaspoon chili flakes

2 tablespoons yellow miso (optional)

1 540ml (19 oz) can of chickpeas drained and rinsed (or 1½ -2 cups cooked chickpeas - see recipe note below)

4 cups of stock veggie or chicken (low or no sodium recommended)

Zest of one lemon
For the dumplings
1 cup (100 g) Bob's Red Mill Grain Free Flatbread Mix *

½ teaspoon baking powder

½ teaspoon Paprika

Pinch of salt and pepper

¼ cup finely chopped combination of dill and parsley, plus more for serving

⅓ cup plain whole-milk Greek yogurt, plus more for serving

4 tablespoons of olive oil

2 teaspoons warm water
Directions
For the soup:
In soup pot sauté onions, carrots, celery and garlic in the olive oil on medium heat 5-7 min until the vegetables have softened. Add the miso paste if using, the pinch each of salt and pepper and the oregano and rosemary stirring miso and allowing it to cook a bit until it starts to stick to the bottom of the pot, about 1 min.
Stir in the stock, chickpeas, and lemon zest. Increase heat to high and bring to a boil then reduce heat to a gentle simmer, and cook soup  while you make the dumpling batter, for 15-20 min or until chickpeas and veggies are tender.
For the dumplings:
Whisk together the Flat bread mix or flour, baking powder, paprika, pinch of salt and pepper and fresh herbs.
Stir in the ⅓ cup yogurt, 4 Tbsp. oil, and 2 tsp. warm water, until no dry spots remain.
Form dough into 10 balls - (estimate half the dough and cut in half then cut each half into 5 portions - they don't have to be perfect), then either roll them or leave the portions of dough as is. Gently drop dumplings into soup, cover pot, and simmer gently, until dumplings puff up and float to the surface and are cooked through, 7–9 minutes.
Ladle into bowls and serve with a drizzle of olive oil, extra lemon wedges and a sprinkling of chopped fresh dill and or parsley
Recipe Notes
It making soup with dried chickpeas: Soak chickpeas in water. Cover and Refrigerate for 6 to 8 hours or overnight. Drain and rinse with cold water. Drain. Use as directed in recipe but instead of simmering the soup for 15-20 minutes simmer soup for about 40 to 45 minutes or until chickpeas are tender before adding the dumplings and you will need 1-½ extra cups of stock. Once the chickpeas are tender you can continue with the recipe above as is.
You can use any kind of flour you would like for these dumplings - they have been made with all purpose flour and chick pea flour and they are delicious if you don't have the flatbread mix.
Miso always adds a wonderful flavour base to soups, stews and so many other things. It is not a traditional add in to Greek cooking but I love it as a flavour booster.
Please check for seasoning and adjust accordingly to taste along the way.
If you like your soup thicker you can remove ¼. Cup of the chickpea soup mixture and purée it and then add it back to the soup to thicken it up - do this after the dumpling have cooked carefully spooning out some of the chickpeas and soup.
If you want your soup less thick feel free to thin it out a bit with more stock/broth
For a vegan version use vegetable broth and vegan or non dairy yoghurt.