Pumpkin Chocolate Chip Skillet Cookie
This is a very simple to make skillet cookie recipe that incorporates some signature fall flavours in it. Warming pumpkin pie spices, pumpkin purée and a healthy dose of chocolate chips or chunks. I love chocolate with pumpkin so much I have a few recipes on the blog to prove it like my pumpkin chocolate chip pancakes and my Pumpkin chocolate Espresso Bundt Cake. This skillet cookie is soft on the inside with crispy edges. It's great warm out of the oven with a scoop of vanilla icecream over it. You decide whether you plate it or enjoy it straight out of the skillet.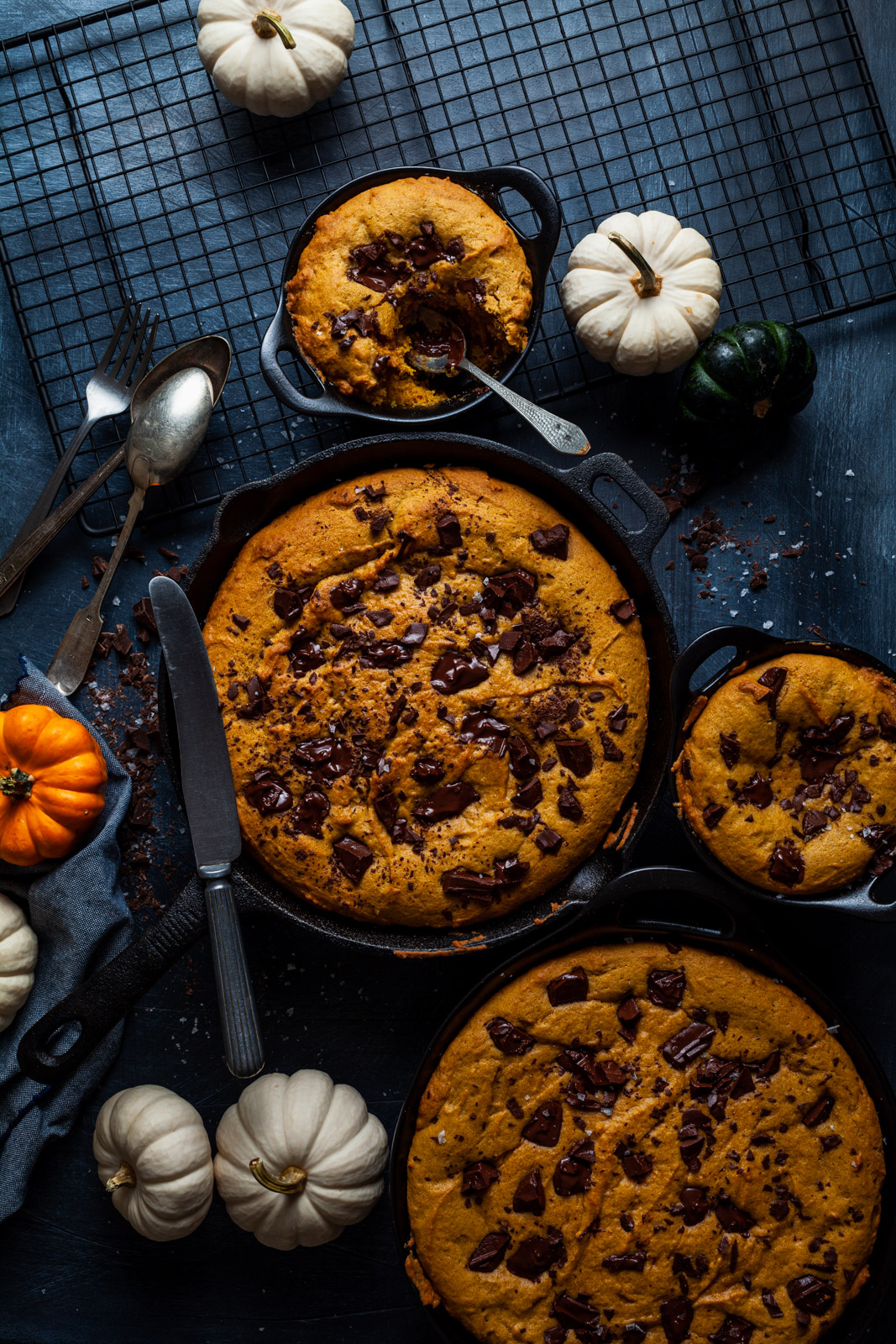 I made this recipe a while back and loved it and I actually photographed it last year and totally forgot it existed.  I think I may have shot it in January using the  last of my canned pumpkin purée that I usually have stocked for the fall season and pumpkin frenzy in the blogosphere.  It's a recipe I made several times from Popsugar.  I don't know how I came across it originally - I think I was sent the recipe by a friend who had made it and loved it. It's actually a riff on Taylor Swift's favorite pumpkin chocolate chip cookies. Although I'm not a big fan of hers (I know I just made many enemies) I do love this rif on her fav pumpkin cookies.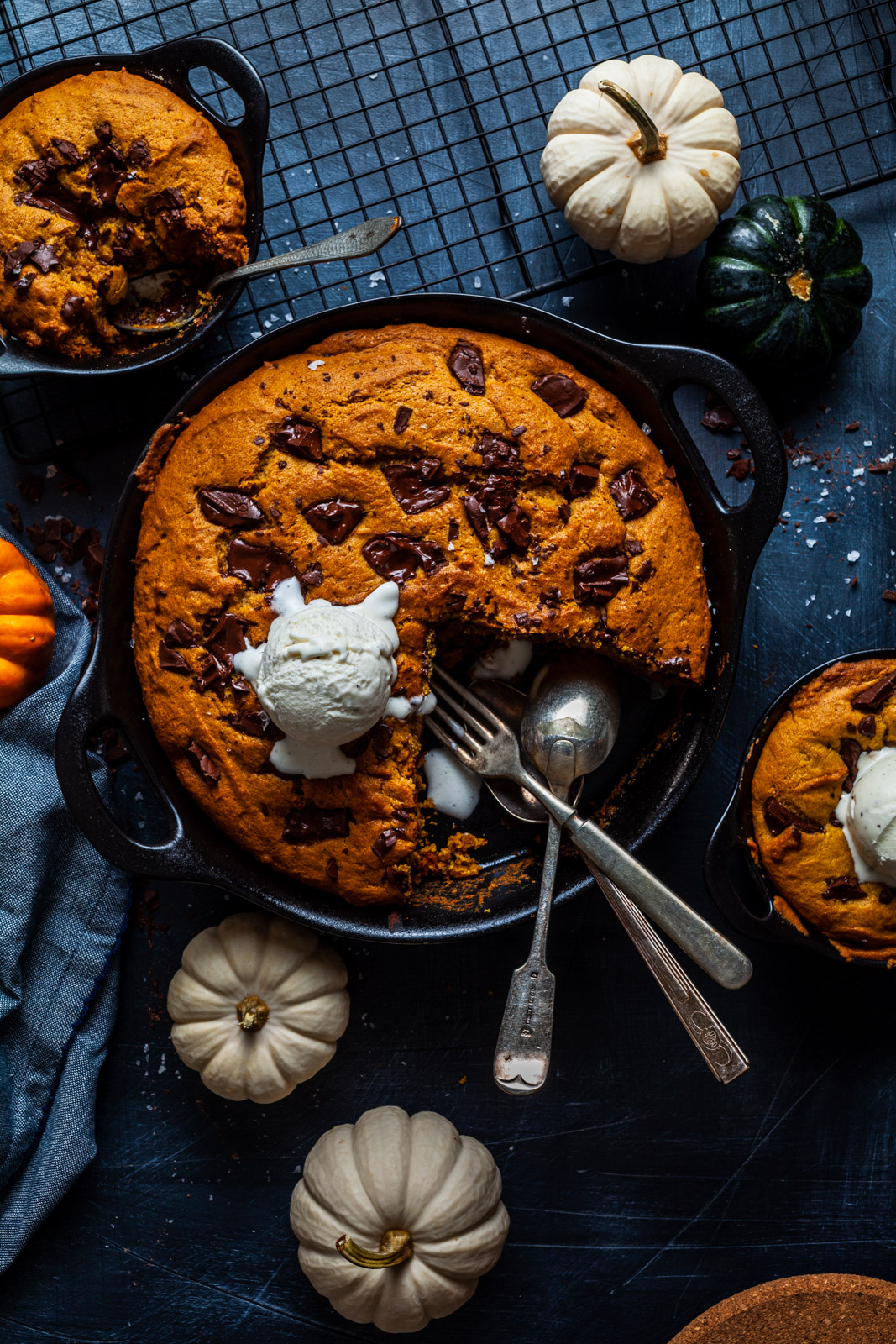 It's not like your typical dense skillet cookies - it's kind of like those fluffy cakie cookies out there that I love to have with a nice cup of tea or coffee.  I love the crunchy edges on it and that bit of fluffy chewiness to it. If you want it a little more gooey or dense and fudgey I would add extra chocolate chips for extra chocolatey puddles running through the batter and only bake it until it's just set - test it with a tooth pick or sharp knife to get it to how you like it. Be mindful that the skillet really holds on to heat longer than a cake pan so the cookie will continue to 'cook' even when it's out of the oven. I actually like refrigerating the leftovers as the middle gets a little fudgier like a brownie when it's chilled. I'm been totally guilty of having as slice of it for breakfast - that says a lot cause other than smoothies I don't eat much for breakfast.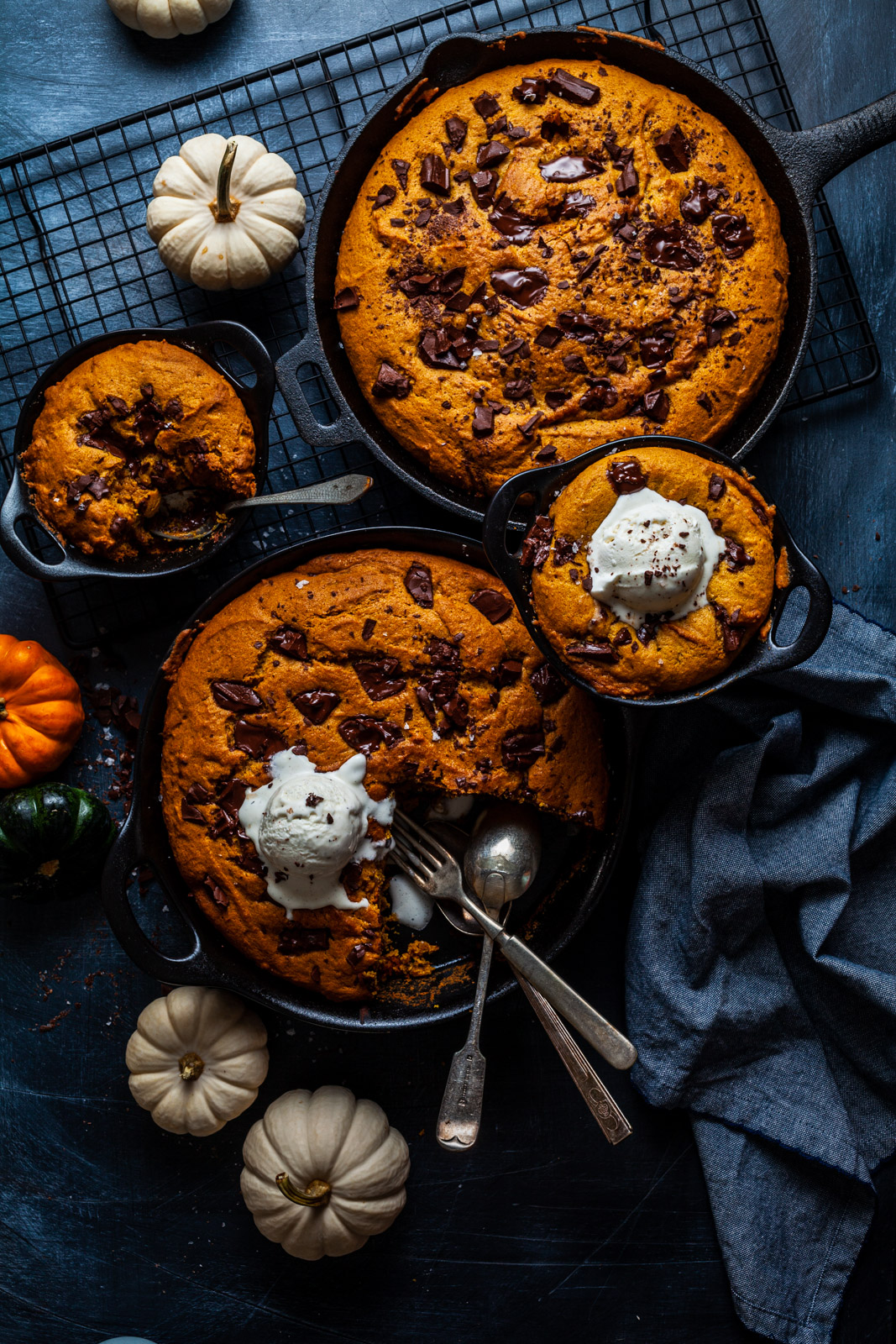 The recipe calls for making it in a 12 inch skillet. I usually use my largest skillet or sometimes as photographed I will use my 9 inch skillet and spread the rest of the batter between 2 to 3 other mini skillets. The mini skillets are fun because they make great personal size desserts. If you aren't a pumpkin spice lover this recipe might win you over. The pumpkin and spices aren't too overpowering or nearly as intense as in a pumpkin pie - just enough to add some warming flavours to this skillet cookie. There are plenty of chocolate chips or chunks in every bite and I can never resist a slice of this while it's still warm with a scoop of ice cream.  I hope you give it a try and see what all the fuss is about.
Recipe
Servings:
one 12 inch skillet cookie
Prep Time: 10 mins
Cook Time: 40-50 mins
Ingredients
3 cups all purpose flour

2 tsp baking soda

½ tsp salt

1 tsp of cinnamon

1 tsp pumpkin spice (alternatively ½ tsp ground ginger, ¼ tsp nutmeg, ¼ tsp ground cloves)

2 sticks of butter at room temperature (should be soft)

1 cup light brown sugar  

1 cup granulated sugar

2 eggs

1 tsp vanilla extract

1 cup pumpkin purée

1 cup of chocolate chips or chunks plus extra for sprinkling over top
Directions
Preheat oven to 350°F and grease or line a large 12 inch skillet with parchment paper
In a large bowl whisk together the flour, baking soda, salt, cinnamon and pumpkin spice and set aside
In another large bowl beat the butter for a minute until smooth. Add the sugars and continue to beat until light and fluffy.
Add eggs one at a time, continuing to beat until fully incorporated. Add the vanilla and pumpkin purée and continue beating until incorporated.
Slowly incorporate the dry ingredients into the wet in 3 parts and beat slowly just until incorporated.
Transfer to skillet and smooth. Sprinkle with chocolate chips and press into the batter. Bake for 40-50 minutes or until golden and centre is just set.
Allow to cool for 20 minutes and then serve with a scoop of vanilla ice cream