Pumpkin Chocolate Chip Pancakes
Updated Sept 26th 2022
These pumpkin pancakes are light and fluffy with crispy edges and loaded with chocolate chips. They are my favourite fall pancakes. My preferred pancakes are always buttermilk ones for that extra rise. These not only have that but also have those warming fall flavours we all love so much. The pumpkin and warm spices add a lovely fall flavor to these and that tone of orange we expect in anything pumpkin related. These are just such a treat to wake up to and your family will be happy you made them - just the most perfect breakfast with a hot cup of coffee (or for more pumpkin in your cup try my Homemade Pumpkin Spice Latte on a cool fall morning!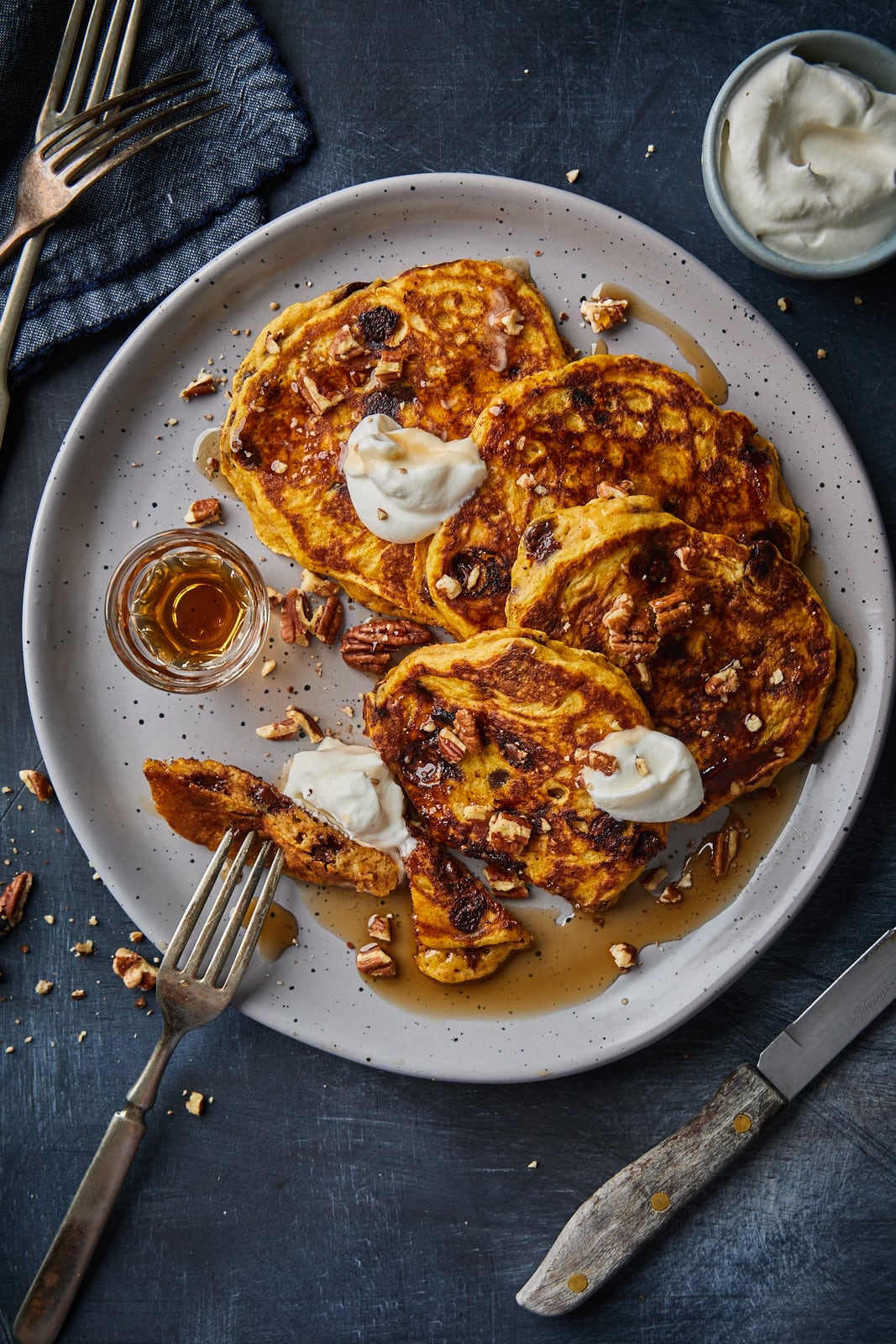 Pumpkin Pancake Recipe Ingredients
From scratch pancakes are so simple to make with basic pantry ingredients - no need for box mix here Here is what you will need to make these fluffy stack of pancakes (full ingredients list in recipe below):
FLOUR: all purpose flour is what I use to make these but feel free to use a good quality all purpose gluten-free flour for a gluten free version. I don't recommend substituting the all purpose flour fully with whole wheat flour because the texture will be different - feel free to substitute half and half. If you want to blend some of the all purpose flour with oat flour that is fine but not 1-1 ration just ¼ cup or half cup for the best texture.
SUGAR: I use granulated sugar but feel free to use brown sugar or coconut sugar here * I have not experimented with other sweeteners in these pancakes
SPICES: I love the the spice blend I use in these pancakes but a simple blend of pumpkin pie spice will work too. I would recommend 1 teaspoon of ground cinnamon + 1 teaspoon of prepared pumkin pie spice. When it comes to extra flavour you can also add 1/2* 1 teaspoon of vanilla extract in the batter too if you like
EGGS: this version uses 2 large eggs. Eggs give the batter better texture and flavour. Room temperature ensures that they blend into the batter better
BUTTERMILK: buttermilk not only adds a nice tang to pancakes but it also kickstarts the leavening agents in the batter to create extra height or extra fluffiness in your pancakes. Feel free to substitute with almond milk or non-dairy milk or oat milk or any milk you prefer. The crumb and texture may be affected slightly though
PUMPKIN PUREE: this is essential for making these pumpkin pancakes. This is not to be confused with prepared pumpkin pie filling. You can used canned or there is a simple recipe below on how to make your own homemade pumpkin purée. Pumpkin purée along with the pumpkin pie spices give these pancakes their signature pumpkin taste and flavour. Homemade pumpkin puree tends to have more moisture so I always recommend blotting it a bit before adding it to baked goods. this is not necessary for canned pumpkin puree.
BUTTER: I use unsalted butter. it melted in this recipe and can be substituted with vegetable oil or coconut oil in a pinch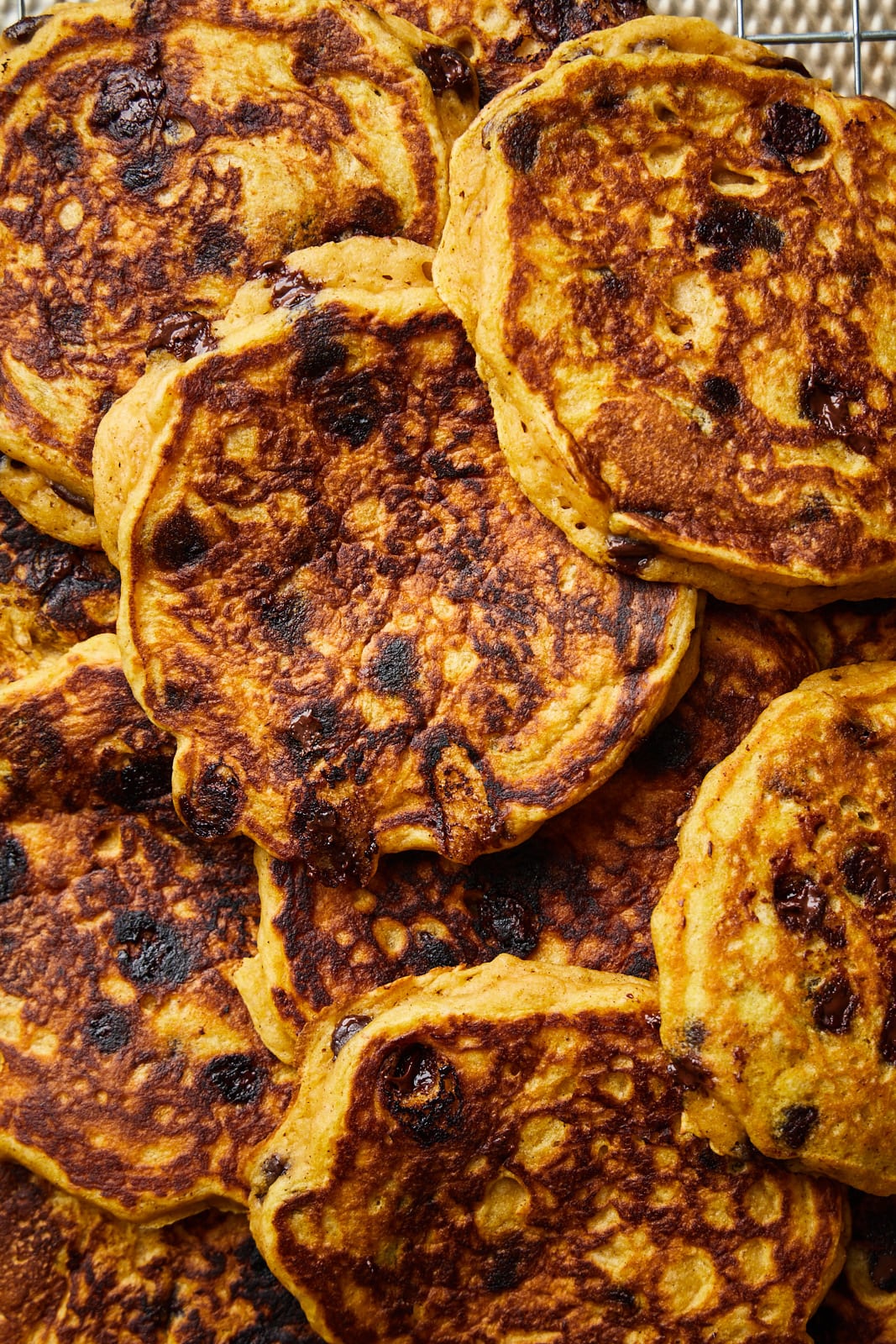 How to make fluffy pumpkin pancakes
These pumpkin chocolate chip pancakes are so easy to whip not unlike any other delicious buttermilk pancake recipe. (PS - if you don't don't have buttermilk - make your own in a pinch stir together 1 cup of milk, with 1 tablespoon lemon juice or vinegar and allow to sit a few minutes until it curdles and voila - buttermilk). The key to getting light and fluffy pancakes is to not over whisk the batter. Then you are ready to make your pancakes. Heat up a skillet, pour out the batter, cook each side for a couple of minutes and keep stacking them. Feel free to add the chocolate chips into the batter or sprinkle some of them onto the pancakes before you flip them while they are in the pan. Some people prefer making them this way to prevent the chips from melting or burning in the pan. I don't mind them melting but I also wipe the pan before pouring a new batch of batter into the pan. Feel free to add a bit more butter or cooking spray into pan between batches too if needed. Here are the simple steps (full instructions in recipe below):
Whisk together dry ingredients
Whisk together wet ingredients
Combine the wet ingredients or pumpkin mixture into the dry ingredients or flour mixture and fold until mostly combined - some lumps are fine
Fold in chocolate chips if using
Scoop ¼ to ⅓ cup of batter into a preheated buttered skillet or non stick pan or griddle and cook 2-3 min each side or until golden on both sides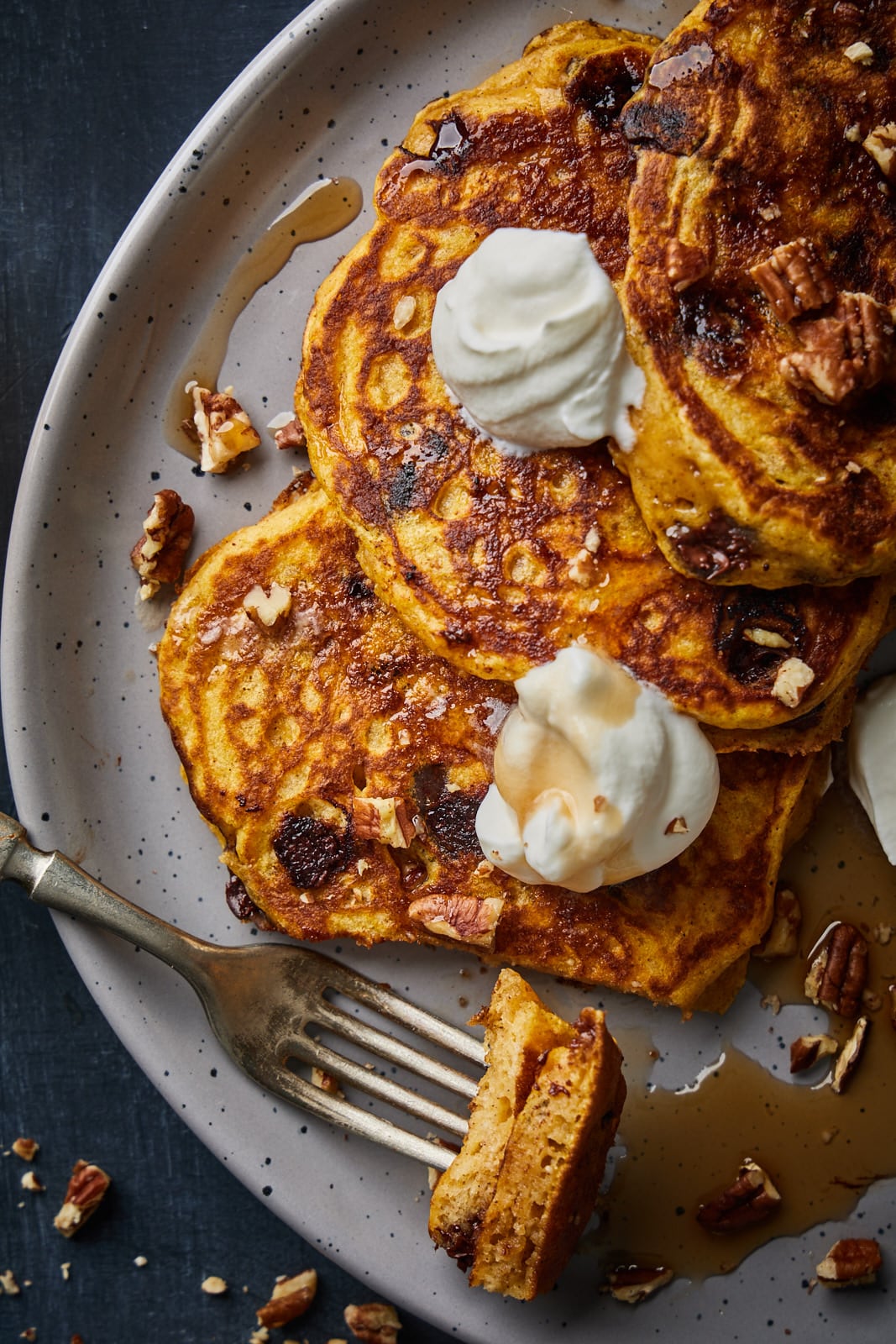 I have made these pancakes with or without the chocolate chips and they are delicious either way. We love them with the chocolate chips though. Those melty bits of chocolate are such a treat to bite into. Makes for a very special and sweet breakfast. Feel free to make them with or without. I even like these pumpkin pancakes with blueberries if you can believe it. It just works trust me. They are perfect warm and with a dollop of whip cream, drizzles of maple syrup and we love ours with some toasted pecans or toasted walnuts. No need to go out for a tasty pancake breakfast when it's this easy to make a breakfast like that at home.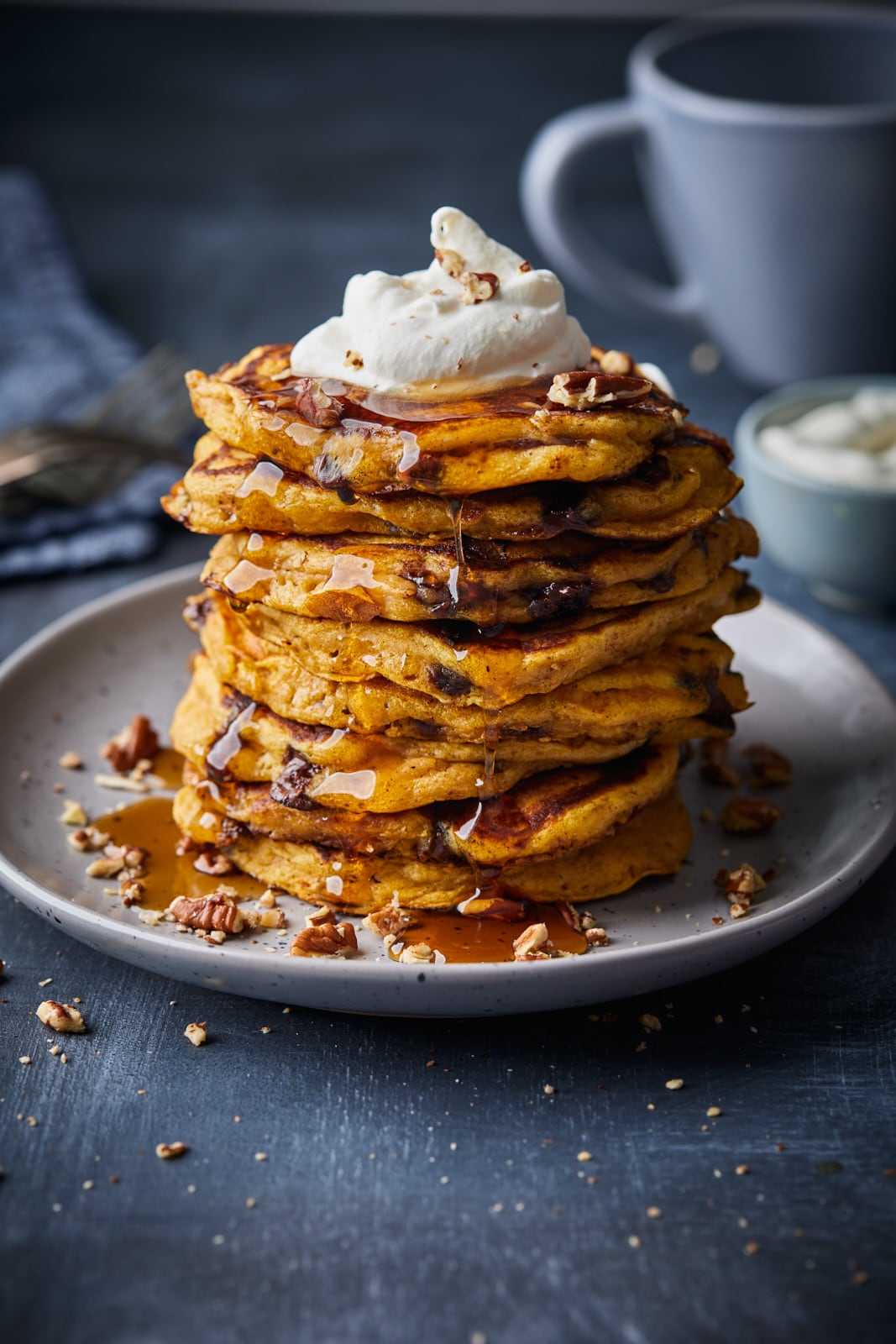 These pumpkin pancakes are the perfect thing to make if you have any leftover pumpkin purée from a previous recipe. They are definitely a good excuse to open a new can of purée too. Speaking of which you can make these with canned or with homemade pumpkin purée. I have included a simple recipe for homemade pumpkin purée below. It make a good amount so when I make it I usually freeze it. I measure out either ½ or 1 cup measurements and freeze them in 1 cup batches.
How to freeze pancakes and reheat them
What I love about pancakes is that your can easily freeze them once you make a batch and you can enjoy them for breakfast later in the week. The pancakes can be frozen for up to 3 months. If you have leftover pancakes or just want to make breakfast in advance simply make your pancakes and let them cool, then store them in freezer-safe resealable bag. Take them out and defrost them - pop them in the toaster or place them in a single layer on a baking sheet and cover with foil. Bake in a 375°F oven for about 8 to 10 minutes, or until hot. These are perfect year round but especially in the fall when we all seem to be craving pumpkin spiced flavors and cozy breakfasts. These tick off both those boxes and I know you will be hooked after you make your first stack. Enjoy!
For more pumpkin recipes make sure to check these out:
Recipe
Servings:
10-12 medium sized pancakes
Prep Time: 10 mins
Cook Time: 15-20 mins
Setting Time: 2-4 hours
Ingredients
2 cups all-purpose flour

¼ cup sugar

2¼ teaspoons baking powder

½ teaspoon baking soda

½ teaspoon salt

1 tsp cinnamon

½ tsp ground ginger

¼ tsp nutmeg

2 eggs

1½ cups buttermilk

¾ cup pumpkin purée canned or homemade (my homemade recipe is below)

¼ cup melted unsalted butter, plus some for pan

1 cup chocolate chips (optional) *

Serving suggestions: whipped cream and maple syrup and some chopped nuts
Directions
In a large bowl whisk together the flour, sugar, baking powder, baking soda, and salt and the spices
In a separate bowl whisk the eggs with the buttermilk, melted butter and the pumpkin purée.
Combine the dry and the wet ingredients into a lumpy batter. If the batter seems too thick, add 1 to 2 more tablespoons of milk if needed. Do not over-mix.
Fold in the chocolate chips if using.
Heat a griddle or nonstick pan over medium heat and coat lightly with vegetable oil or butter. Spoon ⅓ cup of batter into the skillet and cook until the puffy and bubbling on top and golden and crisp on the bottom, about 2 minutes. Flip and cook until the bottom is golden, or about 1-2 min.
Serve immediately with a dollop of whipped cream and maple syrup and a sprinkling of chopped nuts, or place on the prepared baking sheet to keep warm in the oven until all of the pancakes are ready at 200°F
Recipe Notes
Some people prefer adding the chocolate chips as they cook the pancakes to prevent them from melting in the pan. If you decide to make them this way simply make the batter without them in it, add the batter to the pan as instructed in recipe then sprinkle on some pancakes over the batter. They will sink into the batter and when you flip the pancakes over the chips won't melt away into the pan as much.
I like to whip the pan clean with a paper towel between pancakes or between every second one but that isn't necessary - especially if you are using a large griddle.
If you would like to use pumpkin pie spice blend instead of the individual spice you can - I like to use a combination of 1 teaspoon cinnamon + 1 teaspoon of pumpkin pie spice
Homemade Pumpkin Purée
Servings:
2 to 2½ pounds puree
Prep Time: 20 mins
Cook Time: 37 mins
Ingredients
1 whole pumpkin 4-6 lbs or cut pumpkin pieces
Pinch of salt (optional)
Directions
Preheat oven to 400°F
Line one or two baking sheets with parchment paper
Slice pumpkin open and scoop out the seeds and fibers (reserve seeds for roasting or something else at another time) and cut up into 1-½ inch square pieces removing the skin
Arrange the pieces on baking sheet or sheets and sprinkle with salt and then roast them for 20-40 minutes until fork or knife can easily be inserted
Let sheetpan cool on cooling rack until you pumpkin can be handled and then transfer it all to a food processor and process until the flesh is smooth. Store in the fridge for up to one week and freeze for up to 3 months.
You can also cut the whole pumpkin in half and roast pieces whole but this takes longer to roast and more work to scrape off the flesh from the skin after. I do both and result is the same it just depends on how much time I have on hand.