Quick and Easy Miso Noodle Soup With Salmon
This is a quick and easy miso soup that is bursting with umami miso flavour. It's very simple to make and is done in less than 30 minutes. It's becomes a full meal by adding cooked noodles to the broth. Miso soup usually has tofu in it for protein but I added flaked salmon to mine giving it even more flavour. That and a jammy egg and this meal packs just the right amount of protein. Top it with whatever fixings you like and enjoy.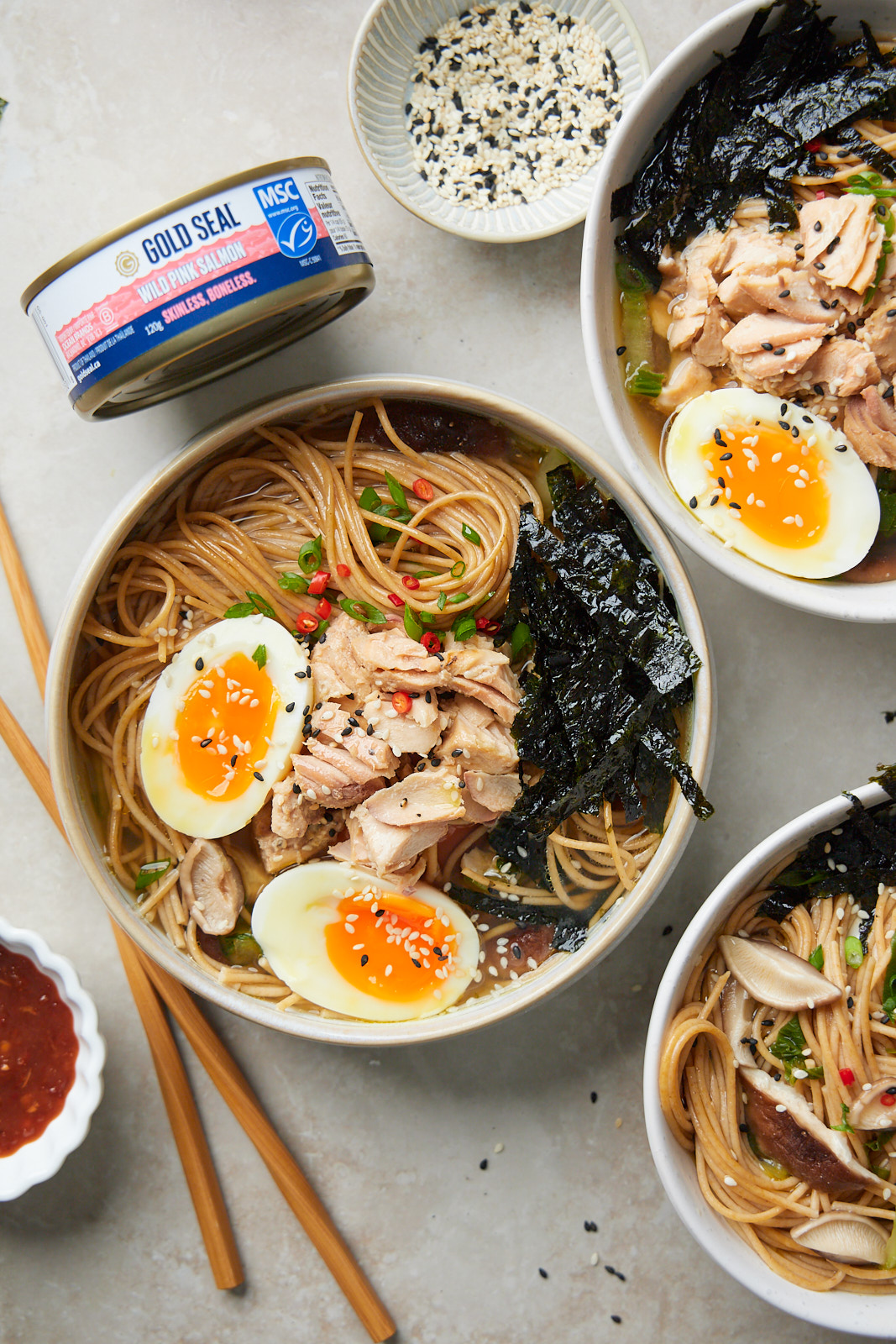 I love sushi and one of my favourite things to have with it is miso soup - a simple soup loaded with so much flavour. I also love to get ramen soup wherever and whenever I can, so I thought it was time to make some at home. What's not to love about either of those soups? They are both warm and comforting and savoury, combing the things I love about both is what I did here.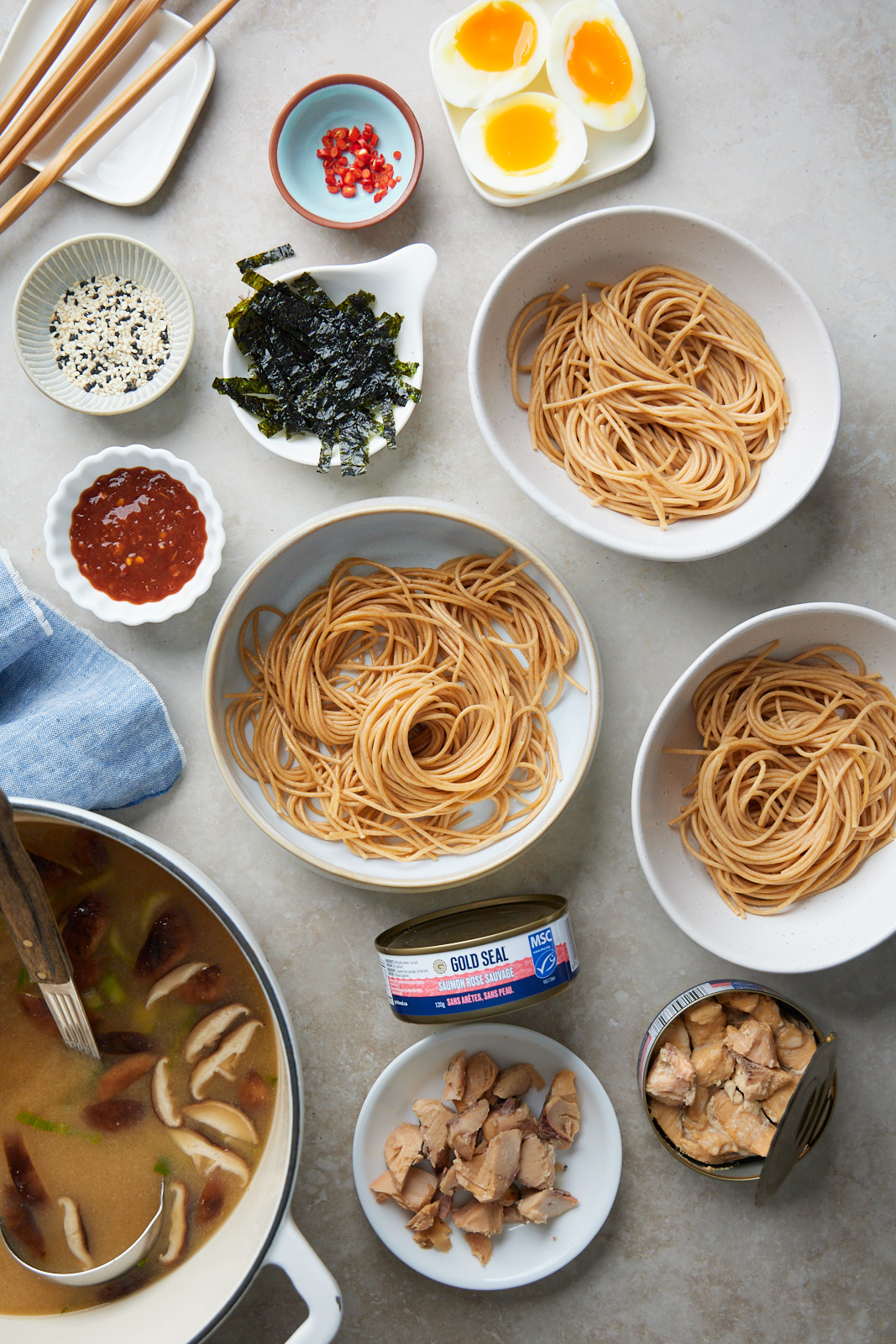 Miso is a fermented mixtures of salt, grains, and soybeans and traditionally used as a way to preserve food during warmer months. It's not as difficult to find now in many groceries. It can be used in Asian cooking but not limited to just that. It can be added to salad dressings, marinades, risotto, pasta… I recently made a fantastic creamed kale dish with it that included Parmesan cheese in it as well. It's like adding anchovies to certain dishes to enhance flavours - you often don't even taste them you just know they add a complex and delicious flavour to just about everything.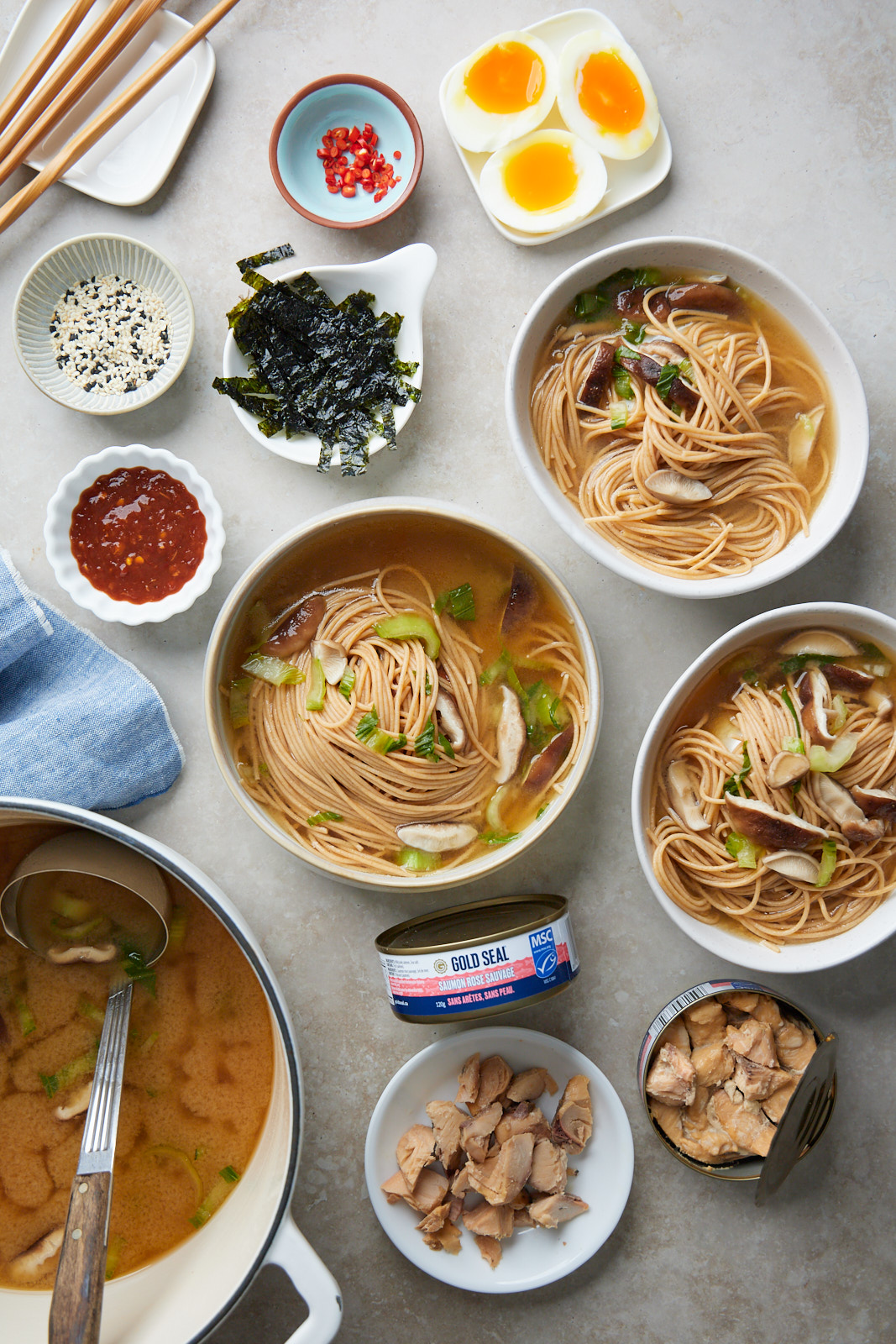 Miso soup is made up of varying ingredient depending on who is making it and where. It typically consists of broth or stock, miso paste, veggies like mushrooms and onions and garlic and many times with tofu or fish. I decided to include fish in my recipe as I feel that it compliments the flavours of the miso soup really well and I wanted the added protein. I made this recipe in partnership with Gold Seal and used their New Skinless Boneless Pink Salmon. The salmon is a great addition and being skinless and boneless means less work and the perfect addition to this unami filled soup. It's so easy to use right out of the can. I flaked it over my noodle bowls and it was the perfect portion of fish in each bowl. Makes for a quick and easy dinner. Many times recipes call for grilling or sautéing salmon prior too and although that is a great alternative - for a super simple quick and delicious version, I use this canned salmon.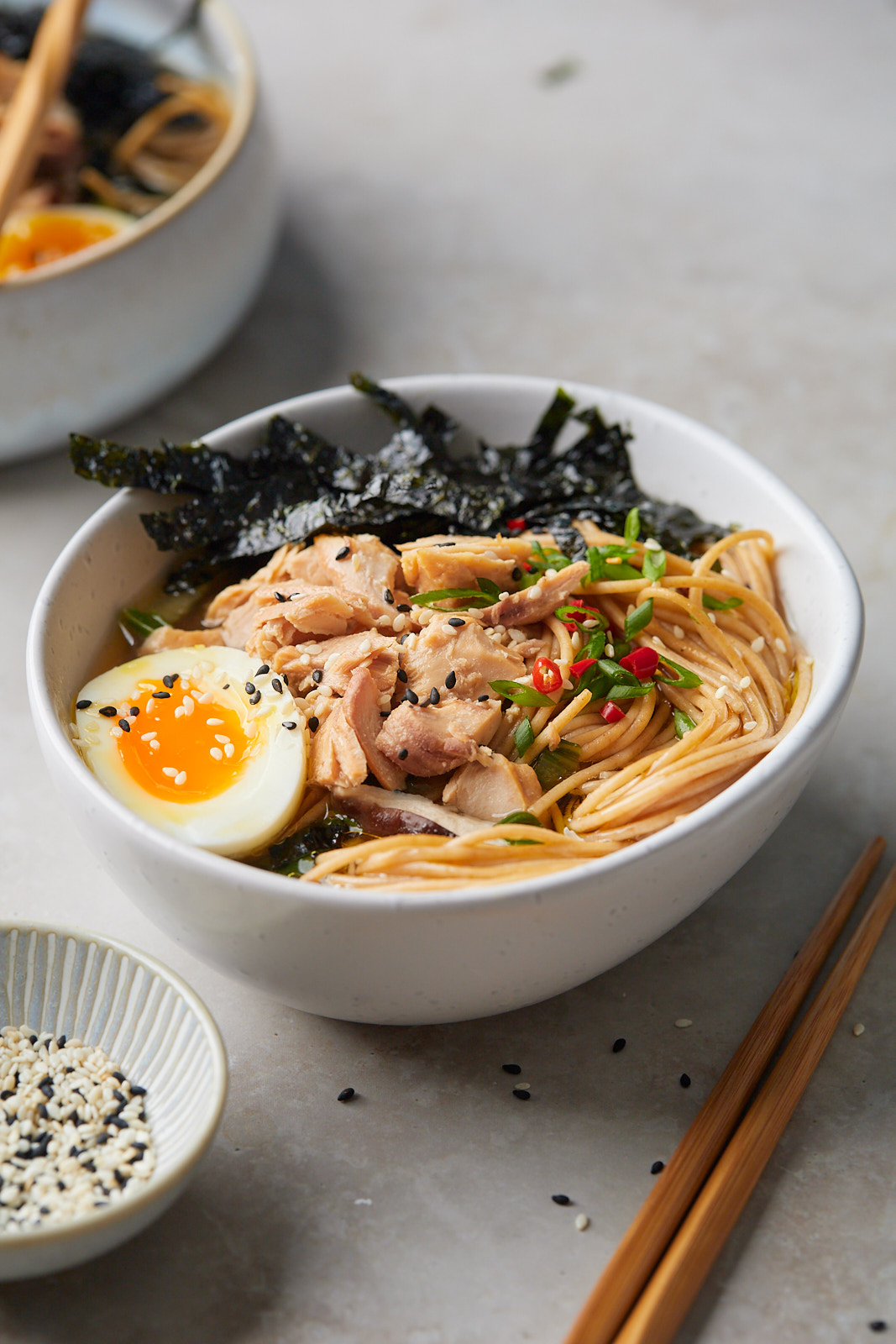 I added noodles to mine too for extra texture plus it also makes this soup much more satiating. I love using soba noodles or brown rice noodles like these but feel free to use whatever noodles you would like. I tend to cook my noodles separately to al dente then drain and cool and add them to the individual bowls right before I serve the soup. I find the noodles can get soggy in cooked in the broth and sit in the broth for too long. You can even use ramen noodles or any noodles you would like. I added in the mushrooms and the baby bok choy but you can switch your veggie combo up according to your taste. You can also garnish it with any thing you normally love in your ramen soup too. As a result, you get a rich and intensely savoury bowl of miso ramen soup with salmon that will greatly satisfy your cravings. Hope you enjoy!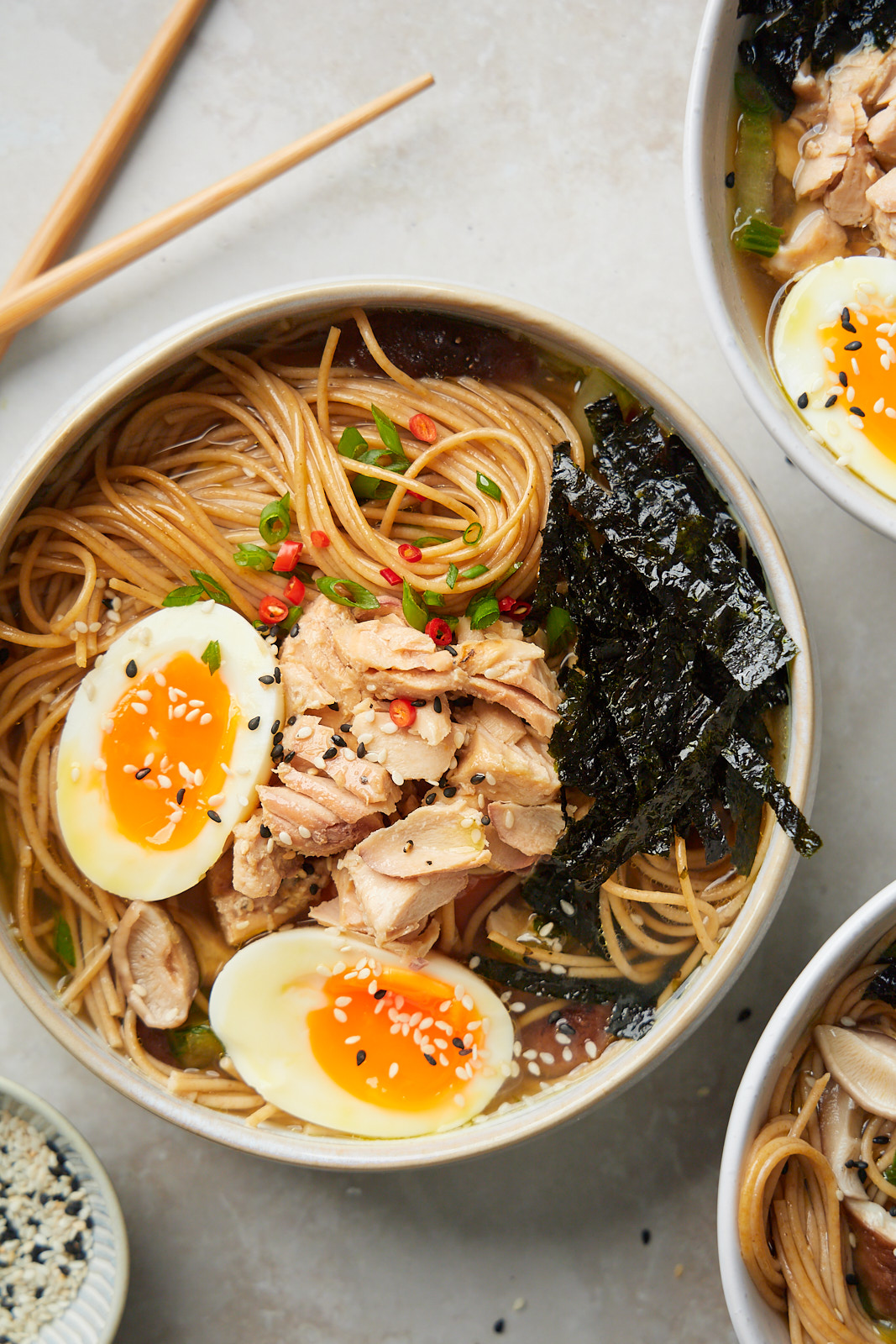 I have partnered up with Gold Seal to bring you this fabulous recipe, but all opinions are my own. Thank you for supporting Olive & Mango.
Recipe
Prep Time: 10 mins
Cook Time: 20 mins
Ingredients
For the Soup
1 tbsp soy sauce

6 cups water or broth

1 inch ginger cut into coins and smashed

2 scallions, green tops thinly sliced and white bottoms halved

½ cup yellow miso

8 shiitake mushrooms, stems removed and caps sliced

2 heads baby bok choy, cut into ½-inch pieces

220 grams noodles cooked according to package, drained and set aside

2 cans of Gold Seal's New Skinless Boneless Pink Salmon (120g each) drained and divided into 4 portions
Suggested Toppings for Serving
10 sheets roasted seaweed snack, sliced

Toasted sesame seeds, for garnish

Sambal or other hot chili sauce or sliced chili's for serving, optional

Boiled jammy eggs, peeled and sliced in half
Directions
Add 6 cups water or broth to soup pot along with 1 tablespoon soy sauce, ginger and scallion white parts. Bring to a boil then reduce to a simmer for 10 minutes.
Remove ginger and scallions with a slotted spoon and discard. Whisk in the miso. Add the mushrooms and bok choy, and cook until veggies are tender, about 2 minutes.
Divide pasta among four bowls. Ladle the vegetables and miso broth over it.
Top each with flaked salmon, sliced scallion greens, seaweed, eggs, and a generous sprinkling of sesame seeds. Serve with sambal on the side if using.