Red Velvet Cheesecake Brownies
These red velvet brownies are rich, decadent, and perfectly fudgy, topped with tangy cream cheese swirls!! PERFECT for all you chocolate lovers out there and also perfect anytime you're craving red velvet! It's an easy bowl and whisk kind of recipe that you won't be able to get enough of.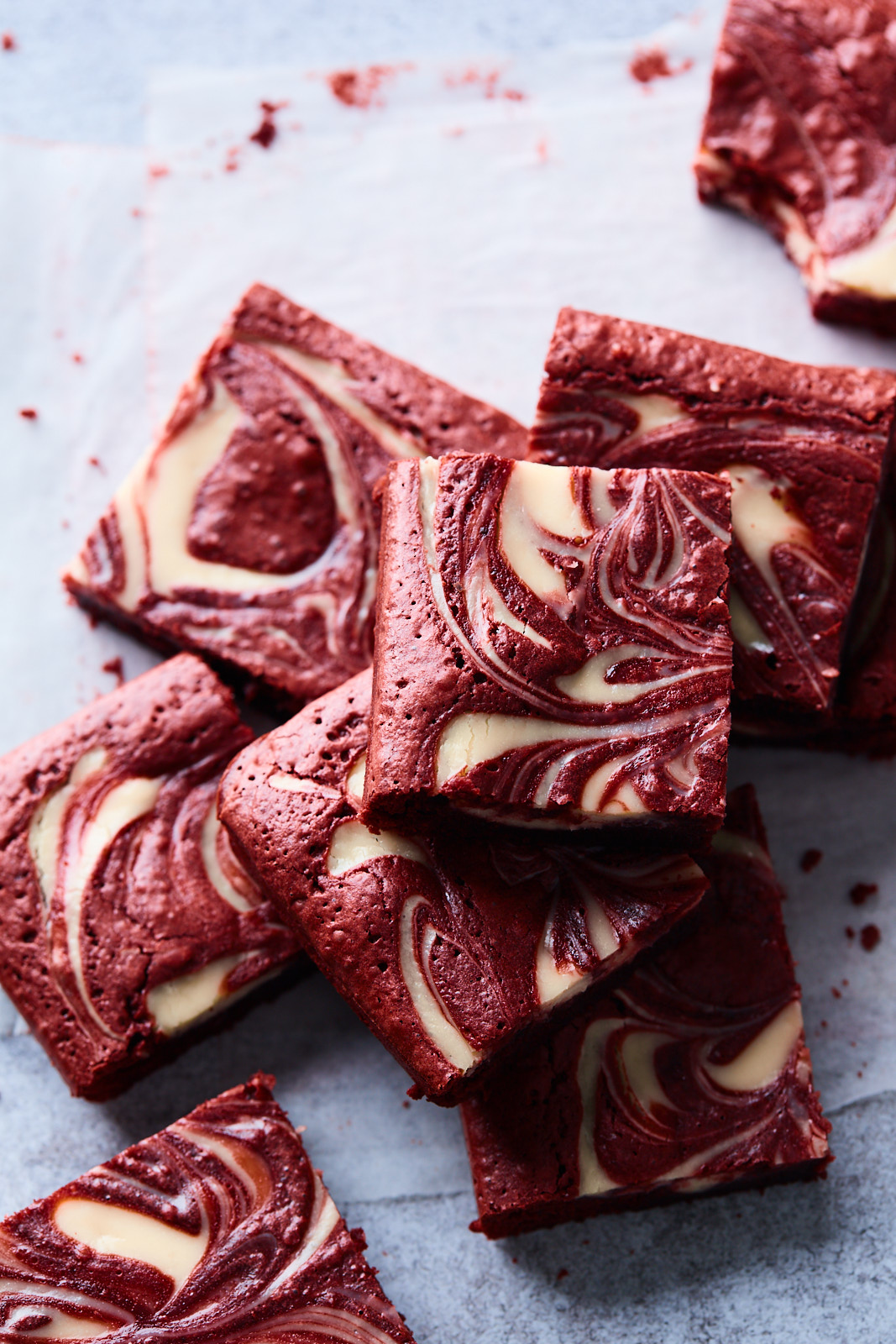 I don't know what it is about red velvet but I'm always drawn to it. I know what you are thinking - yes Joanne it's obviously the colour. Yes I know the colour is always eye catching and distinct but it's more than that. If there is red velvet cake or cupcakes on a dessert table I will always go for those over anything else. The ones I have had in the past literally colour how I feel about them. The red velvet baked goods I have enjoyed are always so moist and decadent and always have the most delicious cream cheese frosting over them or in between their layers. No wonder I can never resist red velvet treats. I will eventually get some red velvet cupcakes and cake on here at some point but I took the easy route to start - red velvet brownies with tasty cream cheese swirls.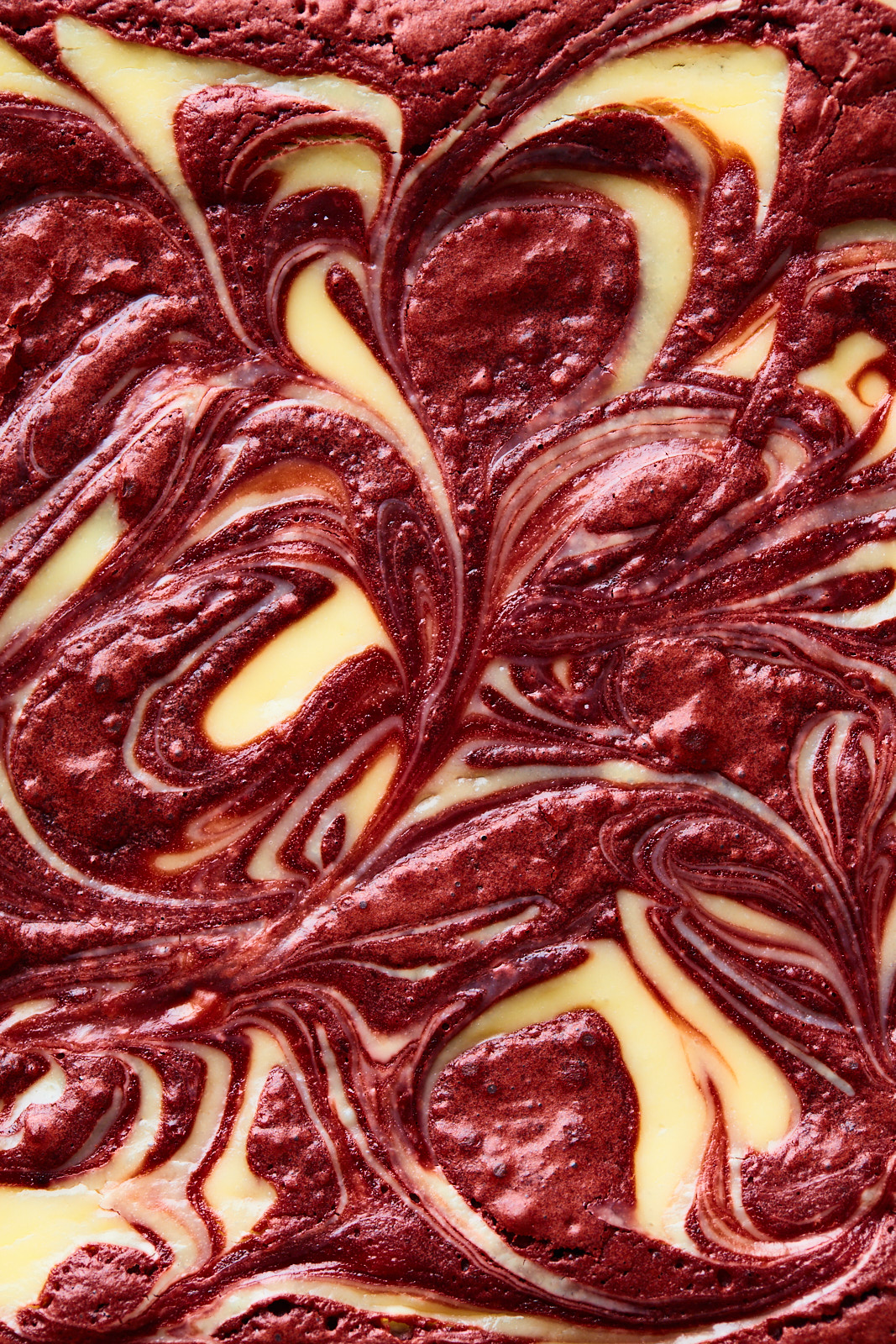 These ones are made with both melted chocolate and cocoa powder so they are very chocolatey. I also used a natural red food colouring which I recommend if you can get your hands on some. If not feel free to use any regular food grade red food colouring you can get your hands on. Natural food colouring tends to be a bit more subdued - so the reds or pinks show up less electric than most. That being said you can adjust how little or how much food colouring you want to add - you can check and add more as you add and mix it into your batter. Without the food colouring these are your standard chocolate cheesecake swirl brownies - just as delicious but with a little less sass.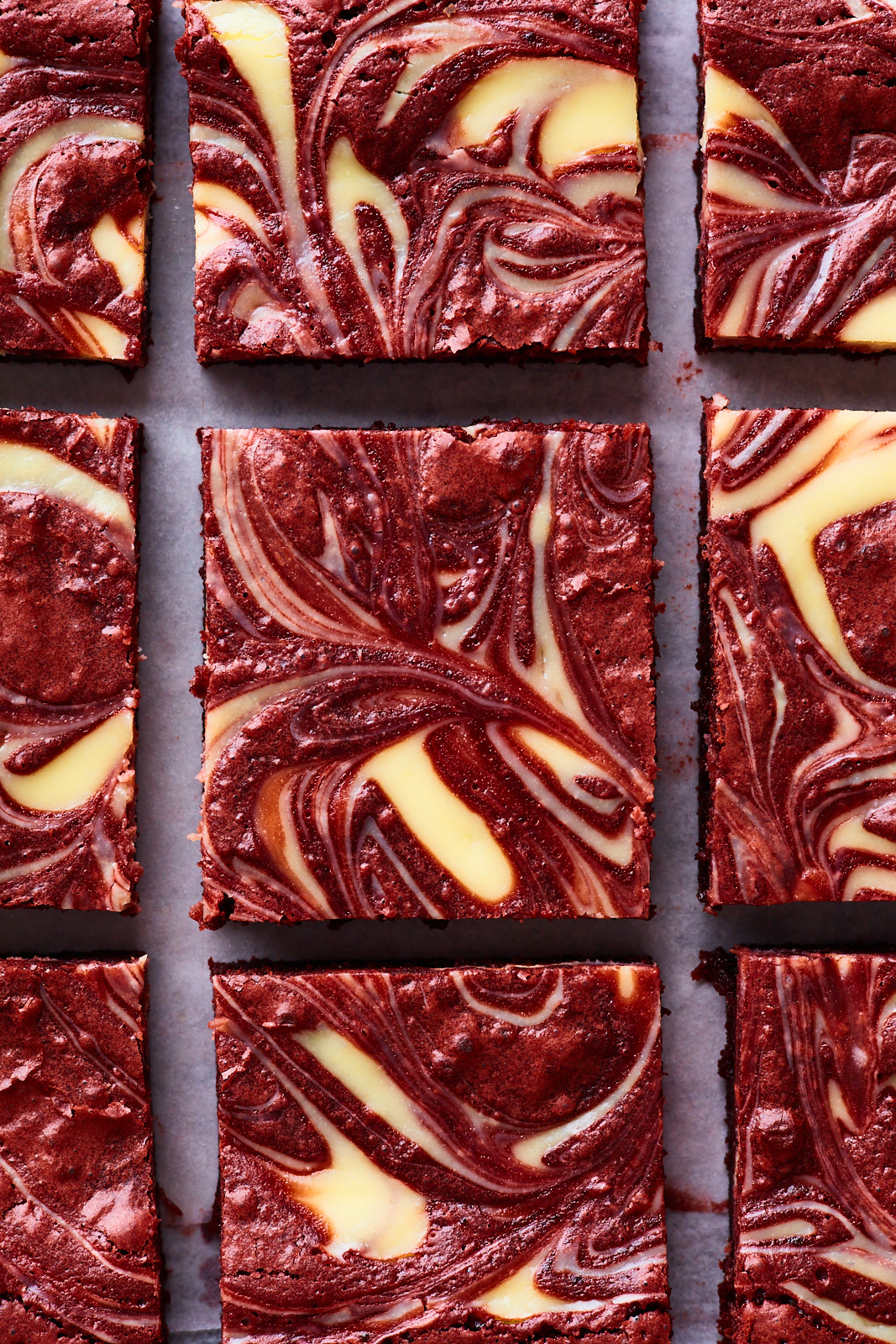 How to make red red velvet cheesecake brownies
This is a quick and easy bowl (or I should say two bowl) and whisk brownie recipe. First the butter and chocolate is melted in a sauce pan. Once melted you remove the pan from the heat and whisk in the sugar along with the eggs and the rest of the brownie batter ingredients - all done in the same pan. Reserve a portion of the batter and then pour the rest of it in prepared baking pan. Next comes your second bowl - mix together the cream cheese with the rest of the cream cheese ingredients until smooth. Drop tablespoon-sized amounts of the cream cheese mixture over the brownies. Spoon the remaining brownie batter over the cream cheese and then gently using a knife to swirl the batters together to create a marbled effect. Then bake off your brownies.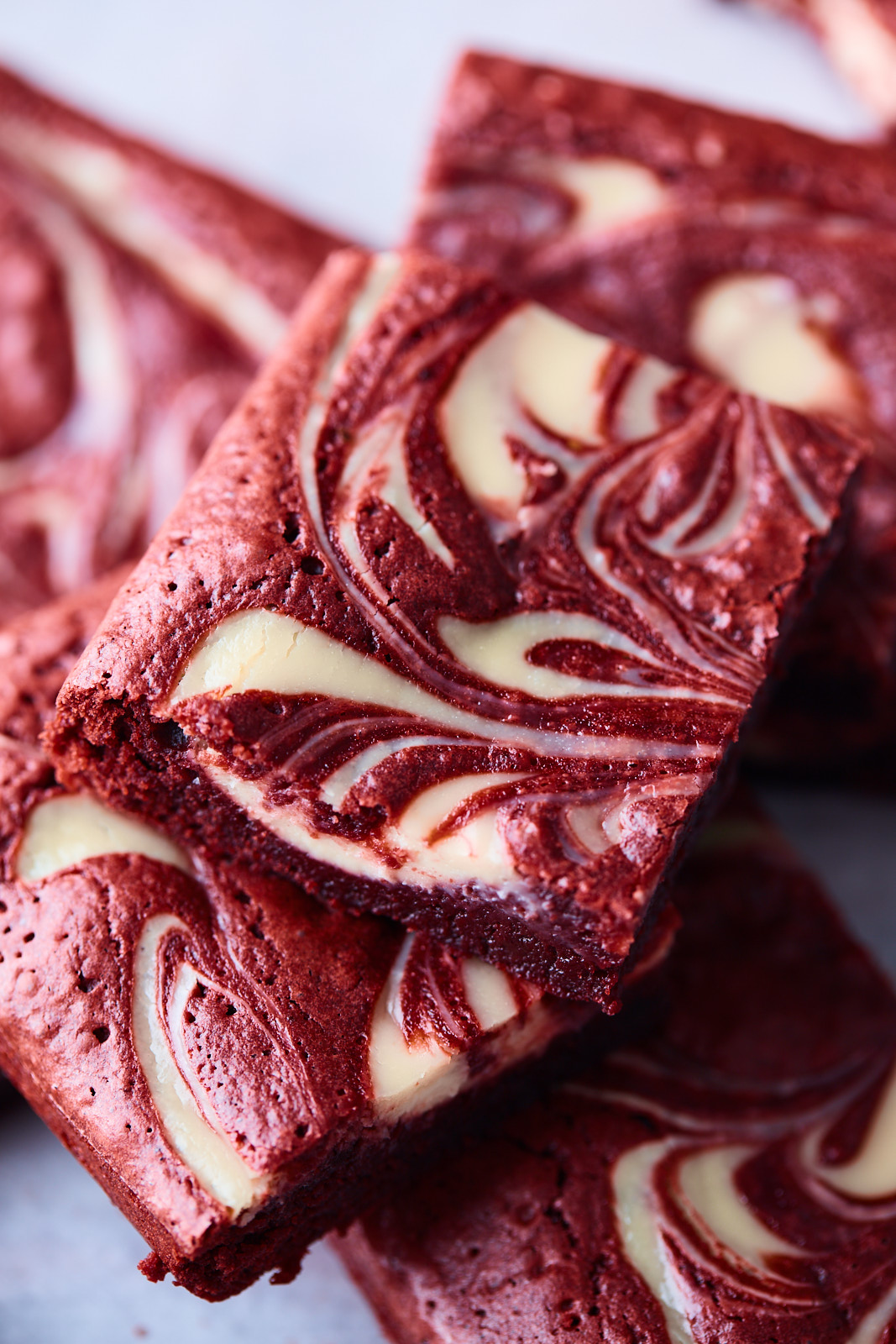 Tips on making the perfect cheesecake swipe brownies
Just like any other brownie recipe you don't want to over bake them. Over baking tends to dry them out. Essentially you want your brownies to be puffed up a bit out of the oven, mostly set and edges golden, with a bit of a wobble in the middle - that will ensure these are nice and fudgy.
Brownies are great make ahead desserts and get better and fudgier after having some time in the fridge. Allow your brownies to cool In pan or rack to room temperature then refrigerate for 1-2 hours, then slice and serve. If leaving in the fridge over night - wrap with foil and slice when ready to serve.
When any recipe calls for swirls of something in the batter remember to gently and slowly make your swirls. Avoid mixing the two batters too much so that your swirls stay distinct. I like to use a knife to do the swirling but you can also use a skewer or a chop stick.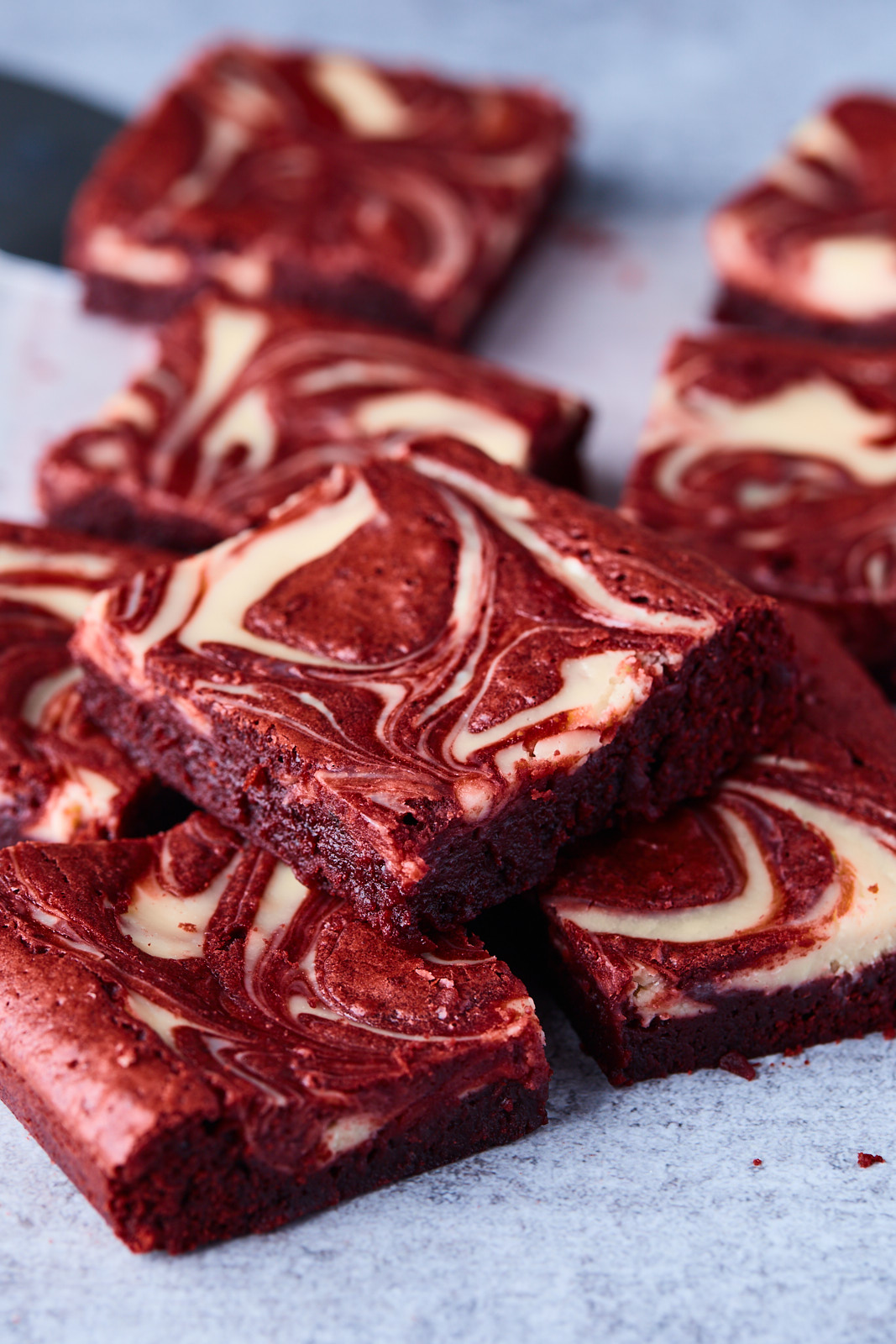 These are the perfect decadent treat that everyone will enjoy! Easier to whip up than a red velvet cake or a batch of cupcakes and way quicker than a cheesecake. Irresistibly fudgy. Enjoy!
Recipe
Servings:
One 8x8 inch tin / 9-12 portions
Prep Time: 20 mins
Cook Time: 25-30 mins
Ingredients
For the brownie batter
½ cup (1 stick) unsalted butter

3 oz of bittersweet or semi sweet chocolate chopped (or you can use morsels/chips)

¾ cup granulated sugar

2 eggs

1 teaspoons pure vanilla extract

1 tablespoon unsweetened cocoa powder

¼ teaspoon salt

1½ teaspoons gel red food colouring or 1 tablespoon liquid (a natural one is best if possible)

¾ teaspoon white vinegar

½ cup all-purpose flour
For the Cheesecake Swirl
8 oz cream cheese, room temperature and softened

¼ cup granulated sugar

1 egg yolk

½ teaspoon pure vanilla extract
Directions
Preheat oven to 350°F. Line an 8×8-inch baking pan with parchment paper.
Make the brownie batter: In a medium size sauce pan over low heat melt the butter and the chocolate stirring often. Whisk in the sugar until combined. Then whisk in the eggs one at a time. Followed by the cocoa powder and salt, then the vanilla extract, and vinegar, and the food colouring until well combined.
Add flour and fold it in using a rubber spatula, just until combined. Set aside ⅓ cup of the batter and pour the rest into the prepared pan. Smooth the top.
Make the cheesecake batter: Mix or whisk the softened cream cheese with the sugar until smooth. Scrape the sides and bottom of the bowl as needed. Then whisk in the egg and vanilla extract until combined. Dollop spoonfuls of the cheesecake mixture over the brownie batter.
Take the reserved ⅓ cup of brownie batter and spoon dollops over the cream cheese batter. With a knife or a skewer, gently swirl the two batters together, to get a marble effect.
Bake for 25-30 minutes until the cheesecake filling is set, slightly puffed and a toothpick inserted into the center of the brownies comes out with moist crumbs.
Let the brownies cool completely and then refrigerate for 1-2 hours until they are firm enough to cut. Once firm, lift them out of the pan using the parchment paper and slice into squares.
Store leftover brownies in the fridge in an airtight container for up to 5 days
Recipe Notes
To Freeze: Brownies will freeze well, up to 2 months. Thaw overnight in the refrigerator.
To Make a Double Batch: Simply double all the ingredients and bake in a 9×13 pan for around 45 minutes – give or take. Same oven temperature.
Adapted from The Food Network