Rum And Bitters Peach Pie
Updated 31 July 2023
This irresistible peach pie is not your average peach pie. Yes its got juicy fabulous fresh peaches in a buttery flaky crust - but the peaches are flavoured with rum and bitters along with vanilla cinnamon and a touch of ginger - a blend of flavours making this peach pie just the best! Savour every bite served with some whipped cream or a scoop of vanilla ice cream.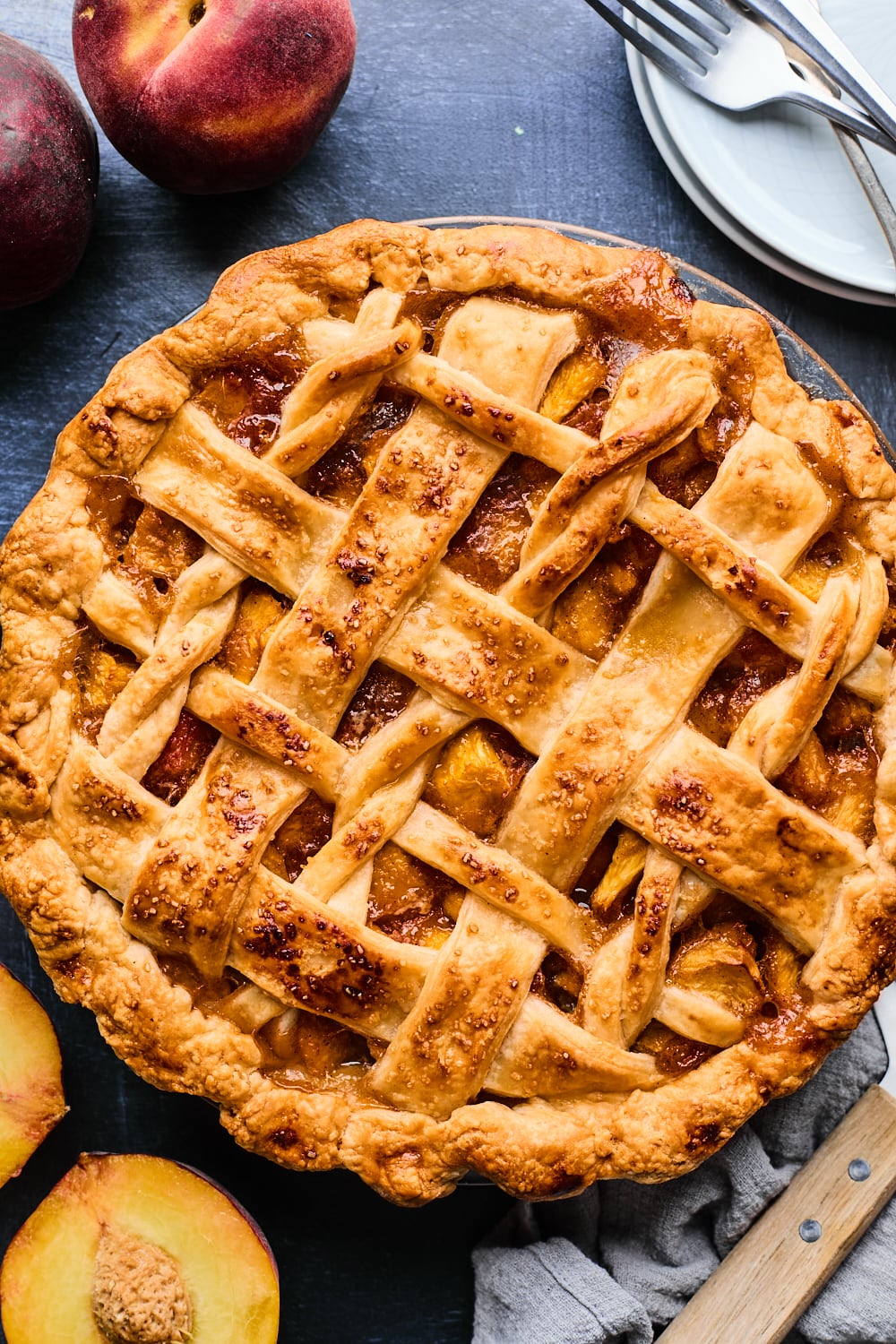 When I make a new pie or experiment with a new filling I love to do my research. I have no time for fails in the kitchen so I do my due diligence and try to plan all the flavours before I make it. Some great resources I used for this pie are the Serious eats website, Martha Stewart and a Few tips from Sally's Baking blog along with the Kitchn and several other very informative websites in general that help me out with the fillings when it comes to the ratio of ingredients to ensure a nice pie filling. Not too runny and not too thick. This time I came across Zoe from Zoebakes making her peach pie on her Instagram stories. Her filling recipe was simple and straight forward. Not quite a dump your peaches in and done but simple enough for me to make, so that should tell you enough. She recommends peeling them and the easiest way to do so which I have actually done with tomatoes many times before. A very simple step but a good one especially to make sure no skins are floating around in your pie. Then the peaches hang out with some sugar and release their wonderful juices and then you make a quick thickened sauce with them and their juices before putting them in the pie. Really easy steps which are definitely worth it for a delicious pie filling. That all being said while experimenting and updating this recipe I found that using a hand peeler works well too and if you are skipping the rum in the recipe then you don't need to cook the juices down to reduce them. So let's get to it shall we - let me break down the ingredients needed for the recipe with alternatives and the simple steps
To Rum & Bitters Or Not To
Let's talk about the rum and bitters. The original recipe called for bourbon and if you prefer bourbon then feel free to sub it out because peaches and bourbon also work so well together. Bitters is what I got so accustom to using while I lived in Trinidad and I guess it has stuck with me. It's great in all fruity cocktails and juices, fruit salads and I love to use it in cakes too. I used the Angostura Orange Bitters in this pie and it was amazing but the original is just perfect with it too. It always adds a nice subtle flavour to baked goods. I usually replace the extract with it or go half and half with vanilla or almond when I decide to use it in my baked goods. It's made with warming baking spices that just go so well in pies! **NOTE: if you choose not to add the rum or the bourbon there is no need to simmer the peach juices. More Ingredient details below.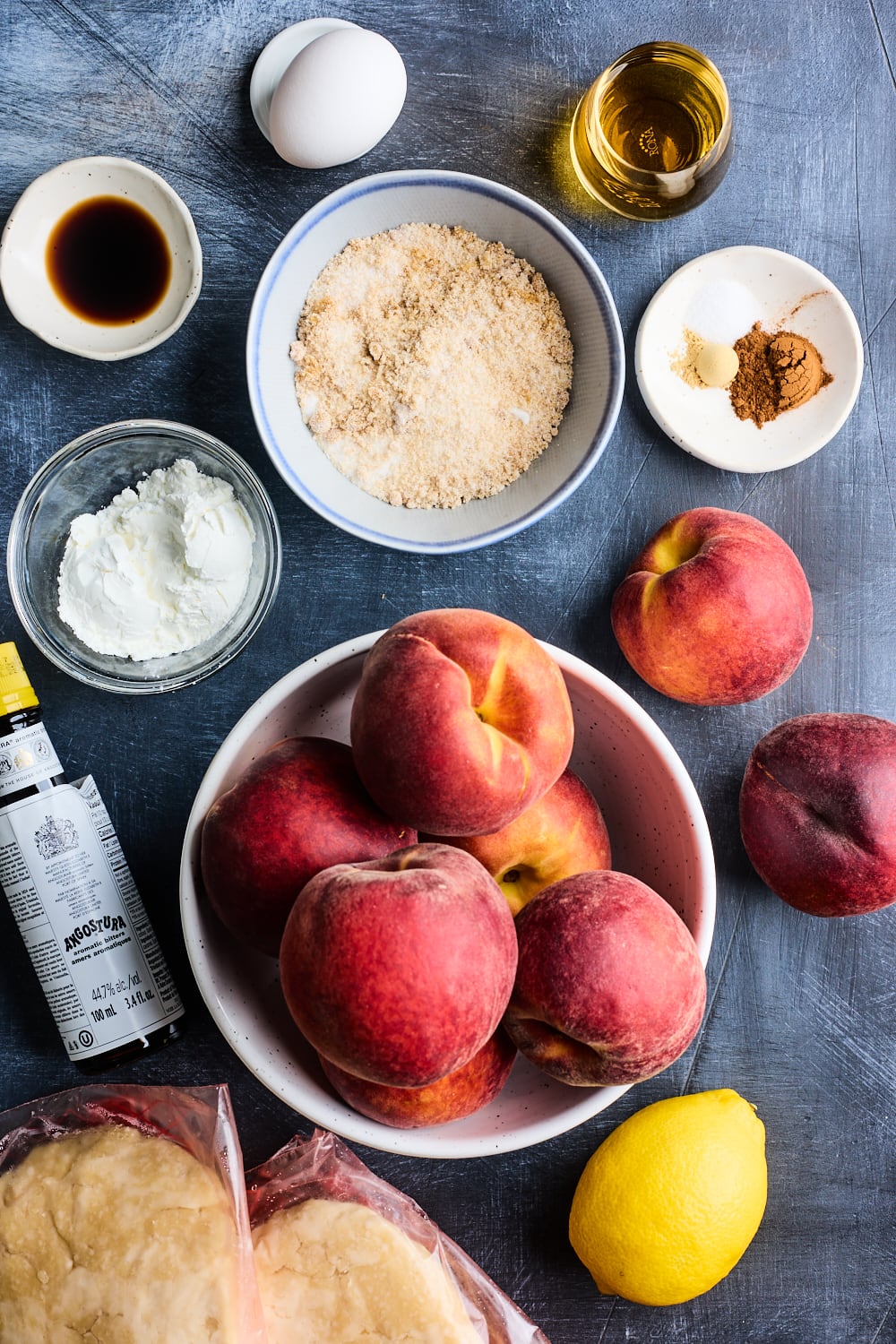 Peach Pie Recipe Ingredients
Peaches: Fresh peaches are ideal and not overly ripe ones. I use semi ripe firm ones for this recipe for best flavour and texture. If frozen peaches is all you have you can use frozen peaches but be sure to allow them to thaw and drain off any juices and pat them dry before using them in the recipe. I don't recommend using canned peaches for this recipe. If you wanted to make this pie with nectarines or apricots you could as well or a mix of all those lovely stone fruits - I recommend you use semi ripe firm ones and chop them all the same or close to the same size
Pie Dough: Feel free to use my homemade pie crust recipe which makes a double-crust pie below or feel free to use your own homemade recipe or store bought
Sugar: I usually use granulated sugar but feel free to use brown sugar or a blend of both
Vanilla: This adds a touch of flavour to the filling which complements any sweet pie filling
Lemon Juice: Freshly squeezed for best flavour which adds just enough acidity to balance out the sweetness
Spices: I like to add some ground cinnamon and ground ginger - feel free to adjust amounts to taste or omit if you prefer it without any spice
Rum: I like to use a spiced rum but any rum would work here but I also love this peach pie with bourbon too - the rum or bourbon add a really nice flavour to the pie without the taste of the alcohol being strong. **NOTE: if you choose not to add the rum or the bourbon there is no need to simmer the peach juices
Bitters: The flavor of Angostura bitters is herbal with a background of warm spices. It can be used in drinks and baking and even cooking. Just a splash or two is all you need - its optional but recommend
Corn starch: This helps to thicken the fruit juices for a nice and thick pie filling
Butter: Not only did I use butter for the pie dough but I also like to add/scatter a few small pieces of butter over the filling before covering it with the top layer of pie dough - this adds more richness to the filling but is completely indulgent and optional
Egg: The egg is for a quick egg wash over the pie pastry
Peach Pie Recipe Instructions
Make Pie Dough: You can use store bought pie dough/pie crust for this recipe if you prefer or even use your own recipe. For a tried and tested simple all butter pie dough recipe please refer to the recipe card below - recipe, directions for making dough, rolling it out and lattice design included
Prepare Filling: Toss peeled peaches with sugar, spices, vanilla, bitters and rum or bourbon if using, set aside 20-30 min (if you are not adding the rum toss the peaches with the cornstarch as well and set aside)
Strain & Simmer peach juices: Strain peaches and pour juices into small saucepan over low-med heat, whisk in cornstarch then simmer for 1-2 minutes or until juices have thickened and reduced - allow to cool **NOTE: if you choose not to add the rum or the bourbon there is no need to simmer the peach juices, simply skip this step
Roll out one disc of pie dough and fit into pie dish: Sprinkle with a pinch of flour and sugar - pour in the cool peach mixture and spread evenly. Scatter a few pieces of butter over filling if using, chill pie and filling while you roll out top pie dough
Roll out remaining disc of pie dough: Cut out pieces if making lattice or if covering pie with one sheet of pie dough leave as is - top pie with singe layer of pie dough or lattice, trim edges as needed. Fold edges and crimp. Make a few slits into top pie dough if leaving it whole as one sheet
Chill assembled pie: Chill in the fridge or freezer while preheating the oven 20-30 min
Brush pie top and edges with egg wash: Sprinkle top with coarse sugar if desired before baking
Bake: Bake at 425°F for first 20 minutes then reduce oven temperature to 375°F, tent pie loosely with foil if needed at any point, and continue baking for another 45-55 minutes until the pie is deeply golden and filling is bubbling
Cool: Remove pie from oven when done and allow to cool on cooling rack for 2-3 hours before slicing and enjoying
Peach Pie Tips
Here are a few tips I learned while baking this and other fruit pie
Chop Vs Slicing fruit: When making an apple pie I slice my apples and slice them thinly because they need that to cook and soften. Peaches are much softer than apples and will cook down to mush if sliced too thin - I recommend chopping the peeled peaches into chunks to prevent that from happening or if you are set on slicing the peaches slice them into thicker wedges
Ripe Peaches Vs Firm: With many fruit pie recipes you usually choose very ripe fruit but when it comes to peach pie I recommend firm'ish or semi ripe peaches for two reason - first for the same reason stated above so that you don't end up with a super mushy filling, second so that you can peel them easy with a sharp pairing knife or even a peeler
Do I need to peel the peaches?: Peeling the peaches is totally option but recommended because many times as the peaches cook and soften while baking they will come away from the skin and you will end up have bits of skin scattered and floating throughout the filling. I actually don't mind that but if you are particular about it then I definitely recommend peeling them
How to Peel Peaches: There are two main ways I to do so - I prefer peeling my peaches with a peeler or sharp pairing knife which is super easy to do if your peaches are firm enough for it. If you are having trouble peeling them that way, feel free to use the quick poach and peel method listed in recipe notes below
Baking pie over sheet pan: This might get some hate but I do not like using a sheet pan underneath the pie to catch juices - I prefer to line the bottom of the oven with foil or use an oven liner to catch any messes because I find that the bottom of my pie doesn't bake as evenly when its on a sheet pan - even a preheated one. I get that you may have had different results using a Sheetpan so feel free to bake your pie over a Sheetpan if you prefer to catch any bubbling pie messes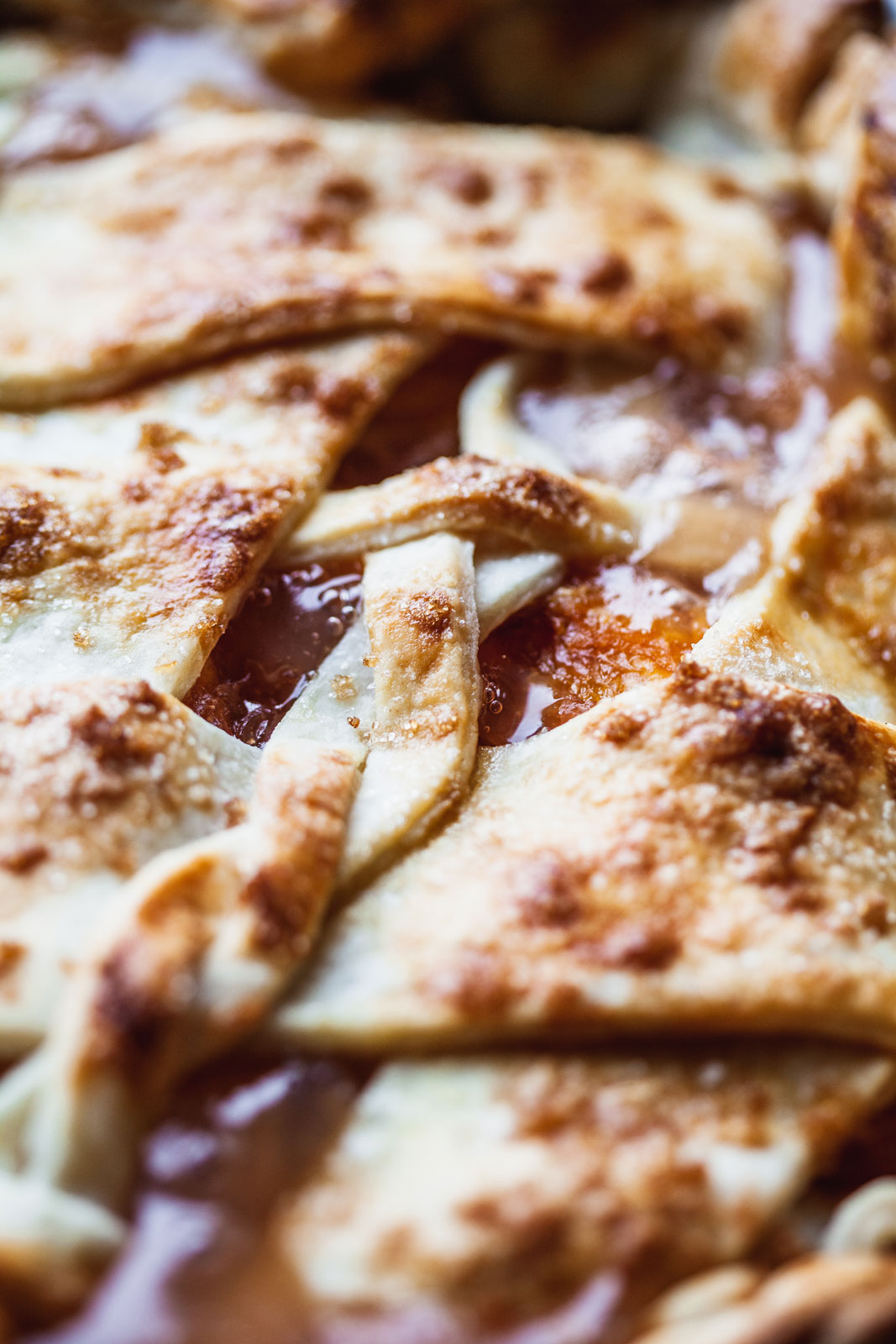 Peach Pie Make Ahead, Storage & Freezing
MAKE AHEAD: Fruit- peaches can be peeled and chopped 1 day ahead of time and kept in a sealed container in the fridge (only the fruit without all the other ingredients the peaches are tossed with) Pie Dough - can be made in advance and stored wrapped in plastic wrap in the fridge for up to 3 days. It can also be wrapped and frozen for up to three months. Thaw in the fridge overnight and then rollout as directed.
STORAGE: Wrapped in foil, leftover pie will keep up to 2-3 days at room temperature; and in the fridge for another 2 days, warm 10 minutes in a 350°F oven to revive crust before serving. I usually store mine wrapped tight in the fridge right off the bat as it keeps better and longer chilled.
FREEZING UNBAKED PIE: Prepare pie as directed up until you have to bake it. After it has chilled for half hour wrap the pie with a couple of layers of plastic wrap then a layer of foil. Place the wrapped pie into a freezer-safe storage bag, squeezing out any excess air. Use a permanent marker to label the kind of pie as well as the date. Store in the freezer (be careful not to set anything on top of the pie while it is freezing). It can be frozen for up to 3 months. Remove from freezer when ready to bake, unwrap and set on countertop while oven preheats. Bake from frozen same as directed in recipe.
FREEZING BAKED PIE: Bake and cool pie as directed. Place your pie into the freezer to allow it to initially freeze, for 1-2 hours or preferably overnight. Then, wrap your frozen pie in a layer of plastic wrap, followed by a layer of aluminum foil. Place the wrapped pie into a freezer-safe storage bag, squeezing out any excess air. Use a permanent marker to label the kind of pie as well as the date. Store in the freezer for up to 4 months. Thaw it by moving it to the fridge overnight (or up to 24 hours). Remove wrappings and reheat your pie if you like! Once thawed, simply pop it in the oven at 350°F until the filling is bubbling. If your crust begins to brown, you can loosely place foil over the top.
I know you will love this pie with a big ol scoop of ice cream or dollop of whip. My favourite way of eating it is warmed in the oven and with some ice cream that melts into a cream that you can dip each bite of pie into. Heavenly! Enjoy you guys and get all the peaches in you in whatever form before the season is over!
More Peach Recipes You Will Love
Recipe
Prep Time: 3 hours
Cook Time: 75 mins
Total Time: 7 hours (includes non active time for cooling)
Total Time: 20-30 min
For the pie crust (makes a DOUBLE crust for bottom crust and lattice or solid top sheet)
2 ½ cups all-purpose flour

2 teaspoons granulated sugar

1 teaspoon salt

2 sticks unsalted very cold butter, cubed

½ cup ice cold water
For the filling
8 ripe peaches, peeled, pitted and sliced (instructions on how to easily peel peaches below - peeling them is optional but recommended)

½ cup granulated sugar, or brown sugar

¼ cup rum or bourbon (see recipe notes if you prefer to make this pie rum-free)

1 tablespoon freshly squeezed lemon juice

1 tablespoon bitters (I used angostura orange one but the regular/original one is perfect)

A pinch of salt

1 teaspoon ground cinnamon

¼ teaspoon ginger or ½ teaspoon grated fresh ginger

1 teaspoon vanilla extract

4 tablespoons cornstarch

1 teaspoon each of sugar and flour to dust the crust before filling.

1 tablespoon butter chopped into small pieces (optional)

3 tablespoons Coarse Sugar for sprinkling (optional)
For the egg wash
1 egg

1 tsp of rum or water

½ tsp of angostura bitters (optional)
Directions
For the dough
Combine the flour, sugar and salt in a food processor and pulse a few times to combine. Alternatively if making crust by hand, whisk the flour and salt together in a mixing bowl.
Scatter the cubes of butter over the surface of the flour in the food processor and pulse 15 to 25 times until the mixture resembles cornmeal with pieces of butter no larger than a pea. Alternatively, cut the butter into the flour using a pastry cutter a fork, or your fingertips but do not overwork.
Sprinkle ice water over the butter-flour mixture.
Pulse 4 to 5 times to combine. Check to see if the dough is holding together by squeezing a bit of it in your hand — if it holds together, it's ready; if it breaks apart easily, add a little more water one tbsp at a time. The dough should just be starting to clump together in large crumbs. Alternatively, sprinkle the water over the flour and use two forks to toss the flour to combine.
Turn the pie dough out onto a clean work surface dusted with a little flour. Use your hands to very quickly gather fold over and press the shaggy dough into a thick ball. Cut ball of dough in half then form each into a disk, cover with plastic wrap and refrigerate for at least 30 minutes or up to 4 days (or freeze for up to 3 months; defrost in the fridge overnight before using).
For the peach pie filling
Peel the peaches and then cut into 1 inch chunks. You need approx 8 cups of peach chunks.
In a large bowl toss together the peaches, rum, bitters, lemon juice, vanilla, sugar, spices, and salt in a large bowl, gently stir /fold with spatula until well combined and set aside for 30 minutes for the peaches to macerate and juices to form.
Strain the juices from the peaches into a medium saucepan and mix the juices with the cornstarch. Cook the cornstarch mixture on low/medium heat until it is thick and translucent, 1-2 minutes.
Pour thickened juices back into the bowl of peaches, toss to coat and allow to cool. I usually pop them in the fridge to chill while I roll out the pie dough.
Assemble Pie
On a lightly floured surface, roll out 1 piece of dough into a 13-inch round, about 1/8 inch thick. Fit into a 9-inch pie plate /pie pan. Sprinkle pie crust with a dusting of flour and sugar - ½-1 tsp each
Fill with peach mixture. Chill in the fridge while you roll the second pie dough
Roll remaining piece of dough out for lattice top. Using a pastry wheel or large sharp knife, cut into 1½-to-2-inch-wide strips (or thicker or thinner - you can even make braids for some like I did)
Place strips atop pie, leaving a little space between them. Fold back every other strip, and lay a strip across center of pie, perpendicular to original strips. Unfold folded strips, then fold back remaining strips. Lay another horizontal strip across pie. Repeat folding and unfolding strips to weave a lattice pattern. Repeat on remaining side. Press edges together to seal. Trim dough to a 1-inch overhang, fold under, and crimp as desired.
Refrigerate 15-30 minutes or freeze 10 minutes while preheating the oven, to ensure top crust is completely chilled.
Preaheat oven to 425°F (initially)
Brush pie edges and lattice with egg wash and sprinkle with coarse sugar if using before baking
Bake Pie
Bake the pie on the center rack at 425°F for 20 minutes; then, keeping the pie in the oven, REDUCE the oven TEMPERATURE down to 375° and continue to bake for another 45-50 minutes or until pie is deeply golden and and fruit filling is bubbling. Place a pie shield or loosely tent pie with foil if the edges or top of the pie at any point if the pie starts to brown too quickly.
Remove pie once done and allow pie to cool on a cooling rack until the pie plate is no longer warm to the touch (approx 3-4 hours) and then serve or refrigerate if serving later. Wrapped in foil, leftovers will keep up to 3 days at room temperature; warm 10 minutes in a 350°F oven to revive crust before serving.
Recipe Notes
How to easily blanch and peel peaches
To peel the peaches first cut a small x slits into the peaches then simply place them in boiling water for 30 seconds to a minute and then transfer them with a slotted spoon to an ice bath until completely cool.
Proceed to peel them with a pairing knife or your fingers. The skin should peel and slide right off. It's ok if a few stubborn skin pieces stay one.
Once they are peeled then slice them according to recipe.
If you prefer to make this pie without any alcohol hat is perfectly fine - it will still be fabulous - omit the alcohol and you DO NOT NEED to strain and simmer the peach juices - simply toss peaches with cornstarch and the rest of the ingredients stated in recipe and pour them into pie