Strawberry Rhubarb Gin Fizz
This gorgeous cocktail comes to us via The Prairie Table, the second book by the lovely Karlynn Johnson aka The Kitchen Magpie. I was sent a copy of Karlynn's second book thanks to Appetite by Random House and have been having fun reading through it. Prairie culture is a little different from city culture I would say but it's very similar to Greek culture. As Karlynn described her Ukrainian prairie background I couldn't help but think of my Greek Canadian culture and see many similarities between the two, especially the need to always have food ready for unexpected visitors/guests - most definitely can't serve someone coffee without a treat to offer - shameful otherwise.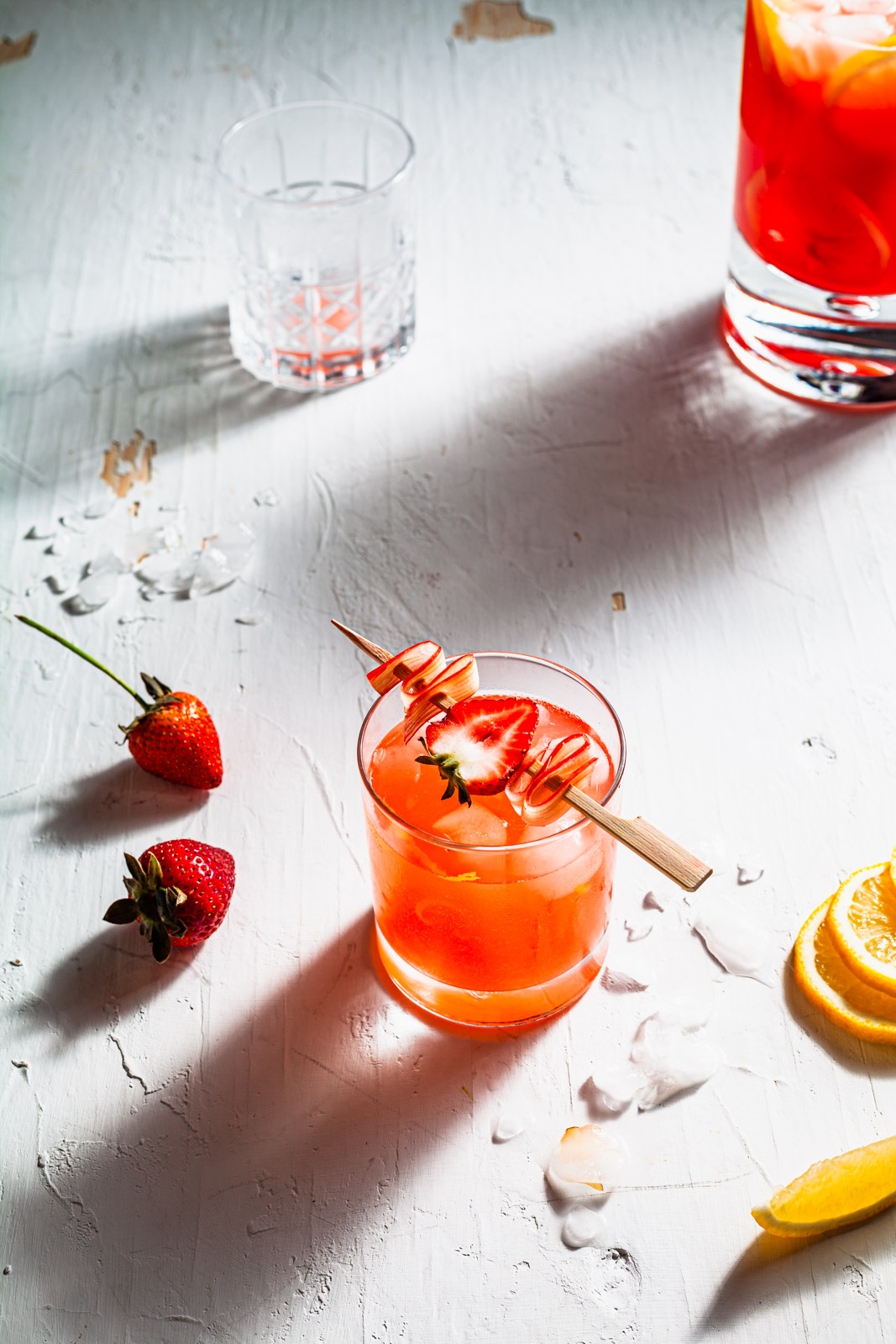 The book is full of over 100 crowd pleasing recipes which bring people together for supper, potlucks and socials and all of them being approachable and tasty with comfort food in mind. I am dying to try her homemade perogies and her sweet and sour meatballs - just to name a few. She is a girl after my own heart, including quick "cheater" recipes for when you are in a hurry - they use cheat ready made ingredients that are a lifesaver when you want something on the table fast - I'm all about the cheat if I can and she says her guilty monthly pleasure is filet-o-fish - well mine is a snack wrap supreme. Sorry not sorry - it's not all gourmet meals around here all the time.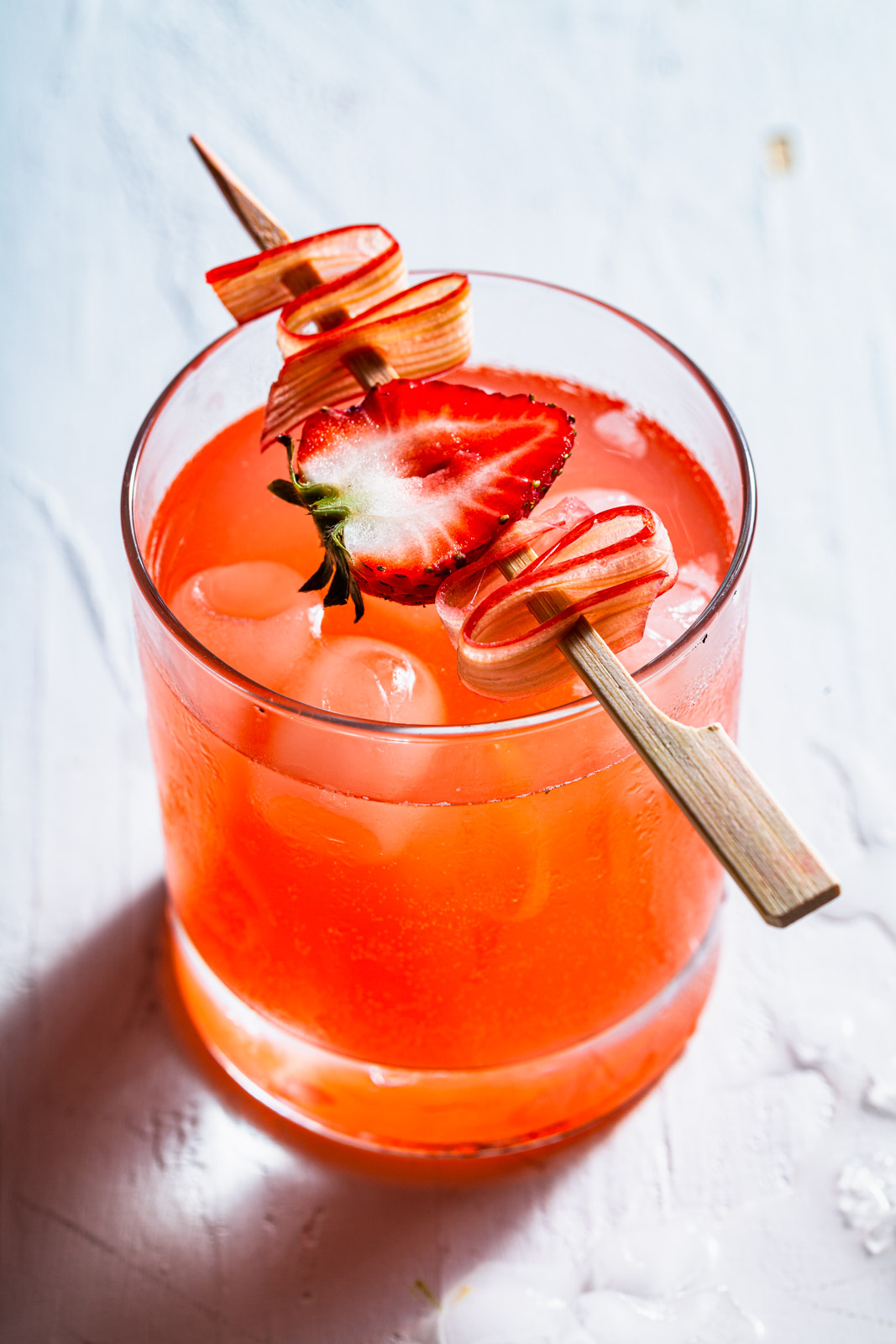 Her book is separated into chapters that are almost distinct sections. From the first one all about Ukrainian dishes, to breads, and baked goods, then small bites, salads and sides, mains, dainties and cookies, portable desserts and finally libations. All the recipes are paired with photography that makes you feel you can reach out and grab the food and candid stories, and every recipe can easily be cut in half or doubled according to how many you are cooking for. The libations chapter is full of fabulous cocktails and mocktails and are created by Karlynn's hubby Mike (I love a good husband wife collaborative). He even has a section on her blog now for all his cocktails. We loved this one. It's a simple refreshing cocktail that we had boozy and sans the booze. We shared the booze-less one with friends and we really enjoyed how refreshing it is. I served the simple syrup with sparkling water and it was really great. I love that you can use fresh or frozen berries to make the syrup so that you can have this cocktail when both are out of season or months later if you were smart enough to freeze some rhubarb (which I usually am not - but hoping I can this year cause there is still some out there). Overall all a great cocktail/mocktail and a great book by Karlynn! So thankful to her and Appetite by Random House for alowing me to share it with you guys. Enjoy!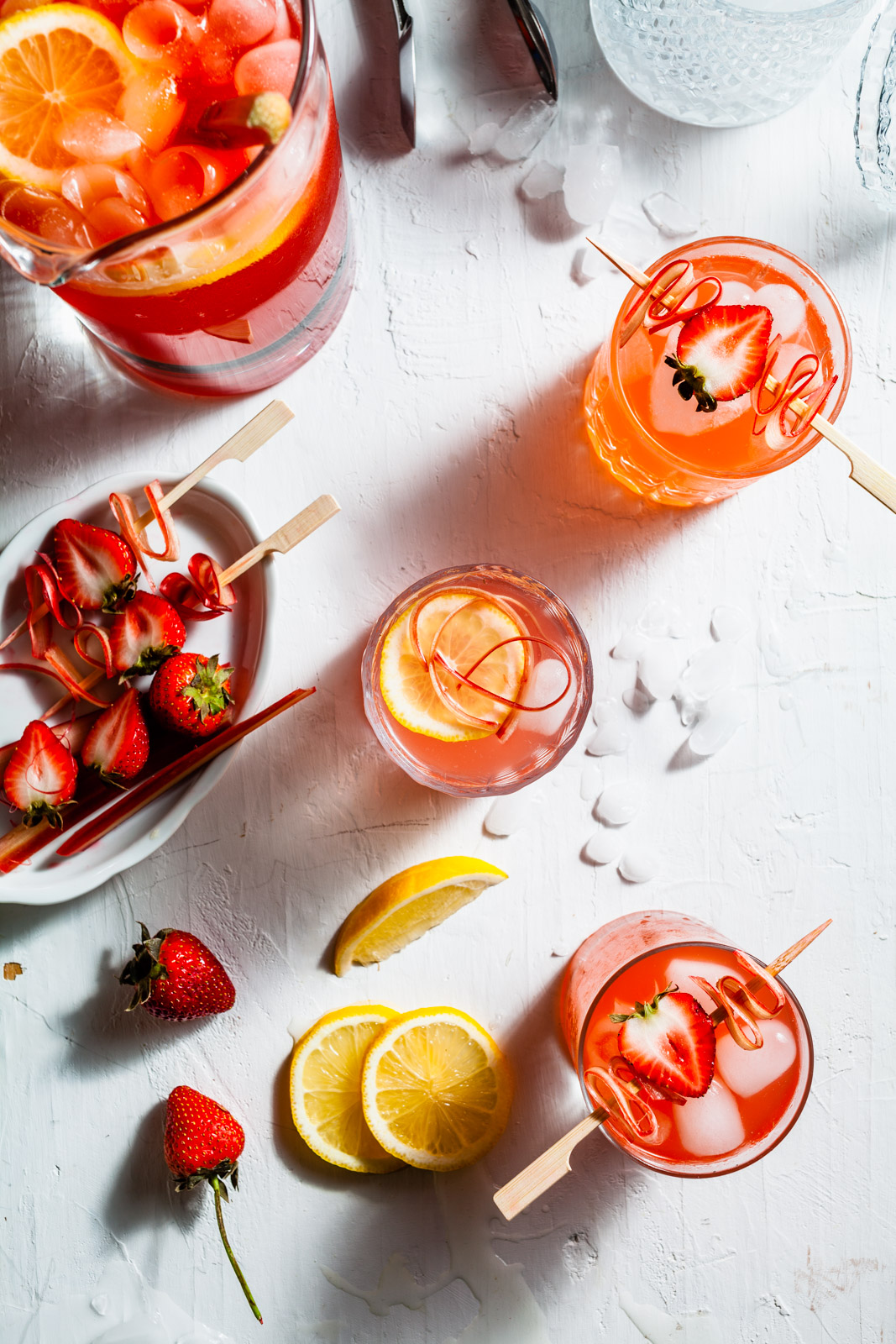 Recipe
Servings:
Makes one 8–10 cup pitcher
Ingredients
1½ cups gin

1½ cups Strawberry Rhubarb Simple Syrup (recipe below)

1 oz lemon juice

Ice cubes

1 bottle (750 mL) sparkling pink Moscato

1 lemon, sliced thinly

Rhubarb stalks, for garnish
Directions
Place the gin, simple syrup, and lemon juice in a pitcher filled about one-third with ice.
Pour in the Moscato and then add the lemon slices. Stir with a long-handled bar spoon and let cool for about 5 minutes before serving.
Garnish with rhubarb stalks.
Strawberry Rhubarb Simple Syrup
Makes about 4 cups
Ingredients
2 cups water
2 cups white sugar
4 cups chopped rhubarb (fresh or frozen)
2 cups chopped frozen strawberries
Directions
Place the water in a saucepan over medium heat and bring to a slow boil. Add the sugar and stir until dissolved.
Add the rhubarb and strawberries and simmer for 3 to 5 minutes, stirring occasionally.
Remove from the heat and let cool.
Strain into a sealed glass jar and store in the fridge for up to 2 weeks.