White Bean Shakshuka With Nduja
This smoky white bean shakshuka is rich, filling and delicious. Eggs poached in a smoky spicy tomato sauce which has layers of flavours in it from the nduja and extra heartiness from the white beans and greens. It makes for the perfect breakfast, brunch, lunch or dinner. It only takes 30 minutes to make and is bursting with nutrients and flavour! No nduja - no problem, substitutions listed below.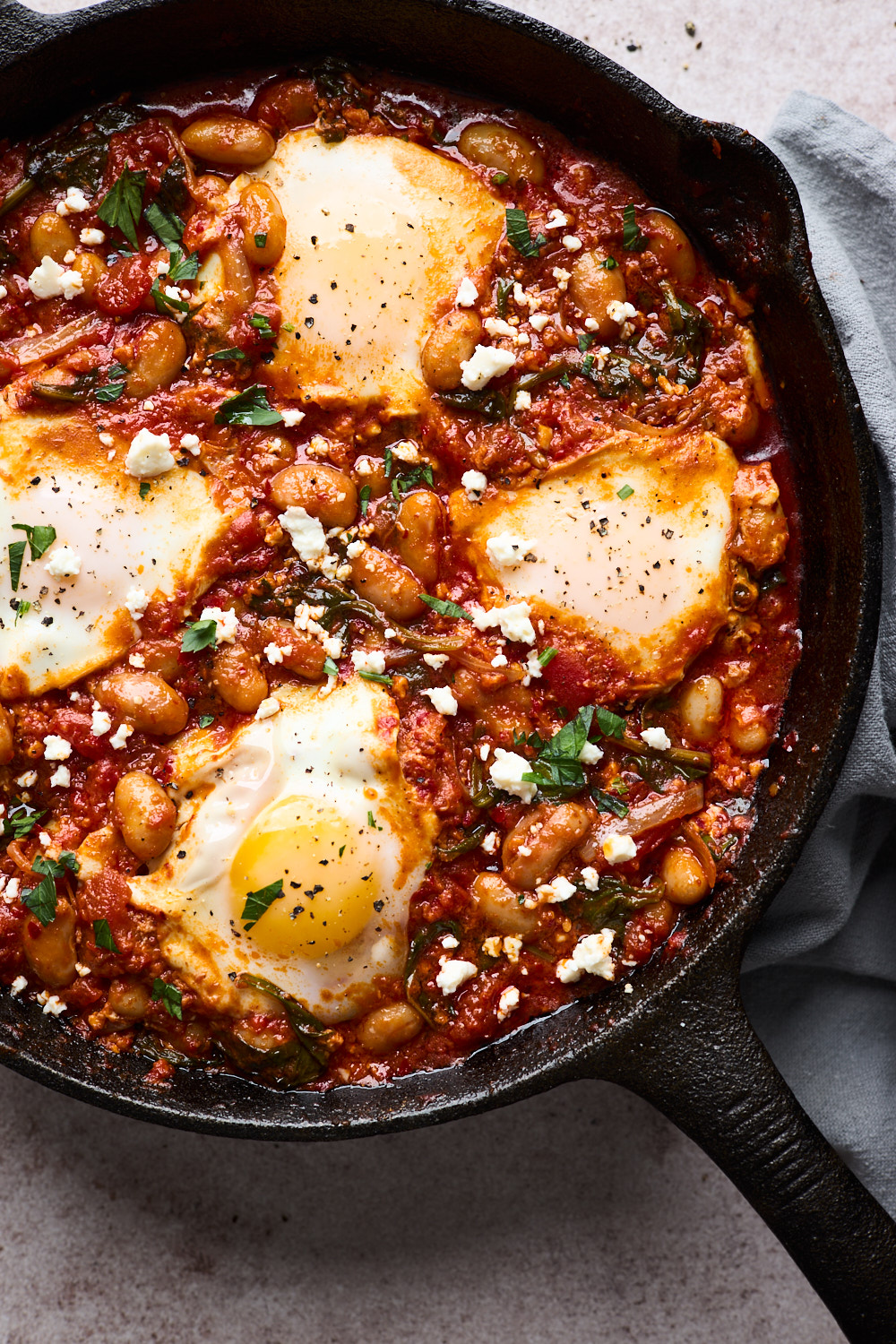 What is shashuka?
Shakshuka is a dish of eggs poached in a tomato sauce that originates from North Africa and the Middle East. Usually the tomato sauce includes onions and peppers, and is flavoured with cumin and paprika. It's very similar to its Italian counterpart eggs in purgatory.  This version included nduja in it which adds loads of smoky flavours to the sauce. I also added white beans to this version along with some greens because I love my greens.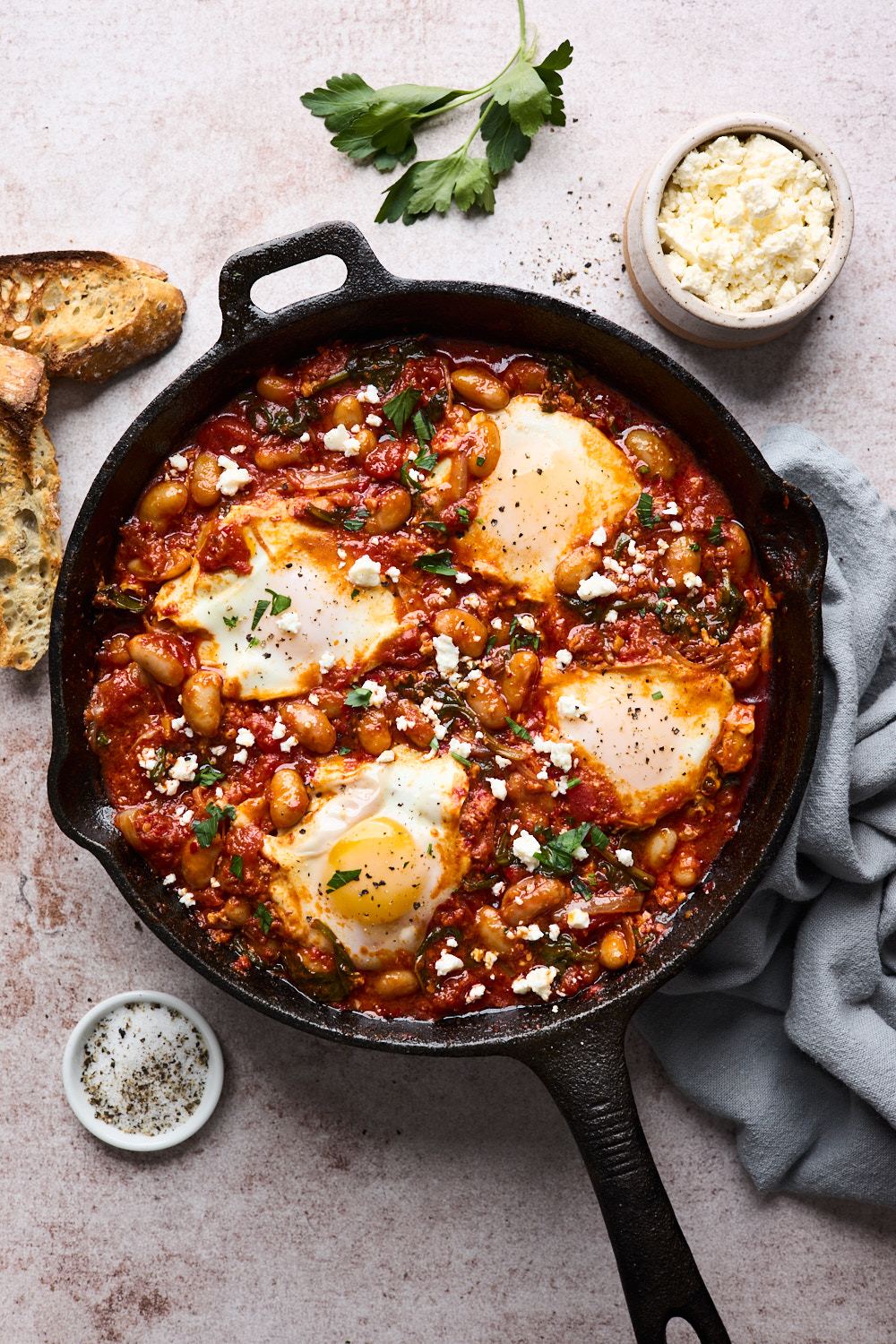 What is nduja?
Nduja - "en-DOO-ya" is a spicy spreadable sausage from the Calabrian region of Italy. It's made with loads of dried chilies and smokey spices. It has a very distinct salty, smoky spicy flavour that I absolutely love. Nduja will more or less melt into a sauce, so that it can be hard to identify where that wonderful savouriness is coming from. Plus you don't even have to add much spice to your sauce as the nduja adds so much flavour to it.  You can spread this sausage on toast or crackers straight from the packet. However, it comes into its own on pizza or pasta dishes and also this shakshuka or eggs in purgatory. If you cant get your hands on any no worries. I like to use spicy Italian sausage out of its casing with some extra smoky spices in its place. More details in recipe notes about that.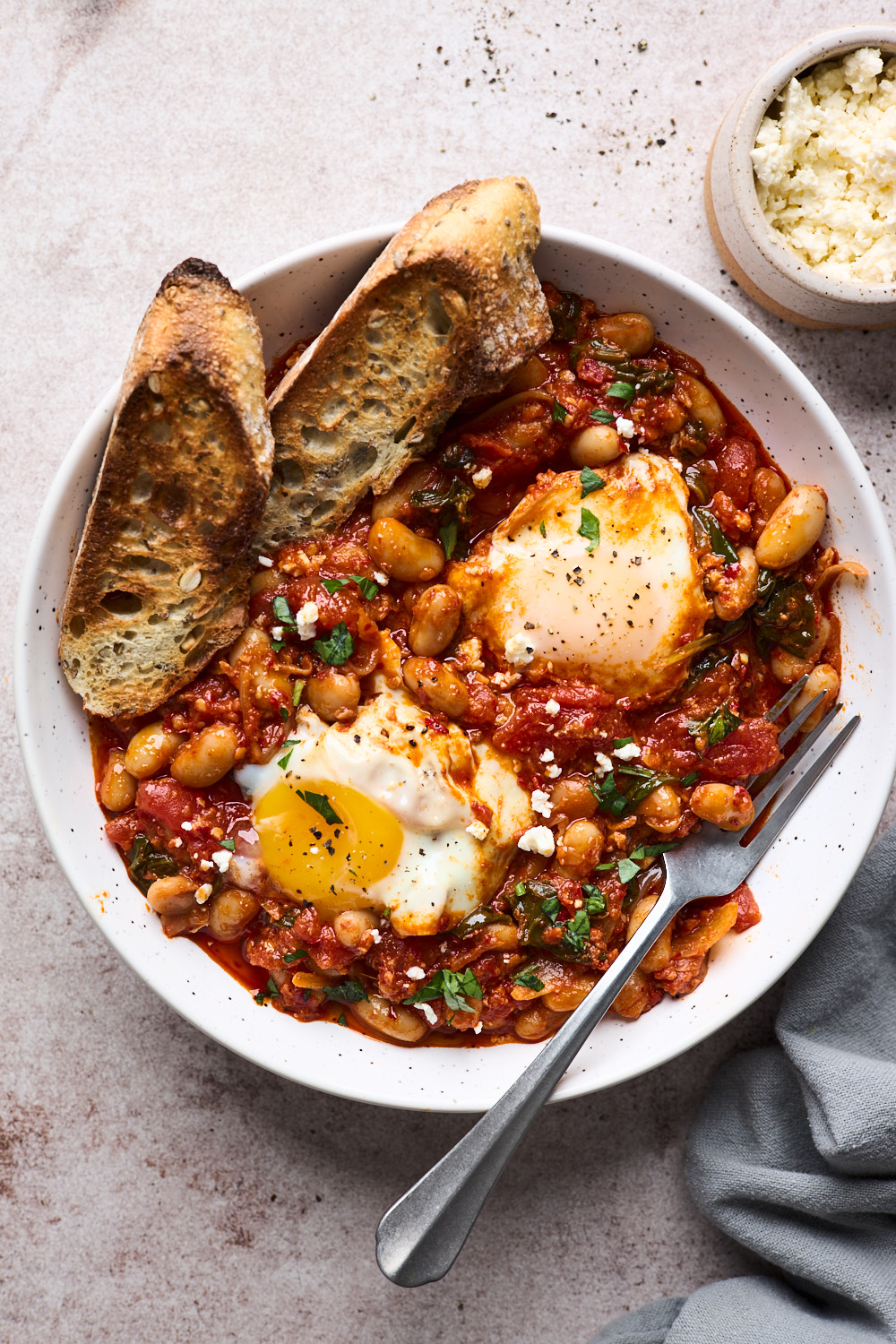 Ingredients in this white bean shakshuka:
This shakshuka with white beans and greens calls for many ingredients you most likely have in your pantry already, and some you might need to add! Here's a breakdown:
Shallots and garlic : These fresh ingredients bring big flavour to the base of the sauce.
Nduja: adds so much flavour and richness to the sauce but feel free to substitute it for Italian sausage with a mix of herbs and seasoning. Or leave it out completely for a vegetarian friendly meal.
Canned tomatoes: I love to use whole tomatoes with their juices and I usually crush them myself by hand when I add them to the pan, but feel free to used crushed tomatoes or diced tomatoes. If you notice that your sauce seem quite liquid after its simmered for a few minutes - feel free to add up to 1-2 teaspoons of tomato paste for a much thicker sauce.
White beans: Using white beans in this shakshuka adds extra protein and a great option if you wanted to keep this recipe vegetarian.
Spinach: I add greens to almost everything. This shakshuka is no exception. Feel free to use any greens to might have available like kale or chard.
Eggs: free range organic, if possible!
Feta cheese and fresh chopped parsley: Crumbling feta cheese over the top adds the final flavouring and the fresh herbs are always a must to garnish with.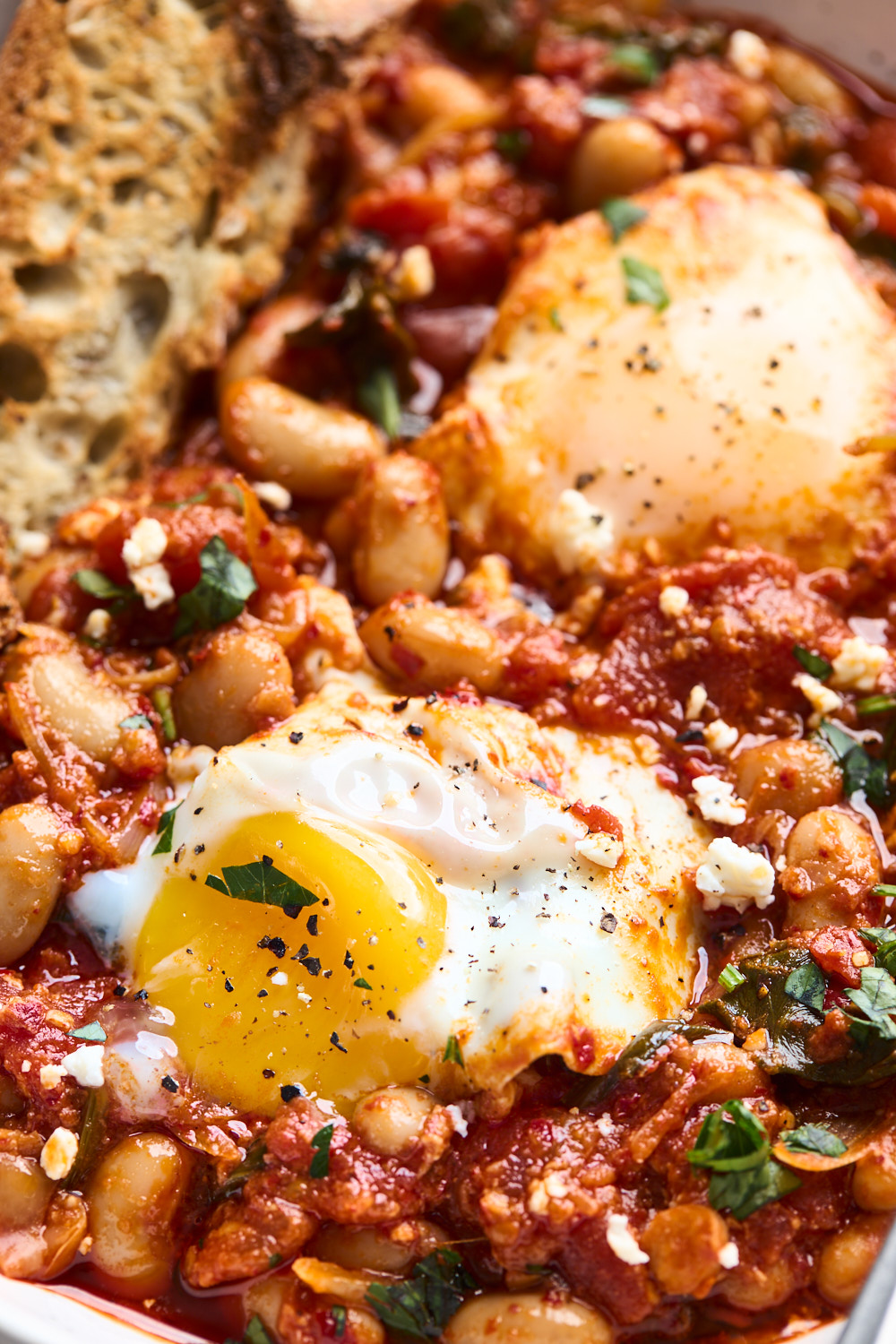 How to serve shakshuka
Shakshuka is my favorite thing to serve right from the skillet or pan that I make it in. I love to serve mine with crusty bread. It's the perfect way to enjoy the dish and mop up the tasty sauce with. There is nothing like smoky hearty baked white beans and eggs in a rich and delicious sauce.  A dish like this always hits the spot. If you liked this dish you will love these too:
Recipe
Prep Time: 10 mins
Cook Time: 30 mins
Ingredients
3 tablespoon extra virgin olive oil

2 shallots, peeled and sliced (or one yellow onion)

2 cloves of garlic, peeled and minced

¼-½ cup nudja depending on how spicy you want your sauce (or ½ lb Italian sausage or chorizo)

1 (28 ounce) can whole tomatoes

1 (15 ounce) can, drained white beans

3 cups baby spinach

4-6 large eggs

Salt and pepper to taste

Crumbled feta for serving

Chopped fresh parsley for serving
Directions
Heat oil in a large skillet over medium-high heat. Sauté shallots and garlic for 3 to 4 minutes or until shallots are softened and translucent.
Add the nduja and cool breaking it apart 3-5 min until it breaks apart and fat has separated and shallots are well coated with it.
Stir in tomatoes and their juices crushing them by hand or with the back of your spoon. Simmer for 4-5 minutes.
Stir in spinach and simmer for 2 to 3 minutes.
Stir beans into the skillet and season with salt and pepper.
Make wells in sauce where you would like to drop the eggs, 4-6 of them. Crack each egg into a small ramekin, one at a time, and gently drop into the skillet, approx 1 inch apart. Cook for 2 minutes.
Cover skillet and continue to cook for 8 to 10 minutes or until whites have set and yolks are still runny. Longer if you want firmer yolks.
Remove from heat and serve with crusty bread, topped with crumbled feta and chopped fresh parsley
Recipe Notes
If you aren't using the nduja then it would be a good idea to season your sauce with a few of your favourite spices. The nduja adds so much flavour to this dish and heat that it doesn't need extra spices. If you are adding spices some very tasty additions to the tomatoes are oregano, Italian seasoning, cumin, smoked paprika, ground coriander, chili powder and you name it. Chose a blend you enjoy with your sauce and taste as you go along and add more accordingly - that goes for salt and pepper too.
I used 4 eggs for photo purposes but I usually add 6 eggs to sauce normally. It depends on the size. Feel free to add between 4-6 eggs.
Make this a vegetarian meal by omitting the nduja and amping up the spices as noted above.