Roasted Chicken With White Beans and 20 Cloves of Garlic
This is a fresh and Springy take on a classic French dish "Chicken with 40 cloves of garlic". I made it with creamy white beans that roast along with the chicken, lemon slices, and unpeeled garlic that roasts up into garlic butter that goes perfectly on crusty bread that you can dip into the pan juices of this fab dish. I finish it off by tossing the beans with fresh herbs and serve it with an extra squeeze of lemon juice. The perfect meal if you ask me.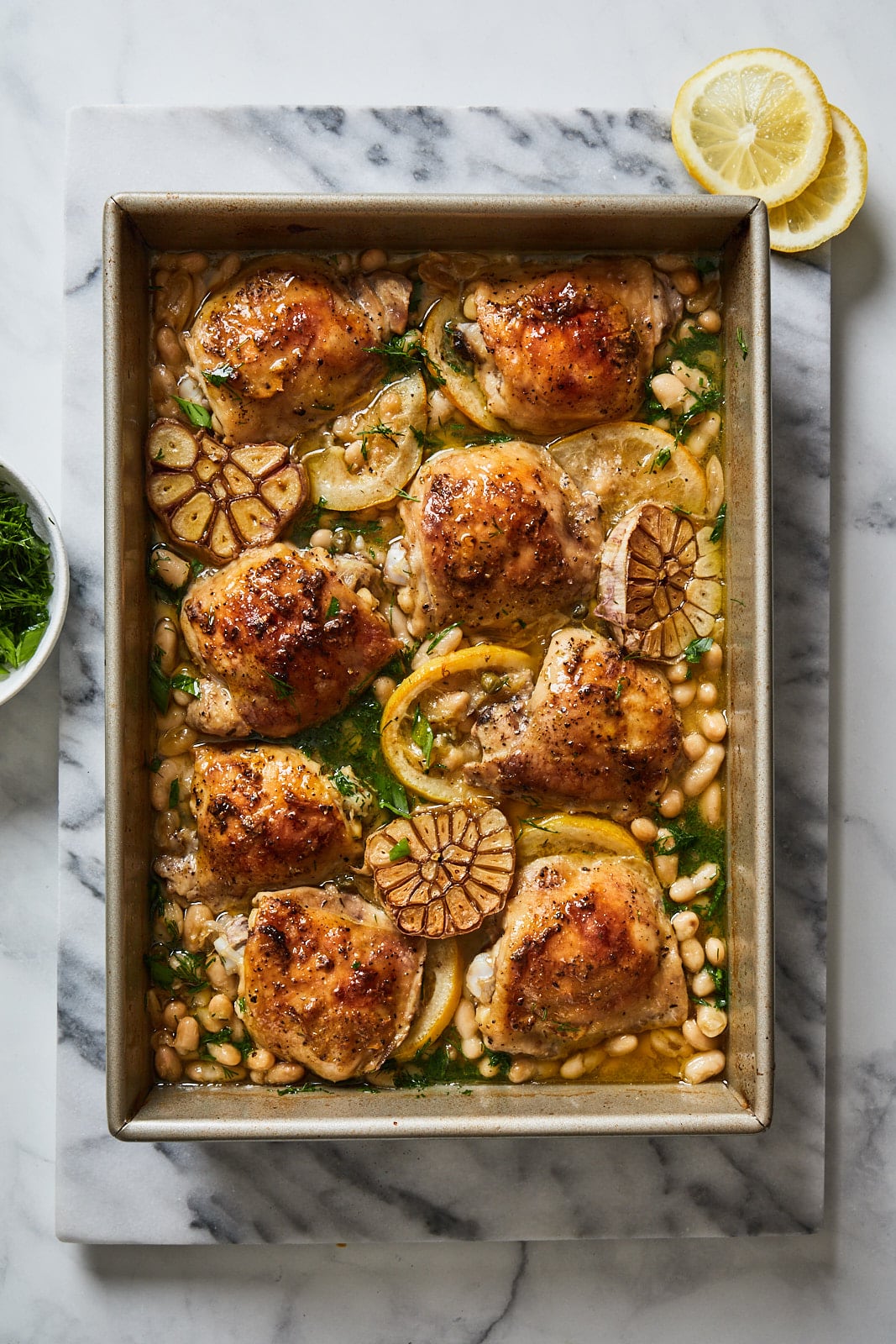 I have always wanted to make this French classic dish but was always skeptical of the recipe and cooking 40 unpeeled cloves with chicken. I even tried one version from a reputable food magazine that sounded like a great idea being made in the slow cooker. I thought that would mellow the garlic a bit. It was good but not great and I even added bacon to the mix to add more flavour to the brothy beans and fresh herbs and the chicken was even broiled after to give it a nice crispy exterior but the flavours were just not right - bland and just not the way I pictured this French dish. Until I found Nigella's recipe. That is when it all made sense.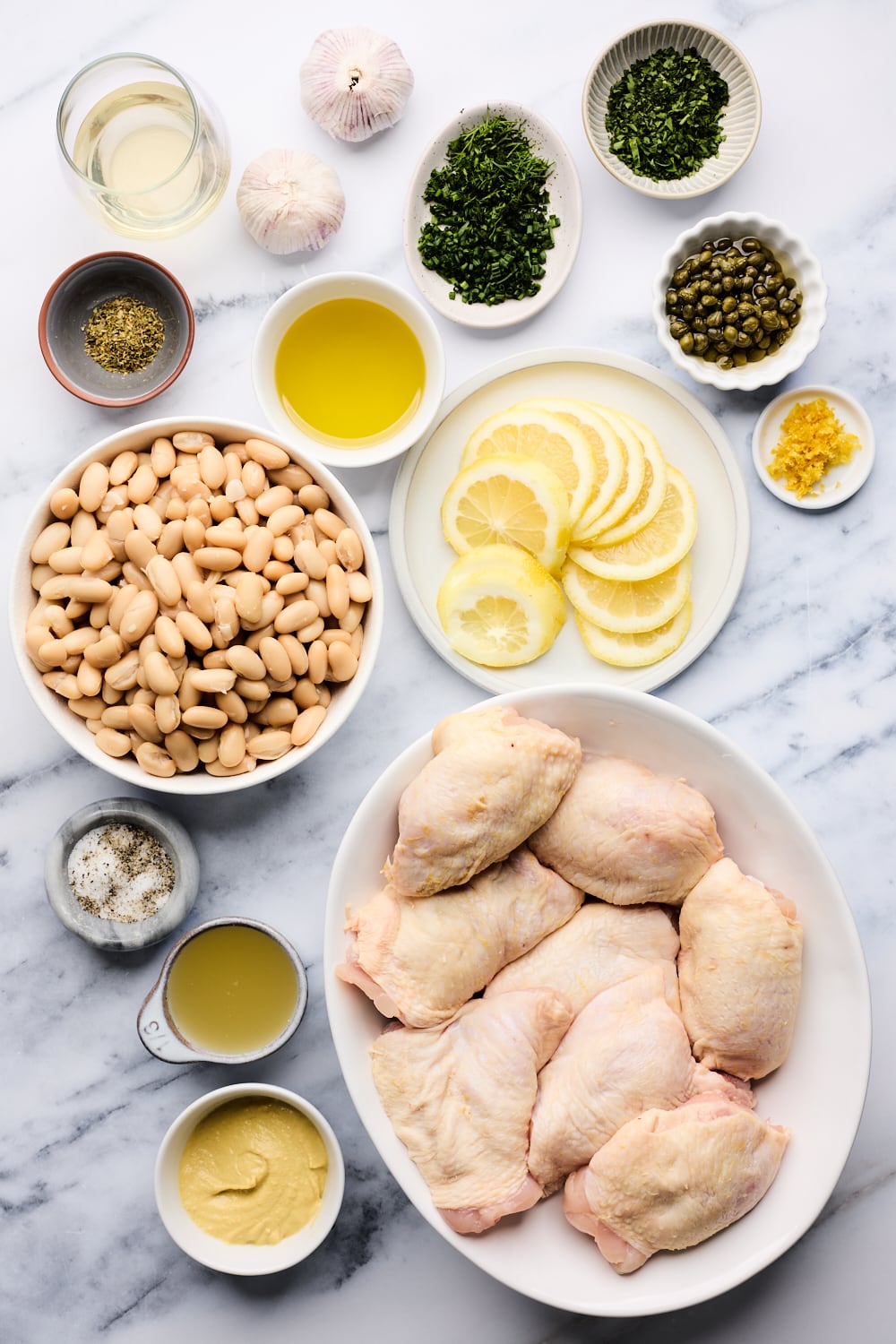 She says it perfectly: "Certainly, if you peeled and chopped - let alone minced - the garlic, it would be inedible, but garlic cloves cooked encased in their skins grow sweet and caramelly as they cook, like savoury bonbons in their sticky wrappers, rather than breathing out acrid heat". She is 100 perfectly right about that. That was the case in the other recipe which called for chopping the garlic - I even halved the garlic amount and only did 20 cloves but it didn't help. So I listened to Nigella and used the whole heads instead. I just sliced them in half for visual appeal and for ease of scooping out that caramelly garlic goodness out of them and not having to fish out every clove from the pan.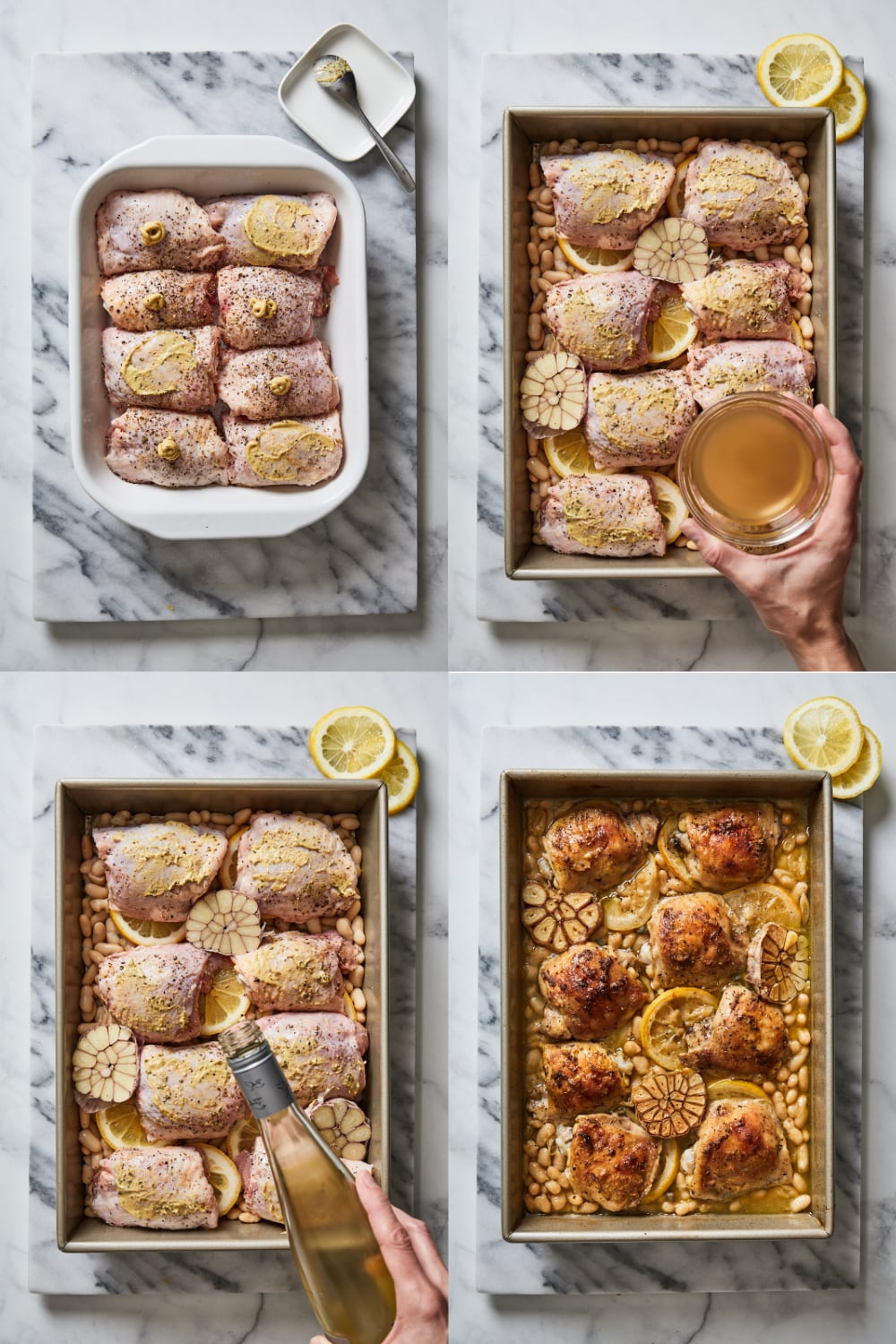 It's a marvelous dish and I decided to add a little Greek flare to it and use some oregano instead of thyme and load it up with lemon slices and zest along with adding some fresh dill and parsley to the dish. To me this screams Spring and it's a dish that my family loves and devours every time I make it. We are definitely bean people though. I have made this with butter beans and love it just as much. Gigantes would work too but I had loads of white beans on hand and used them when I made it this time around.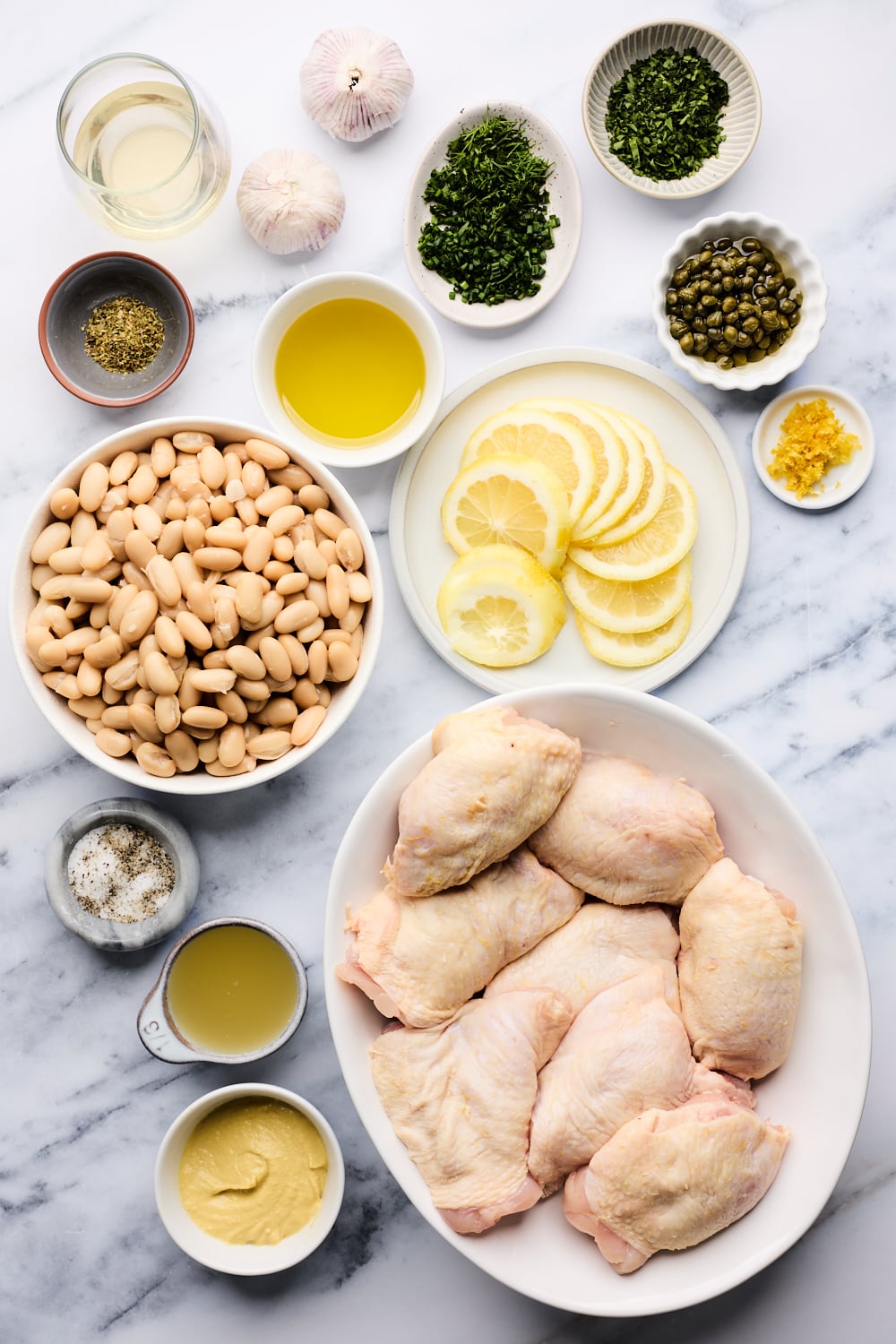 It's a simple throw everything into a pan and let it roast in the oven until done kind of meal - set it and forget it as I say just like my Chicken Marbella dish which is so beloved by all of you. Those are my kind of dishes. Very little prep with maximum reward and flavour. Enjoy!!
Recipe
Prep Time: 10-15 mins
Cook Time: 45-50 mins
Ingredients
2 (15-ounce) cans white beans, drained and rinsed

2 tablespoons capers with brine

8 teaspoons Dijon mustard

Salt and pepper to taste

½ tsp oregano

8 skin-on bone-in chicken thighs (about 2 pounds)

1 large lemon, zested then thinly sliced, seeds removed, plus extra for serving

1-2 whole heads of garlic cut in half horizontally

4 tbsp of white wine (optional)

⅓ cup of chicken broth or water

2 tablespoons olive oil

2 tablespoons coarsely chopped fresh parsley

2 tsp chopped scallions

2 tsp chopped dill
Directions
Preheat to 425°F. Toss beans, and capers and lemon zest in a 13x9" baking dish and spread out evenly on bottom of pan and season with salt and pepper.
Pat chicken dry and season with salt, pepper and oregano.  Spread 1 tsp. mustard on skin of each chicken thigh and nestle, skin side up, into beans and capers. Arrange lemon slices under and around chicken then add wine if using and enough water or broth. Arrange garlic head halves in pan and add enough water (about ⅓ cup) to come up sides of chicken by ½". Drizzle chicken with oil and season whole dish with a little more salt and pepper.
Roast chicken, stirring and shaking dish halfway through, until skin is browned and an instant-read thermometer inserted into thickest part of chicken registers 165°F, about 45-50 minutes.
Transfer chicken, beans, lemon slices, and capers to a serving platter. Toss the beans with the fresh parsley dill and scallions and serve with chicken and extra lemon wedges.
Bonus - serve with chopped preserved lemon for more lemony zing