Asparagus Custard Tart With a Gluten Free Crust
This creamy and rich asparagus tart is a perfect make ahead one for a spring brunch spread, but also makes a satisfying dinner on its own with a side green salad. The crust is a simple press in one that is herbed, delicious, gluten free and vegan. I love to make it the day before I'm serving it and then reheat it just before serving.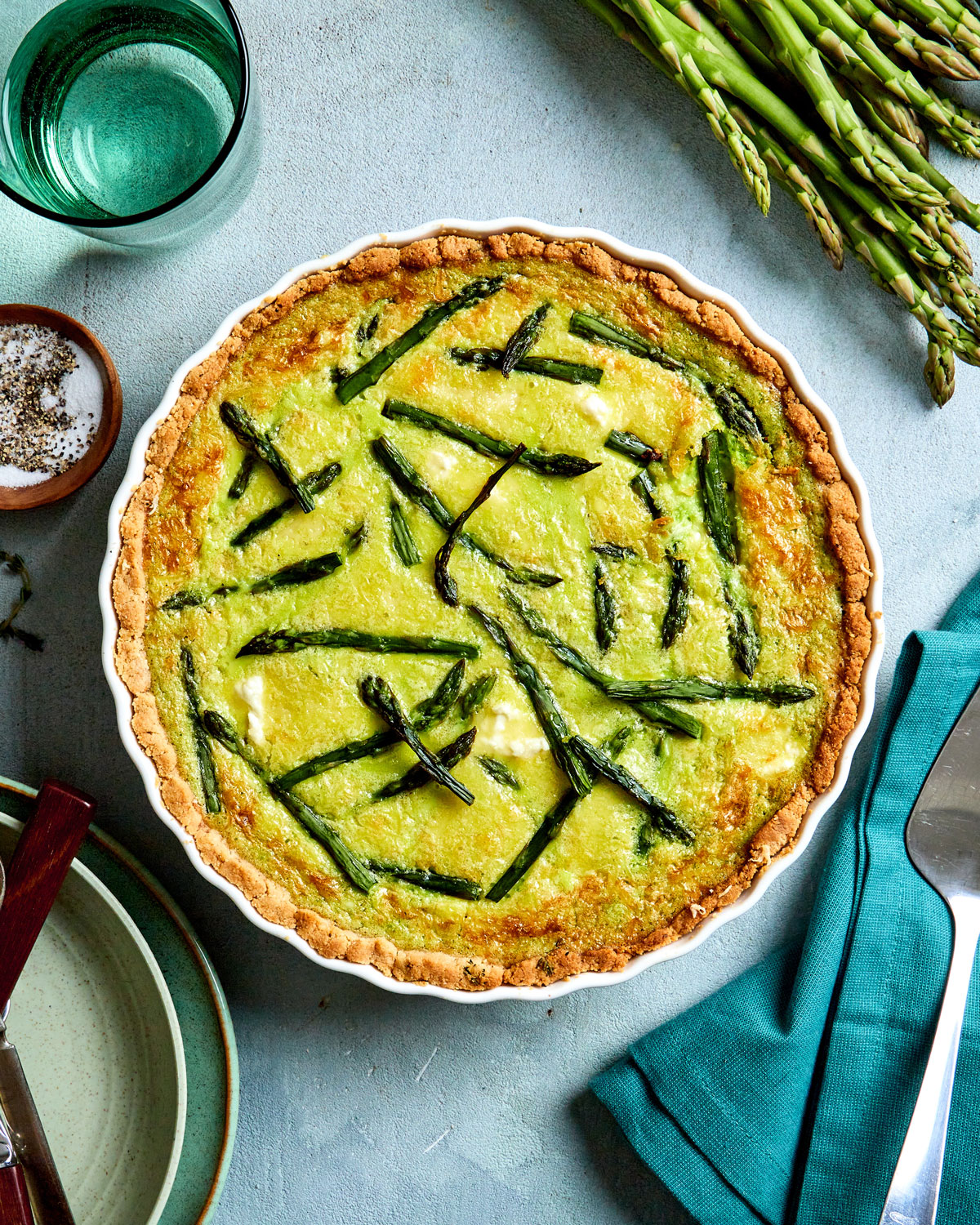 What is a custard tart?
A custard tart is basically a quiche. This particular one is made with cream and goat cheese which results in an extra luxurious custard when baked. To counteract the richness, a robust cheese like Gruyère, helps to give the quiche/tart more depth of flavor. The eggs and the little bit of flour in the custard give it some stability and act like a supporting player. It's the butterfat in the cream and milk that is responsible for a good quiche's rich custardy texture. This particular one not only has asparagus tips in it but after the stems are blanched they are puréed right into the custard incorporating more of the asparagus into the tart.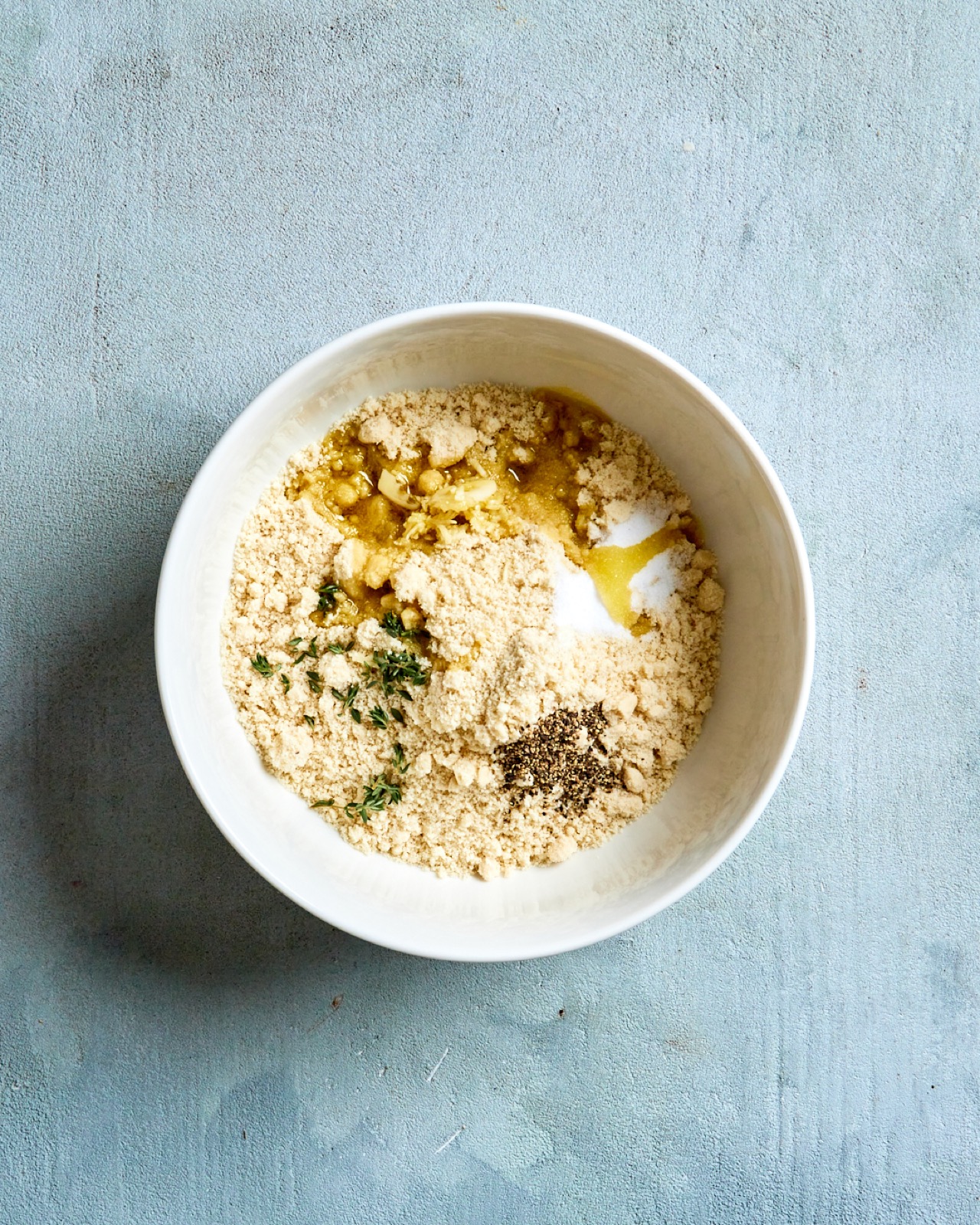 What makes a great custard tart/quiche?
First, a delicious custard tart should have a good homemade crust, preferably blind-baked. This tart has a crisp, savory, herbed and gluten free crust. The flavour and texture of the crust is delicious. Adding herbs to a crust whether it's this one or a buttery pie/galette adds so much flavour to a pie or a tart.  The crust should be able to hold up next to the creamy filling. A good quiche should also have a good amount of dairy or butter fat if you want it to to be creamy and light as opposed to soupy or watery. That being said any veggies added should also be cooked separately—onions should be sautéed and wet vegetables need to be cooked to the point of releasing their liquid. Pat your blanched asparagus well with a paper towel before adding them to be puréed to lower the amount of added moisture to the filling.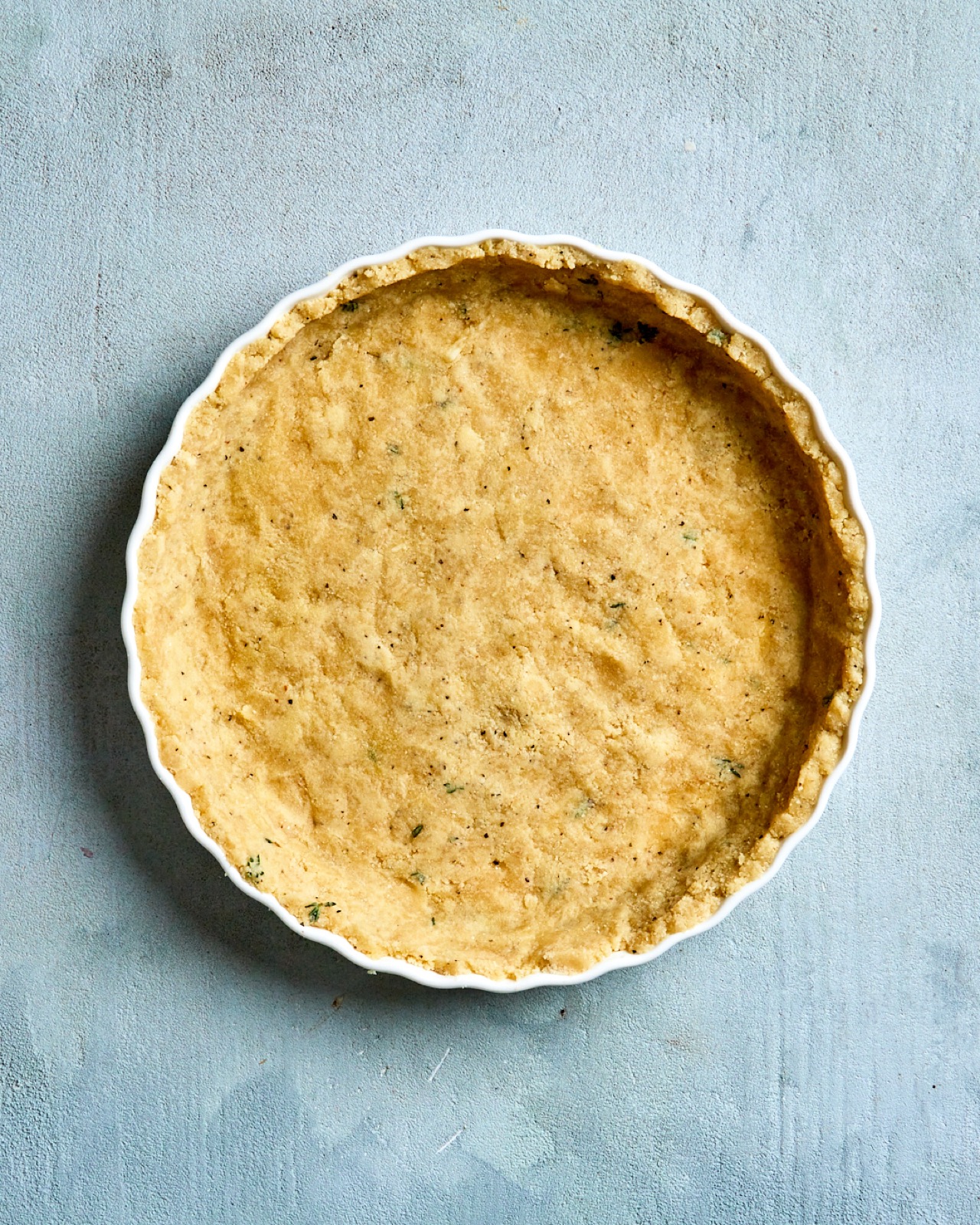 The crust is a wonderful one made with Bob's Red Mill Almond flour. It's by far one of my favorite flours to use in baking and In my simple press in tart crusts. It's made from California-grown almonds, great for Gluten free baking and perfect for paleo and grain free baking recipes as well. The texture it gives things is always pleasing and I also love the slight nuttiness if adds to anything you bake with it. I always have it stocked and with what is going on right now with all the flour hoarding  it's the key ingredient in a lot of my baking. Actually it's the most available thing right now along with Bob's Red Mill All Purpose Flour at my local grocery store.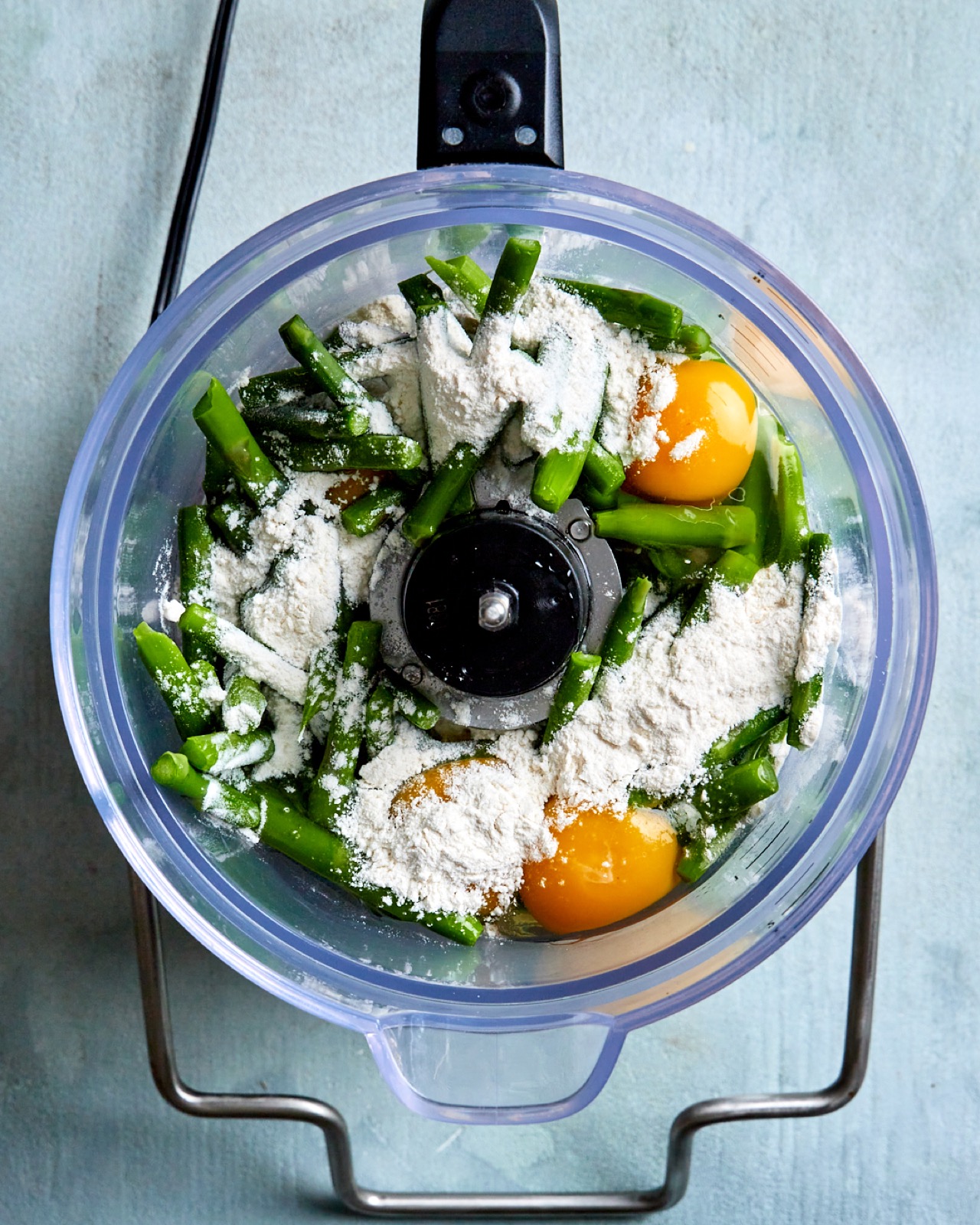 This month I'm featuring it in two very springlike recipes. First is this lovely asparagus tart that screams spring with its shade of green and also how strongly it features asparagus. The second recipe is a sweet one and a very simple one cause we all need a little something sweet these days. I can't wait to share that one with you soon. Bob's Red Mill has all the products you need for all your baking needs while catering to those in your family who have specific food allergies. Their flours come in stone-ground, whole grain,organic, gluten free, paleo, and vegan options, perfect for any spring recipes.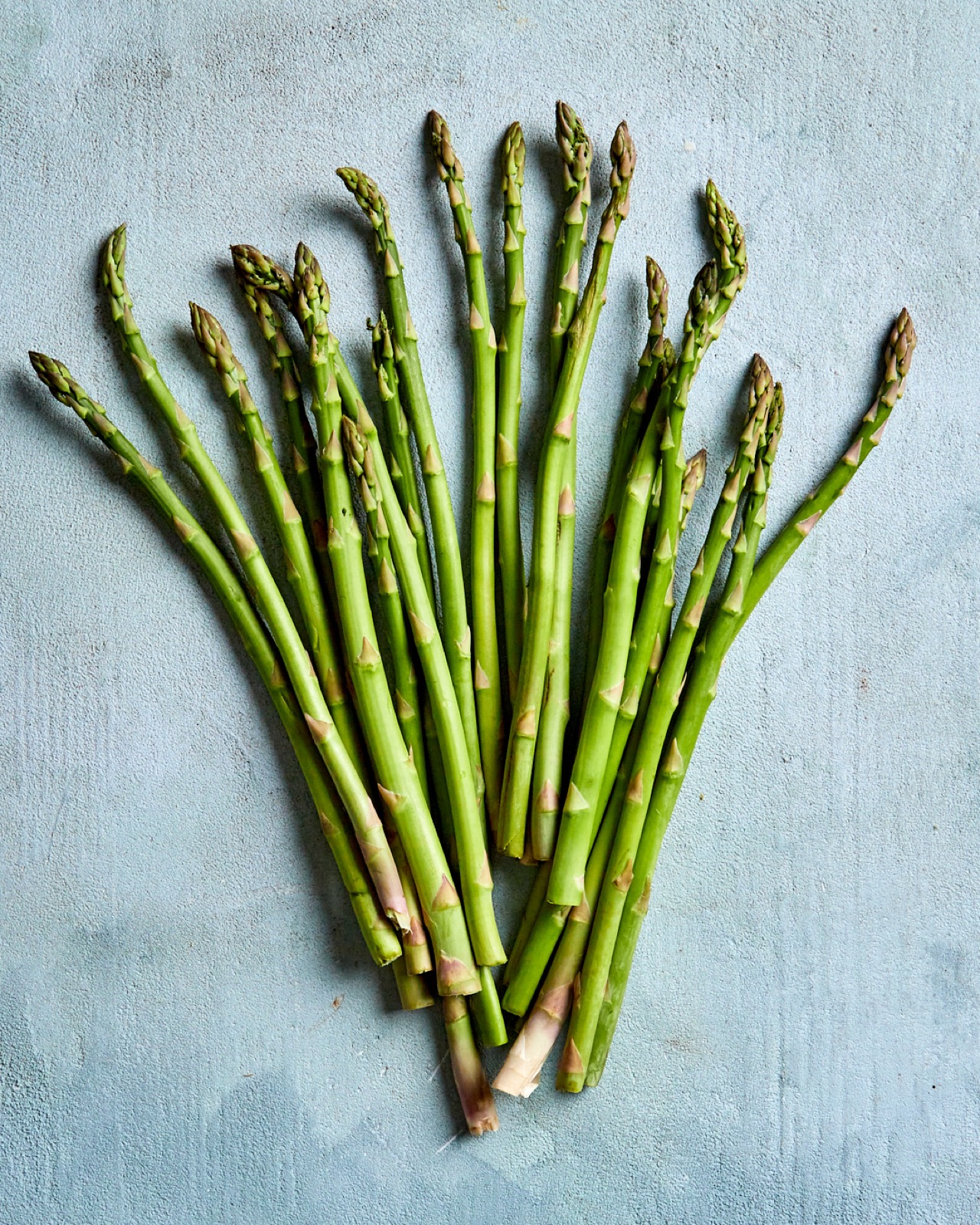 You will love this spring tart featuring the first of the seasonal asparagus that is showing up everywhere now. Enjoy it for dinner or for brunch - perfect for any occasion. Enjoy!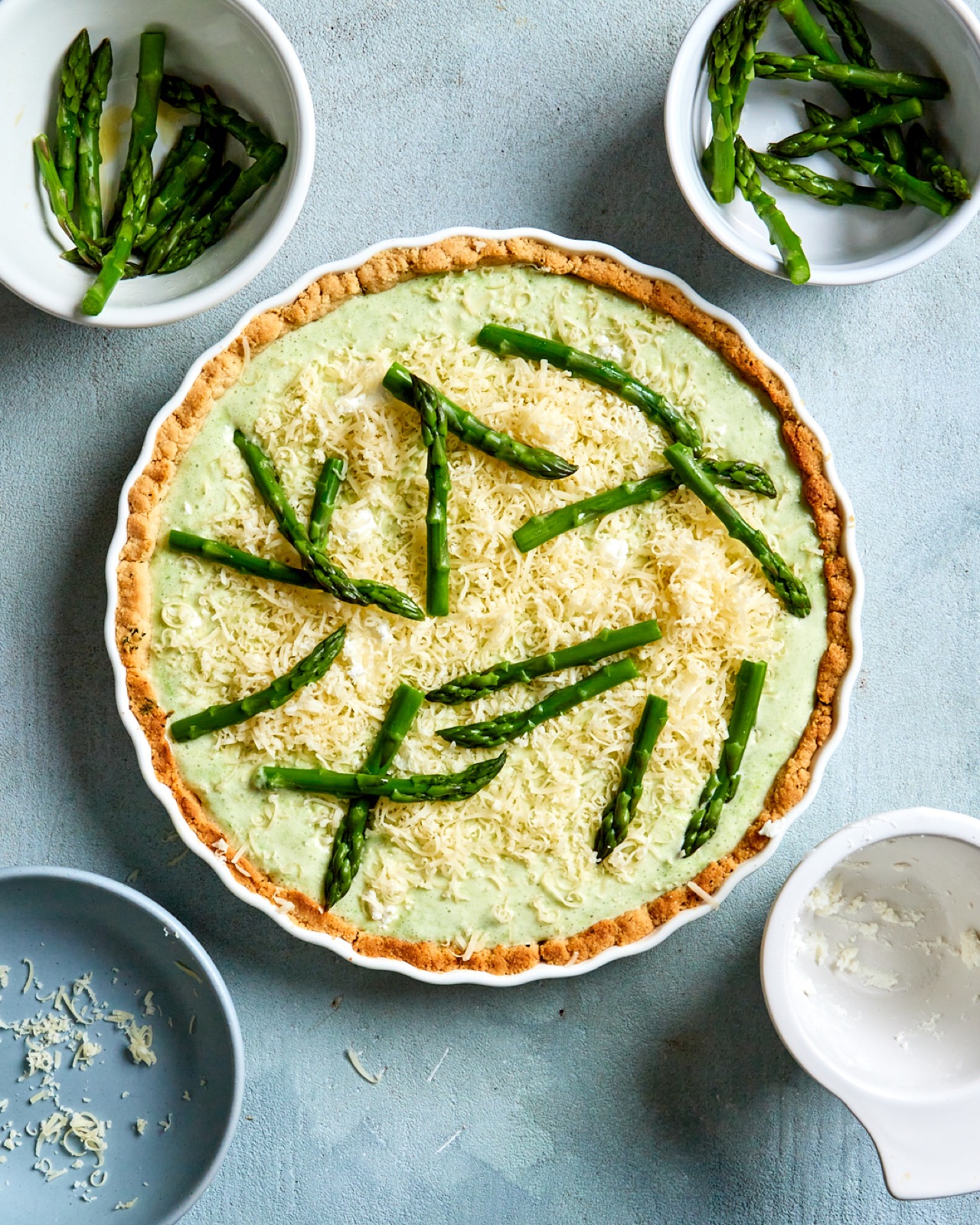 I have partnered up with Bob's Red Mill to bring you this fabulous recipe, but all opinions are my own. Thank you for supporting Olive & Mango.
Basic main ingredients
Eggs
Cream
Cheese
Fresh herbs & garlic
Almond flour
Olive oil
Asparagus
Substitutions
Cheddar or feta in can be substituted for the gruyere
Green peas for asparagus
A good all-purpose GF flour to make this tart fully gluten free - I always use Bob's Red Mill Gluten Free 1-1 Baking Flour
The thyme with rosemary or sage or really any herb you prefer
To make this custard tart fully vegan - I love to use the filling from this recipe by Rebel Recipes
Recipe
Servings:
6-8 (one 9-inch tart)
Prep Time: 20-30 mins
Cook Time: 55-60 mins
Ingredients
For the gluten-free & vegan almond flour crust
2 cups Bob's Red Mill Almond flour

1 garlic clove, minced

1 tsp minced fresh thyme or ¼ tsp dried thyme

½ teaspoon salt

¼ teaspoon freshly ground pepper

⅓ cup olive oil

1 tablespoon and 1 teaspoon of water
For The filling
1 tablespoon all-purpose flour

Salt

1 pound asparagus, trimmed, cut into 2-inch pieces, stalks and tips kept separate

2 teaspoons extra-virgin olive oil

4 large eggs, room temperature

1 cup heavy cream

1½ ounces Gruyere cheese, finely shredded (½ cup)

2 ounces fresh goat cheese, crumbled into large pieces (½ cup)
Directions
Preheat oven to 350°F. Grease a 9″ pie or tart pan with olive oil or cooking spray. In a medium bowl, stir together the almond flour, garlic, thyme, salt and pepper. Pour in the olive oil and water and stir until the mixture is thoroughly combined.
Press the dough into your prepared pan until it is evenly dispersed across the bottom and at least 1¼ inch up the sides. Bake until the crust is lightly golden and firm to the touch, about 15-18 minutes. Then allow to cool on cooling rack while you make the filling.
In the meantime prep the asparagus. Bring a medium pot of water to a boil and add 2 tablespoons salt. Add asparagus stalks and cook until crisp-tender, about 2 minutes. Transfer to a bowl of ice water; when cool, transfer to a plate and pat dry. Add asparagus tips to boiling water and cook 30 seconds. Drain and transfer to ice water; drain when cool. Pat tips dry and toss with oil in a bowl.
Transfer stalks to a blender. Add eggs, cream, flour, and 1¼ teaspoons salt to blender and puree until very smooth.
Pour custard into cooked crust. Sprinkle with Gruyere and goat cheese and top with asparagus tips. Bake until edges of custard are puffed, top is golden brown, and center is set, about 35-40 minutes. (Tent with foil if necessary to prevent overbrowning.) Let cool on a wire rack 15 minutes before slicing and serving.