Spicy Tuna Pasta Bake
This spicy tuna pasta bake is made with very common pantry ingredients and one you will enjoy making on the regular. It's one of those recipes that is so simple to make and very verasatile. Once you have your basic components when it comes to the ingredients you can modify the flavours to your taste and liking and also according to what you might have on hand. This classic tomato based tuna pasta bake gets a flavour kick with olives and chilli flakes and using tuna packed in olive oil also adds so much flavour. I have partnered up with Ocean's to share this recipe using their Solid Light Tuna in Olive oil and its one i think you will really enjoy.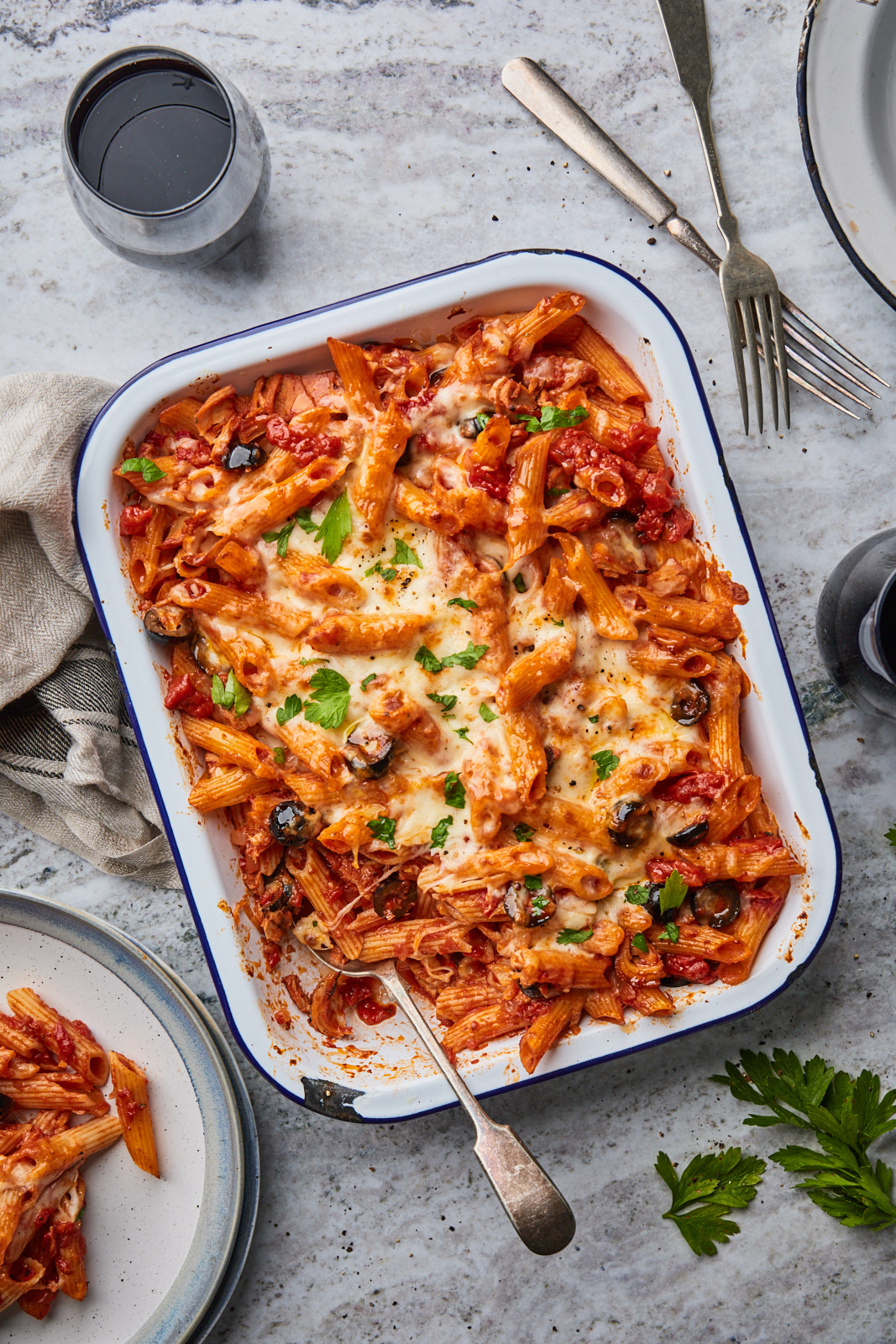 When it comes to pantry meals this one can't be beat. Most of us have a can of tuna, pasta, canned tomatoes and our favorite dried spice in our pantries. Those are the basic ingredients for this recipe the rest is all flavorings. I chose my favorite combination for this pasta bake but when it comes to add ins and flavourings, that is purely up to you. I love a little kick in my pasta and always add chili flakes. Most of us have and enjoy the flavour blend of Italian seasoning so that is the one i used in this pasta bake but feel free to switch things up accordingly to what you like. The olives add a nice salty brininess to this dish that I love and I often also add capers into the mix too as the tomato base along with the olives give this dish a pasta puttanesca sort of vibe which I love. I added chopped roasted red peppers but sun dried tomatoes would be delicious in here too. In fact you can add in whatever veggie you like even a couple of handfuls of greens. I love the added layer of flavour that anchovies add to any dish and included them here but that is also optional.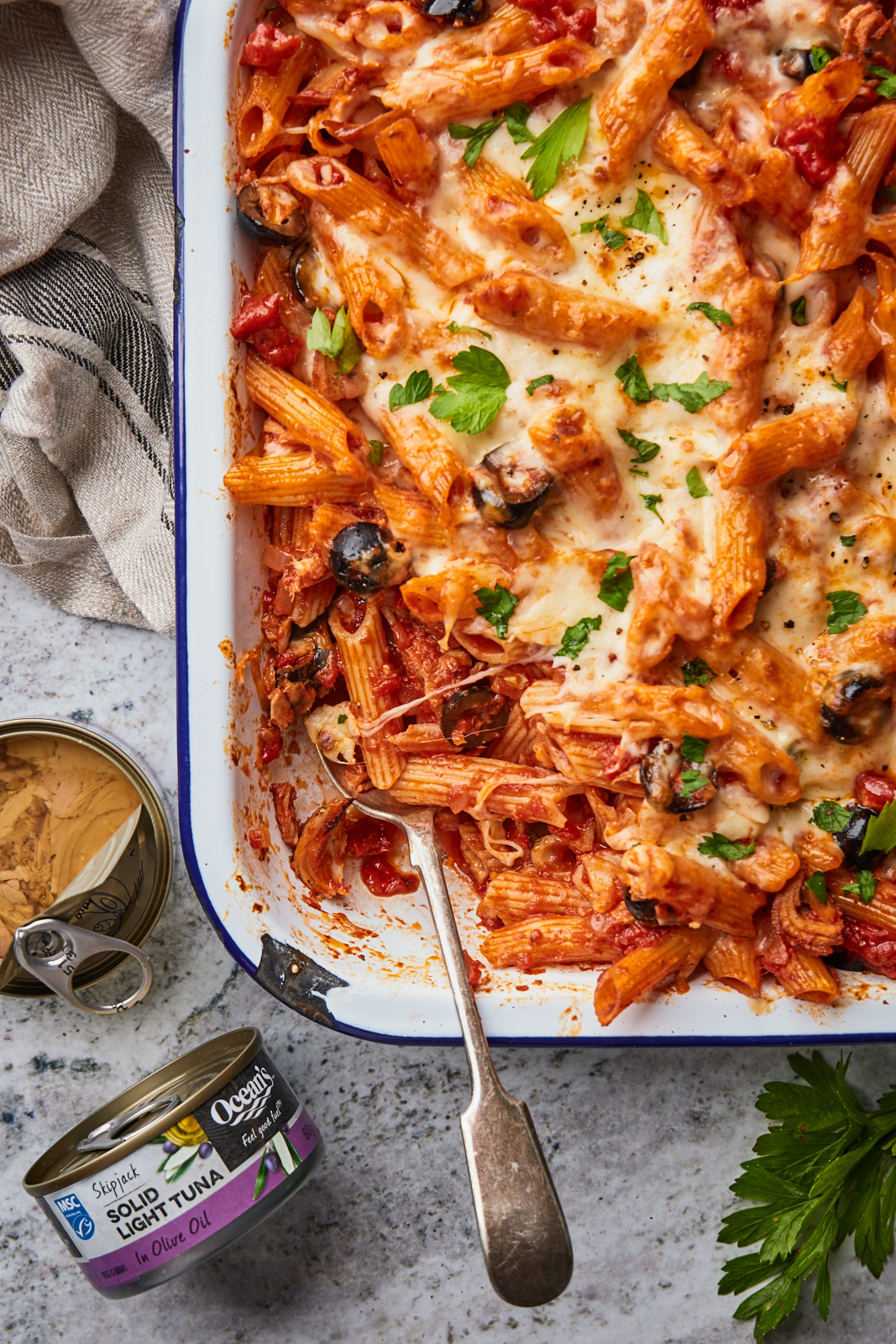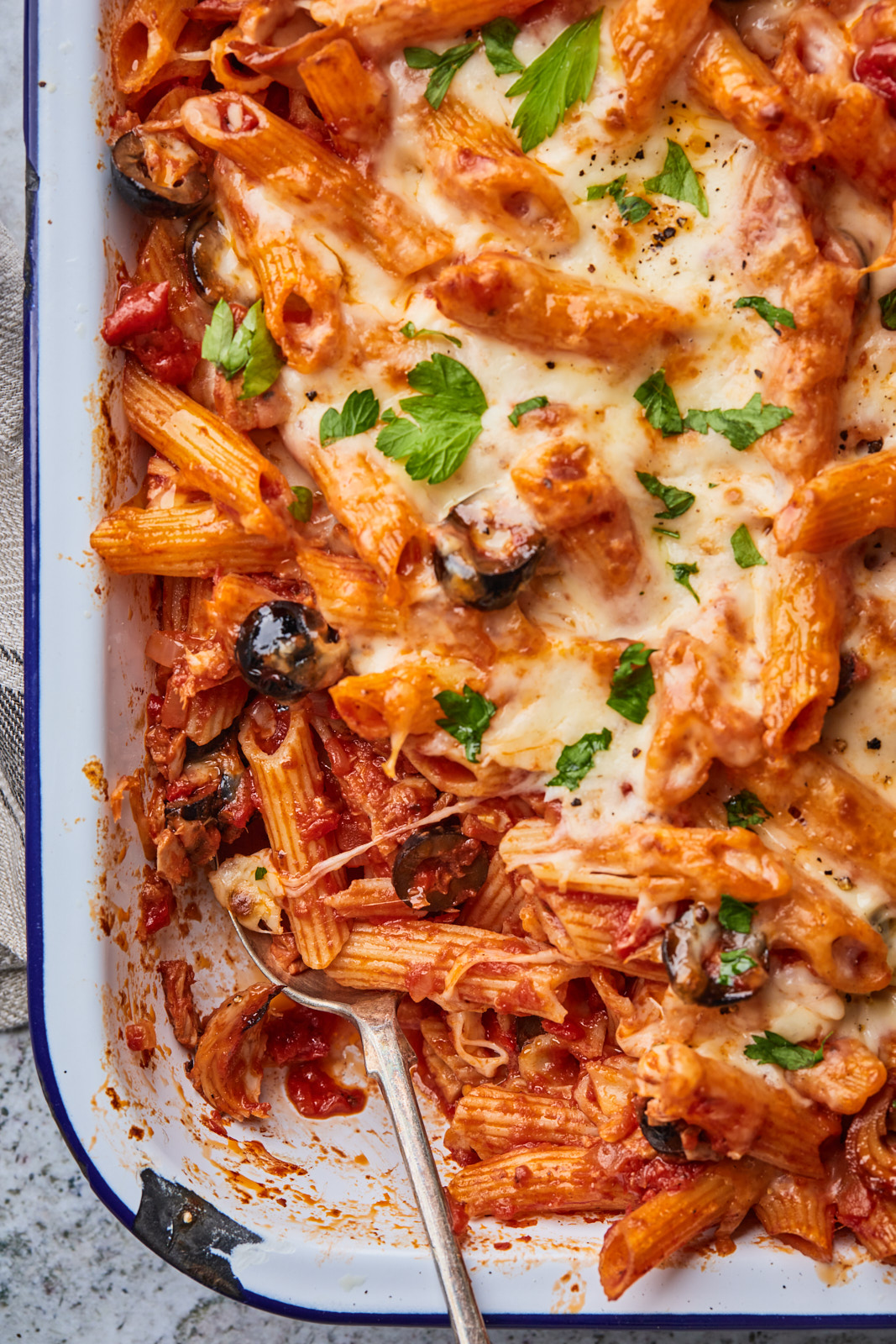 One things I would not switch out is the Tuna packed in olive oil. Canned tuna packed in olive oil always has more flavor and I like the fact that Ocean's Soilid Light Tuna in Olive oil not only tastes fabulous but is also versatile and great in salads, in pasta, in dishes like this and so much more. It's also MSC certified sustainable. Im always happy to support a company that goes the extra mile to stay sustainable. Their tuna in olive oil comes in three flavours. I used the one with olive oil but the other two would also be perfect in this recipe.They are basil infused oil and chili infused oil.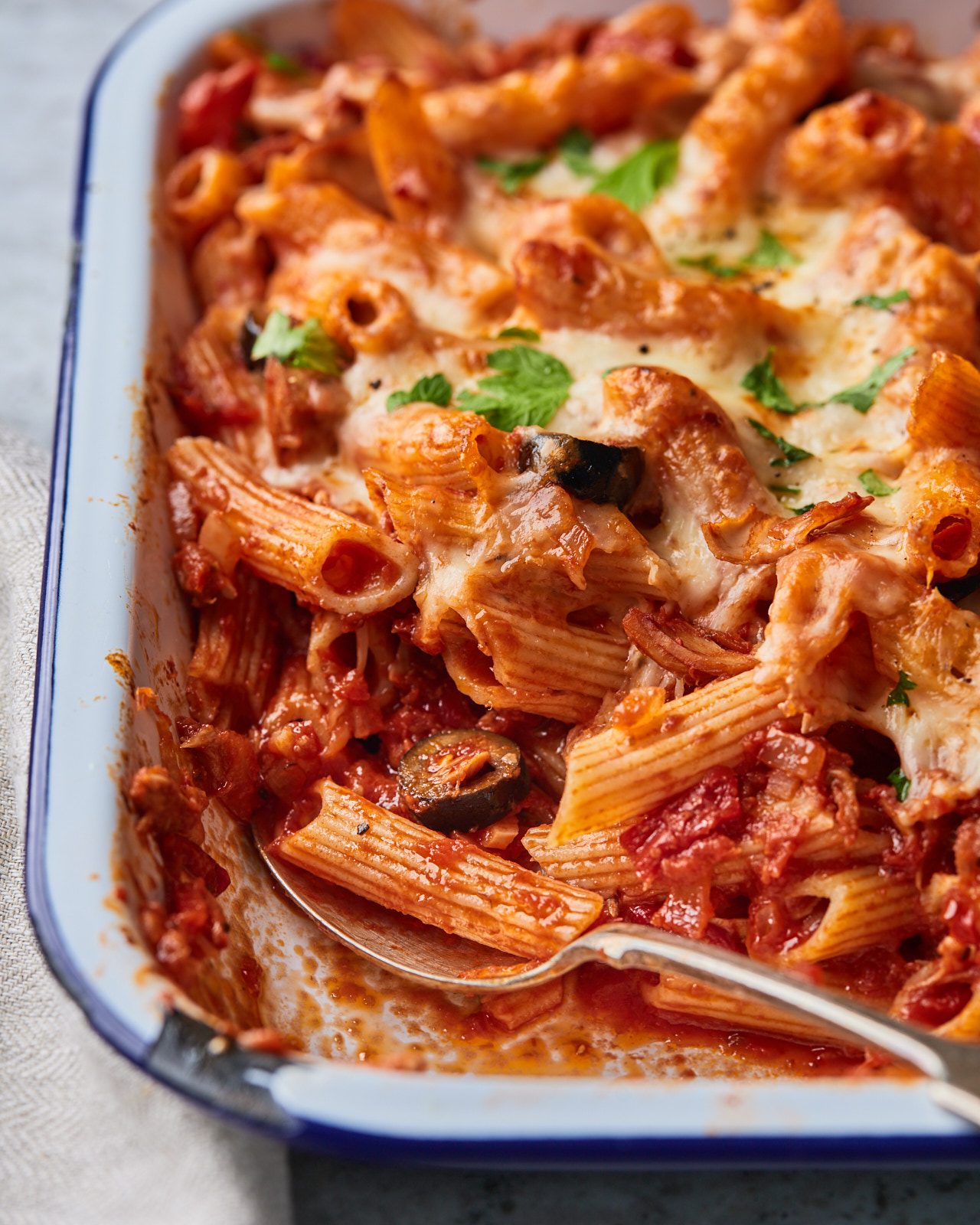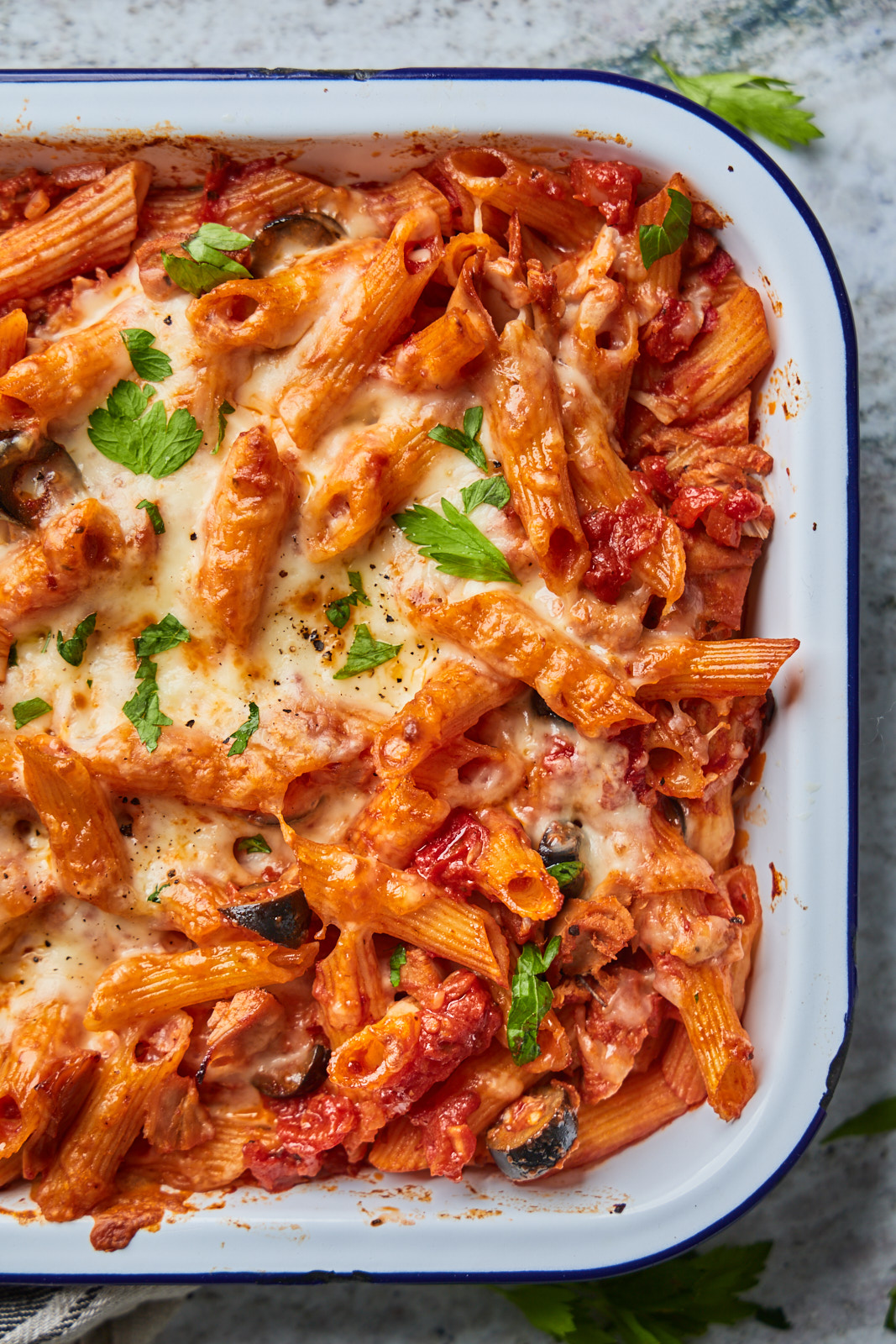 I love to leave the tuna chunky in my tuna bake so that it doesn't sort of melt away in to the sauce but you can actually bite into pieces of it. We loaded ours with mozzarella cause there's nothing better than a gooey layer of cheese over a pasta bake with some tasty crunchy cheesy edges. Garnish with fresh herbs like parsley or basil and enjoy with a side salad. It's easy to make and really great as a midweek meal and also good enough for Sunday lunch.
I have partnered up with Ocean's to bring you this fabulous recipe, but all opinions are my own. Thank you for supporting Olive & Mango.
Recipe
Prep Time: 10 mins
Cook Time: 35 mins
Ingredients
300 g penne pasta

3 tablespoons extra virgin olive oil plus more for drizzling

2 garlic cloves, peeled and minced

1 onion, peeled and finely chopped

1 oil-packed anchovy fillet, coarsely chopped (optional)

1 tablespoon dried Italian mixed herbs

1-2 teaspoons dried chilli flakes (according to how spicy you want it)

2 tablespoons tomato paste

2 (398ml) cans crushed tomatoes

½ cup coarsely chopped roasted red peppers from a jar

½ cup of water or broth

1 cup pitted black olives coarsely chopped

3 (80g) cans of Ocean's Solid Light Tuna in Olive (drain most of the oil)

1½ cups shredded mozzarella cheese

Finely chopped fresh flat-leaf parsley, to serve
Directions
Preheat oven to 350°F.
Cook pasta to al dente. Drain, toss with 1 tablespoon of olive oil and set aside.
While pasta is cooking make sauce. Heat remaining 2 tablespoons of oil in skillet or sauce pan over medium high heat. Add garlic, onion, and anchovy, and cook for just a few minutes until onion is softened and translucent all the while breaking up the anchovy.
Stir in the tomatoes, roasted red peppers, water, herbs, salt and pepper and tomato paste. Bring to a simmer, lower heat to medium and continue simmering for 5 minutes stirring occasionally until it has thickened and reduced a bit.
Adjust seasoning to taste and remove from heat.
Stir in pasta, and olives and add the tuna and gently fold it in so that the tuna stays in chunks instead of it disintegrating into flakes.
Transfer to a medium sized baking dish. Drizzle with olive oil, top with cheese then bake for 20 minutes until golden and bubbling
Let stand a couple of minutes and then serve garnished with chopped fresh parsley. Cooked leftovers will keep refrigerated 3 to 4 days and can be reheated in microwave or oven.