Baked Blueberry French Toast
This blueberry french toast casserole is the perfect recipe for holidays or slow mornings or any time you want a fun breakfast without a ton of work. This easy breakfast casserole is loaded with fresh or frozen blueberries and a delicious streusel topping.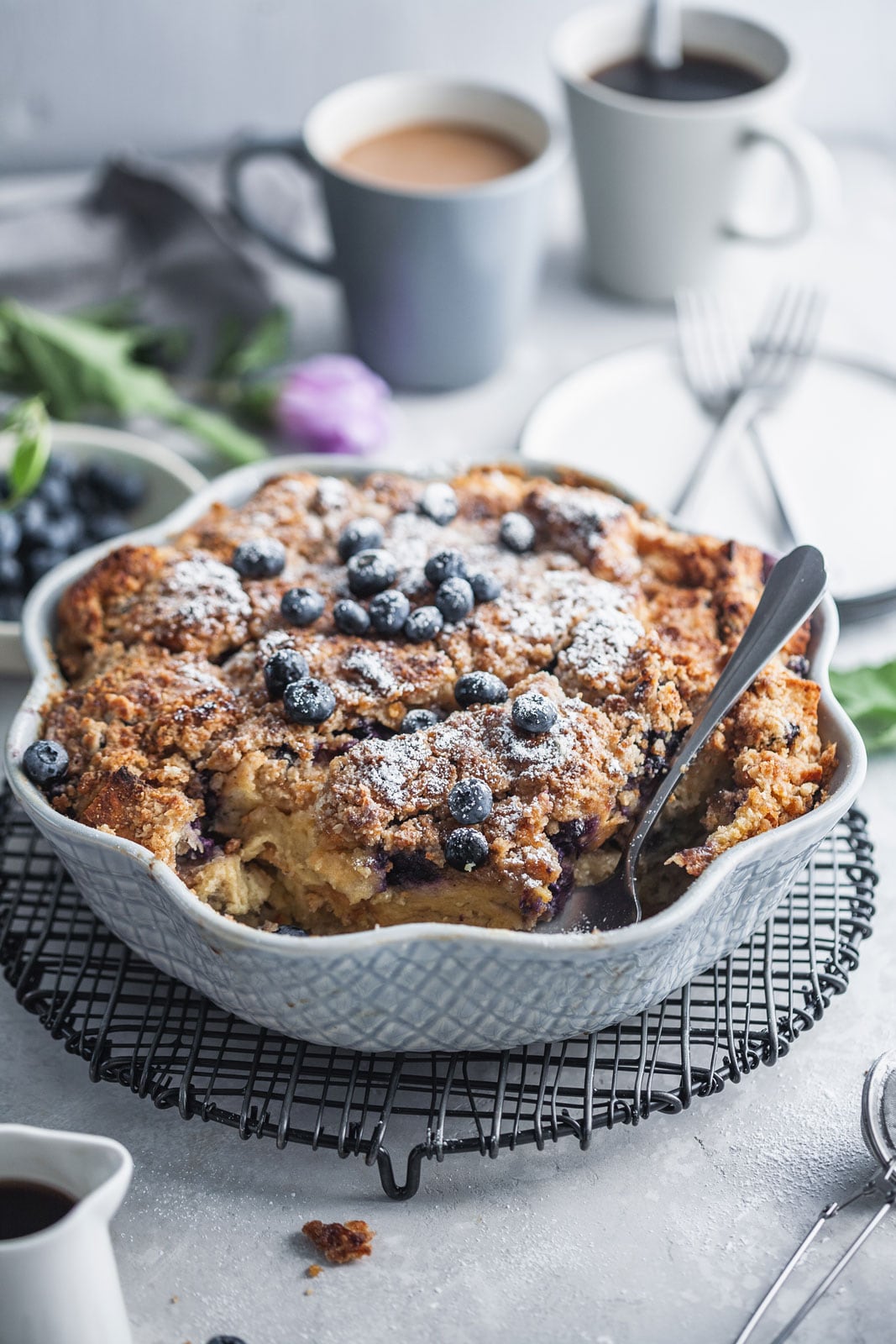 Baked French toast casserole reminds me of weekends away with family and friends in Tobago. Boy what i would do to have a weekend away in Tobago right about now! Each time we went this baked casserole was always on my list to make because not only is it super delicious, but it can also feed a crowd, its a crowd pleaser, and it can double as dessert too. It's a total win every-time. Let's talk about how simple this recipe is to make. This overnight blueberry French toast casserole is so much easier than making individual portions on the stove-top for 10-12 people. No dipping, flipping, or burning the fist couple before you nail the right amount of butter to grease the pan, or the temp. It's a quick tear or chop, whisk and dump everything in a pan. The topping is a bit more complex but only slightly and it's worth the extra effort cause it adds to the crispy caramelised edges of the french toast which no one can resist.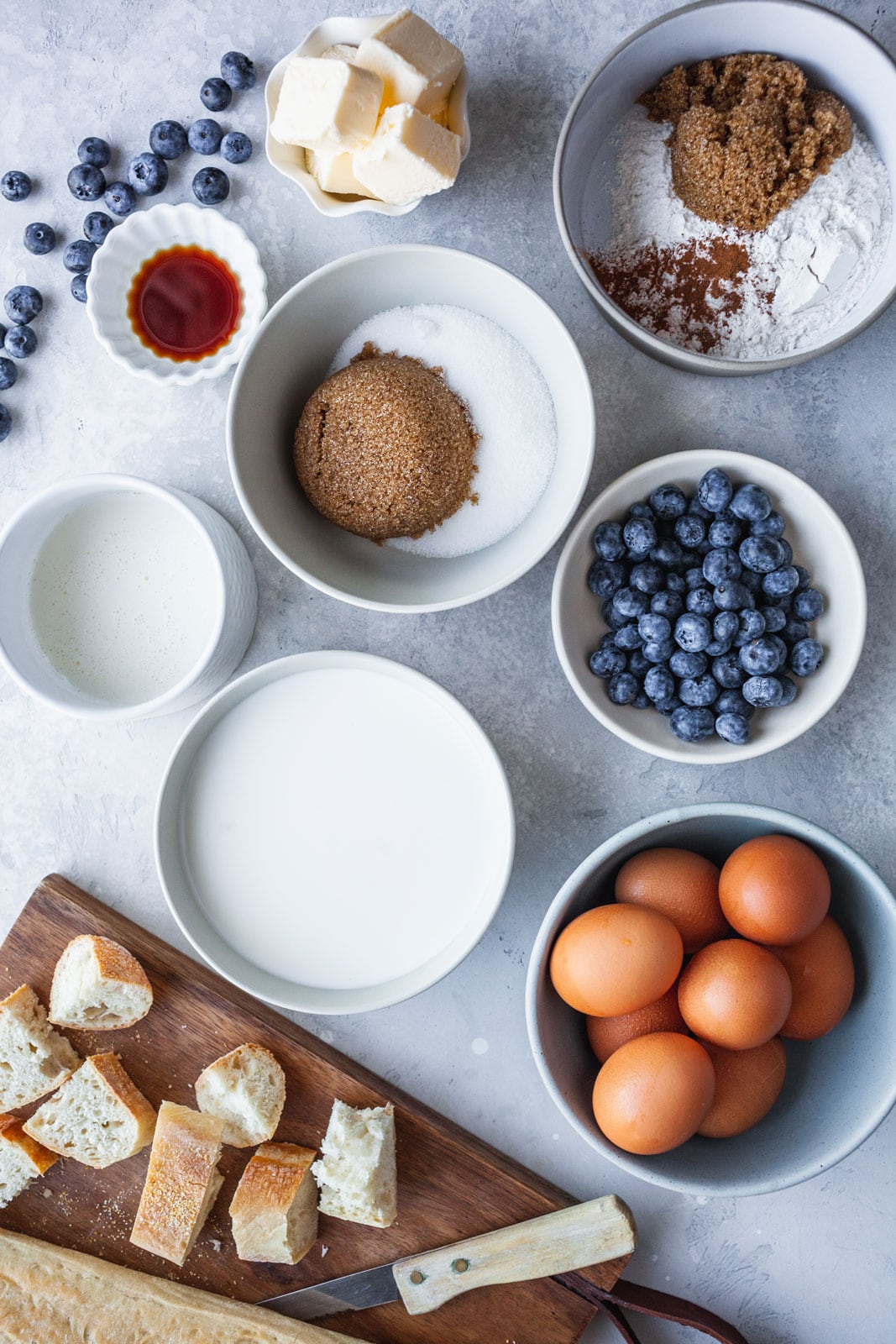 Blueberry French Toast Casserole Recipe Ingredients
BREAD: I recommend french bread, or sourdough bread, that is day-old bread. These types of bread work best because they hold up well with the soaking - challah bread, or Texas toast is fine too but it tends to be softer with and airy crumb and soaks up the custard easily and could potentially be a little too soggy if its not day old and dried out. Feel free to use gluten free bread if needed
MILK: Whole milk is best for this recipe, but 2% should work fine too.
EGGS: Helps bind everything together. You will need 8 eggs
CREAM: I like the richness heavy cream adds to the custard and casserole but feel free to replace it with more milk
BLUEBERRIES: Use Fresh blueberry or frozen. If using frozen berries there is no need to thaw simply add them in frozen. You can also use blackberries, raspberries or chopped or sliced strawberries or cranberries
SPICES: I added cinnamon to this easy french toast casserole to really amp up the flavours but feel free to add more warming spices like a pinch of nutmeg, ground ginger or ground cardamom is lovely with blueberries too
VANILLA: Pure vanilla extract delivers the best flavor.
SUGAR: The casserole is sweetened with granulated sugar, and brown sugar and the streusel topping gets some flavor from brown sugar.
BUTTER: I recommend using unsalted butter since the amount of salt in salted butters can vary between different brands.
FLOUR: Used in the streusel topping.
EXTRA ADD INS: If you want to amp up your French toast casserole scatter spoonfuls of softened cream cheese layered between the cubed bread for a a rich and indulgent French toast. Feel free to add some chopped nuts like pecans or walnuts to the crumble topping. Make a simple blueberry sauce to serve with the French toast for and extra berry full add on. Add a touch of lemon zest and lemon juice to the custard for a blueberry lemon spin, or even make it a little boozy by adding 1-2 tablespoons of some rum, triple sec or Cointreau.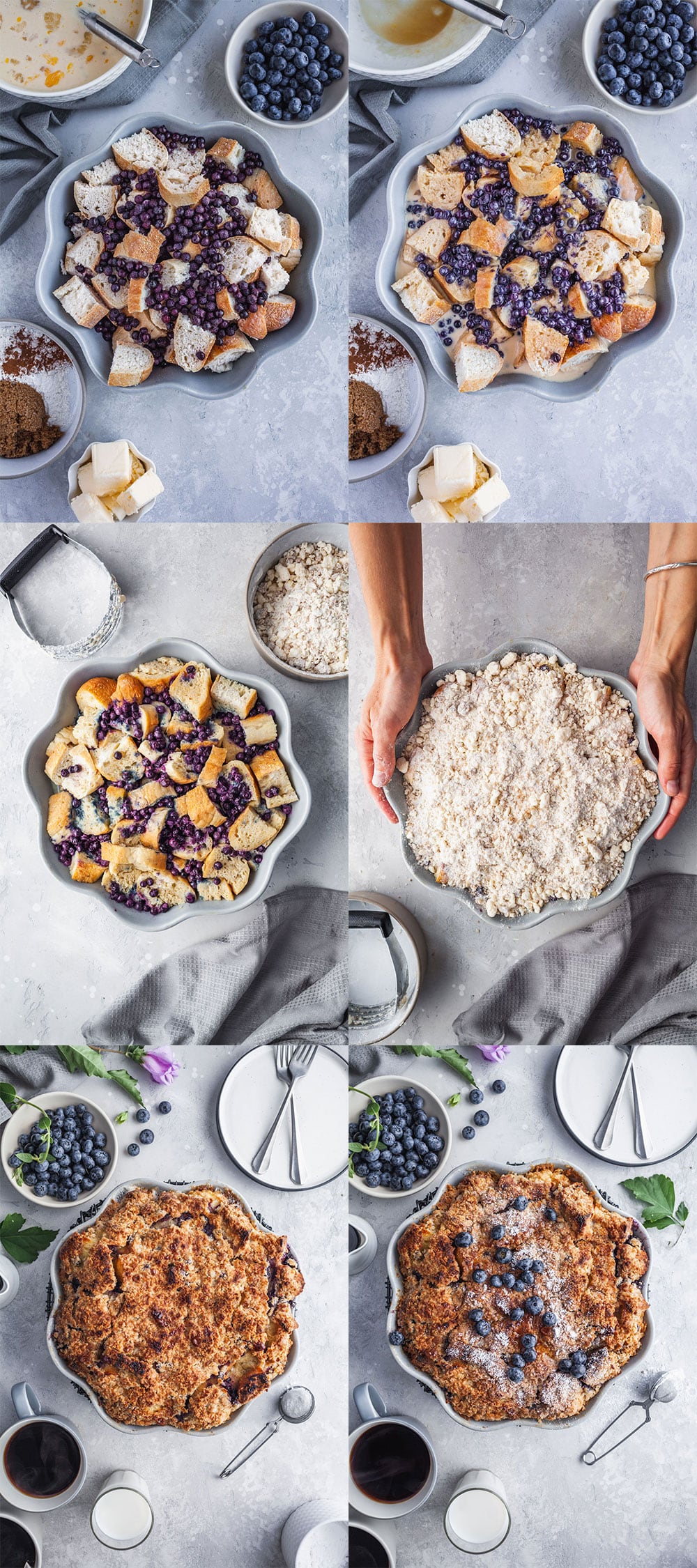 How To Make Blueberry French Toast Casserole
PLACE cubed bread into prepared casserole dish (round deep dish or 9 x 13-inch baking dish)
SPRINKLE blueberries evenly over bread
WHISK together custard ingredients in a large bowl until smooth and combined
POUR custard evenly over bread and berries
COVER and chill for 3-24 hours
PREPARE crumb topping
REMOVE casserole from fridge - let sit on counter while PREHEATING oven
SPRINKLE topping over casserole
BAKE until golden
SERVE warm dusting with powdered sugar and with whipped cream and fresh fruit and chopped nuts, and maple syrup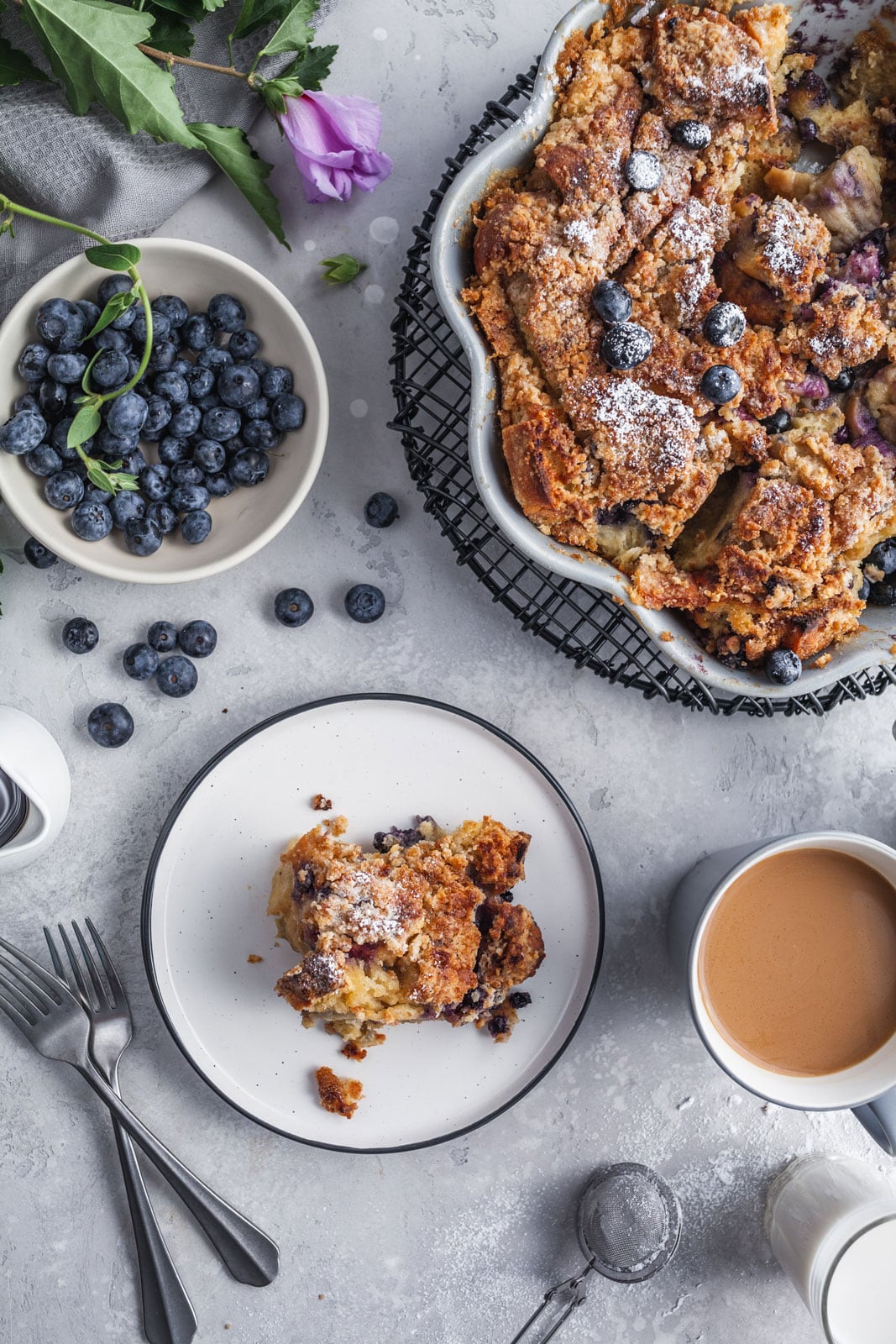 French Toast Casserole Make Ahead, Storage & Freezing
Can I Make This Blueberry French Toast Casserole Ahead of Time? Yes that is the best part about this recipe that you can make it ahead up to 24 hours which makes it perfect for busy morning or holiday mornings. Here is how to do it:
MAKE AHEAD: Yes! I actually prefer to prepare the french toast breakfast casserole the night before and let it sit overnight so the bread can really soak up the custard. I even make the topping ahead and store in a zip-lock bag. Then in the morning, all you have to do is top it with the crumb topping and bake it.
STORAGE: Store leftover apple french toast casserole in an airtight container in the refrigerator for up to 3-5 days. Reheat individual servings in the microwave for 20-30 seconds if desired or in the oven or toaster oven.
FREEZING: The fully cooked and cooled casserole can be frozen, although it's better when fresh. But if you have leftovers to freeze, wrap individual portions in plastic wrap and then a layer of foil. Defrost the individual slices in the refrigerator overnight then reheat until just warmed through in the microwave or oven. If you are freezing the whole casserole wrap in plastic wrap and foil and place cooled casserole in the freezer and store for up to 1 month - thaw in the fridge overnight and place in a preheated oven at 350°F for 10 to 15 minutes, or until warmed through and re-crisped on top.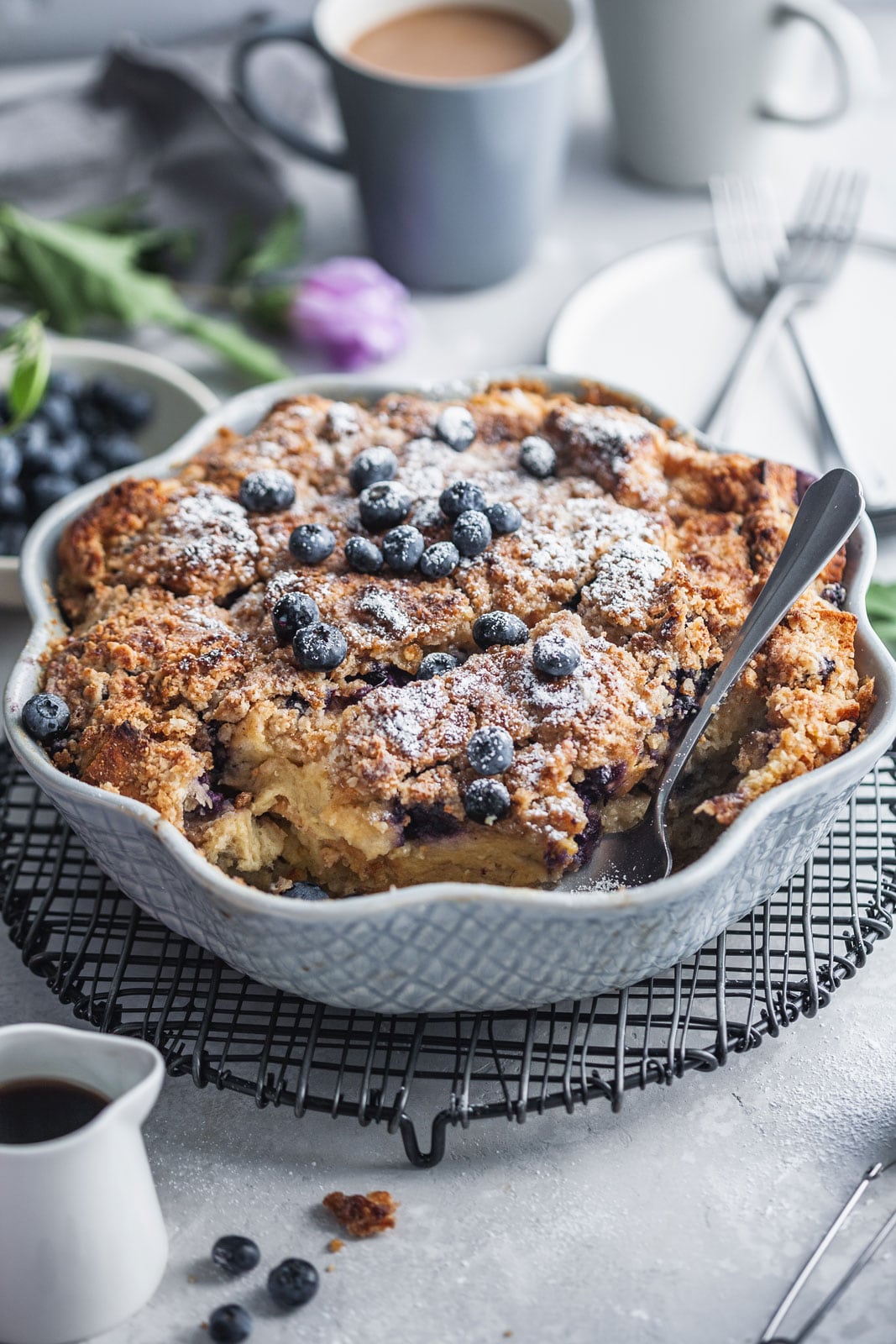 It's also fabulous because you can make both components, the french toast and the topping ahead and just stick it in the oven in the morning while everyone else is sleeping and then it's ready when everyone starts waking up. Waking up to the smell of this baking is heavenly. Or it must be I should say -I wouldn't know because its usually me making it. Hee hee - no bitterness there at all. I love making it and I love seeing people enjoy it. Johann loves it and he just loves to use up all my maple syrup all over it. We are talking puddles. He is not a cheap date folks, not when it comes to breakfast as all our friends can attest. He is a bottomless pit when it comes to breakfast and he only likes the good stuff when it comes to his syrup. No Aunt Jemima for him. Canadian maple all the way!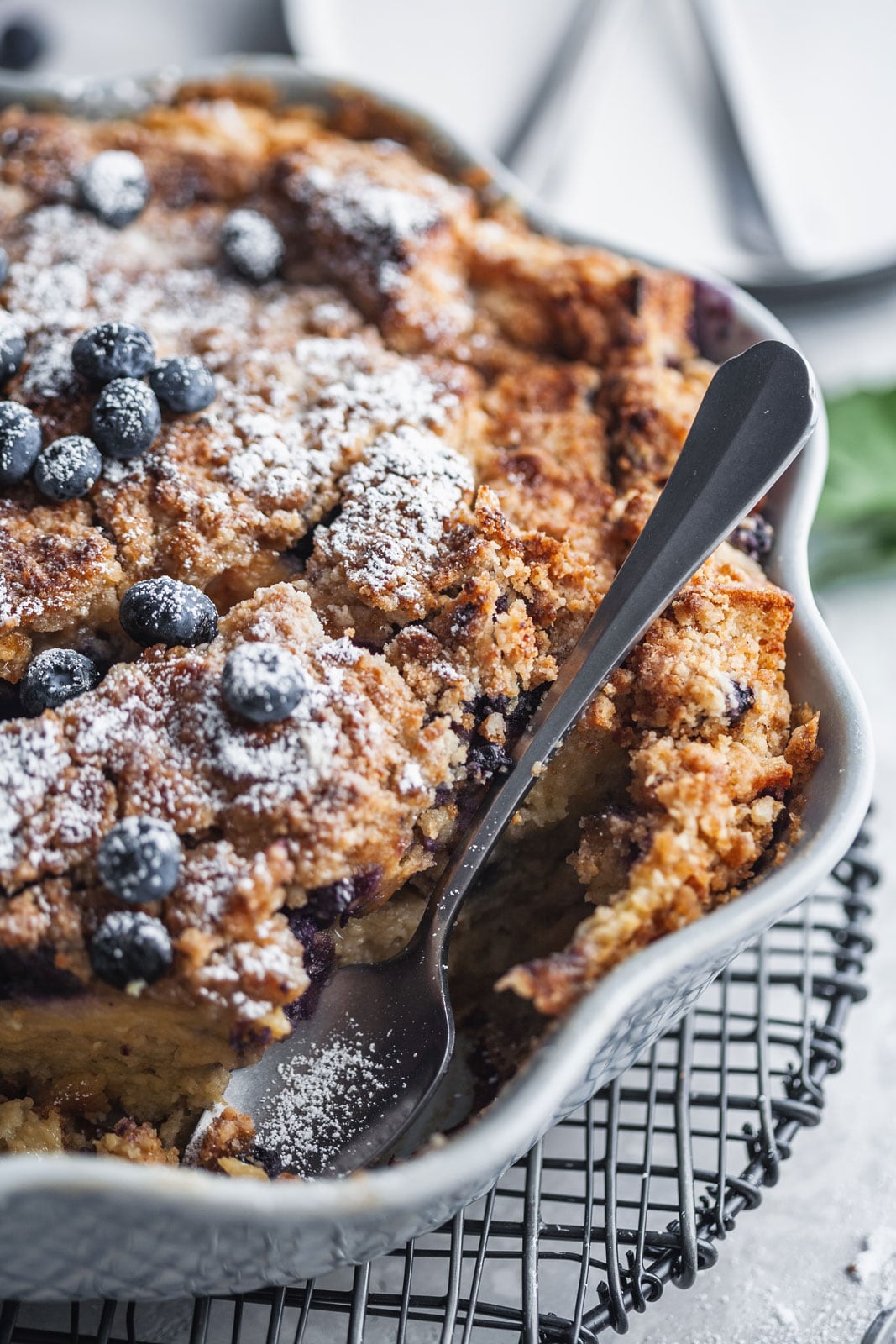 It's the perfect breakfast/brunch dish and I know you will love it. Writing this is seriously making me nostalgic for Tobago and for the people I love in Trinidad. In particular my one little nephew and set of cousins who thoroughly enjoyed this baked french toast. Maybe one day soon i will make it for them again! Until then I guess Johann and my dad can have at this - which they sure did after the last click of the camera and they did so happily!
More Favorite Brunch Recipes
Recipe
Prep Time: 20 mins
Bake Time: 45-60 mins
Non Active Time: 3-24 hours (if making ahead)
Total Time: 4 hours 20 min (or more if making ahead more than 3 hours)
Ingredients
For the French toast
1 (12-14 ounce) loaf french bread, sourdough bread, or challah bread

1 cup (180g) fresh or frozen blueberries

8 whole eggs

2 cups whole milk

¼ cup whipping (heavy) cream

½ cup granulated sugar

½ cup brown sugar

2 tablespoons vanilla extract
For Topping
½ cup all-purpose flour

½ cup firmly packed brown sugar

1 teaspoon ground cinnamon

¼ teaspoon salt

1 stick cold butter, cut into pieces
Directions
Grease a 9x13-inch baking dish with butter.
Tear or the bread into chunks, or cut/slice into cubes, and evenly distribute in the pan. Then sprinkle the blueberries evenly over the cubed bread.
In a large mixing bowl whisk or stir together the eggs, milk, cream, granulated sugar, brown sugar and vanilla until fully combined to make custard.
Pour this egg mixture evenly over the bread and berries.
Cover the pan tightly and store in the fridge for at least 3 hours but overnight preferably.
Prepare the topping before baking or overnight and store refrigerated in an air tight container: In a small bowl whisk together the flour, brown sugar, cinnamon, and salt. Cut in the butter with a pastry cutter, and mix it all together until the mixture resembles fine pebbles.
When you're ready to bake the casserole, preheat the oven to 350 ° F.
Remove the casserole from the fridge and sprinkle the topping over the bread and berries evenly.
Bake for 45 min-1 hr until the top is golden brown and crispy. (45 min is for a softer centre)
Serve with maple syrup or your choice of pancake syrup and a dusting of powdered sugar and enjoy!!
Cover leftovers tightly and store in the refrigerator for 3-5 days.
Recipe Notes
For less custardy cover with foil at the 20 minute mark and continue to cook a few extra minutes until cooked to your desired texture
Instead of pouring the custard over the bread cubes in the casserole dish, feel free to mix or toss the bread cubes and the custard together in a bowl first to saturate all the cubes with the custard.
No one likes soggy bread! French toast casserole is one of those recipes that has a lot of variables. Maybe your eggs are a bit bigger, or your bread was too fresh etc. There's an easy way to fix soggy French toast, though. Just increase your baking time until the casserole has reached your desired level of doneness. Cover loosely with foil to prevent top from burning or browning too quickly.
Adapted from the Pioneer Woman