Broccoli Soup
This easy healthy Greek style cream of broccoli soup recipe, is fresh and warming just the type of soup I love to make and eat during this time of year. A fun Greek take on broccoli cheese soup. The broccoli cooks together with onions, leeks, potatoes, spinach, garlic and fresh herbs and is puréed into a delicious creamy soup. Try this healthy broccoli soup alongside crusty bread or a grilled cheese sandwiches or as a starter for a simple dinner. This soup is vegetarian and gluten free as written. You can even make it dairy free/vegan with substitutions. It is still cold out but spring is just around the corner so this soup has some fresh flavours that remind me of spring plus its loaded with greens - the colour of spring. The Greek flavours are fresh, lemony and are reminiscent of the way we Greeks love our broccoli - steamed with loads of olive oil and lemon juice.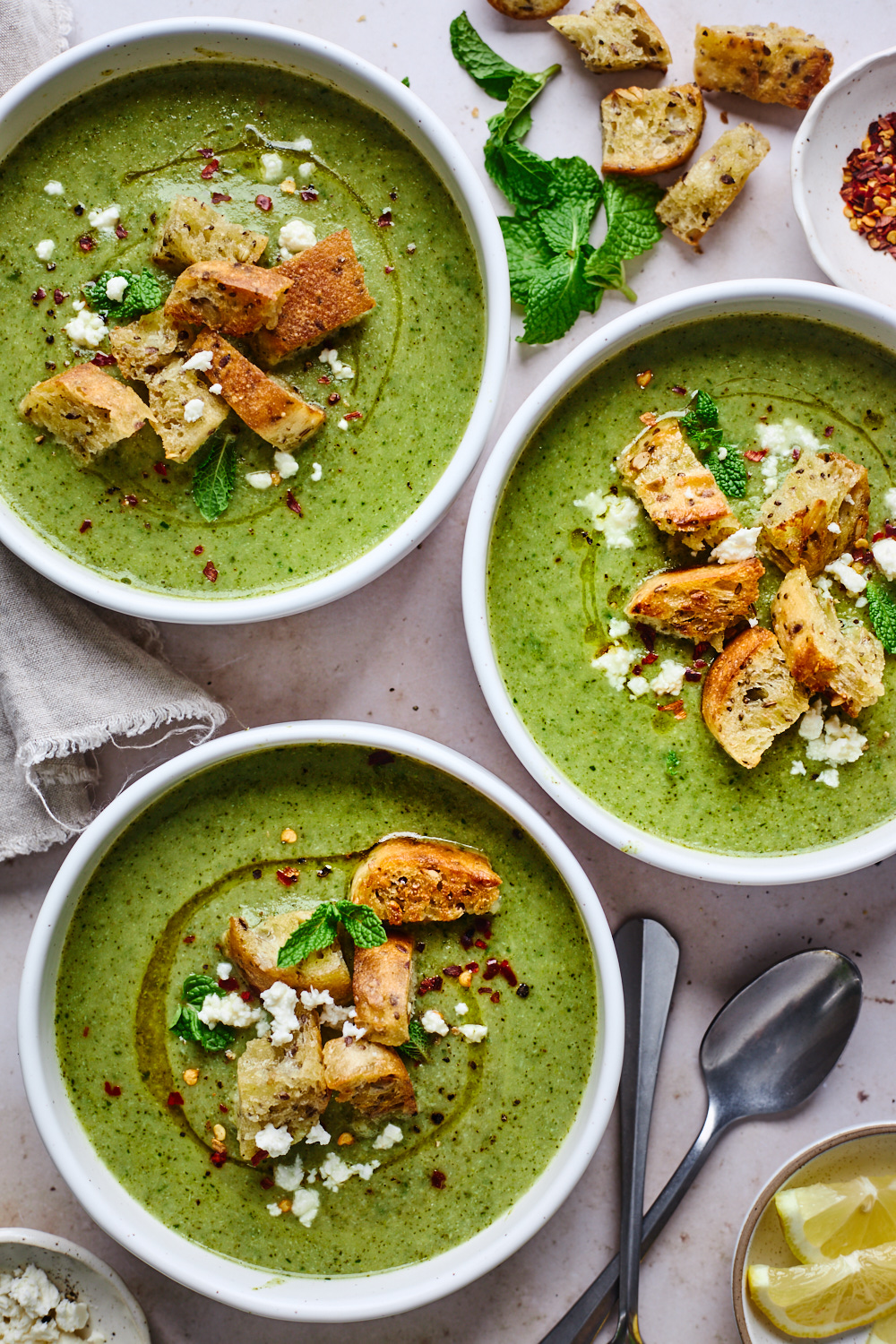 Why you are going to love this soup:
Full of broccoli and loaded with greens for a fresh take on a classic cream of broccoli soup
There is no flour or roux in this soup or cream for a lighter version of broccoli soup, making it gluten free and vegan friendly
Creamy and oh so delicious with herby and lemony flavours
Fresh & Healthy Greek Style Broccoli Cheese Soup Ingredients
This flavorful soup is made without heavy cream, milk or flour. You'll just need a few basic ingredients to make it:
Olive oil - you could use butter or vegan butter instead if you prefer a richer base to this soup
Onion, Leek and garlic - form a savory base layer. Since we're blending them all up later, you don't need to chop them finely. The leek is optional but I recommend it as it adds a sweet delicious flavour.
Russet potato - or any potato you like can be used peeled, cubed and cooked until tender, lends a luxuriously creamy texture once blended. no need to add any other thickener here.
Broccoli - approx. 4 cups of fresh broccoli florets
Broth - I like to use vegetable broth or chicken broth or chicken stock. you could even just use water if you prefer no added extra flavours to the soup, just be sure to season with salt and pepper accordingly.
Cheese: I used hard hand grated Minzithra cheese or you could use parmesan cheese. I also serve this with crumbled feat cheese for a little briny flavour. The cheese is totally optional - the soup is just as delicious without the cheese. Cheddar cheese isn't a great option here as the flavours don't really align.
Chili flakes, Oregano, Salt & pepper - use as much or as little as you like to season your soup with.
Lemon - I use fresh lemon zest and lemon juice in this recipe. It's Greek after all so its got to have that signature lemony flavour.
Spinach - the spinach not only adds the perfect hue of green to this soup but it adds an even bigger dose of nutritional value to this soup. The more greens the better I always say
Fresh Herbs - my favourite to use in this soup are fresh mint and fresh parsley. Use as little or as much as you like.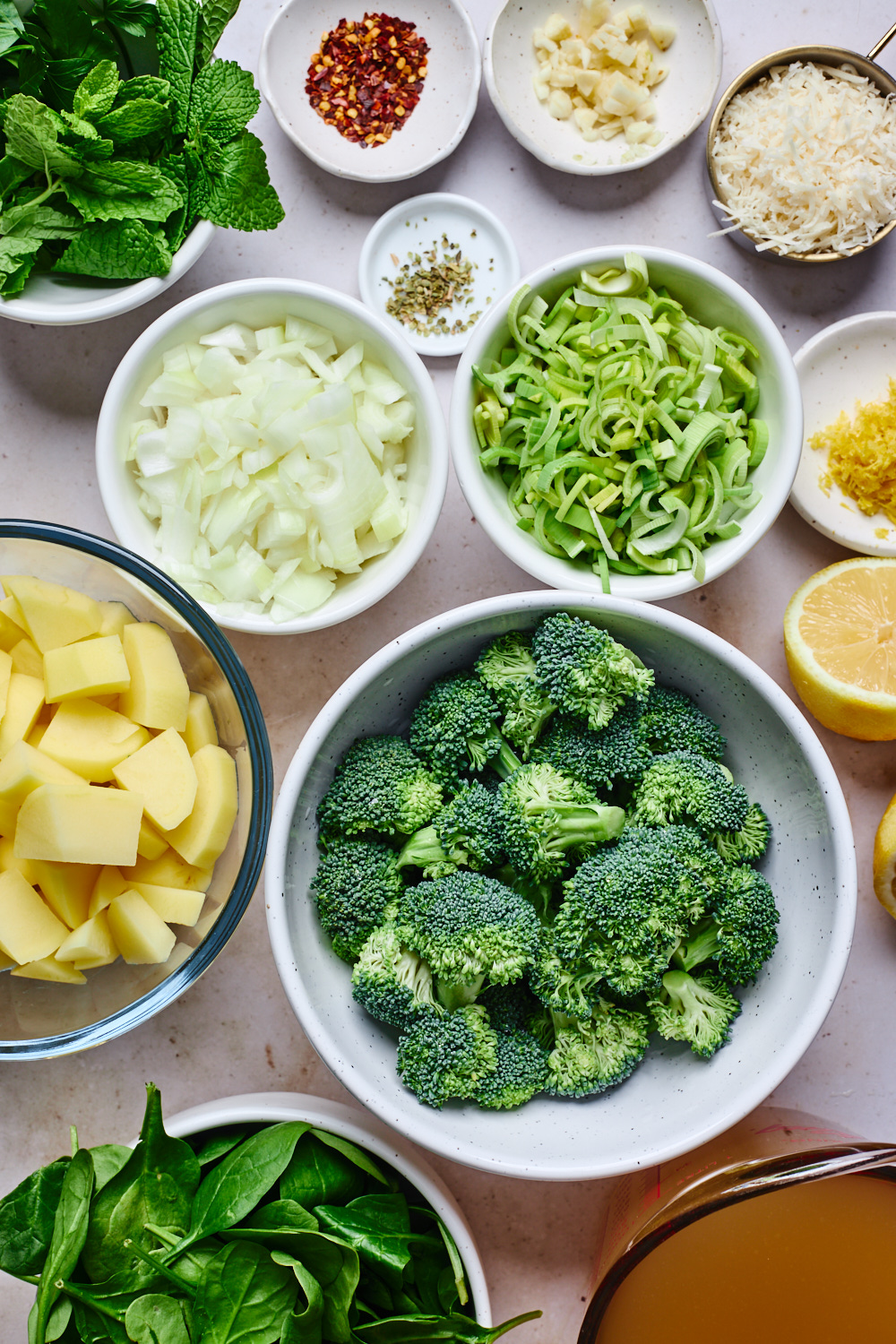 What makes this Broccoli soup healthy:
Wholesome ingredients – Typically broccoli cheddar soup is loaded with lots of heavy cream and loads of cheese. This soup doesn't have that making it a lighter version of a broccoli cheddar soup recipe
Creaminess from potatoes/veggies – Most broccoli cheddar soup recipes have a lot of heavy cream in them, or have added flour for thickening but this soup just uses potatoes to make it thick and creamy!
Veggie loaded – loaded with broccoli and spinach and you can easily bulk up that amount by adding more spinach or leeks and even adding some celery.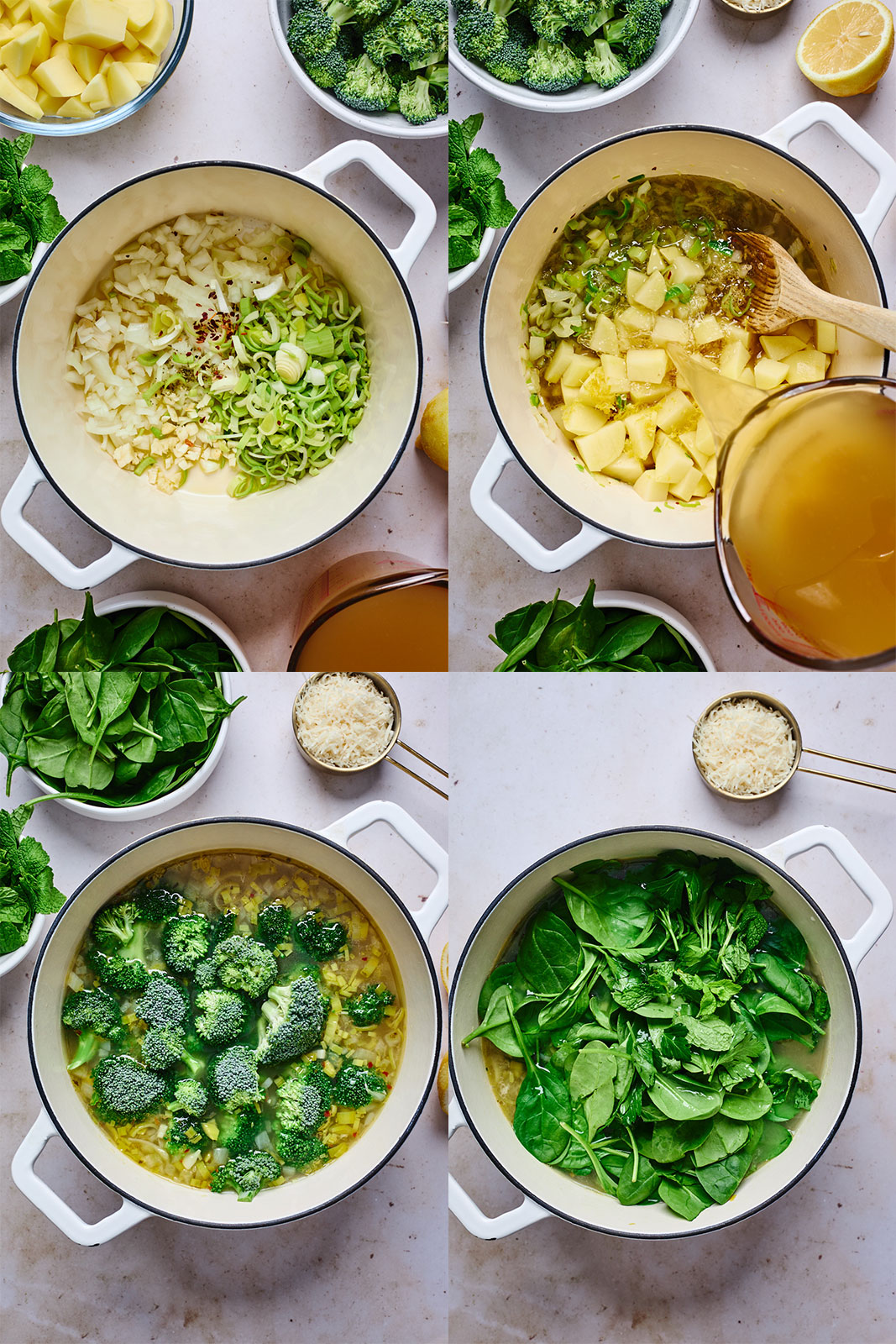 How to make this creamy Greek style broccoli soup
In a large pot, heat olive oil. Add in the leeks, onion and garlic, chili flakes if using and oregano and sauté unit softened and fragrant.
Stir in the potatoes, lemon zest, and chicken broth.
Bring to a boil and cook on high for 20-25 minutes, until potatoes are fork tender.
Once cooked, add the broccoli, spinach and fresh herbs and cook another couple of minutes.
Puree the soup using an immersion blender or spoon it into a regular blender. If you use a regular blender be very careful blending hot liquids and remember to vent the blender well. You can leave the soup as chunky as you like it or puree it entirely.
Once blended stir in lemon juice and cheese if using
Garnish with crumbled feat cheese, fresh herbs and crusty bread or croutons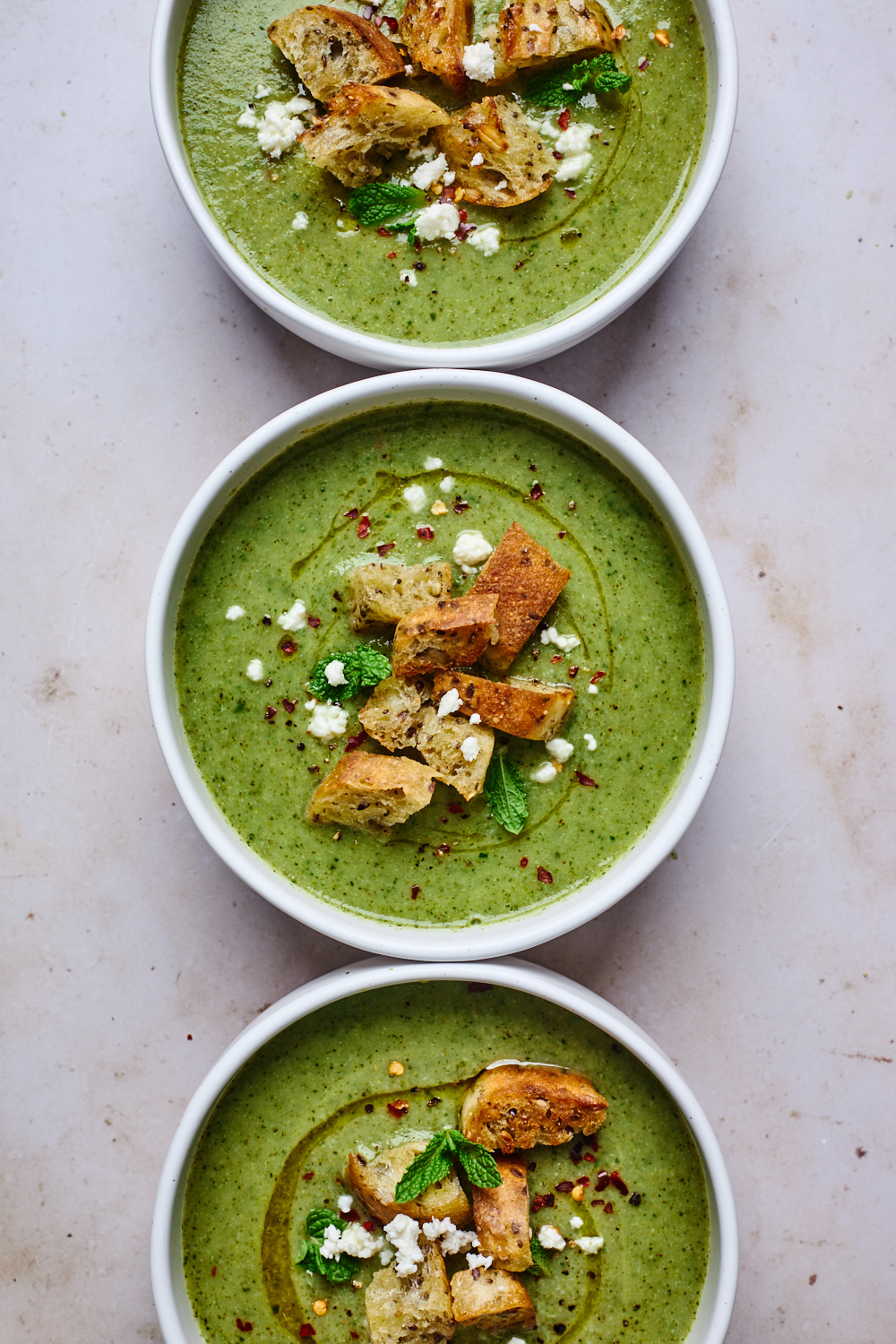 Storage and Freezing
How to store: Store this soup still in an airtight container in the refrigerator for up to 5 days
How to freeze: Transfer soup to an air tight container or portion out into freezer bag and store in the freezer for up to 3 months. To serve, allow it to thaw in the refrigerator overnight or on the kitchen counter.
How to reheat: Reheat on the stove over medium-low heat for 5 minutes until warmed through.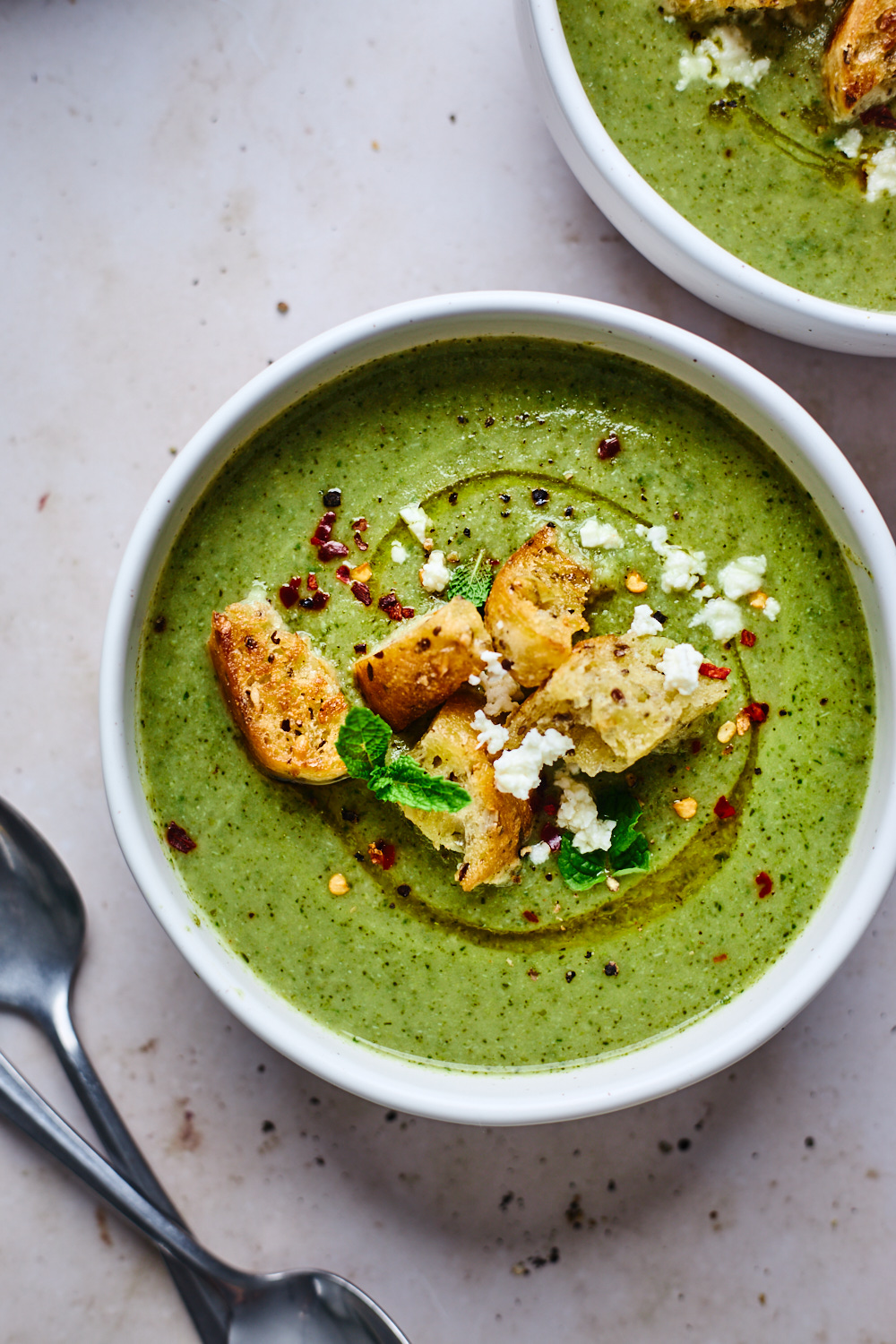 More soups you will love:
Recipe
Prep Time: 10-15 mins
Cook Time: 25-30 mins
Ingredients
3 tablespoon olive oil

1 onion peeled and chopped

1 leek, white and light green parts, cleaned and sliced

2 cloves of garlic peeled and minced

1/4 teaspoon chili flakes (optional)

1/4 teaspoon dried oregano

Salt and black pepper to taste

4 small potatoes peeled and cubed

Zest and juice of 1 lemon ( approx 1 teaspoon zest and 2 teaspoons juice)

4 cups of chicken or vegetable broth plus more if needed

1 large head of broccoli, florets separated ( approx 4 cups of broccoli florets)

3 cups of baby spinach

1/4 cup each fresh mint and parsley

1/4 cup of grated Minzithra cheese or parmesan cheese optional
For Serving (optional):
Crusty bread or buttery croutons
Chili flakes
Chopped fresh parsley or mint
Crumbled feta cheese
Directions
Heat olive oil in a large soup pot or dutch oven over medium heat.
Add in the onion, leeks, garlic, oregano, chili flakes and a pinch of salt and pepper and sauté until the onions and leeks have softened, approx 4-5 min.
Stir in potatoes, lemon zest and broth. Bring to a boil, then cover, reduce heat to low and gently simmer until potatoes are softened, approx 15-20 min.
Remove lid and stir in broccoli and spinach and simmer another 5-6 minutes with lid off until spinach has wilted and is tender
Use a stick blender or carefully transfer soup to blender and blend until smooth. You may have to do this in batches.
Return soup to pot and stir in the lemon juice then the cheese if using. Test for seasoning and adjust with more salt and pepper as needed.
Serve hot ladled into bowls with crusty bread or buttery croutons, sprinkled with feta, more chili flakes and fresh herbs if you wish.