Broccoli Cheddar Soup
This Broccoli cheddar soup recipe is so rich and creamy and fabulous - it's warm, hearty, velvety, cozy, and comforting. This tasty broccoli cheddar soup packed with carrots, broccoli, garlic, and cheese and a delicious homemade version of the famous Panera's broccoli cheddar soup and can be made in no time - and we all know homemade is always better!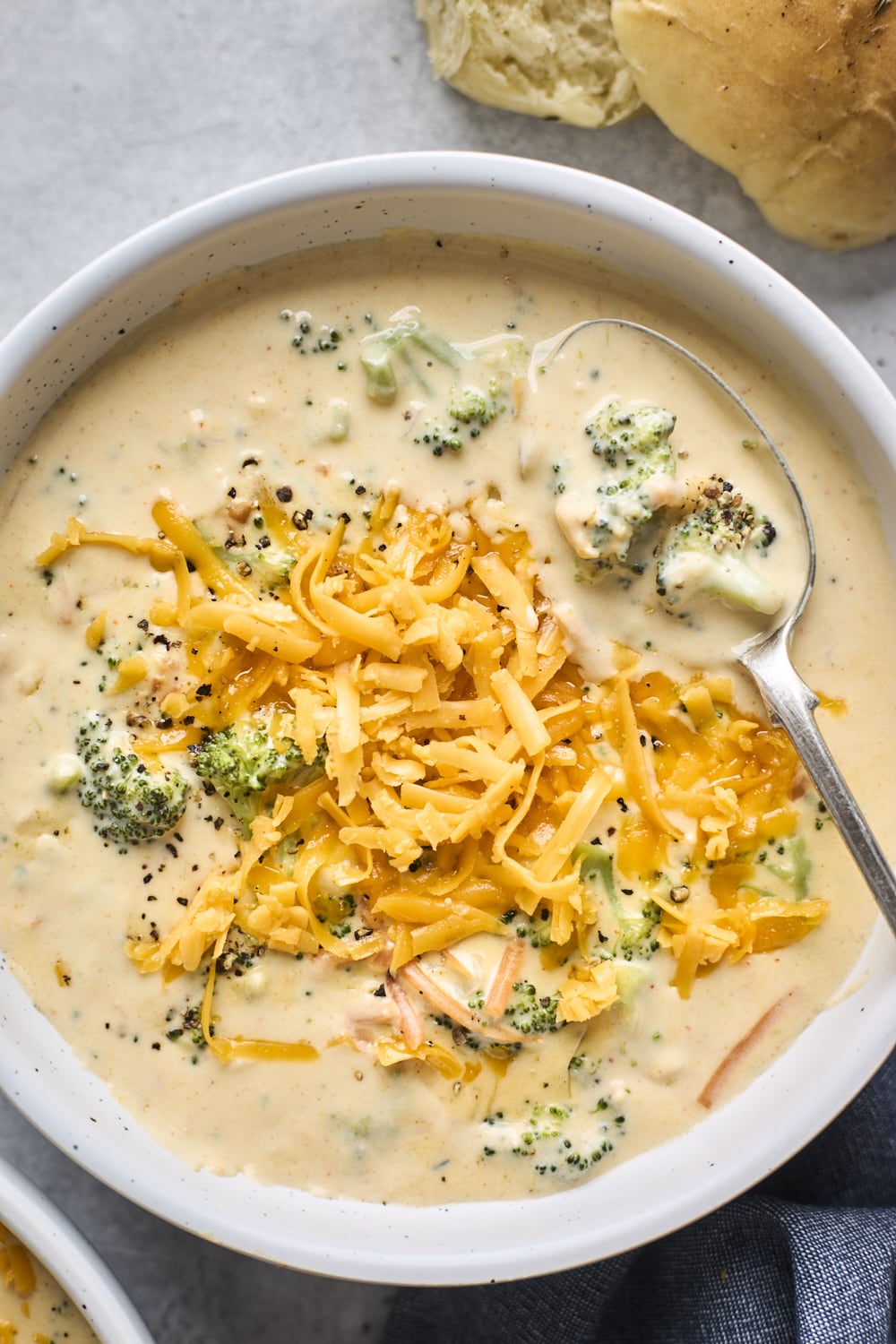 Broccoli Cheese Soup Recipe Ingredients
Onion & Garlic - The two create a savory flavourful base
Butter - adds luscious flavour and it's combined with the flour to create a bit of a roux/bechamel to thicken the soup 
Flour - flour works as a thickener (use a gluten free all purpose flour for a gluten free version) we use the flour to make a roux/bechamel essentially and help thicken the soup - some recipes call for potatoes to do this but not his version 
Broth/Stock - I use chicken broth / chicken stock or vegetable broth/ vegetable stock 
Half-and-Half - it adds all the creaminess and richess to this soup. You can also use whole milk or evaporated milk for a lighter soup, or heavy whipping cream for an extra rich version.
Shredded Carrots - they add a nice colour and grating them adds more texture to the soup. The slight sweetness balances out the flavours as well 
Broccoli florets - this vegetable adds heartiness, and texture to the soup. I don't usually add the stems but if you wish to make sure to chop them fine and add them to the pot to cook with the onions as they will need to cook longer to get nice and tender
Spices - I like to add some paprika, cayenne pepper or chili flakes and some mustard powder or you can even add some dijon mustard - add as much or as little of the spices as you prefer 
Freshly Grated Cheddar Cheese - use white cheddar or yellow cheddar - I prefer grating my own cheese instead of using pre-shredded cheese which I find doesn't melt as well because of the additives. Stir the cheese in batches. This ensures that it melts evenly without clumping together.
Salt and Black Pepper – season as you go along for flavor but remember that the cheese will add saltiness too so taste and season to taste 
Optional add ins - feel free to add some protein to this soup by stirring in some cooked shredded chicken after you stir in the cheese or fry up some bacon or pancetta with half or less of the butter at the outset until golden and crispy to flavour the soup and either cook the soup with the bacon in it or remove it with a slotted spoon and place on a paper towel lined plate to crumble over the soup when serving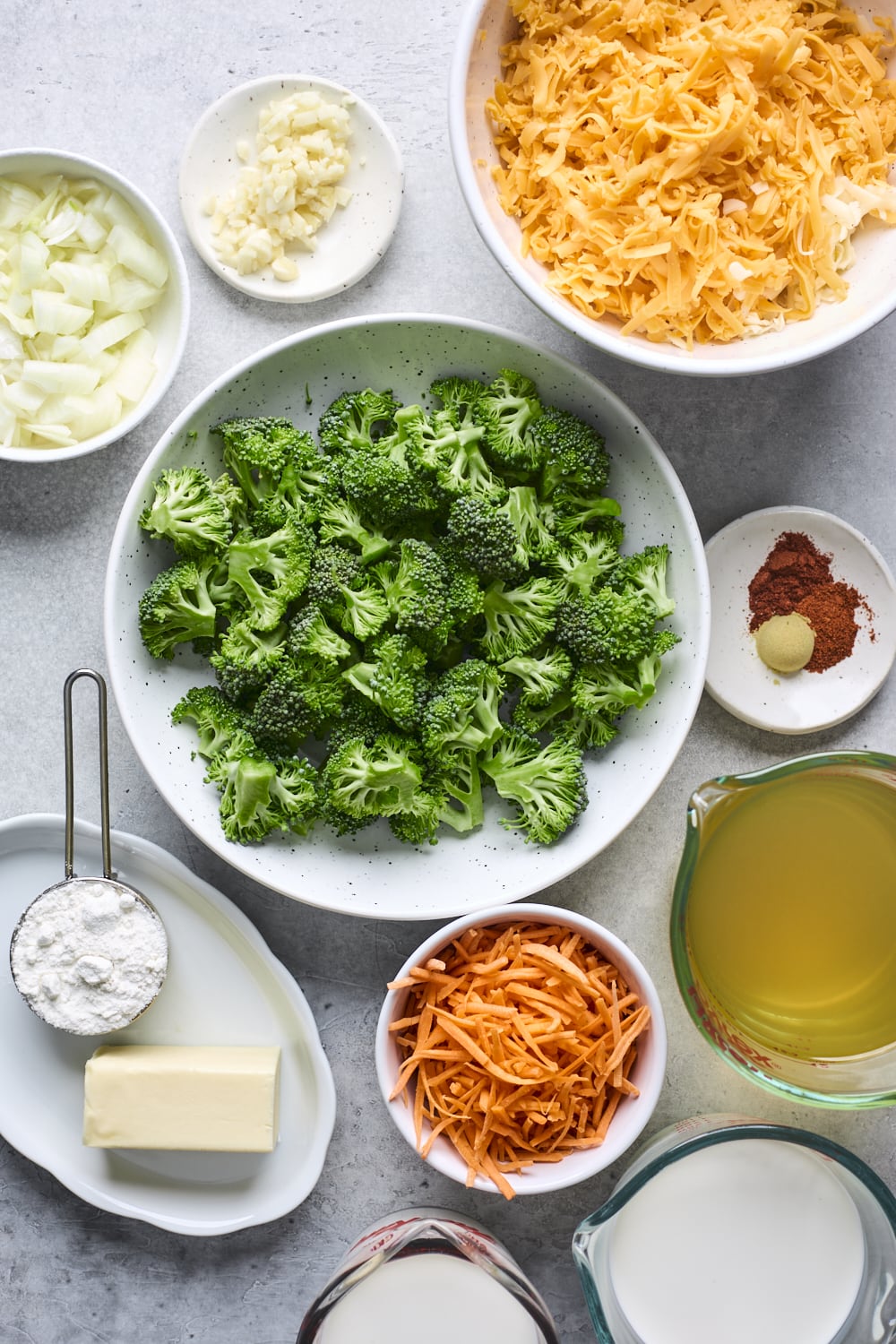 How to Make Easy Broccoli Cheddar Soup
Start by sautéing butter with onion then the garlic in a large dutch oven
Add the flour to help thicken the soup then add the broth and cream and whisk until smooth 
Add broccoli, carrots, spices and seasoning and simmer until veggies are tender 
Lower heat and stir in cheese one handful at a time 
Serve hot with extra cheddar cheese and crusty bread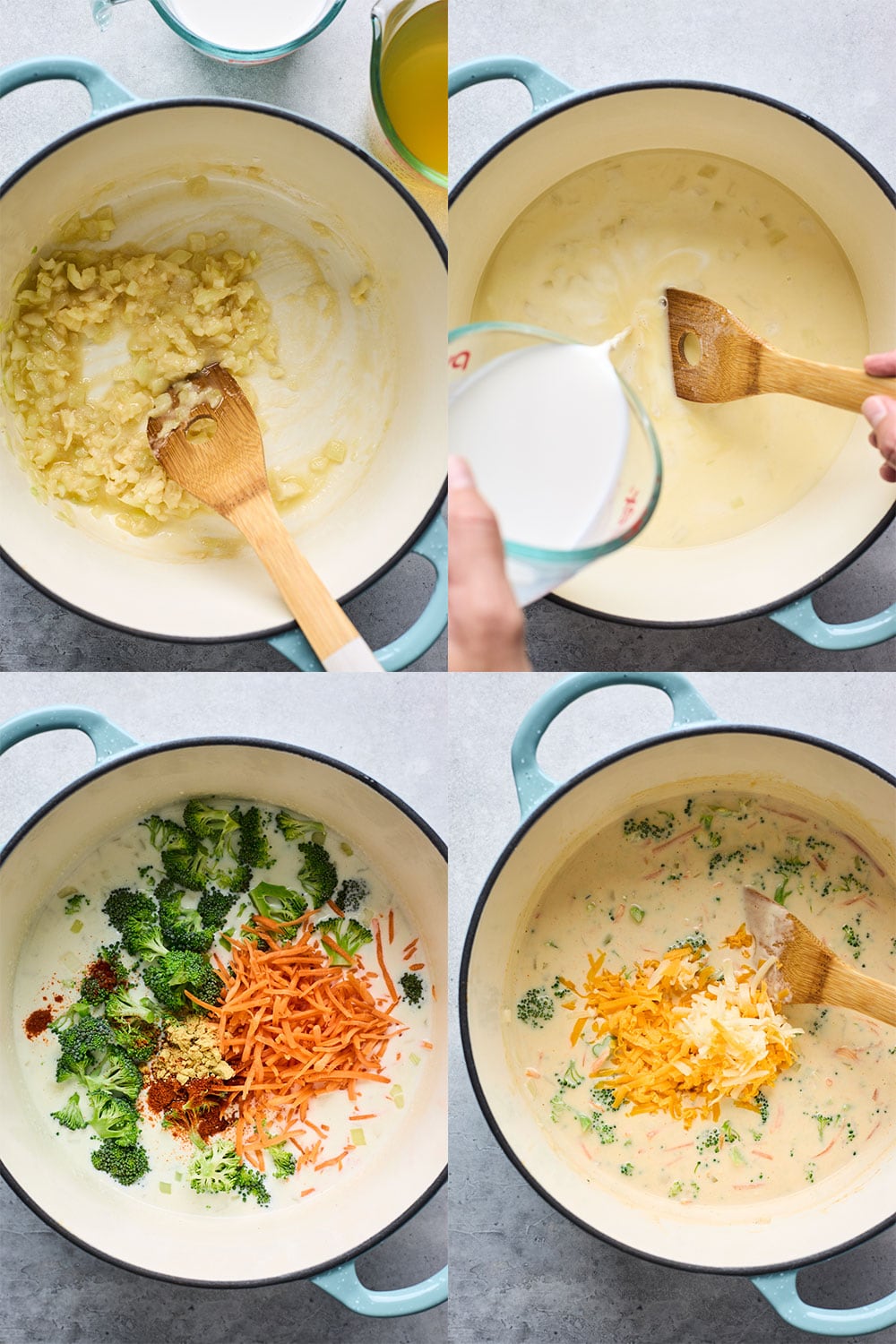 Can I blend this soup?
Absolutely you can blend this soup. For a smoother soup feel free to use an immersion blender or regular blender to blend the soup before adding the cheese. Blend to your desired consistency then stir in the cheese. Just be careful while blending it as its hot and if using standard blender blend in batches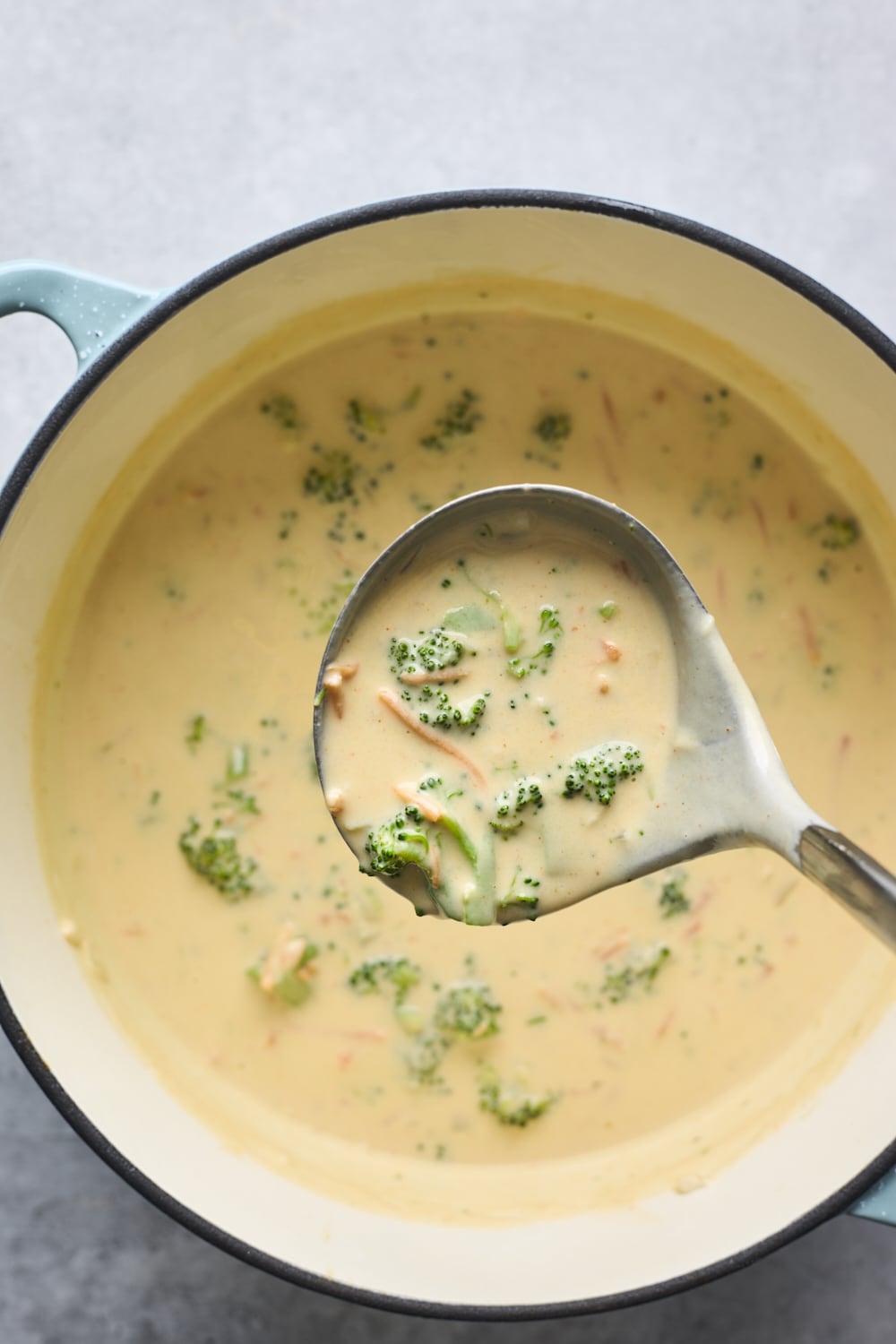 Tips For Making This Creamy Broccoli Cheddar Soup
Try to cut the broccoli florets into small pieces and similar sizes for even quick cooking 
Keep the soup at a simmer not a boil so the dairy (cream) in the soup doesn't scald and change the texture of the soup 
Add the cheese into the soup a little at a time on low heat or off the heat so it doesn't separate and doesn't clump up - melts nicely and soup is nice and creamy not grainy 
I recommend grating your own cheese instead of using pre shredded as the flavour and texture is always better with less additives and it melts better too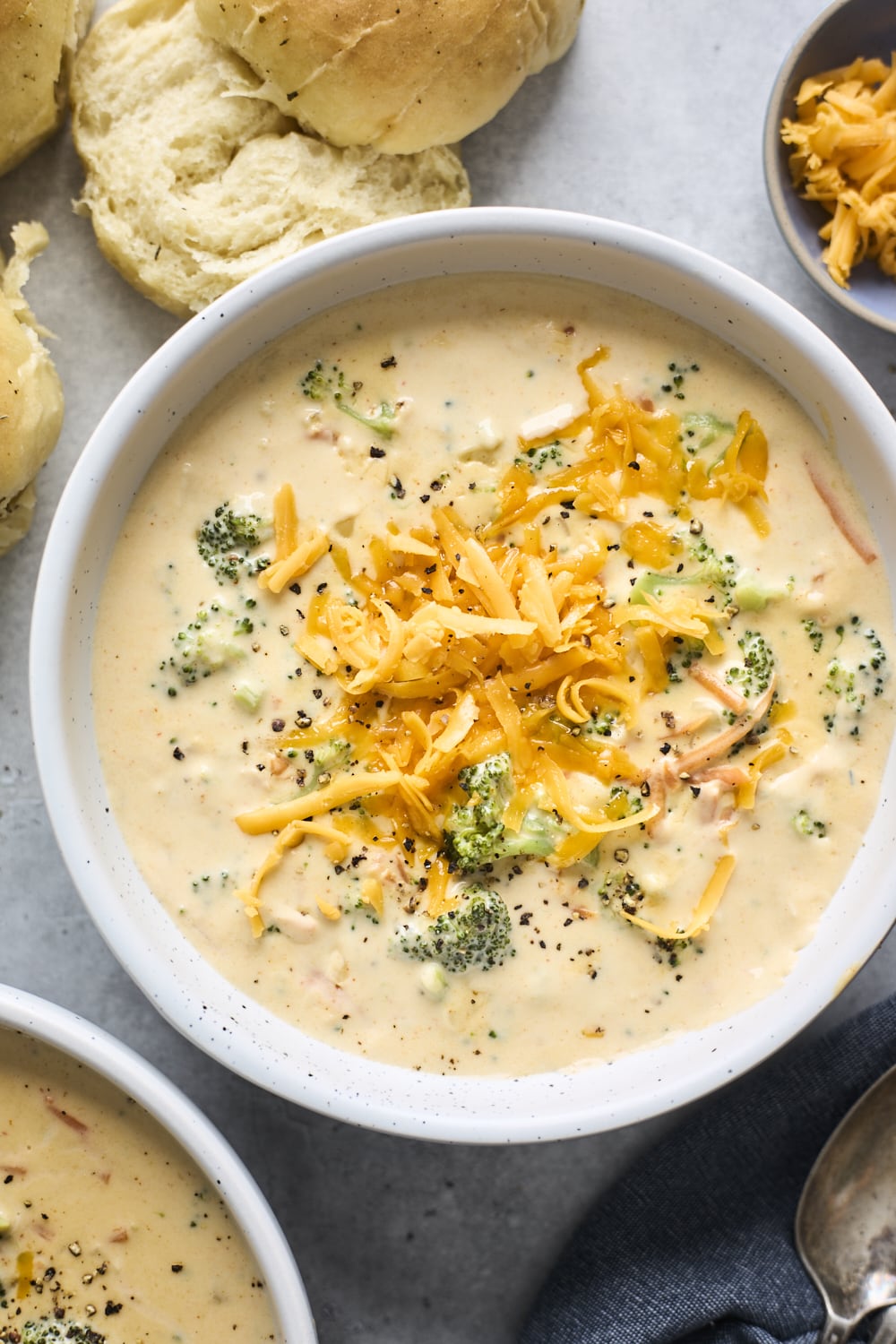 Storage & Freezing
STORAGE - Leftovers can be stored in an airtight container in the fridge for up to 3 days. reheat on low heat stovetop or in the microwave 
FREEZING - Cooled soup can be stored in the freezer in a sealed container for up to 2 months. Thaw in the fridge over night and reheat gently over low heat stove top or the microwave 
More Cozy and Great Soups You Will Love:
Recipe
Prep Time: 10 mins
Cook Time: 20 mins
Ingredients
¼ cup unsalted butter

1 yellow onion, peeled and finely chopped

4 cloves of garlic, peeled and chopped 

¼ cup all purpose flour

2 cups chicken broth

3 cups broccoli florets about (½ lb approx), chopped into bite size pieces 

1 cup carrot grated (1-2 large carrots)

¼ teaspoon paprika (or more to taste) 

¼ teaspoon cayenne pepper or chili flakes (or more to taste) 

½ teaspoon Dried mustard powder (or more to taste) 

2 cups half-and-half cream (or heavy cream for a much richer version) 

2-2½ cups sharp cheddar cheese freshly grated, white or yellow (8-10 ounces)

Salt and black pepper to taste
Directions
Melt the butter in a large soup pot or dutch oven over medium heat and add the chopped onion and cook 3-4 minutes or until softened, translucent and edges start to golden. Add the garlic and sauté for another minute.
Add flour and whisk for 1-2 minutes to cook off the flour a bit 
Slowly and gradually pour in about a cup of chicken broth, whisking as you pour. Continue slowly pouring in remaining chicken broth and half and half, pouring slowly and whisking as you pour. Let broth/half and half mixture cook for a minute or two, whisking continuously, making sure all the flour lumps are smooth.
Add the broccoli florets, grated carrots, and spices and seasoning. Allow to simmer for 15 minutes or until the broccoli and carrots are cooked through and tender. (you want a simmer not a full on boil cause of the cream - you don't want it to affect the texture of it) 
Reduce heat to medium-low heat and add grated cheddar cheese a handful at a time, stirring to melt the cheese into the soup after each handful. Taste soup and season with additional salt and pepper if needed.
Serve hot ladled into bowls and garnish with extra grated cheese and with toasted crusty bread or for a fun way to serve it up is ladled into a bread bowl