Carrot Cake Cookies
Soft and chewy chai spiced brown butter carrot oatmeal cookies are sandwiched together with delicious slightly tangy brown butter vanilla cream cheese filling to create the perfect dessert. They are soft, full of flavor, and so delicious and are totally addictive. They are generously spiced with chia spices for some serious cozy warming flavours. Although wonderfully delicious on their own, these cookies are even better when sandwiched together with the brown butter and cream cheese frosting. They are quite easy to make but require a bit of planning if you are browning the butter - but they are worth every bit of effort. This recipe comes from the very talented baker Megan Neveu of Olives & Thyme blog from her Beautiful Book Sugar + Spice Cookies. Her tried and true recipes which I have loved since she started her blog are always perfect and delicious and now she has created the most fabulous book with creative cookie recipes for home baking.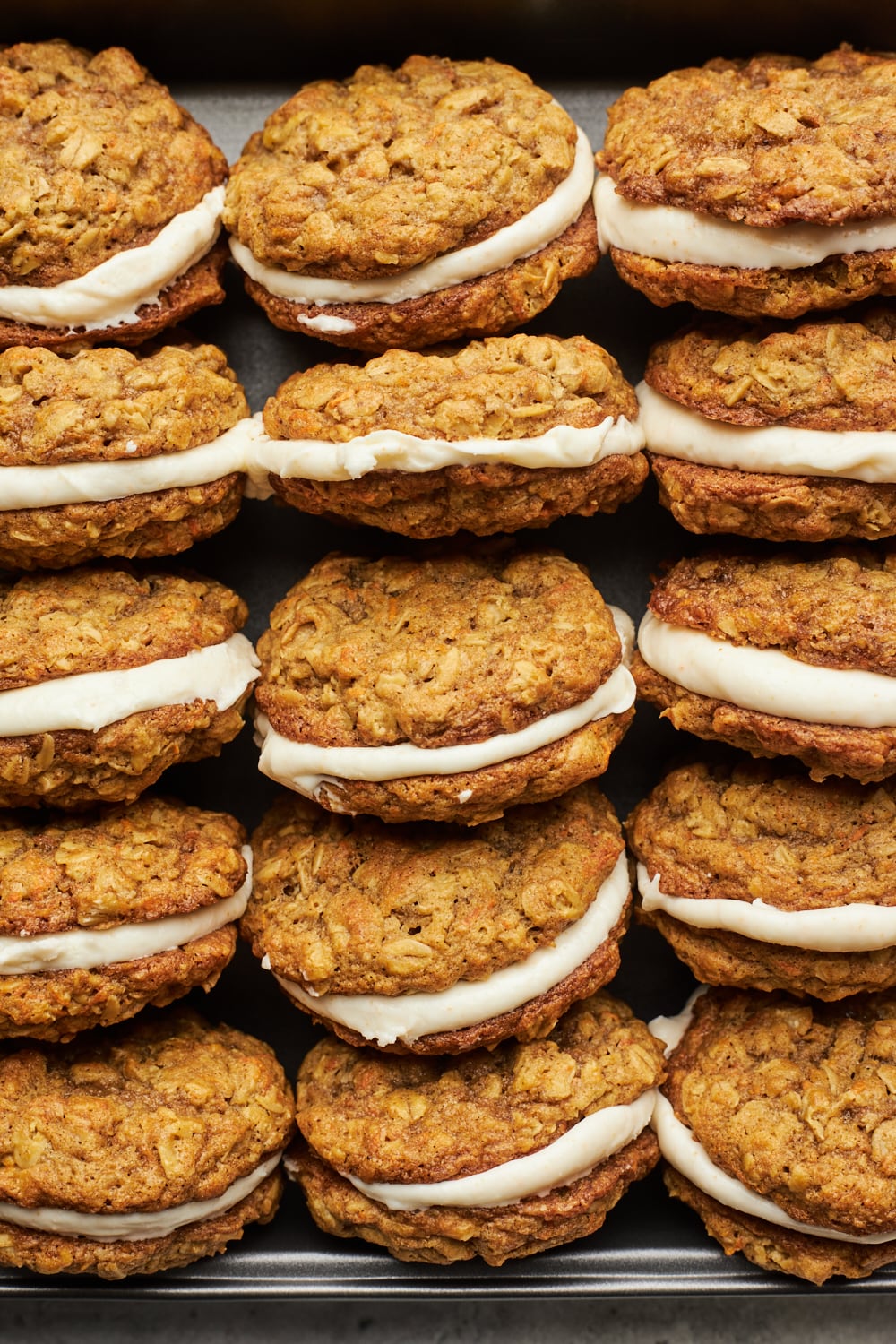 More About Sugar + Spice Cookies Book
Im a huge fan of Megan, her recipes and her blog so I was thrilled for her when I found out she was working on a cookbook - I knew from her blog that it would be a sure hit and now that I have a copy in my hands I can confrim it is a sure hit. Megan knows her baked goods (she calls herself a home baker but I would say beyond an experienced baker - even pro) I love her flavour combinations and that really is what her book is all about. She is so creative when developing recipes and pairing spices with fruit and chocolate and even fresh and dried herbs with her baked goods. You will find recipes that take spice and herbs such as cinnamon and ginger or lavender and rosemary and pair them with classic cookie bases like sugar and chocolate chip. Her recipes are well organized, written, and easy to execute, which is not surprising if you follow her blog. And her book is categorized in chapters by flavour or ingredient which I thought was a clever and pleasant way to have it organized and a really easy way to find recipes. Her tips are invaluable when it comes to measuring ingredients, preparing recipes and tools to use in the kitchen when baking. This book is a source of inspiration and a source of joy for novice bakers and experienced ones alike! Im so grateful to Megan for sending me a copy of her book and allowing me to share one of her many fabulous recipes with you guys. Please be sure to grab your own copy of her book here you will love it!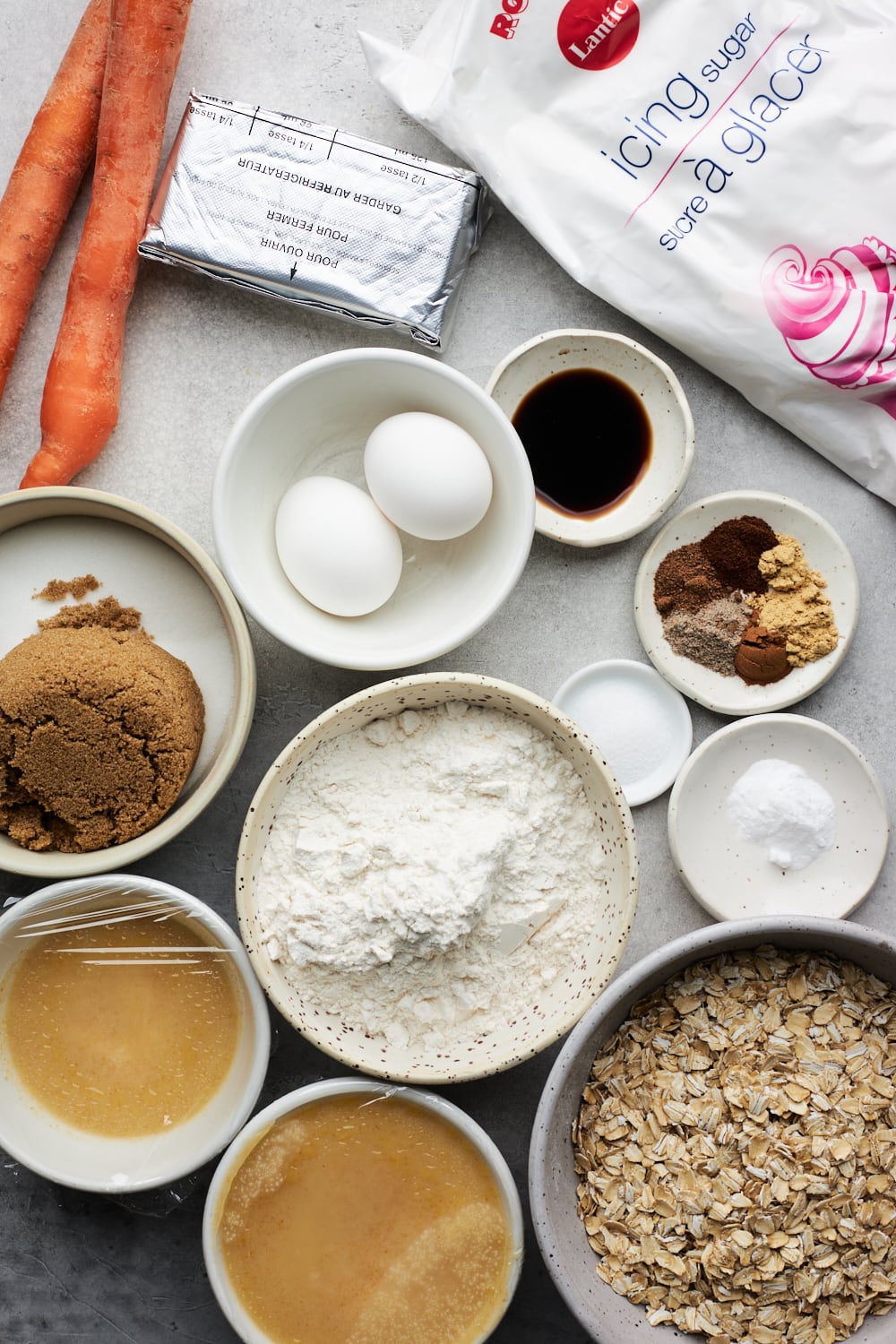 Carrot Cake Cookies Recipe Ingredients
Flour: These cream pies keep it simple with all-purpose flour.
Dry Ingredients: Salt, & baking soda for flavor and leavening
Chai Spices: ground cinnamon, cardamon, ginger, cloves, and nutmeg
Butter: Unsalted butter that has been browned. You can skip browning it and just use it room temperature and softened for the cookies and the frosting
Sugar: A mixture of dark brown sugar and granulated sugar keeps these cookies ultra moist and sweet.
Pure Vanilla: Just for a little flavor.
Eggs: Bind the cookie dough together. you will need 1 egg + 1 yolk at room temperature
Oats: I suggest using old-fashioned rolled oats to make these oatmeal cookies.
Cream Cheese Frosting: Made from a mixture of cream cheese, brown butter and powdered sugar gives these sandwich cookies a gooey, creamy filling.
Carrots: shredded fine with a box grater using the small holes
Extra Add Ins: Feel free to add some chopped nuts like pecans or walnuts to the batter or even raisins if you prefer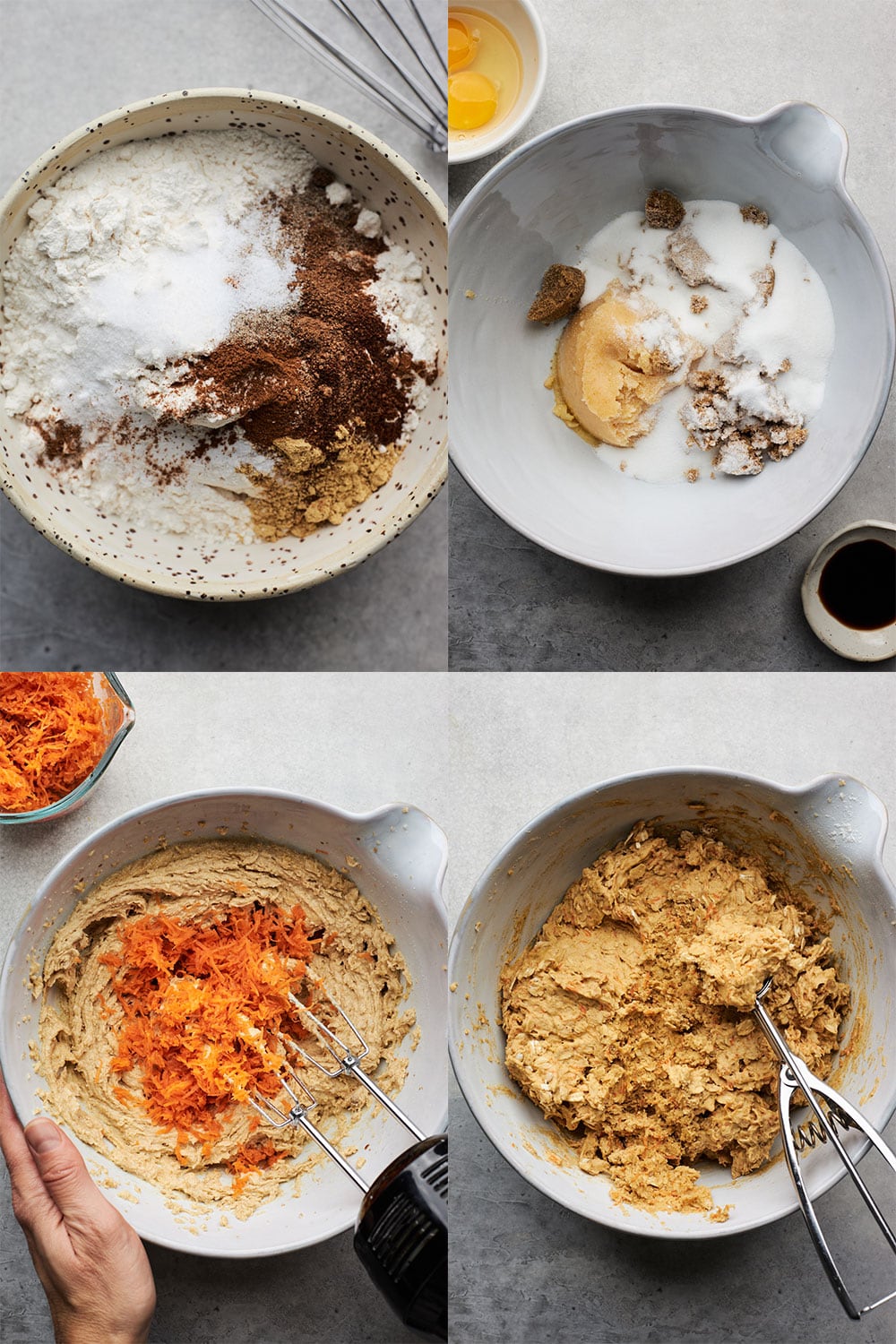 How To Make Carrot Cake Cookies
BROWN THE BUTTER then allow it to cool or chill until it reaches softened texture - this is optional if you want to skip th brown butter you can just use softened room temperature butter for both the cookies and the frosting
WHISK dry ingredients: In a medium bowl, whisk together flour, salt, baking soda, and all the ground spices; set aside.
CREAM wet ingredients: With an electric mixer, beat the butter, brown sugar, granulated sugar on high until light and fluffy (about 3 minutes), scraping the sides of the bowl as needed.
MIX in the Vanilla + Eggs: Add the vanilla; beat until combined. Then beat in the eggs, one at a time, scraping down the bowl after each addition.
Make the DOUGH: Reduce the speed to low, add flour mixture and beat until just combined. With rubber spatula, stir in the oats. CHILL dough
PREHEAT OVEN & PREPARE PANS: Set the oven to 375°F and line two baking sheets with parchment paper or silicone baking mats set aside.
BAKE the Cookies: scoop the dough roll into balls and place onto prepared pan and bake 10-12 minutes until the cookies are set at the edges and slightly soft in the middle.
COOL the Cookies: Let the cookies cool on the baking sheets for about 5-10 minutes, then transfer to wire racks to cool completely.
Make the FILLING: With an electric mixer, beat the cream cheese, butter, powdered sugar, vanilla and milk until light and fluffy
ASSEMBLE the Cream Pies: Spread the filling on the flat side of half of the cookies. Sandwich the remaining cookies.
Tips
The cookies will be very soft when you take them out of the oven. That's okay, that's how they're supposed to be, and that's what makes them super-soft and chewy to eat even days later. It also makes it easy to shape them with a flat spatula when they come out of the oven to get them into more uniform shape.
It is very important to allow the cookies to cool completely. If they are too warm the frosting will melt and you will be left with a melted cream cheese mess.
I'm all about the filling and frostings! I use about 1-2 tablespoons of frosting per sandwich to get the maximum frosting to cookie ratio but that is up to your taste
Make the brown butter the day before or 2 to 3 hours before you plan to make the cookies or even a day ahead and then just take it out of the fridge and allow it to soften.
Make Ahead, Storage & Freezing
STORAGE: These soft oatmeal cream pies last about 5 days in the refrigerator, if you don't eat them all first. Store cookies in an airtight container with wax paper or parchment paper between the layers in the refrigerator for up to 5 days.
FREEZING: You can freeze these cream pies by tightly wrapping them individually in plastic wrap and store in the freezer for up to 3 months
MAKE AHEAD: The frosting can be made ahead of time and transferred to an airtight container and stored in the fridge for up to 3 days. Bring to room temperature and re-whip with an electric mixer before using. The cookies can be made ahead up to 2-3 days ahead and stored in an airtight container at room temperature as they are unfrosted - make frosting when ready to assemble and enjoy. The brown butter can be made ahead up to 1-2 days in advance, divide amounts, allow to come to room temperature then wrap tightly and chill until ready to make cookies - remove from the fridge and allow to come to room temperature or to soften before creaming.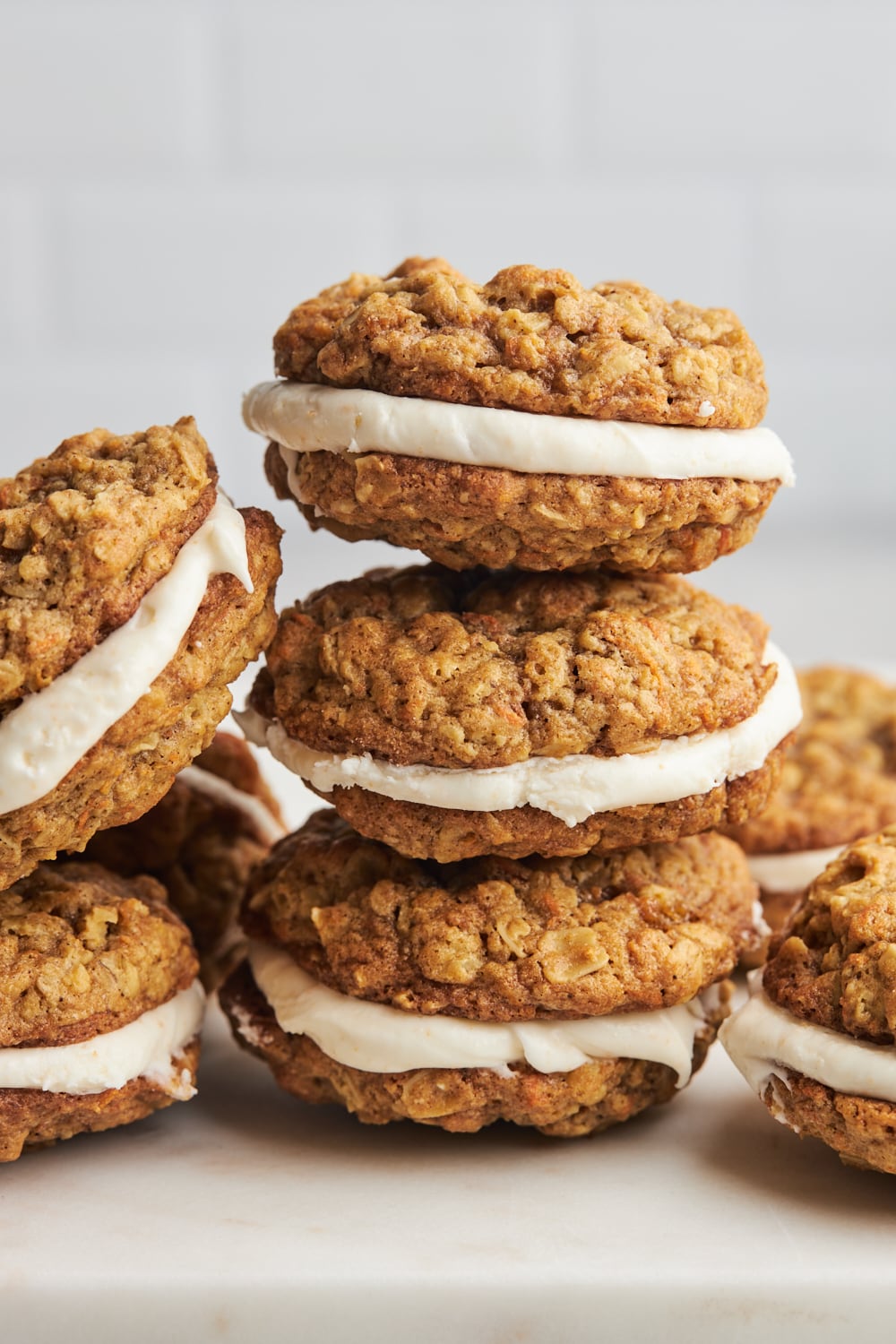 More Sweet Treats & Cookie Recipes You Will Love
Recipe
Servings:
12-14 sandwiches (24-28 individual cookies)
Prep Time: 30-40 mins
Cook Time: 12 mins
Ingredients
For the Brown Butter (if using)
1¾ cups + 2 tbsp (424 g) unsalted butter (see tip)
For the Chai Carrot Cake Cookies
1½ cups (180 g) all-purpose flour

1 teaspoon baking soda

⅓ teaspoon ground cinnamon

½ teaspoon ground cardamom

½ teaspoon ground ginger

¼ teaspoon ground cloves

¼ teaspoon ground nutmeg

½ teaspoon salt

1 cup (226 g) prepared brown butter, softened but cold

¾ cup (150 g) light brown sugar

¾ cup (150 g) granulated sugar

1 large egg, room temperature

1 large egg yolk, room temperature

2 tsp (10 ml) vanilla extract

1 cup (110 g) finely shredded carrots (I use box grater small holes)

2½ cups (215 g) old-fashioned or rolled oats
For the Brown Butter & Cream Cheese Frosting
½ cup (113 g) prepared brown butter, softened but cold 4 oz (113 g) cream cheese, room temperature

2½ cups (310 g) sifted confectioners' sugar/powdered sugar

1 teaspoon vanilla extract

¼ teaspoon kosher salt

1 tablespoon (15 ml) milk, plus more as needed
Directions
For The Brown Butter
To make the brown butter, melt the butter in a heavy bottom saucepan over medium heat for 7 to 10 minutes, or until the butter starts to foam.
Whisk continuously until brown bits start to form. Depending on your stove and saucepan, the entire process should take 10 to 15 minutes.
Immediately remove the pan from the heat, and pour the brown butter into a clean bowl to cool for 30 minutes, or until it reaches room tempera-ture. Measure out the liquid brown butter into two containers. One should measure 1 cup (240 ml) for the cookie dough, and the other will measure ½ cup (120 ml) for the frosting. Transfer the containers to the fridge to solidify for 1½ to 2 hours, or until the butter reaches a softened texture. This can be made 1-2 days ahead.
For The Cookies
To make the sandwich cookies, in a medium mixing bowl, whisk together the flour, baking soda, cinnamon, cardamom, ginger, cloves, nutmeg and salt.
In large bowl of a stand mixer fitted with the paddle attachment or using a hand mixer, cream the 1 cup (240 ml) of brown butter, light brown sugar and granulated sugar on medium speed for 3 minutes, or until well combined. Add the egg, egg yolk and vanilla, one at a time, beating on low for 20 seconds before adding the next. On low, mix in the shredded carrots.
On the lowest mixing speed or by hand, stir the dry ingredients into the wet until just combined. Stir or fold in the oats until just combined. Cover the cookie dough with plastic wrap.
Chill it in the fridge for 1 to 2 hours and up to overnight. Pull cookies out of the fridge 10 minutes before you want to start baking them.
Preheat the oven to 375°F (190°C). Line a large baking sheet with parchment paper.
Scoop 1-tablespoon (15-g) amounts of the cookie dough with a cookie scoop and roll them into balls with your hands. Place them on the baking sheet, spacing them 3 inches (8 cm) apart. The cookies will spread while baking.
Bake for 10 to 12 minutes, or until golden brown around the edges and slightly underbaked (and a little puffed) in the center. Keep the cookies on the hot baking sheet for 10 minutes before transferring them to a cooling rack to cool completely before adding the frosting.
For The Frosting & Assembly
While the cookies cool, make the frosting. In the bowl of a stand mixer fitted with the paddle attachment, cream the softened brown butter with the cream cheese for 4 to 5 minutes, or until creamy and well combined.
Scrape the bottom and sides of the bowl as needed. On low, beat in the sifted confectioners' sugar, ½ cup (60 g) at a time. Scrape the bottom and sides of the bowl as needed. Mix in the vanilla, salt and milk. Beat on medium speed until the mixture is fully incorporated and your desired consistency. If the frosting is too thick, mix in an additional 1 to 2 tablespoons (15 to 30 ml) of milk.
To assemble, apply your desired amount of frosting to the bottom of one cookie. I use a spoon but feel free to transfer frosting to piping bag and pipe it on. Place the bottom of another cookie to the frosted side of the first cookie and gently press together.
Cookies can be stored in an airtight container within the refrigerator for up to 3 days. Allow Homemade Oatmeal Cream Pies to sit at room temperature for one hour before serving
Store cookies in an airtight container with wax paper or parchment paper between the layers in the refrigerator for up to 5 days.
Recipe Note
TIP: Make the brown butter the day before or 2 to 3 hours before you plan to make the cookies.