Chicken Cacciatore
This simple recipe for Chicken Cacciatore is an easy one pot skillet dinner where seared chicken simmers in a delicious red sauce infused with veggies, herbs and wine to create a dish full of delicious flavors and very tender and chicken It tastes amazing over pasta, rice, creamy polenta, spaghetti, zucchini noodles or even served with loads of crusty bread. It's a great family style chicken recipe that everyone will enjoy. This recipe comes from Lidia's A Pot, A Pan, And a Bowl book by Lidia Matticchio Bastianich and Tanya Bastianich Manuali. I was sent a copy of this lovely book as a gift and this is a wonderful recipe that I'm happy to share with you all from it.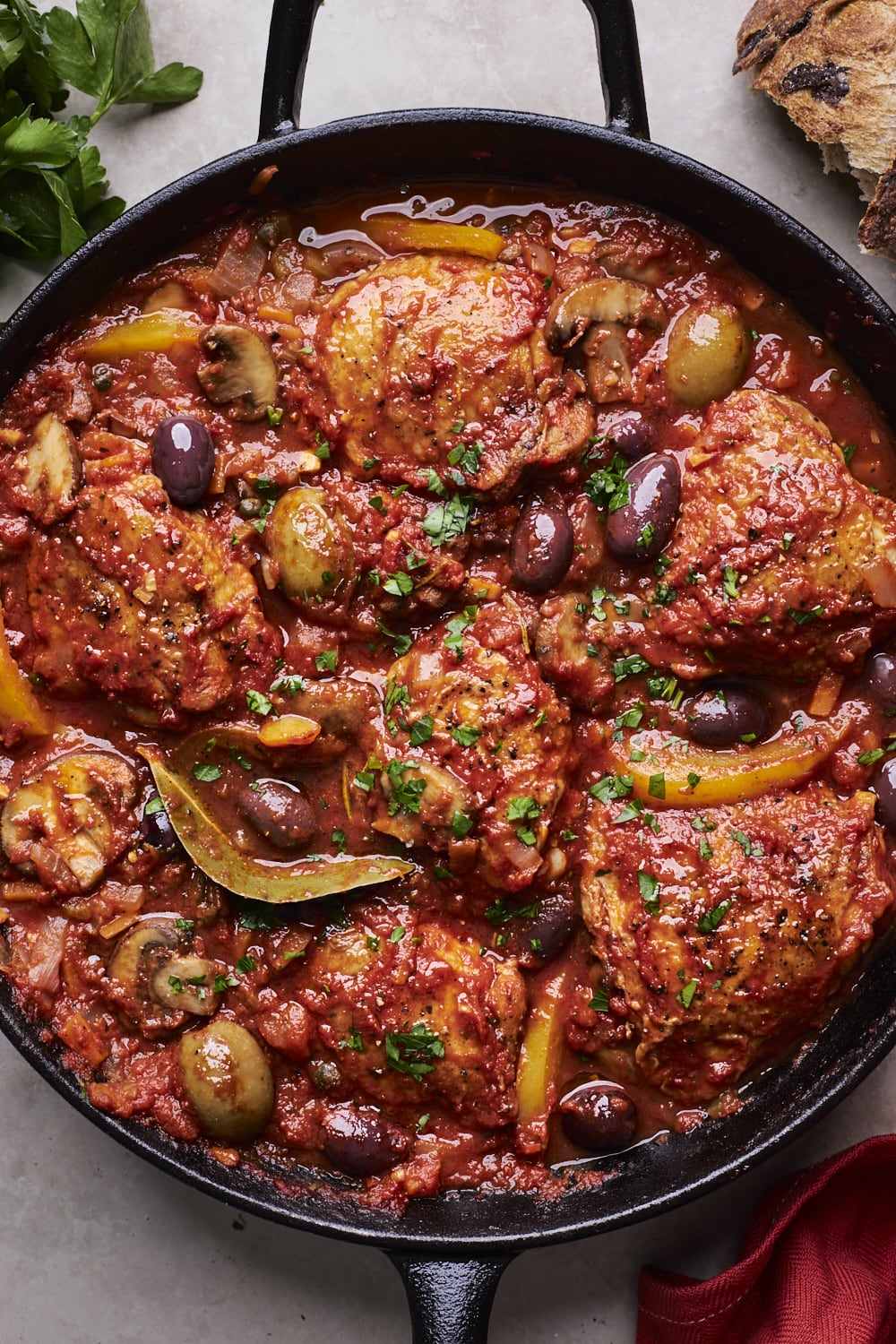 More About Lidia And the Book
Lidia Giuliana Matticchio Bastianich is an Italian-American celebrity chef, television host, author, and restaurateur. Specializing in Italian and Italian-American cuisine. She is known for saying, "Tutti a Tavola a Mangiare!" or "Everyone to the Table to Eat!" She also encourages everyone to get into the kitchen and cook - and what better way to do that then with her book A Pot, A Pan, A Bowl in hand. That is exactly the kind of book it is - its the type of book a home cook will want to take into the kitchen and cook with. Full of fool proof simple flavourful recipes streamlined to be as straightforward to cook as possible. Full of Italian classic recipes that use one pot, or pan or bowl as the title promises. Each dish can be served either as a one course meal or part of a multi course meal easy to scale up too to feed many. Her recipes are perfect for a weeknight dinner with family, but also for more elaborate occasions/dinner parties. The recipe book is written well and organized in a simple manner that makes it easy to find recipes and welcoming to cook from. If I was ever to do a cook book - I always envisioned it in this same format - simple to the point not flashy or laden with too many stories but more about simple food done right. So I definitely love and recommend this book - it nails Italian cooking and flavours and showcases the variety of it too - it is not only pasta after all. The sections are well defined and are split under Eggs, Soup, Salad, Pasta- Risotto & Pizza, Fish & Seafood, Meat & Poultry, and finally Desserts. The recipes are written well and easy to read and steps clearly written and simple to follow. Her recipes also allow room for variation and adjustments to taste - as I did with this cacciatore. Lidia's Recipe for chicken cacciatore is the BEST simplified and fool proof recipe for cacciatore that I have ever made and it really needs no adjustment - it's home cooked and delicious - I simply added some extras in to add some more complex flavours but the book is full of staple fool proof recipes that are very adaptable and can easily be tweaked to Taste. Many of her recipes can also be made using the instant pot which is also a win! I was happy to receive a copy as a gift from Appetite by Random House and happy to share a recipe from this lovely book. Grab your copy here.
What is Chicken Cacciatore?
Chicken Cacciatore Recipe is a delicious braised chicken dish loaded with mushrooms and vegetables in a tomato, herb and wine sauce. It's an Italian dish - Cacciatore means "hunter" and the dish is cooked and prepared "hunter-style" using whatever was caught. It's commonly made with chicken or rabbit and whatever meat is used is cooked with onions or a mirepoix, tomatoes, herbs, mushrooms, and bell peppers and sometimes some wine - in my case always a splash of wine. There are very many different versions out there of this simple recipe - those are the most common ingredients added to a cacciatore - other add ins that have commonly worked themselves into this dish (most likely not traditional but very delicious) are olives and capers which add loads of flavor to the sauce and are totally optional. They sort of amp up the flavours in a staple recipe. I used Lidia's classic and delicious recipe as my staple go to recipe for chicken cacciatore and added a few extra ingredients like the olives and capers and extra seasonings. I love a recipe that allows you some room to add what you like but the staple ingredients in it do not change.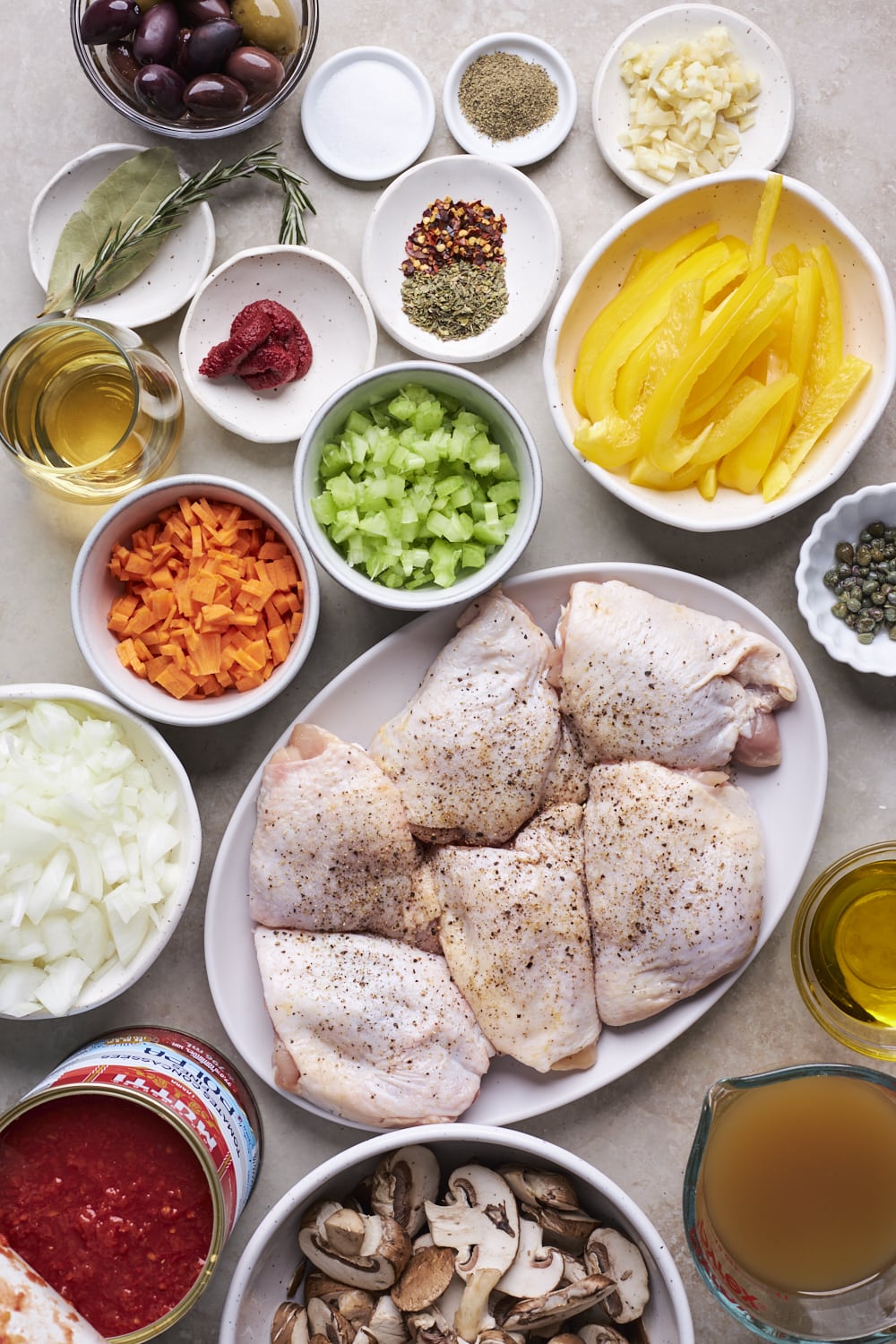 Chicken Cacciatore Recipe Ingredients
Staple Ingredients From Lidia's Recipe (Fool proof and never change)
Chicken - original recipe calls for drumsticks but I prefer skin-on chicken thighs feel free to use chicken breast but will need to be seared and cooked longer - skin on and bone in for best flavour
Olive oil - or you could do a mix of olive oil and butter
Onion - a sweet yellow onion is what the recipe calls for
Bell Pepper - yellow bell pepper is what the recipe calls for but orange or red will work too
Mushrooms - cremini mushrooms sliced
Wine - Lidia's recipe calls for white wine but you could also use red wine
Crushed tomatoes - or tomato sauce in a pinch. Lidia's recipe calls for one 28 oz can of whole San Marzano tomatoes crushed by hand - I usually just used good quality crushed tomatoes or use the whole ones and pulse them until crushed in a food processor
Herbs & Spices - dried oregano, or Italian seasoning if you prefer a blend of herbs and chili flakes to taste - adjust amounts to all spices taste
Extra Add Ins For My Version (totally optional)
Extra Veggies - I cooked some carrots and celery with the onion for extra flavour - created a bit of a mirepoix - I also added garlic because I love garlic
Tomato paste and Chicken stock - I added both or chicken stock for added flavour and richness to the sauce - totally option. I added the broth instead of water to the recipe but you could easily just use water instead of the broth too
Spices & Herbs - I tossed in a bay leave and some rosemary for extra flavour to the sauce
Umami Boosters - I added capers and olives to boost the flavours in the sauce - this recipe is flavourful enough without all the add ins but If you want an extra boost of flavour these two are great to add into sauces - kind of puttanesca style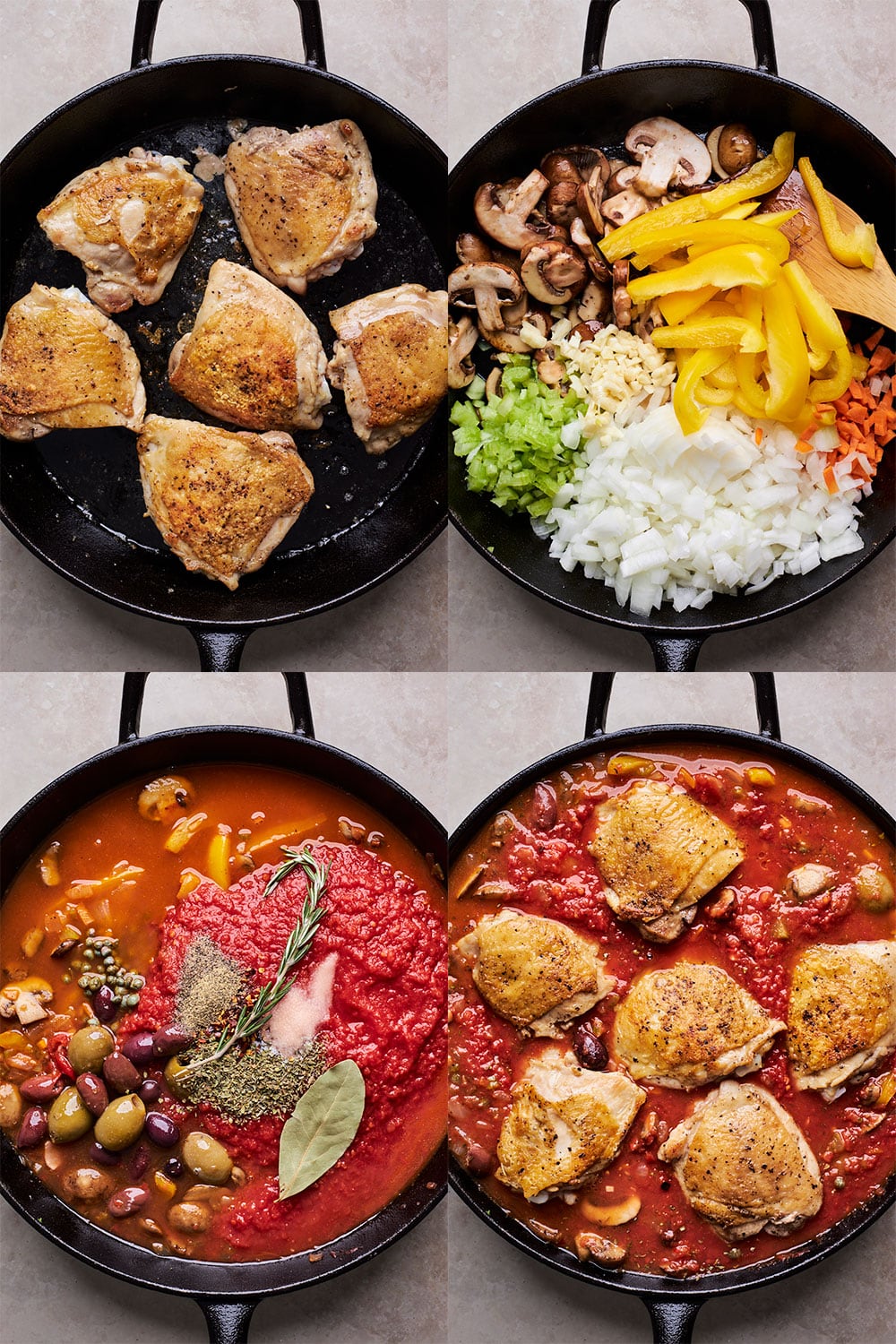 How to Make Chicken Cacciatore
This simple and delicious dish requires a few simple steps and here they are in their very basic form - full recipe details and instructions in recipe card below
SEASON chicken generously with salt and pepper
SEAR chicken on both sides, remove from the pan and set aside
SAUTE vegetables for several minutes until they begin to soften
Add the tomato paste, spices, herbs, tomatoes, broth, and wine and STIR until combined
Add the chicken back to pan and SIMMER until sauce has reduced and chicken has cooked through
SERVE & Enjoy
Alternative method- some recipes call for DREDGING the chicken in flour before browning - that is optional but the original recipe did not require this and I kept it the same for simplicity and I find that either or works well with this recipe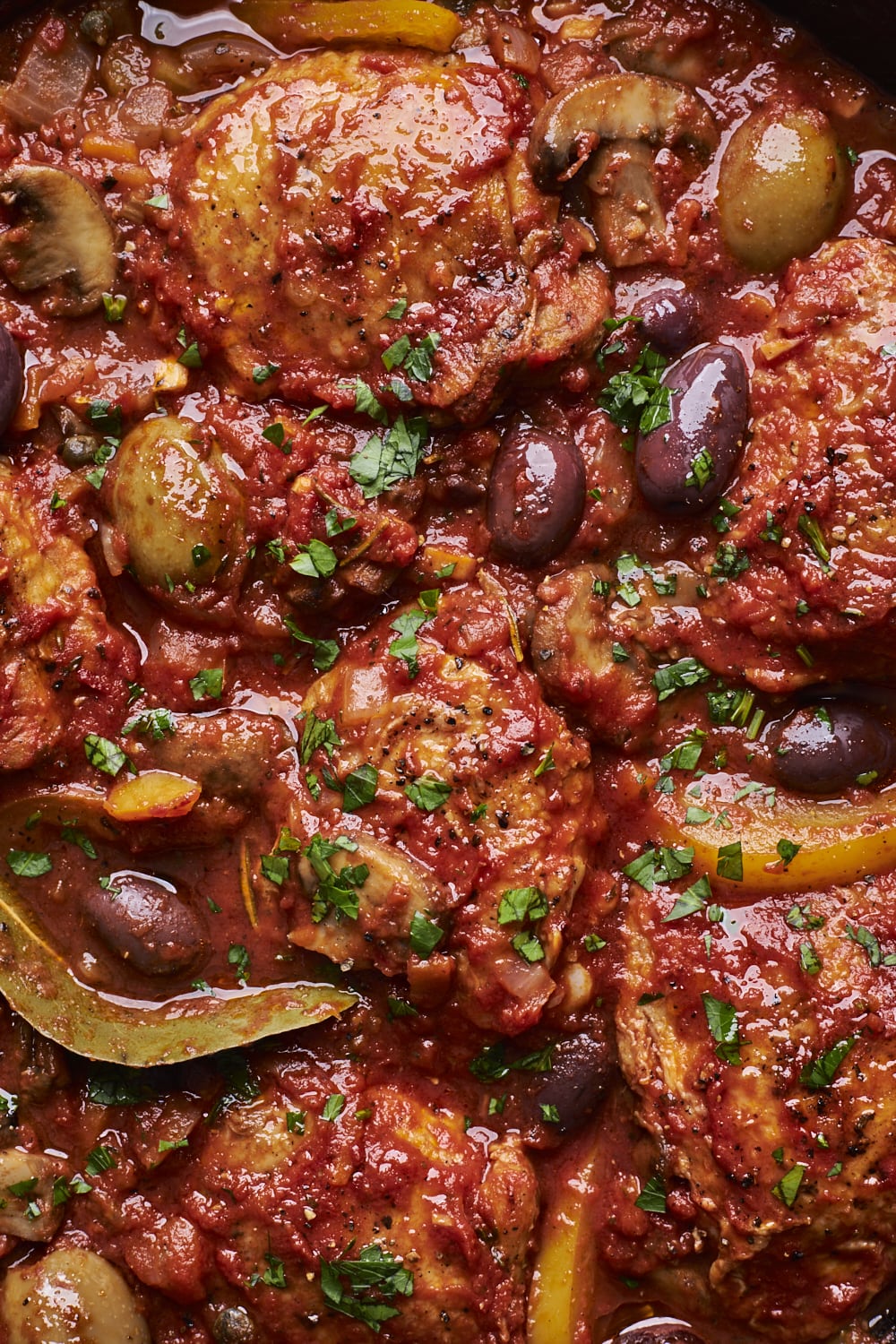 What to Serve With Chicken Cacciatore
Chicken Cacciatore is often served with a rustic bread, pasta, rice, my Easy Roasted Parmesan Potatoes are great wth it too or even some creamy polenta. It is one of those chicken dishes that go with just about anything. It can be doubled to feed a crowd and the perfect meal for a dinner party but simple and comforting enough for a weeknight dinner.
Storage & Make Ahead
STORAGE - Leftovers can be stored in an airtight container in the fridge for up to 4-5 days. Reheat stovetop or in the microwave
MAKE AHEAD - This chicken cacciatore can be made up to 1 day ahead, cooled, covered and refrigerated. Rewarm over low-medium heat. The flavours get even better the next day like any stew or sauce
FREEZE - To freeze make sure that the dish has cooled to room temperature then transfer cacciatore into an air tight freezer safe container and transfer to the freezer. Thaw overnight in the fridge and reheat in a skillet / pan over low-medium heat until warmed through.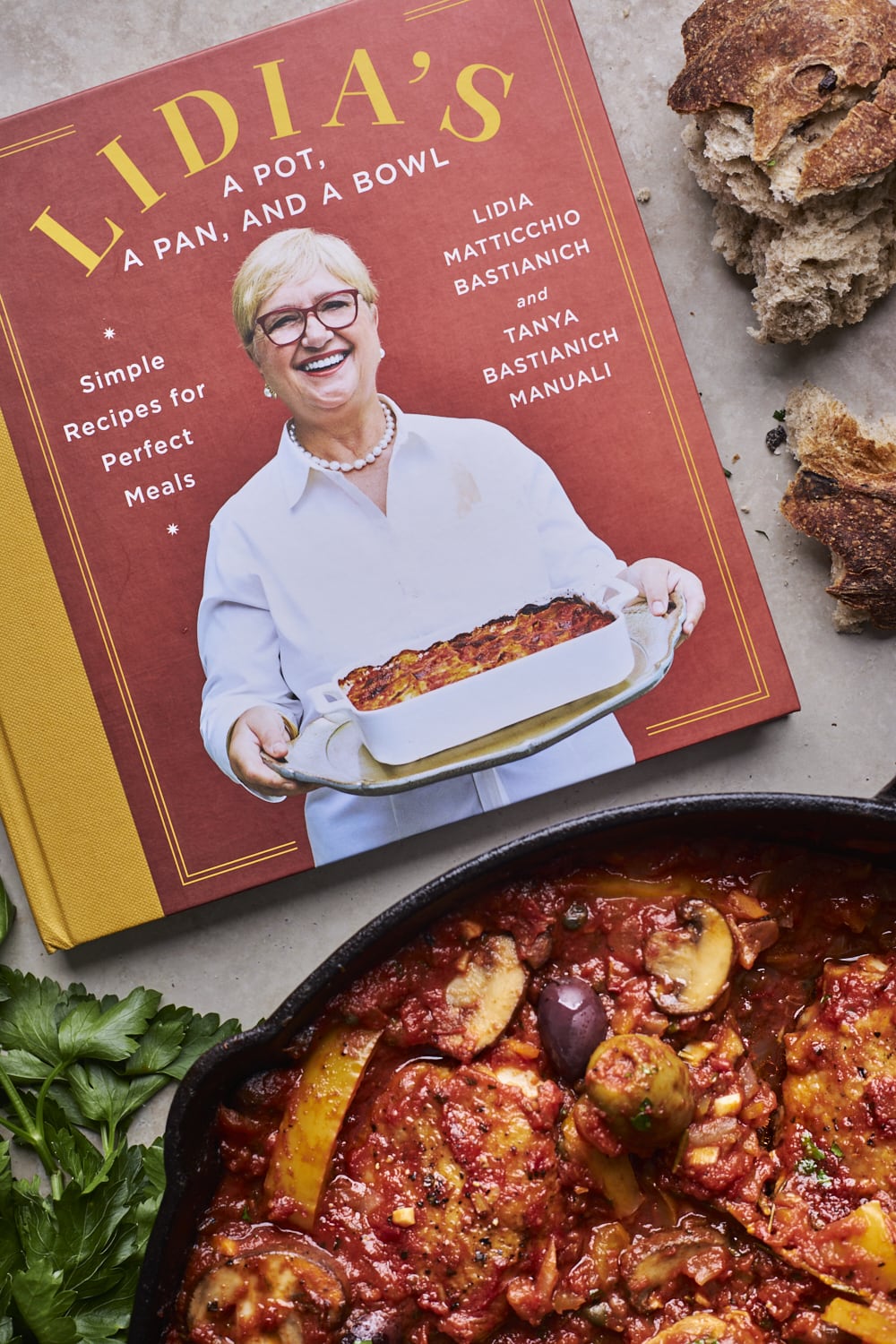 More Delicious Chicken Recipes You Will Love:
Recipe
Prep Time: 30 mins
Cook Time: 1 hour 15 minutes
Ingredients
6-8 chicken thighs (about 2½ pounds), skin on and bone-in

Kosher salt and black pepper

3 tablespoons extra-virgin olive oil

8 ounces cremini mushrooms, quartered or sliced

1 carrot, peeled and minced

1 celery stalk, minced

1 sweet onion, thickly sliced or chopped

1 yellow bell pepper, seed and stems removed and thickly sliced

4 cloves of garlic, peeled and minced

1 tablespoon tomato paste

½ cup dry white wine or red wine

One 28-ounce can whole San Marzano tomatoes, crushed by hand or already crushed

1 teaspoon dried oregano

¼-½ teaspoon Peperoncino flakes/ red pepper flakes

1 tablespoon capers, drained

½-1 cup olives (pitted or left whole)

2 tablespoons chopped fresh Italian parsley (optional)

1 cup of chicken broth or water

1 bay leaf

1 sprig off fresh rosemary

Fresh parsley for garnish or fresh basil

Parmesan cheese, grated for serving
Directions
Season the chicken with ½ teaspoon salt and pepper
Heat the oil in a large Dutch oven or skillet over medium heat. Brown the chicken on all sides, 7 to 8 minutes, and remove it to a plate.
Add the mushrooms and sauté a couple of minutes then add the carrots celery onion, pepper, garlic, and cook until they begin to wilt or start to soften, 7-10 minutes. Season the vegetables with salt and pepper
Stir in the tomato paste and cook stirring for 1 min.
Add wine to deglaze pan, and simmer until it's reduced by half, about 2 minutes scraping the browned bits from the bottom of the pan
Add the tomatoes and 1 cup broth or water. Add the oregano, chili flakes, olives, capers and season with salt and pepper, bay leaf and sprig of rosemary. Stir well to combine.
Add chicken back in to pan nestling it in to the sauce. Increase temperature to medium-high heat to bring up to a simmer then lower the heat to maintain a low simmer. Simmer, uncovered, until the sauce has thickened and the chicken is tender, and cooked through to an internal temperature of 165°F, about 45 minutes, stirring once or twice throughout the cooking process.
Taste and add salt and pepper as desired. Stir in the parsley, and serve.
Leftovers can be stored in an airtight container in the fridge for up to 4-5 days.