Chicken Caprese
This baked caprese chicken is cooked right in a sweet, garlicy balsamic glaze with juicy cherry tomatoes, melted mozzarella cheese and fresh basil. Juicy Chicken breast with the flavours of summer and one of summers favourite combos - tomatoes, mozzarella basil and balsamic. This caprese chicken recipe is the perfect mid week meal but pretty enough to serve for date night or company. Perfect with rice, buttery orzo, roasted potatoes or a side salad and crusty bread. Leftovers make a great caprese sandwich or are perfect sliced and over a fresh salad or greens.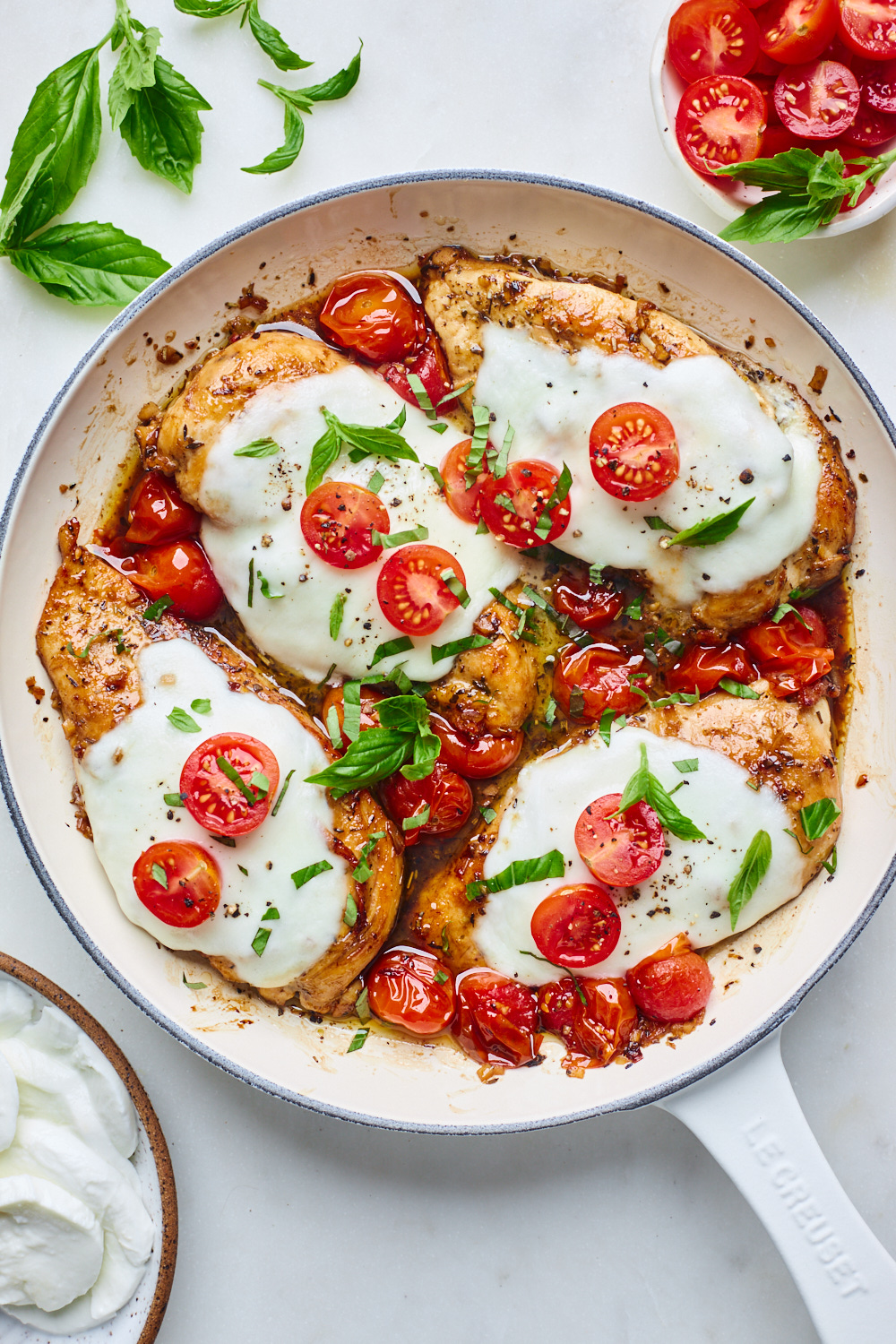 Why you will love this dish
Easy to make and can be made and on the table in 30 minutes give or take
Chicken turns out juicy and the pan juices are absolutely delicious - sweet tangy and savoury
Fresh flavours of summer and a delicious way to use up some of your sweet grape or cherry tomatoes and fresh garden basil
A delicious way to vary your protein and chicken breast recipe weekly rotation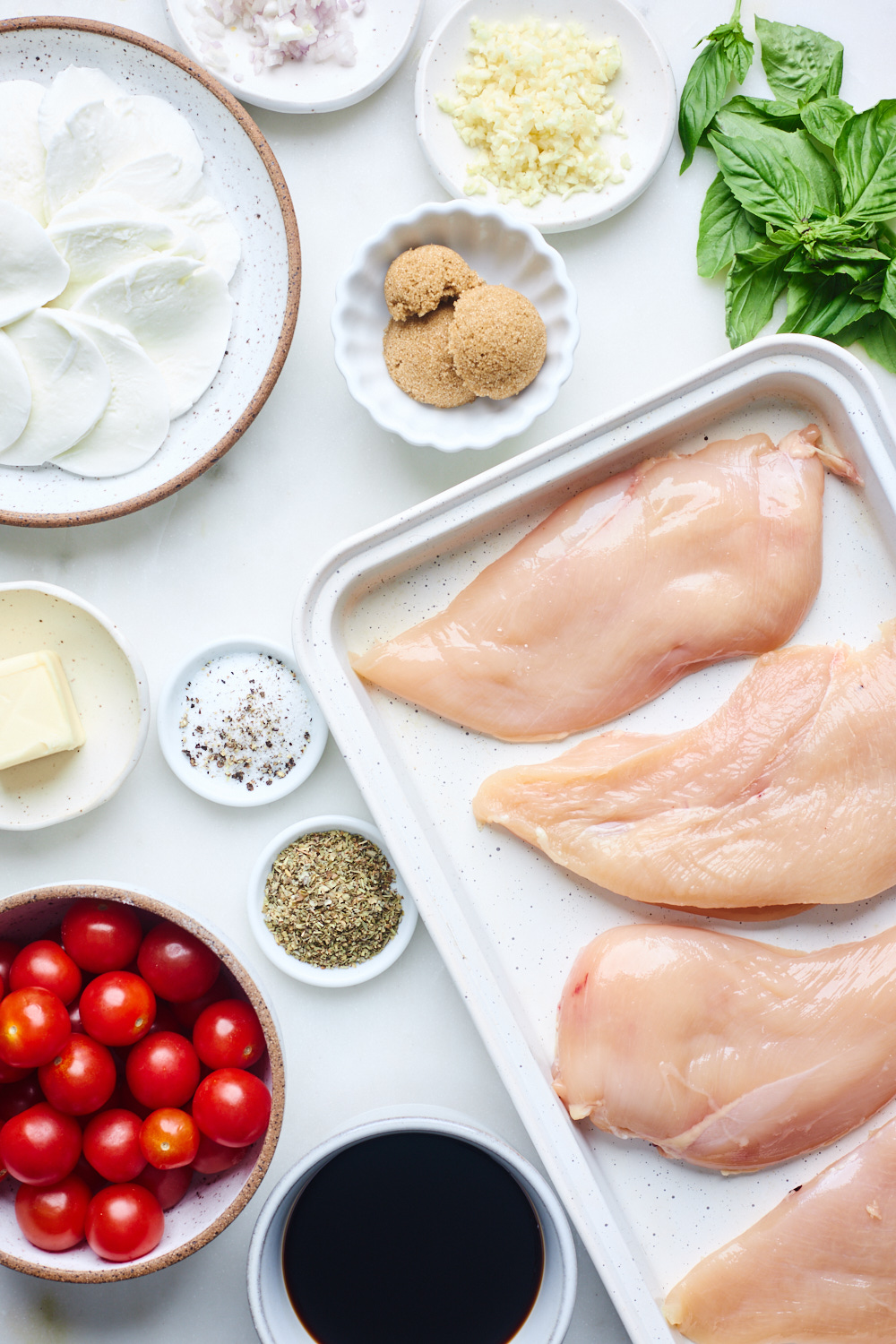 What is Caprese?
A traditional simple and flavourful Italian appetiser, a Caprese Salad (Insalata Caprese) consists of ripe tomatoes, fresh mozzarella cheese and basil, drizzled with olive oil and seasoned with salt. With this recipe, we are adding baked chicken breast and loads of flavor.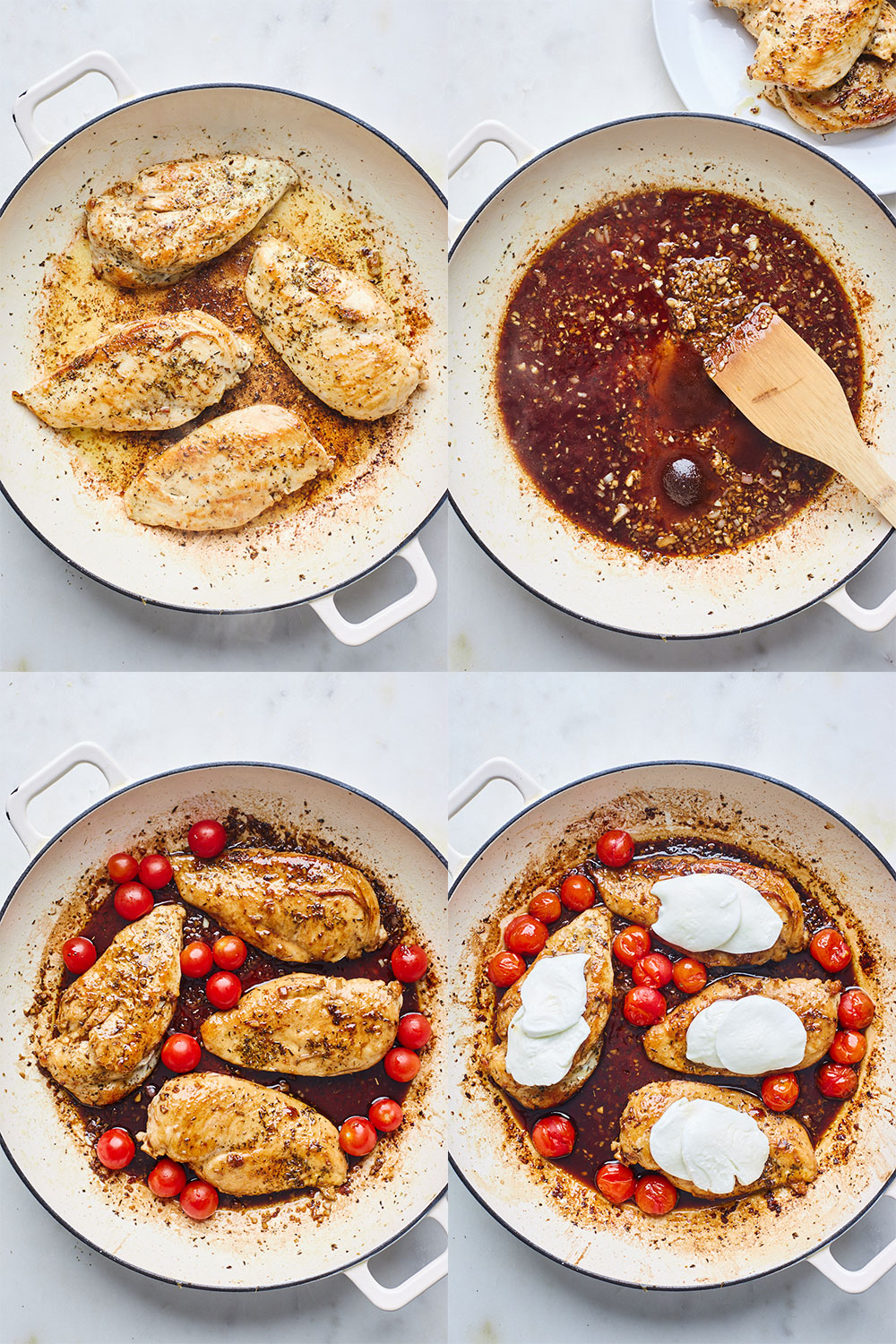 Here's what You will need to make this chicken Caprese recipe:
Boneless, skinless chicken breasts - feel free to substitute with skinless boneless chicken thighs if you prefer
Extra virgin olive oil
Butter
Garlic & Shallot
Sweet cherry or grape tomatoes - you could also use cocktail tomatoes or chopped Roma tomatoes if that is all you have.
Fresh mozzarella cheese
Fresh basil
Balsamic vinegar
Brown sugar - or coconut sugar or honey
Spices - salt and freshly ground black pepper, Italian seasoning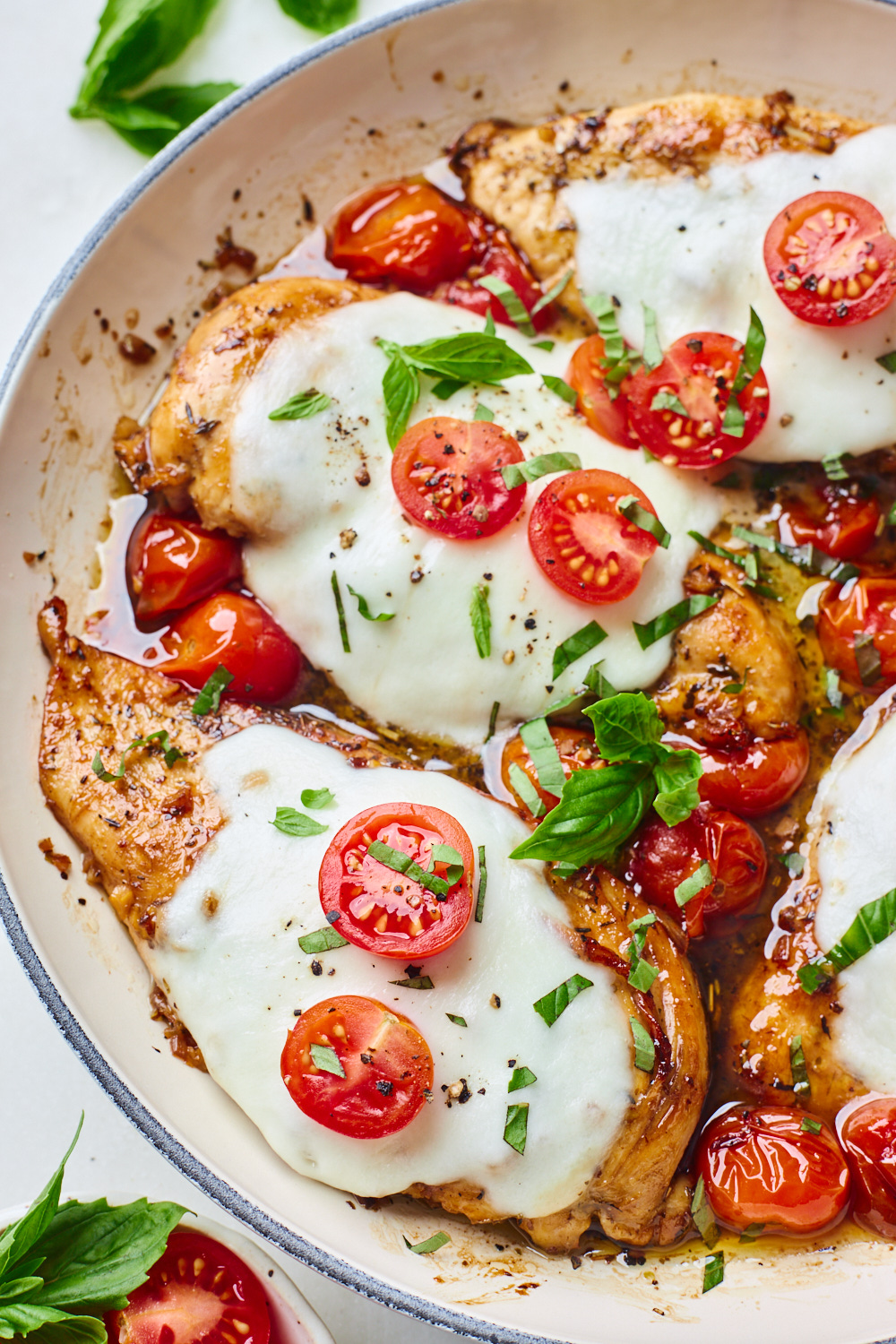 How to make this Caprese chicken recipe
Only a few very simple steps are required to make this delicious chicken dish. Here are the simple instructions:
Slice or Cut boneless chicken breasts in half lengthwise so they're thinner, and cook faster. Thinner chicken breasts are also easier to gauge for doneness, and have more browned and crisped area to enjoy.
Sear the chicken in a combination of olive oil and butter. Searing the chicken in both the butter to the olive oil raises the smoke point so neither burns, and adds a nice golden colour to the cooked chicken breasts. Sear chicken breast until golden on both sides. (It won't be cooked through, but they finish off cooking in the oven). Then set aside
Next, add the garlic and shallots into the pan and fry until fragrant.
Add the balsamic vinegar and brown sugar or honey. Stir both to combine well and allow to simmer until thickened.
Add the chicken back into the pan, rotating to coat in the glaze add half of the tomatoes to pan around chicken and place into the oven and continue baking in the oven until cooked through and succulent. Place your mozzarella slices on each breast and bake in the oven for a further couple of minutes until cheese is melted
Remove from oven add remaining tomatoes over cheese, drizzle over pan juices and serve with loads of fresh basil sliced and whole for garnish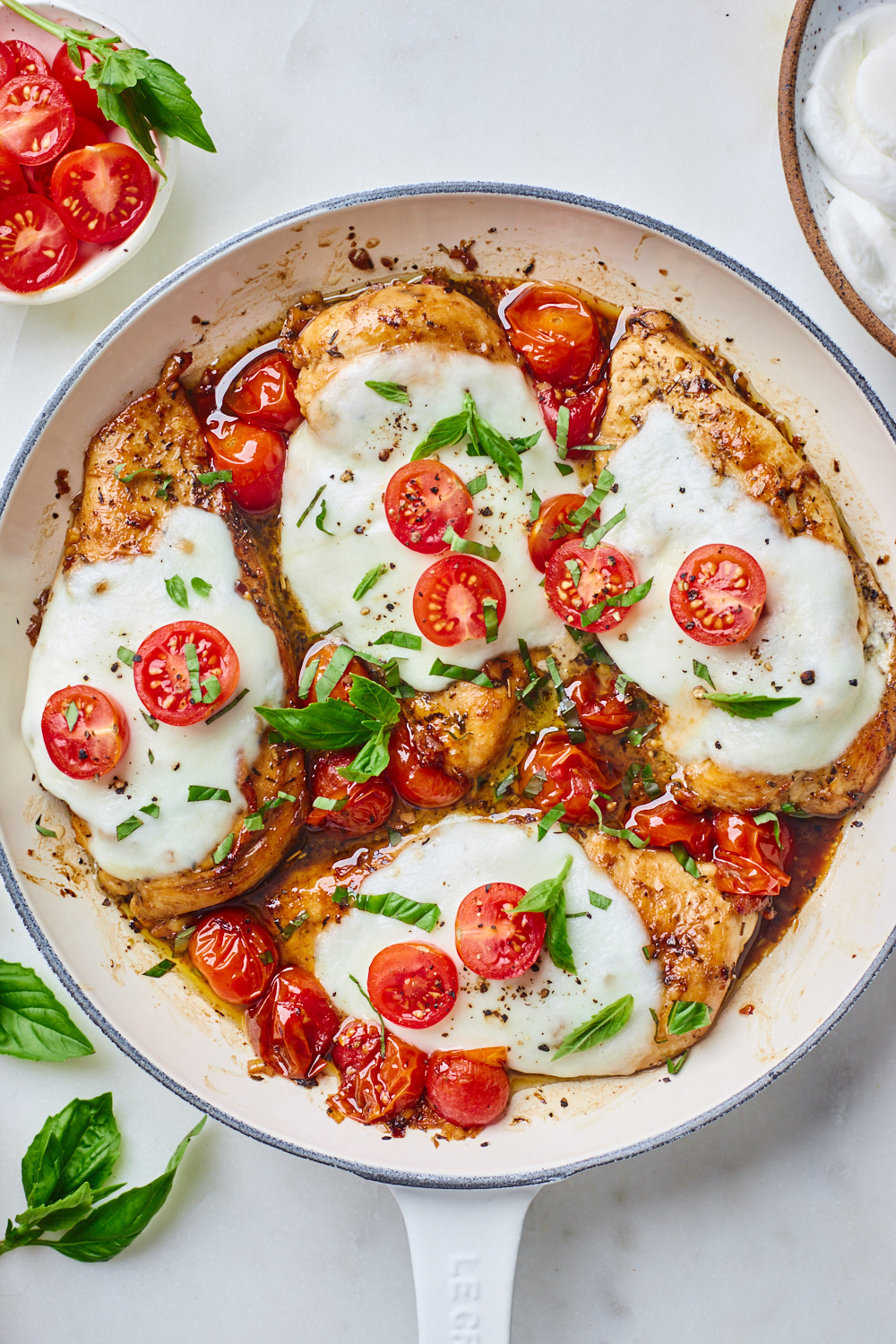 Some more Chicken recipes you will love:
Recipe
Prep Time: 5-10 mins
Cook Time: 25 mins
Ingredients
2 chicken breasts, skinless and boneless

2 teaspoon Italian seasoning

1 teaspoon salt

Black pepper to taste

1 tablespoon olive oil

1 tablespoon butter

3 cloves of garlic, peeled and minced

1 shallot, peeled and minced

⅓ cup balsamic vinegar

2 ½ tablespoons brown sugar, coconut sugar or honey

1 ½ cups grape or cherry tomatoes, divided

8 ounces (250 g) fresh mozzarella cheese, cut into 6x ½-inch slices

¼ cup fresh basil leaves, sliced plus more for garnish
Directions
Preheat the oven to 400°F.
Prepare chicken breast: slice the chicken breasts in half lengthwise. Season both sides with salt, pepper and Italian seasoning.
Heat a large oven-proof skillet over medium-high heat with the olive oil and butter.
Add chicken breasts to the pan, and sear approx 3 min each side until lightly golden. Transfer chicken to a plate and set aside.
Return the skillet back to the stove; add shallots and garlic and cook stirring for 1 minute until fragrant.
Stir in the balsamic vinegar and brown sugar or honey; simmer until glaze has thickened approx 3-4 minutes.
Return the chicken to the pan, turning in the glaze to coat evenly. Add 1 cup of tomatoes, around the chicken and place the chicken into the oven and bake until the chicken is completely cooked through (approx 7-10 min). Chicken should read 165°F on instant read thermometer.
Remove from oven carefully and top each chicken with a slice of mozzarella cheese; return back into the oven for a further 2-4 min or until the cheese has melted.
Slice the remaining ½ cup tomatoes in half; place them on top of the cheese; pour over or drizzle some of the balsamic sauce or pan juices and garnish with basil. Serve immediately.