Chocolate Chunk Zucchini Bread
Updated 10 July 2023
This moist and decadent double chocolate zucchini bread is a great way to use up extra zucchini and totally irresistible. With the exception of my banana bread, this zucchini one has been the most requested by you guys and of course my family. There is no question why this is so popular. It's fabulously moist thanks to the fresh zucchini baked right into it and is so rich and chocolatey from the cocoa and the chocolate chips or chunks. I have made this so many time since I first shared it on Instagram and the result is always the same - perfection! I adapted the recipe from The Kitchn and it's a wonderful one. I usually double the amount and make a larger loaf as you see here in one of my larger tins, so feel free to do that if you want, otherwise it's great in a regular 9x5 loaf pan. I strongly recommend baking two batches regardless because the first one will be gone in no time.
Chocolate Zucchini Bread Ingredients:
All Purpose flour: Feel free to make this a gluten free chocolate zucchini bread by substituting flour with a good GF 1-1 all purpose flour - the texture will be slightly different though
Zucchini: Raw zucchini or even yellow summer squash grated with a box grater or shredded in a food processor - add perfect amount of moisture to this bread (no need to squeeze out the excess moisture from it or to peel it unless your zucchini is large and has very tough skin - young small zucchini has really tender skin). If using frozen zucchini, thaw before using. Drain and squeeze out some but not all of the excess moisture - no need to do that if using fresh shredded zucchini
Unsweetened Cocoa Powder: Dutch process cocoa is what I use but you could also use natural unsweetened cocoa powder too for even more intense cocoa flavour.
Sugar: I like to use both granulated and brown sugar in this recipe but you could use on or the other to sweeten it
Eggs: Large room temperature eggs are what I use in this recipe
Vegetable Oil: A neutral oil/ vegetable oil like canola oil is what I use but you can use coconut oil or for a richer flavour you can even use olive oil
Baking Soda & Baking Powder: A touch of each for leavening. Ensure that they are both active and not expired for best results
Vanilla & Espresso Powder: Both for flavouring the loaf - the vanilla is a must but the espresso powder or instant coffee is optional but recommended as it adds so much richness and depth to the cocoa flavours
Chocolate chips/chunks & Nuts: Both optional. I personally always add chocolate chips or chunks in and on top of mine making this a double chocolate zucchini bread and adds extra chocolatey goodness to each bite. Feel free to add some nuts - chopped pecans, almonds or walnuts for some extra crunch, or even some spices like cinnamon or a touch of nutmeg for some variation in flavour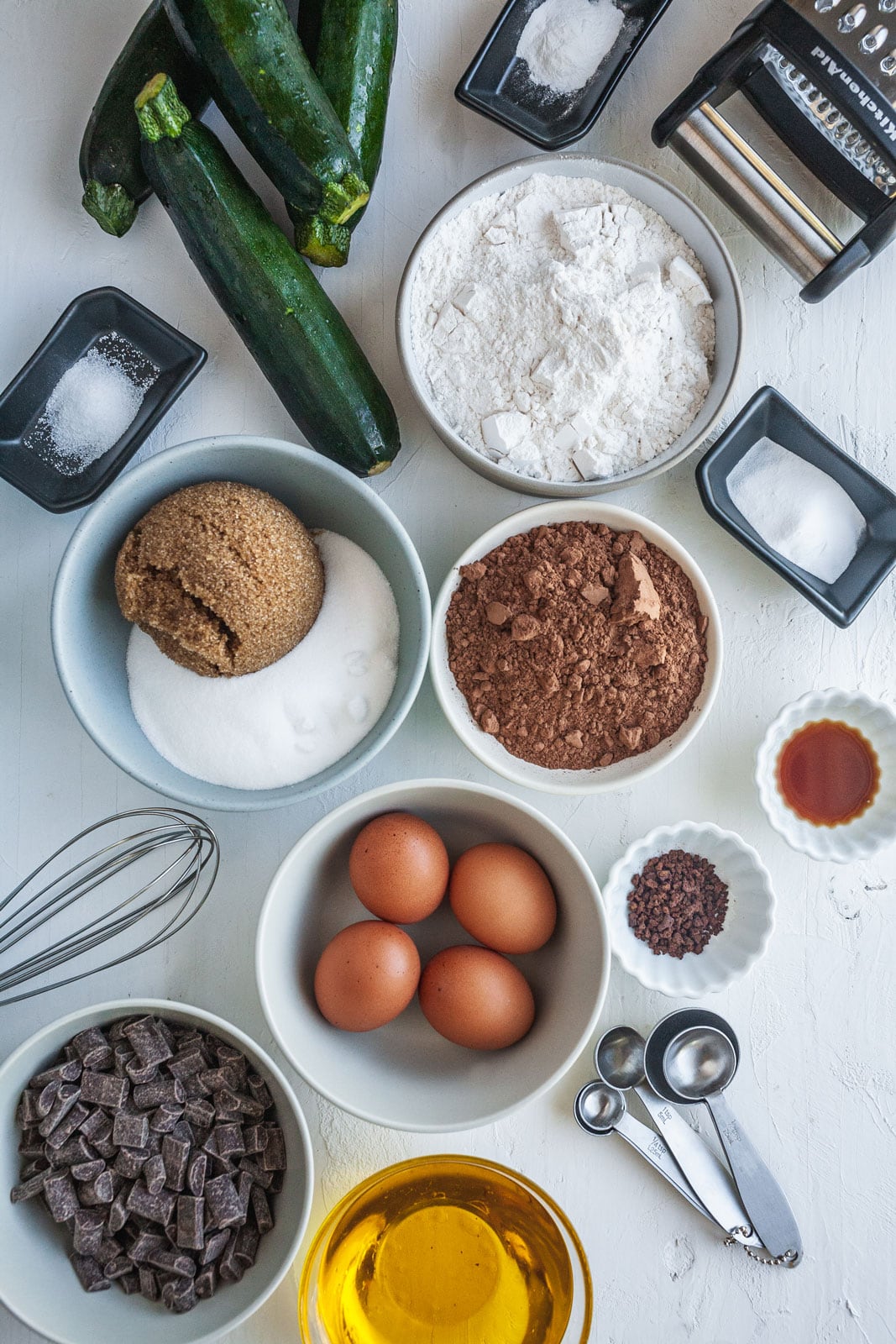 Chocolate Zucchini Bread Recipe Instructions
This chocolate zucchini bread is full of rich chocolate flavor and so so simple to make. Here are the instructions to making this irresistible zucchini loaf:
Begin by grating your zucchini. You can use a food processor or you can also grate by hand with a box grater.
Whisk together the dry ingredients - the flour, salt, baking soda, baking powder and cocoa powder
In a large bowl, beat or whisk together the eggs, vegetable oil, sugar, vanilla, and espresso powder if using until well combined.
Add the grated zucchini to the wet ingredients and whisk until combined.
Add the flour mixture to the wet ingredients and mix until just combined scraping the edges of the bowl. Do not over mix
Fold in the chocolate chips/chunks and nuts if using.
Transfer batter to 9×5 inch loaf pan
Bake at 350°F for 50-60 minutes or until completely set and tester comes out clean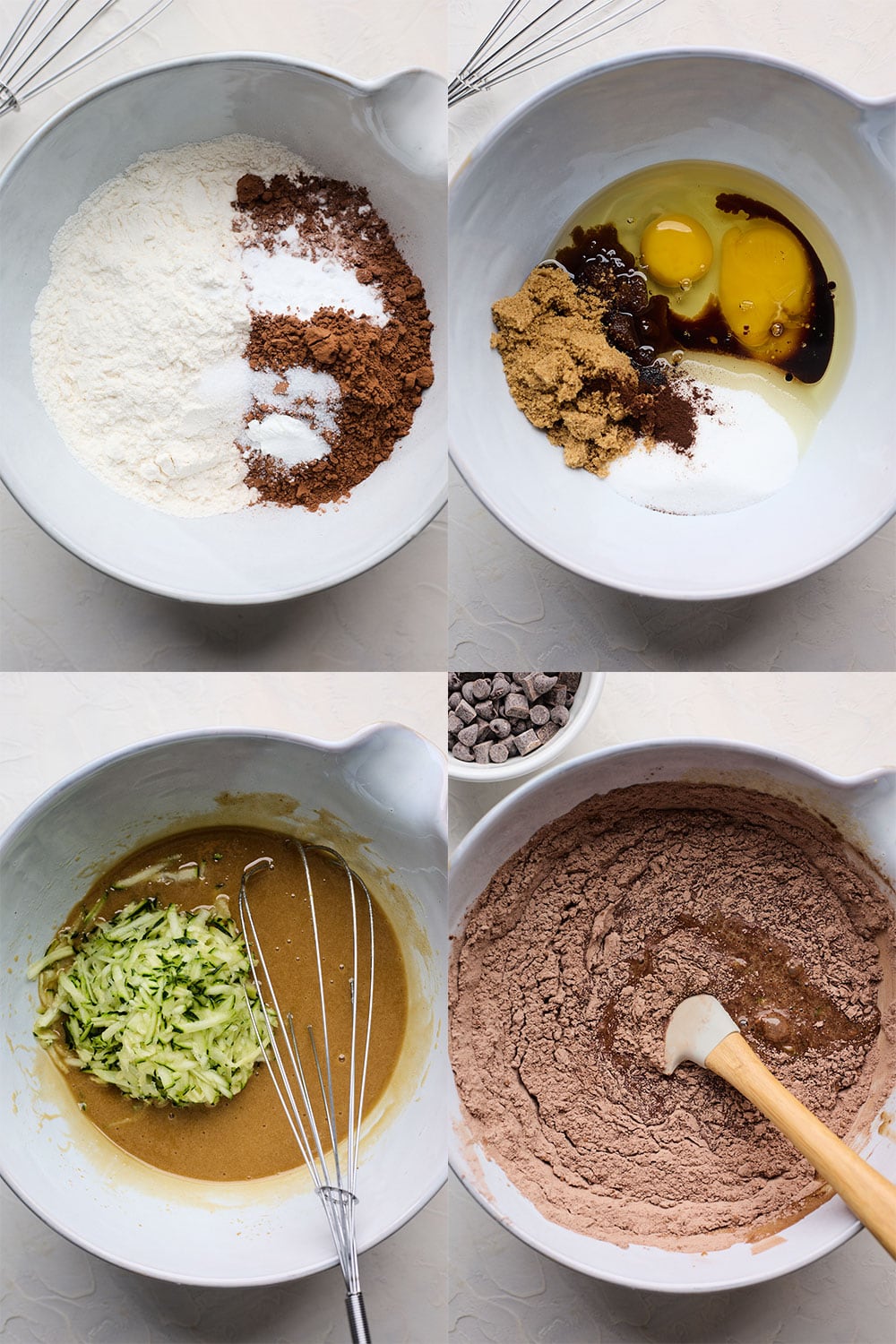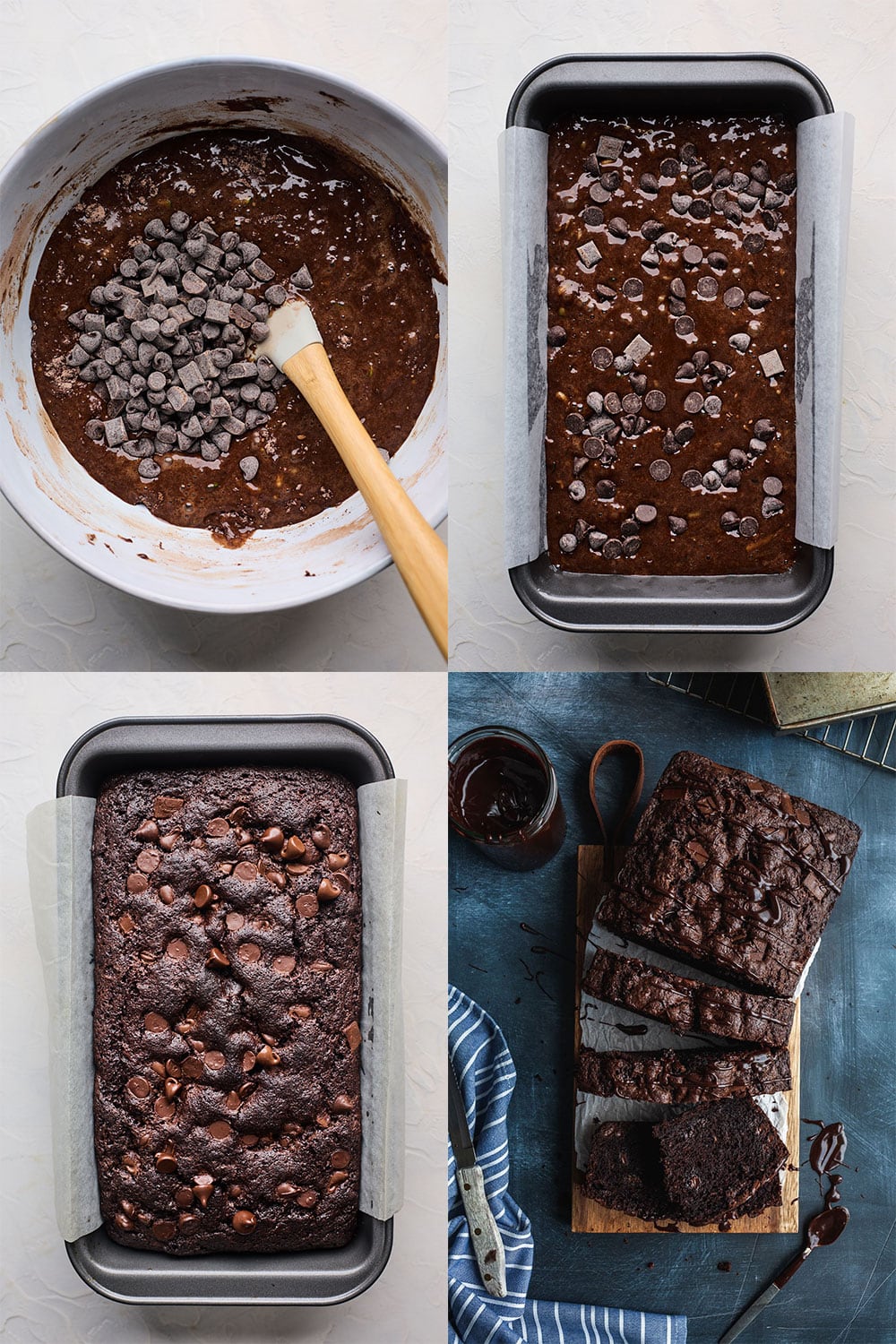 Tips for making the best zucchini bread recipe
Ensure ingredients are at room temperature - specifically the eggs in this recipe.
To Peel or Not to Peel? It is not necessary to peel zucchini when you're making a zucchini loaf. Zucchini skin is thin and softens while baking and it is not noticeable in flavor or texture in the loaf. The skin also has some nutrition - it contains lots of vitamins and minerals
Combine the dry ingredients with a whisk, this acts a bit like sifting the flour
The suggested bake times are an estimate. Cooking times can vary slightly so be sure to check the bread early. Each oven is different, and different pans conduct heat differently so cooking times will vary. It may take 20-30 minutes more. With the longer cooking time, the bread shouldn't burn, but if you are noticing the bread getting too brown, tent with foil.
Bake just until a toothpick or cake tester inserted in the center comes out clean or mostly clean.
Small to medium zucchinis (or even summer squash) work best, larger zucchini may need to be seeded (and peeled if the skin is tough).
Avoid overmixing. Overmixing quick bread batter will result in a stodgy, dense loaf. For a pillowy, moist cake-like crumb, mix the bread batter just until combined.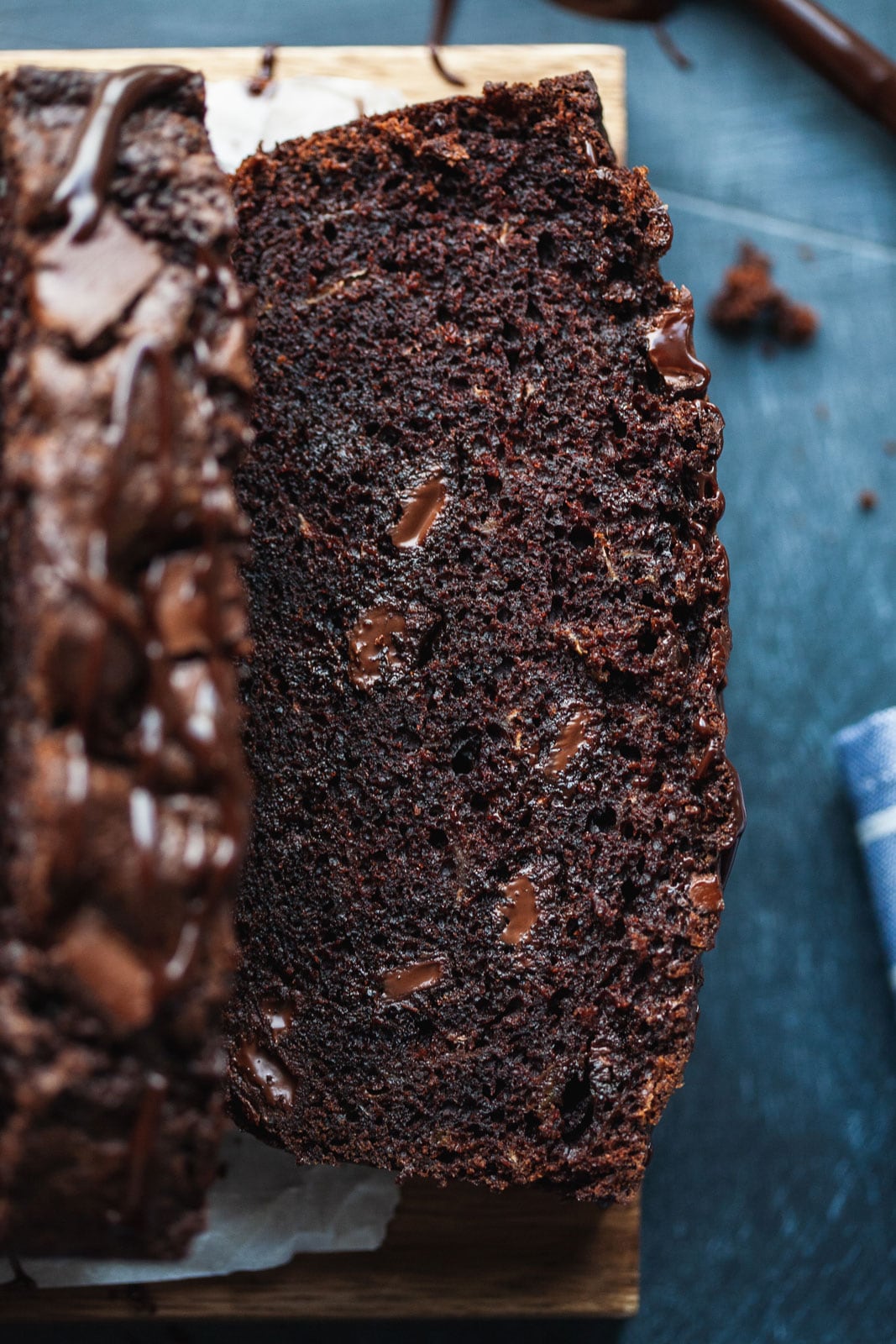 How to store zucchini bread
This zucchini bread recipe should keep for at least 2 or 3 days at room temperature. You just want to wrap it tightly or keep it in an airtight container, so it doesn't get stale. If your chocolate zucchini bread is still hanging around after 3 days, you might want to refrigerate it. It should last in the fridge for at least a week, if not a few days longer.
Can I Freeze Chocolate Zucchini Bread?
You definitely can freeze zucchini bread! Freezing it a great option especially when its the season and you have loads of zucchini to bake with. Zucchini bread can be frozen for up to 3 months. Bake up as many loaves as you can, once cool wrap them tightly in plastic wrap or foil, and slip them into a zip-top bag before putting them in the freezer. Thaw at room temperature or overnight in the fridge and enjoy a little taste of summer all year 'round!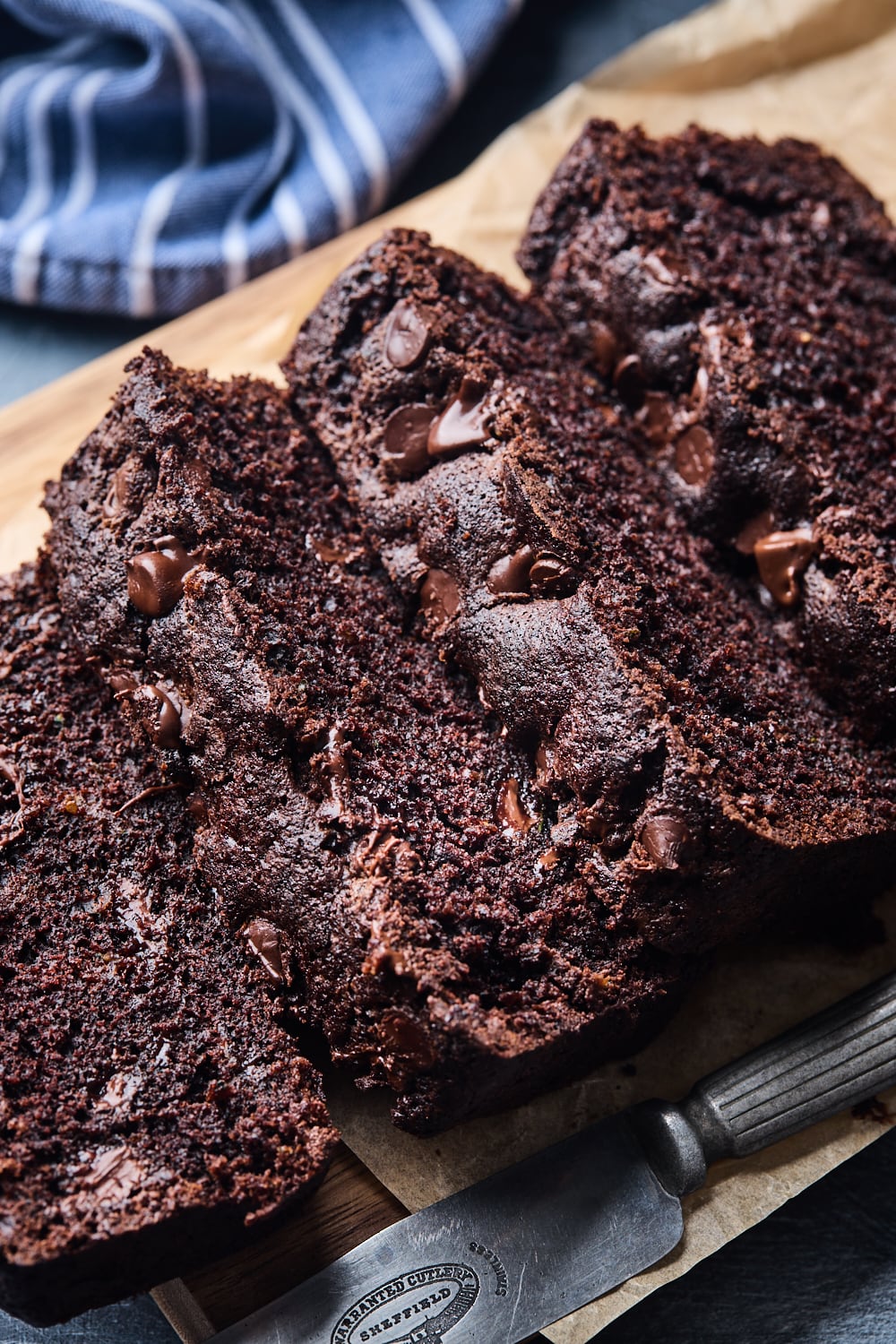 Make This Zucchini Bread Extra with the Ganache
Some may say I went a little too far when I added the chocolate ganache but if you are a chocolate lover like I am you won't regret it. I included the recipe below for a simple ganache that I use to drizzle on many things along with this zucchini bread. It's totally optional but there if you want to add it and amp up the decadence of this bread.
It's absolutely delicious and we love it to snack on but even more for breakfast. My husband loves to toast his slice and eat it with a bit of butter on top. I love it in the afternoon with my tea. It's just the right amount of chocolate. It's also not overly sweet and that is why I excuse it for breakfast too. The things we try and justify - I tell ya!! You most definitely need to add this to your list of things to make with all the zucchini in your garden or your friends garden or the plethora still at the market and grocery store. I have two other things you must make with all your zucchini as well. These fabulous zucchini fritters and you must absolutely make this zucchini tart with whipped feta and chives. Have fun making all the delicious things with zucchini including this bread! I know you will love it!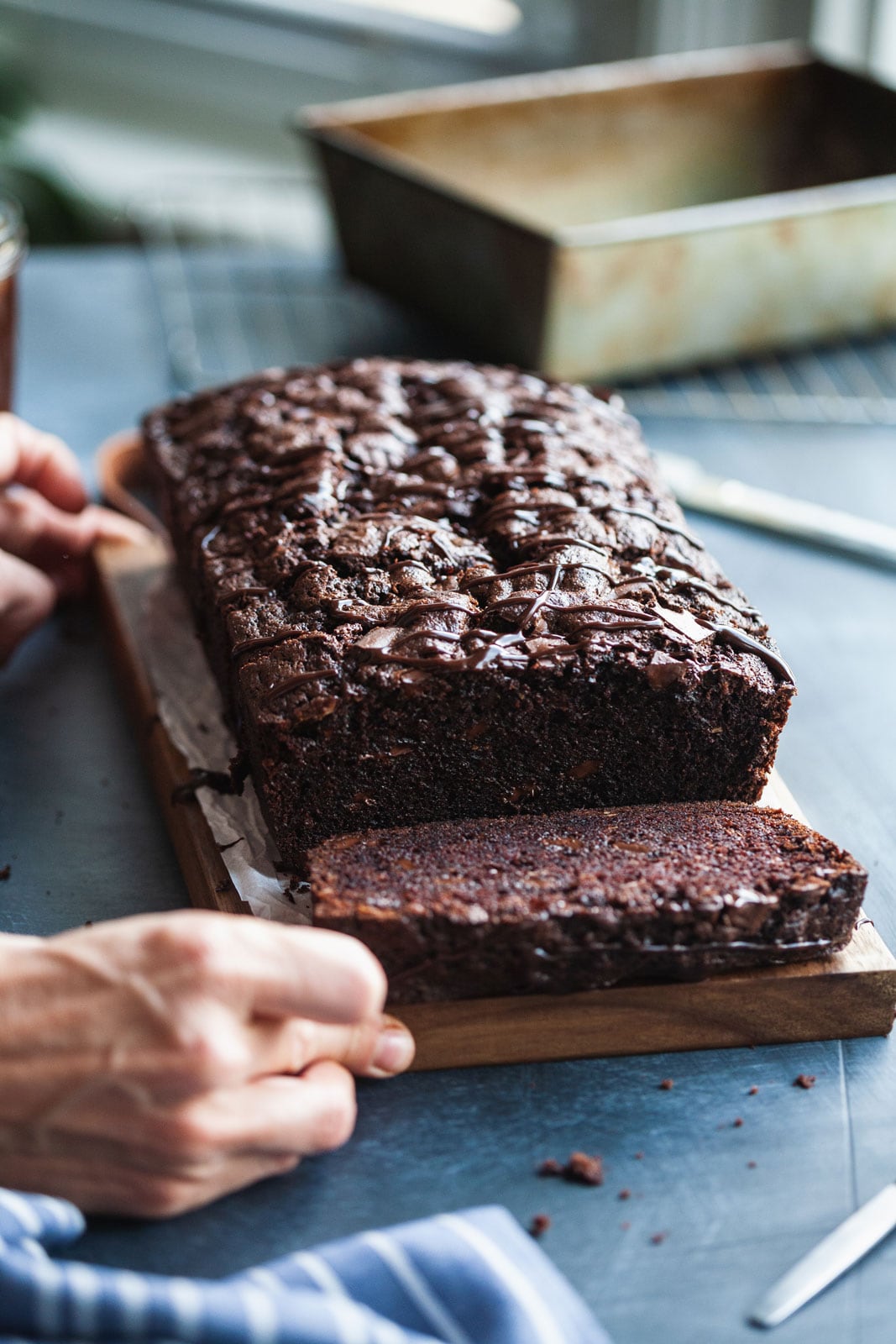 If you love this quick bread recipe you will love these:
Recipe
Prep Time: 15 mins
Bake Time: 50-60 mins
Total Time: 1 hr 15 mins
Ingredients
1½ cup grated zucchini or yellow squash

1 cup all-purpose flour

½ cup natural unsweetened cocoa powder

1 teaspoon baking soda

¼ teaspoon baking powder

¼ teaspoon salt

½ cup vegetable oil, canola or even coconut oil

½ cup granulated sugar

½ cup light brown sugar

2 large eggs, room temperature

1 teaspoon instant coffee powder or ½ teaspoon espresso powder (optional but recommended to accentuate that cocoa flavour)

1 teaspoon vanilla extract

½ to ¾ cup semisweet chocolate chips or chunks, plus more for sprinkling over top (optional and if you are a nut fan - feel free to do half chocolate chips and half chopped pecans or walnuts)
Directions
Preheat oven to 350°F degrees and spray a 9-by-5-inch loaf pan with nonstick cooking spray and line with overhanging pieces of parchment paper for easy removal
In a medium bowl, whisk the flour, cocoa powder, baking soda, baking powder and salt, and set aside.
In a large mixing bowl, using a hand mixer or a whisk, beat the oil, sugars, eggs, instant coffee, and the vanilla until blended, about 2 minutes.
Whisk the shredded zucchini into the wet ingredients until combined.
Then add the dry ingredients to the wet ingredients mixing/stirring until just combined
Fold in nuts and chocolate chucks or chips if using.
Spoon batter into the loaf pan and smooth the top. Top with a few extra chocolate chips if using
Bake 55 to 65 minutes, or until a knife or toothpick inserted into the center of the bread comes out clean or mostly clean. Tent loosely with aluminum foil if browning too quickly
When the bread is done, cool in the pan on a wire rack for 10 minutes. Turn out the loaf onto the rack to finish cooling.
For the dark chocolate ganache (optional)
Ingredients
3.5 oz of dark chocolate
½ cup heavy cream
Directions
Roughly chop the chocolate and place in a bowl.
Bring the cream to a light simmer in a saucepan. Once at a simmer, pour the mixture over the chocolate. Leave for 2 minutes, and then stir until smooth and thick. Leave to cool completely at room temperature and use to drizzle over zucchini bread
Recipe Notes
Make ahead tip: The bread can be wrapped and frozen for up to 3 months. Thaw overnight in the refrigerator and allow to come to room temperature before serving. How to store zucchini bread
This zucchini bread recipe should keep for at least 2 or 3 days at room temperature. You just want to wrap it tightly or keep it in an airtight container, so it doesn't get stale. If your chocolate zucchini bread is still hanging around after 3 days, you might want to refrigerate it. It should last in the fridge for at least a week, if not a few days longer.
Do I need to peel the zucchini first? You can if you'd like, but I never do. There's no taste or texture variance either way, but you'll definitely have more flecks of green throughout the loaf if you keep the peel on. You also do not need to blot the zucchini dry before using in the batter. (You want that moisture! without the addition of other igredients like applesauce)
If using frozen zucchini, thaw before using. Drain and squeeze out some but not all of the excess moisture - no need to do that if using fresh shredded zucchini
To make muffins: Simply, line a 12-cup muffin pan with liners or grease with butter or nonstick spray. Fill cups no more than two-thirds full. Bake for 18-22 minutes, or until a toothpick inserted comes out clean
Adapted from The Kitchn