Classic Zucchini Bread
Updated July 2nd 2023
This easy zucchini bread recipe is my all time favourite. It's no fuss, straightforward, all you need is bowl and spatula, basic pantry ingredients and totally adaptable if you want to add various flavours, flours, spices etc. It tastes like mom's baking and is such a simple bread to whip up in no time and also a great way to use up extra zucchini. If you like a moist no-fuss bread that you can whip up easily and know will come out the same every time - Consistently delicious - you came to the right place! This zucchini bread studded with walnuts and chocolate chips and a great way to use up your summer zucchini. A good bit of shredded zucchini goes into the batter, but it sort of disappears once baked, so the bread tastes more like spice cake than anything else and it helps give this quick bread all the delicious moisture it needs.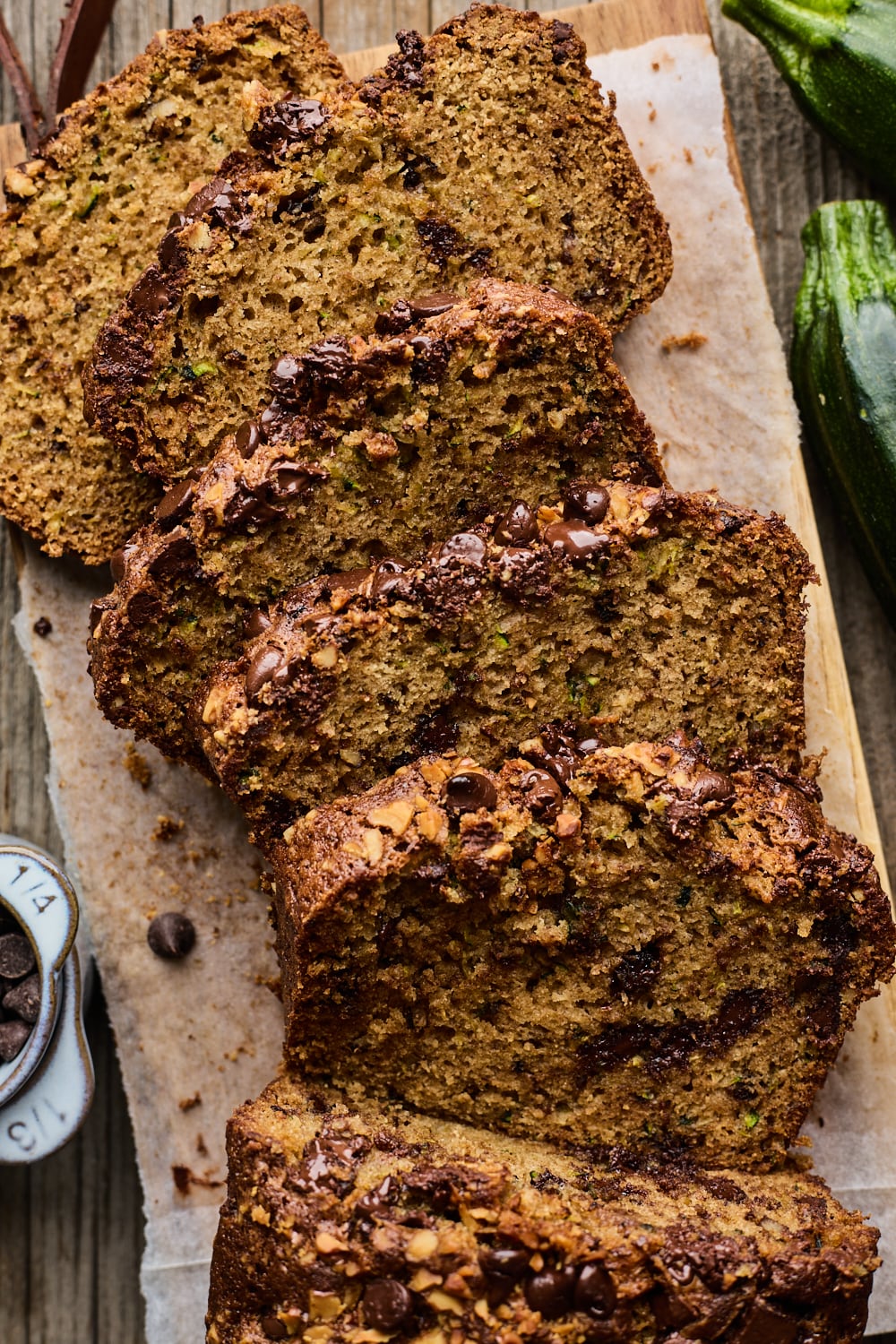 What is zucchini bread?
Zucchini bread is a quick bread consisting of zucchini. This particular one has nuts and chocolate chips or chocolate chunks and is lightly spices but all those things are optional. The shredded raw zucchini imparts a moist, rich texture and no need for any other veggie or fruit puree in there like applesauce. Some recipes call for squeezing out the excess moisture from the shredded zucchini with a clean dish towel or paper towels but this recipes uses every bit of the moisture from the zucchini - no need to squeeze it out. Zucchini bread has a mild flavor that can be adjusted for either sweet or savory palates, like its quick bread counterparts, Pumpkin Bread and Banana Bread. You can enjoy zucchini bread for breakfast with a cup of coffee or tea or as a dessert option with a dollop of whipped cream.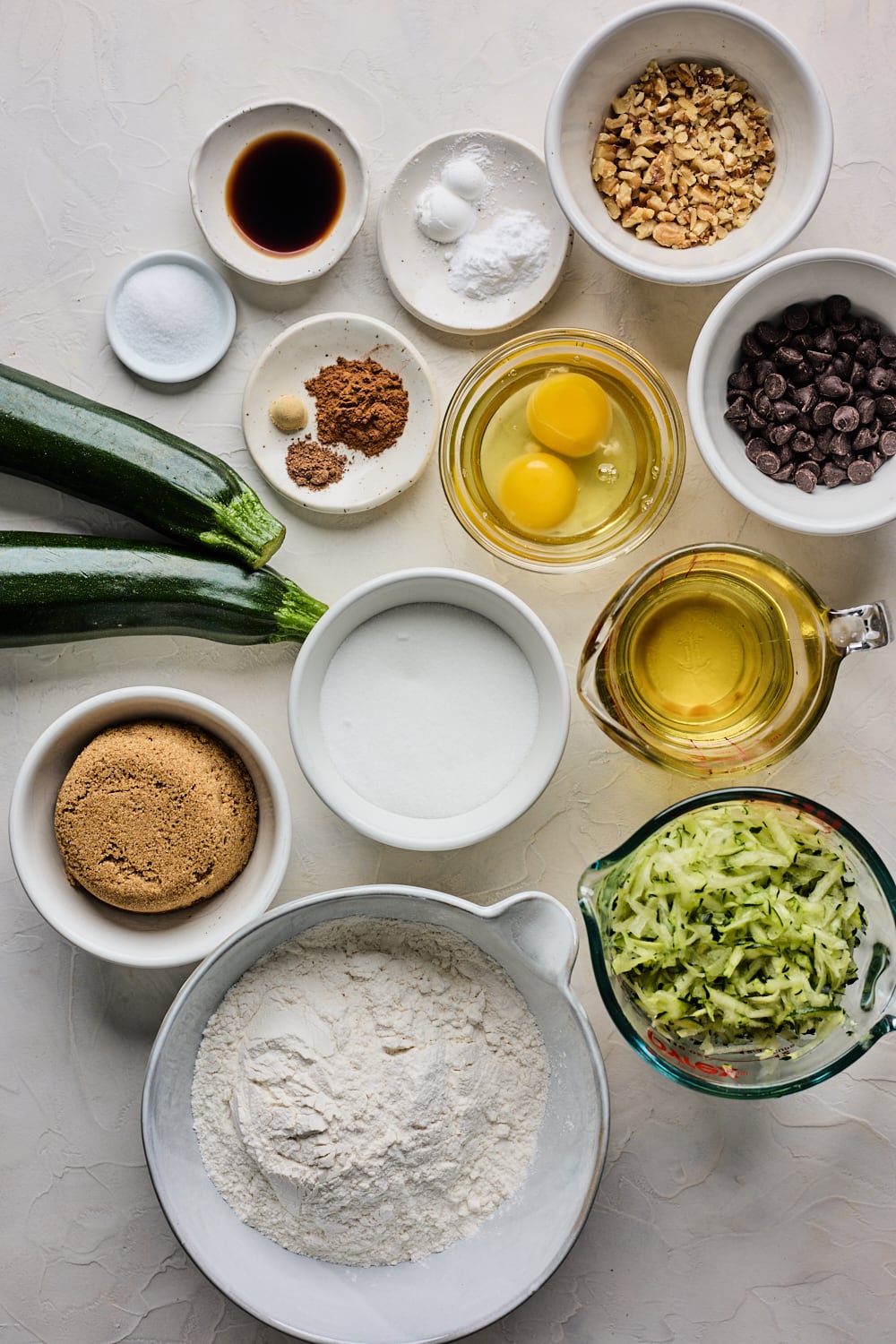 Zucchini Bread Ingredients and Substitutions
Zucchini: Similar to baking with carrots, the zucchini should be shredded with a cheese grater or box grater and does not need to be peeled first (unless it's extra large with a thick skin). There is no need to remove the seeds unless it's again a large zucchini - simply scrape them out before shredding the zucchini. If using frozen zucchini, thaw before using. Drain and squeeze out some but not all of the excess moisture - no need to do that if using fresh shredded zucchini
All Purpose Flour: For a quick and easy gluten free version feel free to use a good 1-1 gluten-free flour
Baking Soda, Baking Powder & Salt: Help with leavening the zucchini bread. Ensure that they are active and not expired.
Spices: I love to add cinnamon and also a touch of nutmeg and ginger. Warm spices work well with this loaf. Feel free to adjust amounts according to taste.
Vanilla Extract: Always adds a nice flavour to all baked goods. Pure vanilla extract is what I always use.
Vegetable Oil: Feel free to use canola oil or any other neutral vegetable oil, or you could also use olive oil or coconut oil
Sugar: I use a combination of brown sugar and granulated sugar. Brown sugar adds to the tender soft texture and also adds a wonderful flavour. If you wish to reduce the amount of sugar in this zucchini bread you are welcome to reduce it to a one cup combination of brown sugar and granulated or one or the other
Eggs: Eggs supply cakes, cupcakes, breads, doughs, and cookies their stability and structure, as well as a tender texture. You'll need 2 large eggs in this zucchini bread recipe - room temperature.
Walnuts: Chopped walnuts are optional. Feel free to swap them out for pecans or leave them out all together if you would like it nut free.
Chocolate Chips/Chocolate Chunks: Totally optional but recommended.
Alternatives & Variations
Get creative with add-ins. Zucchini bread is a fantastic template for all kinds of unique additions. You can definitely add the chocolate chips and its but you can also add in raisins, or add a touch of tang with dried cranberries.
Add a layer of frosting. Add a layer of cream cheese frosting to make your zucchini bread more dessert-friendly, or make a heartier loaf substituting ¼ cup whole wheat flour. (Quick Cream Cheese Frosting: 200g/ 7 oz cream cheese, room temperature, 1 cup icing sugar, ¼ teaspoon vanilla extract - In a medium bowl beat the cream cheese until smooth then gradually beat in the icing sugar a little at a time until combined. Mix in the vanilla. Spread over cooled loaf)
To make muffins: Simply, line a 12-cup muffin pan with liners or grease with butter or nonstick spray. Fill cups no more than two-thirds full. Bake for 18-22 minutes, or until a toothpick inserted comes out clean.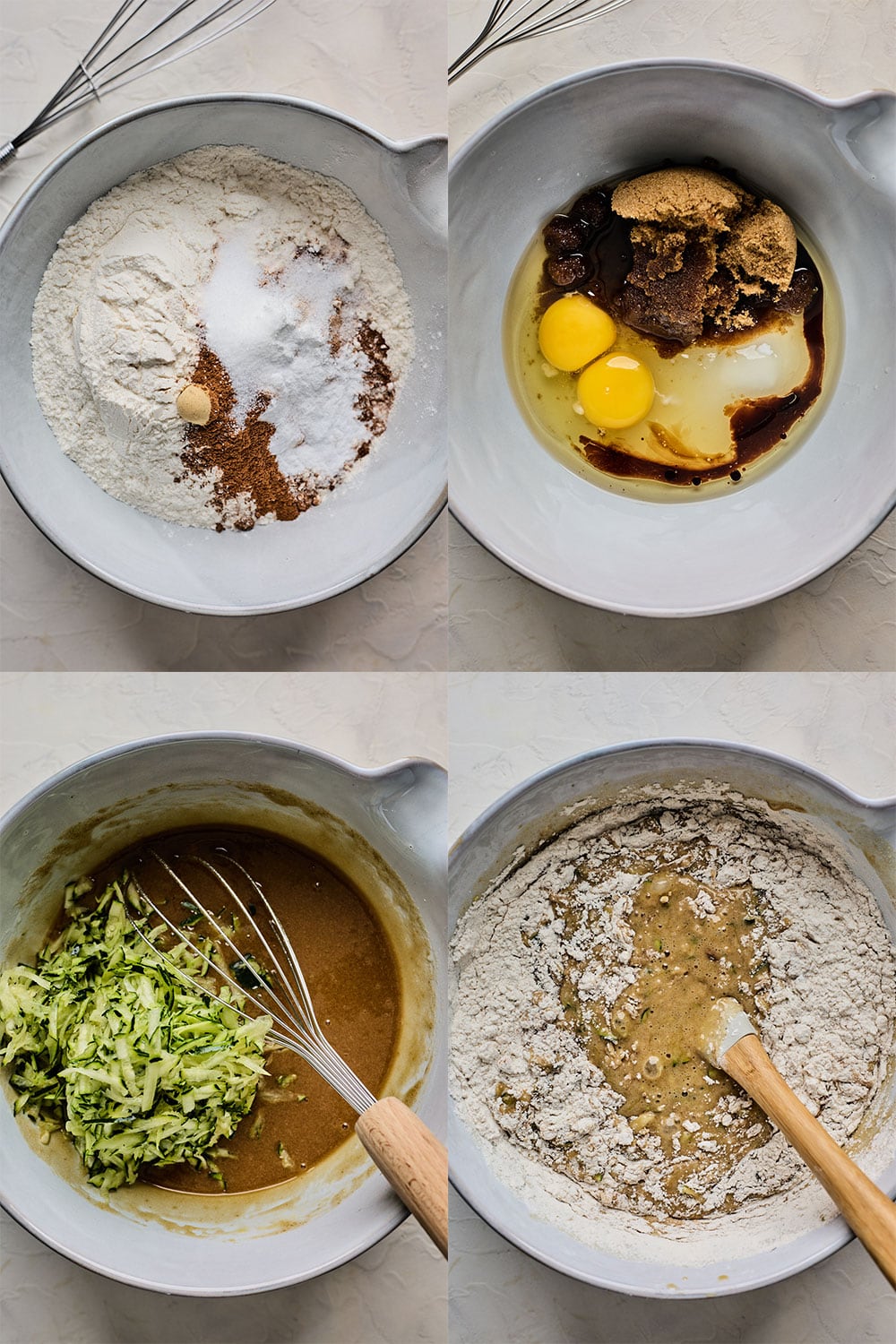 Zucchini bread step by step instructions
This zucchini bread is super easy to make and requires just a few minutes to prep. I line my loaf pans with parchment paper to make the bread extra easy to remove.
Grate Zucchini: Use the larger side of a box grater to shred zucchini or you could use a food processor. There is no need to wring out the liquid.
Prep Wet & Dry Ingredients: Combine wet ingredients & dry ingredients in separate bowls (per recipe details below).
Combine. Stir wet and dry ingredients just until moistened. You can use a spatula or you can use a hand mixer if you prefer.
Fold In Add Ins if using
Bake. Pour into prepared pan and bake until golden and toothpick comes out clean. Tent with foil if it starts to brown too quickly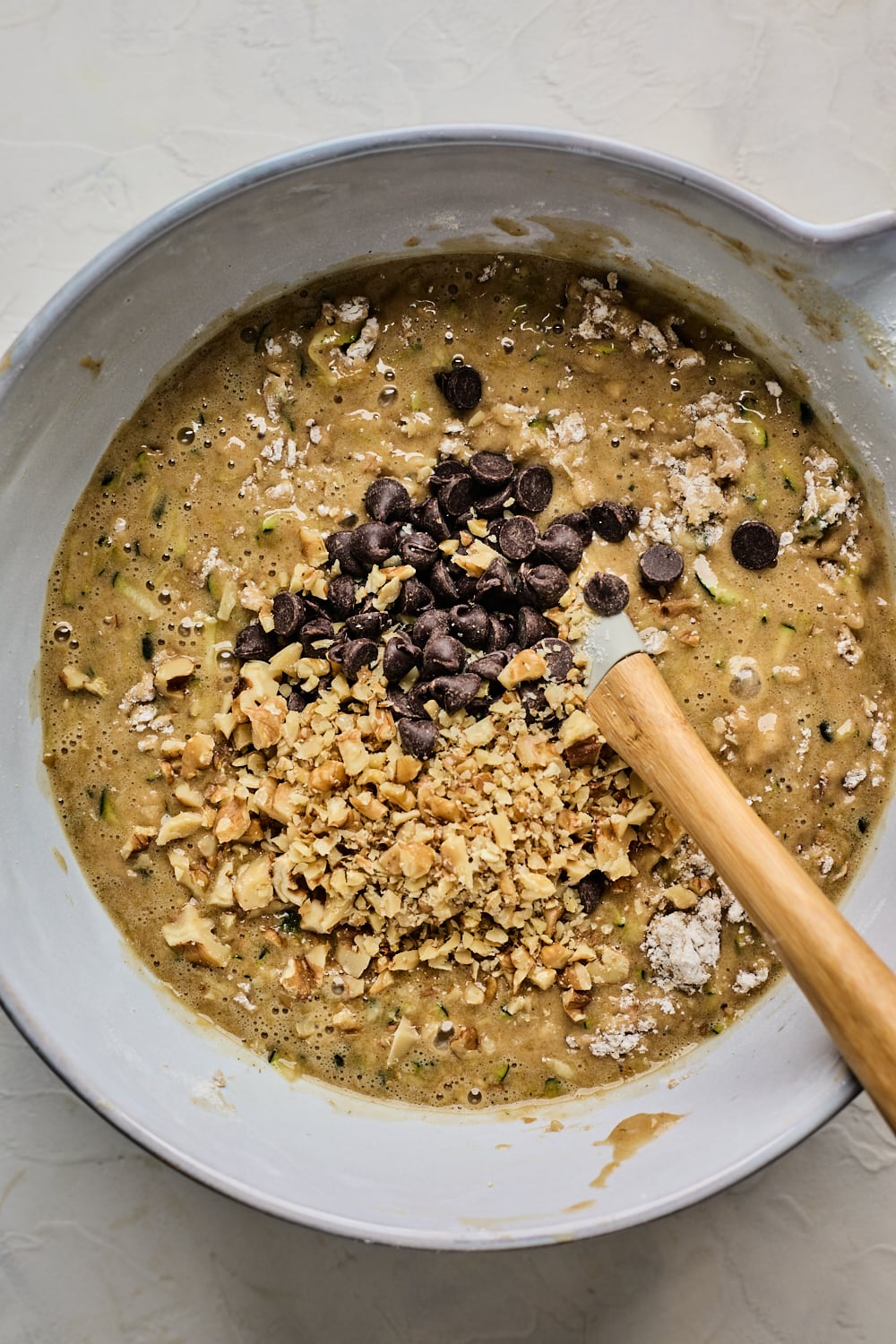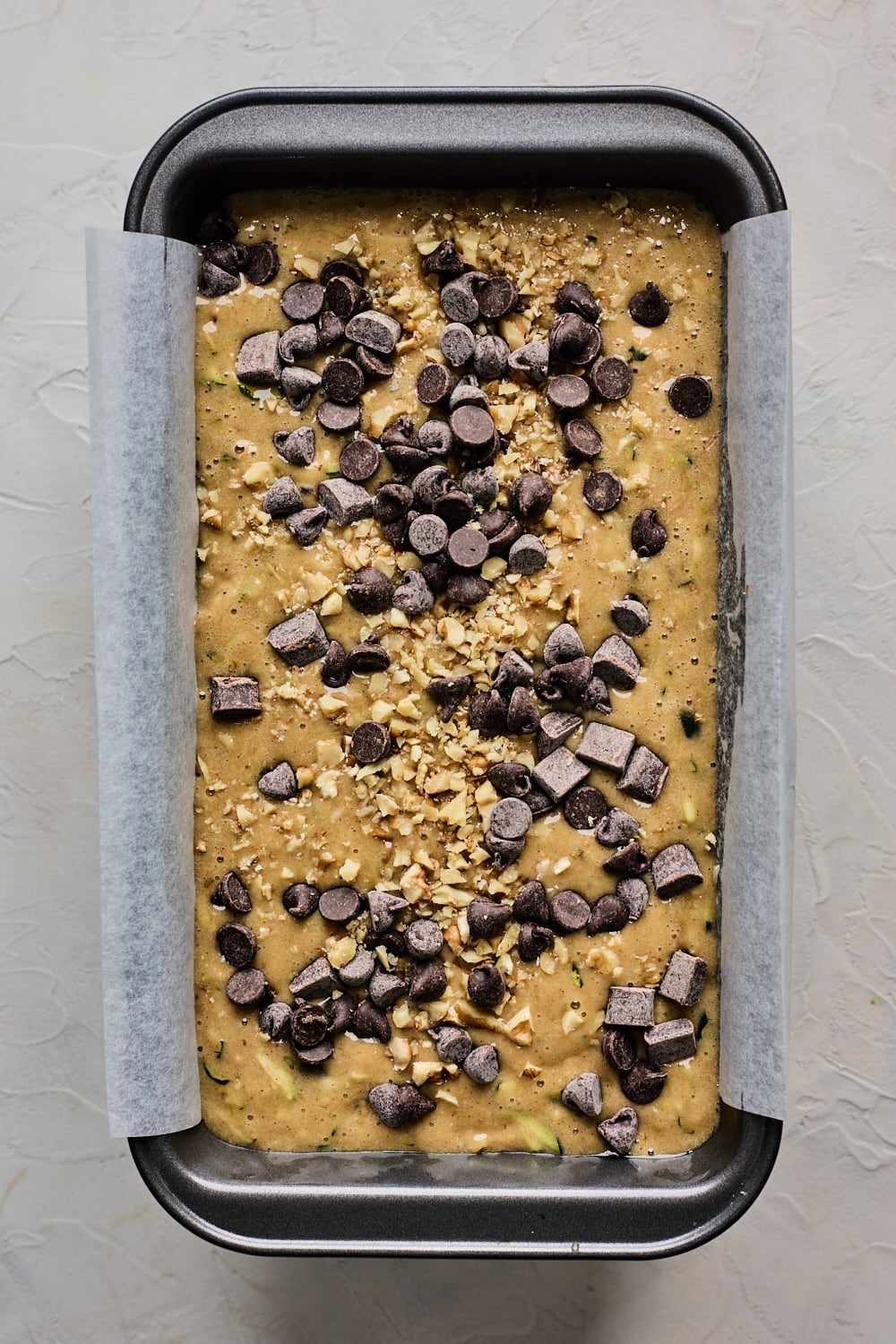 Tips for making the best zucchini bread recipe
Ensure ingredients are at room temperature - specifically the eggs in this recipe.
To Peel or Not to Peel? It is not necessary to peel zucchini when you're making a zucchini loaf. Zucchini skin is thin and softens while baking and it is not noticeable in flavor or texture in the loaf. The skin also has some nutrition - it contains lots of vitamins and minerals
Combine the dry ingredients with a whisk, this acts a bit like sifting the flour
Cooking times can vary slightly so be sure to check the bread early. Each oven is different, and different pans conduct heat differently so cooking times will vary. It may take 20-30 minutes more. With the longer cooking time, the bread shouldn't burn, but if you are noticing the bread getting too brown, tent with foil.
Bake just until a toothpick or cake tester inserted in the center comes out clean or mostly clean.
Small to medium zucchinis (or even summer squash) work best, larger zucchini may need to be seeded (and peeled if the skin is tough).
Avoid overmixing. Overmixing quick bread batter will result in a stodgy, dense loaf. For a pillowy, moist cake-like crumb, mix the bread batter just until combined.
How to store and freeze zucchini bread
STORAGE: Cover and store banana bread at room temperature for 2-4 days or in the refrigerator for up to 1 week.
FREEZING: Zucchini bread can be frozen for up to 3 months. After it is completely cooled, wrap it securely in aluminum foil, freezer wrap, or place in a freezer bag. Thaw the bread overnight in the refrigerator or overnight at room temperature before serving. Lightly toast individual slices for best results.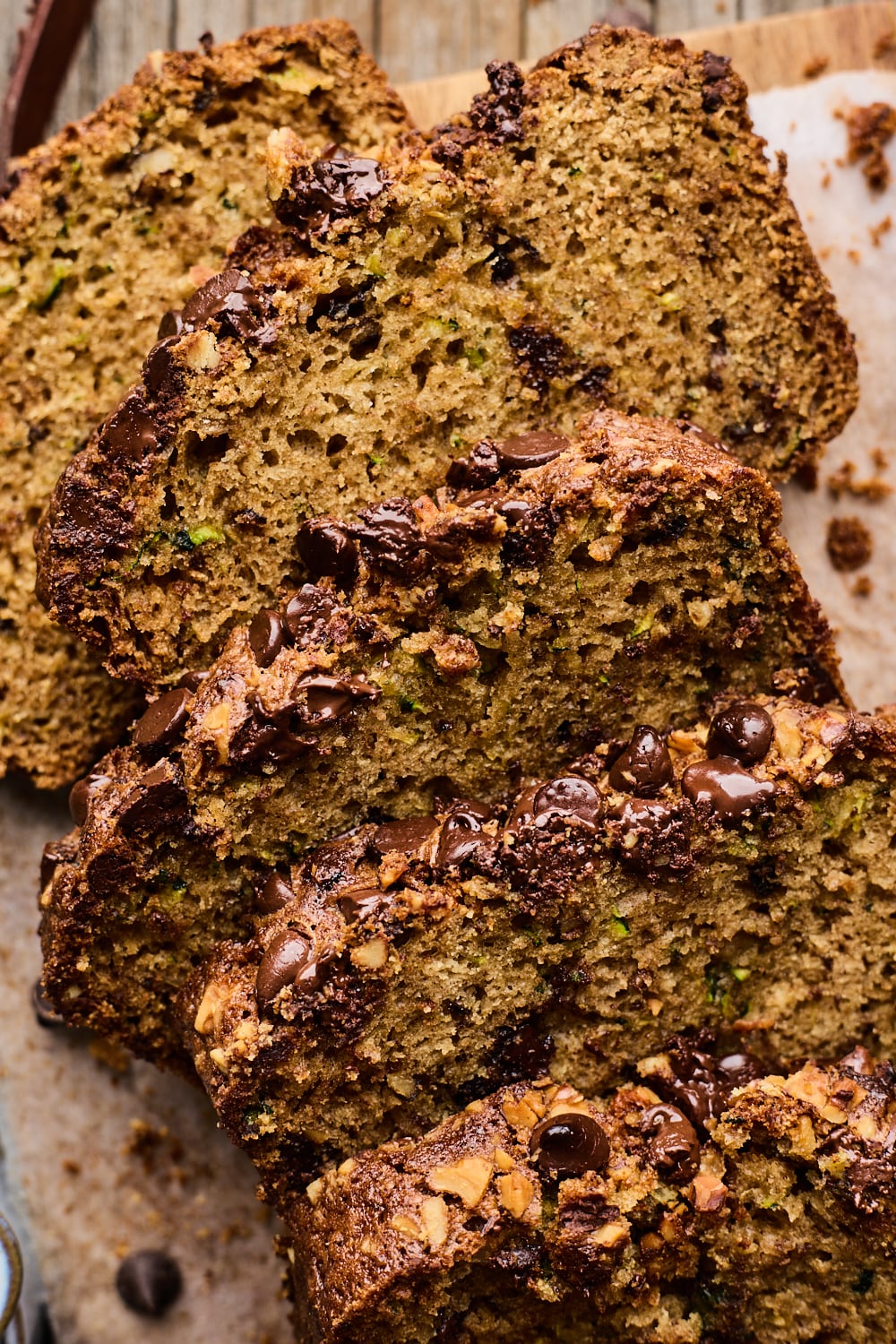 If you loved this zucchini bread you will love these quick bread recipes:
Recipe
Yields: Standard 9 x 5-inch loaf pan or a 10x5
Prep Time: 15 mins
Bake Time: 50-60 mins
Total Time: 1 hr 15 mins
Ingredients
2 cups of all purpose flour

¾ teaspoon baking powder

¾ teaspoon baking soda

1 teaspoon cinnamon

⅛ teaspoon ground nutmeg

⅛ teaspoon ground ginger

1 teaspoon salt

1 cup light brown sugar

½ cup granulated sugar

¾ cup vegetable oil, like canola, olive oil or coconut oil

1 teaspoon vanilla extract

2 eggs, room temperature

2½ cups grated zucchini

½ cup walnuts, finely chopped, plus more for topping the bread

½ cup semi-sweet chocolate chips, plus more for topping the bread
Directions
Preheat the oven to 350˚F and grease your loaf pan and line with parchment paper for easy removal.
Grate zucchini with a box grater and set aside
In a large bowl whisk together the flour, baking powder, baking soda, salt and spices.
In a separate large sized bowl, whisk together the eggs, sugars, vanilla and oil until well combined.
Add zucchini to wet ingredients and whisk to fully combine.
Then add the dry ingredients to the wet and stir with a wooden spoon or spatula until just about combined.
Fold in walnuts and chocolate chips into batter if using then pour batter into pan.
Bake until toothpick comes out clean, about 45 minutes to 1 hour.
Allow to cool on cooling rack for 10 minutes before inverting it removing it from the loaf pan. Cool completely on the rack, then slice and enjoy. Cover and store zucchini bread at room temperature for 2 days or in the refrigerator for up to 1 week.
Recipe Notes
Storing without frosting: Cover and store leftover bread at room temperature for up to 3-4 days or in the refrigerator for up to 1 week
Storing with frosting: Cover and store leftover bread in the refrigerator for up to 1 week.
Freezing Instructions: Loaf freezes best without frosting. Freeze baked & cooled loaf for up to 3 months wrapped tightly in plastic wrap foil a or placed in a sealed freezer bag. Thaw overnight in the refrigerator. Bring to room temperature and frost before serving. Lightly toast individual slices for best results.
Adapted from Alexandra Cooks