Easy Banana Nut Bread
This super-moist, soft crumb, buttery banana flecked bread is my favorite banana bread recipe of all time. You need 4 ripe bananas and the chocolate chips and nuts are optional but add extra flavour and texture to your banana bread. The nuts can be substituted with seeds or left out all together if allergies are a concern. I love to have it still warm out of the oven or toasted with a smear of salted butter over it. It's easy to make and is a hit with everyone.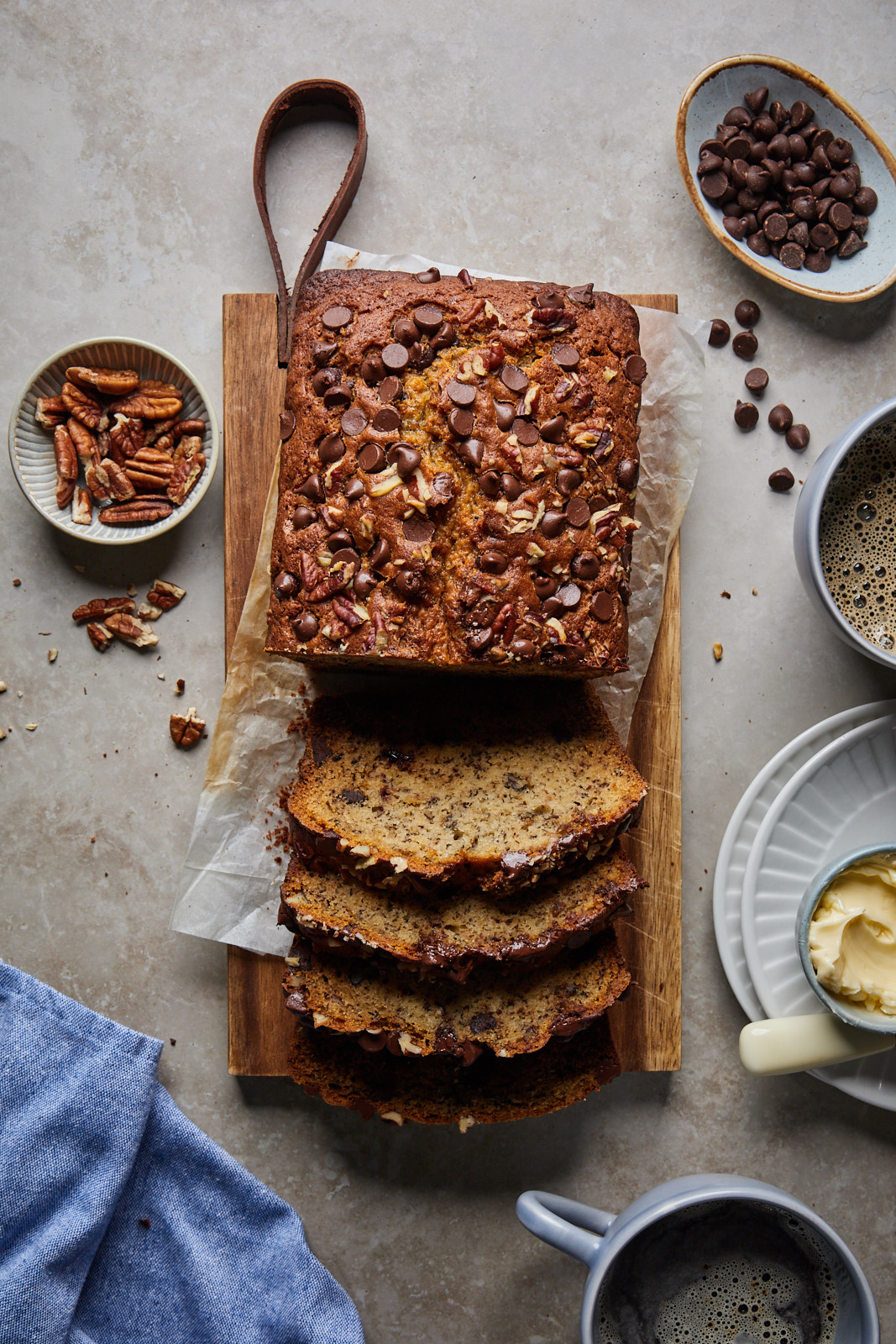 Have you ever searched 'Best Banana Bread' on Pinterest or google? There's literally hundreds and even possibly thousands of recipes that claim they are the best. There are so many takes on banana bread. Nuts, no nuts. Chocolate chips, no chips. Butter no butter but instead oil or vice versa. Gluten free, vegan, paleo, pumpkin and the list goes on and on and on! I have tried many different recipes. This is the one I make over and over and me and my family never tire of, and any time I share it with someone or bring it to work its always a hit.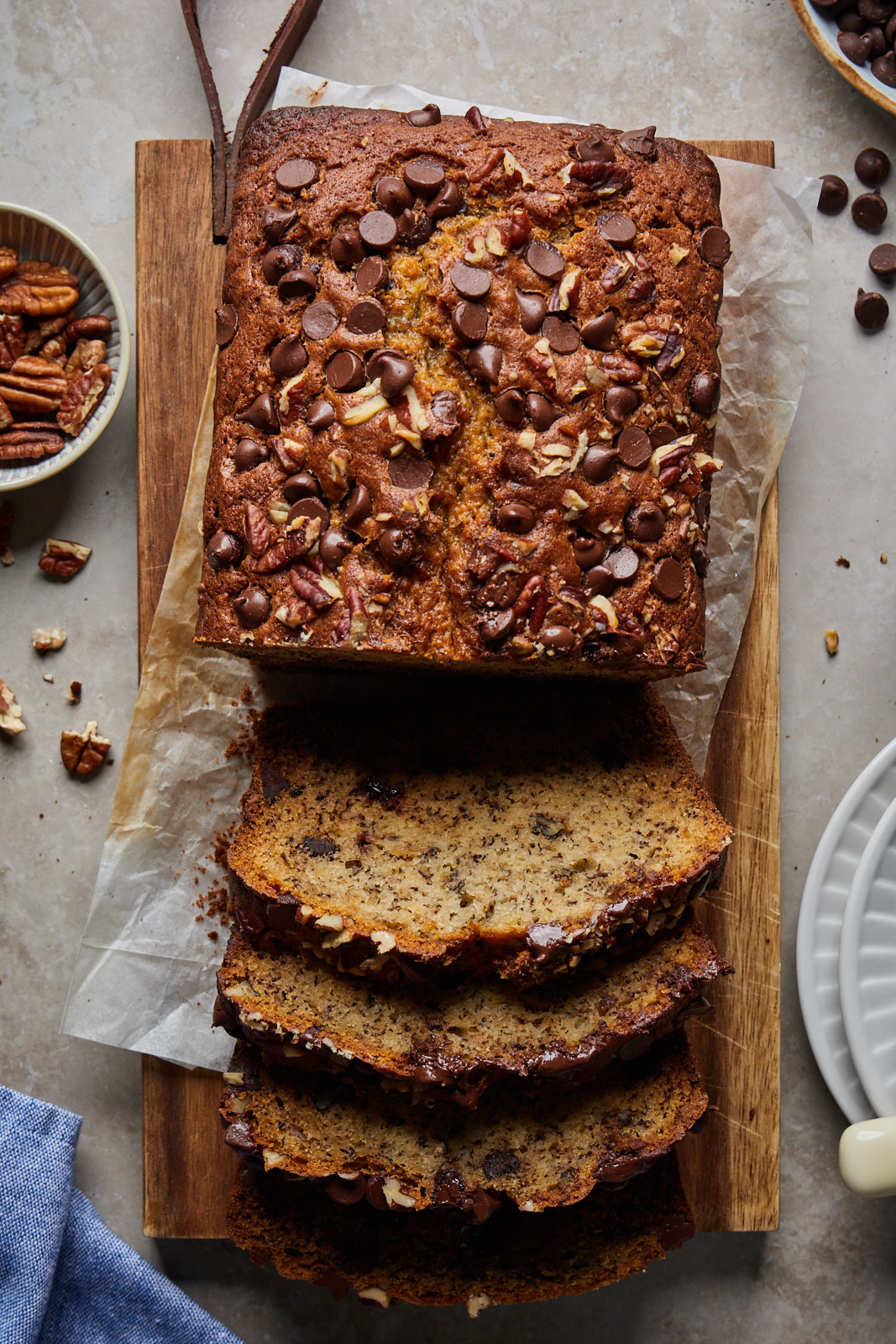 I think banana bread is one of those foods that people have different opinions on. I had a friend who's idea of banana bread was from a box mix so her taste was a bit different when it came to banana bread. Like any food its all relative to your exposure , "my mom made it this way", or like my friend you love your box mix version. I'm not going to be the judge of tastes and preferences but i will tell you why I love this recipe. Here is why I think this one is the best banana bread recipe I have tried thus far:
The base recipe always turns out perfect and the same every time
The original recipe called for pecans but its a versatile recipe and I have switched the pecans out to walnuts hazelnuts and even seeds and also added chocolate chips
It always turns out perfectly moist
It's not too sweet
Every time someone tries it they must have the recipe. (A very good sign)
Recipe uses basic pantry ingredients which is always such a bonus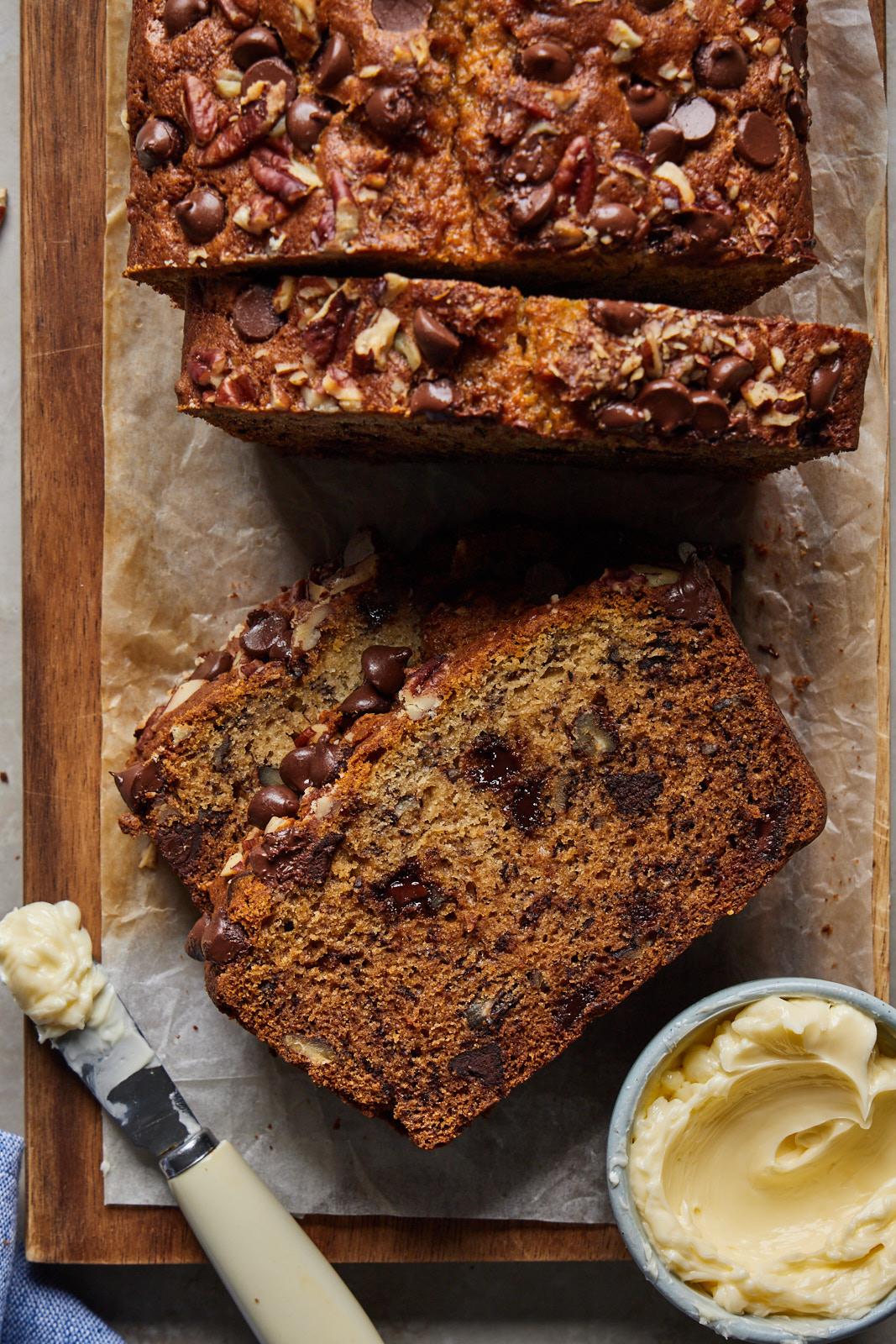 Banana Nut Bread Recipe Ingredients:
Bananas - over ripe bananas are usually best for banana bread - they add a natural sweetness to baked goods. You can also use frozen bananas too. Thaw the frozen bananas. Drain off any excess liquid, mash, then use as instructed in the recipe
All Purpose Flour - feel free to use a gluten free all purpose 1-1 flour for a Gf free version 
Eggs -I use large and room temperature eggs so they incorporate into the batter better 
Butter -unsalted and melted for this recipe and left to cool to room temperature 
Vanilla - pure vanilla extract 
Spices - I keep it simple with a little cinnamon. Feel free to add more or don't add any at all if you prefer it without
Sugar - I use granulated sugar for this recipe but you can easily use brown sugar if you wish 
Baking Soda & Salt - just a little of each for leavening and flavour 
Nuts - walnuts and pecans are my favourite for this recipe but any nuts will work - like almonds, or roasted cashews or you can even substitute them for some seeds 
Chocolate Chips - I love to add chocolate chips but they too are optional or you can even switch them out for chocolate chunks. I use semi sweet morsels but you can use milk chocolate or dark chocolate 
Optional Add In - some like raisins in their banana bread - feel free to add some into the batter in place of some of the nuts or chocolate chips or some turbinado sugar for sprinkling on top of the loaf before it goes in the oven. It gives it a nice, sugary crunch! Feel Free to use any additional spices you like to add to your banana bread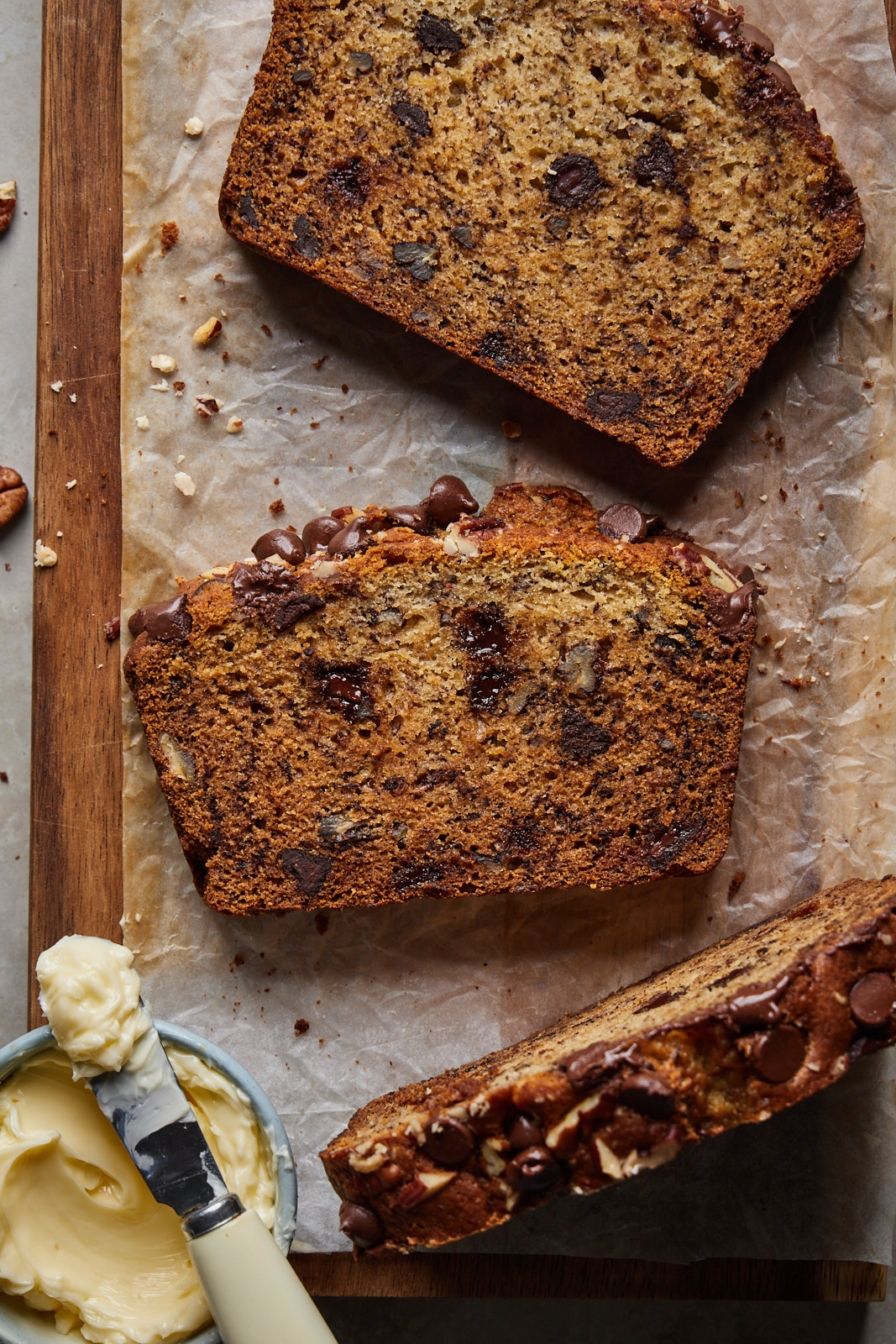 How To make This Easy Moist Banana Nut Bread:
WHISK - Whisk together the dry ingredients 
SMASH - the bananas with a fork or masher 
MIX - the mashed bananas with the sugar then mix in the butter eggs and vanilla 
COMBINE - the dry ingredients into the banana mixture just until incorporated.
FOLD - in the nuts, chocolate chips with a rubber spatula.
BAKE - until golden brown and a toothpick inserted into the centre of the loaf comes out clean. Tent with foil if it starts to darken too quickly.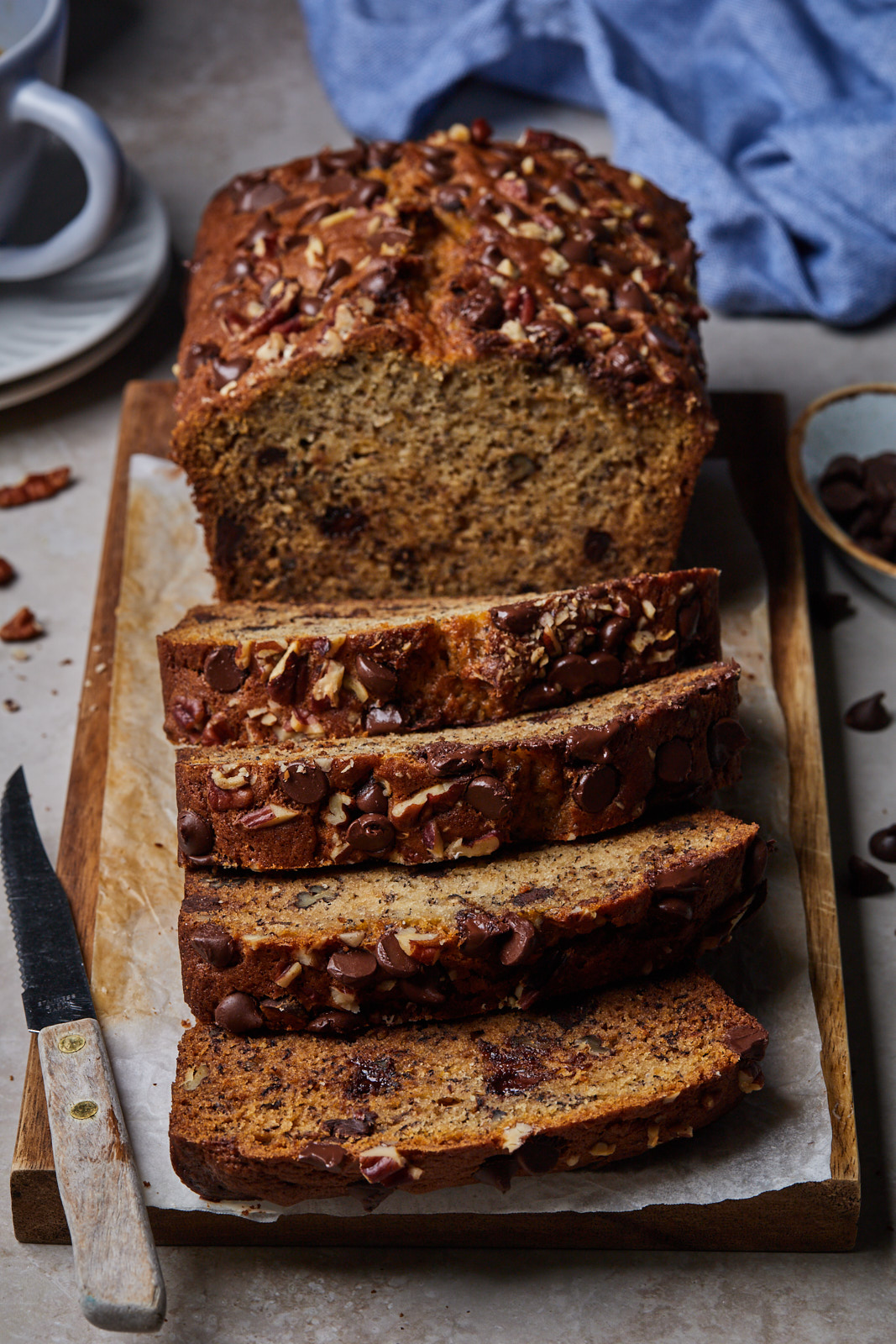 Tips for Making Delicious Banana Bread Every Time:
Don't over mix the batter - this will create a drier bread - but at the same time make sure the mashed bananas are well incorporated and distributed within batter 
Don't over bake the cake - as soon as the tester comes out with just a couple crumbs you are done - over baking will also create a drier bread (the bread will continue to bake from heat of pan) 
Use ripe banana - you know the ones - spotty brown and soft are perfect for banana bread 
What if I don't have ripe bananas - no problem you can ripen bananas by baking them in the oven. Place the bananas (unpeeled) on a baking sheet and bake at 250°F until soft,(and they will turn golden as well) about 15-20 minutes. Let them cool then peel and mash, and use as instructed in the recipe
Check the bread at 30 minute mark to ensure you don't need to tent with foil if it's getting too dark 
The baking pan you use will affect baking time - so I suggest keeping an eye on the bread the last 15 minutes of baking (ie glass pan will bake a little quicker as well as a darker pan) 
Size of pan also matters - the baking times for this recipe are based on a standard 9x5 pan, if you use a smaller one make sure to decrease baking time and check on bread well before the 60-70 minutes 
Each oven heats and bakes differently so please take this into consideration and keep an eye on all baked good minutes before they are suppose to be done - and make sure your oven is properly preheated before baking - this will make all the difference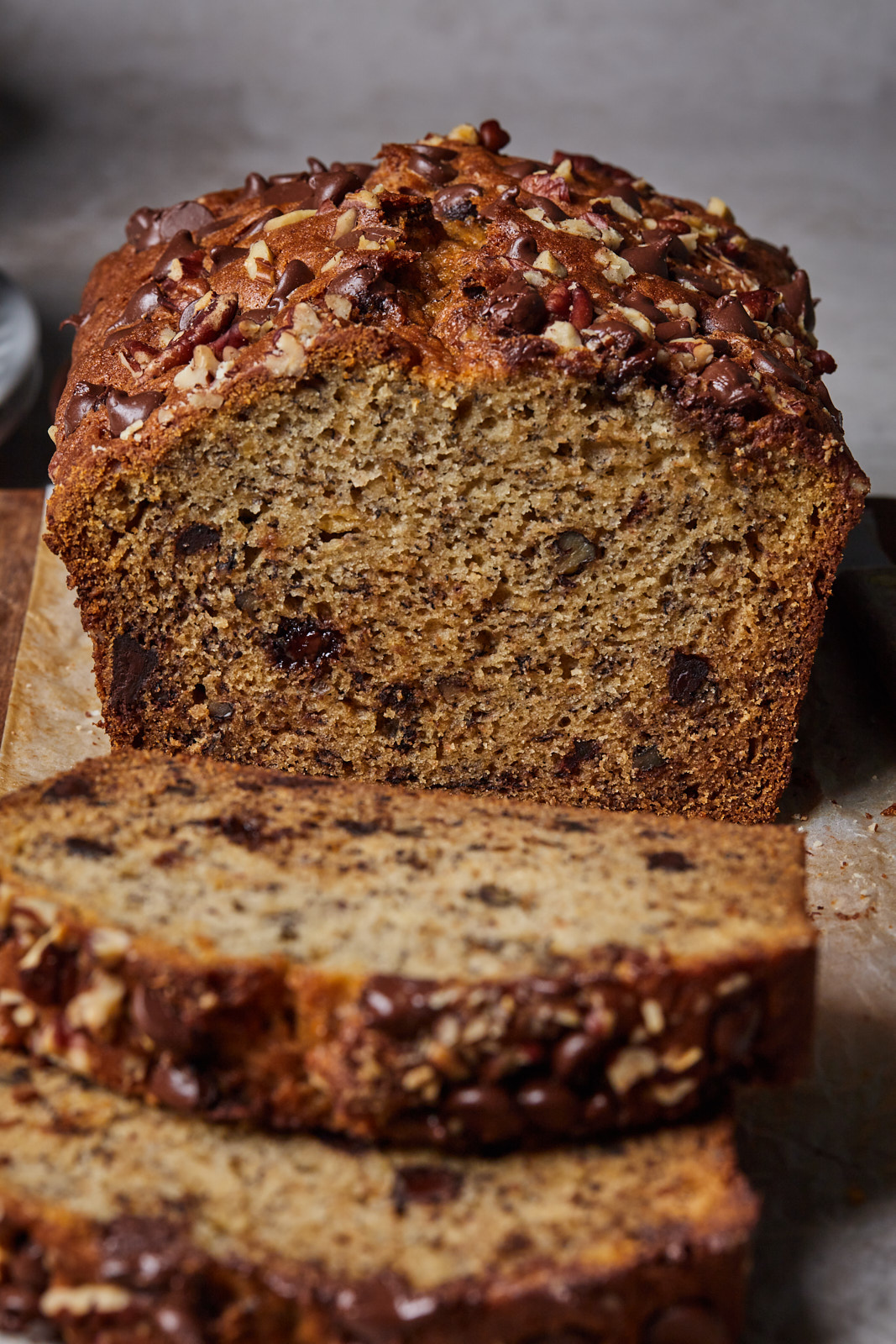 The original recipe is from the food network by Tyler Florence. I adapted it because I find the part of that recipe that says to separate the 4 bananas and prepare in two batches doesn't work for me. The consistency doesn't come out the way I like it so I don't separate the bananas. I blend all four together as you see in the recipe. I also almost always add chocolate chips. I love the crunch from the pecans or walnuts if your swapping, and the little surprise crunch and burst of sweetness when you bite into a chocolate chip. Definitely feel free to try the recipe on the food network website and compare for yourself. In the meantime I hope you enjoy this recipe which is my favourite banana bread recipe. A classic and a favourite of anyone I have made it for too. Can't beat that right! Let me know if you have a favourite recipe for this classic. I would love to know and I'm always willing to try other recipes for it.
More Quick Breads You Will Love:
Recipe
Servings:
1 loaf (9x5 loaf)
Prep Time: 10 mins
Cook Time: 60-75 mins
Ingredients
2 cups all-purpose flour

1½ teaspoons baking soda

½ teaspoon salt

¼ teaspoon ground cinnamon

4 overripe bananas

1 cup sugar

¾ cup (1½ sticks) unsalted butter, melted and cooled

2 large eggs

1 teaspoon vanilla extract

½ cup pecans, finely chopped plus more for topping (optional)

½ cup semi-sweet chocolate chips plus more for topping (optional)
Directions
Preheat oven to 350°F and lightly grease a 9 by 5-inch loaf pan with cooking spray or line with parchment paper for easy removal. 
In a medium bowl, whisk together the flour, baking soda, and salt; set aside.
Place bananas in a large mixing bowl and use a fork to mash them a little or break them up into smaller pieces. Add the sugar to mashed bananas and using a hand mixer beat on medium speed until very creamy for a good 3 minutes.
Add the melted butter, eggs, and vanilla; beat well and scrape down the sides of the bowl.
Mix in the dry ingredients to the banana mixture just until incorporated.
Fold in stir the nuts, chocolate chips with a rubber spatula.
Pour the batter into the prepared loaf pan. Give the pan a good rap on the counter to get any air bubbles out.
Slice a banana thinly lengthwise and lay down two pieces over banana bread cut side down and press gently. Or simply scatter some extra nuts and chocolate chips overtop. (Optional and decorative)
Bake for approximately 1 hour and 15 minutes, or until golden brown and a toothpick inserted into the centre of the loaf comes out clean. Tent with foil if it starts to darken too quickly.
Cool the bread in the pan for 10 minutes or so, and then turn out onto a wire rack to cool completely before slicing. 
Cover and store banana bread at room temperature for 2 days or in the refrigerator for up to 1 week. Banana bread tastes best on day 2 after the banana flavor have settled together if it lasts that long. 
Recipe Notes
How to freeze banana bread
Cool baked banana bread completely.
Tightly wrap the loaf or slices (individually or grouped) in 2-3 layers of plastic wrap or aluminum foil.
Place wrapped banana bread in a large freezer-friendly storage bag or reusable container.
Freeze for up to 3-4 months. Thaw wrapped or unwrapped in the refrigerator or at room temperature.
Make these into Banana Muffins
Preheat oven to 425°F. Line 2 muffin tins with muffin liners or greased muffing tins.  
Pour the batter into a lined or greased muffin pan and bake for 5 minutes for and initial burst of heat and lift then reduce the oven to 350°F and bake for an additional 16-17 minutes or until a toothpick inserted in the center comes out clean.
Adapted from Tyler Florence's banana bread with pecans