Corn and Quinoa Salad With a Cilantro Jalapeño Lime Dressing
Summer is all about bbqs and summer bbqs are all about sides. Sides are my favorite things to make. Hearty salads are a great option - ones with grains or potatoes in them along with lots of crunchy veggies. Loaded salads like that hold up better in the heat and are very satisfying as opposed to lettuce based ones and they also travel well if you are picnicking. I was inspired to make this quinoa one with this very delicious dressing by a salad I ate for lunch at a restaurant I ate at recently. They served a spring salad with a jalapeño pesto dressing and it was sooo good!! It wasn't too spicy at all. It had a subtle heat but more flavour than heat and I knew I had to recreate it in something and that is how this salad came about.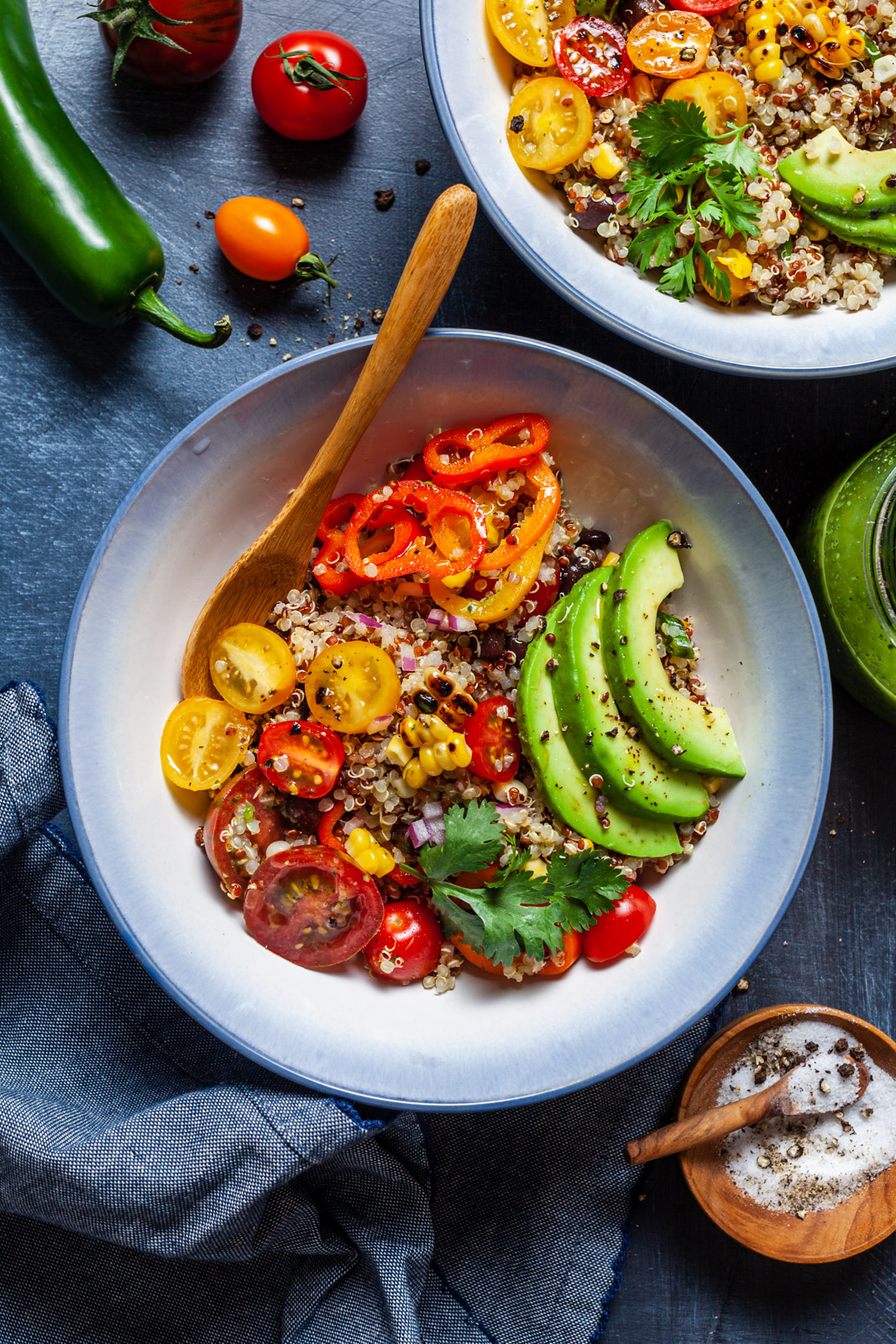 I love quinoa salads because quinoa adds such a nice texture and substance to them, besides the fact that it's also so good for you too and a source of really good plant based protein. Cooking with quinoa has become so popular. It is so nutrient packed, healthy, easy to prepare and delicious!  I have teamed up with GoGo quinoa to share this delicious recipe with their Organic Red and White Quinoa and to share a simple tutorial for How To Cook Quinoa.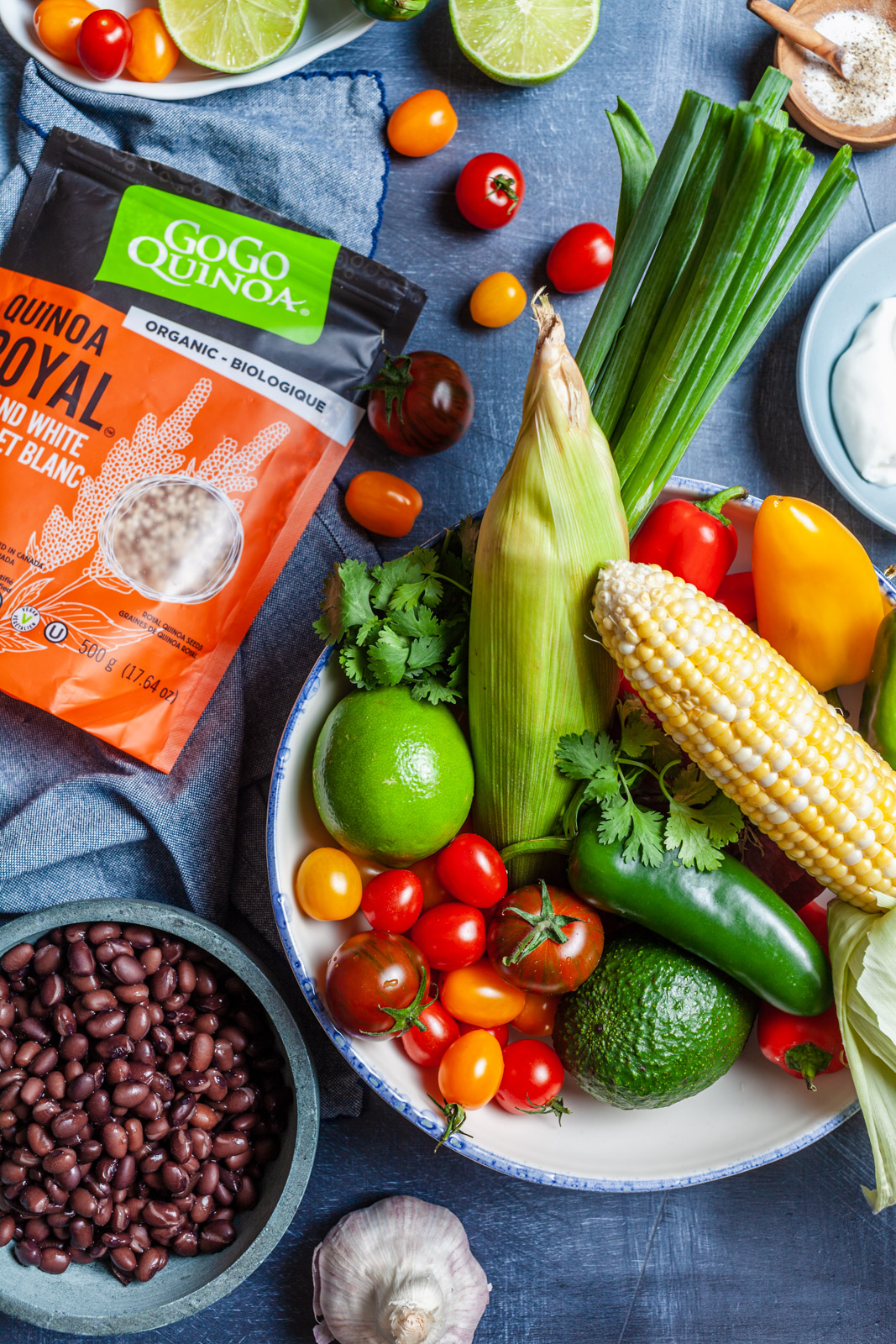 Quinoa seeds are rich in protein, dietary fiber, B vitamins, and dietary minerals in amounts greater than in many grains. It's just as versatile as any other grain and naturally gluten-free. It's so versatile and so simple to make and is a great alternative for those with special diets or allergies, as it's gluten-free and cholesterol-free and of course, vegetarian and vegan.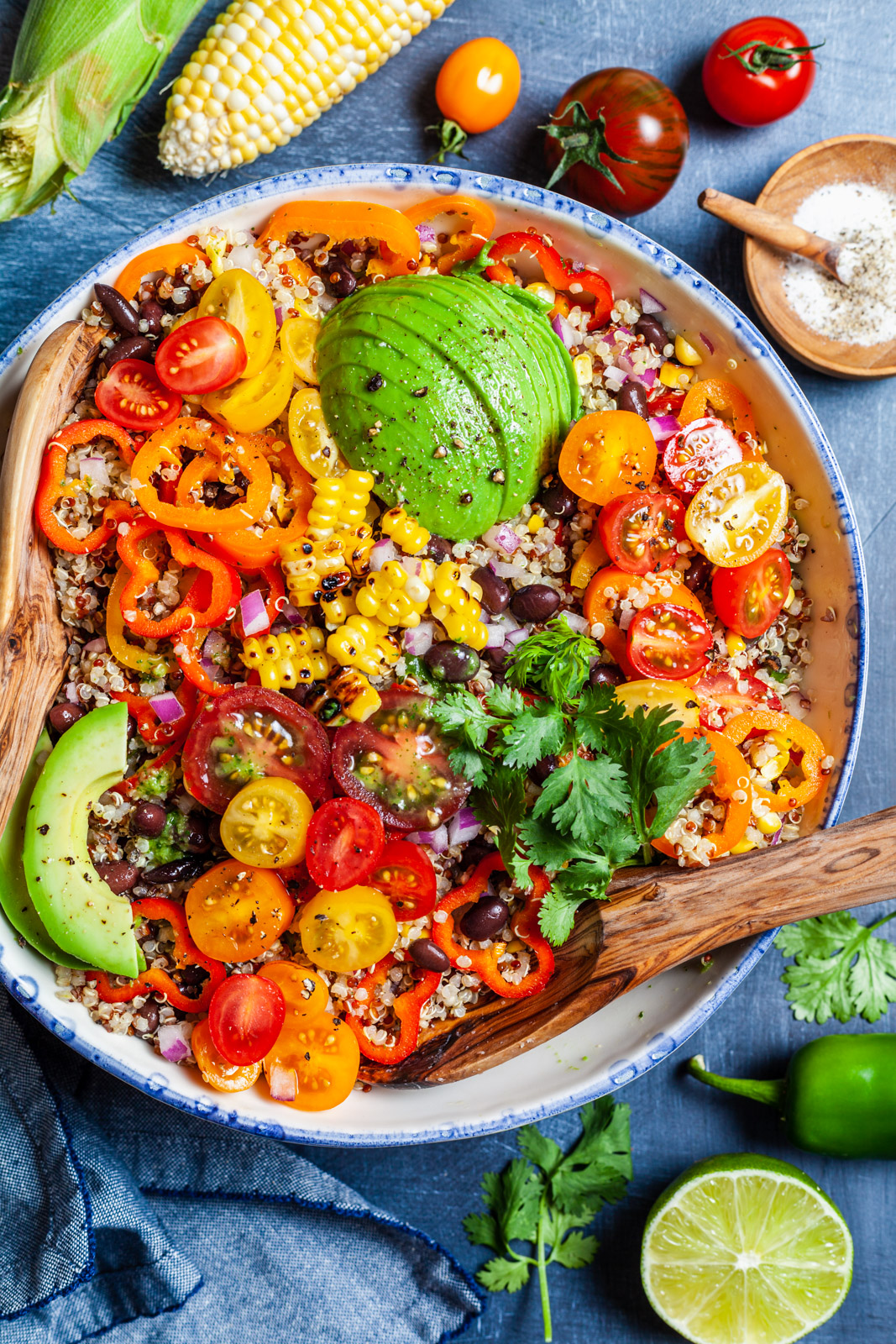 Here's the 3 easy steps to cook quinoa perfectly every time:
Rinse quinoa with cold water
Toast quinoa in a pan
Add water and bring to boil at 1 to 1.5 ratio and simmer for 12-15 minutes.
Step 1
Rinse quinoa with cold water Rinsing quinoa removes quinoa's natural coating, called saponin, which can make it taste bitter or soapy. Although packaged quinoa is often pre-rinsed, its still a good idea to give the seeds an extra rinse at home. Rinsing quinoa also starts to hydrate the seeds, affecting the final texture of them. It makes them cook fluffier.
Step 2
Toast quinoa in a pan Toasting brings out the oils and rich nuttiness of grains and seeds, lending depth of flavor to a variety of dishes.
Step 3
Add water and bring to boil at 1 to 1.5 ratio and simmer for 12-15 minutes Bring water to a boil and then turn down heat. Simmer quinoa in water on low for a 12-15 minutes. Fluff with a fork and serve. Water can be substituted for broth for more flavour and you can also season your water or broth with salt or any other seasoning for extra flavour. All you have to do is remember the ratio. Whatever liquid you choose to use it should be 1 cup of quinoa to 1.5 cups of water or broth.
That is all it takes to get perfectly cooked quinoa every time. It can be served warm as a side, added to soups or stews and you can also allow it to cool and make a salad with it. The options are endless. It's just as simple to cook as rice is and can be used in the same way as you would use rice or other grains. It's fluffy, creamy, crunchy and somewhat nutty, and you will love it. We loved it in this salad so much and know you will too!
I have partnered up with GoGo Quinoa to bring you this fabulous recipe, but all opinions are my own. Thank you for supporting Olive & Mango.
Recipe
Serves 6
Ingredients
For the salad
1 cup uncooked quinoa

1½cups water

1 tsp olive oil

2 cups of chopped sweet bell peppers(I used an assortment of baby bell pepper)

1 can 540ml/19oz black beans, rinsed and drained

4 ears grilled corn, kernels removed from the Cobb (approx 3cups)

2 cups cherry tomatoes, halved

1 small red onion finely diced

2 avocados, peeled and sliced

¼ cup fresh chopped chives

¼ cup cilantro, chopped for garnish

1 cup of cilantro jalapeño lime dressing (recipe to follow)
For the dressing
¼ yoghurt plain yoghurt (dairy free to keep recipe vegan)

1 cup of cilantro

3 tbsp freshly squeezed lime juice

1 tsp agave or maple syrup to sweeten

1 clove of garlic chopped

½tsp ground cumin

1 jalapeño pepper, chopped, stem and seeds removed

¼ cup olive oil

Salt and pepper to taste

1-3 tbsp of water or more to thin out dressing if needed
Directions
Rinse quinoa with cold water
Toast quinoa in a medium sauce pan set on medium heat for a minute or two with 1 tsp of olive oil stirring the whole time
Add water and bring to boil, then reduce heat to low and simmer quinoa for 12-15 minutes. Set aside to come to room temperature before making salad (can be made and stored in the fridge the day before)
While the quinoa is cooling grill your corn. Preheat your grill to high heat. Lightly spray or brush a clean grill with oil
Place the corn on the grill and grill on each side until they are slightly charred all around. Approx 8-10 minutes. Remove from grill and allow to cool enough to handle
While the corn cools make your dressing (can also be made a day ahead and stored in an airtight container in the fridge). Place all the ingredients except oil into a blender or food processor. Process until smooth and then slowly drizzle in the oil and continue to process until you reach the consistency you want. Add a tbsp or more of water to thin dressing out if needed. Transfer to jar and and season and with salt and pepper to taste.
Once corn is cool slice the kernels off the cob on a cutting board and place into a large bowl.
Now place the quinoa and all the veggies in the large bowl with the corn (except the avocado)
Pour dressing over veggies and quinoa and toss to combine. Now add avocado and toss gently so they don't mash together. Taste for seasoning and add salt and pepper as needed