Creamy Chestnut Soup
Updated Nov 8th 2023
Silky smooth with slightly earthy sweet notes from the chestnuts. This comforting soup is the perfect starter to any meal. I love it so much. It's the full meal when I make it. It's wonderful with some crusty bread and the best way to use up roasted chestnuts. Creamy soups always are the coziest and this is just as comforting as a butternut squash soup or leek and potato. If you have chestnuts to use this is a wonderful way to use them. If you don't have chestnuts, this soup is a great excuse to get some!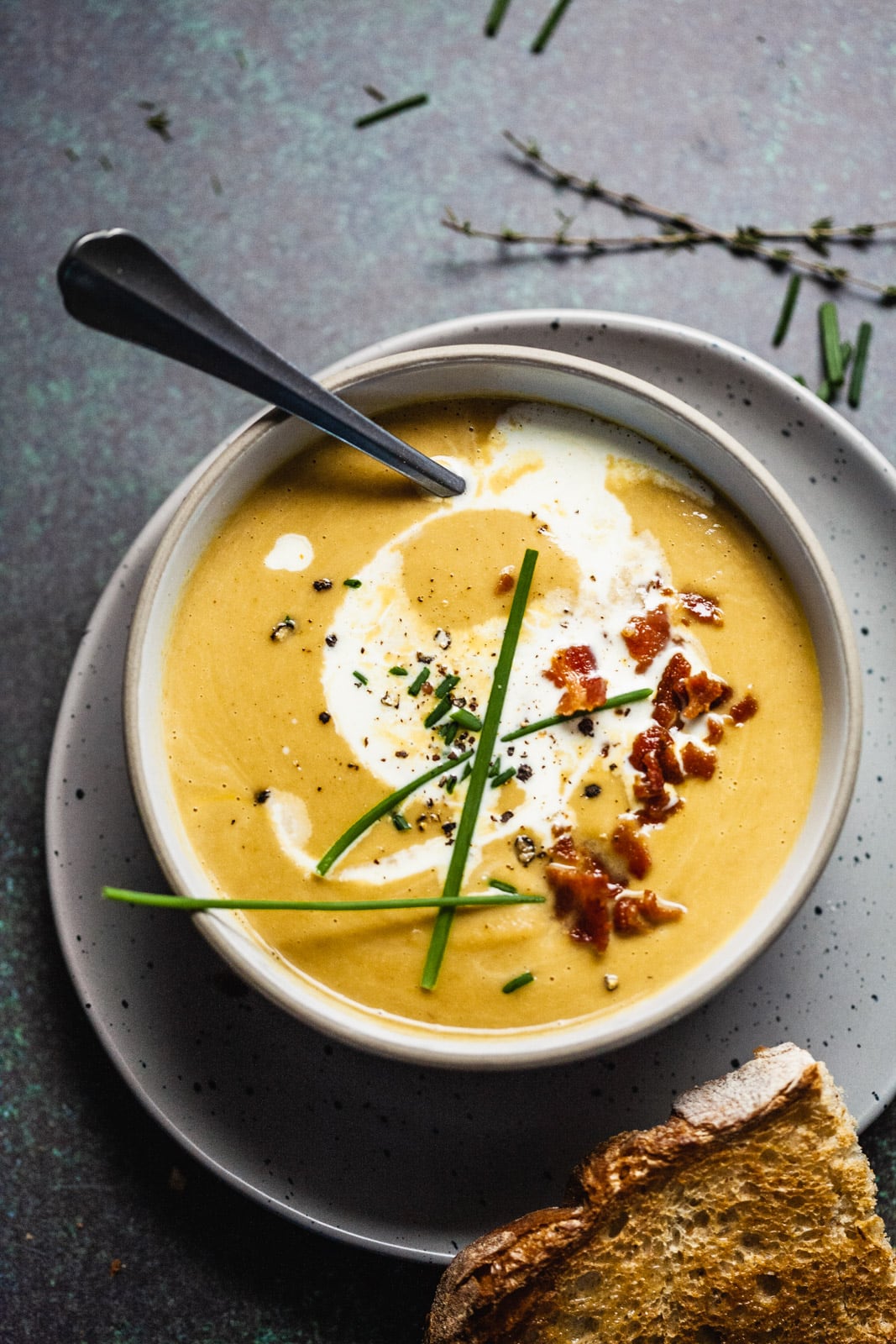 I have already went on and on about how much I love chestnut anything. From roasting them to making them into a creamy purée and then finding delicious ways to enjoy the purée. I have loved using them in baking like in my chocolate chestnut cake and in savoury dishes as well. I knew I had to make a soup with them and this one turned out perfectly. The flavours are absolutely wonderful. I think the leek has a lot to do with it along with sautéing the veggies in a bit of the bacon fat. So much flavour! I have had chestnut soup before unknowingly, only to find out later that it was chestnut in it and marveling at how luxuriously creamy it was. The earthy nutty sweet flavours are delicious and it's definitely a soup we couldn't get enough of.
The original recipe calls for using jarred or canned chestnuts which makes whipping this soup up so easy. I can't easily find jarred or canned roasted chestnuts here put packaged pre roasted organic chestnuts are available here all year round. That makes this soup even easier but roasting them and peeling them is sort of an experience on its own and nostalgic so feel free to do that if you spot some chestnuts at your grocery store or market. If you have never roasted chestnuts before, I have included some simple instructions in the recipe notes below on how to do so. Like any creamy smooth soup, decorating it is half the fun whether it's with cream or crème fraîche. The garnish options are endless. I stuck to the basics with some chopped chives and the crispy bacon from the recipe but you really could top it with more fresh herbs, crispy onions and the list goes on.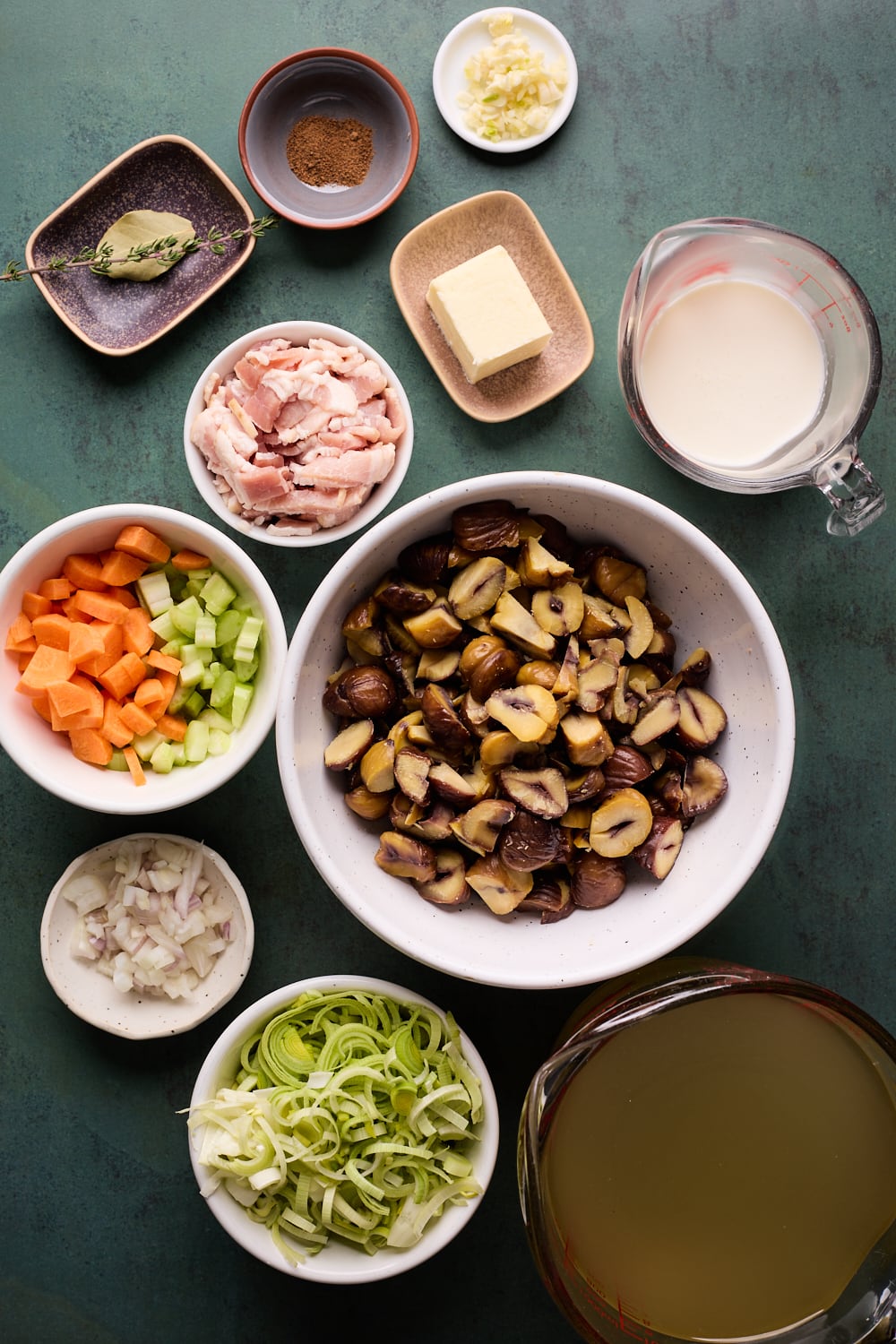 Easy Chestnut Soup Recipe Ingredients:
CHESTNUTS: You will need 17-18 oz or 500 grams cooked peeled chestnuts approx 3 cups. Feel free to use store-bought packaged, canned or bottled chestnuts that have been drained if needed or roast and peel your own.
BACON/PANCETTA: This adds so much flavour to the soup so I don't recommend skipping but if you must I recommend sautéing the onions and garlic with extra butter or olive oil instead. You Will pour off most of the fat leaving a little for flavor.
BUTTER: This is to saute the veggies in after the bacon is removed. Feel Free to use olive oil instead if you prefer.
SHALLOT, LEEK & GARLIC: I used a leek and shallot but feel free to use a yellow onion and adjust amount of garlic to taste
CARROT & CELERY: The veggie classic combo for soup base.
BROTH: Either vegetable broth of chicken broth works well in this recipe
SPICES: We keep things simple with the spices - season with salt and pepper and I like to add a hint of nutmeg. This is a great base recipe that you can easily play around with spices to make your own delicious version
HERBS: I like to use fresh thyme and dried or fresh bay leaf to flavour the soup and broth - but feel free to vary the flavourings according to your taste
CREAM: I like to use heavy cream for a rich finish but feel free to use half and half instead or for a vegan version use coconut milk
OPTIONAL ADD INS: Stir in some parmesan cheese or finely shredded cheddar cheese for extra flavour, sauté some extra veggies in with the onions. I like to deglaze the pot with a little whit wine while the veggies are sautéing - just a splash for flavour.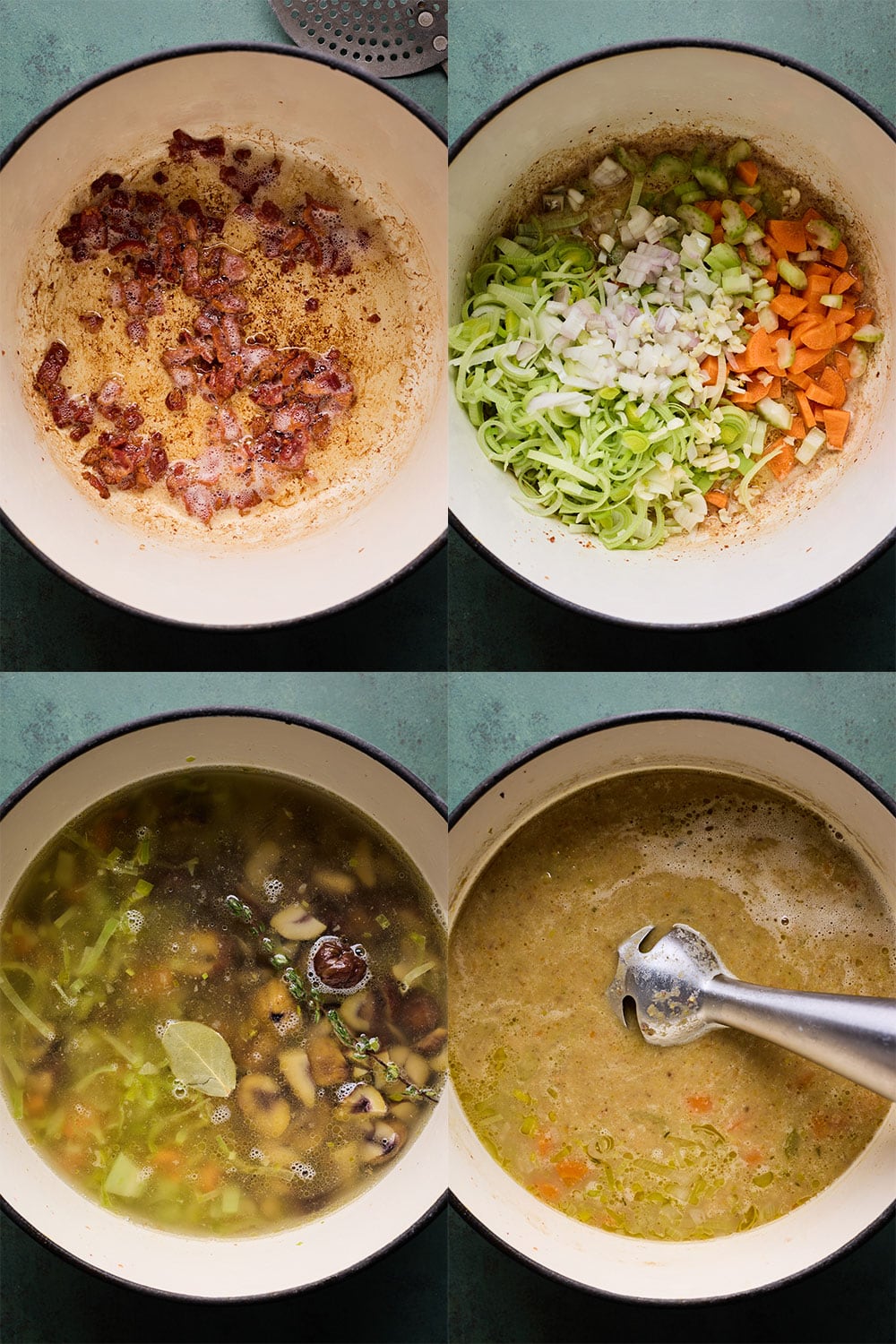 Easy Instructions For Creamy Chestnut Soup:
COOK Bacon or pancetta until fat has rendered and it's golden - remove the bacon with slotted spoon onto a paper towel lined plate and set aside. Remove all but 1 teaspoon of bacon fat
Add butter to pot and SAUTE the leek, shallot, carrots, celery and garlic until softened and starting to golden.
Add broth, chestnuts, bay leaf, and fresh thyme sprigs and SIMMER until chestnuts are super tender
Remove the bay leaf and thyme sprigs then carefully BLEND soup in batches in blender or leave in the pot and use an immersion blender to blend to desired texture/consistency
STIR in the cream and nutmeg and season to taste with salt and pepper
SERVE warm with the bacon or pancetta bits served with crusty bread and sprinkled with chopped fresh parsley or fresh thyme or even some chopped fresh chives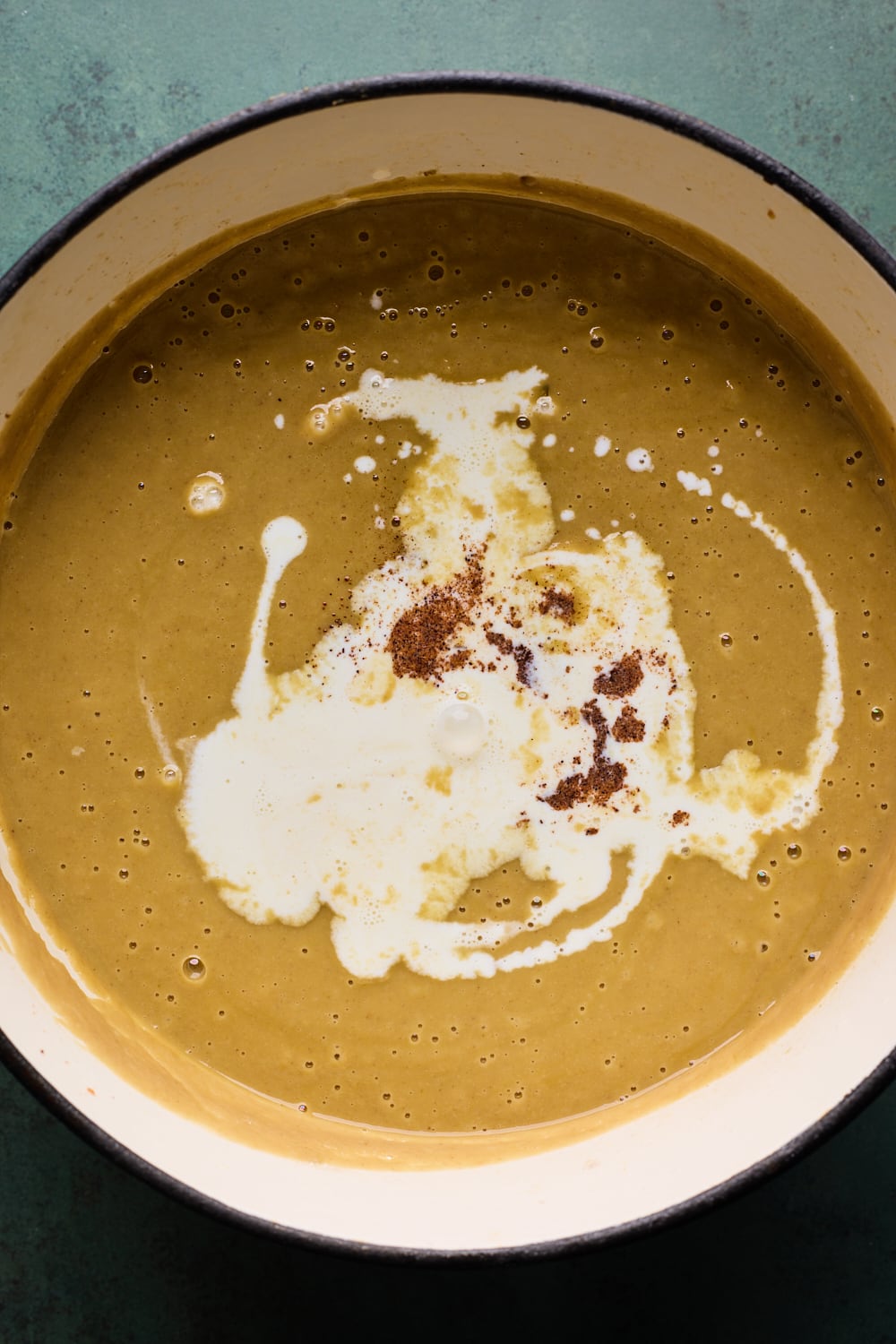 Storage and Freezing
STORAGE: Leftovers can be stored in an airtight container in the refrigerator for 3-4 days. Reheat stove top or microwave adding a splash of broth if needed to thin it out
FREEZING: Cooled chestnut soup can be transferred to a freezer safe airtight container and frozen for up to 2 months. Thaw overnight in the fridge then reheat stove top or microwave adding a splash of broth if needed to thin it out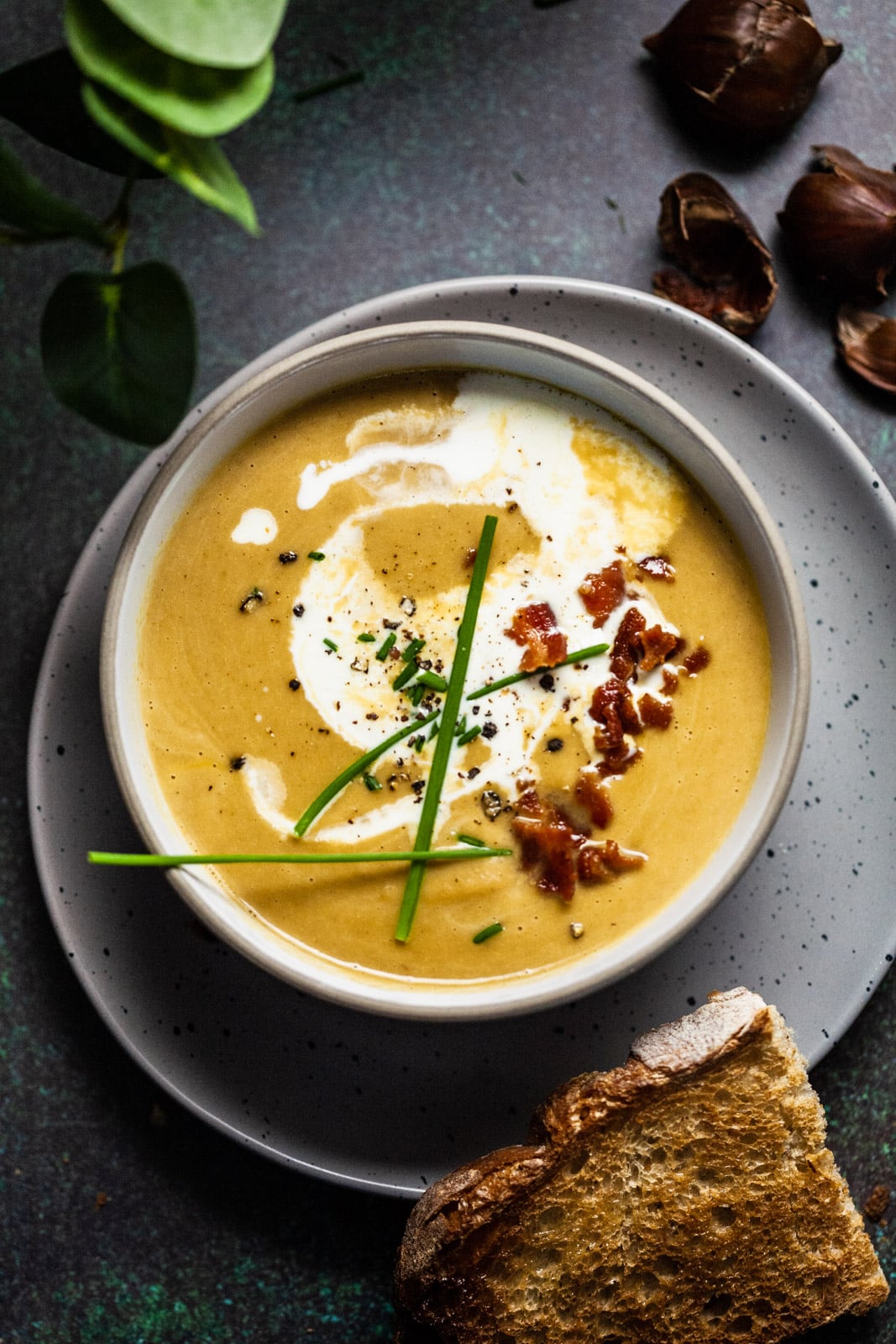 This soup tastes wonderful and definitely feels like a special occasion soup that can be served as a starter or even an appetizer in shot glasses or tea cups. It's delicious and if you get your hands on some chestnuts it's a must to make. You will love it! I have some leftover sweetened chestnut purée and I'm heading into the kitchen to bake up some sweet chestnut bread with it. Nothing must be wasted. Will let you know how it goes!
More Creamy Soups You Will Love
Recipe
Prep Time: 10-15 mins
Cook Time: 45-50 mins
Ingredients
4 slices bacon, roughly chopped

2 tablespoons unsalted butter

1 large shallot or onion, roughly chopped

1 medium carrot, roughly chopped

1 small leek cleaned thoroughly, roughly chopped

1 stalk celery, roughly chopped

2 cloves garlic, peeled and chopped

6 cups chicken stock/chicken broth (or vegetable broth)

17-18 oz / 500 grams cooked peeled chestnuts (approx 3 cups), rough chopped

1 bay leaf

1 sprig thyme

½ cup heavy cream

½ teaspoon freshly grated nutmeg

Kosher salt and freshly ground black pepper, to taste
Directions
In a large saucepan over medium heat, cook bacon until rendered and crisp, 8 to 10 minutes.Transfer bacon to a paper towel–lined plate and set aside to cool. Once cool enough to handle crumble for garnish after.
Pour off all but 1 teaspoon of the fat. In the same saucepan, add butter, shallot, carrot, leek, celery and garlic; cook, stirring occasionally, until vegetables are soft, 5–7 minutes.
Add stock, chestnuts or chestnut purée, bay leaf, and thyme; bring to a boil.
Reduce heat to medium; cook, slightly covered, until chestnuts are very tender, about 30 minutes. Remove from heat and let cool slightly.
Discard bay leaf and thyme. Working in batches, carefully purée soup in a blender until smooth.
Return soup to saucepan and place over medium heat.
Stir in cream, nutmeg, salt, and pepper to taste; cook until soup is slightly thick, about 5 minutes more, addding more broth to desired thickness.
Garnish with crumbled bacon and chives
Leftovers can be stored in an airtight container in the refrigerator for 3-4 days. Reheat stove top or microwave adding a splash of broth if needed to thin it out
Recipe Notes
How to Roast Chestnuts: Pre-Heat oven to 400°F. Carefully cut an "X" into the flat side of each chestnut shell. Place chestnuts in a single layer on a baking sheet. Roast until shells begin to peel back, about 15 to 20 minutes, tossing half way through. Remove from oven and let stand 5 minutes to cool. Peel shells and let chestnuts cool completely. (The outer layer comes off fairly easy but the inside skin may take some effort. If there are some that are really stuck on set them aside and just place them all in a small pot of boiling water for a few minutes, drain and place them in a clean dish towel and rub the skin off them between the towel and the skin should peel right off) Touch chop them then they are ready to go in this soup.
Adapted from Epicurious