Creamy, Delicious, Simple And Classic Gazpacho
I was so very excited to open up this box when it arrived at my doorstep. I knew what was in it and couldn't wait to open it and start using it. What was in it of course, was this KitchenAid The Professional Series® Blender which is ultimate tool for making healthy, nutritious eating easy. It's a beast of a blender - high powered 3.5 Peak HP motor, making it not only the most powerful blender I have ever used but it's KitchenAid's most powerful blender, capable of blending even the toughest ingredients. I was ready to put it to the test with all my smoothie needs and more.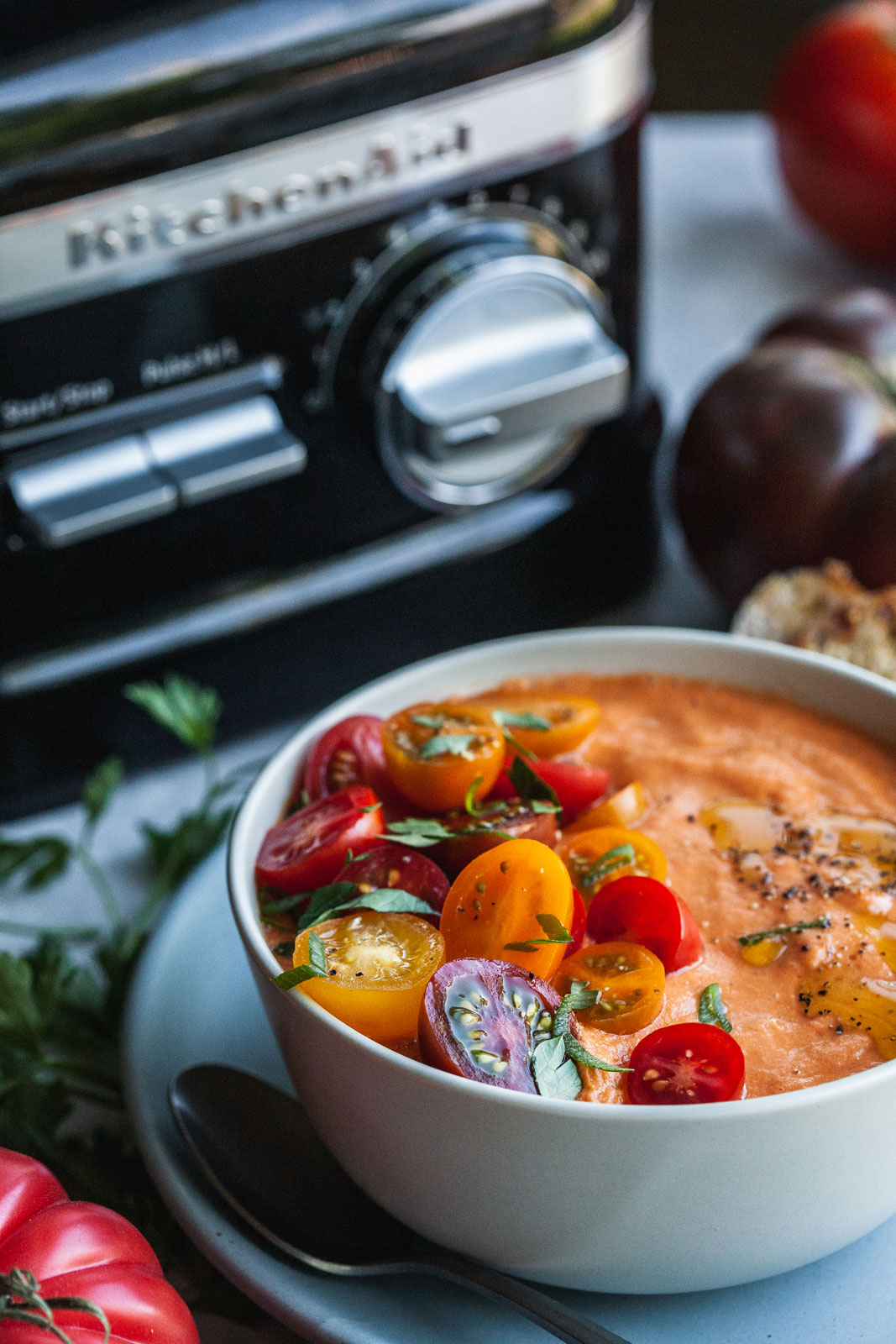 I partnered up with KitchenAid to create something delicious using their blender and I was looking forward to making this creamy summer gazpacho. Although the ingredients marinade for a while, making them slightly softer, they still are raw ingredients that are getting blended with very little moisture. I knew this beautiful machine was up for the challenge. It's asymmetric stainless-steel blade blends at four different angles to pull ingredients into the blending vortex for the creamiest and the smoothest result. It blended this gazpacho in seconds. It was simple to use with a precision power-dial that offers 11 different speeds, plus "Pulse" and "Blend" options to meet all your blending needs! Watch how easy it is to use and how I made this beautiful gazpacho with it in this video.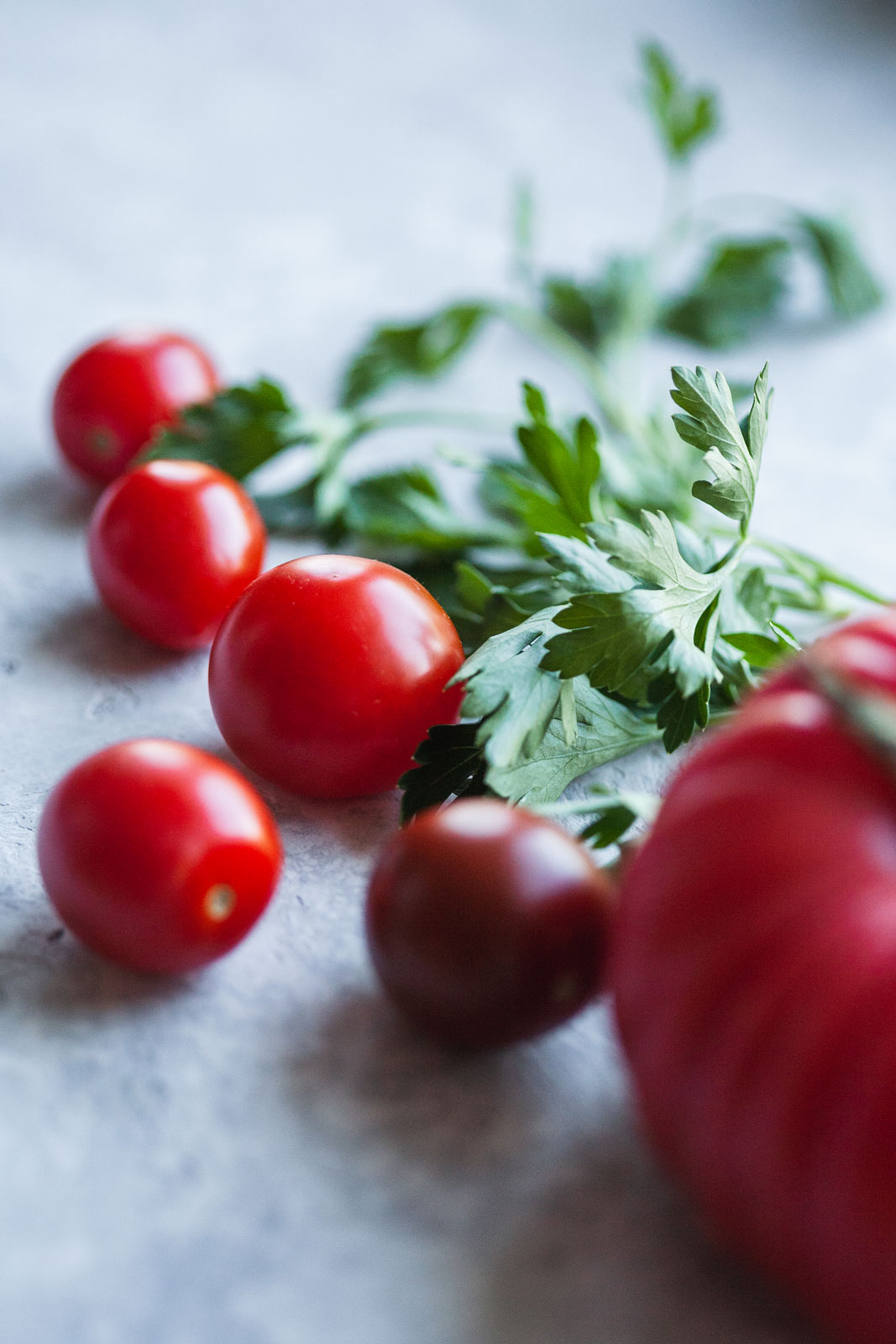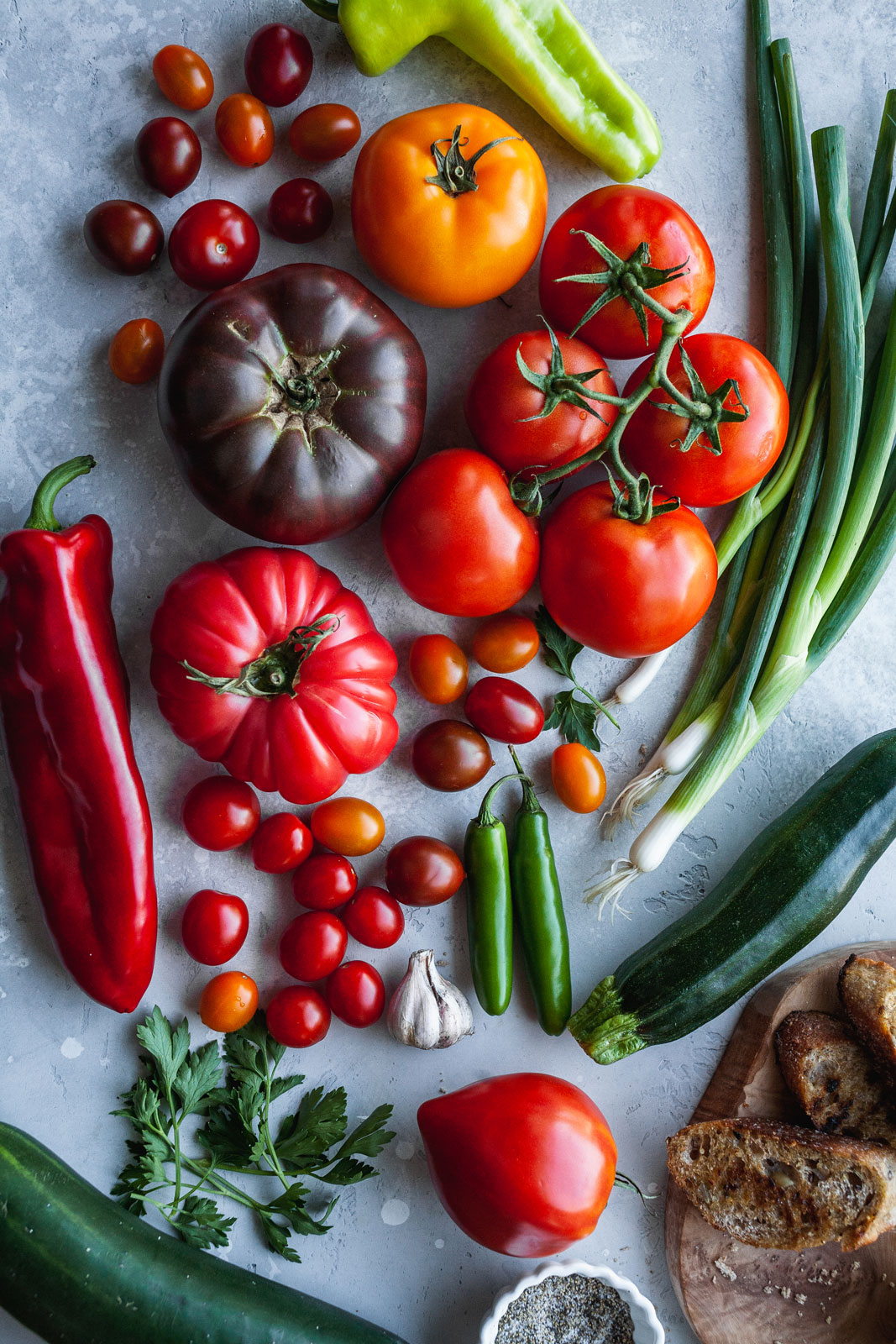 The best gazpacho is one with the freshest and ripest of ingredients. It's a simple chilled soup that is great for the Summer months and hot weather when you're not up to creating anything that doesn't require the use of the stove or anything that will raise the temperature in the house. It's a great starter for dinner parties but I also love it as the main attraction served with grilled or crusty bread.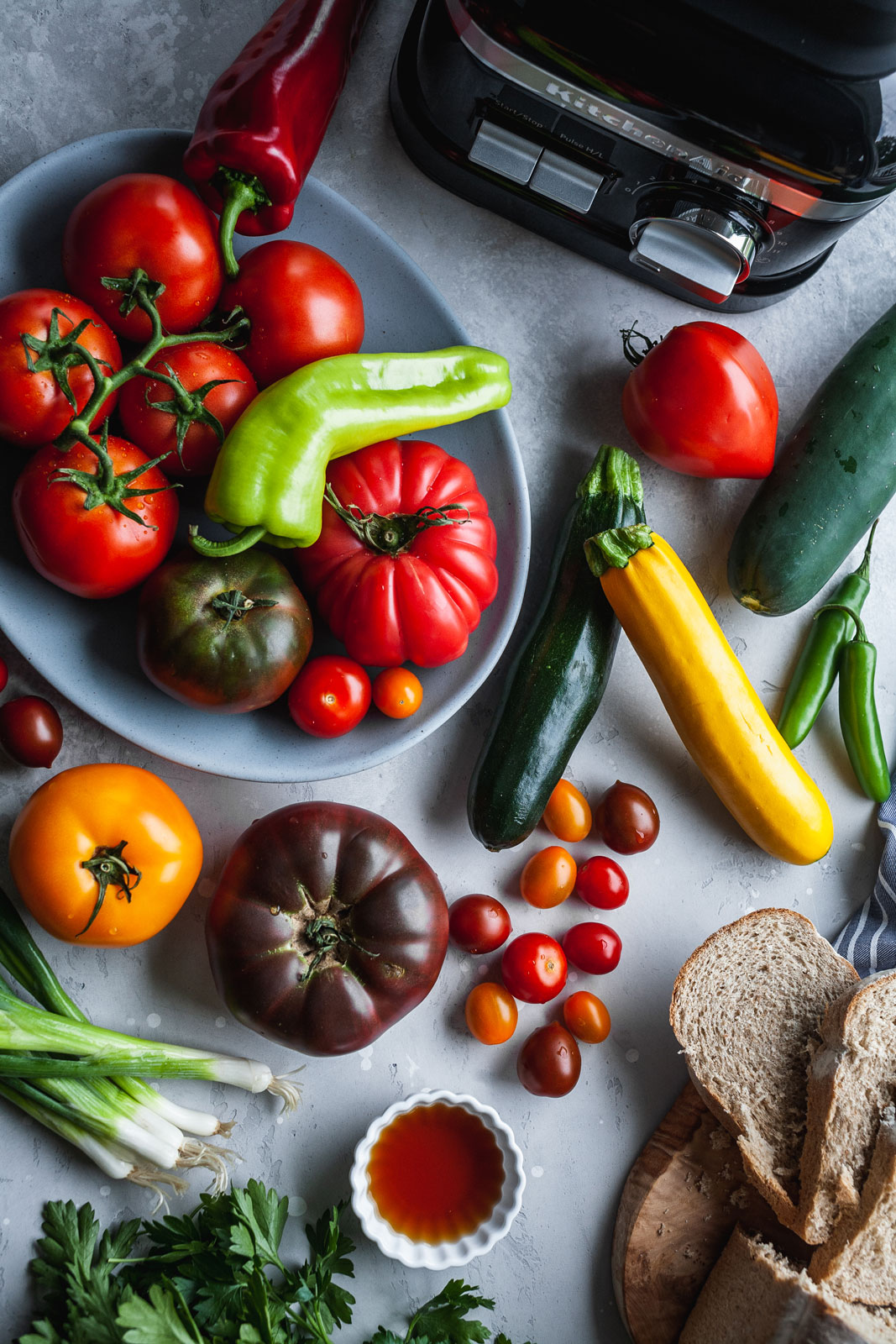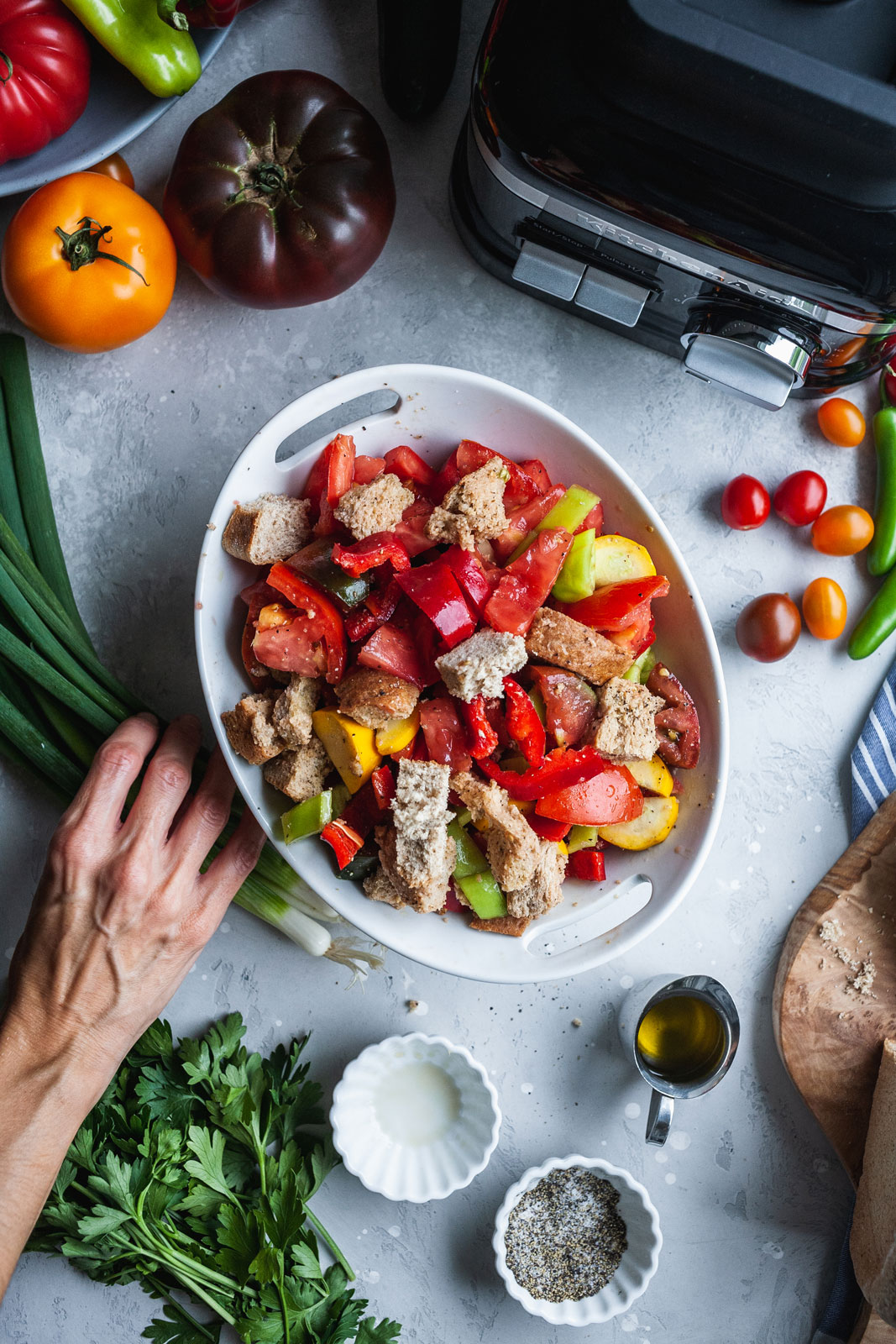 It's cooling and refreshing and a nice change from summer salads. As I mentioned before fresh and ripe ingredients are what make a delicious gazpacho and the main ingredients to a classic one is basically tomatoes, cucumber, bread, onions and garlic. Simple ingredients, but when combined make a delicious chilled soup. There are so many ways to make a basic gazpacho your own. This is my verison. It includes the basics but I also added a little sweetness from the peppers, and a very tame bit of heat from the serrano pepper. I also had some garden fresh zucchini so I added one to it as well which is always a fabulous option.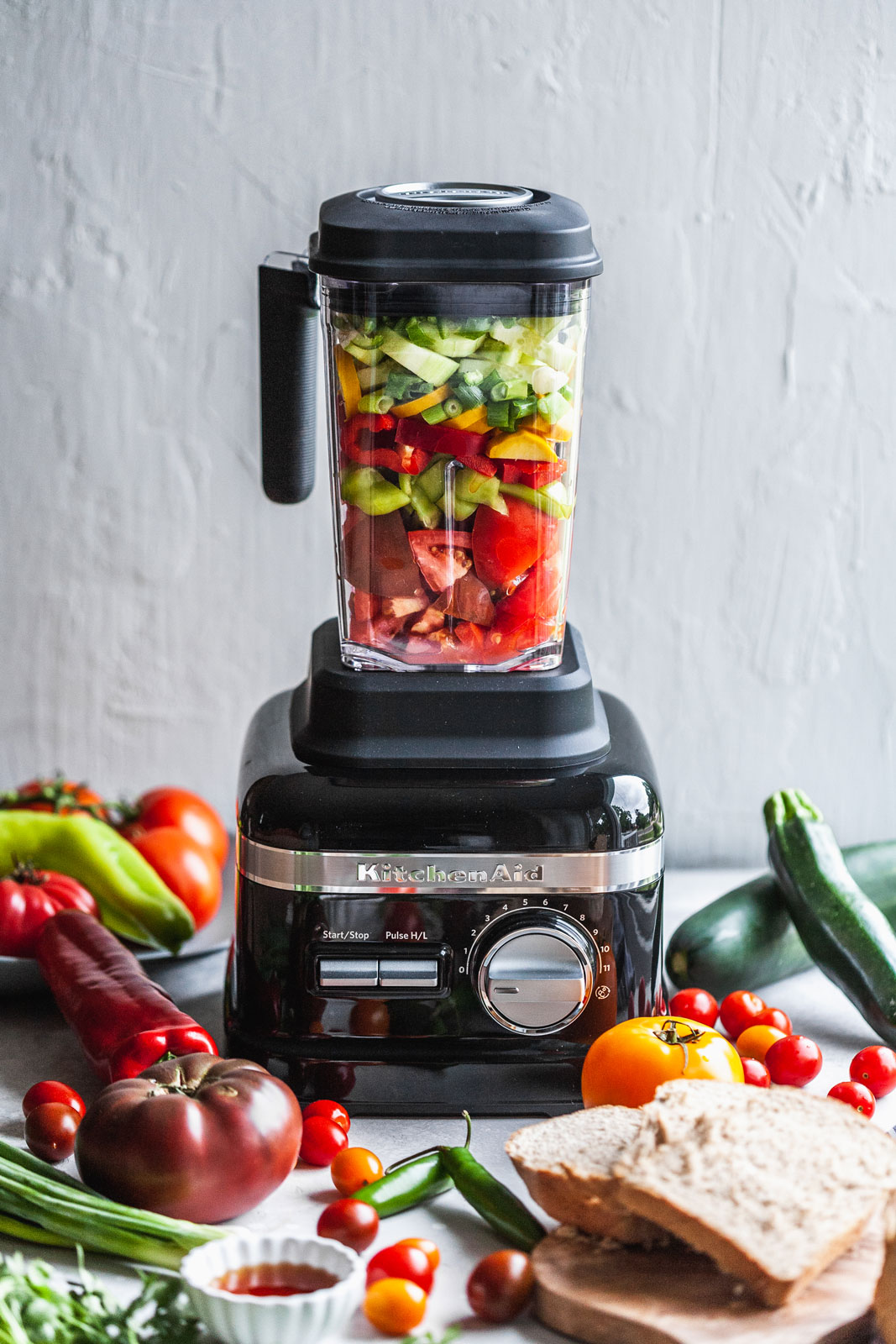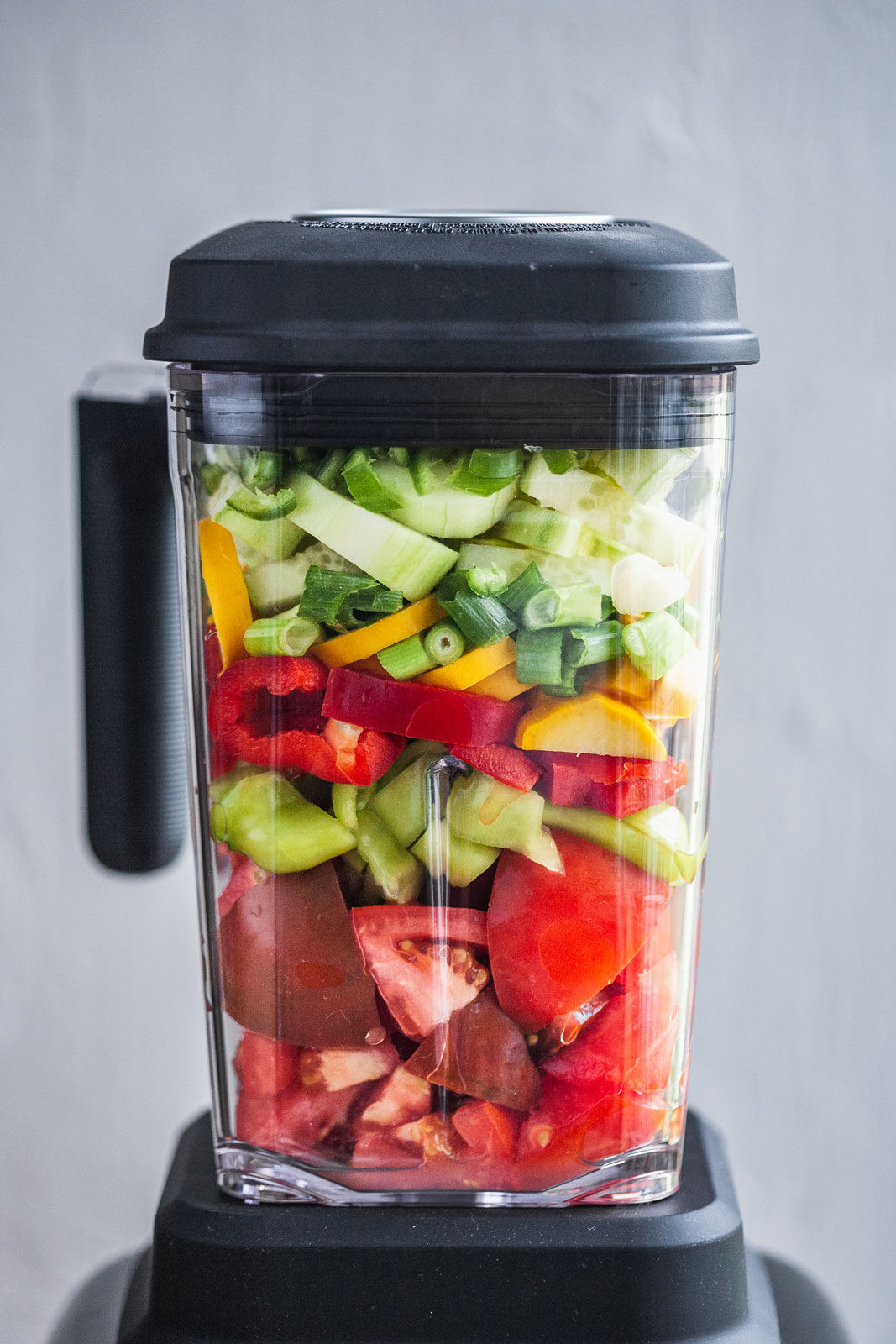 The options are limitless with what else you could add. Other additions include corn, avocado for a creamier texture, and some add watermelon for some extra sweetness and you can add even more heat by adding some dry spicy seasonings like chile powder or cayenne.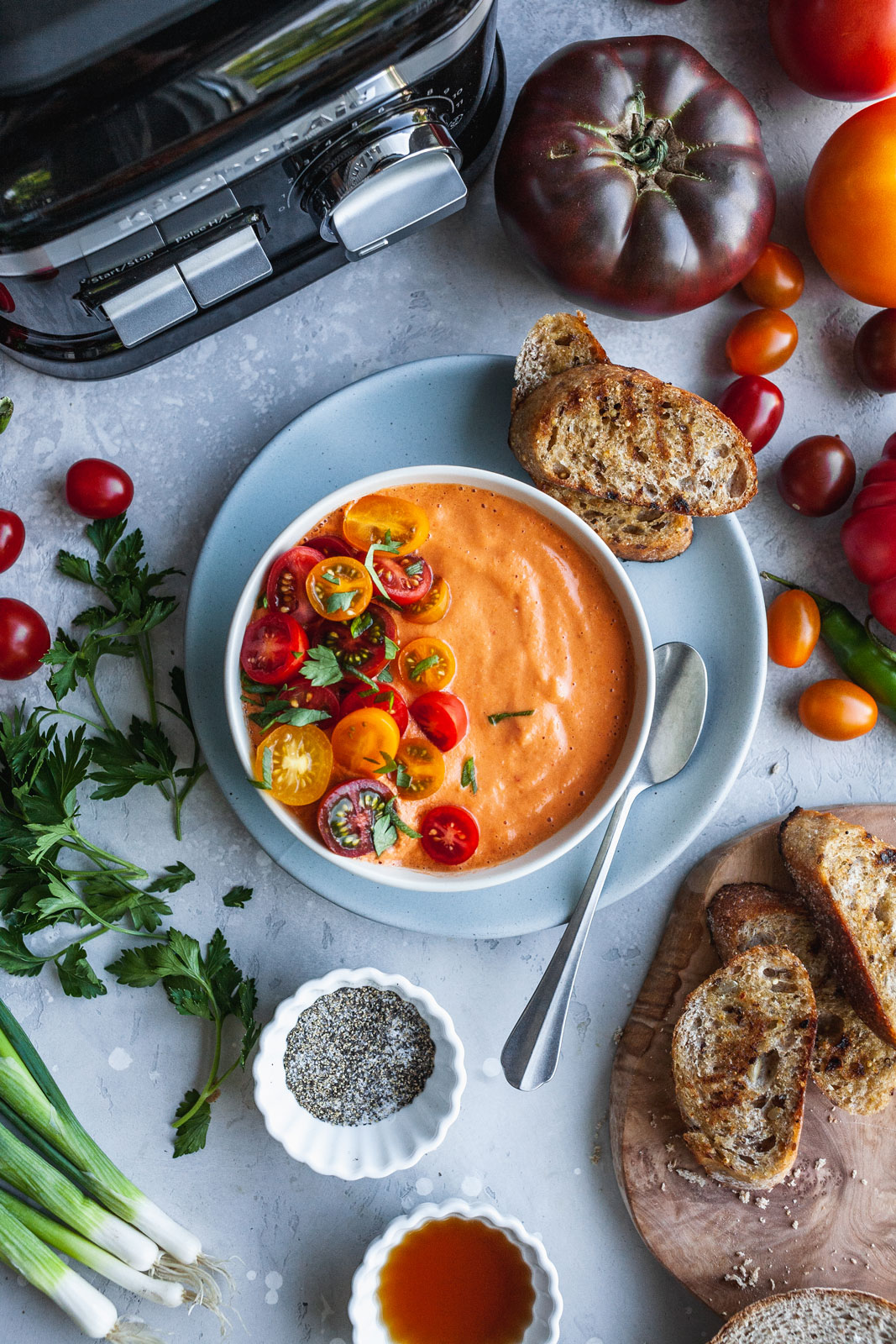 Adding bread to gazpacho can be very divisive. I personally love the texture it gives the gazpacho but if you don't like it or the idea of it then feel free to leave it out for a more runny or a brothier soup. It will still have those delicious classic flavours but with a little less texture. The bread or alternatively nuts give the soup a bit of body and texture that I fully appreciate in a gazpacho so I love to include either or.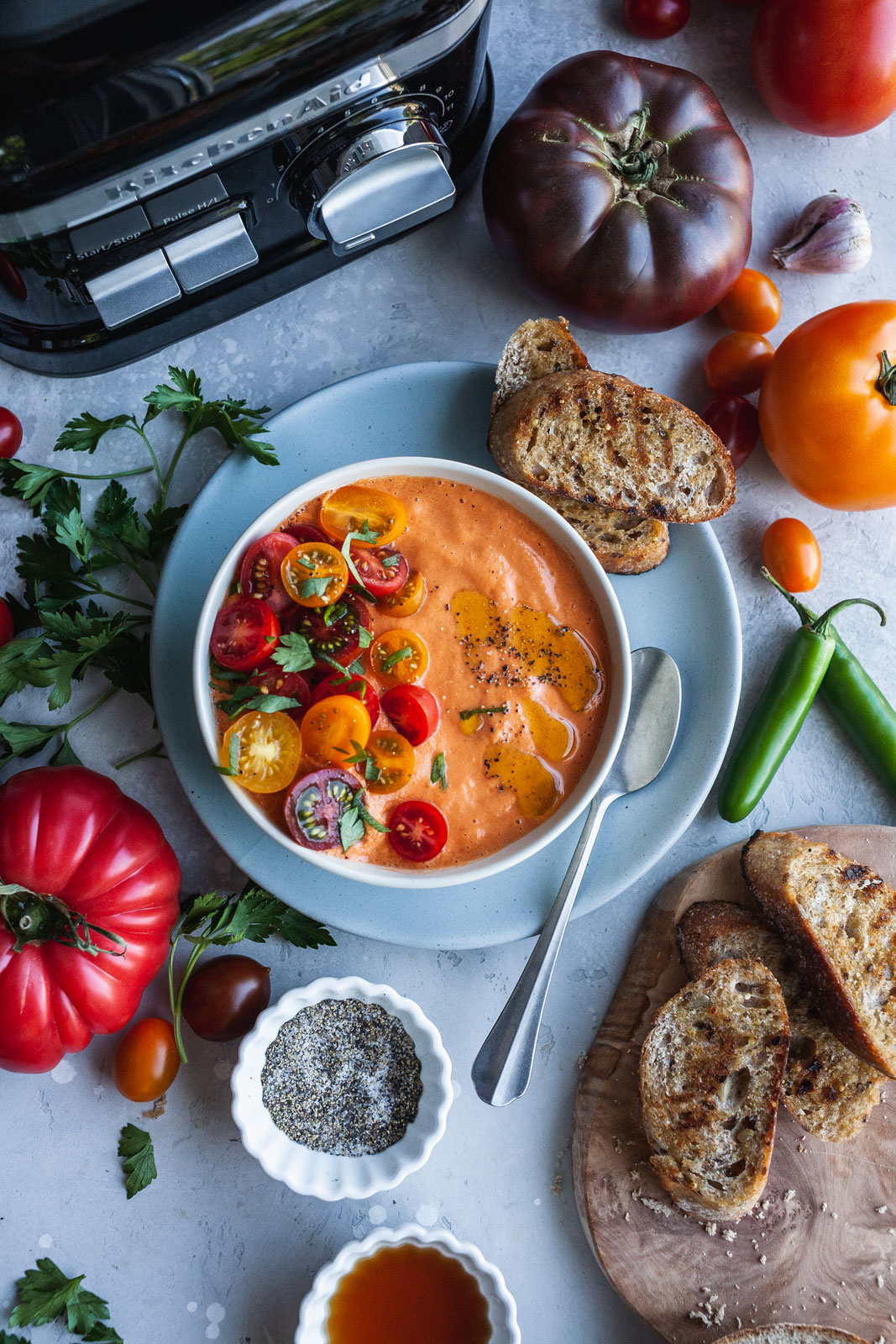 A great way to keep the gazpacho cold when serving is to make a few gazpacho ice cubes with some of it. Once it's blended I usually pour some of it into a clean ice cube tray and put it in the freezer to freeze. When I'm dishing out my gazpacho to serve, I pop out a few of the gazpacho ice cubes and put one in each bowl or glass or dish - whatever I happen to be serving it in. It's the perfect way to keep every spoonful chilled. As it's best served cold, once I have blended it and made my cubes I refrigerate it until it's time to serve. And like many other dishes, soups and stews, gazpacho tastes even better the next day as the flavours have had enough time to mingle so feel free to make ahead.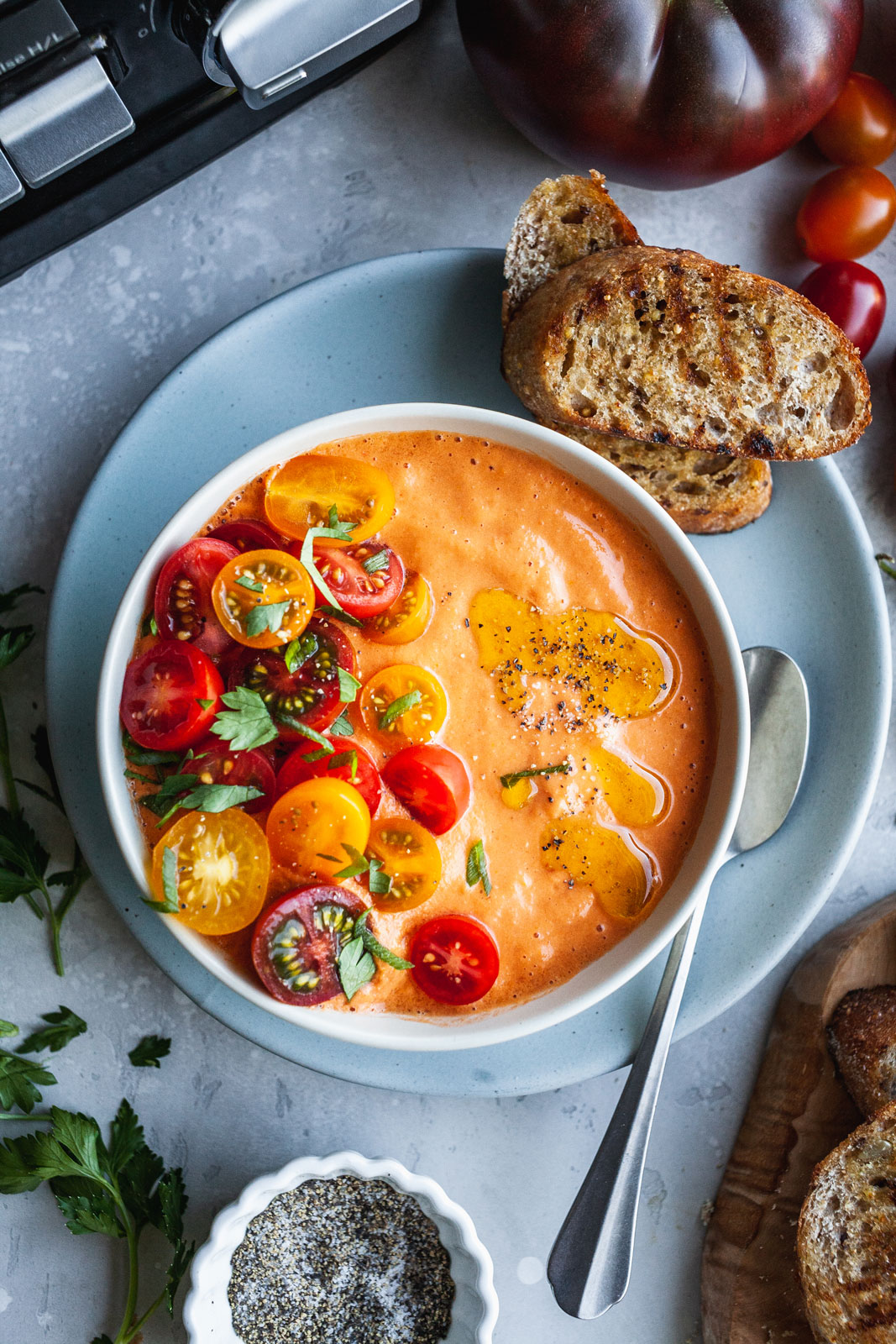 With all the fresh plum tomatoes around right now I strongly recommend making this gazpacho. Use it as a base to create your own brilliant version of this refreshing raw and cool soup - I know you will love it!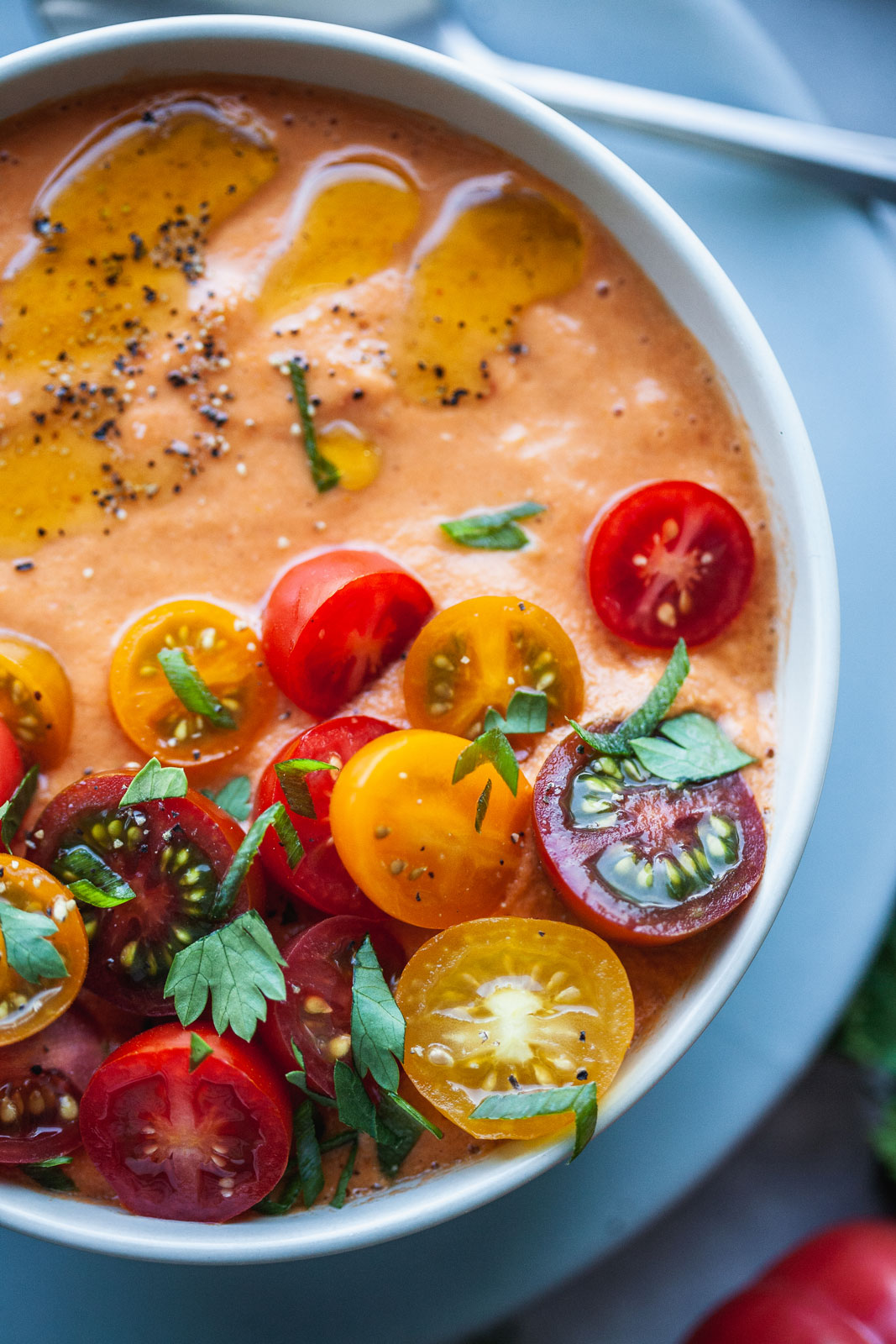 Recipe
Serves 4-6
Ingredients
For the gazpacho
1 cucumber, peeled and chopped
1 zucchini peeled, and chopped
1 red pepper, deseeded and chopped
1 green pepper, deseeded and chopped
1 Serrano pepper or Chile/hot pepper of choice deseeded and chopped (optional but I love to add a subtle bit of heat - or you could amp it up a little more by adding 2)
2 lbs or 4-6 ripe medium to large ripe tomatoes, cored and chopped (I used a combination of heirloom and baby tomatoes)
2 garlic cloves, peeled and crushed
2 green onions, trimmed and finely chopped
2 slices of day old crusty white bread, chopped (you can use Gluten-free bread or a handful of almonds or cashews if you hand it grain free)
2 tbsp sherry vinegar, or to taste (can also use red wine vinegar or even balsamic according to taste or if you prefer juice of 1 lemon )
2 tbsp of olive oil (plus a couple of more to drizzle into soup while blending – to finish it off)
For the toasts (optional)
1 multigrain baguette sliced
Olive oil, for brushing
Directions
Place the cucumber, zucchini, peppers, tomatoes, garlic and spring onions in a large bowl. Add the bread and season well with salt and pepper.
Add the sherry vinegar and olive oil and mix together with your hands, pressing down on ingredients to squeeze out the juices. Cover and chill in the refrigerator and allow to marinade for 30 minutes or overnight.
Put the vegetable mixture into a blender and blend until smooth. Check the consistency. If it is still rather thick and not very rich, add a little more olive oil until you reach a consistency you like.
Taste and adjust the seasoning as necessary. You might need a little more vinegar and stay and pepper. Cover and chill again, until really cold and you're ready to serve.
Meanwhile, make the toasts, if using. Brush the slices of bread generously with olive oil. Place a large griddle pan over a medium heat. Once hot, add the bread and toast on either side until golden and crunchy. Season with a little salt and pepper.
Before serving, stir the gazpacho and taste again for seasoning. Then serve ice cold with gazpacho ice cubes if you made some (see post above), sprinkled with chopped basil, an extra drizzle of olive oil, some chopped tomatoes and the toasts alongside, if using and enjoy!
Adapted from _The Kitchn_
This is a sponsored post in collaboration with KitchenAid. All ideas and opinions expressed are all my own.