Creamy No Bake Pumpkin Cheesecake
This pumpkin cheesecake is my go to for a no bake fall treat/dessert. I have to tell you I tried many recipes before I landed on this combination of ingredients. This recipe always yields a very creamy and light cheesecake full of pumpkin spice flavors and a no bake cheesecake that ALWAYS sets like it's suppose to and like you want it to. A baked cheesecake is always fabulous but when you want something prepared quickly (and without turning on the oven) with less fuss a good no bake cheesecake is the way to go! You are going to really love this one!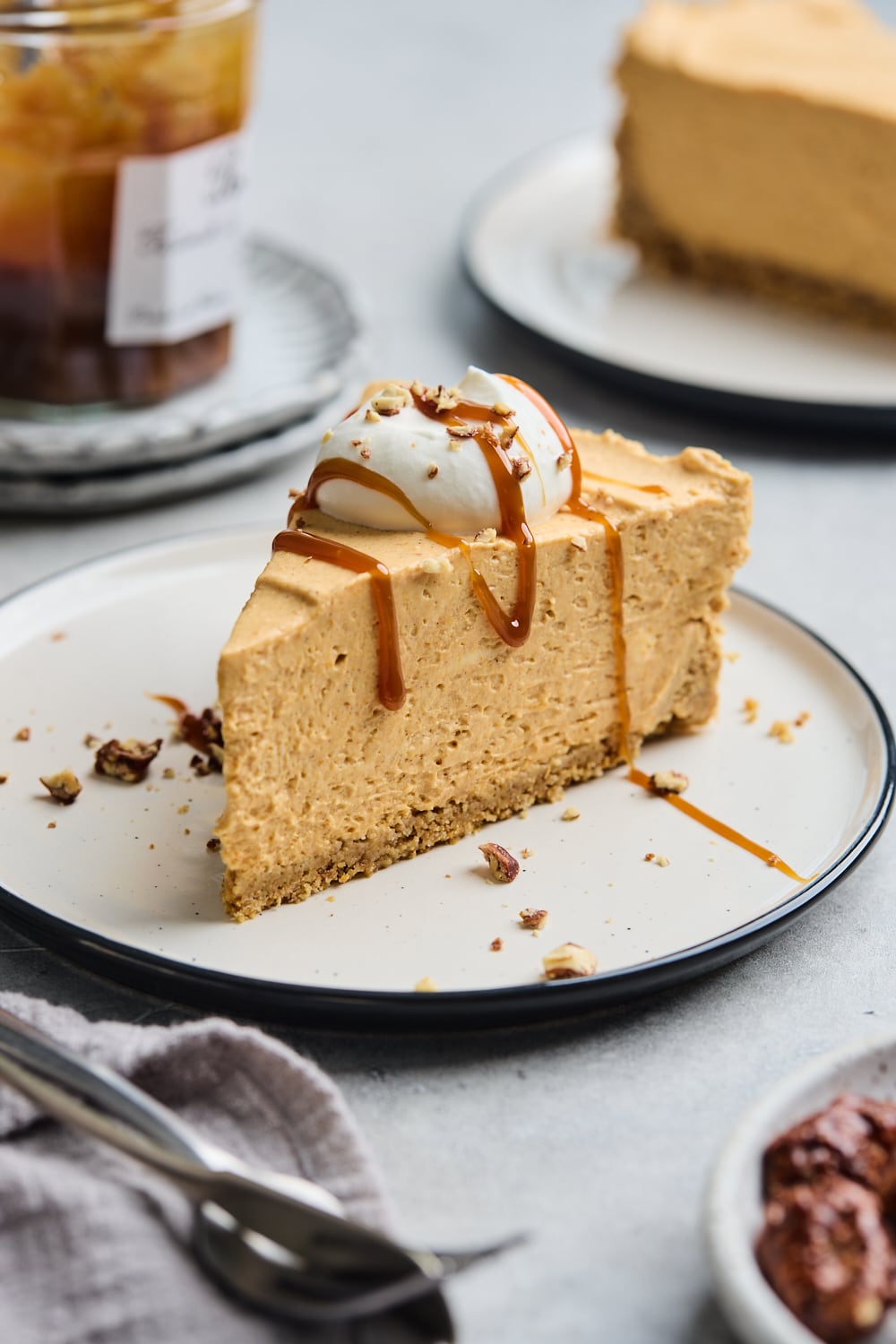 Why you are going to love this no bake pumpkin pie cheesecake
Made with minimal ingredients
Perfect for the fall
Wonderfully sweet, and the texture is light as air
Unbelievably creamy and mousse like
Flavor-packed with plenty of pumpkin flavor
Easy and great to make ahead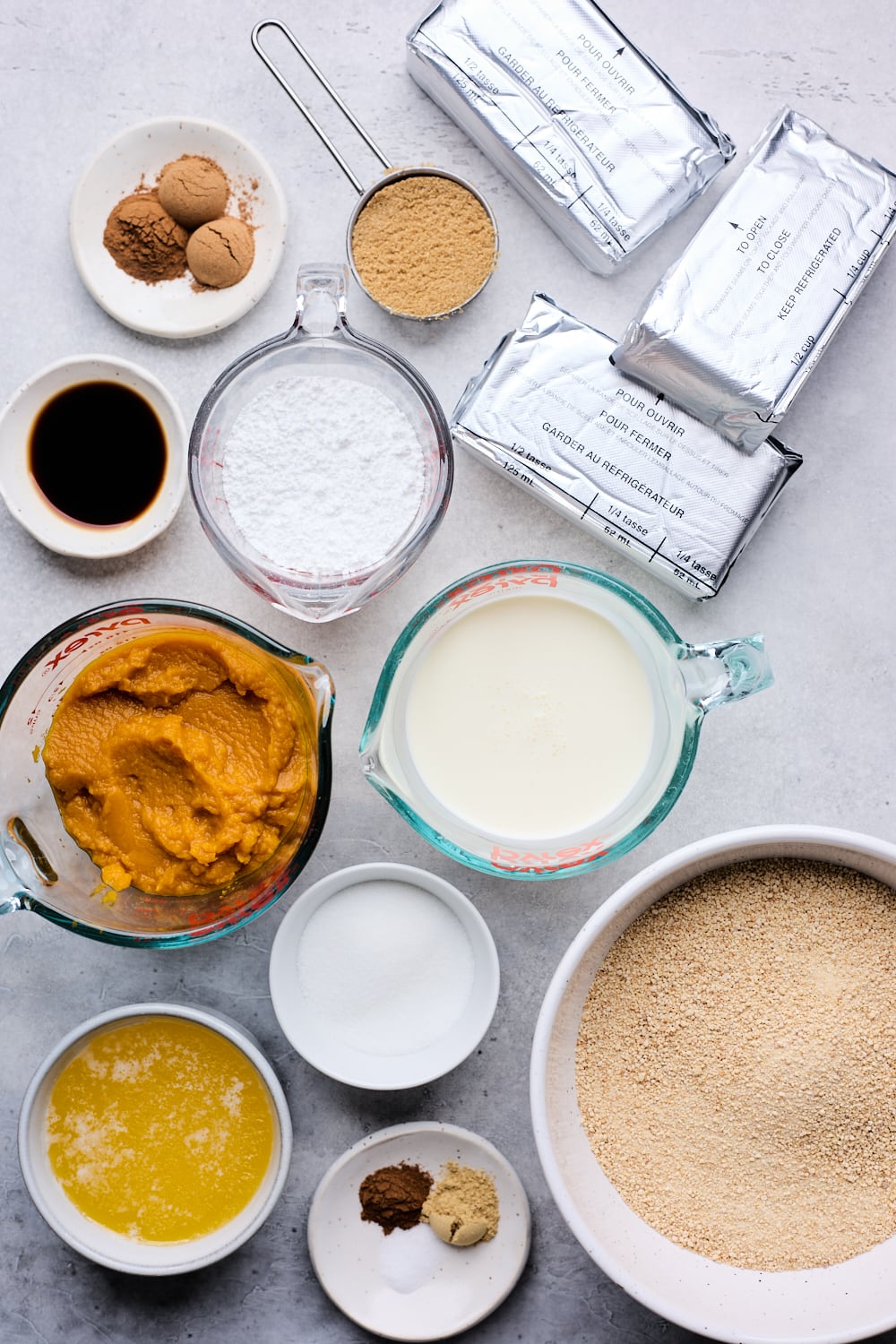 No Bake Pumpkin Cheesecake Recipe Ingredients
CREAM CHEESE: Make sure your cream cheese is at room temperature to help ensure no clumping in your cheesecake. For this recipe, I recommend using the block style cream cheese and make sure to use full fat cream cheese for the best results and flavor. The cream cheese spreads in tubs will not work as well in a cheesecake.
PUMPKIN: Use 1 ½ cups of pumpkin puree not pumpkin pie filling ( a standard 15 ounce/398 ml can is approx 1½ cups of pure pumpkin puree).
SPICES: I chose to use ground cinnamon and pumpkin pie spice because I always have it on hand but if you don't what is a substitution for pumpkin pie spice? I recommend making your own by blending ground Ginger, Cloves, Allspice & Nutmeg - approx ½ teaspoon of each or adjust amounts to taste
VANILLA EXTRACT: For a balanced flavour
HEAVY WHIPPING CREAM: The key to making your cheesecake filling light and fluffy is beating until you achieve stiff peaks. It MUST be full fat or at least 30-35% for the cheesecake to set! I like to whip up my own as the store-bought prepared cool whip/whipped topping is already sweetened and that could make you cheesecake too sweet. It should be cold while whipping to achieve best texture
GRAHAM CRACKER CRUMBS: I love the graham cracker crust for a more classic cheesecake vibe but feel free to use any biscuit crumbs you like. Ginger snaps, and biscoff cookies work really well here too. Feel free to use Gluten free graham cracker crumbs if you prefer this cheesecake with a gluten free variation
POWDERED SUGAR/CONFECTIONER'S SUGAR: Ok I get it it seems like there is a lot of powdered sugar in this recipe but hear me out. I have tried so many no bake pumpkin recipes that do not set - the key is the amount of powdered sugar in the recipe. Powdered sugar actually acts as a stabilizer - so not only does it sweeten the cheesecake but it helps set the cheesecake. How? Powdered sugar has cornstarch in it (approx 3%) which helps absorb moisture thus stabilizing the cheesecake and allowing it to set up really well. SO for this recipe the powdered sugar is NOT REPLACEABLE and cannot be reduced or substituted because your cheesecake will not set.
BROWN SUGAR: Just a little for more flavour more than sweetness as it adds a bit of caramel flavour but completely optional and can be omitted.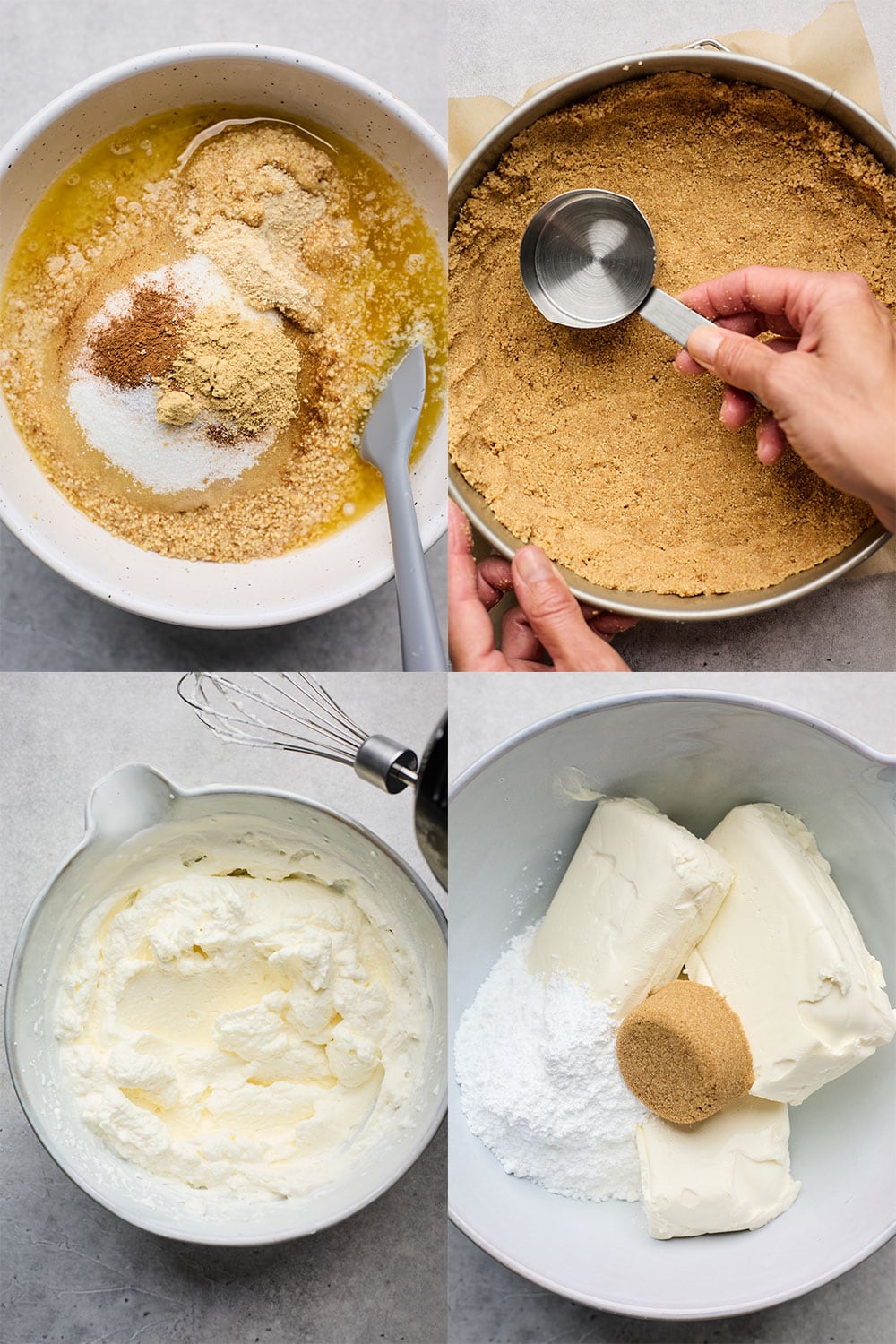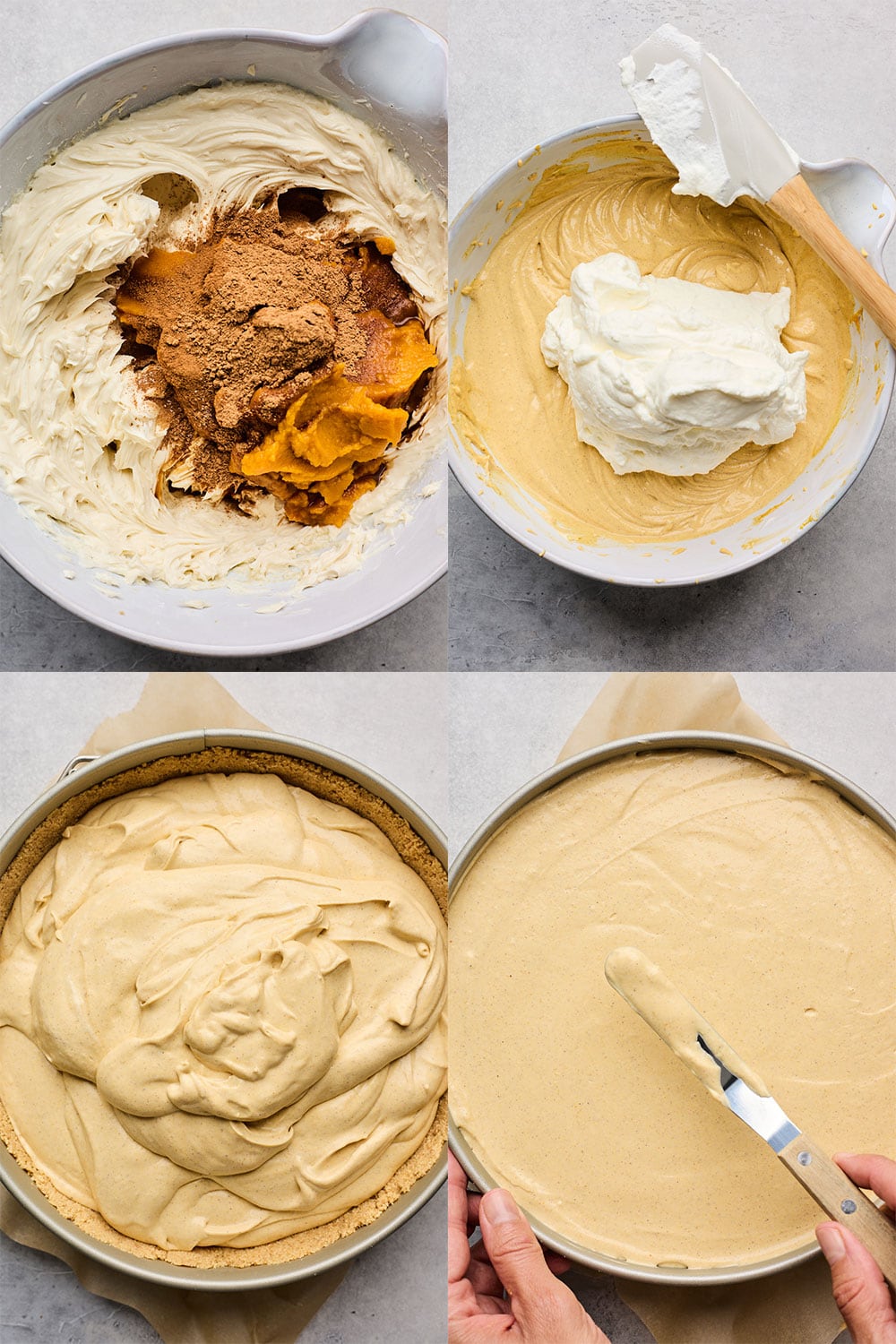 How to Make This No Bake Pumpkin Cheesecake (full instructions in recipe below)
PREPARE CURST: Combine graham cracker crumbs with salt, sugar if using, spices if using and melted butter. Press evenly into pan and chill while you make the filling. (if using graham crackers or cookies use a food processor to grind them into fine crumbs or place them in a bag and roll with rollings pin)
PREPARE FILLING: Start by beating the whipped cream until stiff peaks. In a seperate bowl beat the cream cheese with the sugars until smooth, then add spices, vanilla, salt and pumpkin puree continue to beat until nice and smooth. Fold in whipped cream gently.
ASSEMBLE CHEESECAKE: Pour filling into prepared crust. Wrap tight with plastic wrap or foil.
CHILL CHEESECAKE: Chill in the refrigerator for a minimum of 8 hours.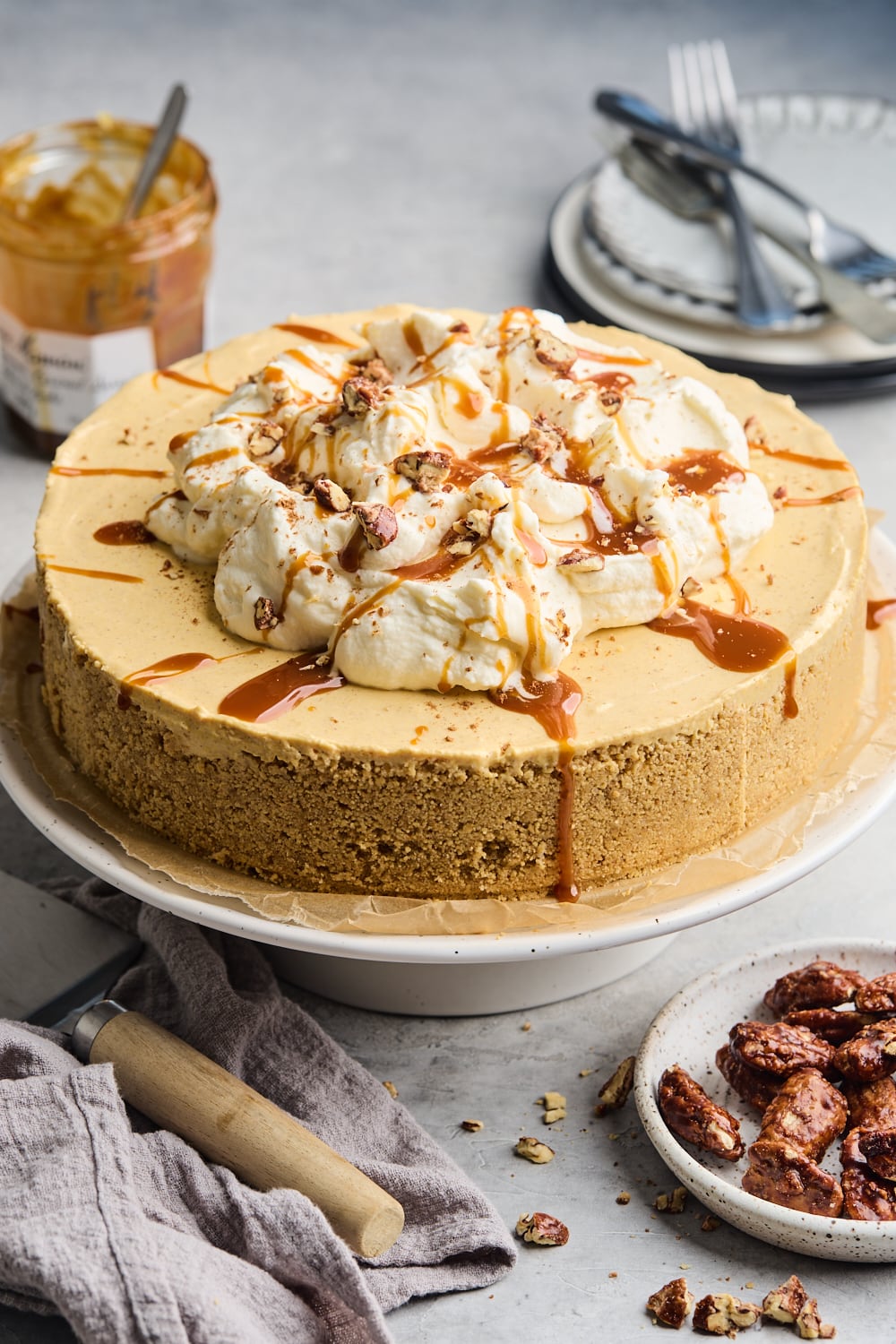 Tips for Making the Perfect No bake Cheesecake:
For this recipe in particular the amount of powdered sugar, pumpkin puree and whipped cream are non negotiable. None of those ingredients should be substituted or reduced to ensure that your cheesecake sets properly. Pumpkin puree adds loads of moisture to the cheesecake so these other ingredient are there to help offset that and satibilize the filling so it sets well.
You can use store-bought graham cracker crumbs, or use a food processor to pulverize. A zip lock plastic bag and a rolling pin will do the job too.
Can I bake the crust? YES you definitely can bake the crust. Although this is a no bake recipe for a more crisp cookie crust it's' always recommended to bake the crust for 8-10 min at 350°F then allow to cool completely. This of course is not necessary but it will give you a more crisp crust and will help it stay together more firmly.
For the smoothest filling (no lumps), let the cream cheese come to room temperature for 60-90 minutes before mixing. But if you're strapped for time, remove any packaging (especially foil!) and place the block of cream cheese on a microwave-safe plate. Microwave on high at 10 second intervals checking in between to test it by poking the center of the cream cheese block to test the texture. It should be soft but not melted or hot
This cheesecake doesn't need anything extra, but a garnish of whipped cream, caramel sauce and candied pecans make it look fancy. It's totally irresistible with or without the garnishes.
To make sure this cheesecake has enough time to set up for clean slices, I typically make it the day before I plan to serve it which makes this the perfect make ahead dessert.
For clean slices, run a sharp knife under hot water and dry between each slice.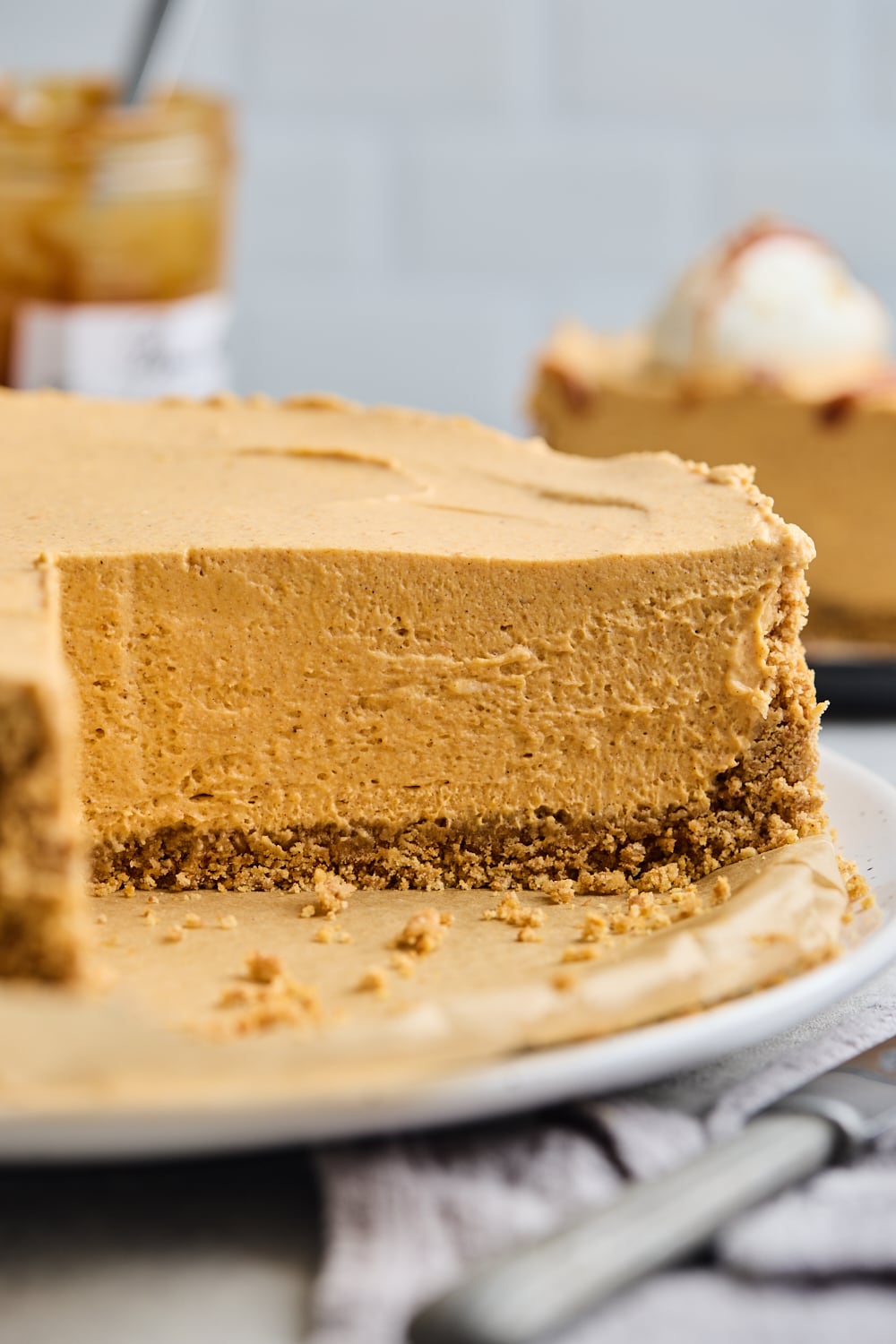 How Long Does No-bake Cheesecake Last?
STORAGE: This cheesecake is the perfect dessert to make ahead of time because it stores so well. You can store any leftovers in the fridge for up to 5 days.
Can You Freeze No-Bake Cheesecake?
YES! Once your cheesecake has properly set up in the fridge, you can definitely freeze to enjoy at a later time. Remove the cheesecake from the spring-form pan and wrap in a sheet of plastic wrap and a layer of tinfoil to prevent freezer burn. You can freeze this cheesecake for up to 3 months.
To thaw, place in fridge until defrosted.
PRO TIP – Do NOT place the cheesecake in the freezer to help quicken the chilling time of the cheesecake. You'll lose the fluffy and creamy consistency of the cheesecake. Instead, give the cheesecake at least 8 hours of chill time in the fridge (preferably overnight) to set up before wrapping and freezing if you wanted to freeze it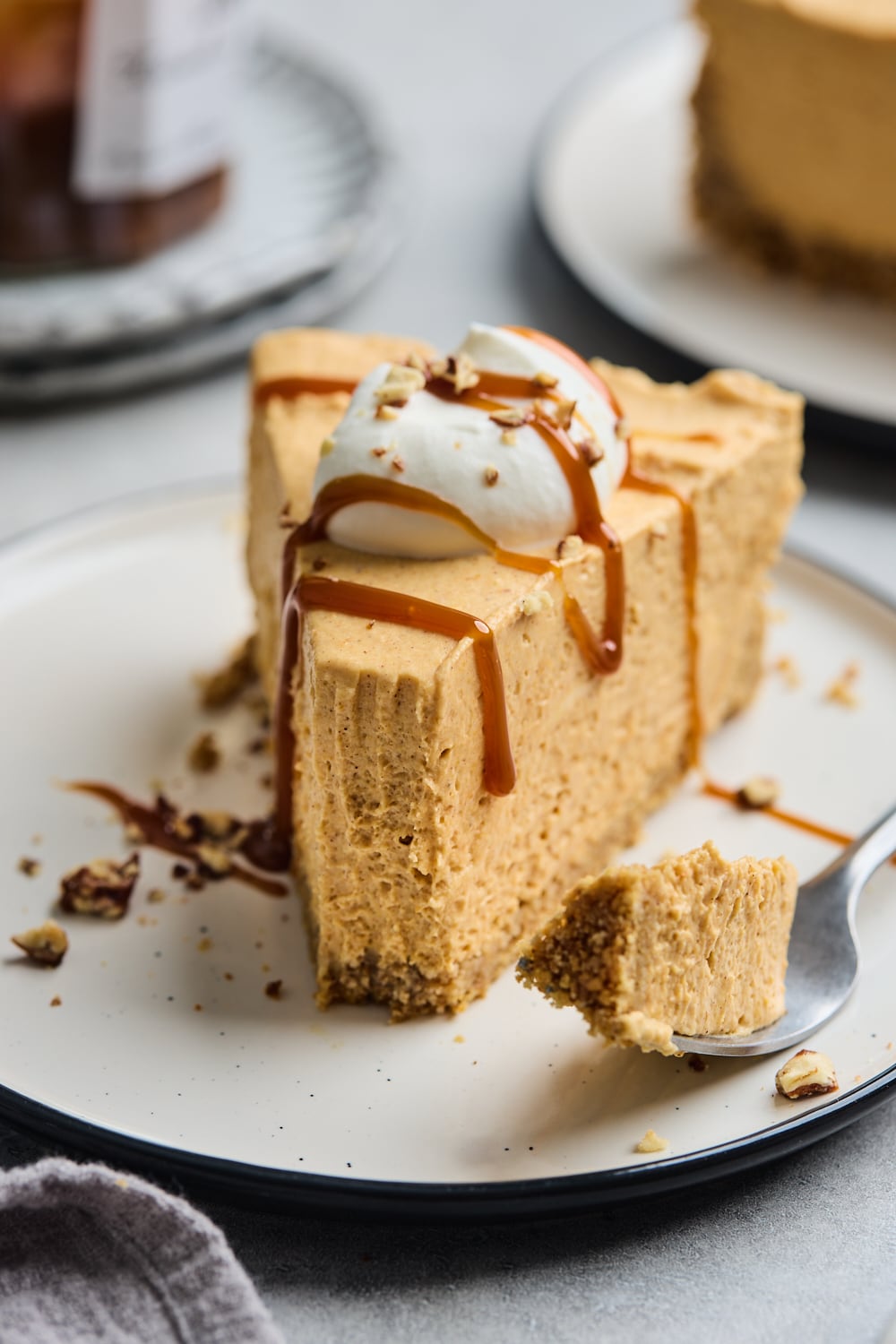 More Cheesecakes You Will Love:
Recipe
Prep Time: 30 mins
Non Active Time: 8 hours or overnight for setting
Ingredients
For the Graham Cracker Crust
2¼ cups Graham cookie crumbs or gingersnap cookie crumbs

¼ teaspoon each: ground ginger and ground cinnamon (optional)

½ cup unsalted butter, melted

¼ cup granulated sugar or brown sugar (optional)

Pinch of salt
For the Pumpkin Cheesecake Filling
¾ cup cold heavy whipping cream (at least 30-35%)

3 full-fat brick cream cheese, softened to room temperature (8-ounce each)

1½ cups pumpkin puree (approx one 15 oz can)

1¾ cup confectioners' sugar

¼ cup packed light or dark brown sugar (optional but adds a hint of caramel flavour)

1 teaspoon pure vanilla extract

2 teaspoons store-bought or homemade pumpkin pie spice

1 teaspoon ground cinnamon

¼ teaspoon salt
Directions
For the Crust
In a bowl, combine the graham cracker crumbs, salt, sugar if using, spices if using and melted butter.
Transfer the graham cracker mixture to a 9-inch (23 cm) springform pan, press firmly to creatan even base that goes up 1-inch (2 cm) on the sides. Freeze while making filling or chill in the fridge.
For The Filling
In a medium size bowl and hand mixer or a stand mixer fitted with a whisk attachment, whip the cold heavy cream into stiff peaks on medium-high speed, then set aside
Meanwhile, in the bowl of a stand mixer or a large bowl beat the cream cheese with the sugars until light and fluffy, about 2-3 minutes. Add the cinnamon, pumpkin pie spice, salt, vanilla extract, and pumpkin puree. Beat until smooth, with no lumps about 2 minutes, scraping down the sides as necessary.
Using a rubber spatula, fold the whipped cream into the cheesecake filling until combined. Combine it GENTLY to prevent deflating all the air in the whipped cream.
Remove crust from freezer and pour filling into it evenly levelling it off with the back of a spoon or offset spatula
Wrap tightly with plastic wrap and refrigerate for 8 hours or overnight or up to two days (do not freeze to set)
Once set use a knife to loosen sides and remove collar.
I like to top my pumpkin cheesecake with dollops of whipped cream, caramel sauce and cookie crumbs or toasted or candied pecans. You could enjoy it plain or with toppings/garnishes.
Slice and enjoy!
Cover and store leftover cheesecake in the refrigerator for up to 5 days.
Recipe Notes
For this recipe in particular the amount of powdered sugar, pumpkin puree and whipped cream are non negotiable. None of those ingredients should be substituted or reduced to ensure that your cheesecake sets properly. Pumpkin puree adds loads of moisture to the cheesecake so these other ingredient are there to help offset that and satibilize the filling so it sets well.