Crispy Smashed Potatoes With Sour Cream and Chive Dip
These crispy smashed potatoes are absolutely irresistible - like you won't stop eating them with or without the tasty sour cream and chive dip. The edges are so perfectly crisp on all sides and along all the edges of the potatoes and the centres or the inside is a little softer and fluffy. They make the perfect side dish for your favorite protein. This smashed potato recipe is easy and delicious and quite versatile when it comes to the spices you add to them, and what you serve them with. They are perfect as a side to a roast or even great for snacking on as an appetizer. You won't be able to get enough of them - they are as addictive as French fries only these guys are baked up and crispy with no deep frying required. I love to serve these crispy smashed potatoes with this creamy Sour Cream & Chive Dip or sauce - serve it on the side or dolloped on the smashed potatoes - or you could get messy and just drizzle it all over them or you could simply have these plain and straight out the oven sprinkled with a little flaky sea salt.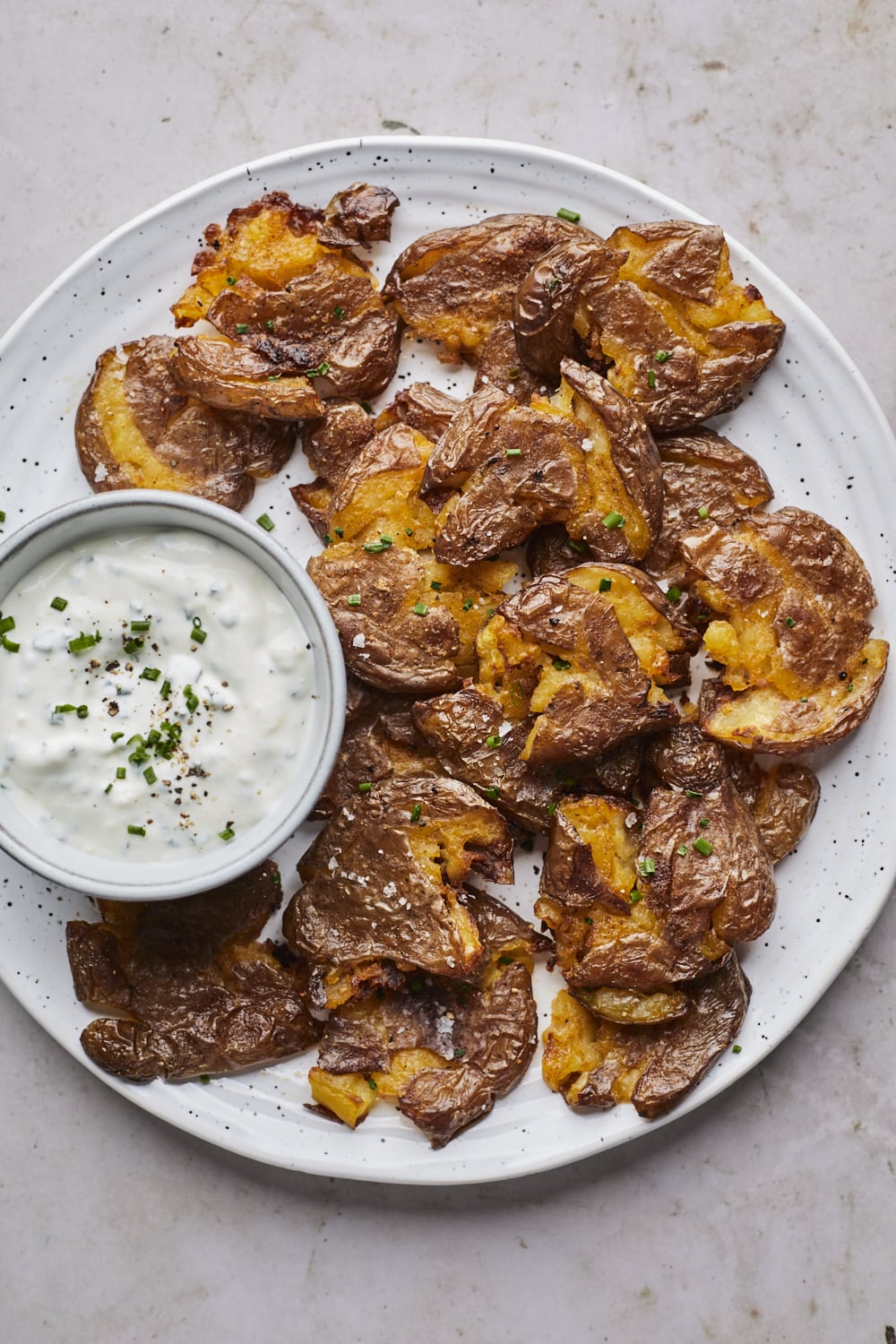 Crispy Smashed Potato Recipe Ingredients:
Potatoes - I love to alway use baby potatoes or mini Yukon gold potatoes or baby red potatoes when making smashed potatoes
Extra virgin olive oil - feel free to use melted butter or a combination of both as butter has a tendency of burning at hight temperatures in the oven.
Herbs & Spices - I kept things simple this time with salt, pepper, garlic powder, and a pinch of paprika, but feel free to use any spice blend or flavor blend you like and you can add herbs of choice like rosemary, thyme or oregano. Spice them up with a bit of chili powder or a spicy cajun spice blend or sprinkle with chili flakes. The only thing with fresh and dried herbs is that they tend to burn because of the high temperature that the potatoes bake - that is why I used garlic powder over minced garlic. So just be mindful of that and if I was to choose one over the other I would chose dried herbs over fresh. Feel free to garnish baked potatoes with fresh herbs like fresh chopped parsley or any of your favourites.
Variations - I like to do a garlic butter herb version, or a cheesy version sprinkled with parmesan cheese that melts up and coats the potatoes or do a loaded version cooked and topped with cheese, bacon and chives. Or have them plain with olive oil salt and pepper - and dip them into a good aioli or a spicy ketchup. You get the idea - there are so many ways you can enjoy these little guys.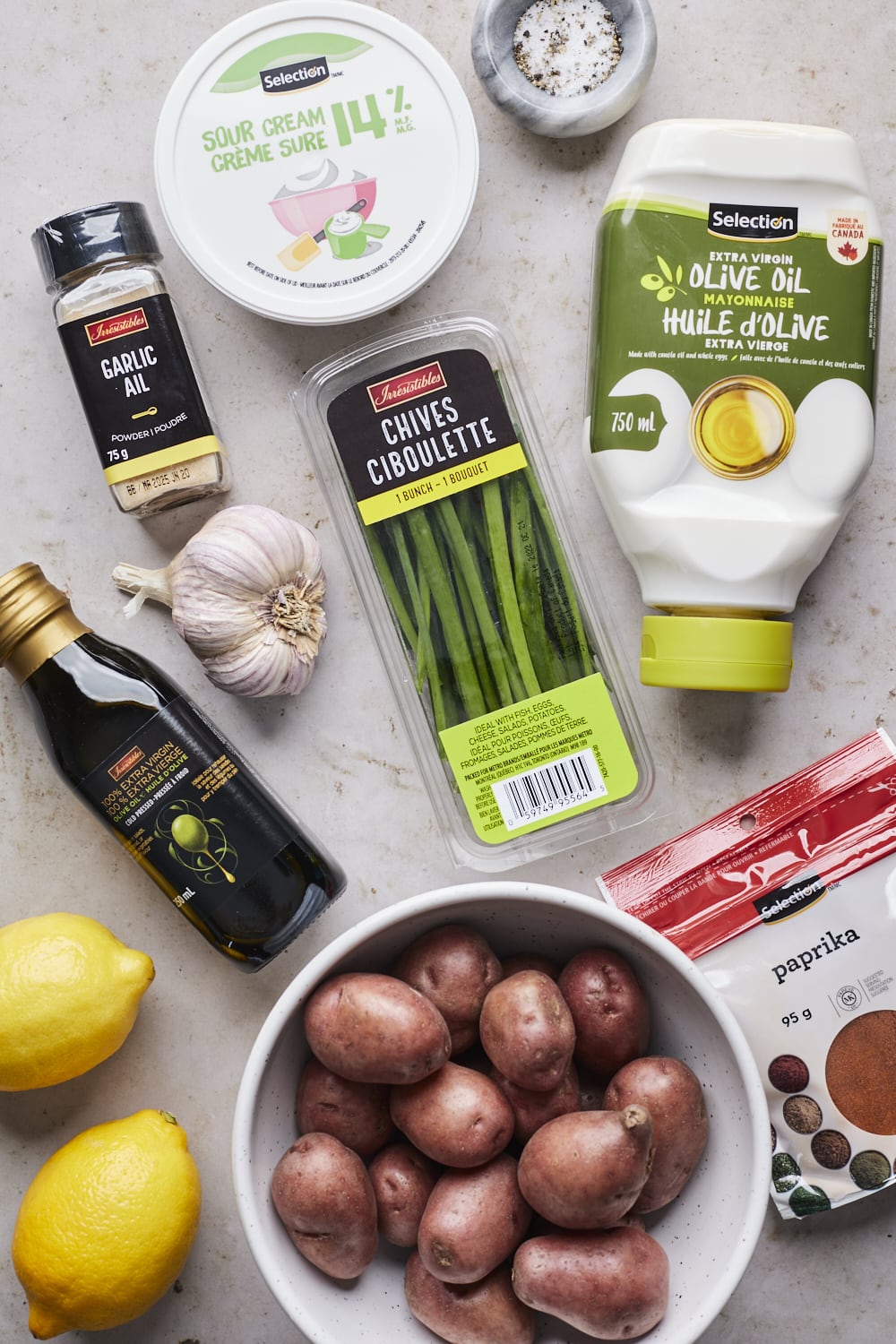 How To Make Crispy Smashed Potatoes:
Boil - boil potatoes until a knife can pass through them easily - if the skin splits a bit that is ok just don't over boil them. I would say start checking them after the 15 minute mark. Once done drain them and allow them to dry off a few minutes before placing them on baking sheet - do not overlap the potatoes or stack on Sheetpan
Smash - use a large fork, potato masher or the bottom of a small glass to press down on each potato individually and mash it flat - thinner creates a crispier potato and thicker a fluffier inside - neither are wrong or right just smash to preference.
Dress - I like to brush the potatoes with the olive oil blended with the spices so that all get evenly coated with the mix but you can also just drizzle them with olive oil and sprinkle with the spices.
Bake - make sure your oven is preheated and then bake potatoes until they are deeply golden and edges are crisp - you can flip them half way but I find if you have a good Non stick Sheetpan that has been greased that flipping them is not necessary - its optional.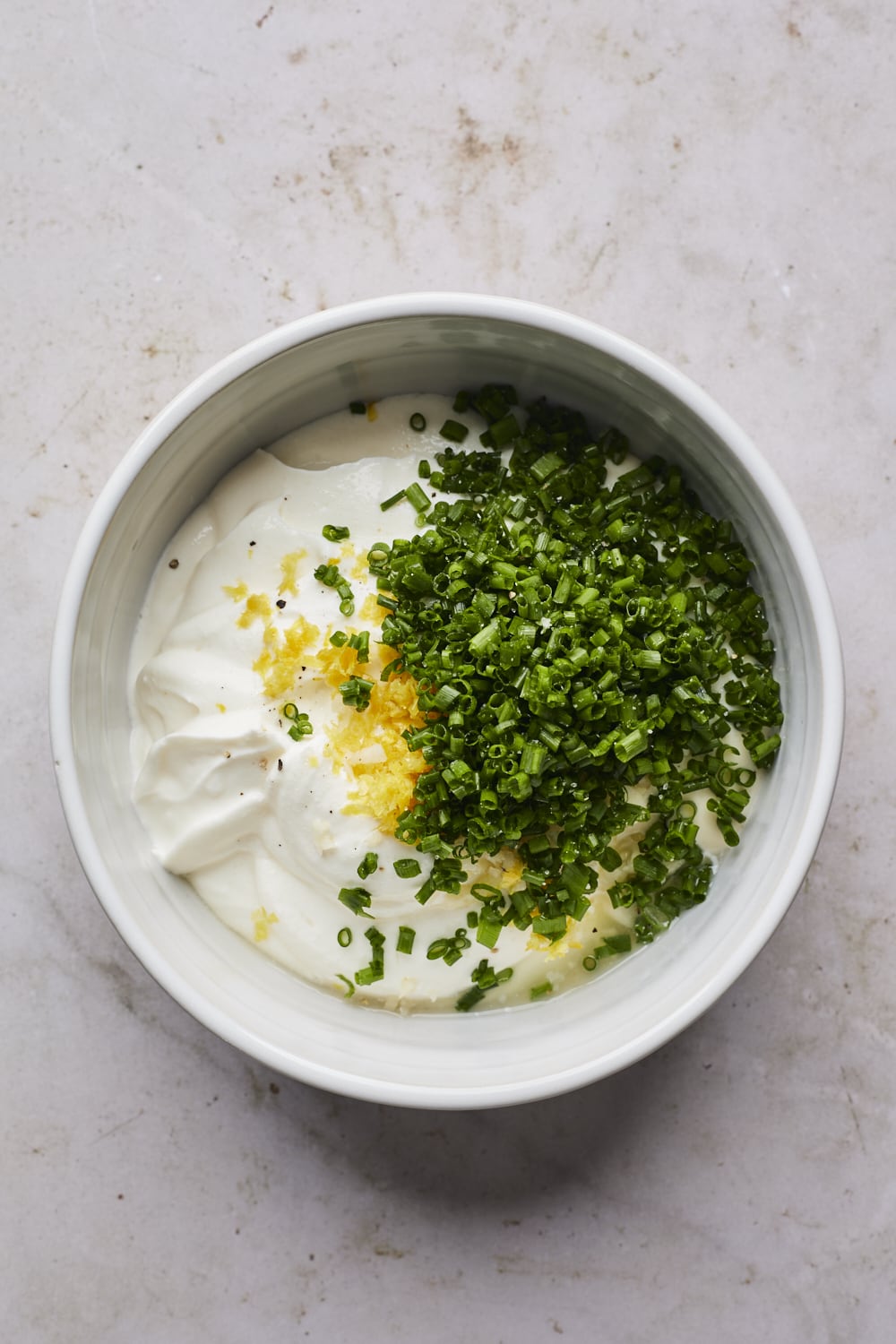 Tips For Making Super Crispy Smashed Potatoes:
Make Sure your oven is preheated and has reached the proper temperature to ensure the potatoes go in a very hot oven
Don't over boil potatoes
Let the potatoes drain well after you boil them allowing them to sit a few minutes to dry off
Give potatoes their own space on the baking sheet - do not stack or overlap them on sheet pan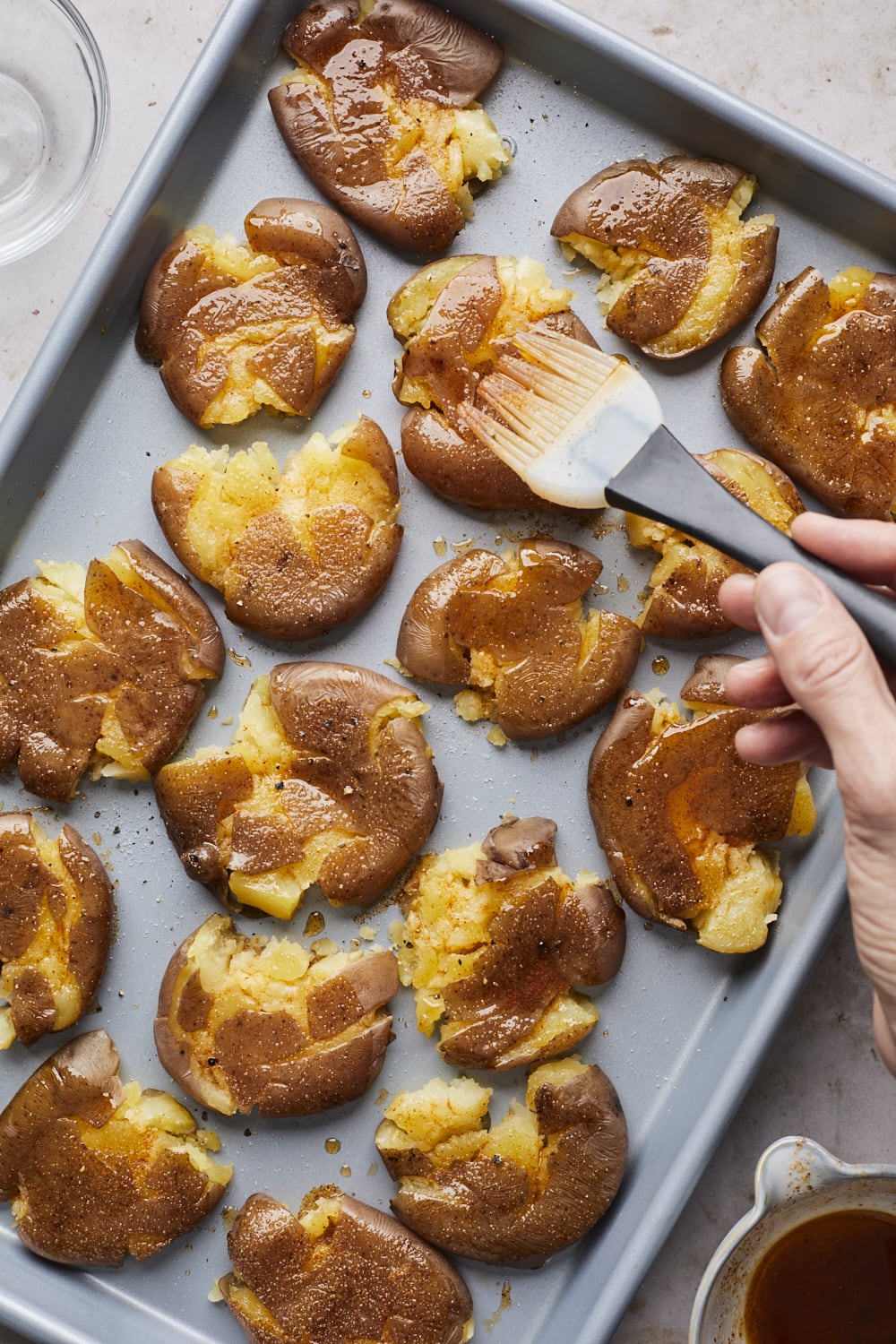 Can Smashed Potatoes be Made Ahead:
Yes, smashed potatoes or at least a portion of the recipe can be made ahead saving you some time. You can boil the baby potatoes a day or two in advance and once they are cool store them in and airtight container or bag until you are ready to bake them off. Remove them from the refrigerator while you preheat the oven so they come to room temperature or you may have to bake them a few minutes longer as they will be going in the oven cold otherwise.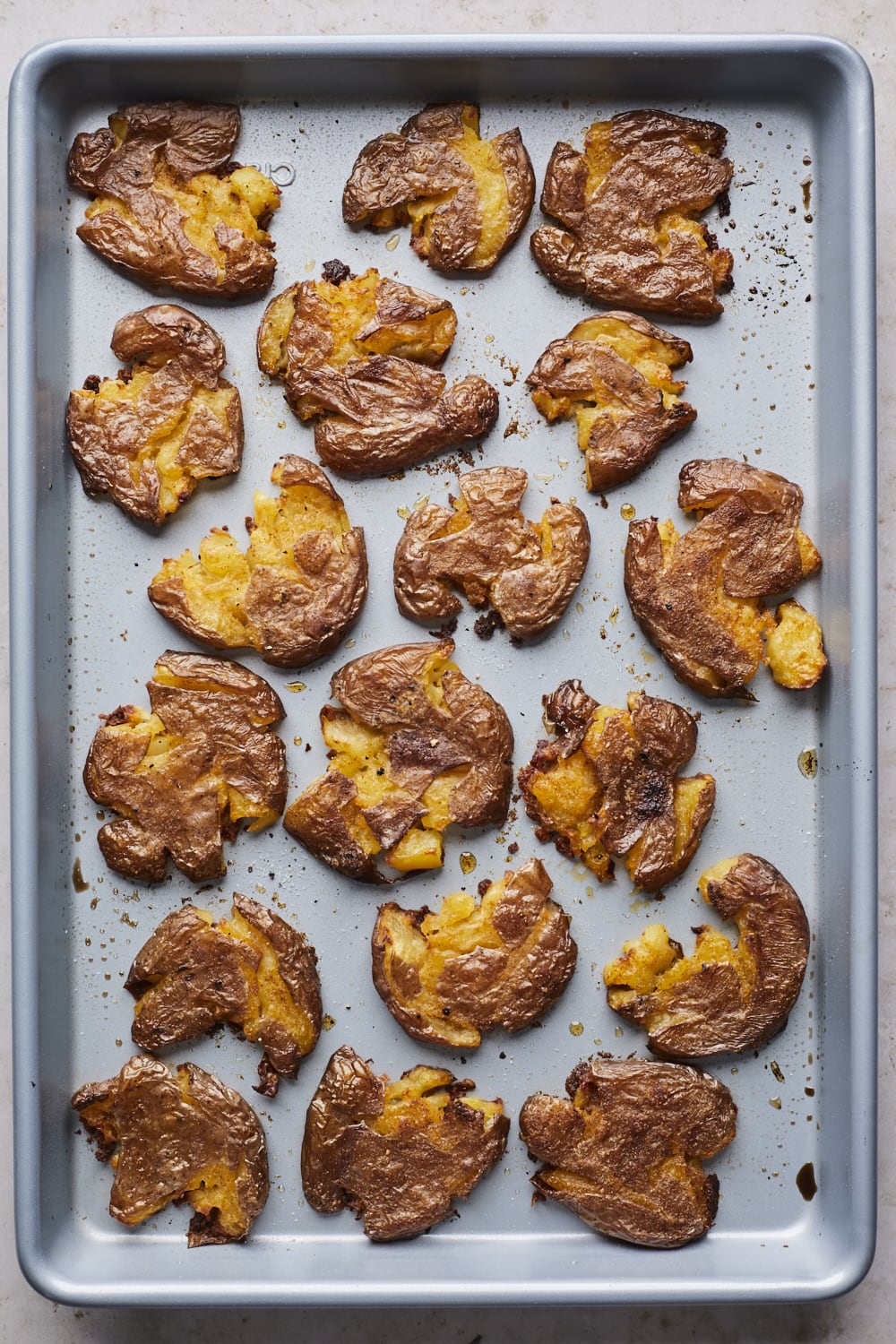 Storage
Smashed Potatoes - leftovers (if there are any) can be stored in an airtight container in the fridge for 3-4 days but they will not stay crispy.
Sour Cream and Chive Dip/Sauce - sauce can be made a day ahead and stored in the fridge and left overs will keep 2 days in an airtight container in the fridge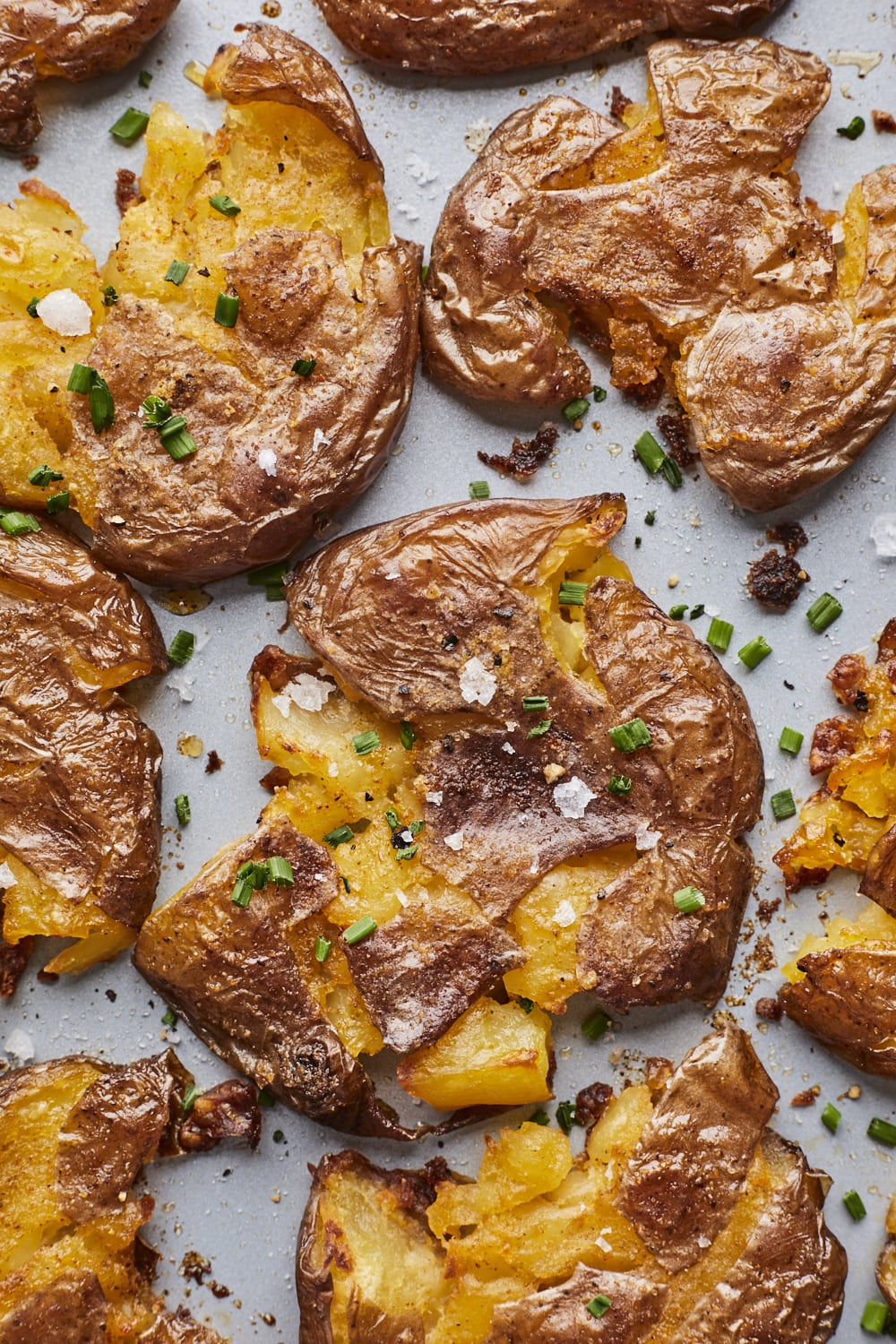 If you Love This Potato Recipe You will Love These:
Recipe
Prep Time: 10 mins
Cook Time: 50 mins
Ingredients
Sour Cream & Chive Dip
1 cup sour cream

¼ cup Mayonnaise

½ cup chives finely chopped

1 clove garlic minced

1 teaspoon grated lemon zest

1 tablespoons lemon juice

Salt and pepper to taste
For the Smashed Potatoes
24 oz mini potatoes (1½ pounds)

3 tablespoons extra virgin olive oil

½ teaspoons paprika

1 teaspoon garlic powder

¼ teaspoon salt and pepper or to taste
Directions
For the dip, mix all ingredients in a medium-sized bowl. Chill until ready to serve.
Bring a large pot of water to boil - salt the water generously. Add potatoes and cook for 15-20 minutes, until fork tender. Drain and cool.
Meanwhile, preheat oven to 425°F and lightly grease a large non stick baking sheet or sheet pan
Arrange potatoes on the baking sheet and use the bottom of a glass or potato masher to gently press down on potatoes until they are ¼-inch thick.
In a small bowl, mix together the olive oil, paprika and garlic powder and brush the potatoes with oil. Season the potatoes generously with salt and pepper.
Bake in the oven for 30-40 minutes, flipping halfway through (optional), until the potatoes are nice and golden and crisp to your liking.
Transfer to plate and top with fresh herbs, and serve with sour cream and chive dip.