Curried Chickpeas With Spinach and Tomatoes
This curried chickpea and spinach dish is uncomplicated, quick to whip up and so tasty. When the temperature drops and the air has that chilly bite, this is the perfect way to warm up. This quick curried chickpea recipe is warming, hearty, delicious and just the simplest dish to make. We make a version of this once a week especially if I'm home from the office late - it's super quick to make and ultra satisfying. You can use whatever your favorite curry blend is. You can use a homemade blend or prepared one. I love using Thai curry in this recipe but any curry blend works.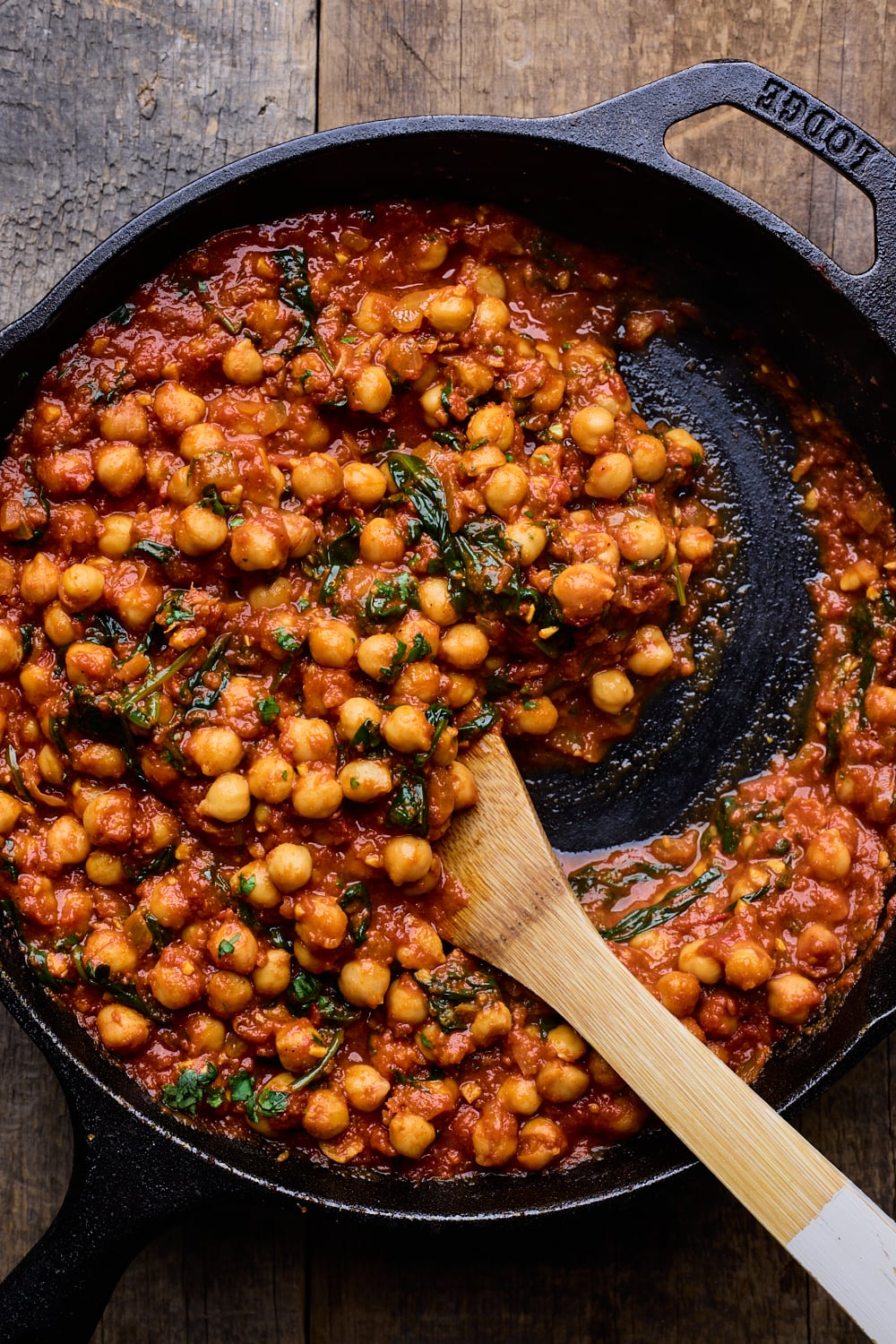 How to make curried chickpeas with spinach?
Once you have your curry blend it's as easy as sautéing your aromatics, then simmering the spinach and the chickpeas in a tomato based sauce until they are tender and sauce has reduced. The spices are fragrant and delicious - and are really what make this dish what it is. The chickpeas are super satisfying and the spinach is packed with nutrients. It's in the 'curry in a hurry' category of curries and perfect for a quick and easy midweek meal that can easily be enjoyed with rice or flatbread or both.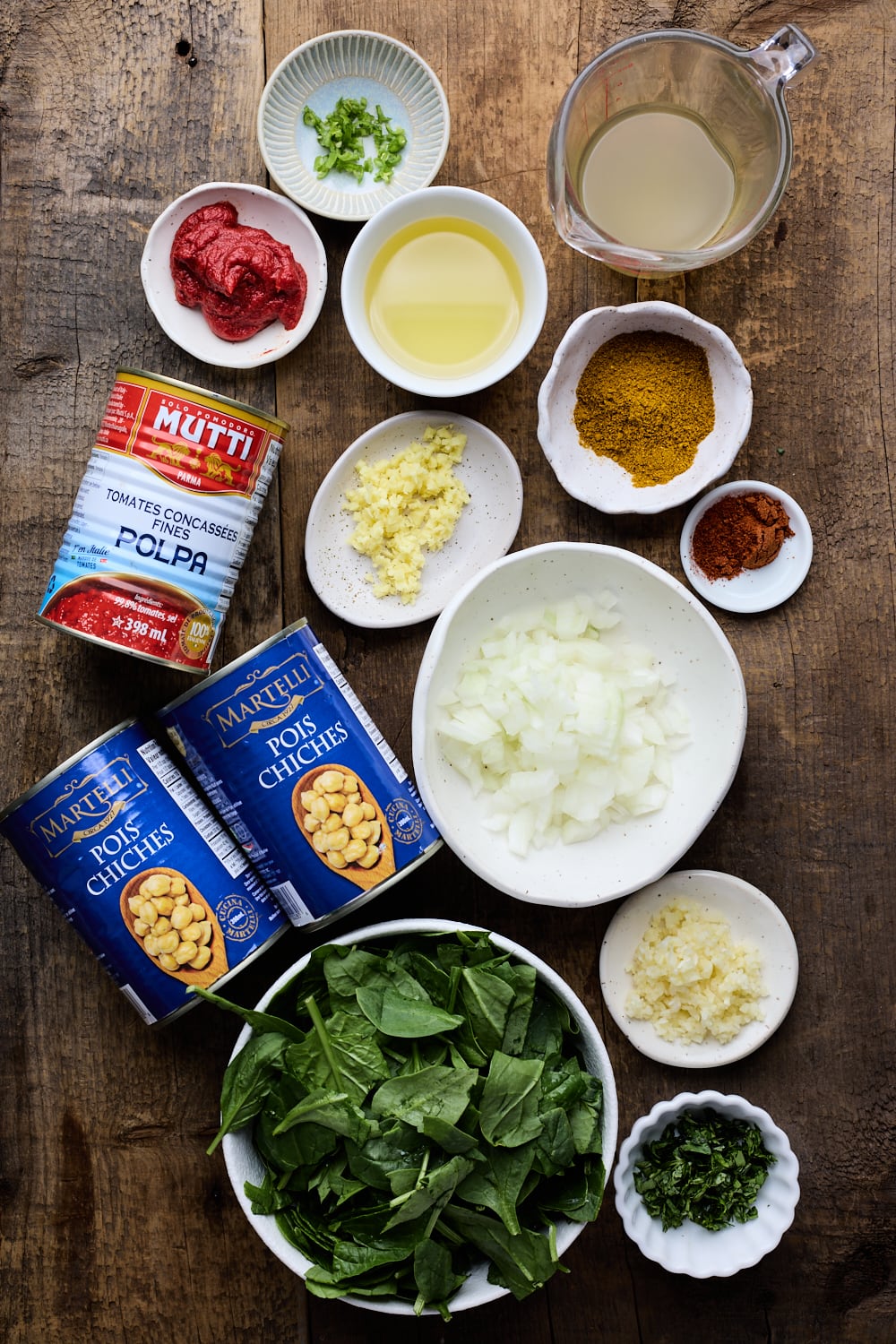 I finally got this recipe on paper and on the blog in collaboration with the Mc Master Silhouette (Hamilton's university newspaper). I was asked to share a 'student-friendly' recipe with simple ingredients that are easily accessed by them. This is definitely one of those recipes. It was featured on the front page of the newspaper and the full recipe was included in the inside article along with some very kind words by the editor about the blog and our work. I think the students will love it and I know you will too! Here's the link to the article online if you wanted to check it out.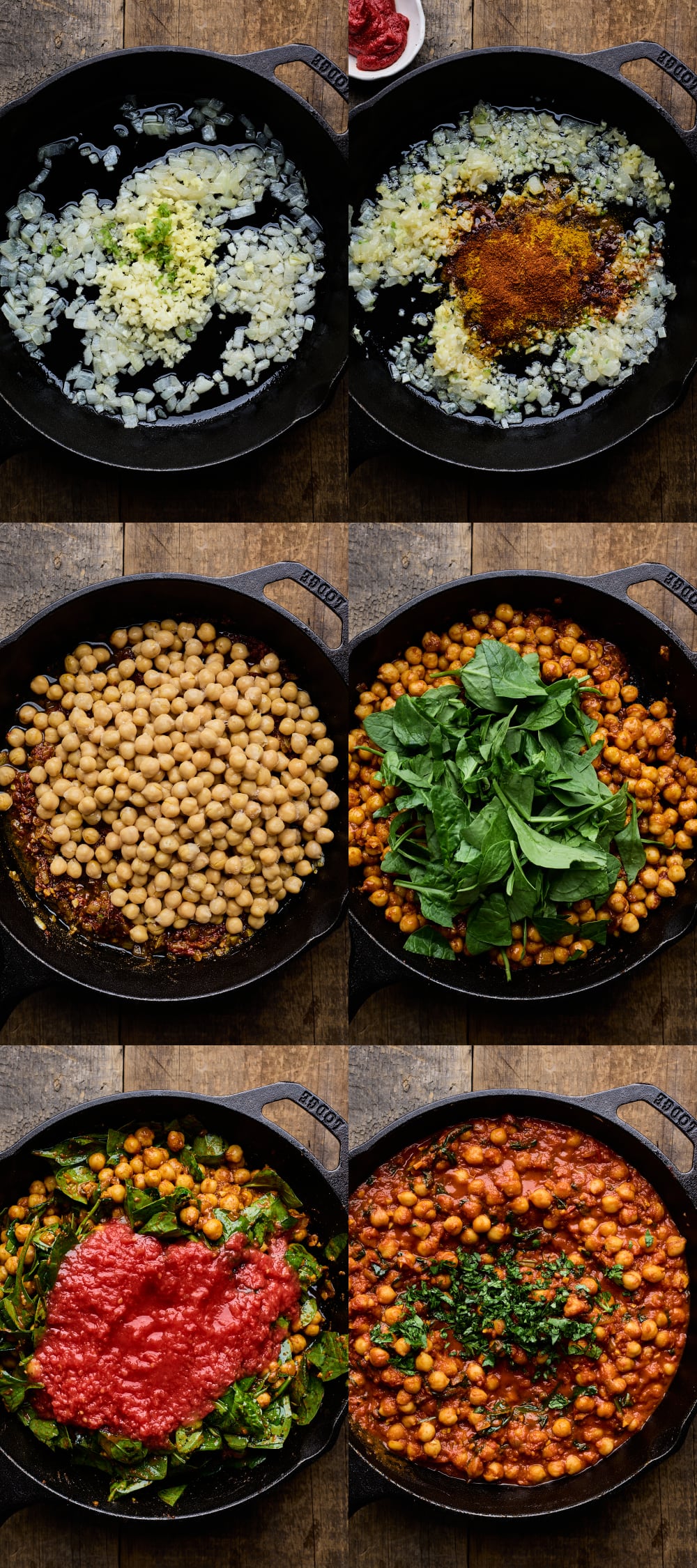 It's one of those dishes that tastes better the next day. The flavours seem to develop more over night so make sure and make a little extra cause you will want to be enjoying leftovers the next day. It also freezes marvelously so that is even more reason to make a little extra to add to your freezer stash and meal prep roster.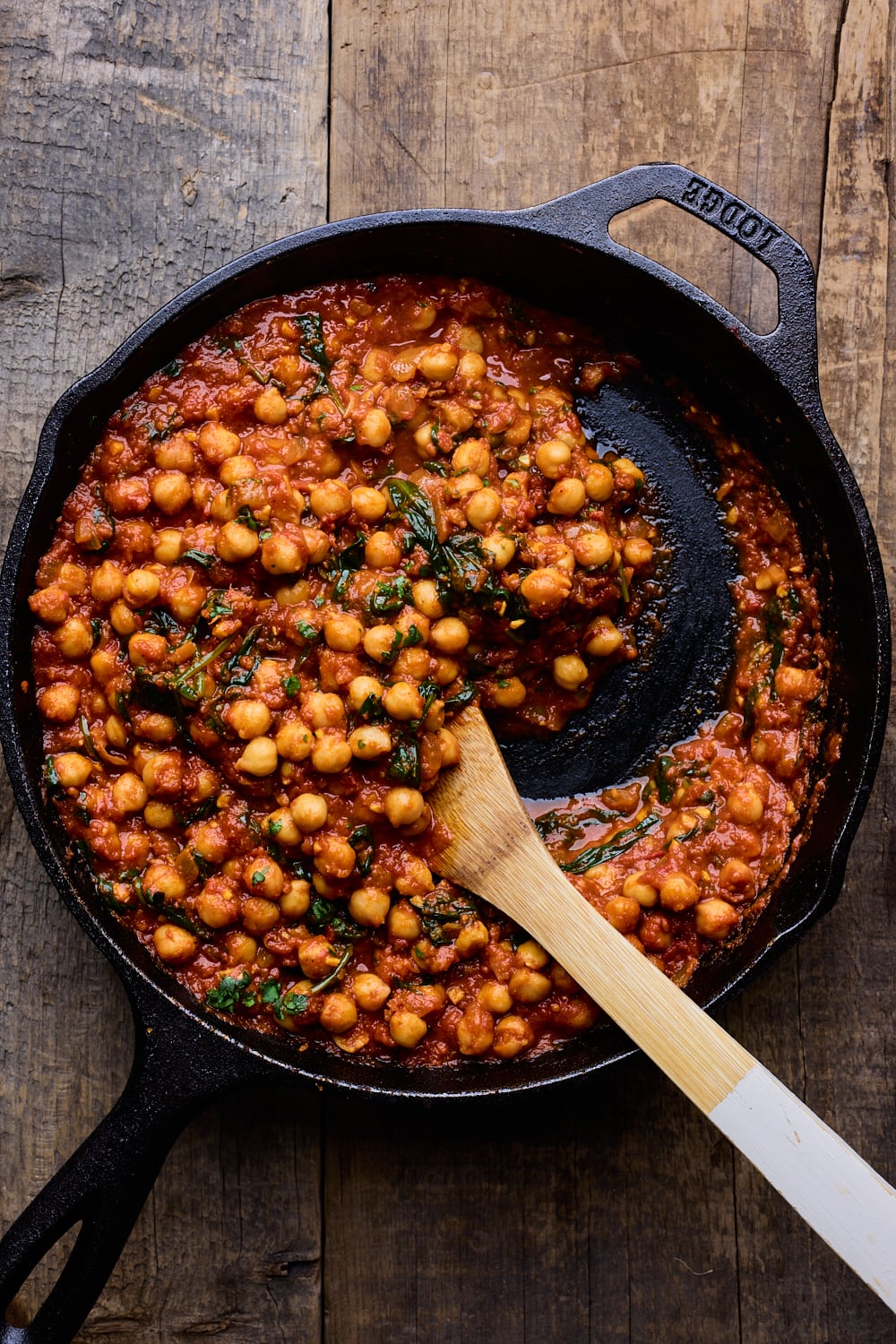 This is a great staple recipe made with mostly pantry items. It's one of those back pocket recipes that's great to pull out when you have very little time to prep a meal or when you are tempted to order take-out but don't want to spend the money and want a low effort but delicious meal. It is also so versatile too. If you wanted to make it creamier you could add some coconut milk to it and if you did want to add meat you could do that too. All you have to do it sauté it separately or first before adding the onion, garlic, chili and ginger. You could add more veggies or replace the spinach with kale too. There are many ways you could doctor this up to suit your taste. That's why I call it a staple basic recipe that is fabulous as is but that you can also get creative with so give it a try and have fun with it!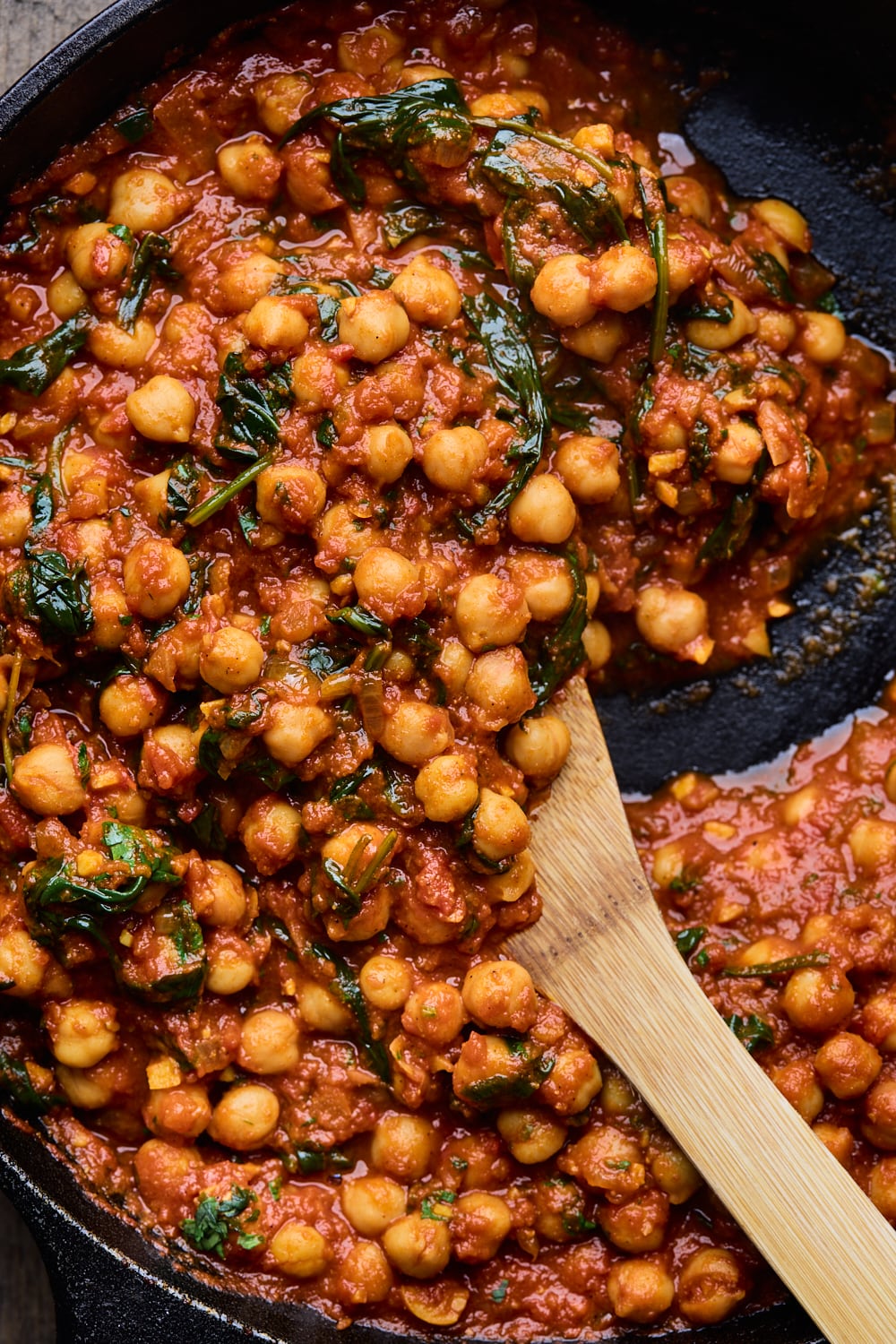 Recipe
Prep Time: 5-10 mins
Bake Time: 20 mins
Ingredients
3 tablespoons olive oil

4 garlic cloves, chopped

1 red chili, coarsely chopped (optional for some heat - alternatively use ½ tsp of dried chili flakes - if using fresh scrape out seeds for less intense heat)

1 inch piece of ginger, peeled and finely chopped or grated

8 oz fresh or frozen chopped spinach, washed and drained if needed

1 onion, peeled and finely chopped

1½-2 tablespoons curry powder (any curry you like - I used red Thai curry powder)

1 teaspoon ground chili powder

1 tablespoon tomato paste

One 19-oz can chickpeas, drained and rinsed

28-oz can whole peeled tomatoes or diced with their juices

¼ cup fresh cilantro plus more for garnish (optional)

Salt and pepper to taste

Flatbread/naan or steamed white rice, for serving
Directions
Heat oil in a large skillet over medium-high heat.
Add onion, garlic, chile, and ginger; sauté until fragrant and softened, about 3-4 minutes
Add the curry powder and the chili powder and continue to sauté with the onion mixture for one minute more.
Add the tomato paste and continue to cook it stirring it in with the curry and onion mixture for another minute.
Add ¼ cup of water to the skillet along with the spinach and continue to sauté for a few minutes until the spinach has wilted.
Add chickpeas and tomatoes with juices, squeezing tomatoes with your hand as you add them to pan or use the back of your wooden spoon to break apart in the pan (if using whole), and another ½ cup water.
Season with salt and pepper and simmer until tomatoes are broken down and sauce has thickened, about 10-15 minutes or more depending on how thick you want the sauce.
Remove from heat and serve with rice and/or naan bread
Recipe notes
To freeze, portion out into meal prep containers, cool completely, then freeze for up to 2 months. Thaw overnight in the fridge, then reheat until steaming hot in the microwave or stove top.
To add some creaminess to this dish you can serve it with a dollop of yoghurt, or you can swirl in some cream or coconut milk to the dish right before it comes off the heat for extra richness.
Recipe adapted from Bon Appetit