Dakos – A Fantastic Greek Bruschetta
A delicious Cretan meze or small plate of crispy barley rusks topped with tomatoes, feta, olives, capers and a good drizzle of olive oil. Simple - but just like its Italian counterpart, mouthwateringly good. It's a dish that needs a little patience as the rusks need a few minutes to soak in the juices from the tomatoes and the olive oil to soften enough to bite through. It's worth the wait I promise. Have no fear if you have no rusks, this dish can easily be enjoyed with crostini or even some grilled or toasted sliced baguette. I'm partial to barley rusks though and if you can get your hands on Cretan style barley rusk definitely grab them. These oven-dried crisp-breads made with barley, are sweeter, nuttier and more crunchy than their wheat-only counterparts and I love them!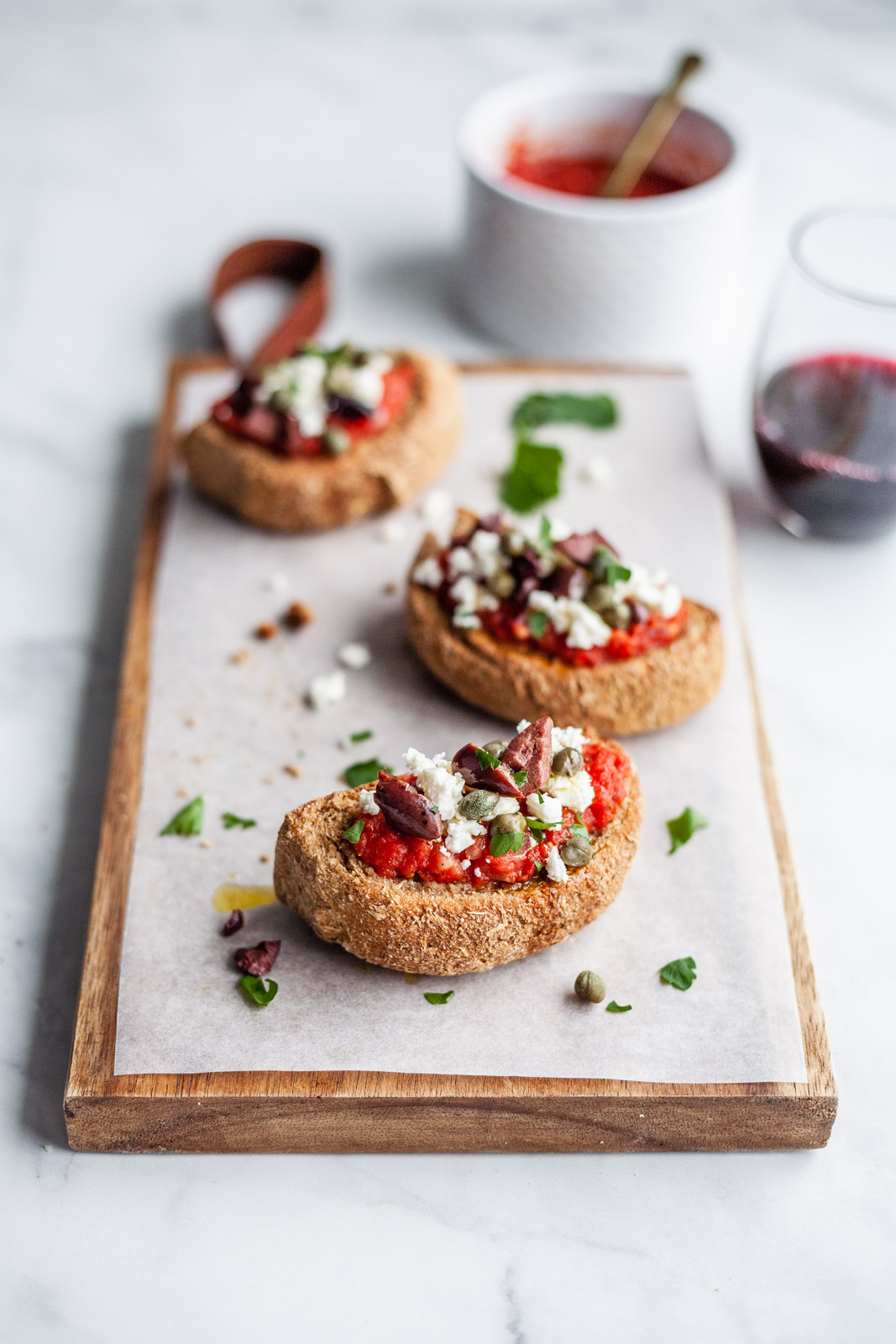 The first time I had this meze was in Santorini not in Crete. It was at a beachfront winery where we enjoyed seeing and hearing the waves of the sea just a few feet away from us while we enjoyed our wine tasting that came with this Cretan delight. They were the perfect accompaniment to our wine. The winery had attachments to a tomato paste and purée company on the island and used the purée in this dish as opposed to fresh. Santorini is known for having some of the smallest and sweetest most concentrated tomatoes due to their growing conditions and the climate on the island. Anyways we got to sample some as well with the wine tasting and I just couldn't stop eating their purée by the spoonful. Regretfully I didn't think to bring any back home with me.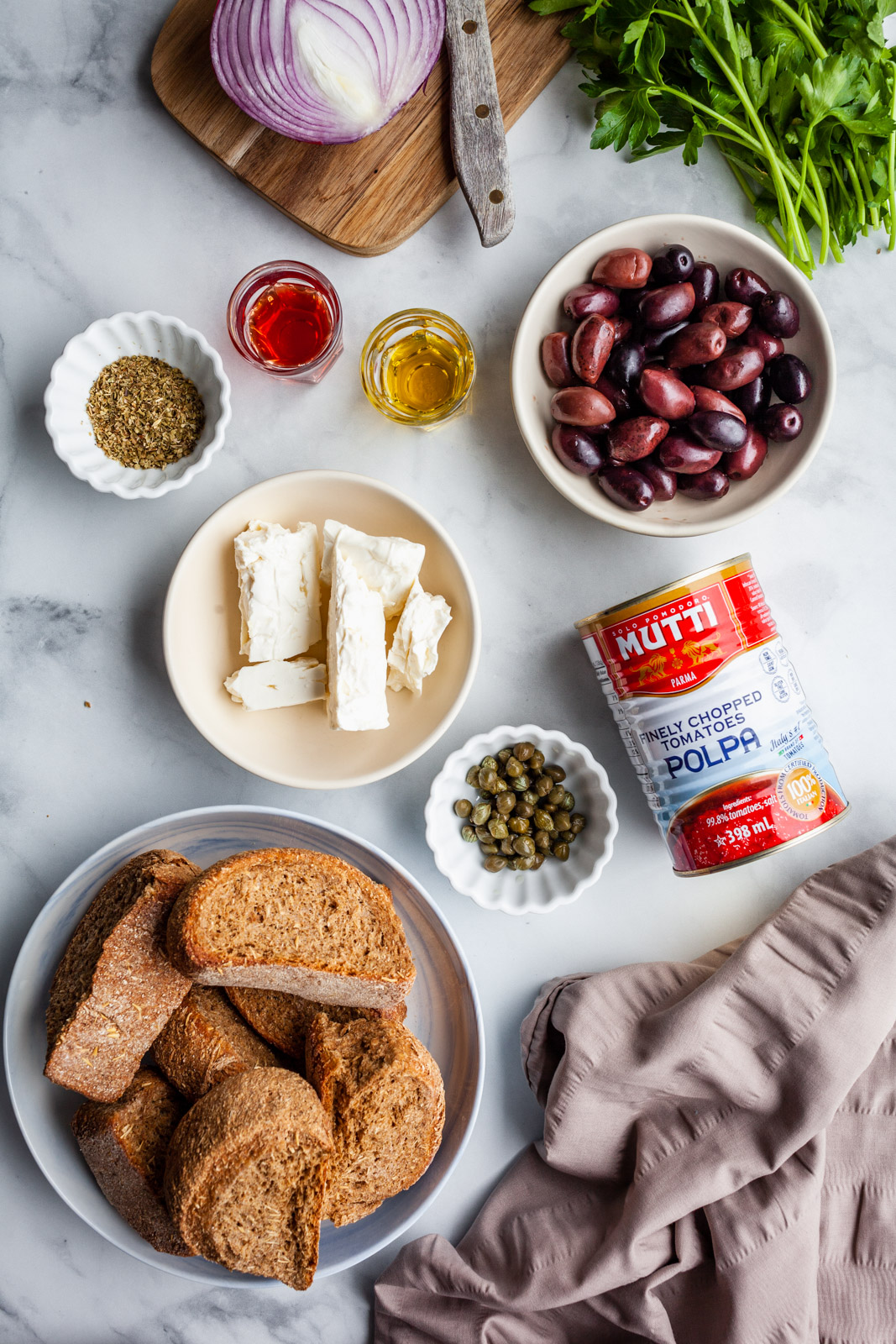 That was a few years ago and sadly we haven't returned to Greece since, not yet at least, and to this day I haven't tasted anything compared to it except for the first time I tried Mutti products. For over 100 years Mutti has been offering the highest quality tomato products ensuring their tomatoes are picked and painstakingly selected at their ripest point and processed naturally with no preservatives within 24 hours of picking. That is why they have the most unmistakeable fresh flavour. I can eat the paste and finely chopped tomatoes straight out of the tube and can! Mutti is a brand I have loved since discovering them. Their care and integrity to maintaining the highest quality tomato products and their authentic flavour are what set them apart from any other company.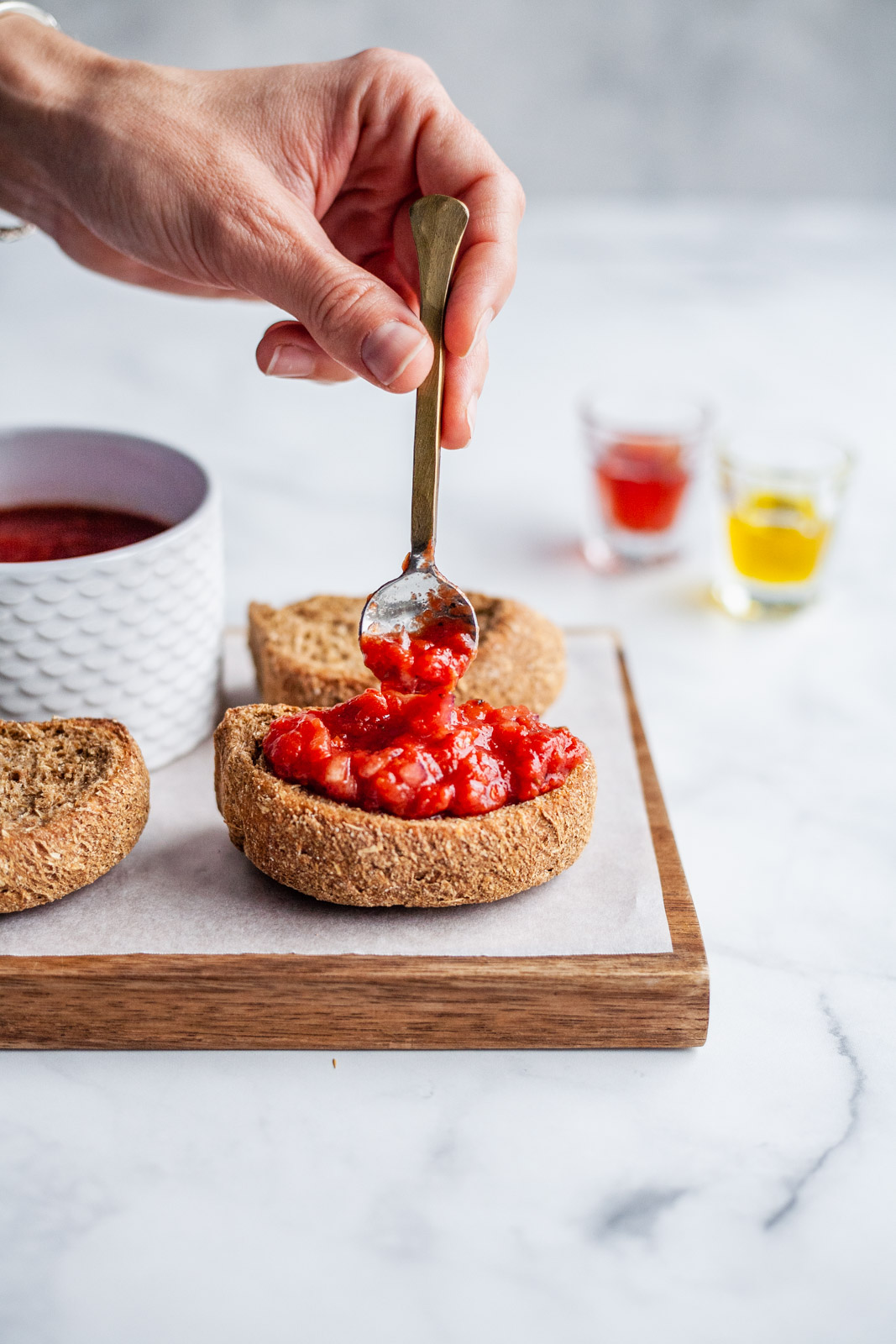 That being the case, I knew what I was making with my Mutti Finely Chopped Tomatoes (Polpa). Usually dakos is made by grating fresh tomatoes. I remember the winery in Santorini didn't use fresh - they used tomato purée . I made it with Mutti Finely Chopped Tomatoes (Polpa) and after the first bite, I was transported to the seaside enjoying my wine and island views. It's the most simple appetizer to make and is the perfect match with the fresh taste of Mutti Finely Chopped Tomatoes (Polpa).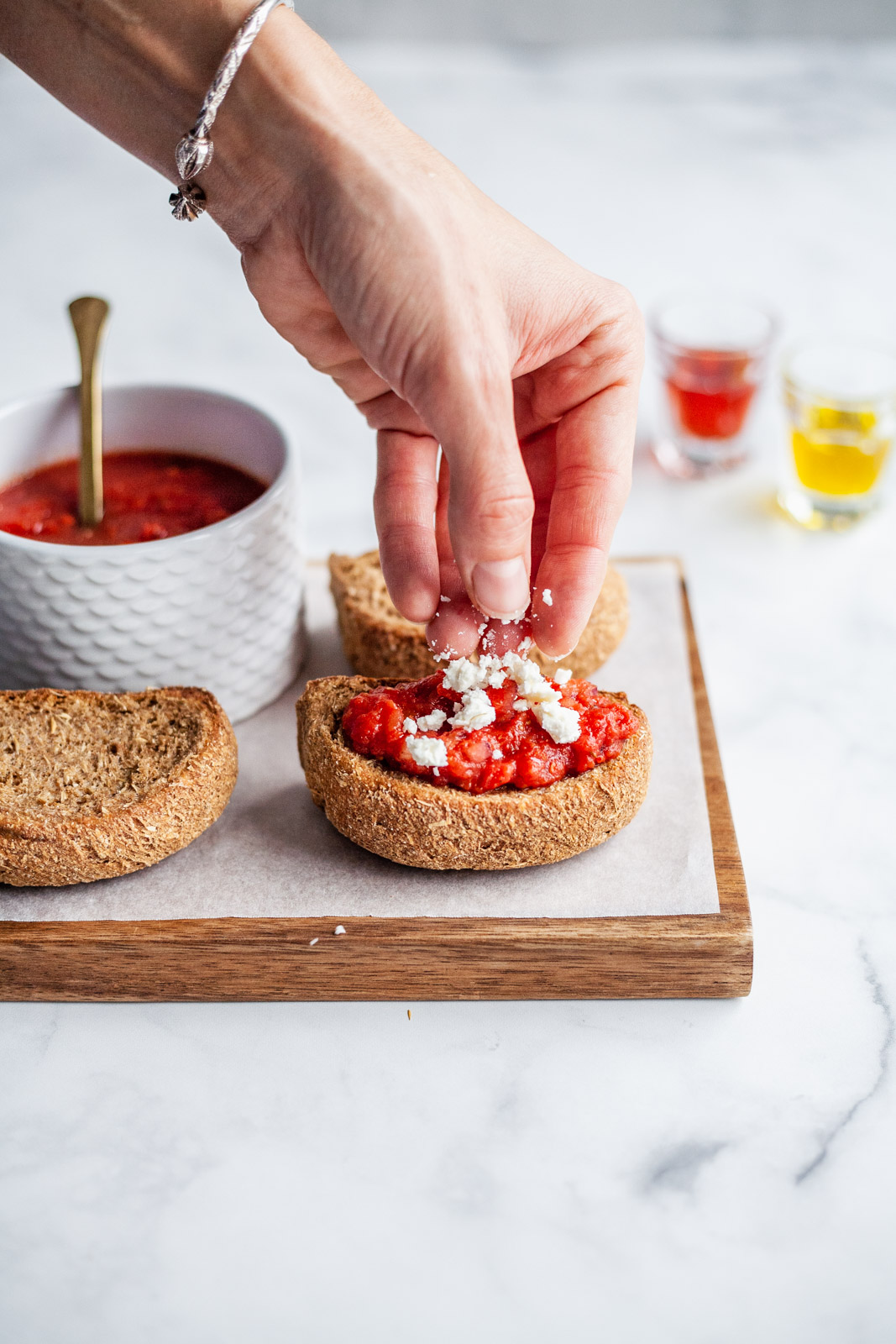 There are several versions of this dish. I made mine reminiscent of the one I had in Santorini. Authentically it's made with mizithra cheese but as fabulous as mizithra is, it isn't as common to find as feta is. That is why I chose to make mine with feta. I have seen this dish made into a panzanella style dish and I thought that was pretty genius, as rusks are basically double baked larger croutons. If you wanted to make it panzanella style, just crumble the rusks into a bowl and layer the ingredients over the large rusk crumbs then toss and serve.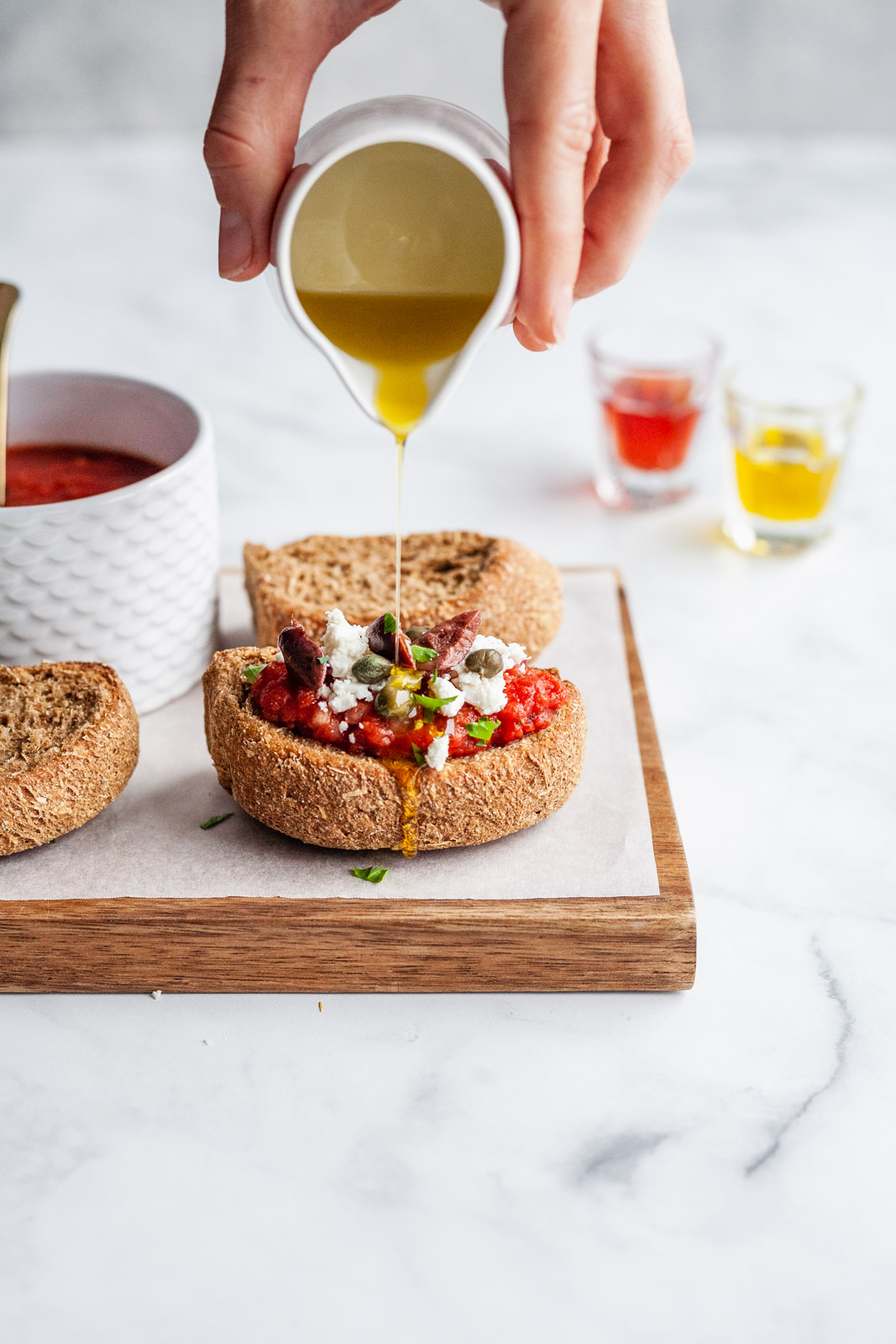 Whatever way you decide to serve this fabulous dish, you will love it whether you are having it as a snack, serving it as an appetizer making it dinner. The salty cheese and briny olives and capers are the perfect garnishes and add even more layers of flavour. You will absolutely love them. Don't let the lack of fresh and ripe, in-season tomatoes stop you from making them. Use Mutti Finely Chopped Tomatoes (Polpa) and enjoy this favoured Cretan dish all year round. Get more information about their wonderful products, along with where you can get them and for more ways to enjoy them at Mutti.ca. They have a handy store locator to help you get your hands on all of their products.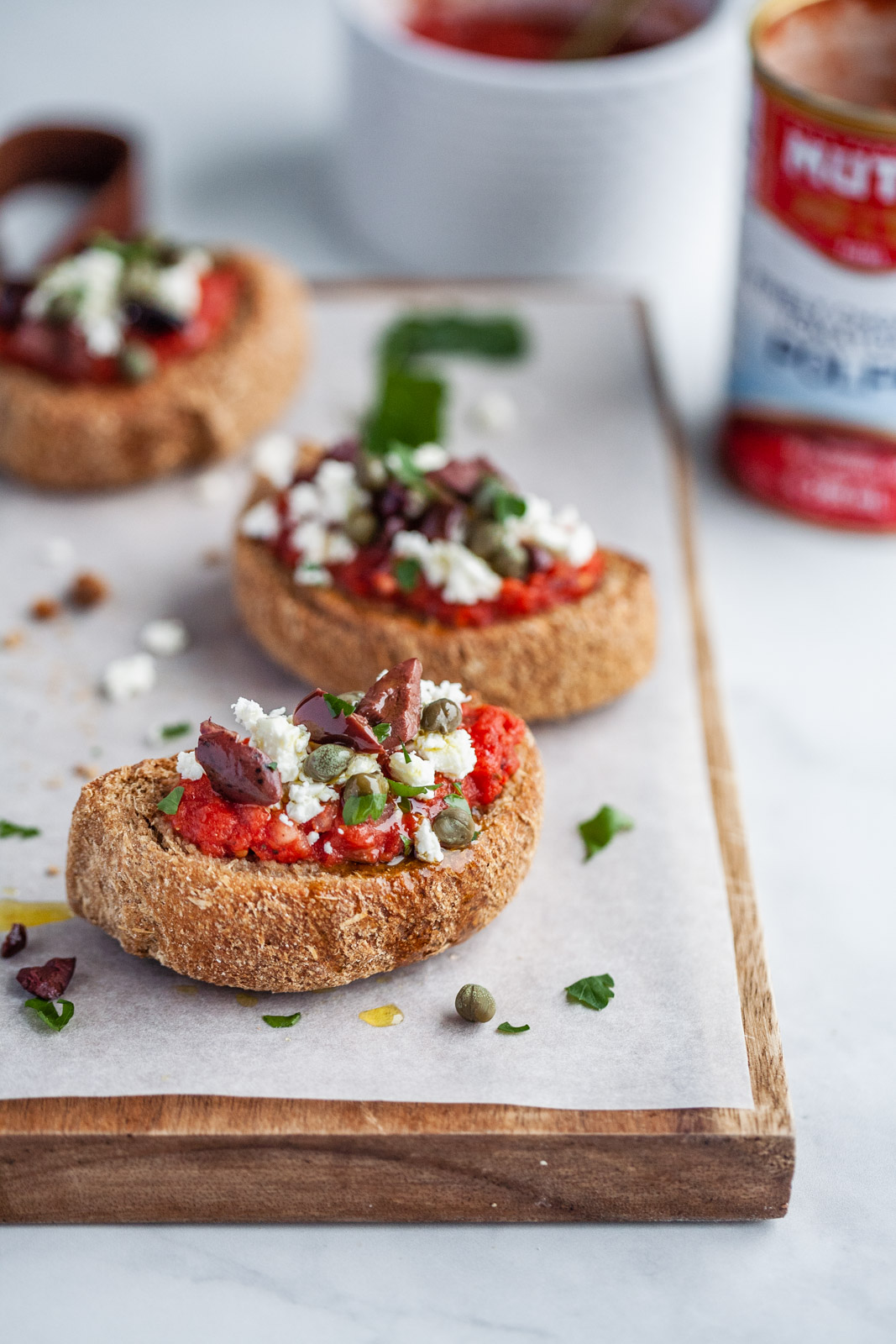 This is a sponsored post for Mutti. All thoughts and views are my own. Thanks for supporting the brands that make The Olive & Mango possible.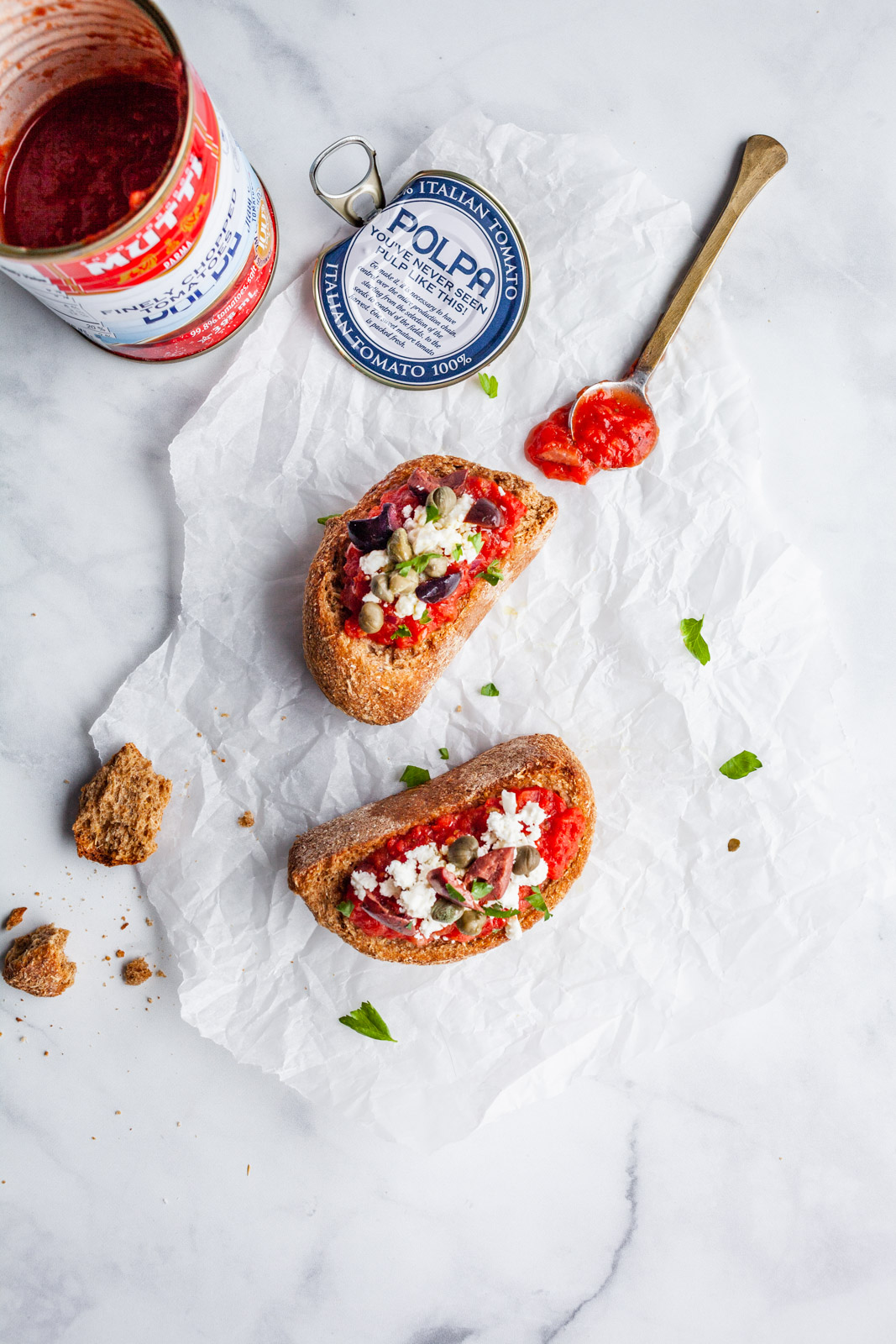 Recipe
Serves 4-6
Ingredients
398 ml can of Mutti Finely Chopped Tomatoes (Polpa)
½ red onion, peeled and diced finely 1 tbsp red-wine vinegar
¼ tsp of oregano
6 Cretan barley dakos (or other rusks or alternatively sliced toasted baguette/crostini)
Household Staples
Salt and black pepper to taste
1 tbsp olive oil, plus extra for drizzling after
Garnishes/toppings
½ cup of crumbled feta (less or more to taste)
8-10 black olives, pitted and halved
2 tbsp of capers, drained and whole or very roughly chopped
¼ cup chopped fresh parsley
Directions
In a medium sized bowl place the tomatoes, onion, vinegar, two tablespoons of oil and stir in the oregano and salt and pepper to taste and set aside.
Spread out the dakos on a large platter and spoon the tomato mixture on top.
Sprinkle over the feta, olives and capers, and top with parsley and drizzle over with more olive oil.
Leave to sit for five minutes before serving to soften the rusks if using. If using crusty baguette instead serve immediately after spooning on the mixture as it doesn't need to soften prior to eating.