Drop Biscuit Chicken Pot Pie
Updated 22nd November 2023
A comforting meal that is perfect for fall and winter when out come the warm clothes and you start preparing your favorite cool weather themed recipes. When you crave hearty and creamy dishes like this that warm the belly and can be served right out of the skillet. I decided to switch things up for the pot pie topping. Instead of doing a puff pastry crust or a pie crust covering, I decided to do a drop biscuit topping. I love a quick and easy drop biscuit recipe and I wanted to keep these biscuits light fluffy and buttery. This chicken pot pie recipe is creamy, hearty filling topped with fluffy and buttery biscuits. Pull it out the oven, place it on the table and dig right in to this classic comfort food.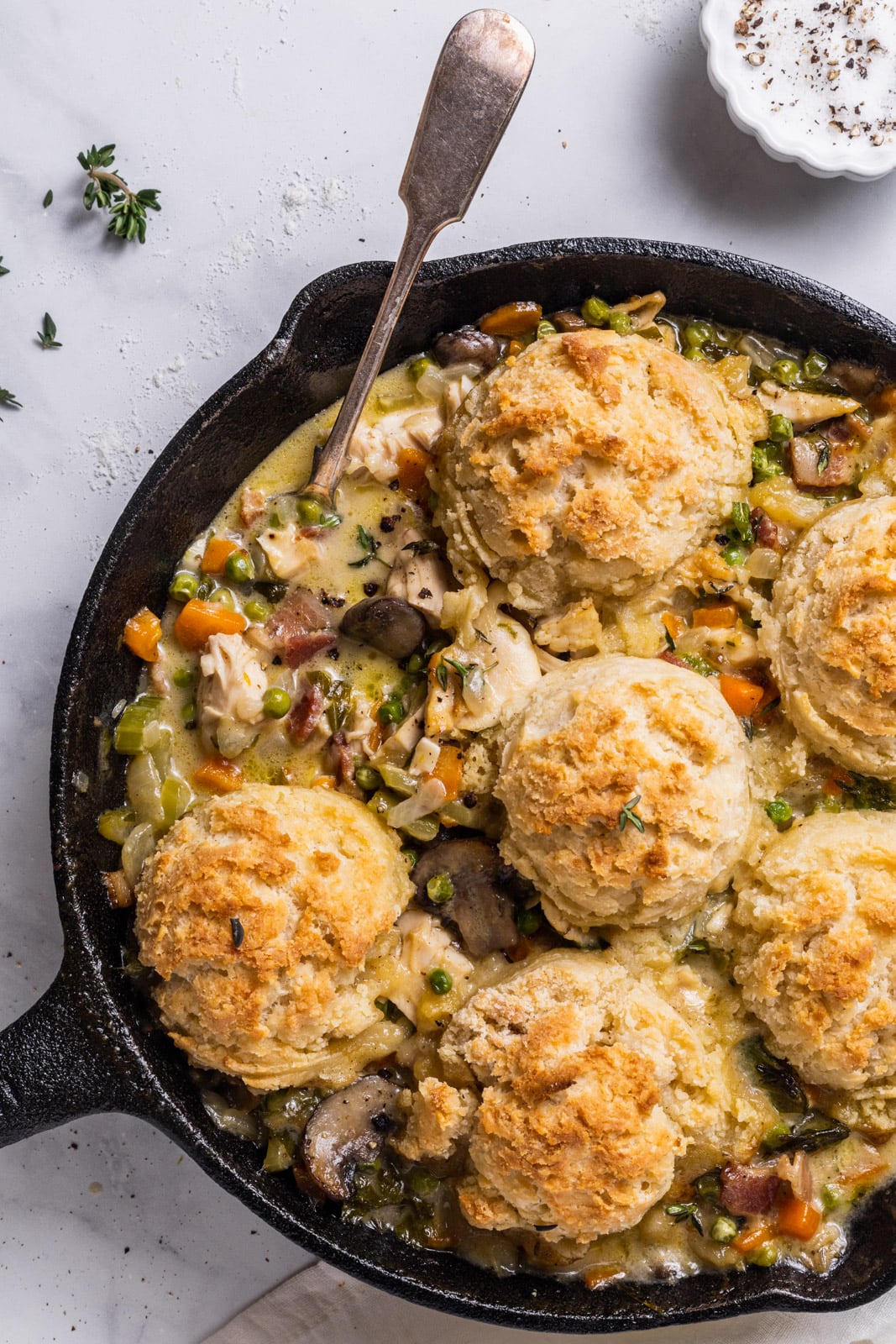 Chicken Pot Pie With Biscuits Recipe Ingredients
The pot pie filling is loaded with flavour. I use bacon in my pot pie to start the first layer of flavours. The rest of the ingredients cook with the bacon and with the bacon fat building on those flavours. I love to add mushrooms to the usual mirepoix mix of carrots, celery, onions and garlic. They add a delicious meatiness and I just love them in it. Here is the breakdown of all the ingredients:
BACON: Bacon is optional but I like to start the dish off by cooking bacon which adds a layer of flavor to the dish. If you do not want to use bacon you can use pancetta or prosciutto or omit and simply use 3 tablespoon olive oil of butter
CHICKEN: You will need 2 chicken breasts or 3 cups cooked shredded or chopped chicken. I like to make this dish with leftover rotisserie chicken or leftover turkey from turkey dinner.
ONION & GARLIC: Use a yellow, white or red onion and use as much garlic as you like
CARROT & CELERY: These are basics for flavor and for a pot pie. Feel free to use more or less of each according to taste.
MUSHROOMS: I love mushrooms and I generally use cremini mushrooms but any sliced mushrooms will work here.
FLOUR: This will thicken the filling and you end up sort of creating a roux with it.
BROTH/STOCK: Feel free to use chicken broth or chicken stock or vegetable broth for the filling. I tend to use low-sodium chicken broth but regular is fine too.
MILK: I use whole milk generally but go richer and creamier with half and half cream or evaporated milk. I usually use ½ cup but if I want a bit of a looser sauce or filling I put in 1 full cup - adjust to taste and desired consistency. My hubby likes a thick creamy sauce/ filling not overly runny.
PEAS: I love adding peas to pot pie - if my hubby had his way the amount of peas would be doubled. Feel free to adjust amout to taste. I usually use frozen peas - no need to thaw them beforehand. If you are not a fan of peas- add some chopped frozen or fresh green beans, or chopped broccoli, or even fresh or frozen or canned corn
SPICES & HERBS: I kept things pretty simple with salt, black pepper, fresh parsley and fresh thyme (use fresh or Dried thyme) but you can switch things up or add more flavour by adding sage, rosemary, mustard powder, chili flakes, paprika, or even some cayenne pepper or poultry seasoning, seasoning salt. Adjust herb and spice quantities to taste.
FOR THE BISCUITS: These are buttermilk biscuits so you will need buttermilk (although you can sub for regular milk if you must), flour, butter, touch of sugar (granulated or brown), salt, baking powder and baking soda.
VARIATIONS: Feel free to switch up the herbs and spices for different flavour profile. Some chicken pot pies add 1 or 2 small diced potatoes to the filling when they add the broth and milk - you can do that but you will definitely need to add up to a cup or more broth for the potatoes to simmer in and cook. (I personally am not a fan of potato in pot pie so I never add potatoes) For the biscuits you can also add more flavour to them by adding 1-2 teaspoons of dried or fresh herbs of choice and even some minced garlic for an herb and garlic biscuit topping. Or you can even add ½ cup of grated cheese to the flour mixture for cheesy buttermilk biscuits. I use a little extra buttermilk, milk or cream to brush the biscuits with but if you prefer to use and egg wash feel free to whisk an egg and brush the biscuits with egg wash instead of the milk. I often like to deglaze the veggies with the flour with a splash white wine before adding the broth and milk for extra flavour - but that is optional.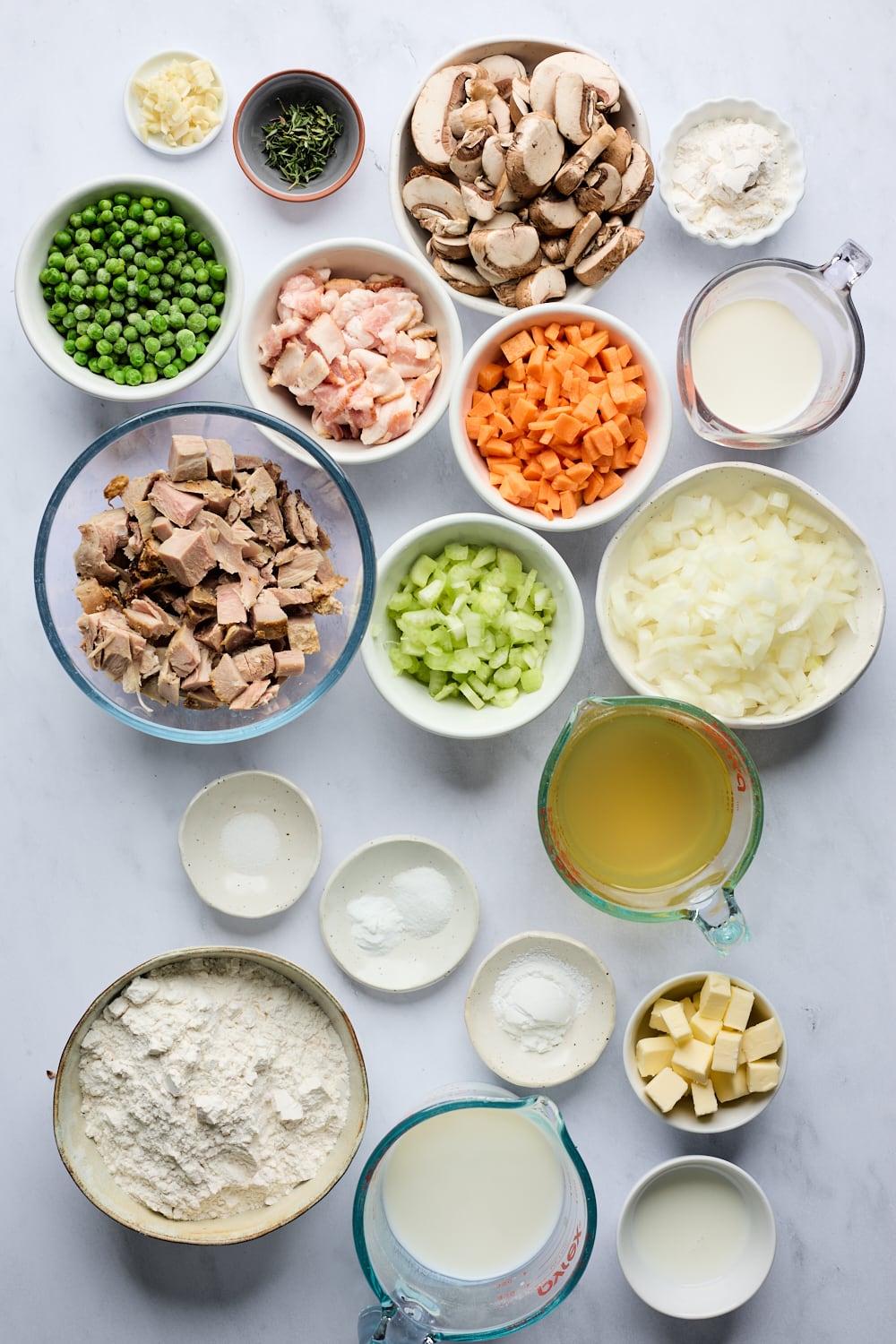 How To Make Easy Chicken Pot Pie With Biscuits (Full instructions in recipe card below)
Make Creamy Filling
SAUTE bacon then the chicken (unless you are using precooked) followed by the veggies until bacon is golden crisp and veggies start to get tender
SPRINKLE over the flour and stir cooking 1 min to make the 'roux'
DRIZZLE in the broth and milk or cream
SIMMER until sauce has thickened
STIR in the herbs and spices along with the precooked shredded chicken if using and the peas, simmer until everything is heated through and thickened then remove from heat and set aside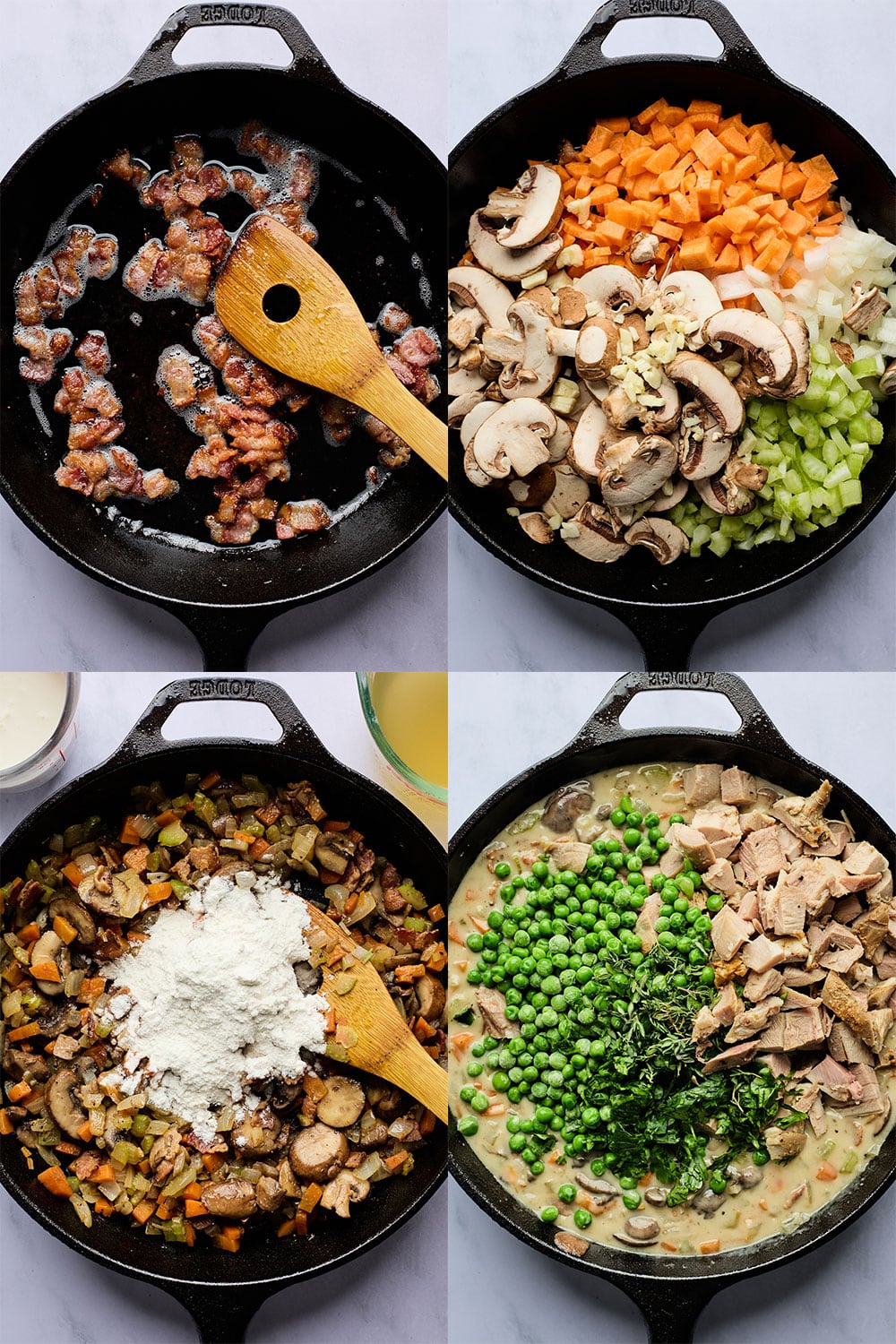 Make The Biscuits
WHISK together dry ingredients
CUT in the butter (see below for shortcut)
DRIZZLE in the buttermilk
STIR gently into dough
SCOOP over filling and brush with a little extra butter milk
BAKE until golden and bubbling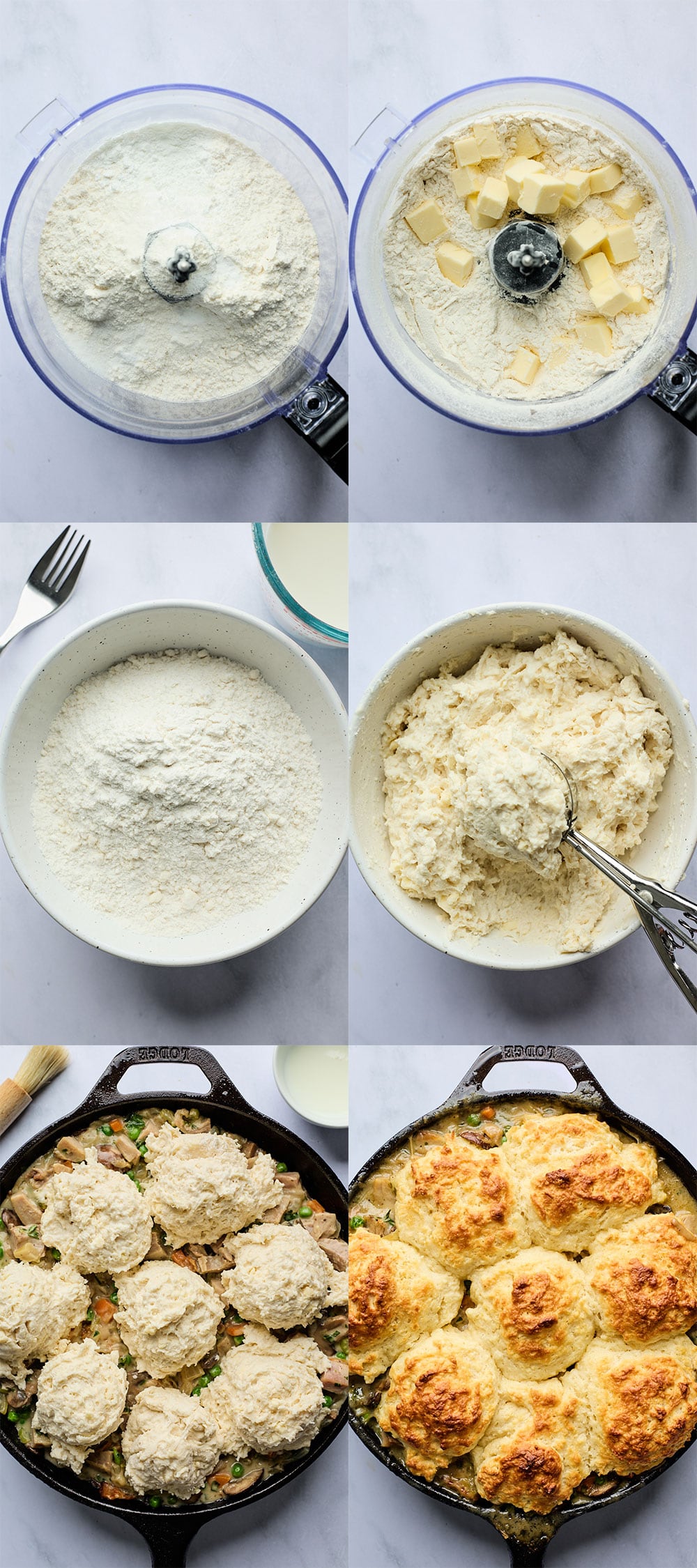 Biscuit Chicken Pot Pie Storage & Make Ahead
STORAGE: Cooked and cooled pot pie can be stored covered in an airtight container in the fridge for 2-3 days. Reheat in oven or toaster oven or microwave - biscuits may lose that crispy exterior but will still taste delicious when reheated. Often I will reheat the biscuits separately in the oven and add a bit of cream or broth when reheating the filling to loosen it up a bit as it thickens as it cools.
MAKE AHEAD: POT PIE FILLING - can be made a day or two before and stored in the fridge in an airtight container until ready to assemble. Feel free to reheat and add more cream or broth to get your desired consistency or at least allow it to come to room temperature as the 20 minute bake time may not be enough time to heat it through if its cold straight out of the fridge. UNBAKED AND FULLY ASSEMBLED - You can assemble it a few hours before baking it and keep it in the fridge. Remove from fridge while preheating oven then bake as stated in recipe. BISCUIT DOUGH - technically the biscuit dough can be made and stored in the fridge covered overnight and even frozen. Then remove from fridge and scoop onto pot pie and bake as directed. But I never make it ahead of time as it's the least time consuming part of the recipe.
FREEZING: The filling can be frozen in an airtight container for up to 3 months, thawed in the fridge and brought to room temperature before placing biscuits over and baking.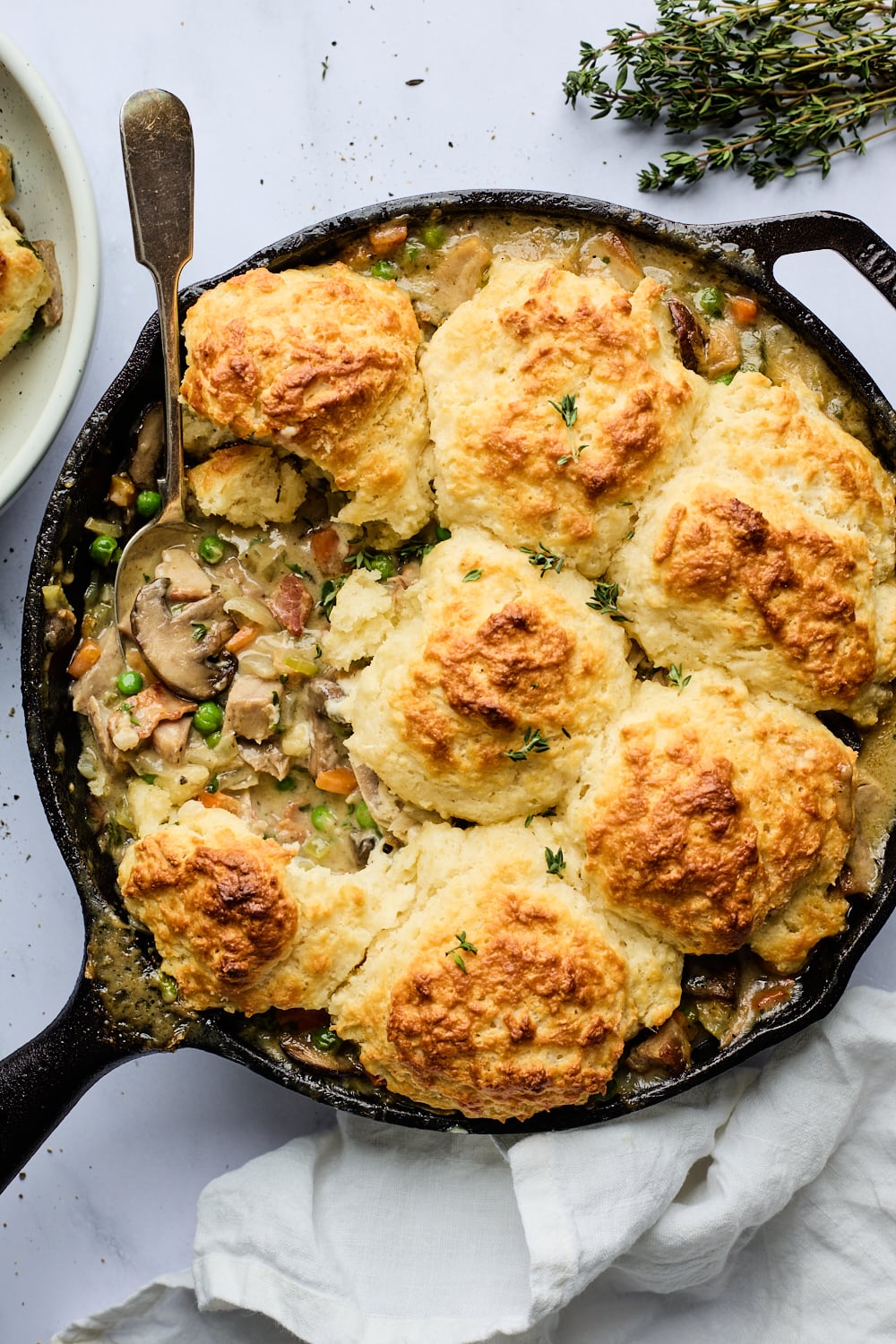 Chicken Pot Pie Shortcuts & Tips
Use precooked chicken, leftover baked chicken, rotisserie or leftover turkey for a slightly quicker version of this recipe
Don't feel like cutting in the cold butter for the biscuits with pastry cutter or pulling out the food processor - no problem! Melt butter and add to the cold buttermilk before adding to the flour mixture and continue with biscuit recipe as stated.
Use store-bought biscuit dough/canned biscuits for an even quicker version.
Don't overmix the biscuit dough. If the biscuit dough is mixed too much, it will become tough and dense. Stir or fold the mixture gently just until mixed through - adding a touch more buttermilk 1tsp at a time only if needed.
It's best to scoop on biscuit dough to the filling just before baking so the biscuits do not absorb too much filling and become soggy.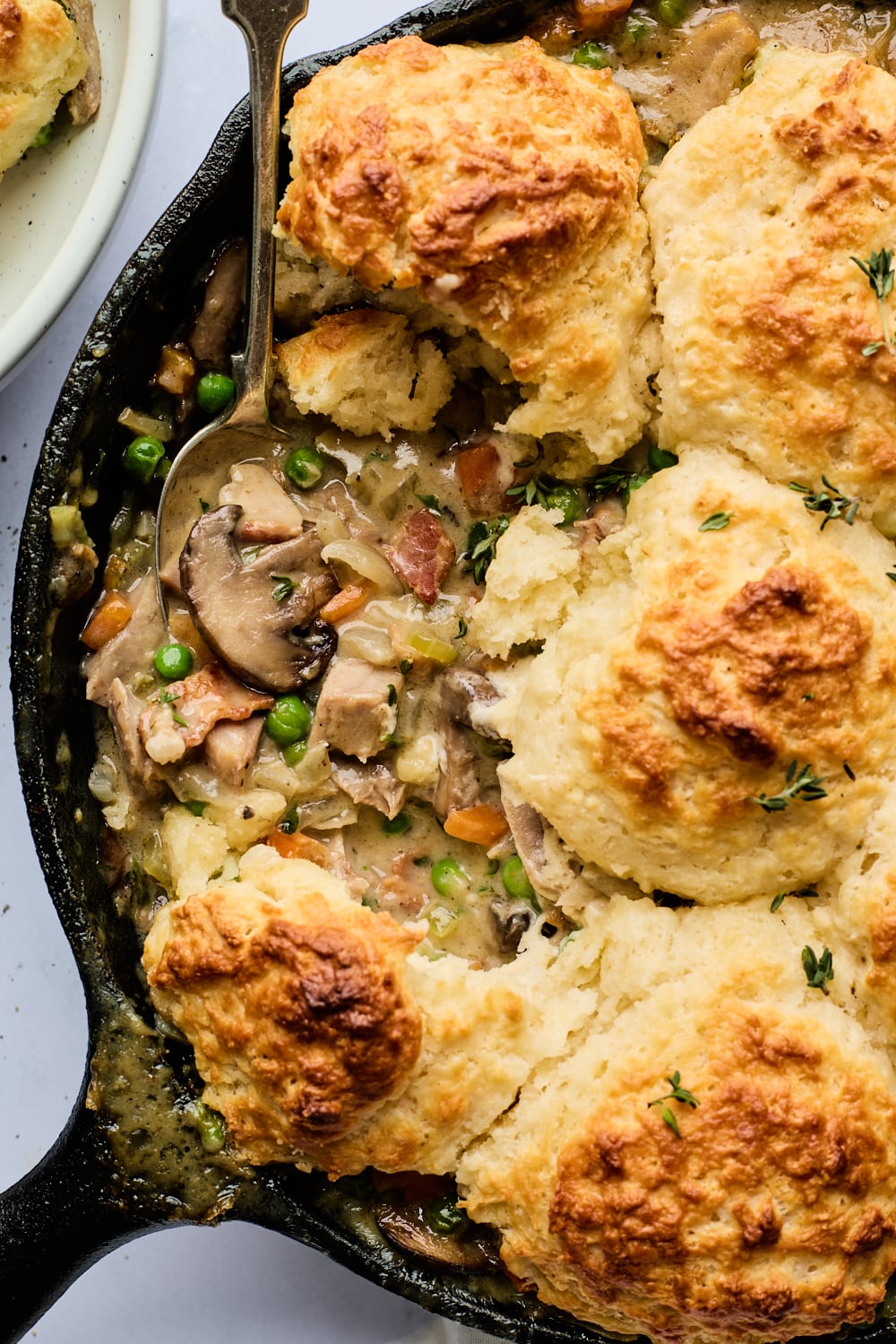 More Cozy Recipes You Will Love
Recipe
Prep Time: 30 mins
Cook Time: 45-50 mins
Total Time: 1 hr 15 mins - 1 hr 20 mins
Ingredients
For the Chicken Pot Pie Filling
6 slices bacon, rough chopped (or 3-4 tablespoons of olive oil or butter)

2 medium size chicken breasts (approx 1-1½ lbs) sliced into cubes or 3 cups pre-cooked or store bought rotisserie chicken shredded or cubed

1 medium size onion, peeled and diced

2 medium size carrots, peeled and diced

2 celery stalks, diced

1 cup of sliced cremini mushrooms

3 cloves of garlic, peeled and minced

2 heaping tablespoons all purpose flour

2 cups chicken stock/broth

½-1 cup whole milk

1 cup frozen peas

¼ cup chopped fresh parsley

1 teaspoon fresh thyme plus more for garnish

Salt and pepper to taste
For the Drop Buttermilk Biscuits (makes 6-9 depending on size)
2 cups all purpose flour

1 tablespoon baking powder

¼ tsp baking soda

½ tsp fine sea salt

1 teaspoon granulated sugar

6 tablespoons cold unsalted butter, cubed

1¼ cups buttermilk + 2 tablespoons for brushing biscuits with
Directions
For The Creamy Filling
Heat 9-10 inch skillet over medium/ medium-high heat, and add bacon and cook for 5-7 minutes or until fat is rendered and until golden
If using uncooked chicken breast, add chicken pieces to the pan. (If using pre-cooked chicken, don't add it until later) Cook sautéing chicken for 2-3 minutes per side tossing and cooking with the bacon until slightly golden.
Add onion, celery, carrots, mushrooms and garlic. Cook for 5-7 minutes, stirring often until the veggies start to become tender. Make sure to season well with salt and pepper.
Sprinkle flour over the veggies and chicken and stir vigorously for 1 minute to cook the flour a bit.
Slowly pour in the chicken broth followed by the milk while stirring. Raise temperature up just a bit if needed and let it come to a very gentle boil. Once it reaches a boil reduce the heat to a simmer and let cook for 5-10 minutes, or until its has reduced and mixture has thickened a little
Add the chicken if using precooked or rotisserie, peas, parsley and thyme. Let cook until the veggies are tender, and the peas and chicken are heated through, and mixture is nice and thick or has reached your desired thickness, about 3-5 more minutes (feel free to loosen up sauce a little adding more milk, cream or broth as needed). Season with salt and pepper to taste. Remove from heat and set aside.
For The Buttermilk Drop Biscuits
Preheat the oven to 425ºF while preparing the drop biscuits
Add the flour, baking powder, baking soda, salt, and sugar to a large bowl and whisk to combine or pulse to combine in a food processor. Scatter the butter over the dry ingredients and rub together with your fingertips, until it forms a sandy-looking texture with some pebble-sized pieces or use a pasty cutter. If using food processor pulse a few times to achieve the same texture.
Pour in the buttermilk and stir until it just comes together into a thick dough and there are no visible signs of flour. This step should only take a minute: be careful not to overmix the dough. (I usually pour out my flour and butter into a bowl from the processor and stir in the buttermilk by hand with spatula instead of pulsing it in)
Assembling & Baking
Use large cookie scoop or 2-3 heaping tablespoons (or approx ¼ cup) to scoop out dough. Drop dollops of the dough over the top of the pot pie filling to mostly cover the surface. Flatten them out a bit if you wish. Brush the tops of the biscuits with remaining 2 tablespoons of buttermilk.
Transfer the skillet to the oven and bake for about 20-25 minutes until the biscuits are golden brown and fully cooked through and the filling is bubbling. I typically loosely cover pan with foil for the last 5-10 minutes of baking so they don't brown too much - but are fully cooked through. Feel free to broil for the last minute to get the biscuits deeply golden.
Recipe Notes
If you prefer to make the pot pie in a casserole dish you can. Simply pour out the filling into greased baking dish and top with biscuit dough and continue with recipe as stated.
This recipe makes a good amount of biscuits for your topping because we love having loads of fluffy biscuit topping. If you want a little less biscuit topping and no problem. Simply reduce amounts to 1½ cups all-purpose flour, 2 teaspoons baking powder, ¼ teaspoon baking soda, ¾ teaspoon salt, ¾ cup buttermilk, 6 tablespoons unsalted (butter stays the same). Directions are the same as well.
I have had some people tell me that they make the biscuits the same only with melted butter which is stirred into the buttermilk and it works beautifully and saves you the step of cutting in the butter. So simply whisk together the dry ingredients. Then melt the butter and stir it into the buttermilk. Pour buttermilk into the dry ingredienst and stir until you get thick dough.
The filling tends to bubble and make a bit of a mess so I recommend placing your skillet or baking dish over a sheet pan covered with tin foil to catch any drips and messes.
You may be wondering why there are two different looking biscuit toppings - the smaller biscuits are made with gluten free 1-1 all purpose flour - which creates tasty biscuits but the texture of the dough is less pillowy soft and doesn't rise and spread as much. The softer fluffier biscuits are made with all purpose flour - I left the two up on purpose as I tested both and both types of flour work with this recipe.