Earl Grey Latte With Homemade Lavender Marshmallows
I could never chose between coffee and tea, could you? I have my morning ritual of a protein coffee with breakfast and then in the afternoon and evening I love my tea. Tea is always a comfort for me in the afternoon and sort of soothing, while coffee is essential for my kindness and productivity meter alike in the morning. One of my favorite teas to drink especially in the evening and also on a road trip is earl grey. It doesn't matter if it's a beautiful loose leaf that smells heavily, or from a Twinnings box - I love it and I usually just need a dash of milk in it. Then I wrap my hands around the big mug I have it in and put my nose right up to it to enjoy that wonderful soothing aroma. It truly is the little things!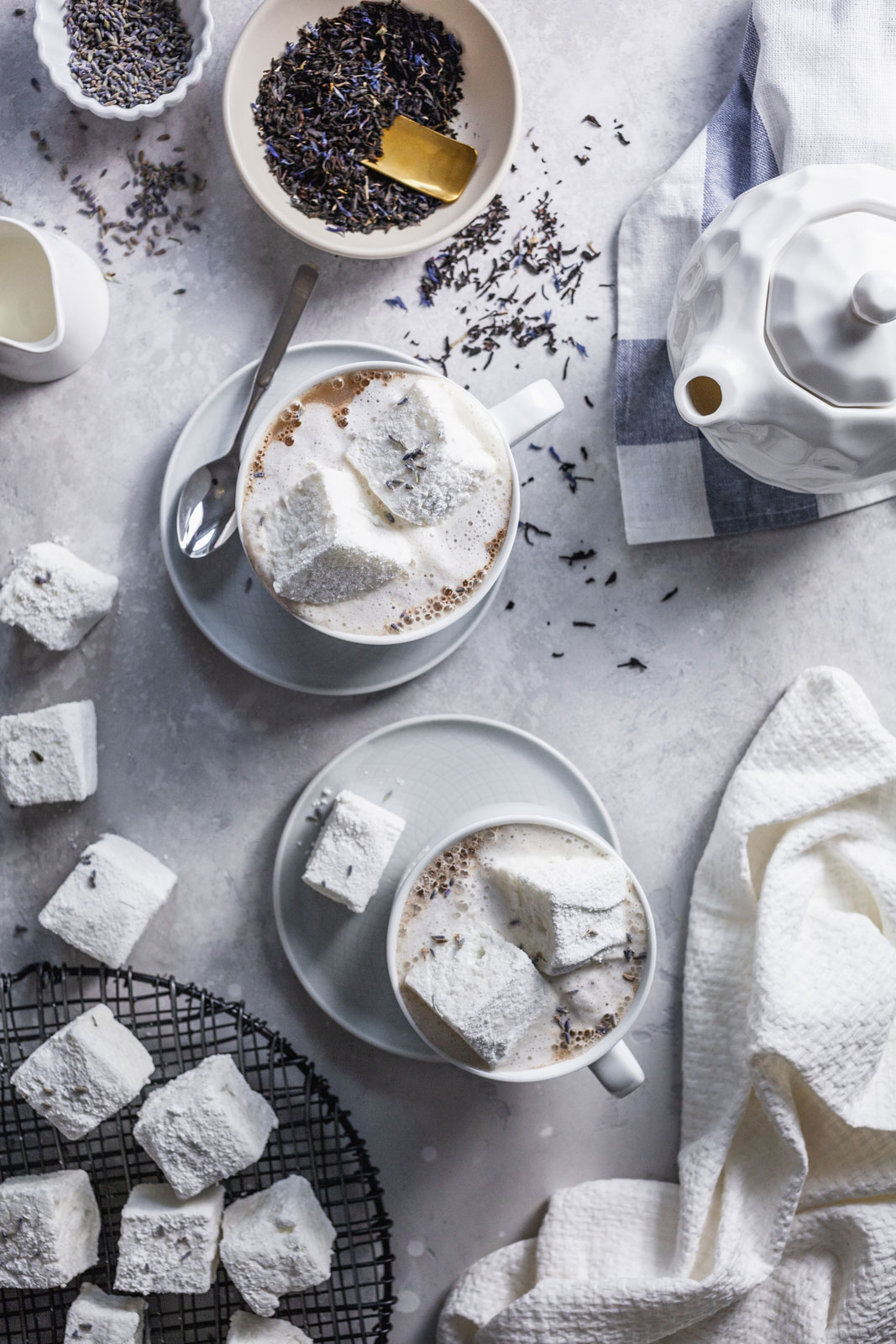 Having it blended and frothy is whole other level good. This earl grey latte goes by a few names. It's also called a London Fog, and often a tea misto. I will stick to calling it and earl grey latte though as it's the more generic obvious name for it. It's so simple to make and I love making it like I make my protein coffee too sometimes. It's such a treat to drink it and it almost feels fancy. I wondered how I could step it up a notch in the fancy department and the cozy department too and decided some diy homemade marshmallows were necessary.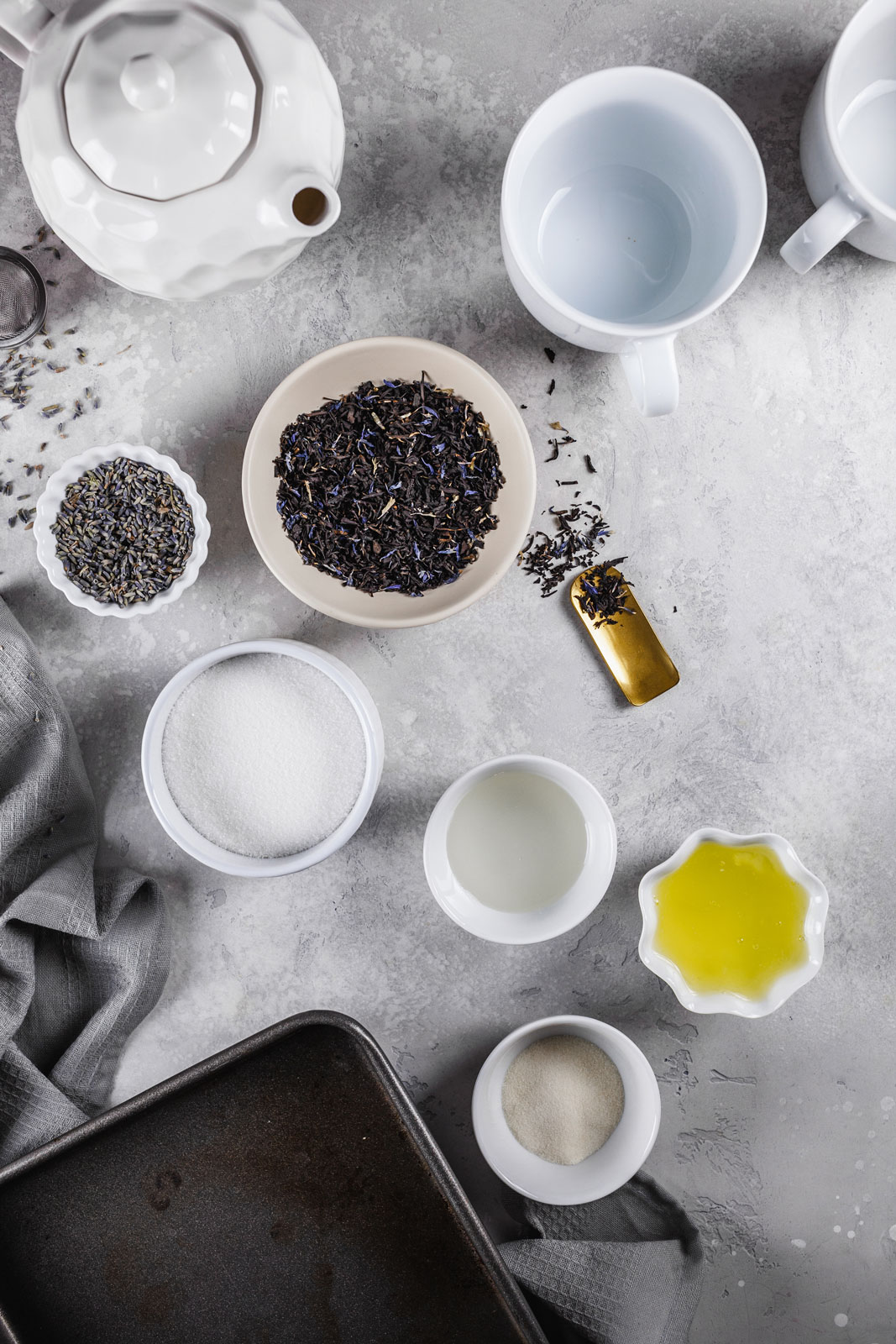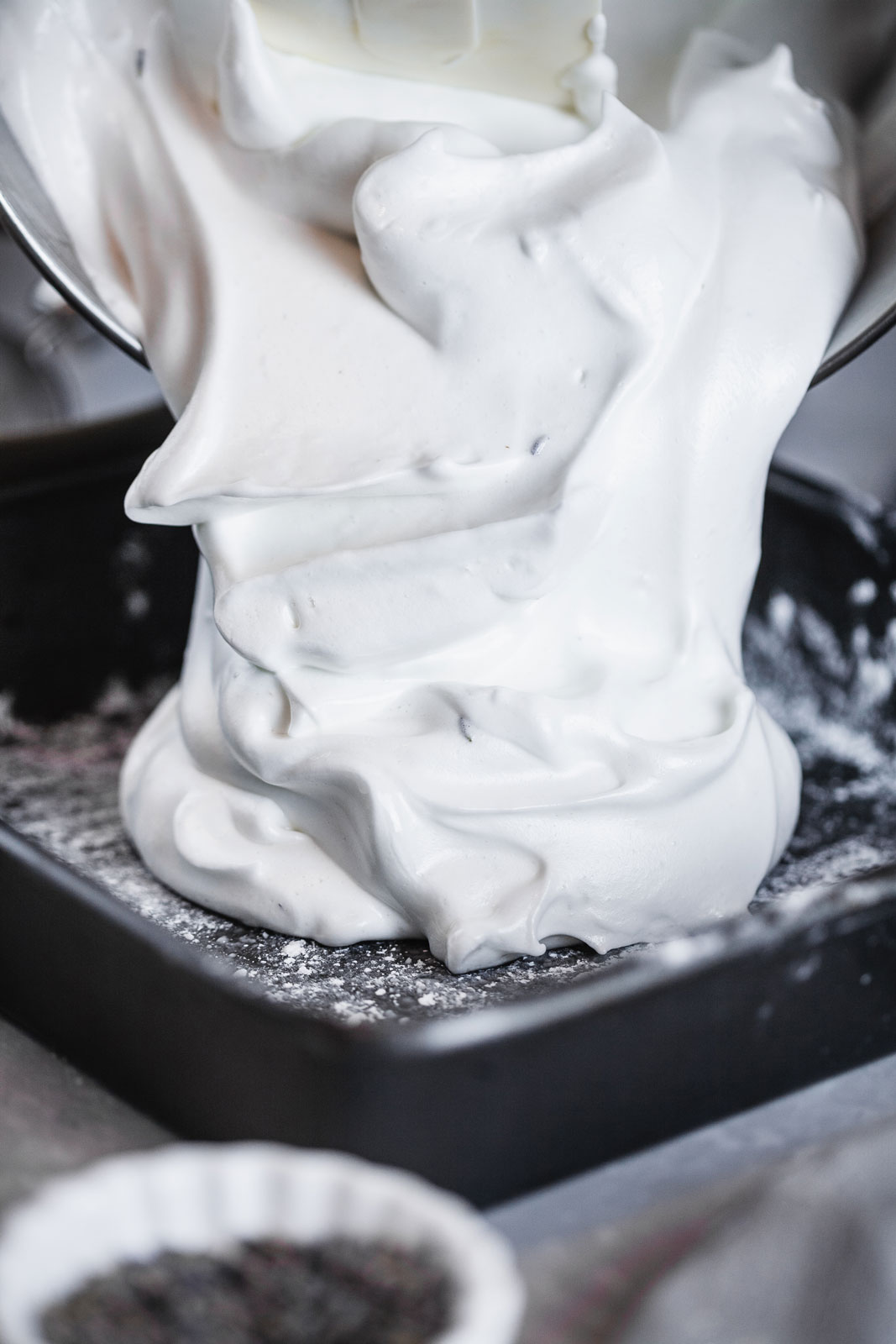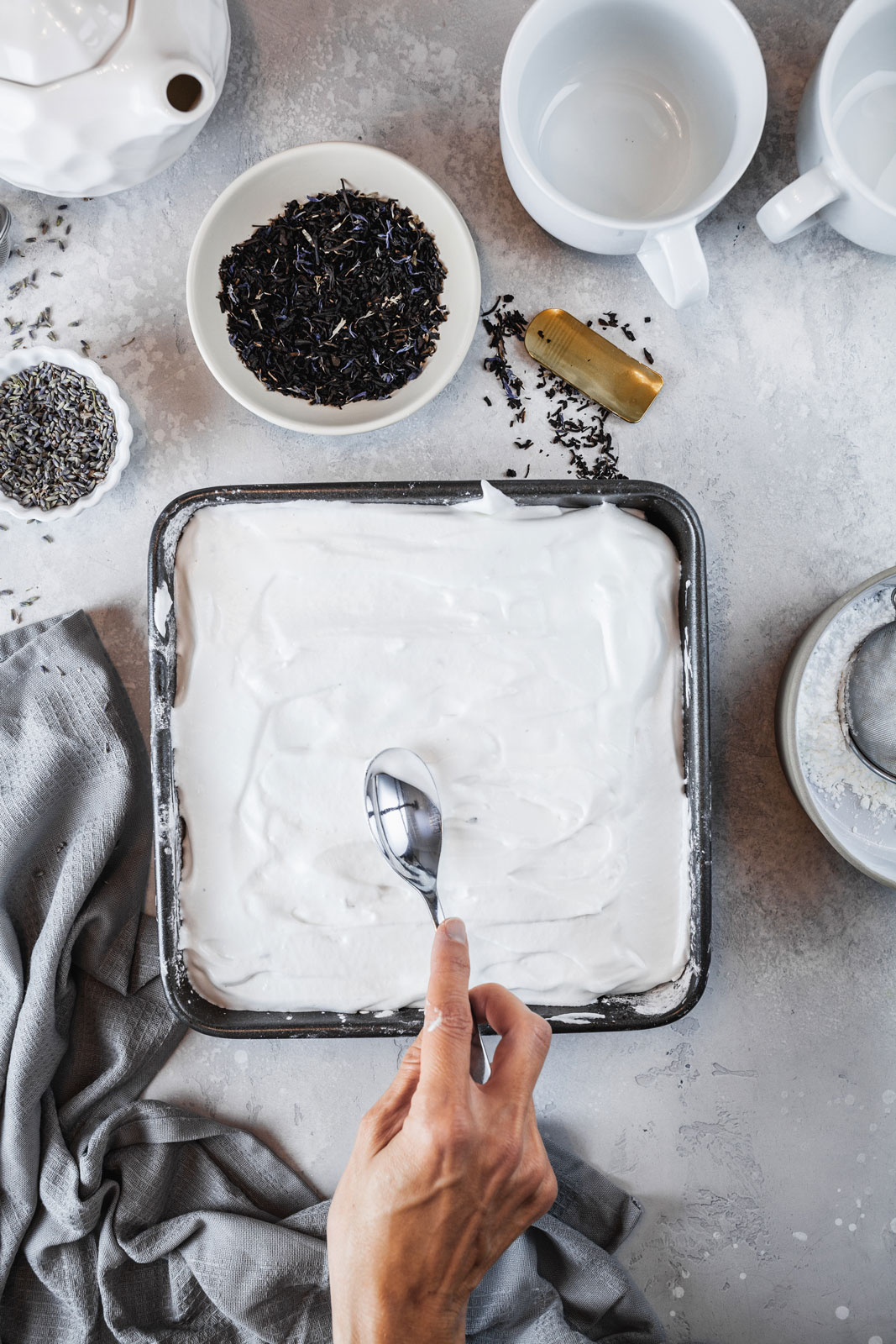 I didn't realize there were so many varieties. I chose to make the lightest and fluffiest ones I could find as I know they would be the nicest in a hot drink, that is why I chose the French style ones to make. French style marshmallows usually include whipped egg whites in them which make these marshmallows light and frothy almost. I will try making the eggless chewy ones another time, and when I do make those I promise I will put those on the blog as well.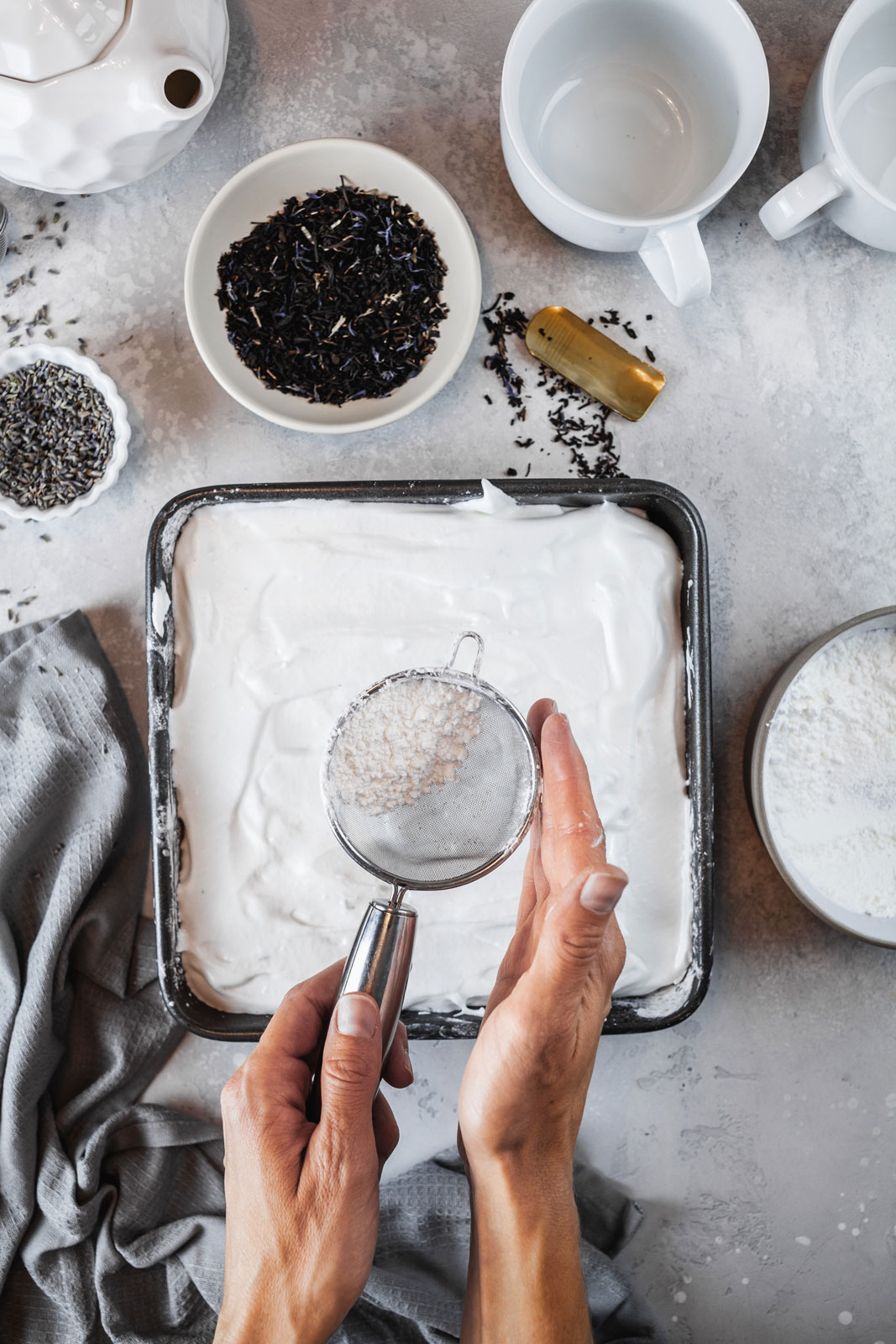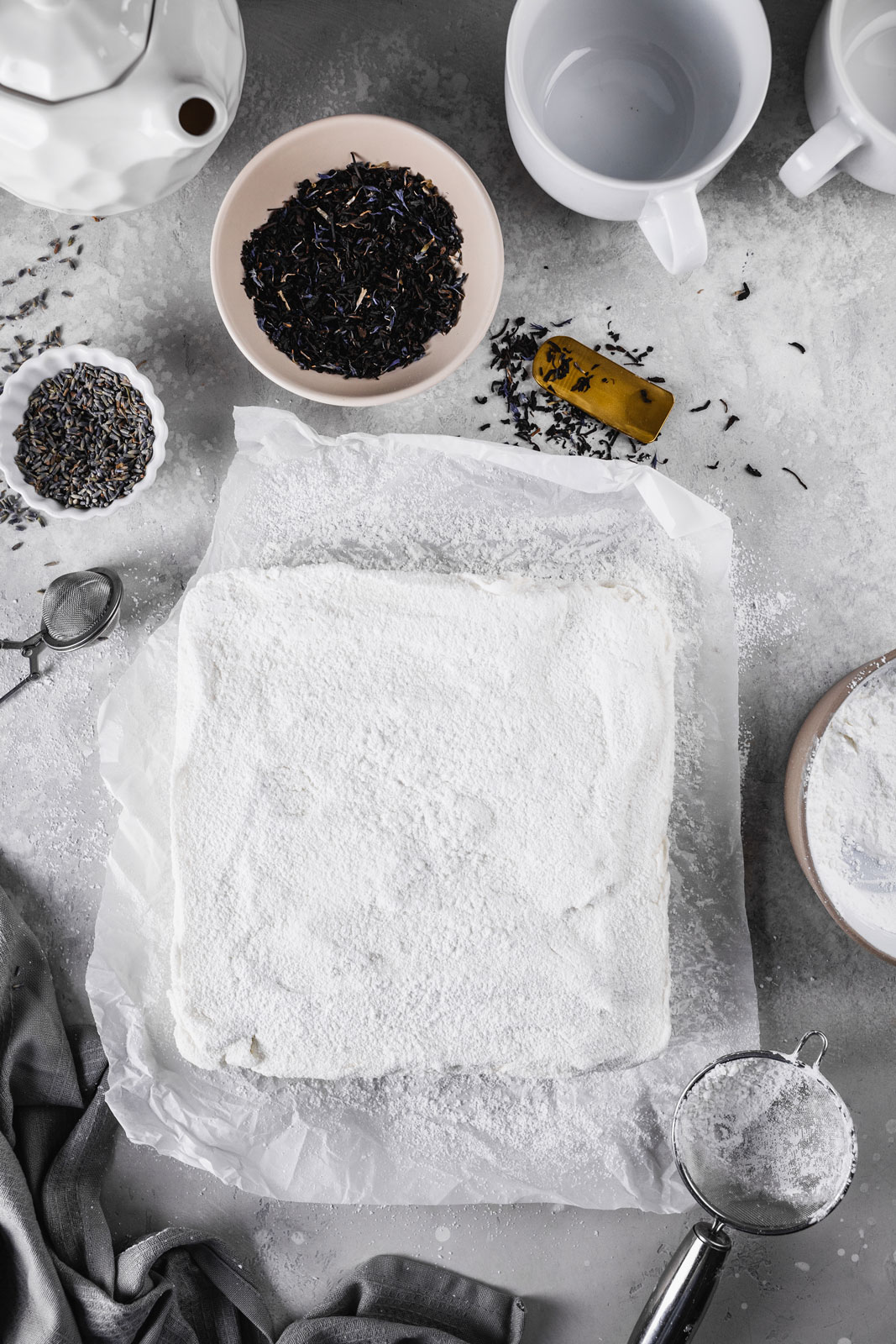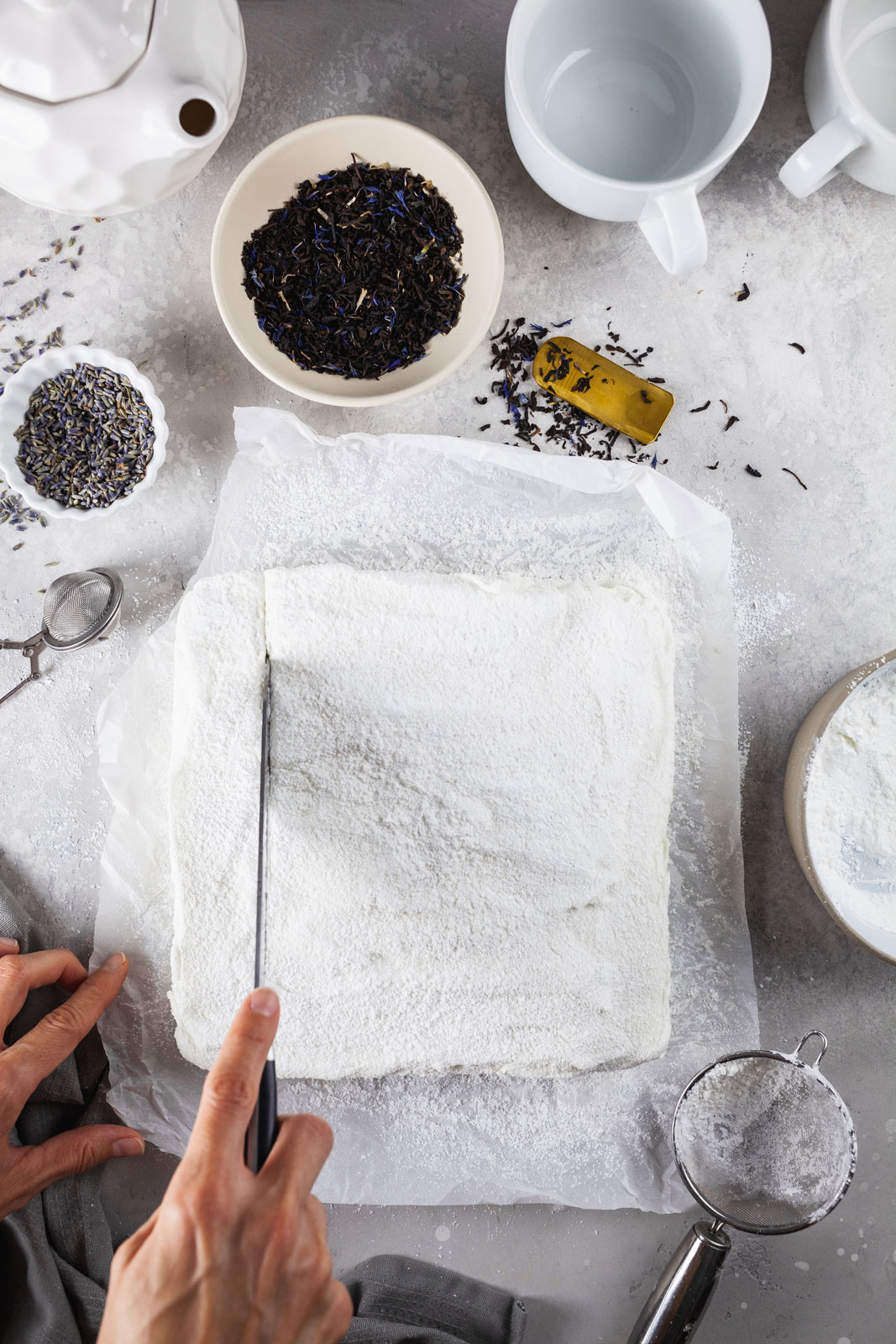 I wanted to amp up the marshmallows even more and decided to add a flavour that would compliment the earl grey tea. Naturally for me lavender came to mind and I had some on hand and I was very happy about the result. The lavender has a sweet, floral fragrance and is notably soothing, invoking relaxation. Combined with the classic blend of Earl Grey's citrus and a hint of cream, they are a heavenly match.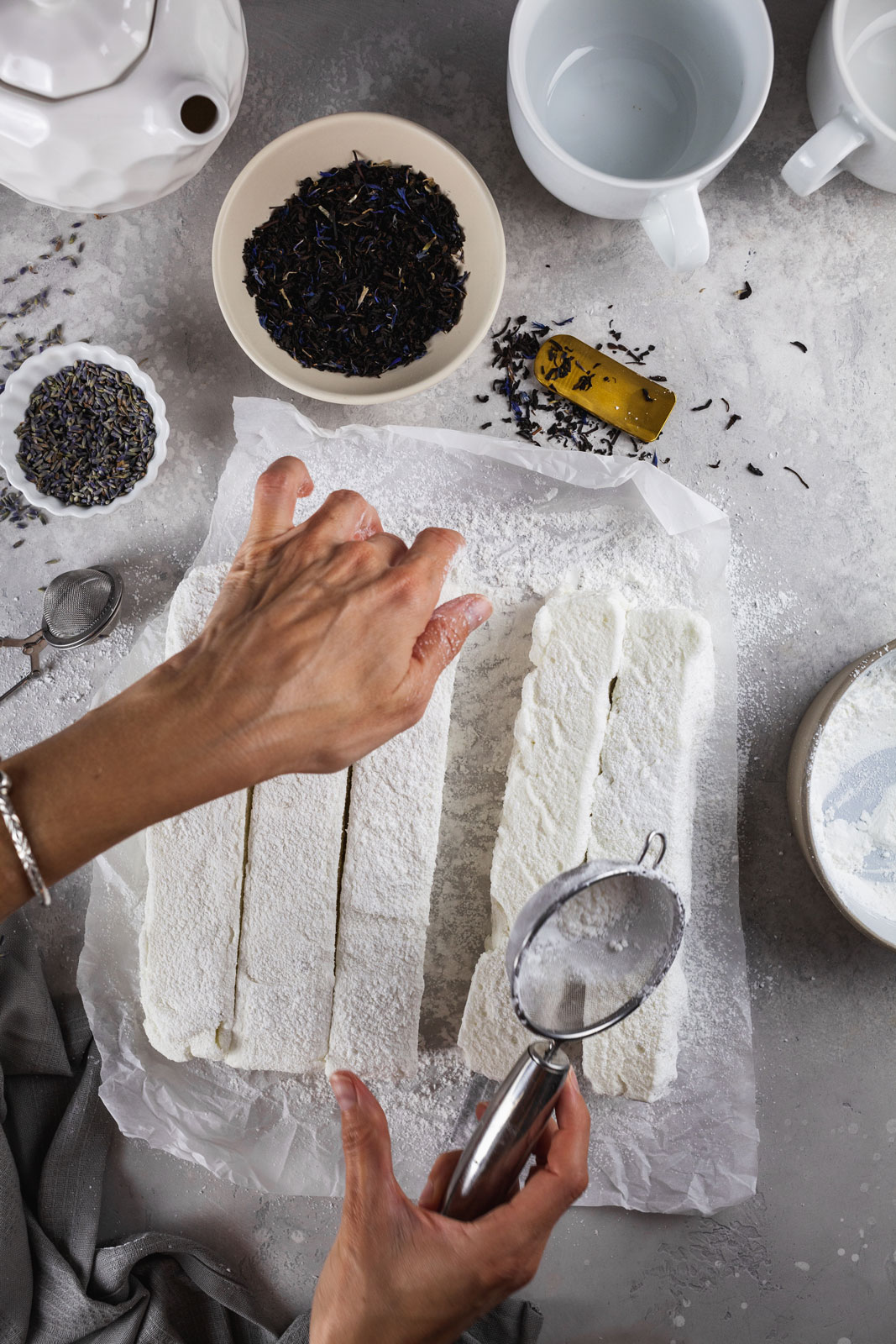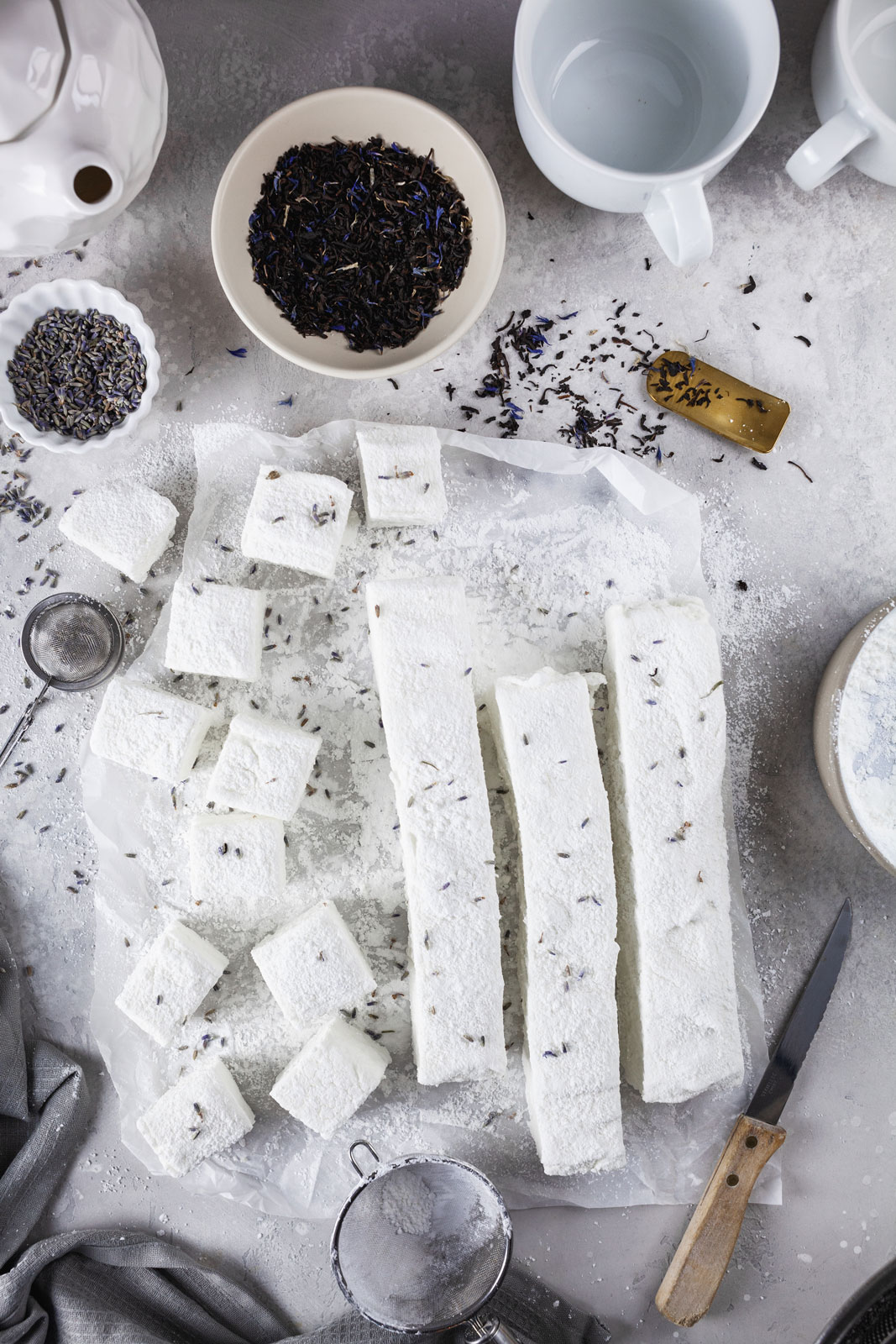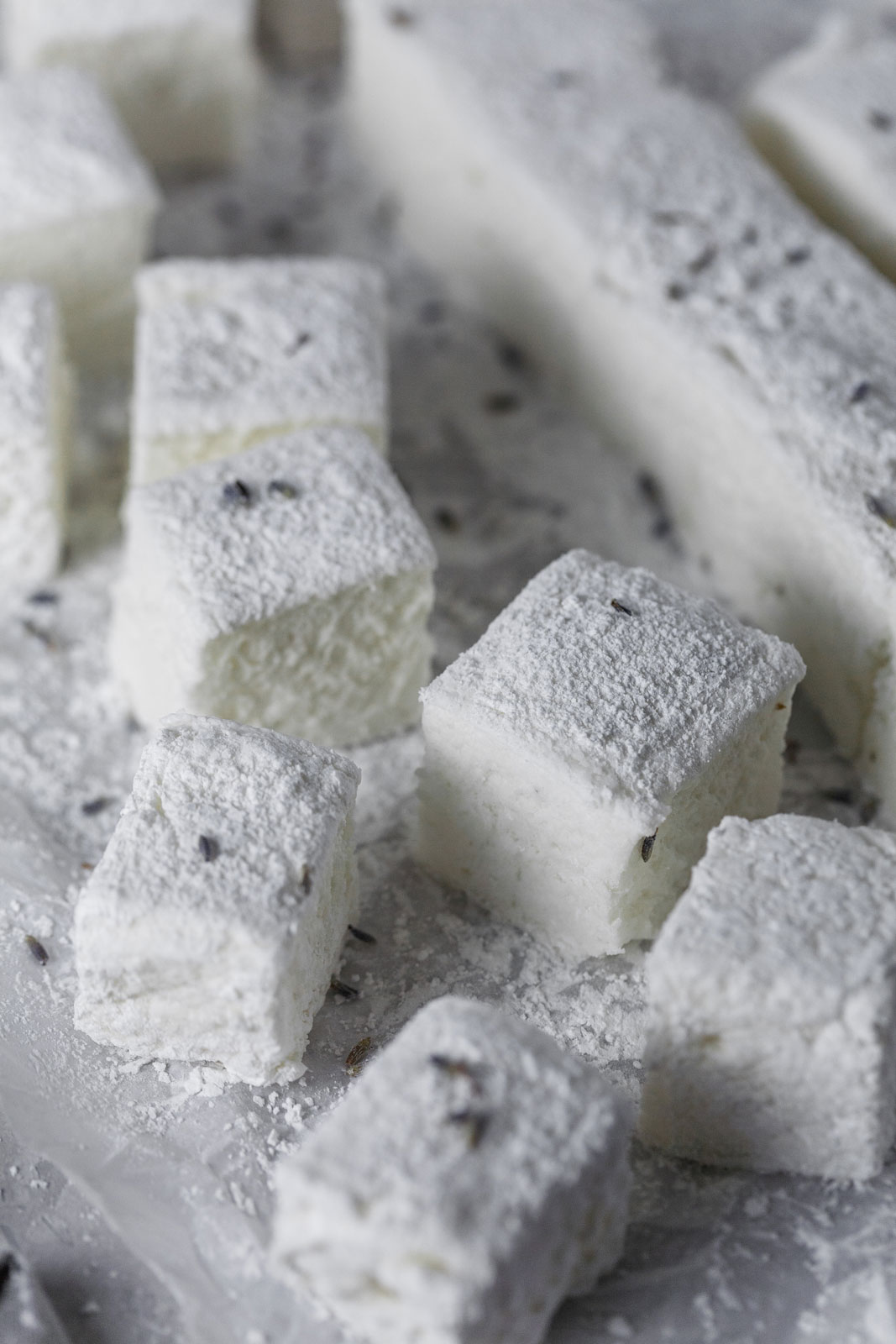 They are really easy to whip up and I'm so disappointed I hadn't made them sooner. My family loved them and we have been having the leftover ones with tea and coffee. They melt beautifully into your hot drink and your mouth and you get a beautiful soothing hint of lavender in each sip along with the fabulous frothy layer of deliciousness that they leave behind when melted. You can definitely use them in s'mores but I think that a chewier marshmallow would work a bit better as these will melt away so easily. So just an FYI if you plan on using them for some fancy lavender infused s'mores.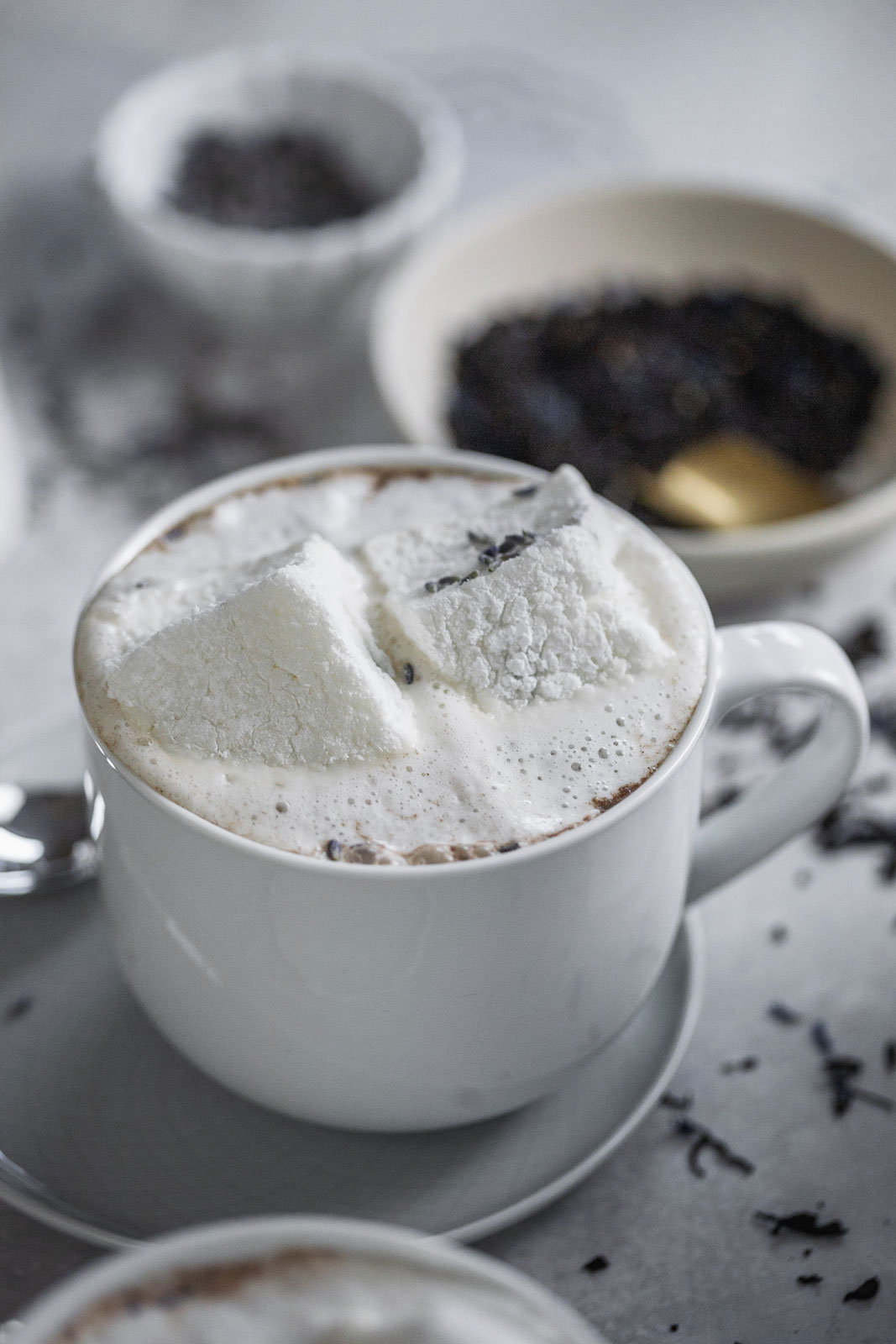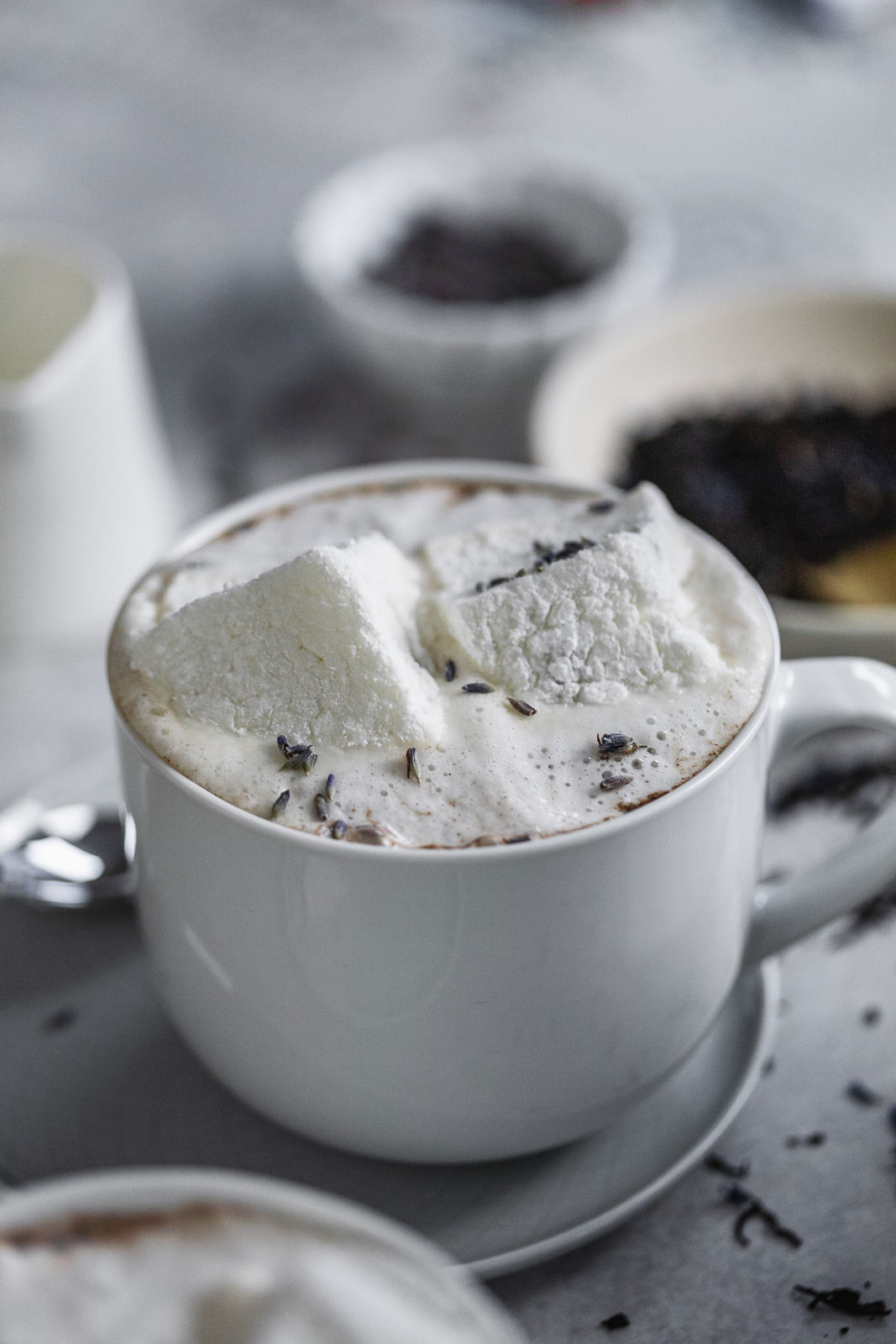 The whole tea experience was elevated by these delicious puffy cloud-like marshmallows and I foresee enjoying my earl grey latte like this right through the winter. We loved it and I know you will love it!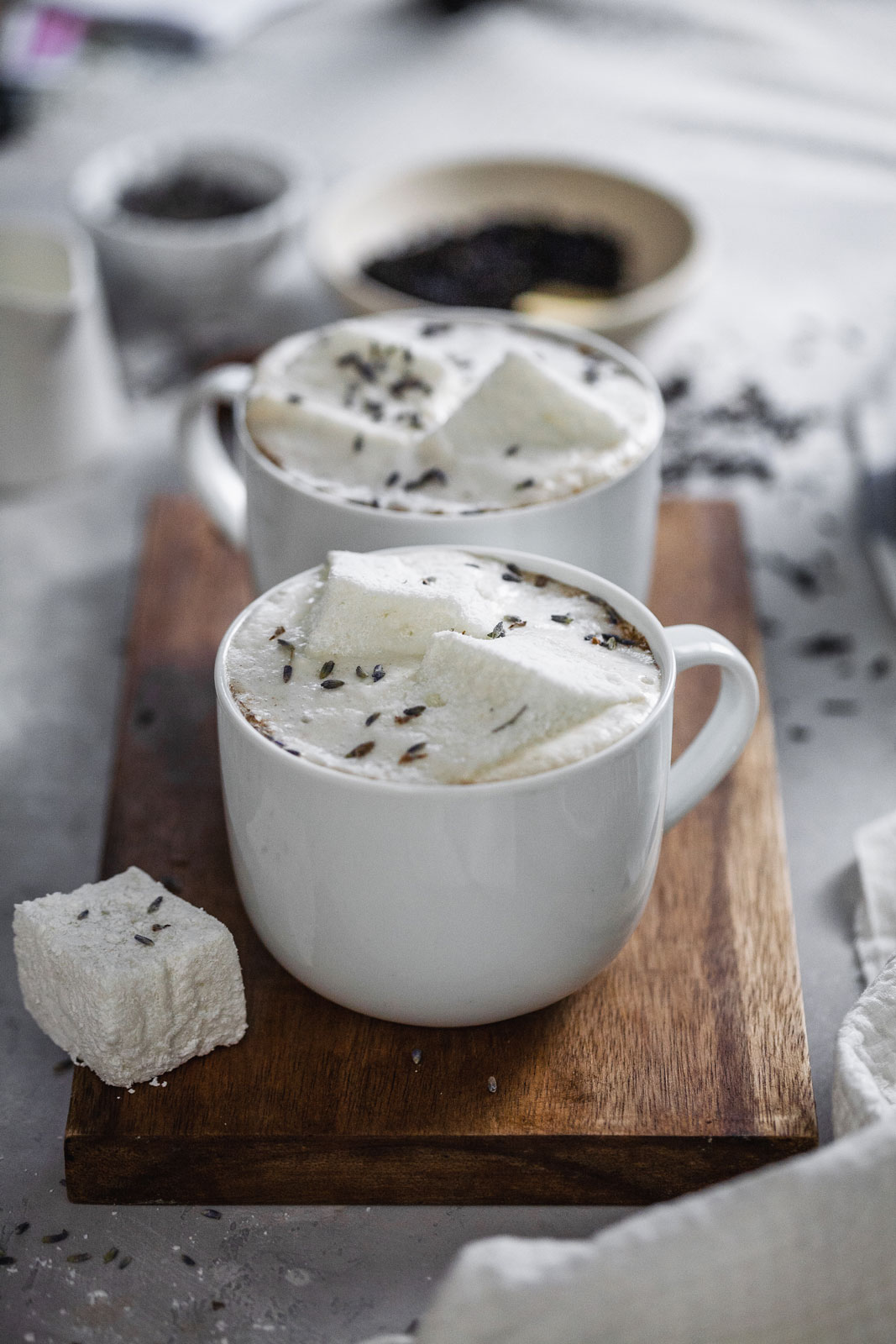 Recipe
Ingredients
For the lavender marshmallows (Makes approx 25 light and fluffy marshmallows)
1 tbsp plus 2 tsps of Unflavoured powdered gelatin
1 cup of granulated sugar
2 tbsp of light corn syrup
3 large egg whites
½ tsp vanilla extract
1 tsp lavender buds plus more for sprinkling
Vegetable oil spray
Cornstarch and powdered sugar for dusting
For the earl grey lattes (Makes 2 mugs of tea)
2 cups boiling water
4 earl grey tea bags or 4-6 tsp of loose leaf earl grey tea
2 tbsp of honey or maple syrup to sweetened (optional)
1 cup of almond milk or milk of choice warmed
¼ tsp of vanilla extract
Directions
For the lavender marshmallows
First steep the lavender buds in 1 cup hot water for 3-5 minutes. Taste and see if the lavender flavor is strong enough for you, if not steep for longer. Strain with a fine mesh strainer and allow lavender water to cool.

In a small bowl combine the gelatin with ⅓ cup of the lavender water and let stand for 15 minutes.

Meanwhile grease an 8x8 square pan with vegetable spray and dust lightly with some of the cornstarch, alternatively line baking sheet with two pieces of overhanging foil or parchment paper greased, one across the length of it and one across width of it to easily remove the marshmallows after.

In the meantime, in a small pot combine the sugar, ⅓ cup of the lavender water and bring to a boil stirring very gently to dissolve sugar. Add the corn syrup and cook over moderate heat without stirring after adding syrup, until the syrup reads 260 ° F on a candy thermometer which will take approx 6-8 minutes. Remove from heat and stir in the gelatin mixture until dissolved.

In a standing mixer fitted with the whisk attachment beat the egg whites at moderately high speed until soft pillowy peaks form and then with the machine still on very carefully drizzle in the hot syrup into the egg whites in a very thin stream down the side of the bowl. Add the vanilla extract and continue mixing for another minute until mixture is light and glossy. I also add in a tsp of chopped or crumbled lavender buds in for extra flavour at this point but that is totally optional.

Scrape the marshmallow into prepared pan, smooth surface and dust lightly with a little cornstarch and powdered sugar and let stand for at least three hours or overnight. I usually cover loosely with plastic wrap if leaving overnight. Does not need to be refrigerated.

Once set run a sharp lightly greased knife around the marshmallow. Dust a work surface with some cornstarch and powdered sugar and invert pan onto surface tapping to release marshmallow. If it needs more help coming out of the pan use a lightly greased spatula to help the marshmallow out of the pan.

Using a sharp knife or pizza cutter that has been lightly greased, cut the marshmallow into 1½ inch pieces

Toss the pieces in a bowl with cornstarch and powdered sugar (amount doesn't matter it's just to coat the marshmallow) then transfer to metal sieve and shake of excess powdered sugar and cornstarch. Use immediately or store in a sealed bag or container for up to a week.
For the Earl Grey lattes
Start by steeping tea bags or loose leaf in boiling water for 5 minutes or longer according to your preference in strength of tea.
Discard tea bags and carefully transfer tea to blender (strain mixture into blender if using loose leaf) and add the honey and vanilla extract and warmed milk. (At this point I like to add a tsp of coconut oil and a tbsp of collagen powder to make this a protein latte – but totally optional).
Then place lid on and carefully blend starting at low speed and increasing the speed to high until well blended and frothy.
Pour out into two mugs, top with a couple of lavender marshmallows and sprinkle with some lavender buds and enjoy!!
Recipe Notes
If you want plain marshmallow just omit the lavender and use plain water where it calls for lavender water.
Recipe for the marshmallows was adapted from Food and Wine