Creamy Peanut Butter Banana Smoothie Bowl
This peanut butter and banana smoothie bowl is a classic combo that never disappoints. It's thick, creamy, naturally-sweetened and guaranteed to brighten your morning. It is the perfect way to start your day or the perfect snack or post-workout meal as the peanut butter adds loads of protein and the bananas are high in fiber, potassium, and vitamins B6 and C. The add ins add more nutritional value and flavour - not to mention the toppings which make this into a bowl/meal and not just a drink/smoothie - and also the funnest part of creating a smoothie bowl. Smoothie recipes are my fav - I promise to get more on the blog - in the meantime I hope you enjoy this one!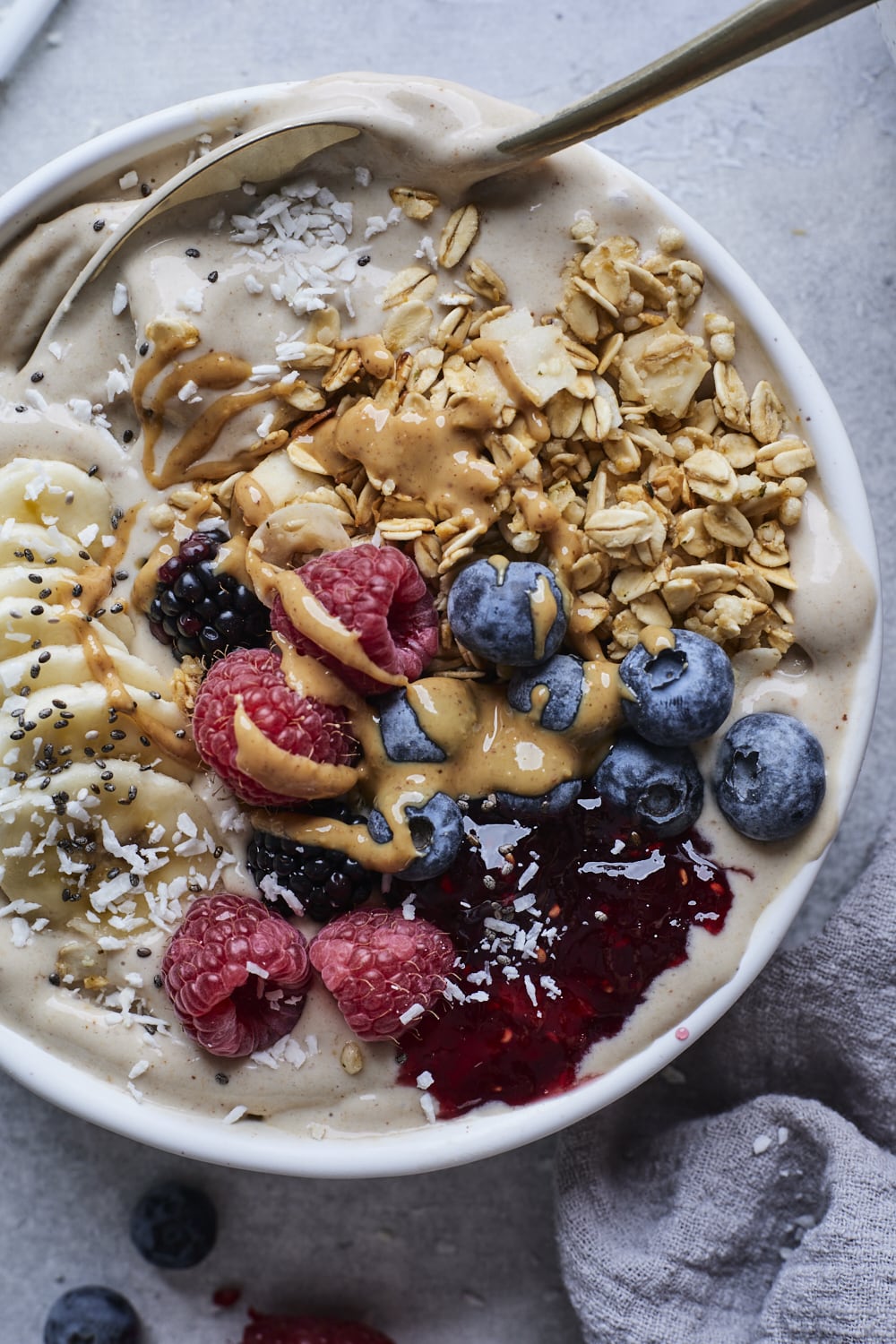 Why You Need to Make This Peanut Butter Smoothie Bowl
You get all the loveliness of a smoothie – cool, creamy and delicious - plus all the tasty toppings - taste like a healthy peanut butter milkshake 
It's comes together in no time at all… just add everything to a blender till smooth pour into a bowl and add you toppings on top. (Make ahead instructions below) 
This bowl is packed full of fiber and protein and makes a great, well-rounded breakfast or healthy snack. Plus, you can easily adapt it to be gluten-free, dairy-free, or vegan!
Make It into a smoothie - If you are not a fan of smoothie bowls but you love smoothies you can easily make this smoothie bowl into a peanut butter banana smoothie recipe just by adding a little extra milk to make it less thick and more drinkable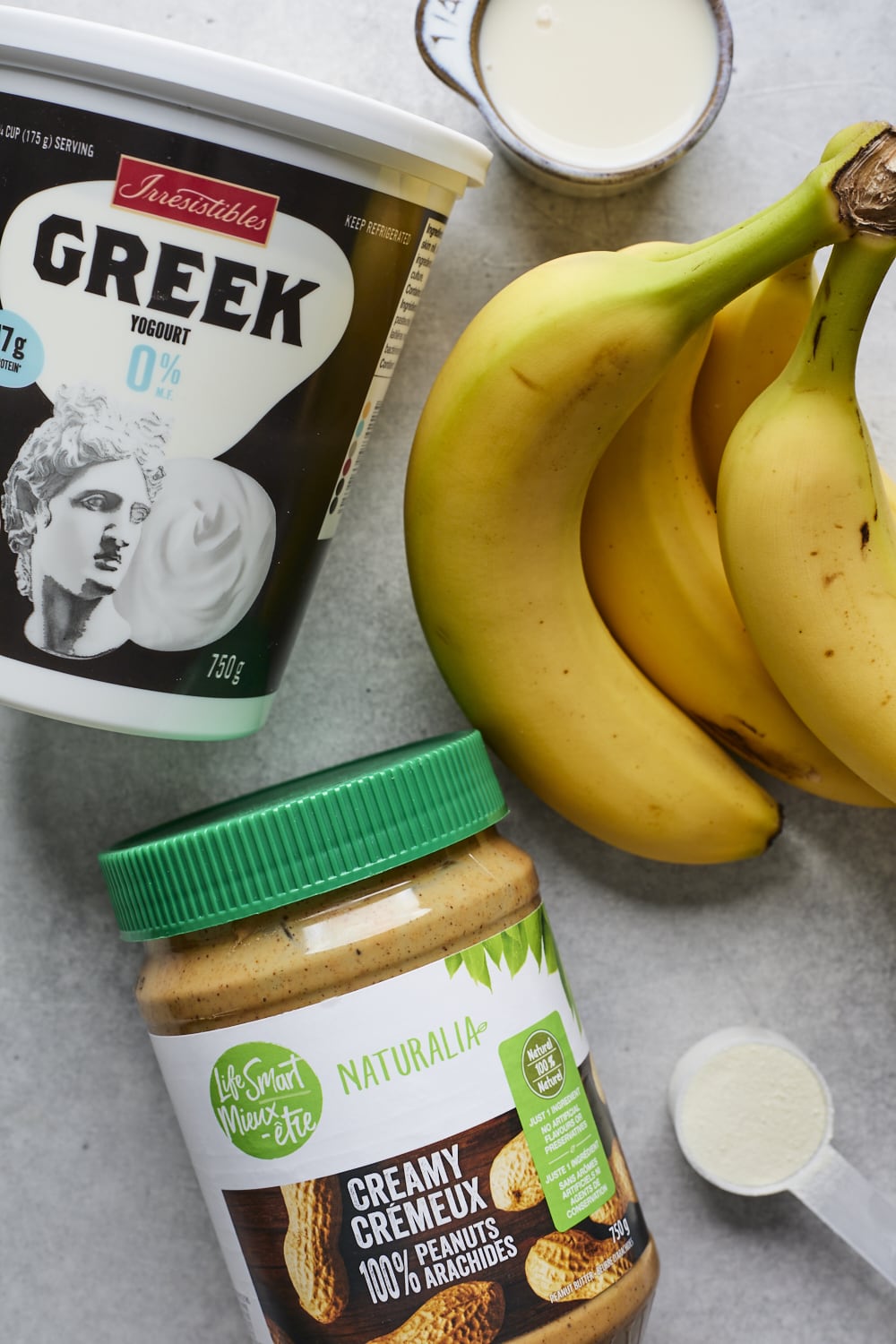 Ingredients Needed For This Peanut Butter Banana Smoothie Bowl
The ingredients used to make a smoothie bowl can vary, but the base is typically always frozen fruit. Here are the main ingredients I use to make my ultimate healthy creamy peanut butter banana smoothie bowl:
Frozen banana – frozen banana helps thicken the smoothie and adds a little sweetness. 
Protein powder – I usually use a plain one but you can use vanilla or chocolate protein powder if you want to use a flavoured kind 
Milk - use dairy or non-dairy milk - I always use unsweetened almond milk or coconut milk, soy milk
Peanut butter - creamy unsweetened natural runny peanut butter is what I always use but really any peanut butter will work I just chose to use a sugar free one. You can also use any nut butter if you have a peanut allergy - like cashew butter, almond butter, sunflower butter or any seed butter if there is a general nut allergy 
Yogurt - I like to use a dairy free version or greek yoghurt for a thick rich and delicious addition. You can use a vanilla one if you prefer to use a flavoured one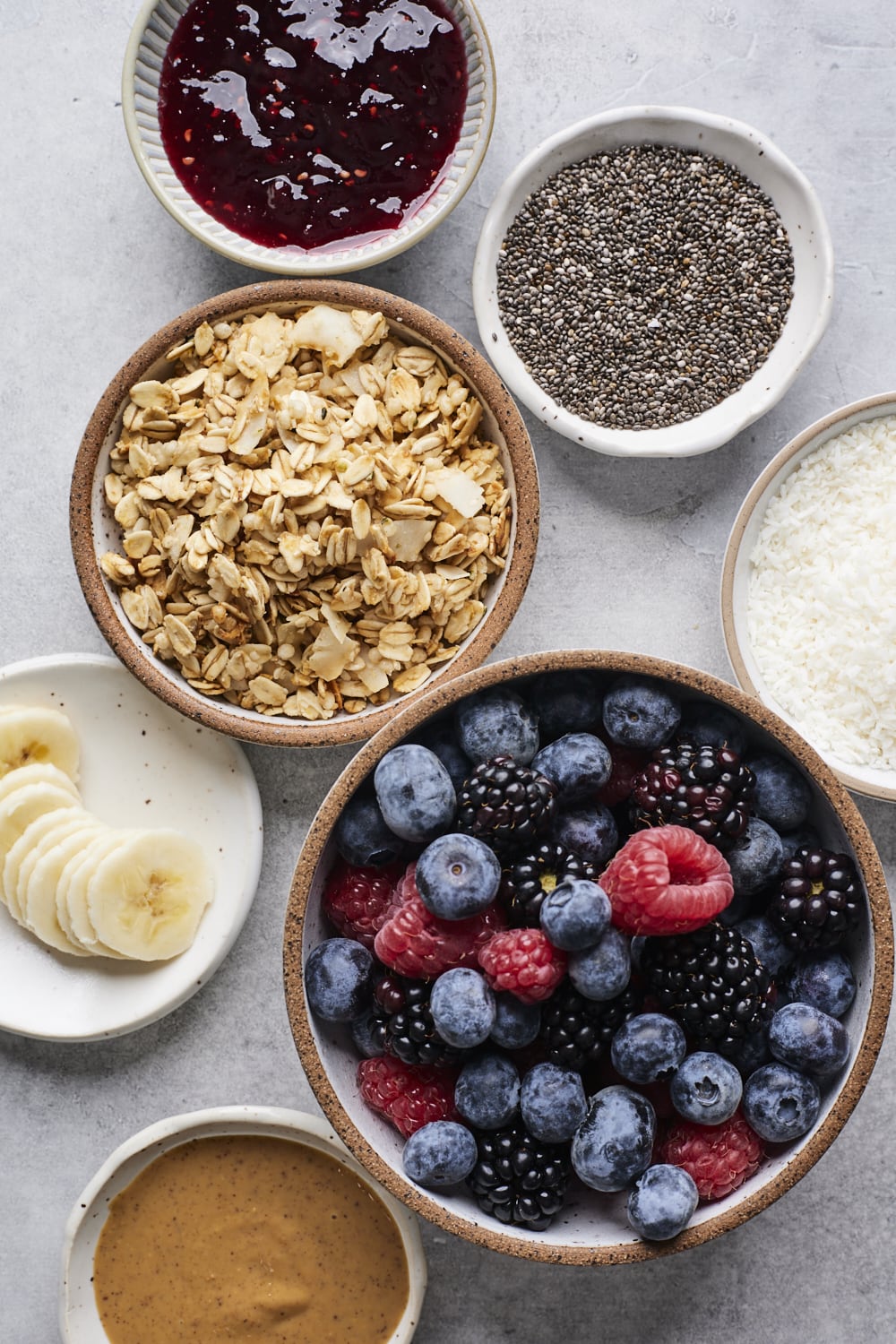 Optional Add Ins & Variatons:
1 Tbsp (15 ml) maple syrup, honey or agave optional for extra sweetness (or more to taste) 
½ tsp vanilla extract
Ground flax seeds or flax meal 
2 Tbsp unsweetened cocoa powder for a chocolate versus.
Frozen berries – any frozen berries will do. My favorite options are frozen strawberries, blueberries and/or cherries. You can also use a bag of mixed berries - this will give your peanut butter banana smoothie a bit of a berry feel to it - think peanut butter and jelly 
¼ cup of Oats - will create a thicker richer more satiating smoothie bowl
A handful of spinach or kale for some added nutrients 
A dash of cinnamon for extra flavour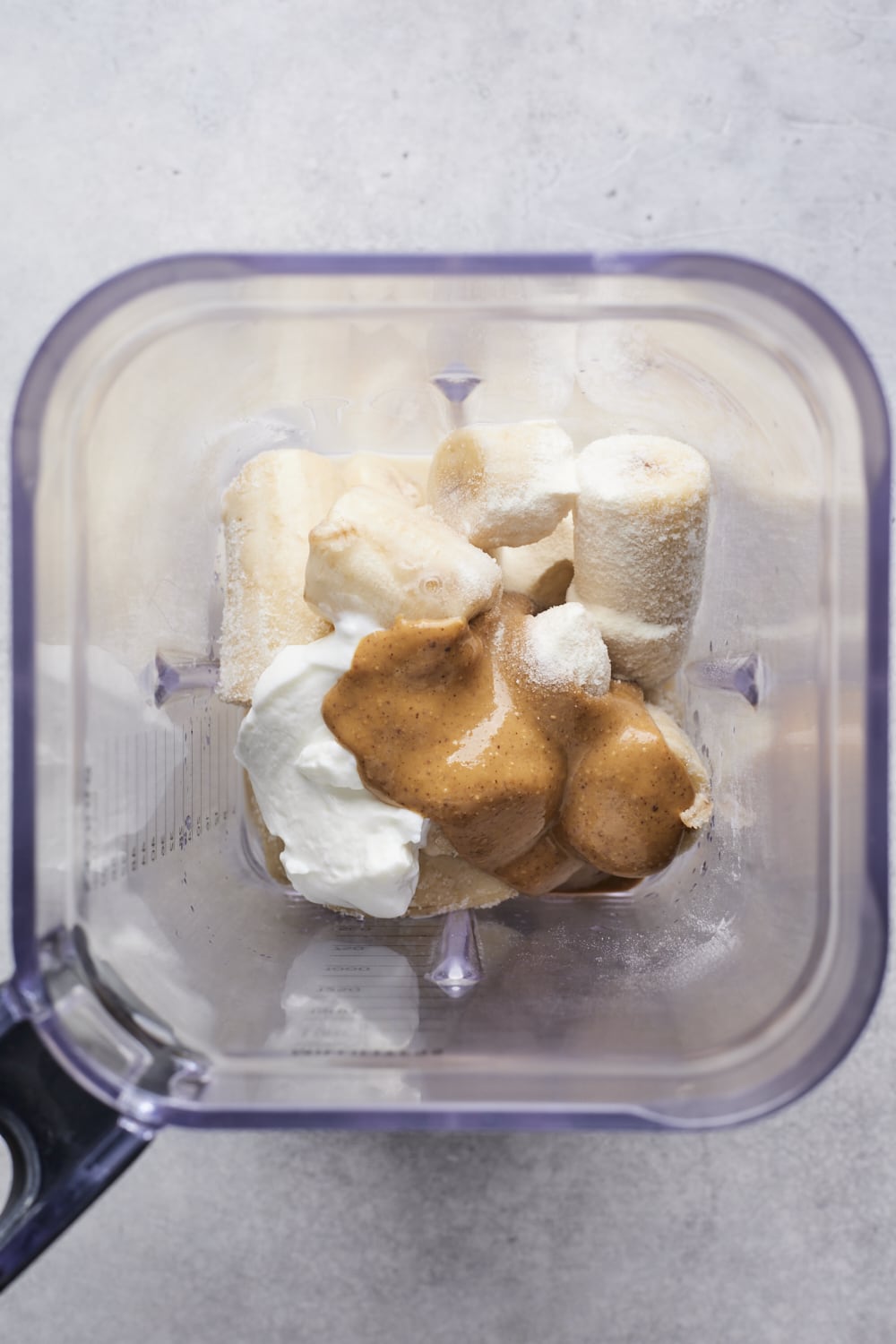 Toppings For This Tasty Smoothie Bowl
Toppings are always the fun part and the options are endless here! Get creative with your smoothie bowl toppings. Here are some of my go-to toppings:
Fresh banana – slice fresh bananas for added sweetness!
Fresh berries – I like using a combination of strawberries and blueberries but any fresh berry works! You can also do freeze dried berries
Granola – want to add some texture to your smoothie bowl? Add crunchy granola on top! Try my simple vanilla almond granola or chocolate granola is great too 
Peanut butter or almond butter – can't go wrong with a little extra nut butter drizzled on top.
Chia seeds – add in healthy fats, fiber and texture with chia seeds.
Shredded coconut – add toasted coconut flakes or shredded coconut for added sweetness and crunchy!
Chocolate or Cacao nibs, chopped dark chocolate or miniature chocolate chips or melted chocolate drizzled on top.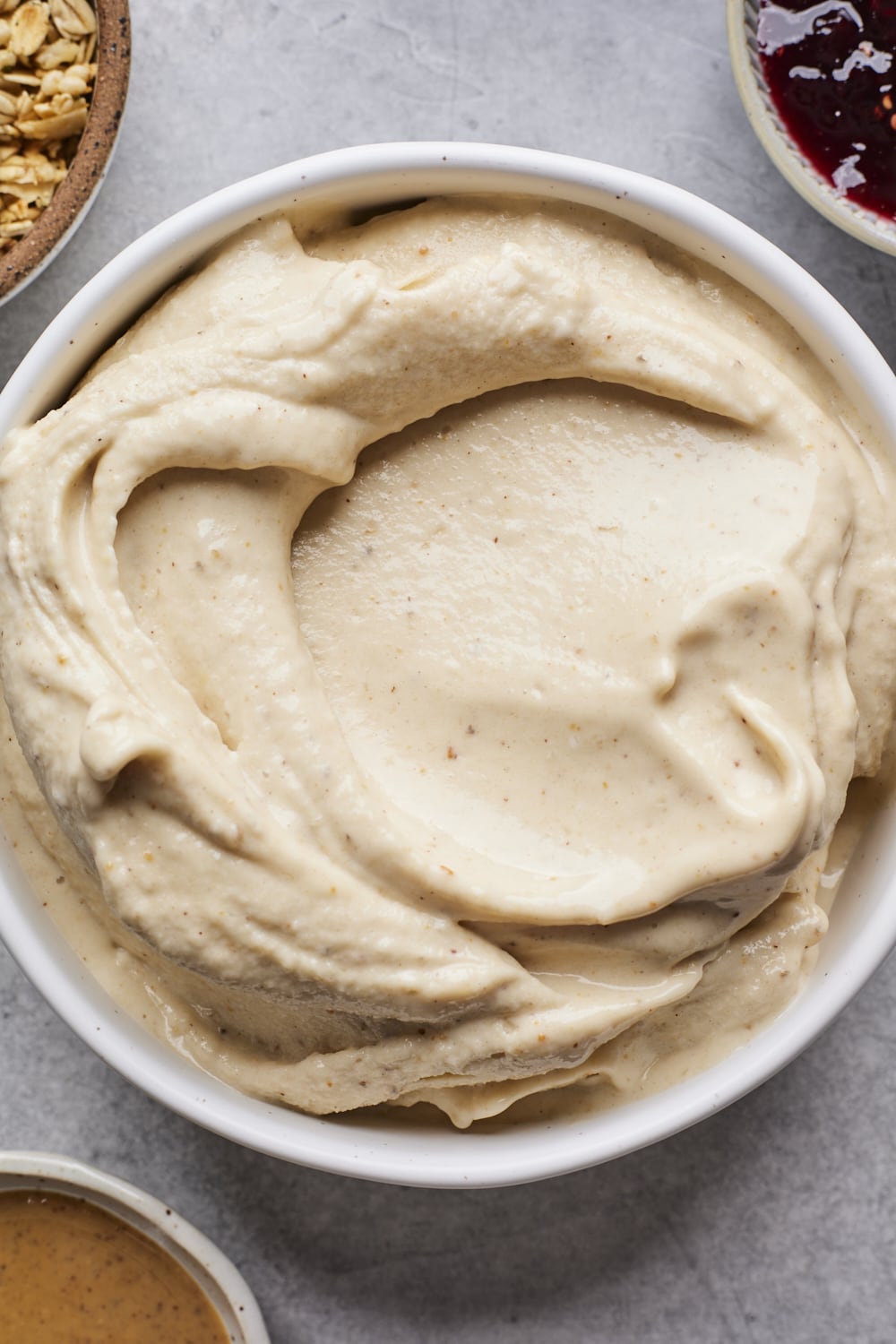 How to Make Your Smoothie Bowl Thicker?
Nothing is worse than a melty smoothie bowl that's hard to eat with a spoon. If you blend up your smoothie and are wishing it was thicker, here are some things to try:
Add more fruit - in this case more frozen banana slices of frozen berries 
Add protein powder or more of it 
Add avocado – add a quarter or half of an avocado when blending for an instant thickener! If its frozen even better 
Add chia seeds – they absorb liquid and will make your smoothie thick - or even flax meal 
Use less liquid – this won't necessary fix a liquidy smoothie, but it's something to remember next time you make a smoothie bowl and if your smoothie is too thick for your liking make sure to add liquid a little at a time so you won't go from super thick to super runny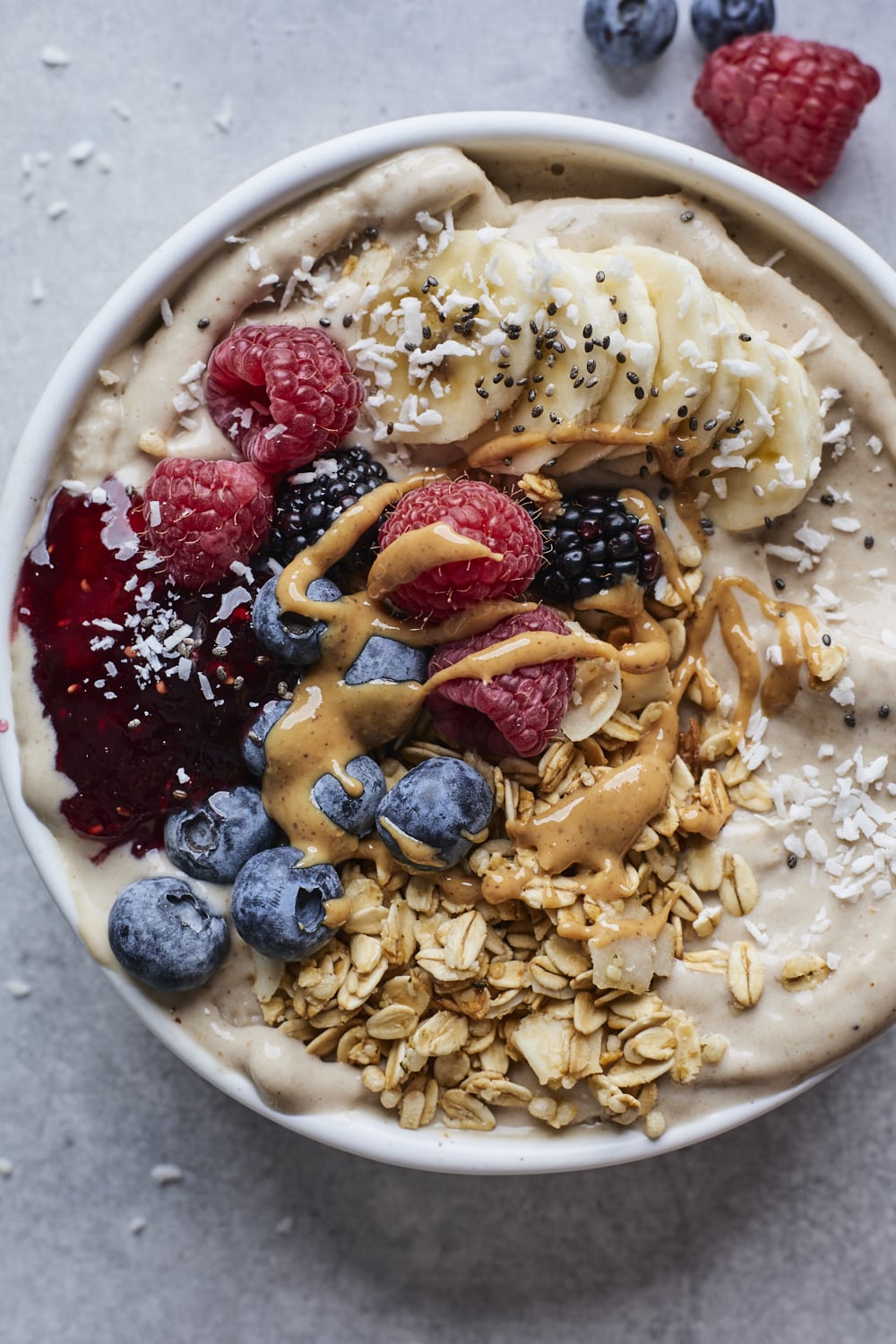 Make Ahead and Meal Prep For Your Smoothie Bowl
Smoothie bowls are best served right away as they melt and can become soupy if refrigerated. There are 2 ways to help you prep ahead and make ahead smoothie bowls though: 
MEAL PREP: Pre-portion small freezer bags of your frozen fruit - in this case you need to peel and slice or chop your bananas and place them in freezer bags at least a few hours before you make your smoothie or overnight is best. Then all you have to do is add them to the blender with your desired liquid and add ins. You can also pre-chop and store fruit toppings in the fridge. 
MAKE AHEAD: Blend the peanut butter banana smoothie and store it in serving size portions in airtight containers in the freezer (not the fridge). When ready to eat, let the smoothie partially thaw, stir, then add toppings. It will have a little less creamy texture but still delicious.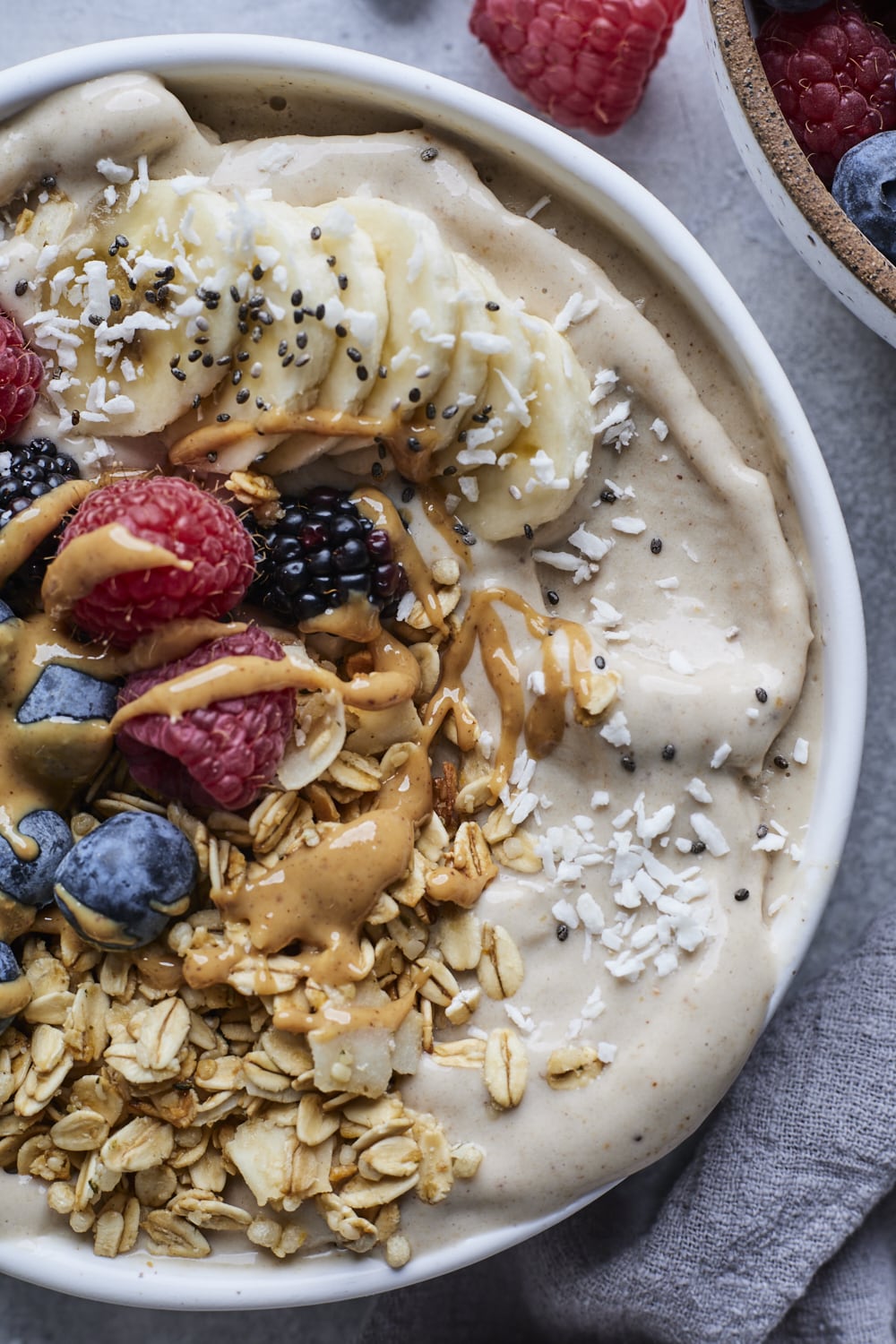 More Recipes You Will Love:
Recipe
Prep Time: 5 mins
Ingredients
For the Peanut Butter Banana Smoothie Bowl
2 cups frozen chopped bananas (approx 2 ripe bananas) 

2 tablespoons Creamy All Natural Peanut butter

¼ cup plain greek yogurt 

¼ cup milk (dairy milk or non dairy milk), plus more if needed 

1 Scoop of Protein powder (optional) 
Optional Add Ins
1 tablespoon honey or maple syrup 
½ teaspoon vanilla extract 
1 tablespoon flax seed meal 
1-2 tablespoons unsweetened cocoa powder for a chocolate version 
Optional Toppings
Granola (like my homemade vanilla granola)
Shredded coconut 
Chia seeds 
Fresh assorted berries 
1 tablespoon of jam or jelly of choice 
Drizzles of creamy peanut butter or nut butter 
Fresh Sliced bananas 
Directions
Add peanut butter, frozen bananas, protein powder if using, yogurt and milk to a blender and blend until creamy and smooth, adding a little more milk 1 tablespoon at a time to reach desired consistency 
Scrape into bowl 
Top with any or a little of each topping.
Serve immediately