Easy Italian Pasta Salad
This antipasto pasta salad is full of juicy tomatoes, fresh mozzarella, red onion, salami, olives, herbs, and a quick homemade dressing. This should be in everyone's recipe arsenal for quick and easy recipes ideal for a potluck, packable lunches, picnic or any other summer get-togethers. It's bursting with flavour from all the antipasto add ins and irresistible!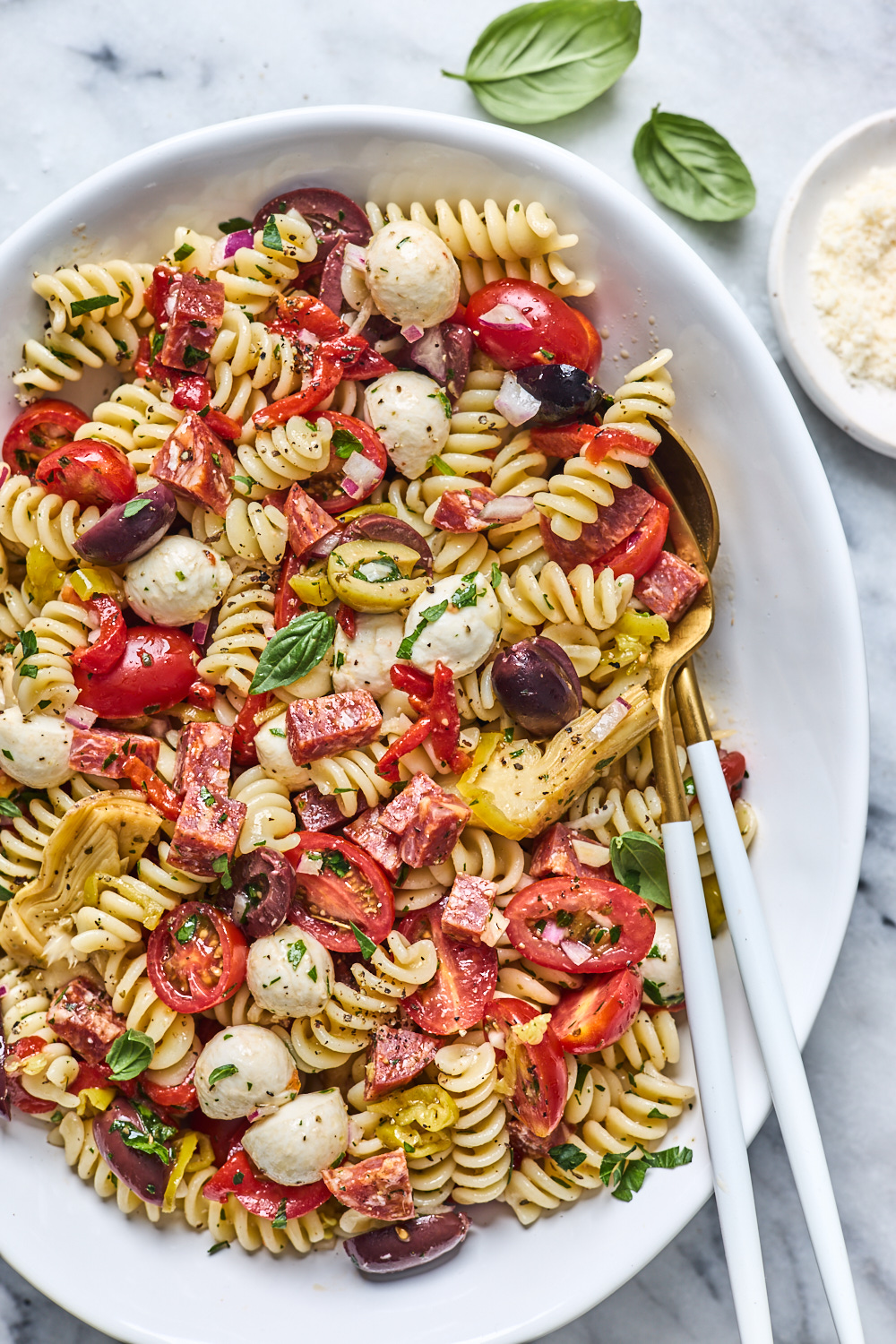 Pasta salads are one of my go-to potluck dishes from easy and fresh to a Easy Greek Pasta Salad, delicious Smoked Salmon Pasta Salad and of course my famous Greek Style Grilled Shrimp Orzo Pasta Salad. Not only does everyone love them, but pasta salads are super easy to make and they're even better when made ahead of time!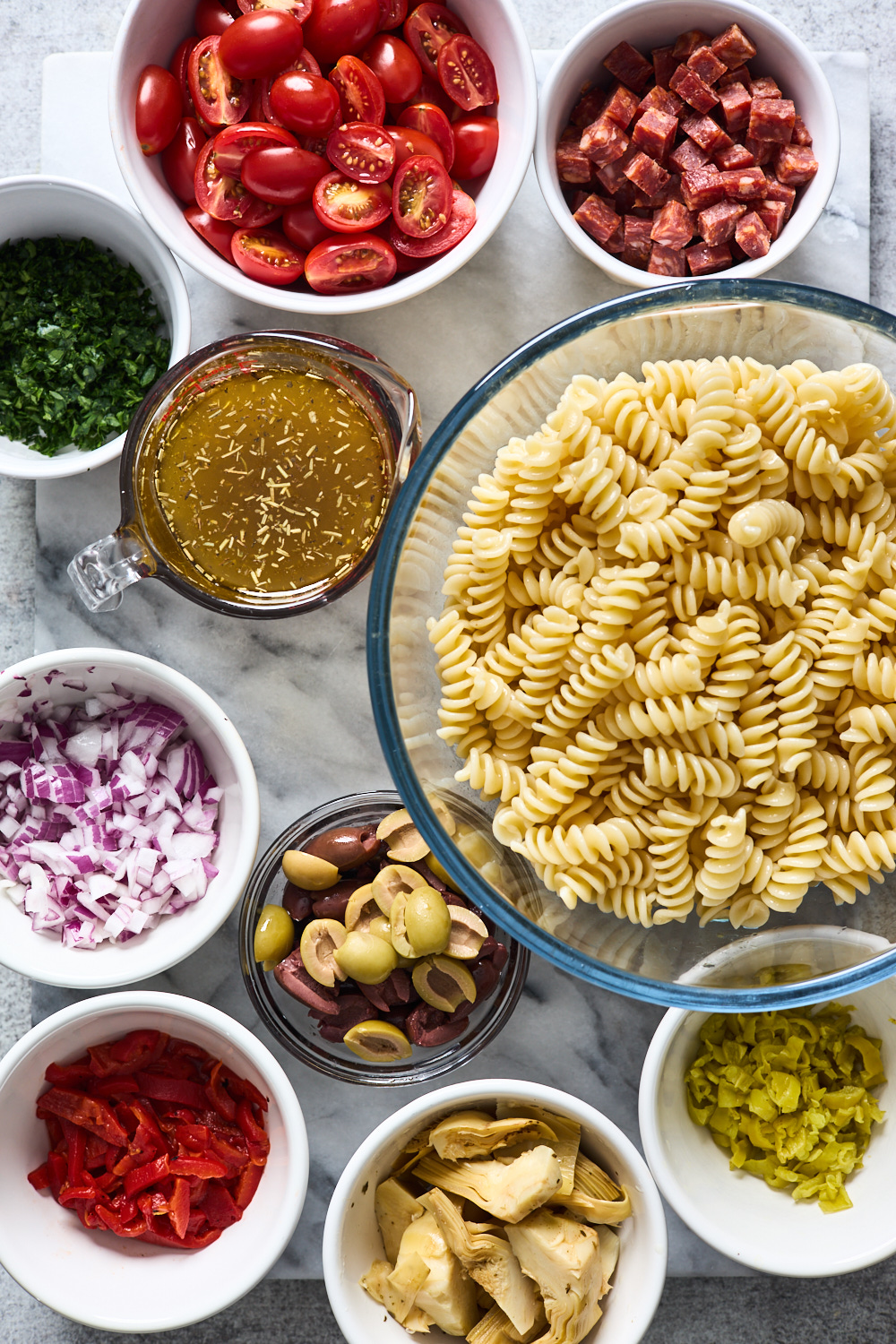 What is antipasto?
Antipasto (plural antipasti) is the traditional first course of a formal Italian meal. Typically it contains an assortment of cold items such as cured meats, cheeses, olives and pickled vegetables. The contents of an antipasto platter can vary depending on what region of Italy you're in. This antipasto Pasta Salad has all of my favourite components of and antipato platter mixed into pasta to make it a meal or a side that you wont want to stop eating.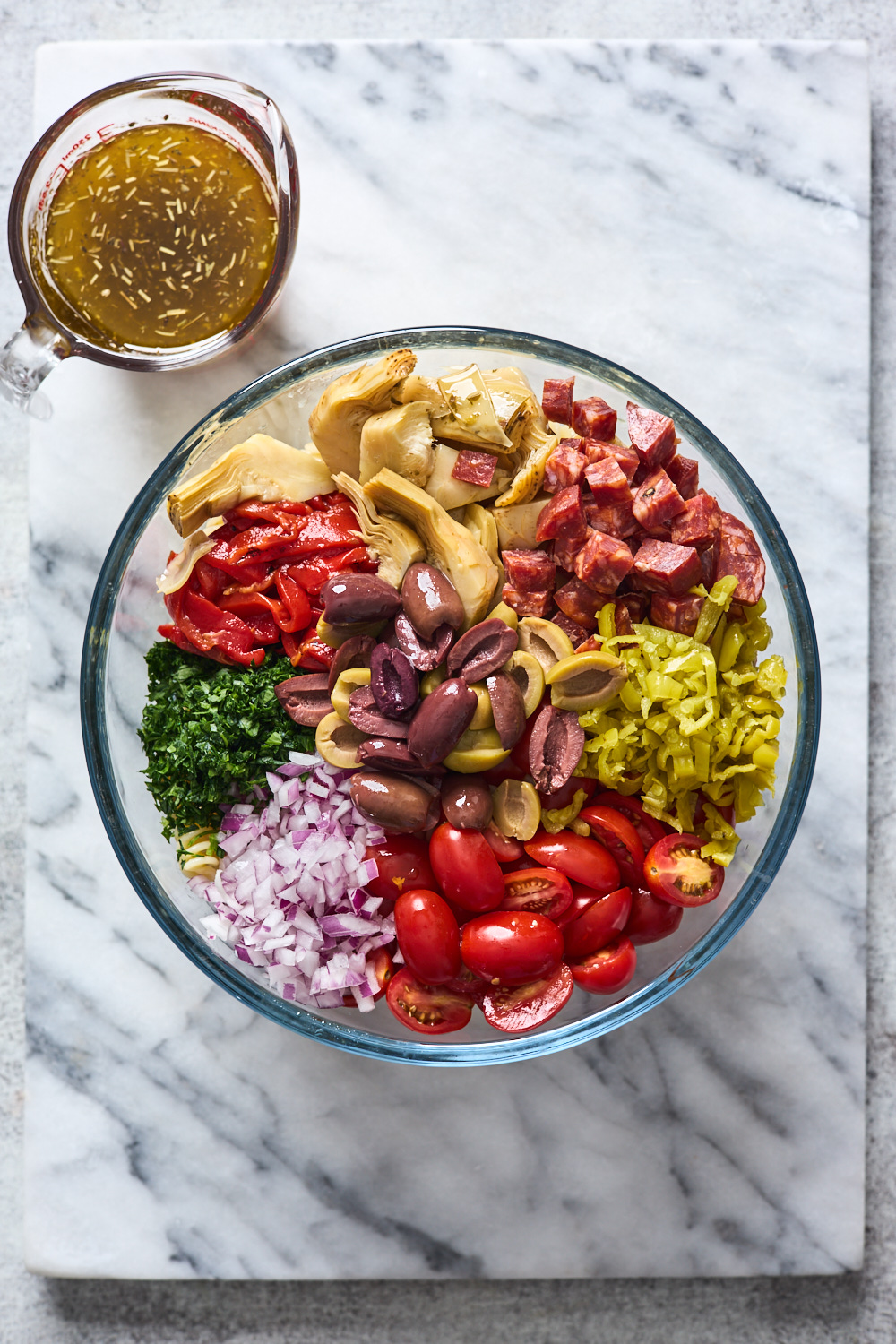 Italian Pasta Salad Ingredients:
You probably have your own favorites for a great Italian pasta salad, some of which are a must. Here's what you'll need for my recipe:
Pasta - gluten free or regular and any shape you like
Cherry tomatoes- or any tomatoes you like sliced into bite size pieces
Baby bocconcini - perfect for salad but fresh torn mozzarella works here too
Salami - I like a spicy one but any good salami works
Kalamata olives - or any type of olives you like
Pepperoncini peppers - The pickled ones are my favourite
Roasted red peppers - you can also use fresh peppers too
Red onion - shallots are a good alternative and even fresh green onions
Fresh parsley - fresh basil and oregano are great in this salad too
Artichoke hearts - either the ones in a can or the jar packed in oil are fine
Italian Pasta Salad Dressing Ingredients:
Garlic - I always like to use fresh as opposed to dry and ground but it's up to you
Italian seasoning - feel free to use a combination of fresh herbs in stead
Olive Oil
Red or White Wine Vinegar- feel free to use any one you like - I don't recommend balsamic vinegar as it will turn the pasta brown.
Lemon Juice
Salt & Pepper
Parmesan cheese
Honey or sugar - optional but great for a little sweetness against all the acidity and the savoury flavours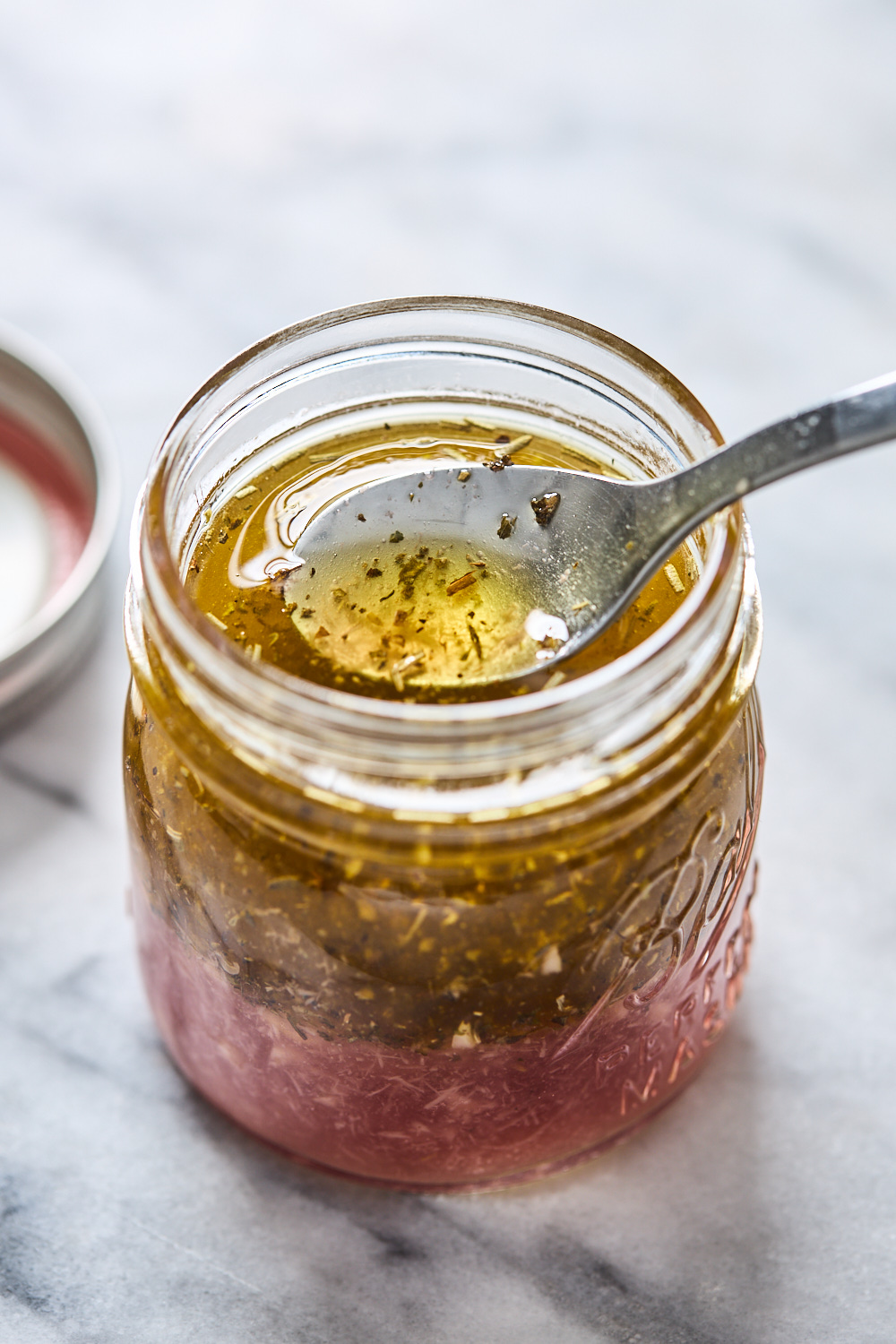 Even though I love creamy pasta salads, not all pasta salads have to be mayo loaded. Which is why I love a good Italian pasta salad. The dressing is fresh and lighter than a creamy one. I also love it for its versatility. You could even mix it up a bit by adding more veggies like chopped sweet peppers, asparagus, or snow peas, even zucchini and broccoli - sun dried tomatoes and even add some greens into it like baby kale mixed greens or arugula. Don't be afraid to experiment and try different veggie combinations out.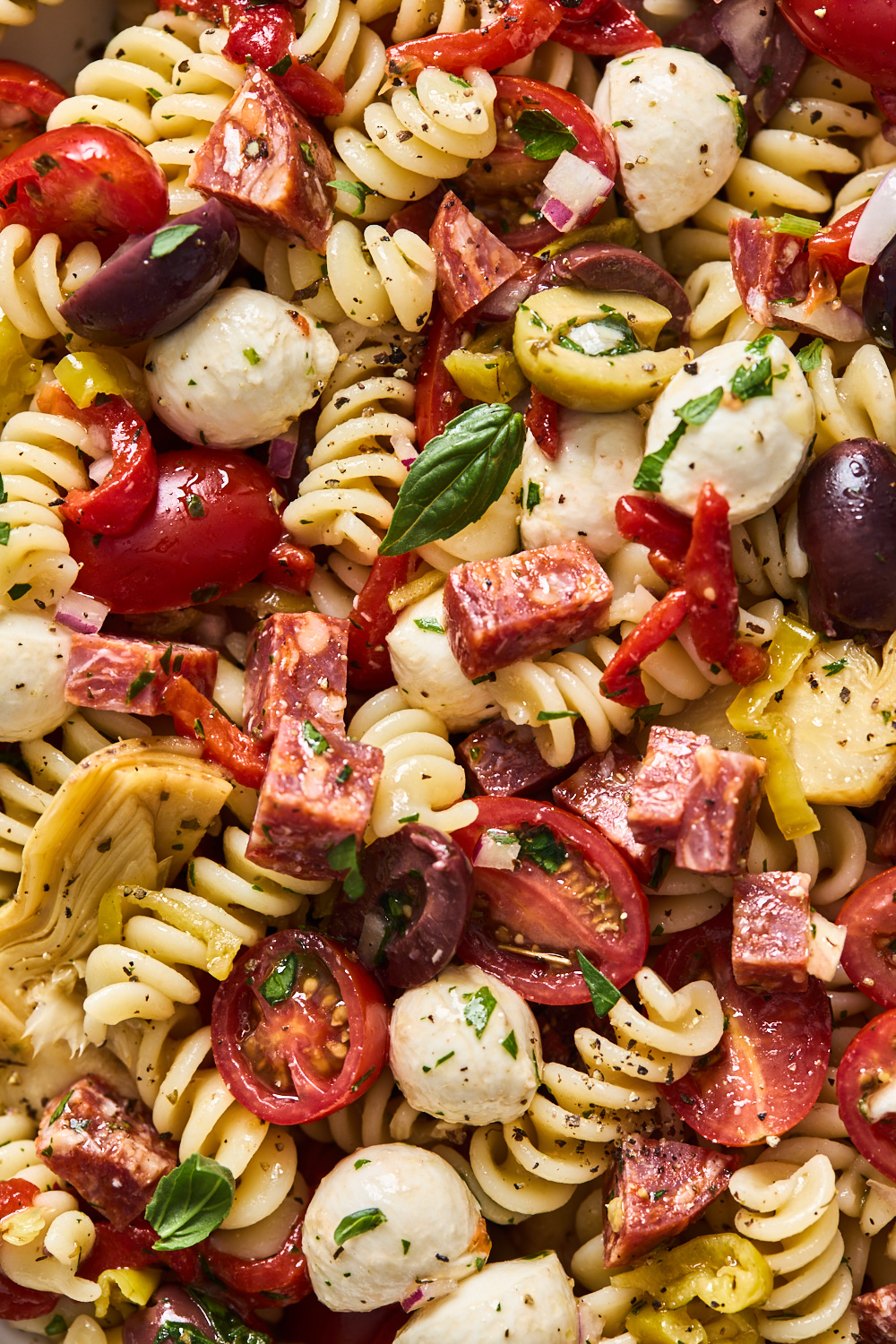 How to make Italian pasta salad
This pasta salad is easy to put together and so simple to make. First cook the pasta in a pot of boiling water according to package instructions. Next make the dressing by combining all the dressing ingredients in a bowl. Chop the rest of the ingredients, pour the dressing over the salad ingredients and toss everything together well. That's all there really is to it. This salad holds up well even after its dressed. It will last in the fridge for 2 to 3 days and it's even better the next day! I would recommend refrigerating it for at least an hour before serving.
More great salads to try:
Recipe
Prep Time: 15 mins
Cook Time: 7-10 mins for pasta
Ingredients
For the Pasta Salad
1 pound fussili pasta cooked according to package

2 cups cherry tomatoes, cut in half

8 ounces baby bocconcini

4-6 oz salami or summer sausage, cut into cubes

¾ cup kalamata olives, sliced

½ cup pepperoncini peppers sliced

½ cup roasted red peppers sliced

½ cup sliced red onion

½ cup fresh parsley, chopped

1 cup artichoke hearts
For the Italian Pasta Salad Dressing:
½ cups olive oil

¼ cup red wine vinegar (white vinegar or red wine vinegar work)

1-2 Tablespoons lemon juice

2 Tablespoons finely grated Parmesan cheese

2 cloves garlic

1 Teaspoon honey or sugar to taste (optional)

2 Teaspoons Italian seasoning

salt and black pepper to taste
Directions
Cook pasta according to package directions, in salted water. Drain and either cool immediately by rinsing under cold water or set aside to cool on its own in a large bowl while you prep the rest of your ingredients. Toss with a little olive oil to prevent it from sticking together as it cools
Whisk up all the dressing ingredients.
Add the rest of the pasta salad ingredients to the pasta. Pour over the dressing and then gently toss to coat.
Serve right away or cover and chill for 1 hour prior to serving to allow the flavours to marry. Keep leftovers in the fridge for 2-3 days. I think it actually tastes best the day AFTER you make it.