Easy No Fail BBQ Ribs
Tender fall of the bone baked then grilled Barbecue Ribs are irresistible! Perfectly seasoned, baked, grilled and slathered with BBQ sauce. Whether they get finished off in the oven or on the grill, they are addictive and finger licking good. They can also be made ahead and then finished off on the grill making entertaining easy and stress free.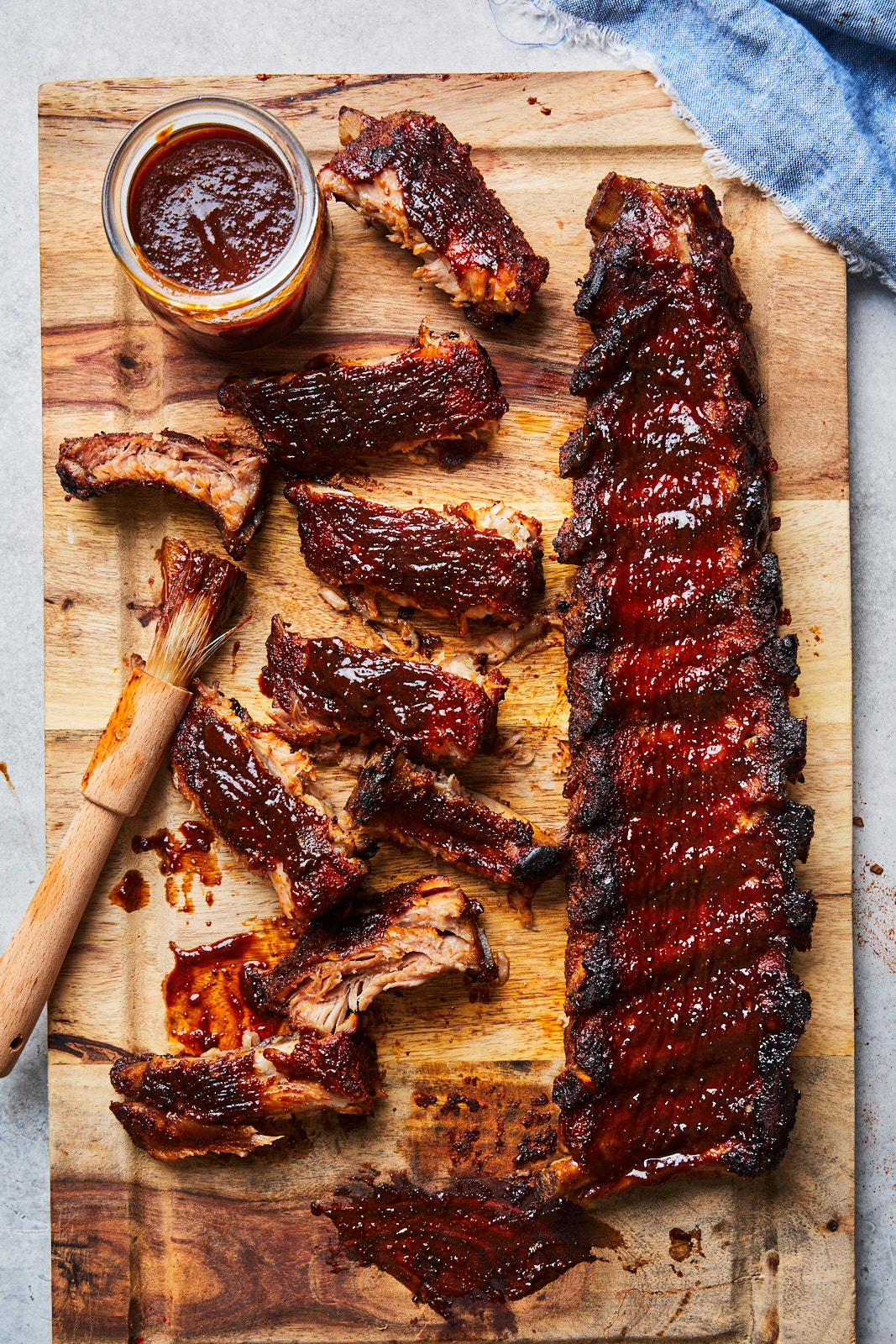 How to make the most perfect ribs
Making perfectly tender fall off the bone ribs is a lot easier than most people think. After some very quick and easy prep work, a little rub, slow bake and then a quick run on the grill with sauce - you have your self the most perfect and delicious ribs. That easy! Let's break it down.
How to prepare your ribs?
The first step is to rinse your ribs with cold water, pat dry, then peel off the "silverskin." The silver skin is the shiny, white/clearish piece of membrane that sits on top of the bones and makes things tough and chewy once cooked. It should peel off pretty easily, but if not, use your paring knife to find an edge and to help loosen it to make peeling it easier.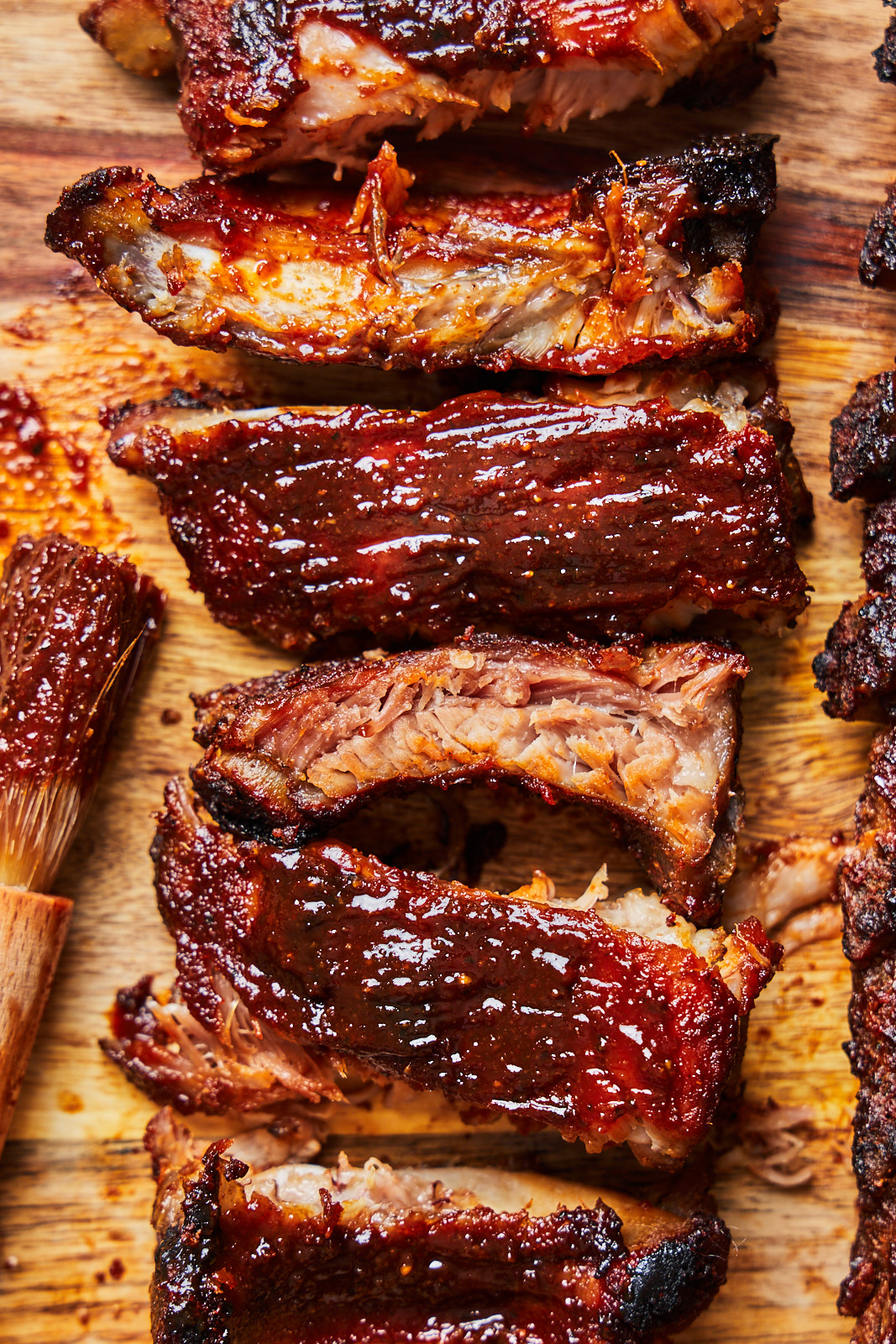 How to season ribs?
Seasoning can be as easy or as complex as you would like. For classic BBQ ribs a simple rub is all you need. Be sure to coat with a good amount of either store bought or homemade dry rub to add extra sweetness and flavor to your ribs. My homemade all purpose dry rub is fantastic with the ribs and so simple to make. Feel free to use your choice of seasoning. I usually do approximately 2 tablespoons of dry rub per rack but you can add as little or as much as you like.
How to cook ribs?
A very hands off approach to cooking ribs is one I prefer and it's a method that suits ribs well because the key to baked ribs is low and slow. Low temperature for a couple of hours. I bake ours at 300°F for 1½-2 hours depending on the size and thickness of ribs. The goal is to get them tender but not totally falling apart. Wrap them with foil and in the oven they go - they tenderize as they cook and then they fill the kitchen with the best smell that has you salivating the whole time they are cooking. Once done baking you have two options. Remove foil, turn oven to broil and baste them with BBQ sauce finishing them off in the oven. If you choose to grill then remove them from the oven and foil and then grill on high for 4-6 minutes basting and flipping them as needed. Either way gets you the tastiest most tender ribs.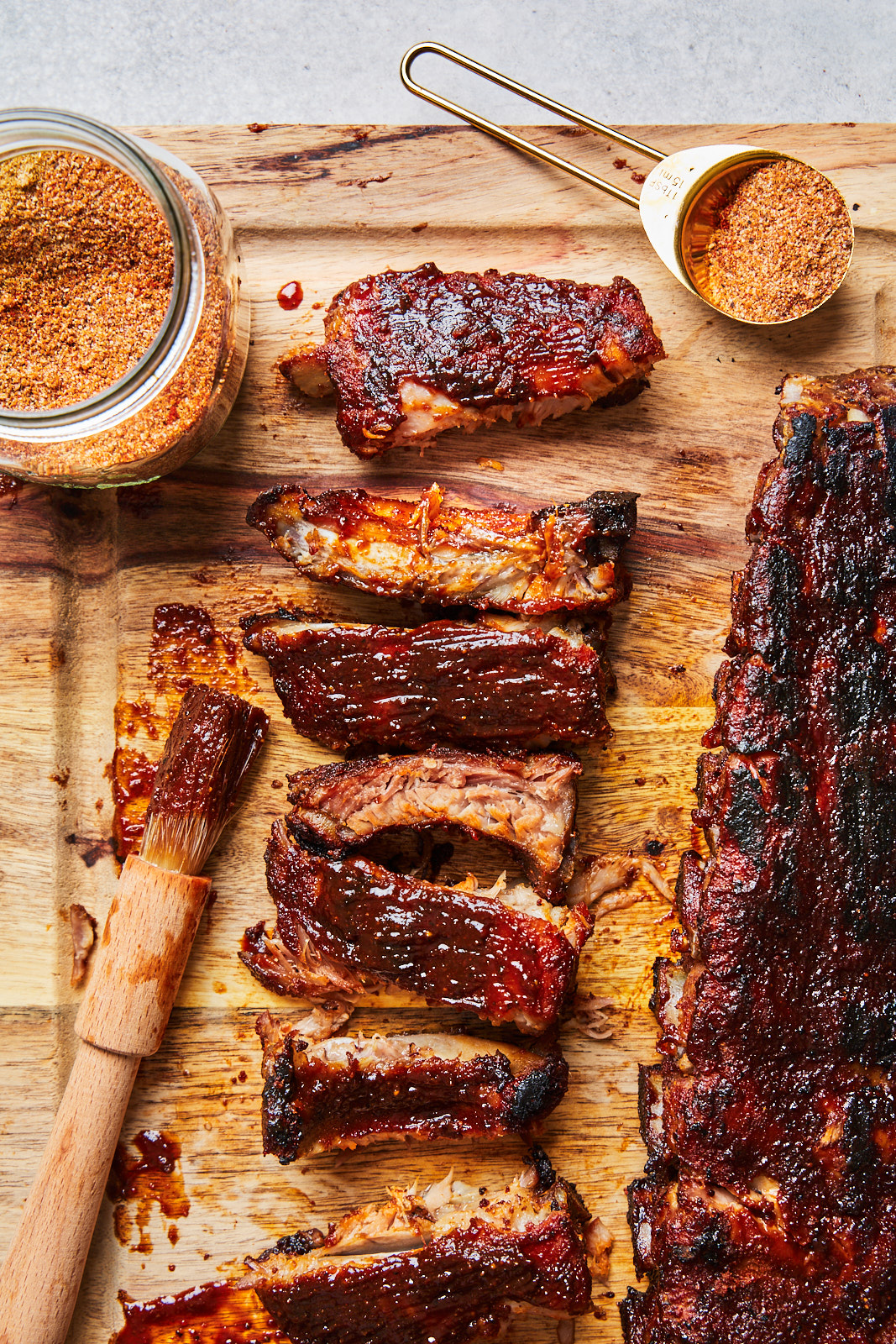 How to get your ribs sticky sweet and caramelized?
This is achieved in two ways - first from the spice rub which usually has a sweet component (usually dark brown sugar) which helps develop a caramelized crust on the ribs. Next the sauce creates a fabulous sticky glazed layer over them as it caramelizes while its basted on the ribs over the hot grill.
Recipe
Serves 4
Prep Time: 5-10 min
Cook Time: 2 hours 15 mins
Total time: 2 hours and 20-25 mins

Ingredients
2 racks of baby back pork ribs (approx 2 lbs each)

4 tbsp spice rub of choice (my homemade one is easy and delicious)
½-1 cup of store-bought or homemade barbecue sauce plus more for serving (my homemade BBQ sauce is easy and delicious)
Directions
Preheat oven to 300°F

Sprinkle ribs both sides with approximately 2 tablespoons of your favorite dry rub per rack (easy homemade one here) Wrap each rack in aluminum foil tightly and place them both on a baking sheet or pan. Roast for ½-2 hours until tender but not falling apart.

Preheat an outdoor grill or grill pan for high heat.

Remove the ribs from the oven, discard any liquids and let stand 10 minutes. Remove the racks from the foil, and place on the grill. Grill the ribs for 3 to 4 minutes on each side. Brush sauce on the ribs while they're grilling, just before you serve them (adding it too early will burn it).

Transfer to a platter and serve with additional barbecue sauce.
Make ahead: Ribs can be baked up to 3 days ahead just let them cool and then chill in the refrigerator wrapped tightly in foil (the flavor will be more developed, and the cold ribs will hold together better on the grill as they heat through). When ready to grill remove from foil and grill 7-10 minutes until heated through basting as you normally would with BBQ sauce.