Easy Pierogi Sausage and Veggie Sheet Pan Dinner
Updated 30th August 2023
These crispy cheesy pierogi baked with veggies and sausage are such a great way to have dinner on the table with zero fuss. A quick and complete meal and one that is so easily customizable. I know I can always rely on frozen pierogies being in my grocery cart and in my freezer. My family loves them and they are so handy to have in the freezer. You can use any flavour filling you like when choosing your pierogies for this recipe. The pierogies and veggies get tossed in a bit of olive oil and some spices right on the sheet-pan. Caramelized onions with pierogies is my all time favourite way to enjoy pierogies. In this sheet-pan version the onions bake until caramelized and instead of bacon another classic pierogi pairing you have sausage. A little meatier and more substantial. No need to fry the onions or the pierogi. The classic sausage and pepper flavor combo (usually served with pasta or hoagie buns) gets an upgrade served with these tasty baked pierogi creating the perfect meal for any busy night or side dish - you chose!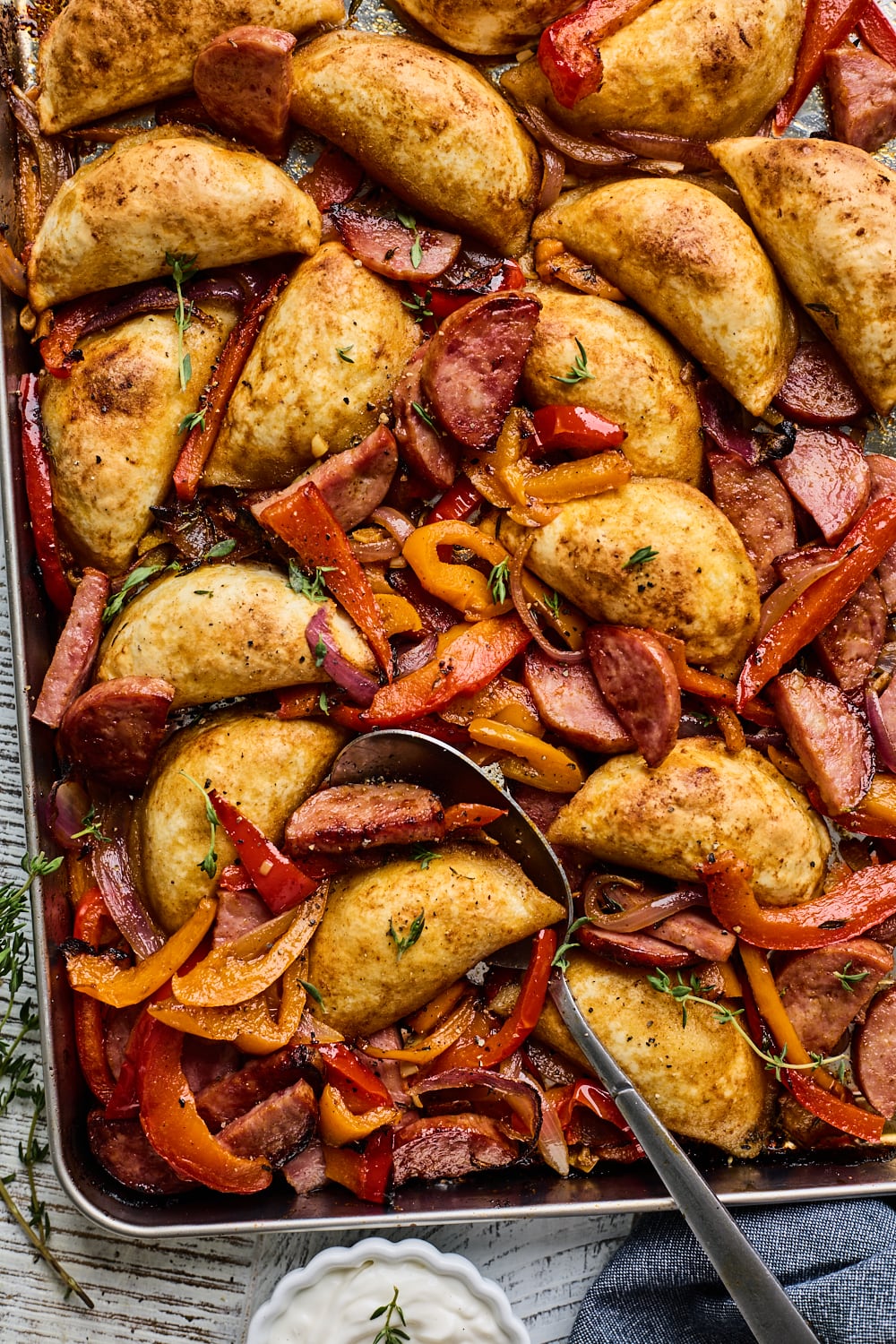 Do I Need To Cook My Pierogi First?
That is the most popular question I get when I mention baked pierogi and the answer is NO! You do not have to boil, thaw or pre cook your pierogi in any way. They cook in the oven. If you have not had pierogi this way before I strongly recommend it. They bake up beautifully with a crispy outer shell and a warm and creamy filling. In fact we love them so much baked that often times we bake a whole bag of them without the veggies - they make a really good appetizer with a herb and garlic dip, cream cheese spread or a sour cream dip. They are a great size for a finger food snack or they make a great meal with the kielbasa and peppers. This is one of many reasons that this sheet-pan meal has become one of the most popular ones on the blog- and we love it! Are pierogies better pan fried or baked?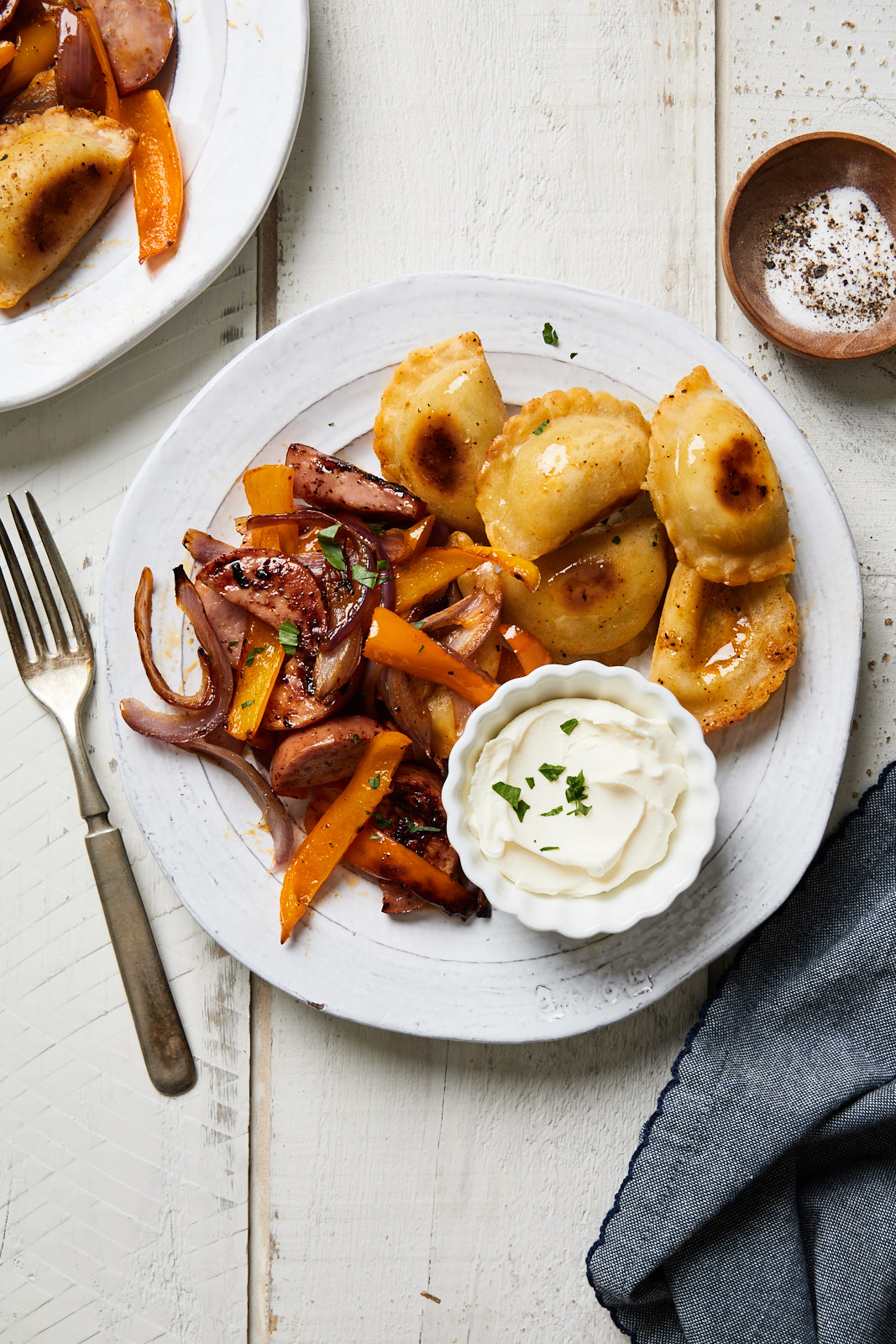 I always thought I loved my pierogies pan fried but that was until I tried them like this roasted on a sheet-pan. A totally different pierogi experience. They sort of puff up and get crispy all over. They are so good. The crispy exterior with the soft cheesy middle makes them irresistible. It was hard to say how many servings this dish really makes - are you a 1-2 peirogies per sitting kind of person or an 4-6? We lean towards the 4-6 per sitting but we are good eaters. They go down super easy - just a heads up.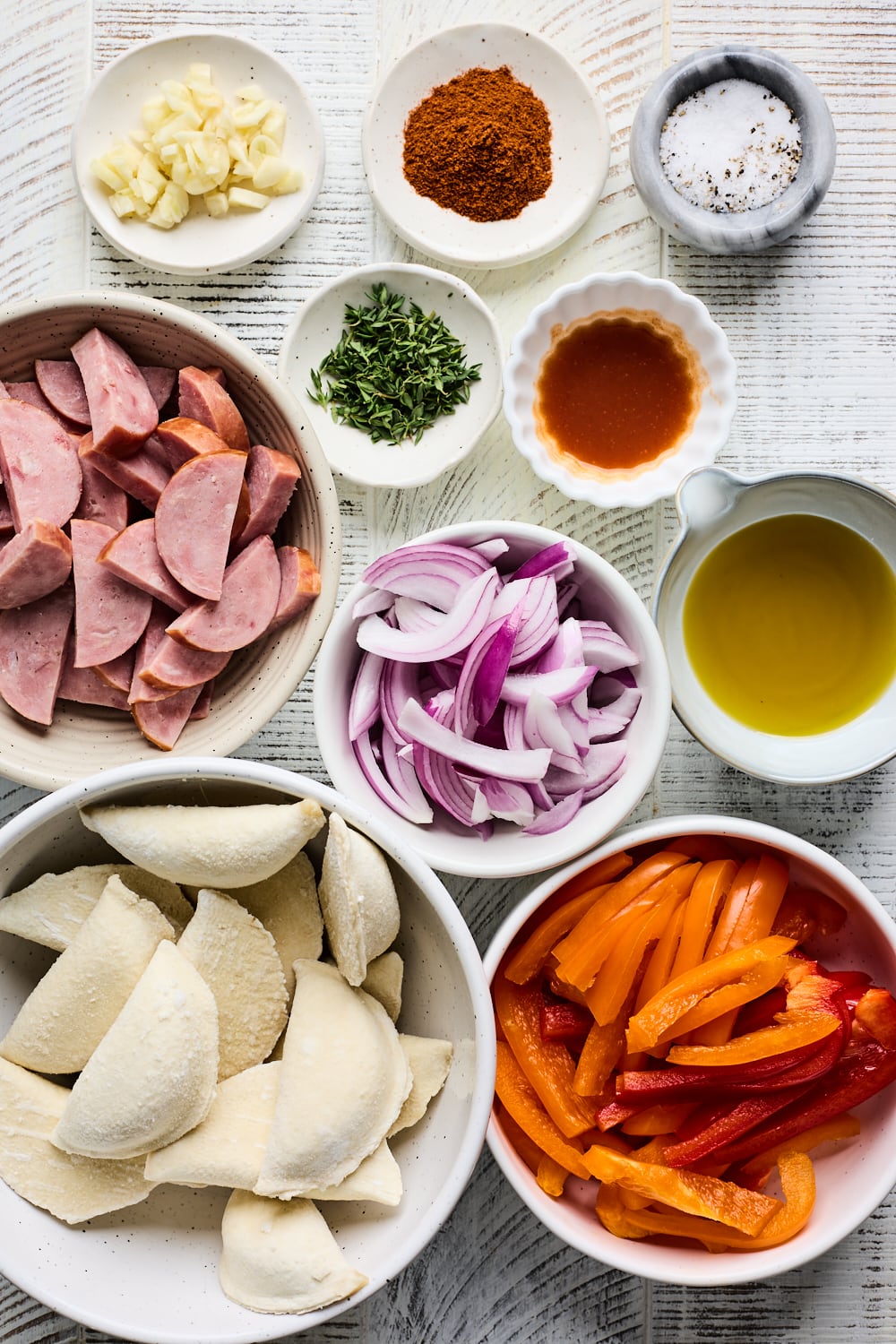 Baked Pierogi Recipe Ingredients
PIEROGI: Frozen pierogi is what the recipe calls for and use whatever filling you like - I usually go for the classic cheddar and potato - the sharp cheddar cheese and mashed potatoes filling in those usually is great with the sausage and peppers
SAUSAGE: I used Kielbasa sausage for this recipe but feel free to use any cooked smoked sausage you prefer. Some have suggested swapping it out for sliced bacon - to make this into a bacon pierogi bake but I have not tried it but definitely a great idea.
PEPPERS: I like to use different colour bell peppers - feel free to chose whichever bell peppers you prefer or substitute with 8-10 or so sliced baby bell peppers. If you are not a fan of bell peppers maybe you could swap them out for some other quick roasting vegetables like zucchini, mushrooms or asparagus. For an added boost of veggies you can easily stir through some baby spinach or baby kale right after the pierogis come out of the oven.
ONION & GARLIC: I like to use red onion or shallots but any onions will work for this recipe and adjust garlic amounts to taste
SPICES: I like to use smoked paprika, salt and pepper and fresh thyme to give the pierogi and the veggies some flavour but feel free to use whatever spice blend you like to flavor your pierogi and veggies
OLIVE OIL: Adds flavour and helps spices to adhere to the veggies and pierogi - feel free to use melted butter for a more decadent option
SRIRACHA: This adds loads of flavour to the whole dish but if you don't have sriracha you can use any hot sauce (I use a mild one) you like or if you prefer a more mellow flavour feel free to use a dash of worcestershire sauce, balsamic vinegar, soy sauce or any type of sauce to add a hint more flavour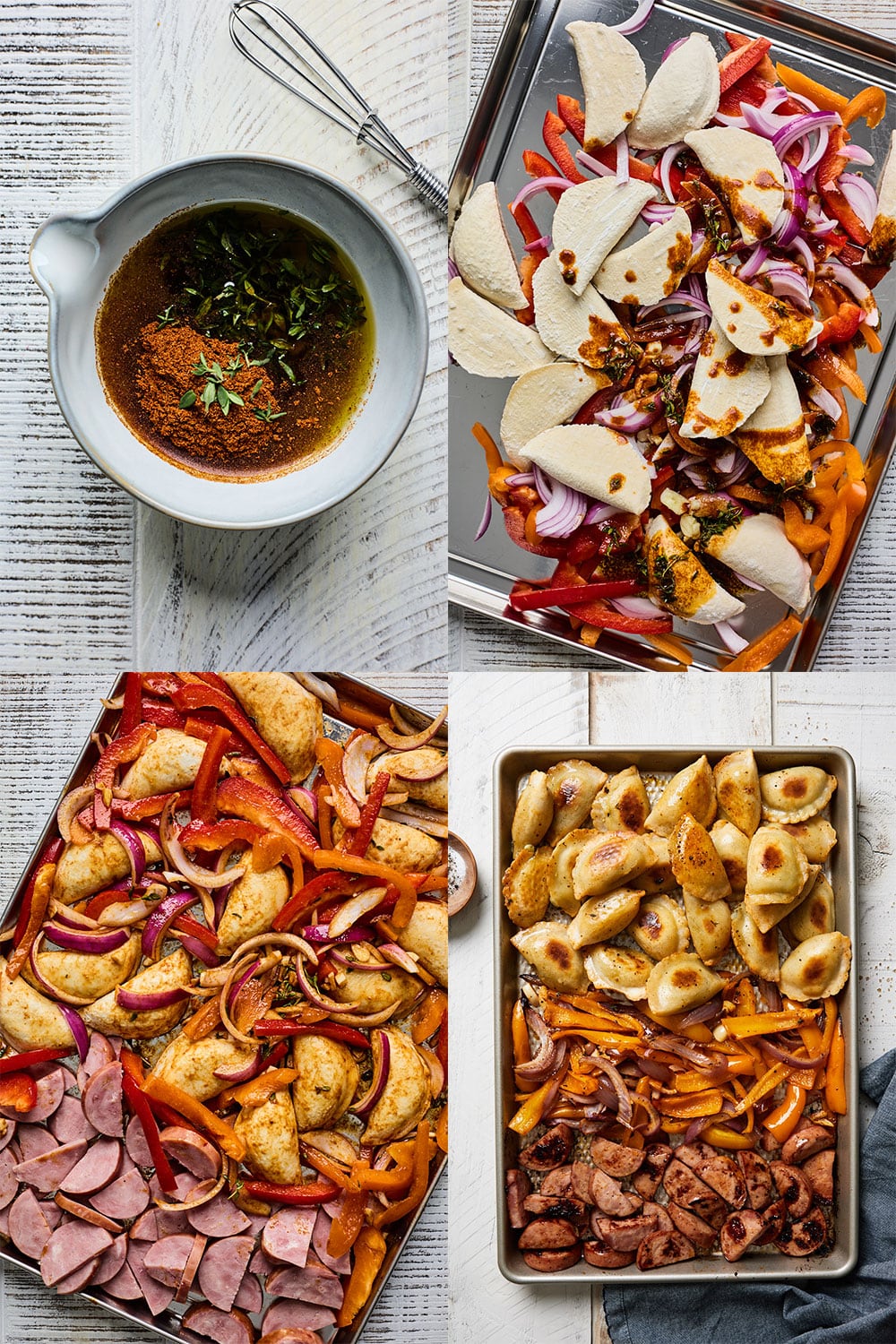 Baked Pierogi Recipe Instructions
This is a wonderful baked pierogi recipe you will love that requires no pan-frying. All the cooking happens in one pan and in the oven - gotta love a recipe like that! Here is how its done:
WHISK together the sauce ingredients
PLACE pierogi and veggies on sheet pan
TOSS with the sauce
SLIDE the pierogi and veggies to one section of sheet pan or on a separate one then place kielbasa slices on the other side of the pan Or simply toss everything together if you wish
BAKE until pierogi are puffed and slightly golden and veggies are softened or tender with golden edges
SERVE hot with sour cream for dipping if desired
The key to really good sheet-pan dinners
It doesn't get easier when it comes to dinner thanks to the sheet-pan. The key to really good sheet-pan dinners is making sure you give everything, all ingredients their own piece of sheet-pan real estate. For things to really get golden crisp they need to be hitting the pan not layered over top of other ingredients. If you over crowd things like I did in my prep shot (shot just for a visual of all ingredients together) things will definitely cook but things may not get as crispy or cook as evenly. I ended up baking mine in two pans. If you have a very large pan that is great too that way everything is touching the pan while roasting.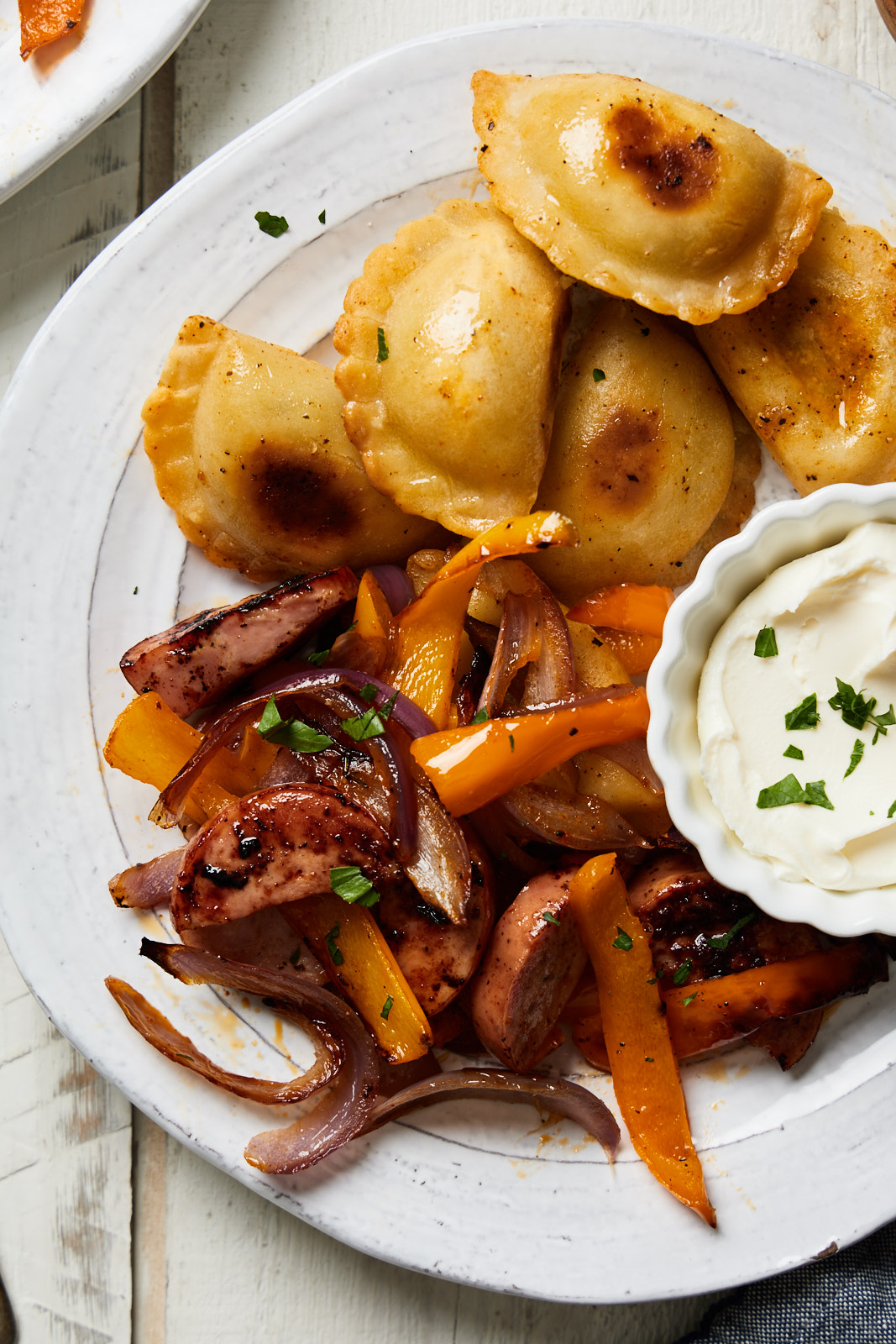 I mentioned this recipe is versatile and customizable. You can definitely switch up the veggies and even the spices you use. A nice harissa seasoning would be delicious with the veggies or even maybe a southwestern spin on the seasoning and with a fried egg or scrambled eggs - I can easily see that for breakfast - pierogi chilaquiles anyone?!?! How am I only now thinking of that? I'm definitely trying that next time! (More substitutions below) You catch my drift - you choose the seasoning and you get yourself a great quick and easy sheet-pan dinner that everyone in the family will love!!
Basic ingredients
Substitutions
Sausage - for vegan sausage or turkey sausage or any sausage (whatever sausage you use make sure that it's sliced or cut up otherwise it will take longer to cook in the oven if left whole)
Spices - for any spice mix you like
Peppers - for any veggies you like
More Recipes You Will Love:
Recipe
Prep Time: 10 mins
Cook Time: 28-35 mins
Total Time: 38-45 min
Ingredients
12 oz (340g) Kielbasa sliced into ¼ inch coins and then each coin sliced in half

16-20 oz (450-550g) bag frozen pierogies (approx 16-20), I usually do the potato and cheddar cheese ones

1 red onion peeled,and sliced

2 large bell peppers, stemmed, seeds removed and sliced

3 cloves of garlic peeled and roughly chopped

4 tablespoons olive oil plus more if needed

Salt and Black pepper to taste

2 teaspoons fresh thyme

2 teaspoons smoked paprika

1 tablespoon sriracha, Tabassco or your favourite hot sauce (I use a mild one)
Directions
Preheat oven to 400°F and grease 1 very large baking sheet or 2 smaller ones with cooking spray - or line with parchment paper
Place pierogies, peppers, onions and garlic on sheet pan
Whisk together the olive oil, spices and hot sauce in a small bowl and then pour mixture over the pierogies and vegetables. Toss gently to combine, then spread into an even layer on one side of the pan or on one of the sheet pans if splitting into two pans. (Feel free to add a little more oil or seasoning if needed and according to taste)
Arrange kielbasa slices on the other side of the sheet pan or separate one if using 2. (you can also just toss eveything together if you prefer maing sure eveything has room on the pan). Drizzle everything with a touch more olive oil.
Transfer pan to preheated oven and bake for 28-35 minutes flipping everything halfway through.
Remove from oven when done and serve immediately hot out the oven with sour cream and garnished with a sprinkle of fresh chopped herbs or sliced green onions if desired. (careful biting into the pierogi the filling will be piping hot)
Leftovers can be covered with plastic wrap or stored in an airtight container in the fridge for up to 3-4 days. Reheat in the microwave or gently over medium heat stovetop or low heat in the oven.
Adapted from The Kitchn